I am totally obsessed with these fun retro-inspired 2024 monthly calendar PDF templates. These free printable blank calendars are ready for you to add holidays, birthdays, appointments, bills…and whatever else you need to track on your calendar.
Theses are letter-sized portrait monthly calendars for 2024 and can be downloaded by individual month by clicking the images towards the end of this post. They include all 12 months of the year, from January to December.
Theses are full page letter-sized vertical monthly calendars for 2024 and can be downloaded in 2 ways.
Option #1: You can download the individual monthly calendar (January through December) you want further down this post.
Option #2: You can get all 12 cute monthly calendar templates sent straight to your inbox when you subscribe towards the bottom of this post.
Either way, they're totally free to download.
I just ask that you only use these for personal use and share this link if you want to share the calendar with others who would love these free cute calendars PDF templates.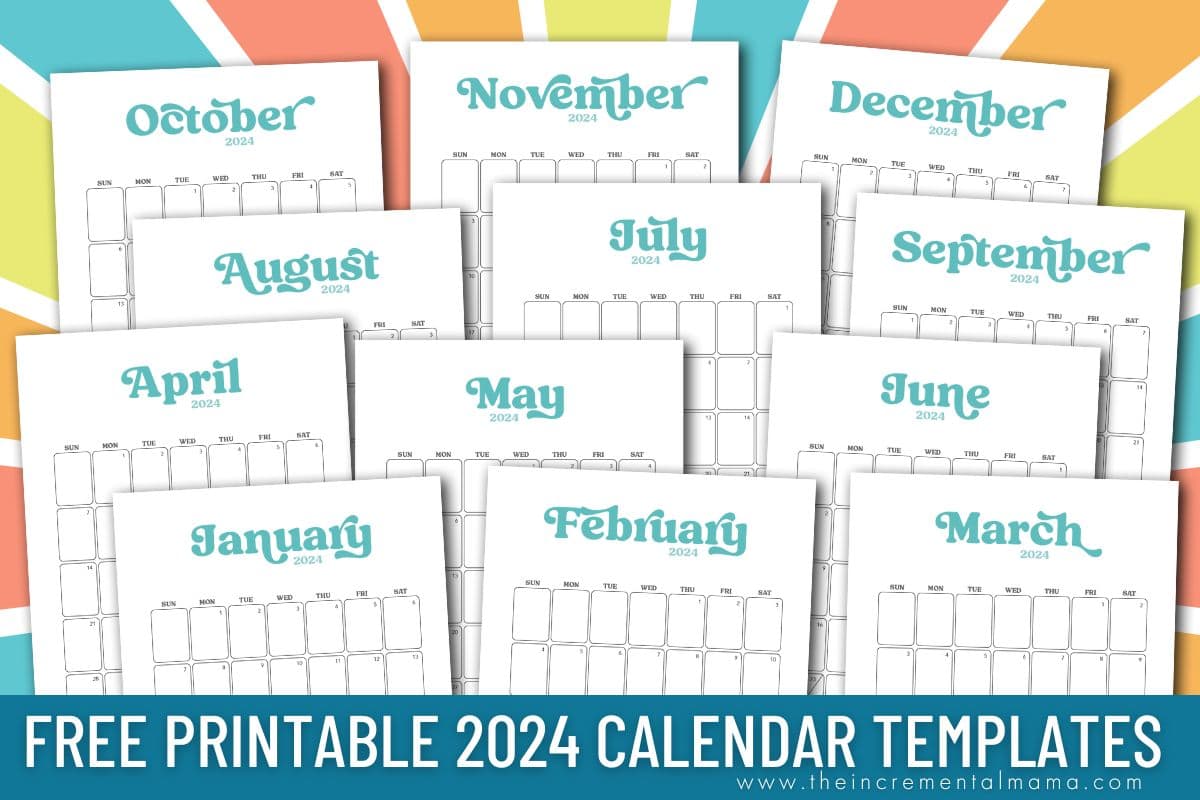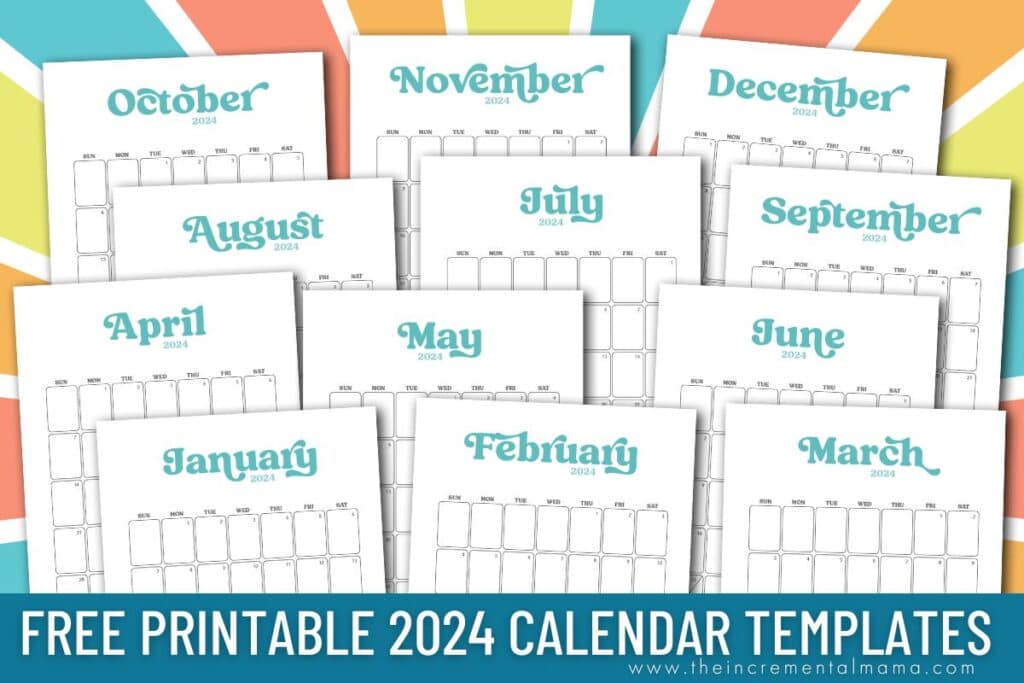 Using the 2024 Monthly Calendar PDF Templates
There are so many uses for these monthly calendar PDFs beyond just tracking daily events and appointments. Here are a few ideas for how you can use these free printable calendars to get your life organized.
Tracking Family birthdays and anniversaries
Keeping track of homework assignments
Budget Tracker (more budgeting resources)
Record daily highlights
Exercise log
Editorial calendar
Lesson planning
If you want multiple different calendars to organize different areas of your life, you can get some of the other designs I have below.
But no matter what calendars you download, I highly recommend you have a plan to keep your papers organized.
Since you're looking for planning printables online, I gather that you're a paper planning kind of person. Same. And while I am 100% a paper planning kind of gal, I also am 100% aware of the dangers of paper planning.
Namely, having piles of various papers with different lists strewn on your desk or throughout your house.
Therefore, I HIGHLY recommend organizing these calendars into a binder or posting them somewhere specific. Whatever you do, don't let them add to any clutter in your home.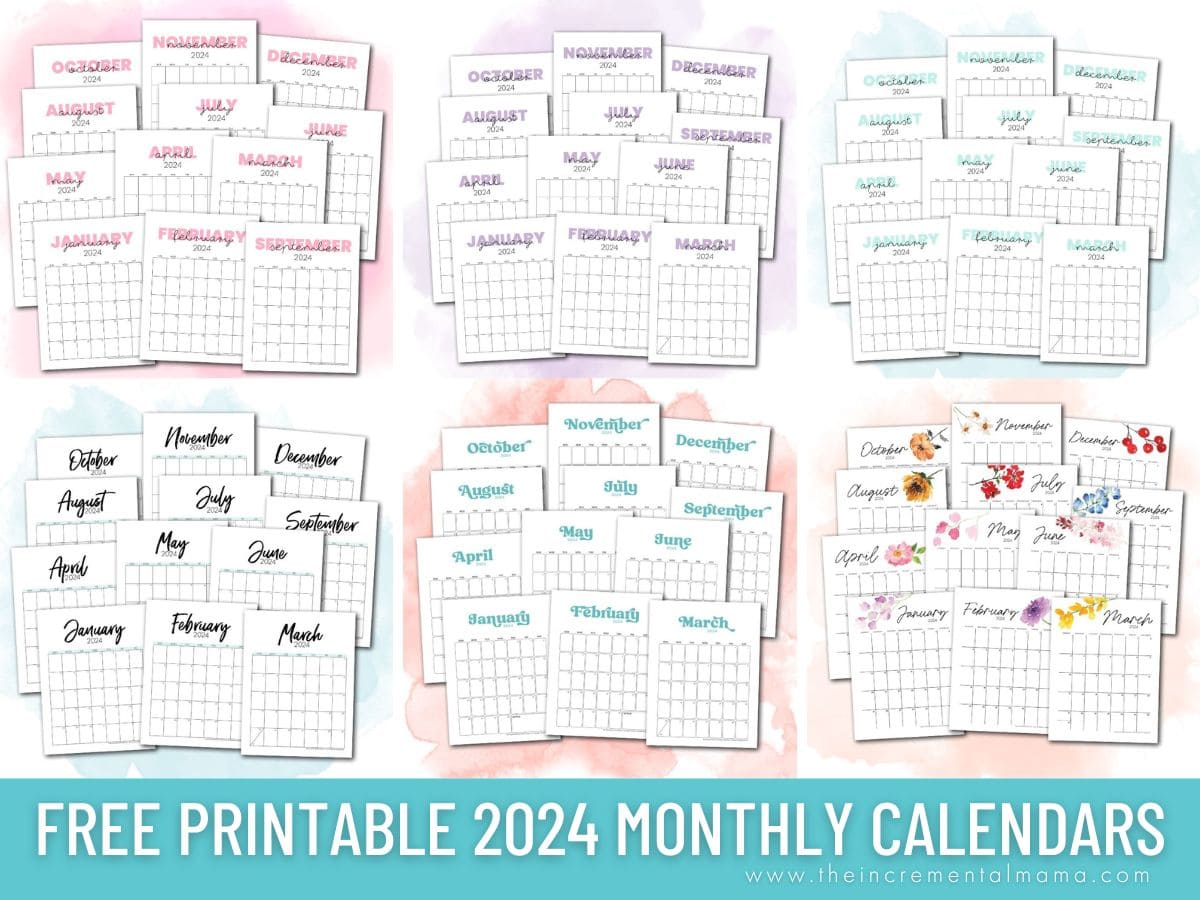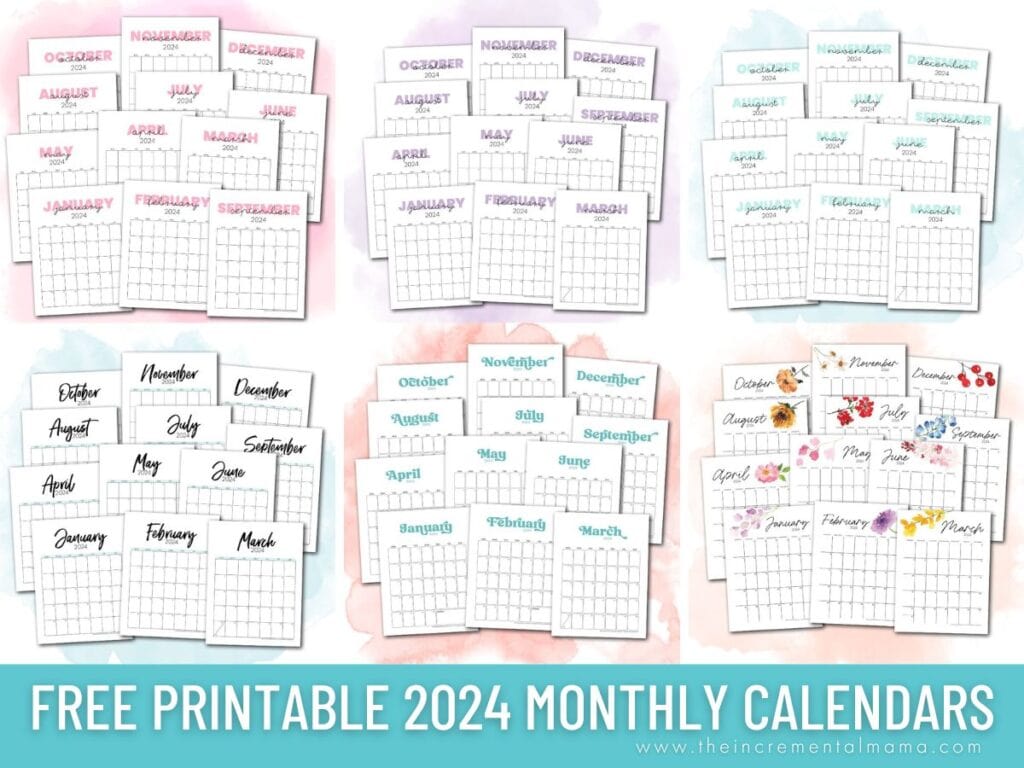 More Free Cute Calendar Printable Templates
As you may have gathered, I love planning printables. And I have so many calendar templates to choose from on my site as well as loads of other planning and organizational printables.
But if you're looking from more cute free printable calendars for 2024, I've got 5 other designs to choose from.
Teal 2024 Monthly Calendar Templates – This simple design features a double font for the month, with a light teal font behind a curvy script.
Purple 2024 Monthly Calendars – Like the Teal design, this purple design calendar features the month in purple with the script in front.
Pink 2024 Monthly Calendar Templates – This is the pink version of the above designs.
Simple Calendar Design for 2024 – This design features a brush script for the month with a little pop of teal over the weekday names. 
Floral 2024 Calendar templates – This design features a different floral design for each month of the year. This is my current favorite! 
I also have 9 Free Printable 2024 One-Page Calendar Templates you can grab.
Outside of calendars, I have hundreds of other helpful printable resources that help you organize your life and home–from meal planning to creating a realistic cleaning schedule, including editable PDFs you can customize to exactly what you need.
And when you sign up below to get all 12 calendars, you'll also get free tips, organizational printables, and resources sent straight to your inbox each week.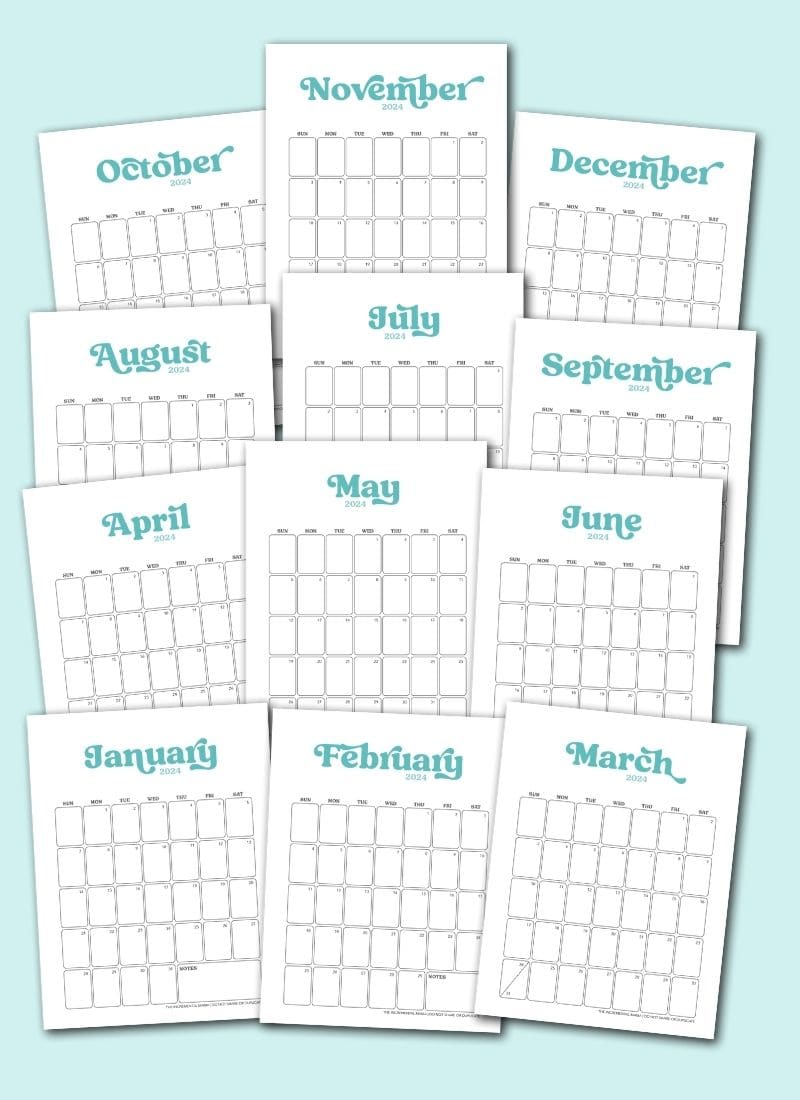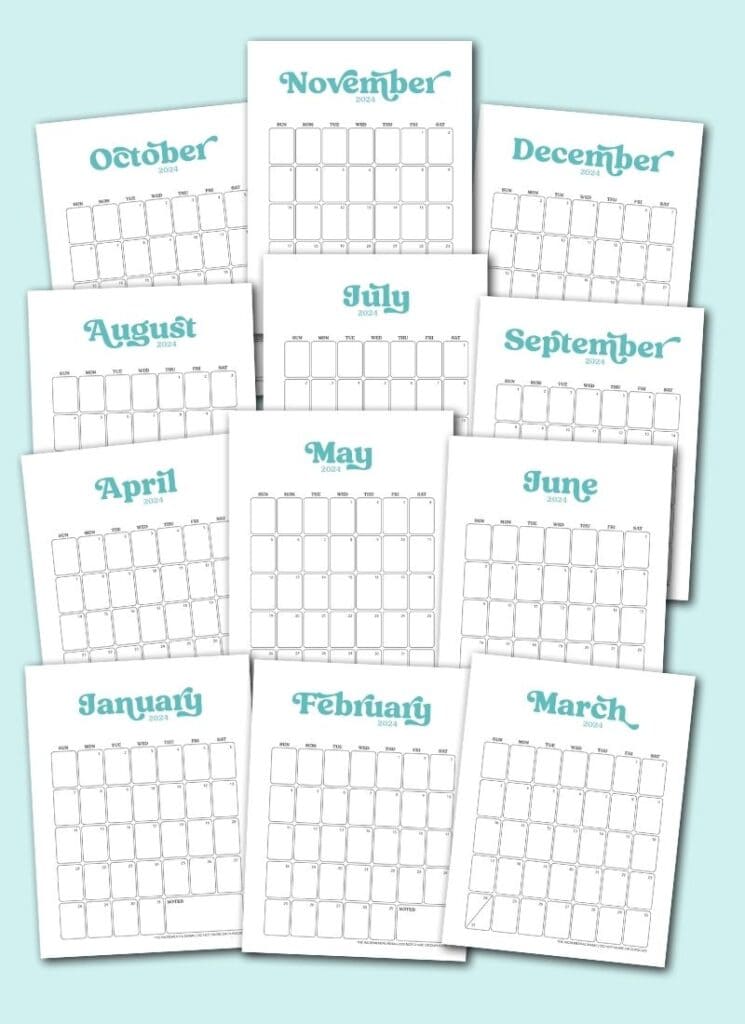 All 2024 Calendars in Your Inbox
Get all 12 cute monthly calendar templates sent straight to your inbox. Plus get free tips and resources to:
Save Time
Get Organized
Simplify Life
Click the button below to get started.
2024 Retro Blue CALENDAR TEMPLATES
To get all 12 calendars at once, you can get all 12 free calendar printables sent to your inbox. Plus, you'll get some great tips and extra resources to help you organize your life and home.
However, ou can also just download individual months below by clicking the month calendar image of your choice.
Please note that these calendar templates are for personal use only. To share, simply share the link to this post with others and they can download their own copies.
When you click the link, it will open a new tab in Dropbox. Click the download button to download the calendar PDF to your device.
***Note there are 2 pages to each download. Just print the calendar on page 2. ***
Download the 2024 Monthly Calebdar PDF Printables
I sincerely hope you enjoy these free 2024 monthly calendar PDF printables. You can download the individual PDFs above or you can get all 12 sent to your inbox plus gets some other awesome resources and tips to organize your life.
If you're looking for more resources, check out some of the links below!