While the holiday season can be full of magic and cheer, the reality is that it can also be incredibly stressful and overwhelming. Between planning events and coordinating gifts, it's no wonder that 62% of respondents to a survey reported feeling stressed during the holidays.
But the antidote to stress is planning. So I've created the perfect free printable Christmas Planner that'll make your Christmas preparations smooth, so you can spend less time feeling frantic and more time making memories with loved ones.
This collection of 11 fabulous Christmas planner printables will help you have the organized Christmas you've been dreaming of. Instead of feeling like you've got an endless to-do list, work through these printable Christmas planner pages and plan an incredible holiday for your family.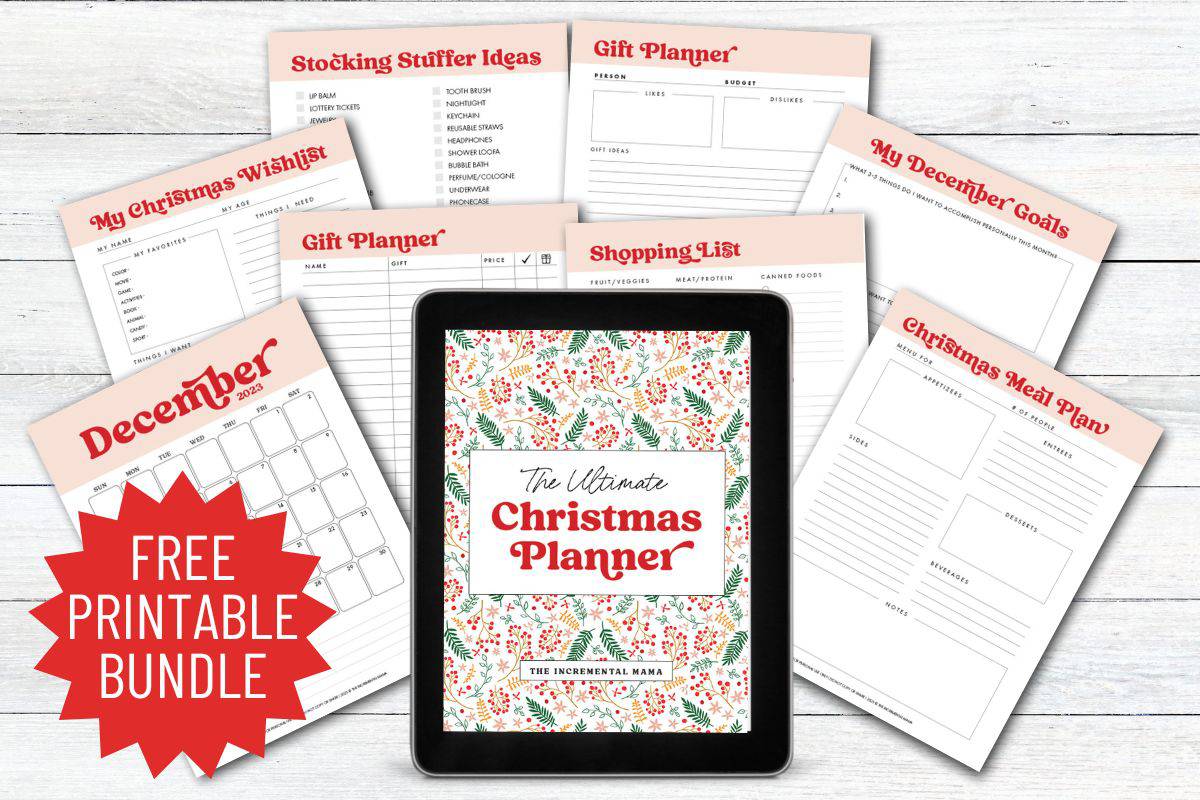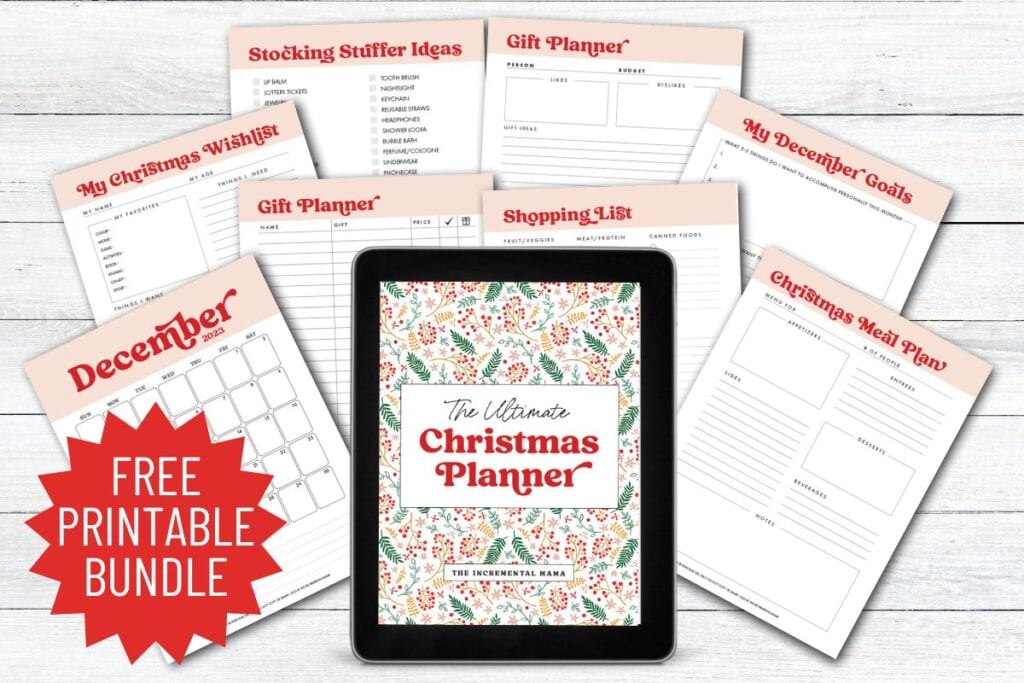 How to Use the Free Printable Christmas Planner
This holiday planner includes printables in different categories that help you plan:
Christmas gifts & stocking stuffers
Your Christmas menu
Fun Christmas outings & activities for your family
And more!
Below, we'll cover each of the free Christmas planner printables and how to best use them.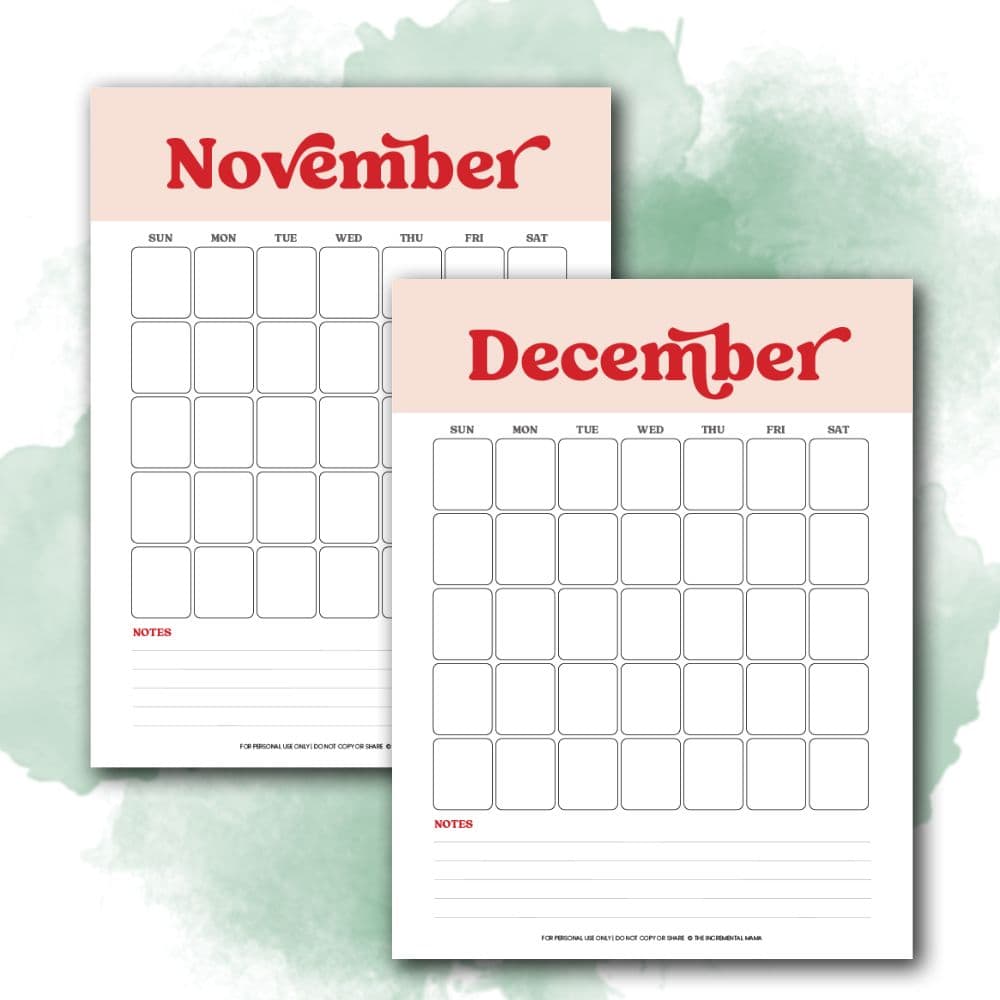 1. November & December Calendar Printable
The first printables in the planner are November and December calendar printables that allow you to mark your important dates, school events, and other festive gatherings. It's your month at a glance, ensuring you don't miss out on a thing. It also includes a space for any extra notes you may want to jot down. The calendars are undated so that you can reuse this planner year after year.
How to use: Highlight family traditions, penciling in shopping days or even those cozy nights in with a classic Christmas movie.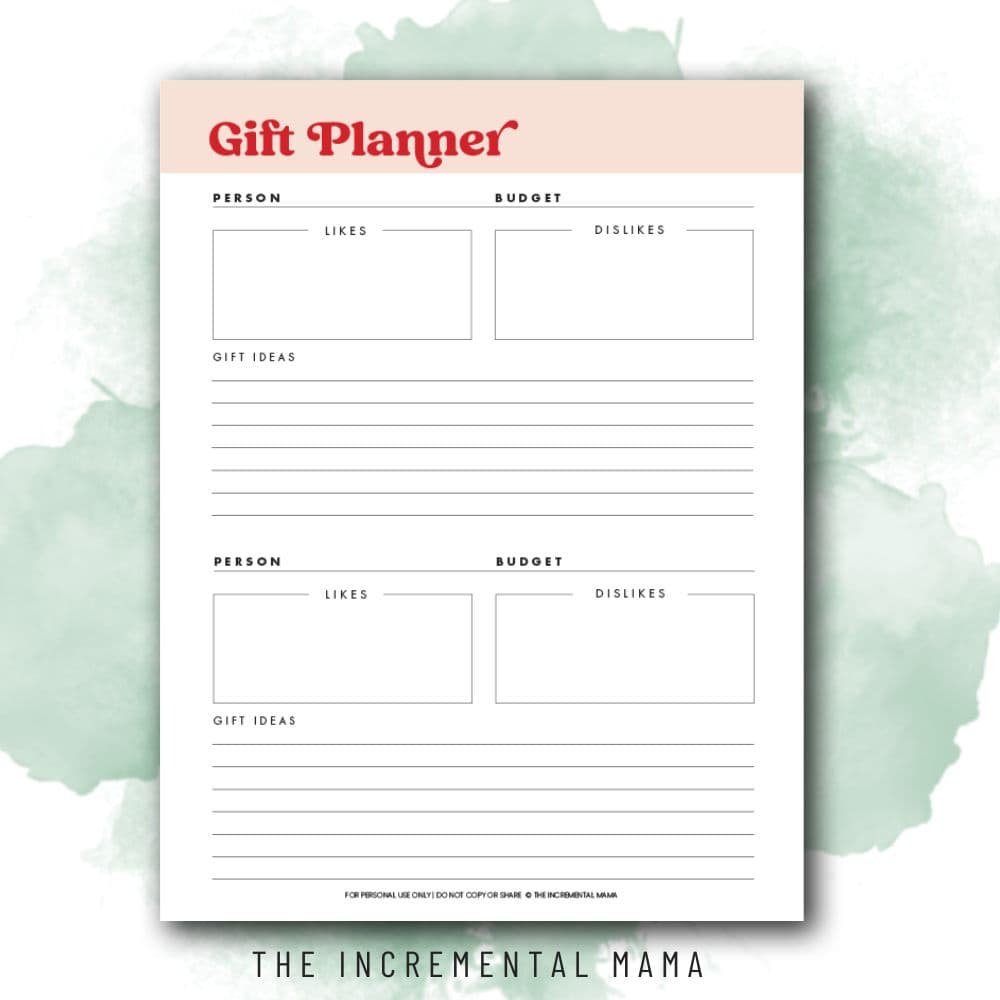 2. Christmas Gift Planner
Say goodbye to last-minute gift shopping panic (and the insane crowds you'll find at the stores). This gift planner gives you space to brainstorm and plan out gifts for your loved ones. Keep track of everyone you're buying for, what you're getting them, and your budget.
How to use: Start early, jotting down ideas for gift lists. Then check them off once they're wrapped and under the tree.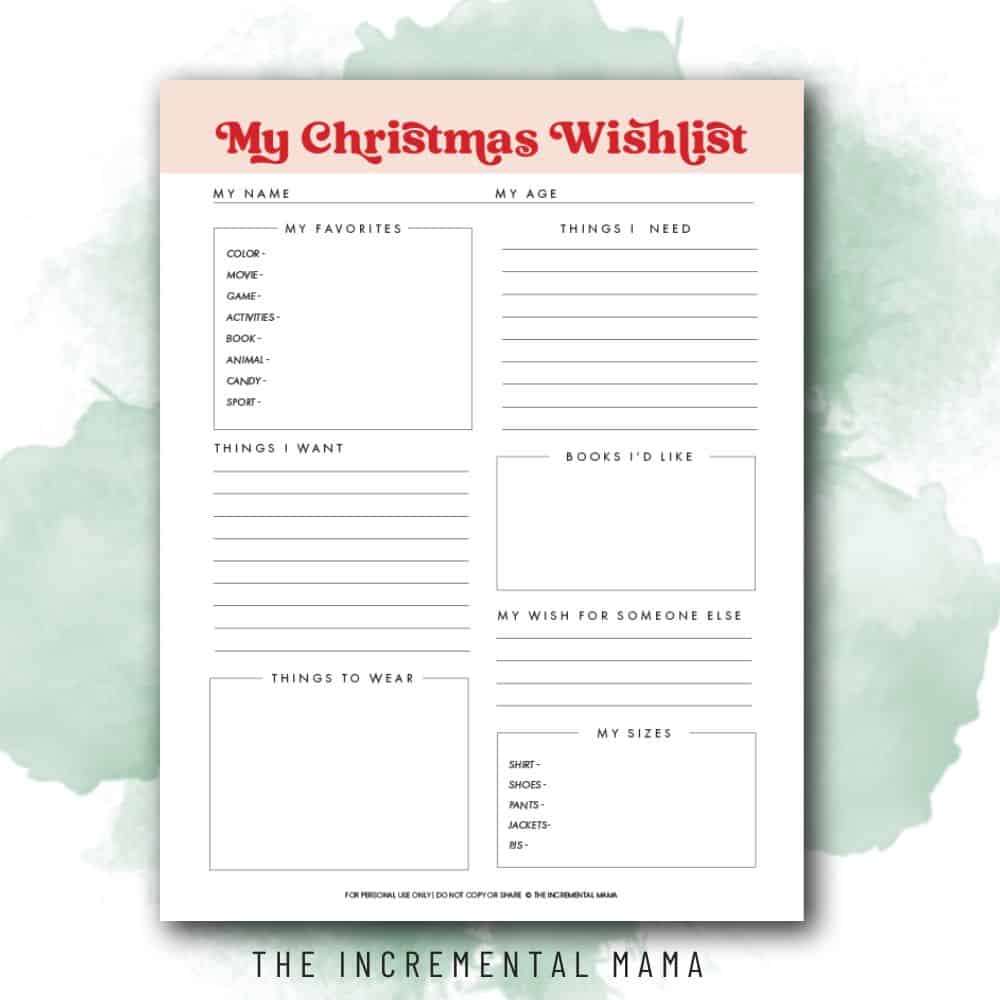 3. Christmas Wish List Worksheet
Skip the secret detective work trying to figure out what everyone wants and instead get your loved ones to fill out this awesome Christmas wishlist planner. It works great for both kids and adults and will leave your with tons of gift ideas for your loved ones.
It follows the Want Need Wear Read gift philosophy. Includes a space for favorites, things they want and need, clothes they want, and a space for sizes.
How to use: Have a fun evening with cocoa, and give a sheet to every family member to fill out their wishes. You may also consider snapping a picture and sharing with relatives to make their Christmas shopping easier as it includes the wishlists and sizes!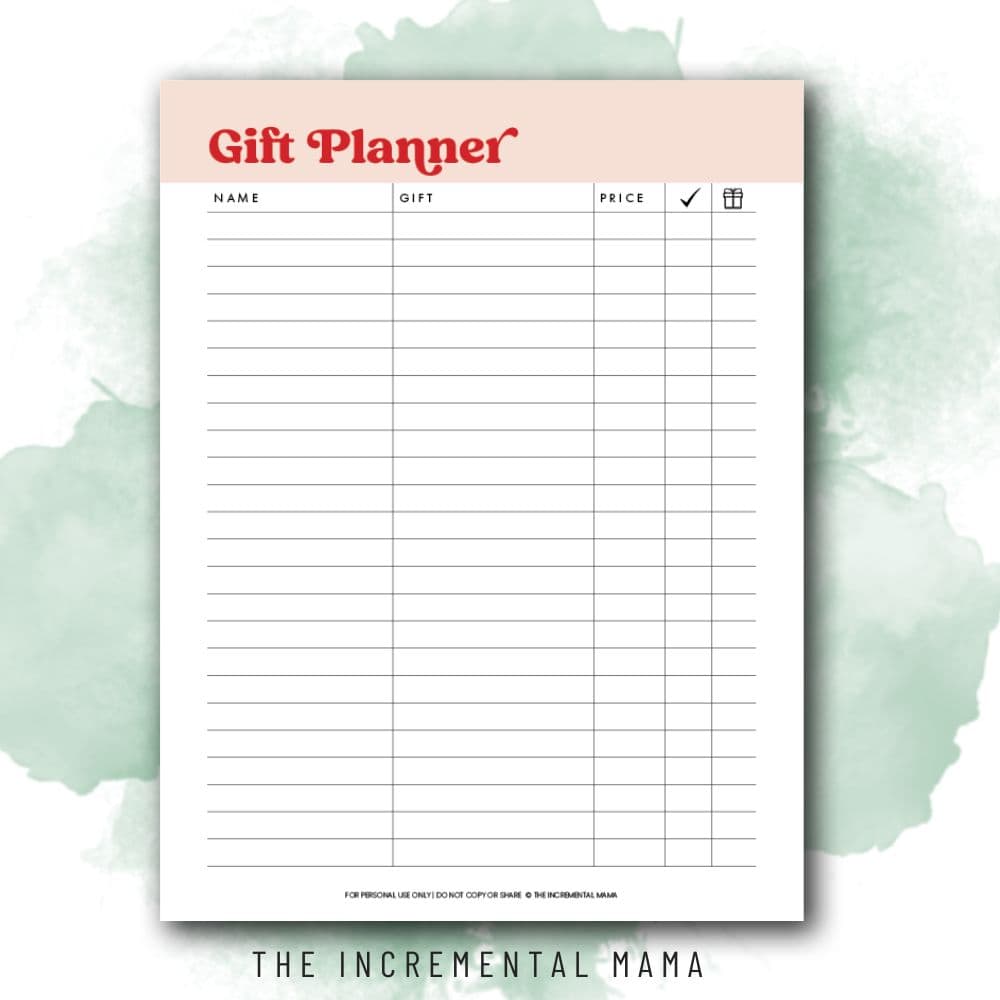 4. Christmas Gift Planner List
For those who adore organization (or just need some extra help), this master gift planner allows you to keep track of all the gifts you need to purchase and wrap. Skip all the various shopping lists and keep this one master gift planning list.
How to use: Write down gifts you decided to purchase. As you buy and wrap the gifts, update the sheet.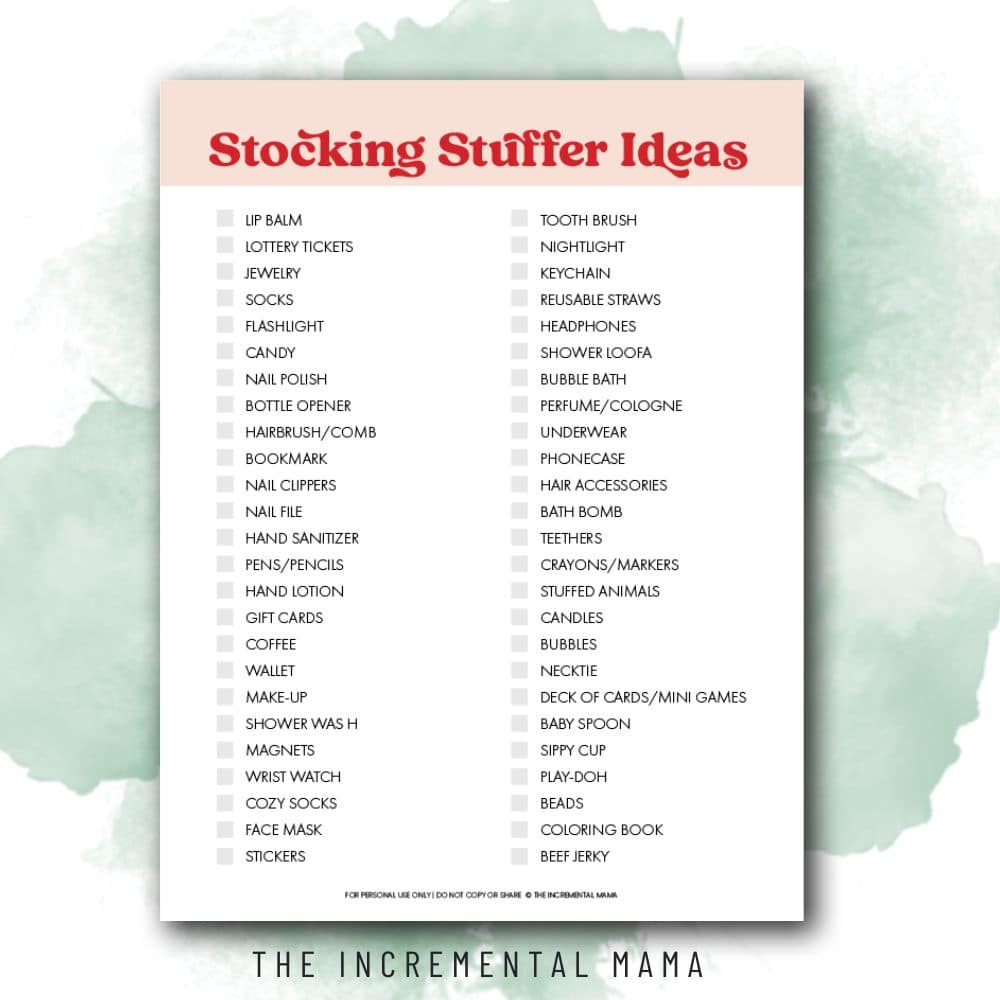 5. Stocking Stuffer Idea List
Because sometimes the little gifts can be the trickiest, this stocking stuffer ideas list is full of awesome ideas for stockings or small gifts. Gather ideas for delightful surprises to light up those Christmas morning faces.
How to use: Go through the list and circle those that you'd like to purchase. Add them to your shopping list, and pick them up on your next shopping trip.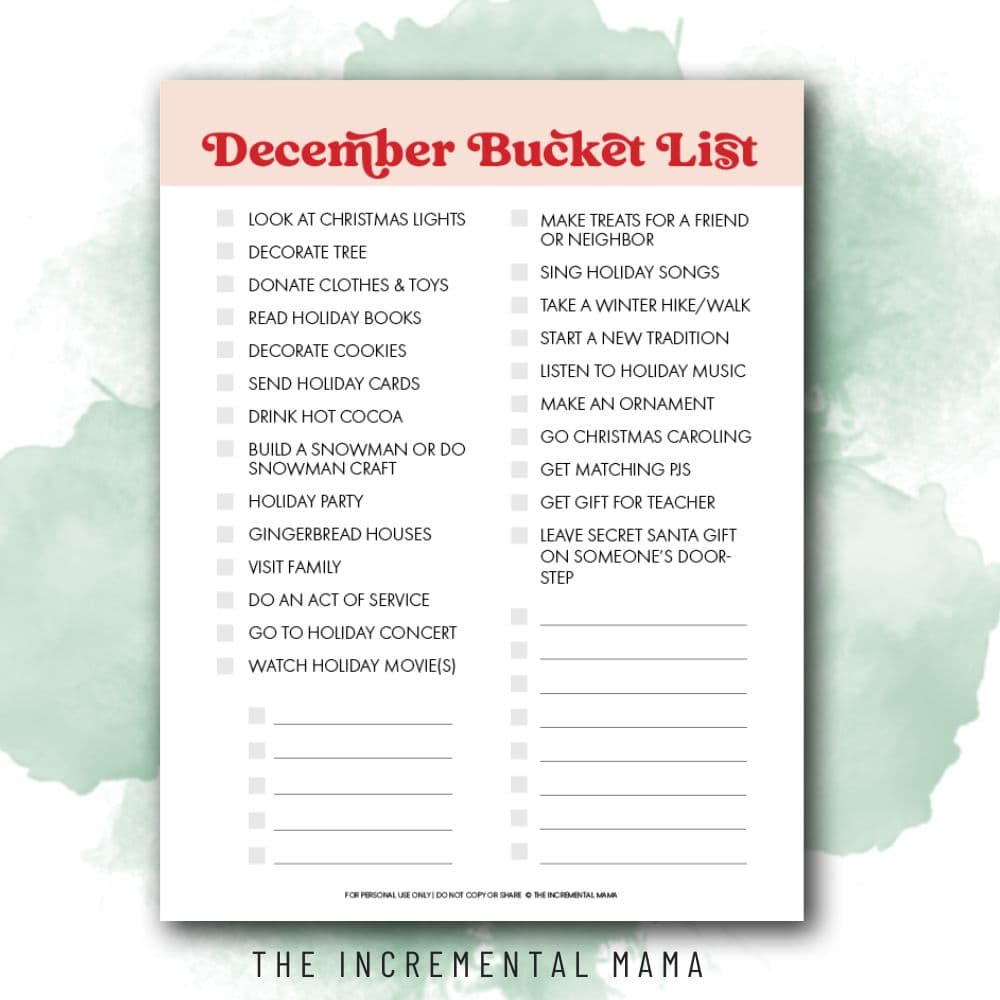 6. Christmas Bucket List Ideas for Family Fun
This Christmas bucket list is full of fun ideas that can make this the holiday season memorable with fun-filled family activities. Also included space to fill in your favorite holiday movies that you want to watch as well as other bucket list ideas you'd like to complete!
How to use: Go through the list and pick out the holiday activities that your family members would like. Plan out weekend adventures or evening family time crafting or putting up Chritsmas decorations. From building snowmen to baking cookies, carve out space for the small things that make the season magical.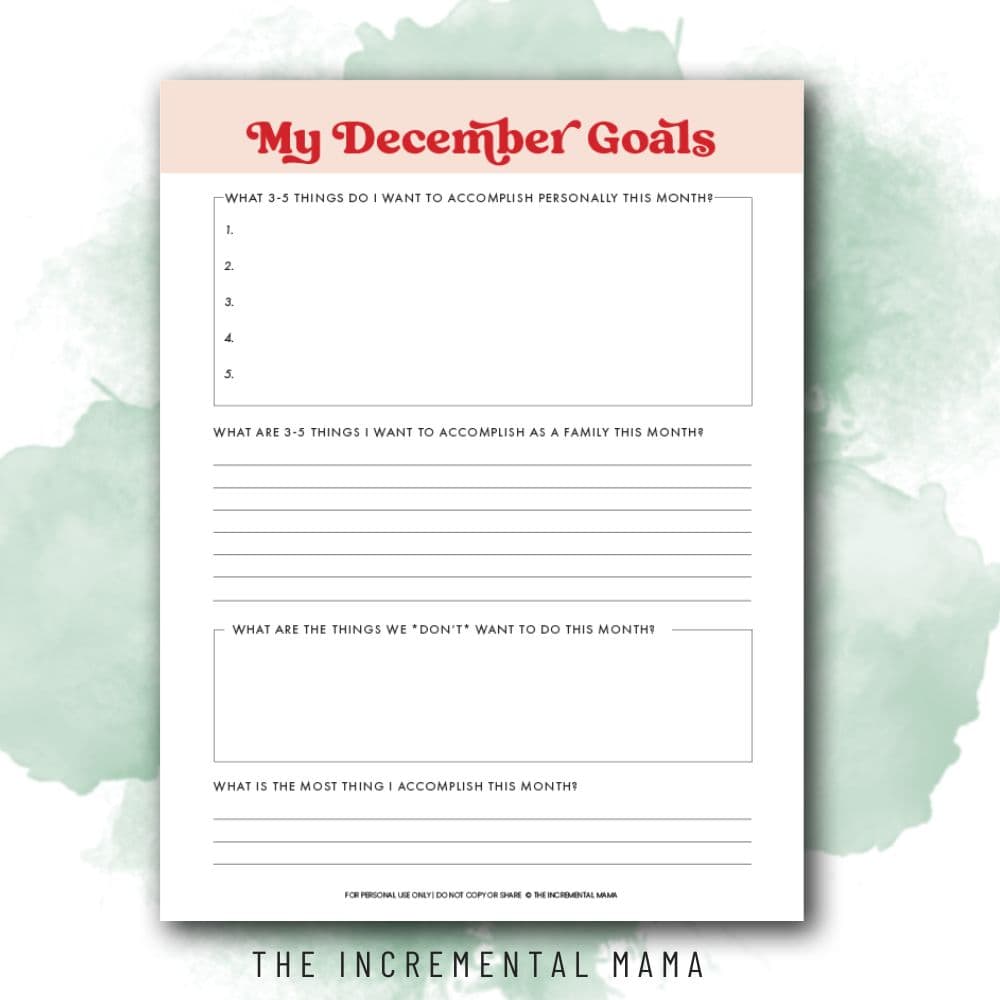 7. Personal December Goals Worksheet
Amid the holiday chaos, it's easy to go bigger instead of really focusing on what truly matters to you. This goals worksheet gives you space to set your goals for December and create your focus for the month.
How to use: Dedicate a quiet moment, decide what matters most to you this month, and make it happen.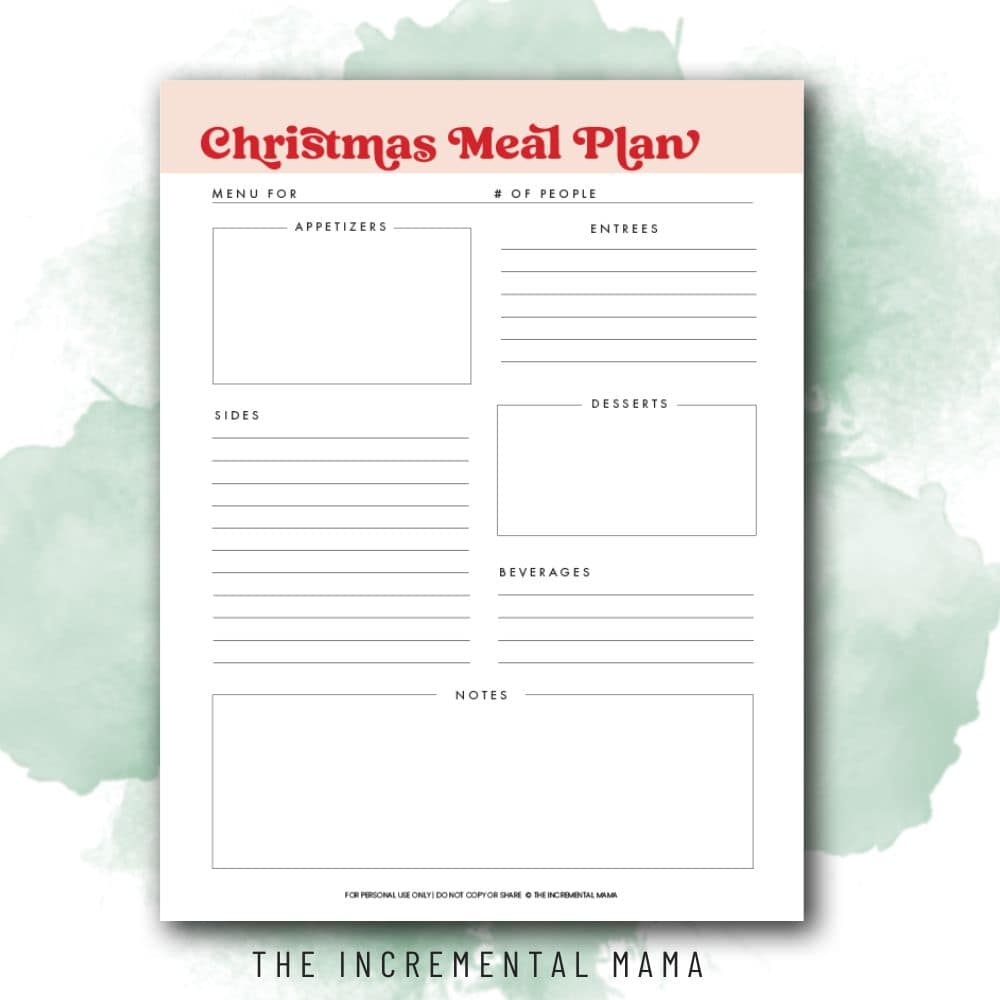 8. Christmas Meal Planner
No more frantic kitchen moments with this Christmas menu planner. Plan the perfect Christmas dinner, from appetizers to desserts.
How to use: Choose your recipes ahead, and start prepping early to minimize the Christmas Eve hustle.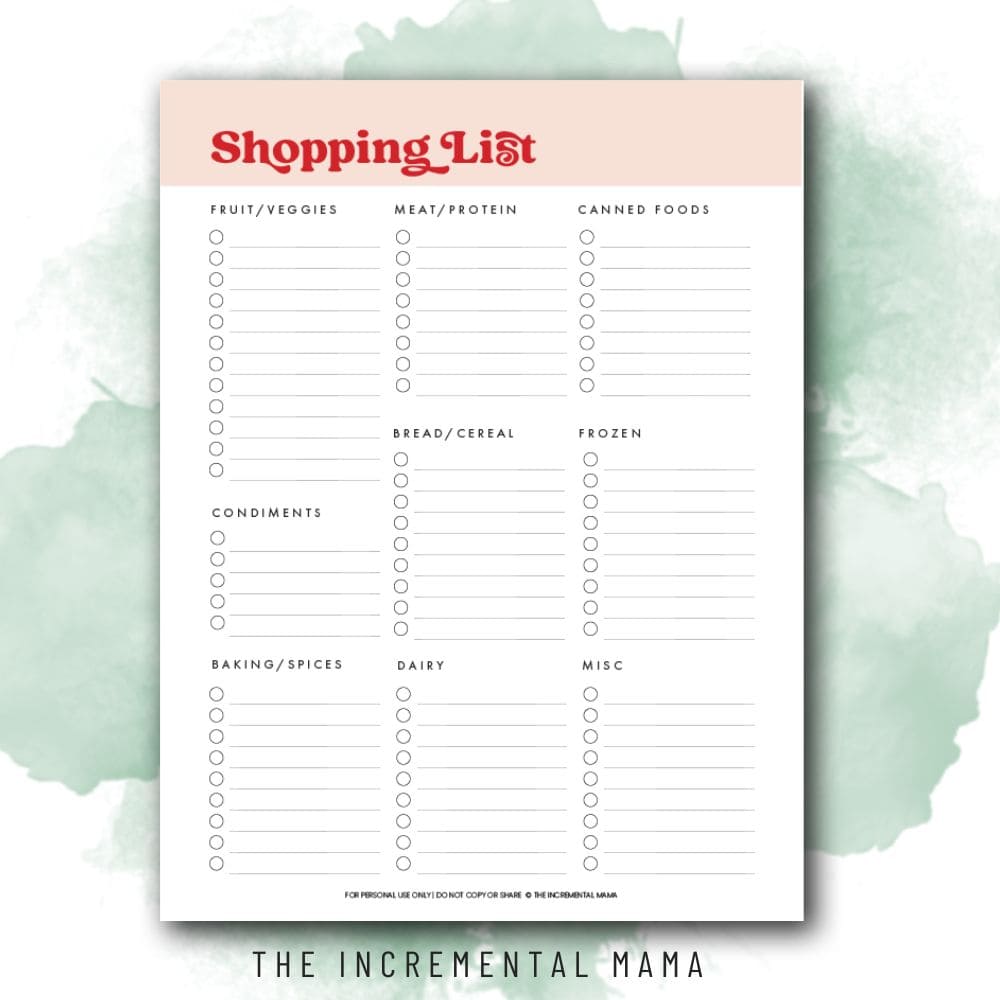 9. Grocery Shopping List
Once you've set your menu, you can make your grocery list for your Christmas meal. Skip the last minute trips to the store for one single ingredient.
How to use: Once you've settled on your menu, gather all the recipes. Then jot down every ingredient you need. Use grocery pick up or delivery to make your grocery shopping as easy as possible.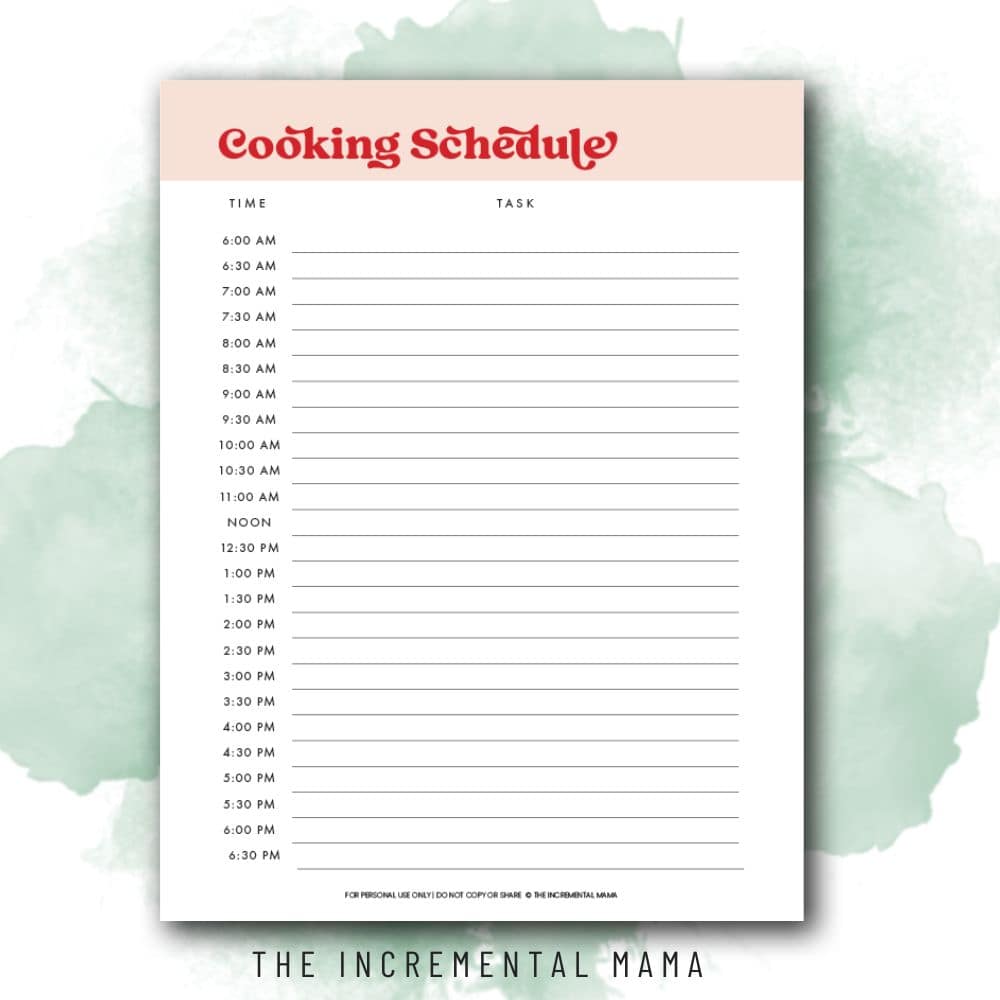 10. Cooking Schedule for Christmas Day
Orchestrating the meal of the year is no small feat. Time everything perfectly with this cooking schedule planner.
How to use: Plan out when to start the turkey, set the rolls, and when to begin whipping up that scrumptious dessert.
10 Tips for Planning a Magical Stress-Free Christmas
With the awesome Christmas planning printables, you're on your way to an amazing holiday season. But I also wanted to share a few tips for how to make the most of the season and avoid stress adn overwhelm. These tips will help as you work through the printable Christmas planner and create your holiday plans.
Here are 10 tips to make your Christmas merry and stress-free:
1. Start Early
The early bird not only gets the worm but also enjoys a relaxed December. Begin your planning and shopping in advance to avoid last-minute rushes and potential shortages.
2. Prioritize Traditions
Reflect on what traditions truly matter to you and your family. Instead of trying to do everything, focus on a few meaningful activities that bring genuine joy.
3. Delegate
You don't have to do everything yourself! Delegate tasks based on each family member's strengths and interests. Maybe your partner is great at wrapping gifts, or your eldest loves baking. Everyone can play a part in the holiday prep.
4. Set a Budget
Overspending can cause stress, especially once January rolls around. Determine a realistic budget for gifts, food, and other festive expenses. Stick to it, and remember that meaningful experiences often outweigh material gifts.
5. Simplify Where Possible
Do you need to bake five types of cookies or will two or three do? Must you decorate every room or can key areas be the focus? Less can be more, especially when it keeps stress at bay.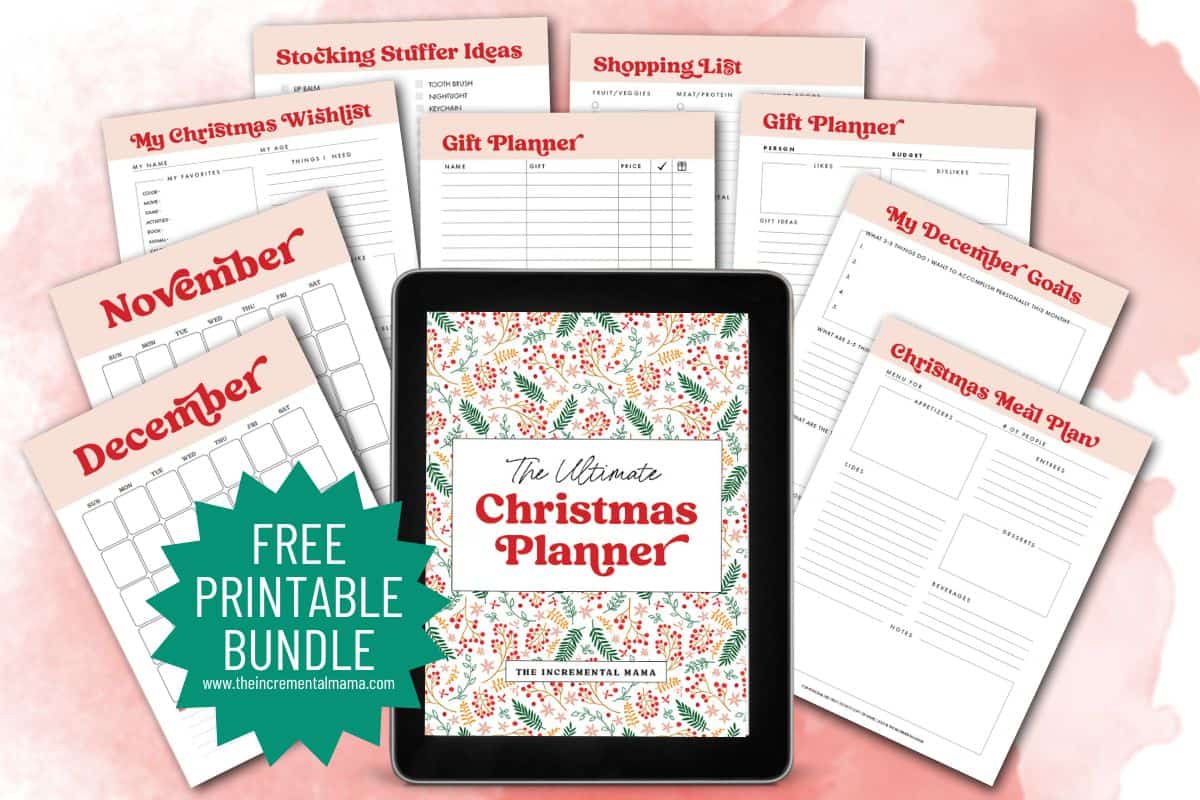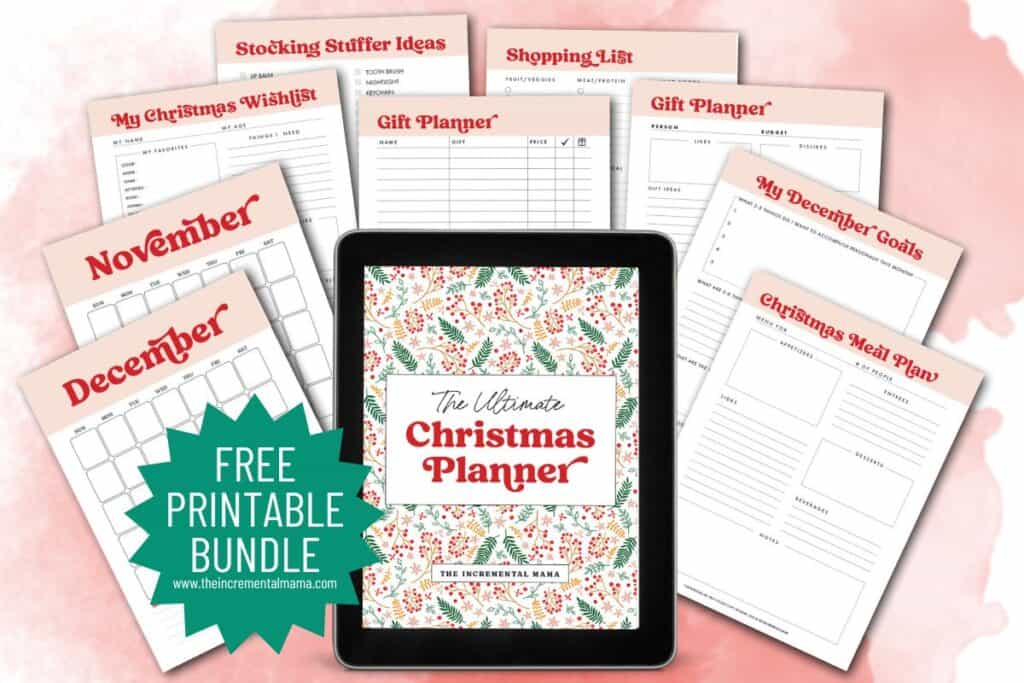 6. Schedule Downtime
Amid the holiday hustle, block out periods for relaxation and self-care. Whether it's reading a book, taking a winter walk, or simply sipping cocoa by the fireplace, these moments can recharge you.
7. Avoid Overcommitting
It's okay to say "no." Instead of attending every Christmas gathering or event, choose those that are most important and enjoyable to you.
8. Online Shopping & Gift Wrapping
Opt for online shopping to avoid crowded malls. Also, many online retailers offer gift wrapping. It might be an added expense, but it can save tons of time and stress.
9. Prepare for the Unexpected: Always have a backup plan. Perhaps it's a spare gift for unexpected visitors or an easy-to-cook dish for surprise dinner guests. Being slightly over-prepared can prevent last-minute scrambles.
10. Stay Present: Amid the planning and festivities, remember the essence of the season: love, gratitude, and togetherness. Take moments to enjoy the twinkling lights, the laughter of loved ones, and the peace that the holiday can bring.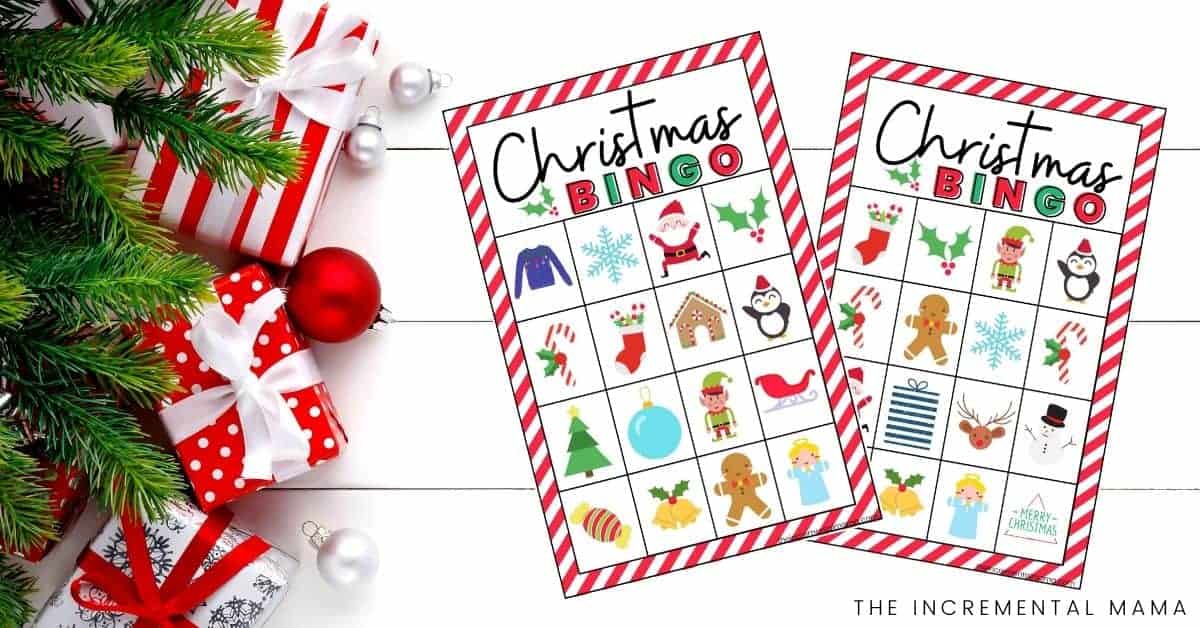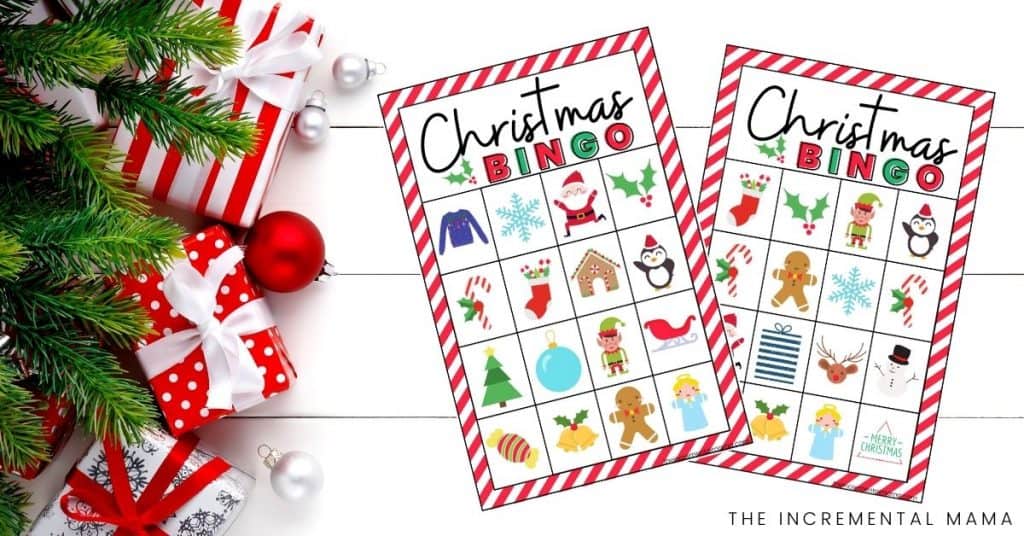 Other Free Printable Christmas Printables
If you love free printables, you are 100% in the right place. Not only do I love making them, I love using them and I have a bunch of awesome free christmas printables you can grab below.
Free Printable Christmas Bingo – The perfect activity to add to your Christmas bucket list! As this game has 20 different bingo cards, this free printable Christmas bingo game is perfect for your party, classroom activity, or just a fun thing to do with your kids.
30+ Christmas Border Paper Templates – Whether you're looking for Christmas stationery designs or just looking for border templates for the holiday season, you're going to love the 30+ free printable Christmas border paper PDFs you can grab for free. Your kids can use these as stationary for writing letters to loved ones.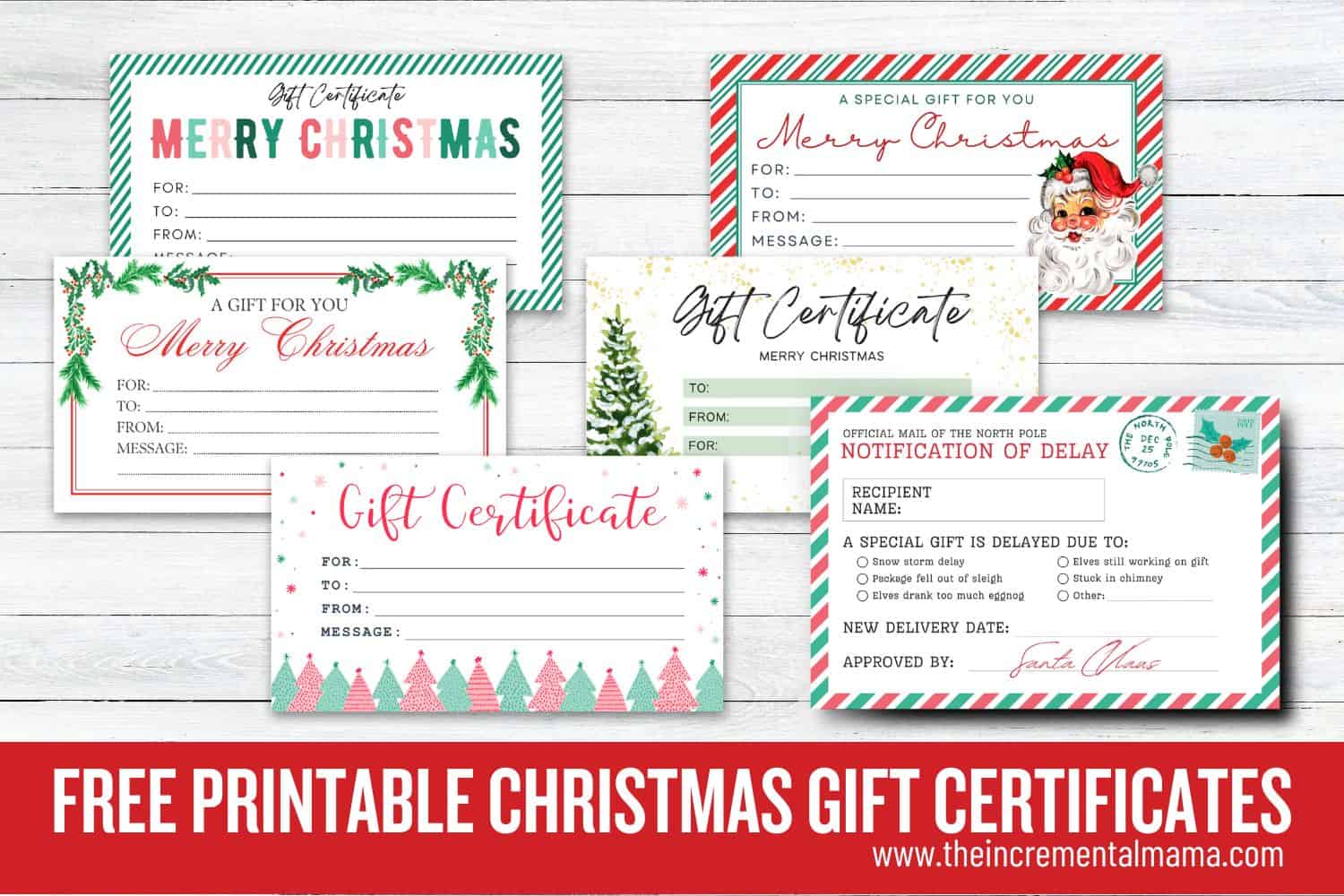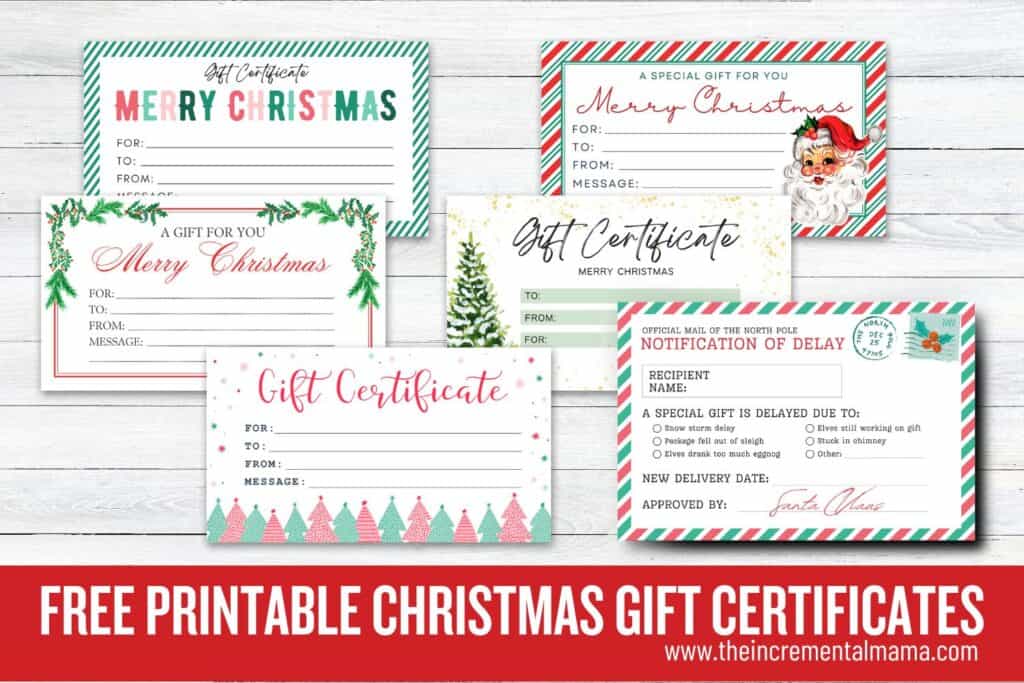 6 Free Printable Christmas Gift Certificates – These adorable gift certificates allow you give the gift of service or an expereicne to your loved ones. Get the free templates today!
Over 200 Free Printable Christmas Gift Tag – These free printable Christmas tags are exactly what you need to take your gifts to the next level without breaking the bank or taking very much time.
Free Printable Letter to Santa Template – If you're looking for a magical activity for your kids or students, these letter to Santa template printables. Includes templates for younger children as well as older kids with more writing skills.
Downloading & Printing the Christmas Planner
With this printable Christmas planner by your side, you're all set to jingle all the way! A little planning now will ensure a festive season filled with joy, laughter, and memories, minus the stress.
Ready to grab all the printable sheets and get started on your holiday planning? Click the button below and get this fantastic Christmas Planner sent straight to your inbox.
You've got this. Happy planning and Merry Christmas!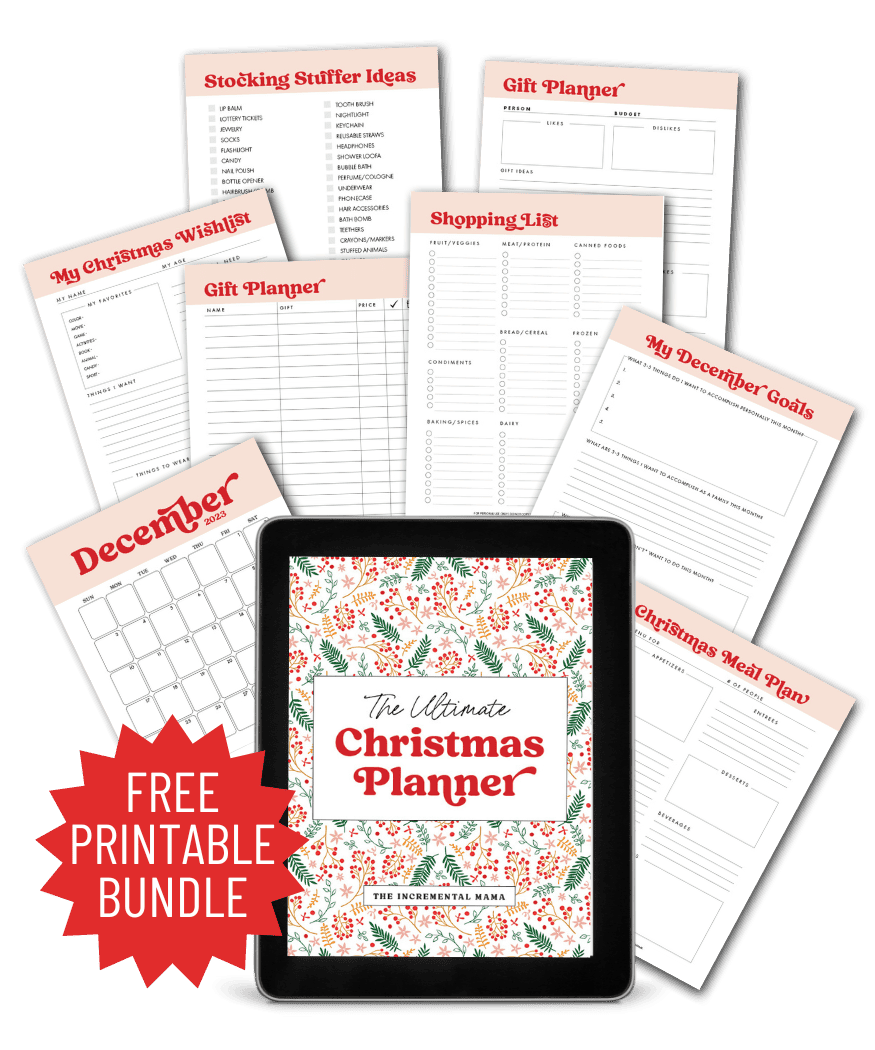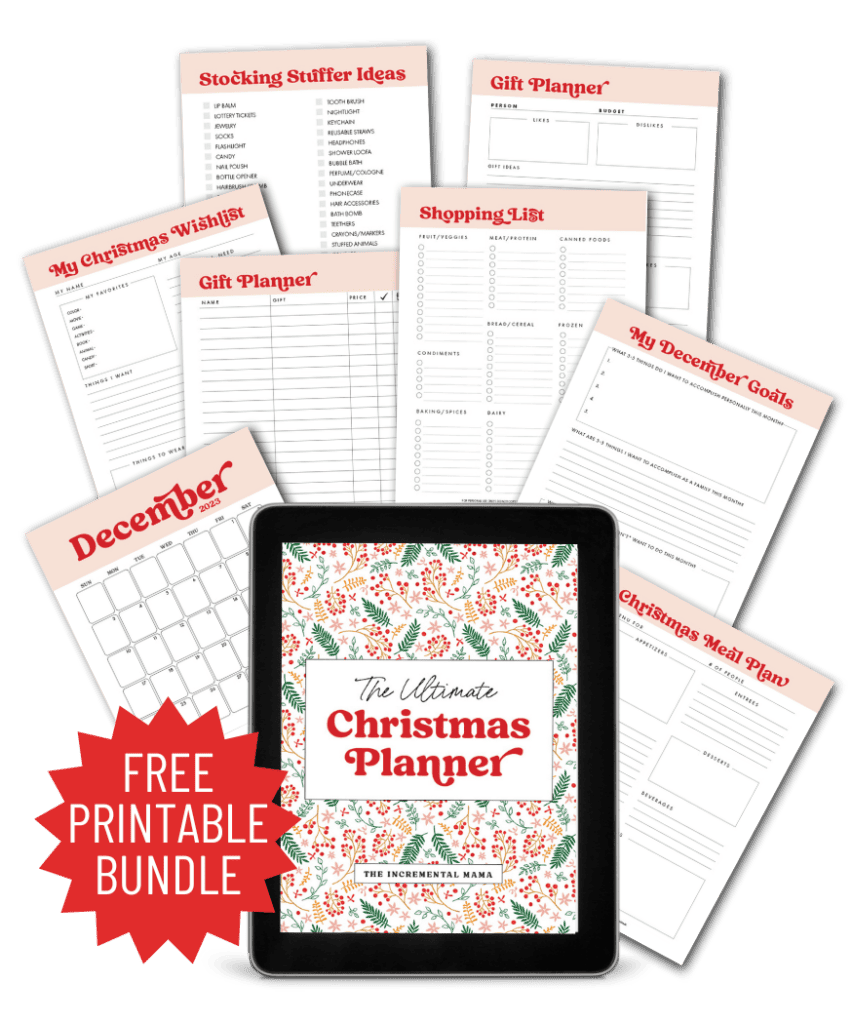 Free Printable Christmas PLanner
Click the button to get the 10-page Christmas Planner sent straight to your inbox. Everything you need to make this December less about stress and overwhelm…
…and more about making delcious memories with your family.
Looking for more helpful resources?
Here's some stuff you may enjoy…