Between debt and lack of savings, most people aren't where they'd like to be financially. In fact, here's a few sobering statistics:
58% of Americans have less than $1000 saved
Fewer than 1/3 of people actually stick to a budget
Americans hold a total of $1 TRILLION credit card debt
While most of us would be thrilled to be making more money, the truth is that the real issue is we struggle to organize our finances. Which is why you're here looking for a free free blank budget worksheet printable.
Because you're ready to take action, set a monthly household budget, and track your spending and your debt.
So first, congratulations on taking the steps that most people aren't willing to. In this post, we'll go over how to best use the 4 free printable budget sheets that are included in the free download including:
Monthly Household Budget Worksheet
Weekly Expense Tracker
Debt Tracker Template
Debt Thermometer
(By the way, if you love free printables that help you organize life, check out these free printable downloads you can grab. )
WHY USE PRINTABLE BUDGET WORKSHEET PRINTABLES
When it comes to achieving financial goals, organization is key. And a free blank budget worksheet printable is a great way to start that organization.
You can't create a budget, track your spending, or crush your debt if you don't have the numbers. And these budgeting worksheets will help you know those numbers.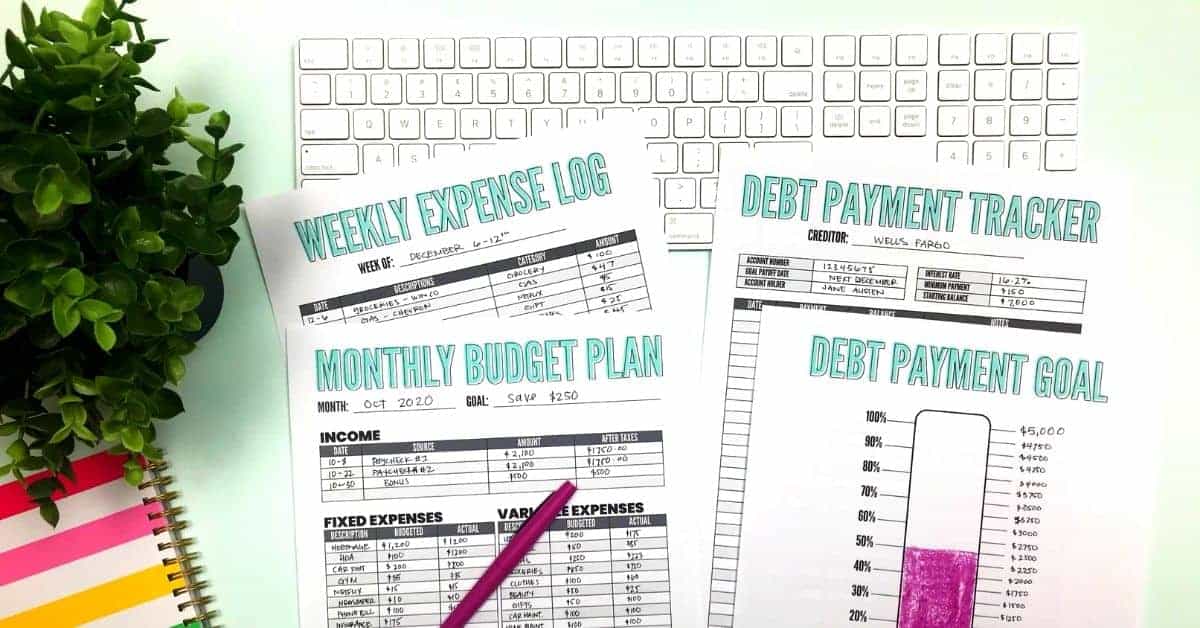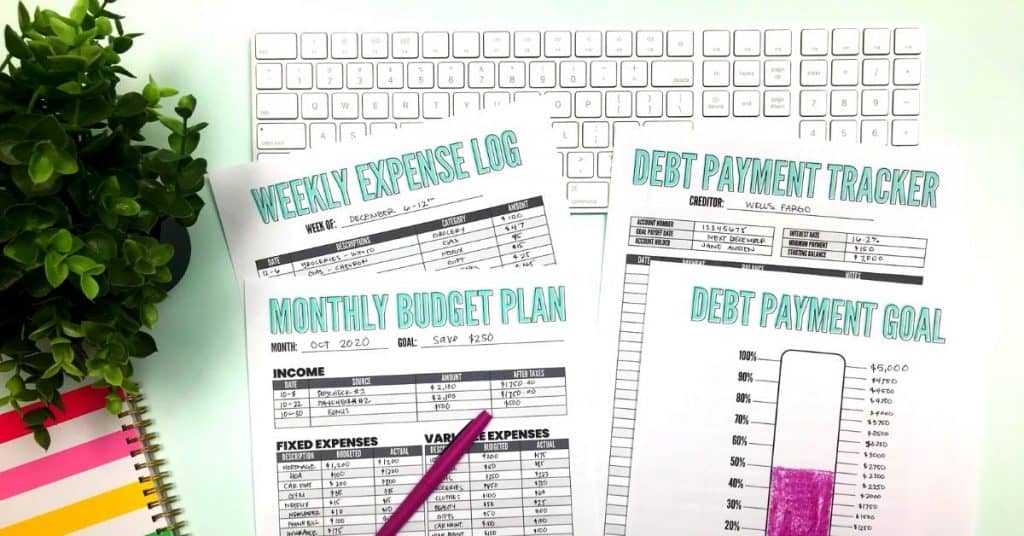 HOW TO TAKE CHARGE OF YOUR MONEY
The first thing that you need to take charge of your finances is not a calculator or a budgeting worksheet (though we'll get there).
It's focus and motivation.
While only 1/3 of Americans stick to a budget, guaranteed a whole more of them have made monthly budgets, set goals, and then given up when things got tough.
Why? Because they didn't have the proper motivation and focus.
The kind of motivation and focus that allows you to dig deep and find the willpower to put the thing you want back on the shelf, to forgo take-out and eat some pasta, to cancel the streaming service.
All so you can create the life you really want. To pay down the debt, build up the savings, and afford that amazing home and those vacations you dream about.
So before we dive in the the nitty gritty of creating a budget, you need to:
Get crystal clear on why you're willing to sacrifice NOW
Set clear goals so you know where you're headed (e.g. pay off debt, build savings, buy drem house etc).
Imagine the life you want so clearly that in times of struggle, you can envision your future and find the motivation to keep going.
Once you've done that, let's get into…
HOW TO USE THE BLANK BUDGET WORKSHEET PRINTABLES
Now it's time for the action! To make the most of the budgeting printables, you first need to gather the following things:
Income from all sources
Expenses (bank statements are great sources!)
Calculator
Writing utensil
The Free Budgeting Printables
You may want to put on some upbeat music, drink an energizing beverage. Once you're ready, you can follow the tips listed under each printable to best use each free budget template.
MONTHLY HOUSEHOLD BUDGET WORKSHEET PDF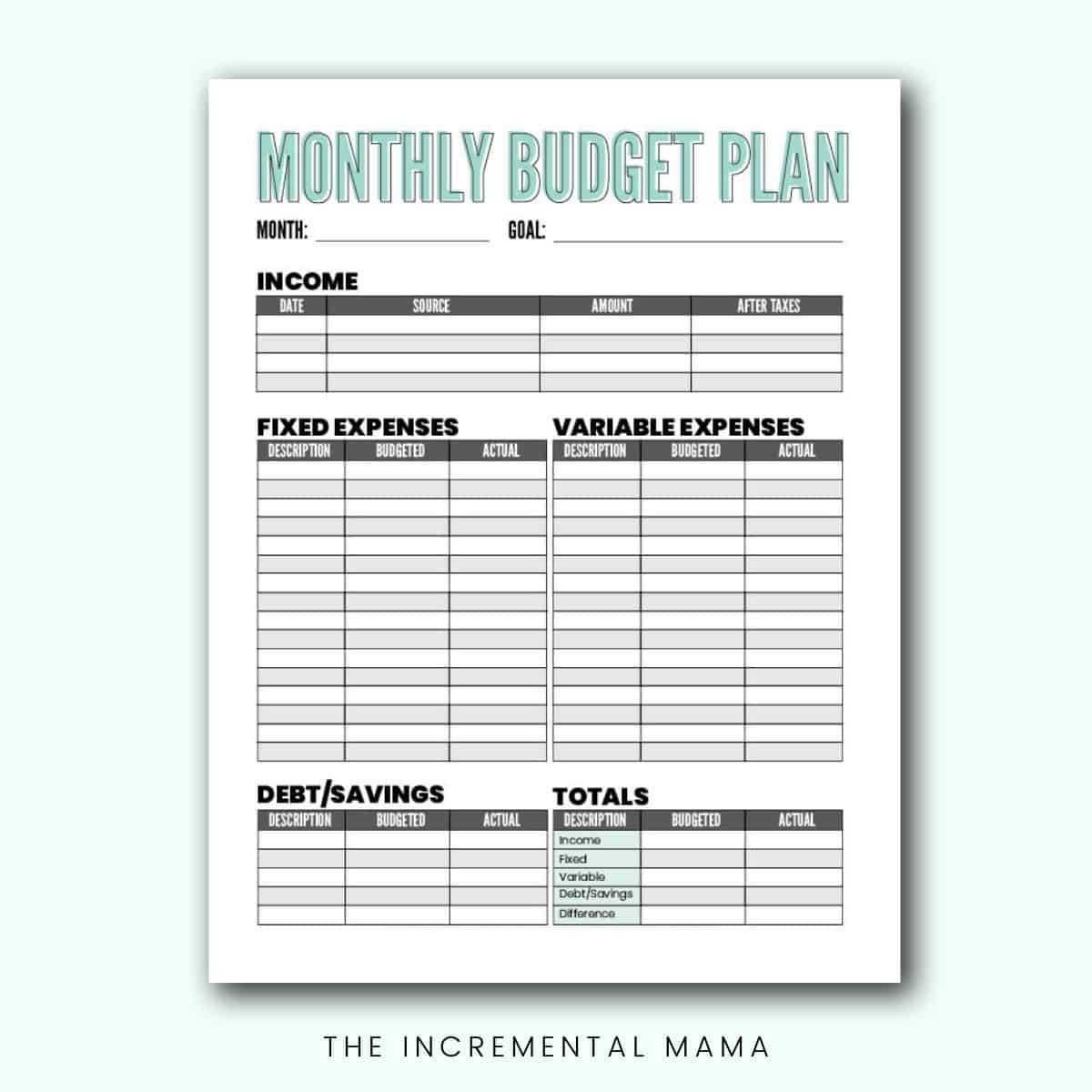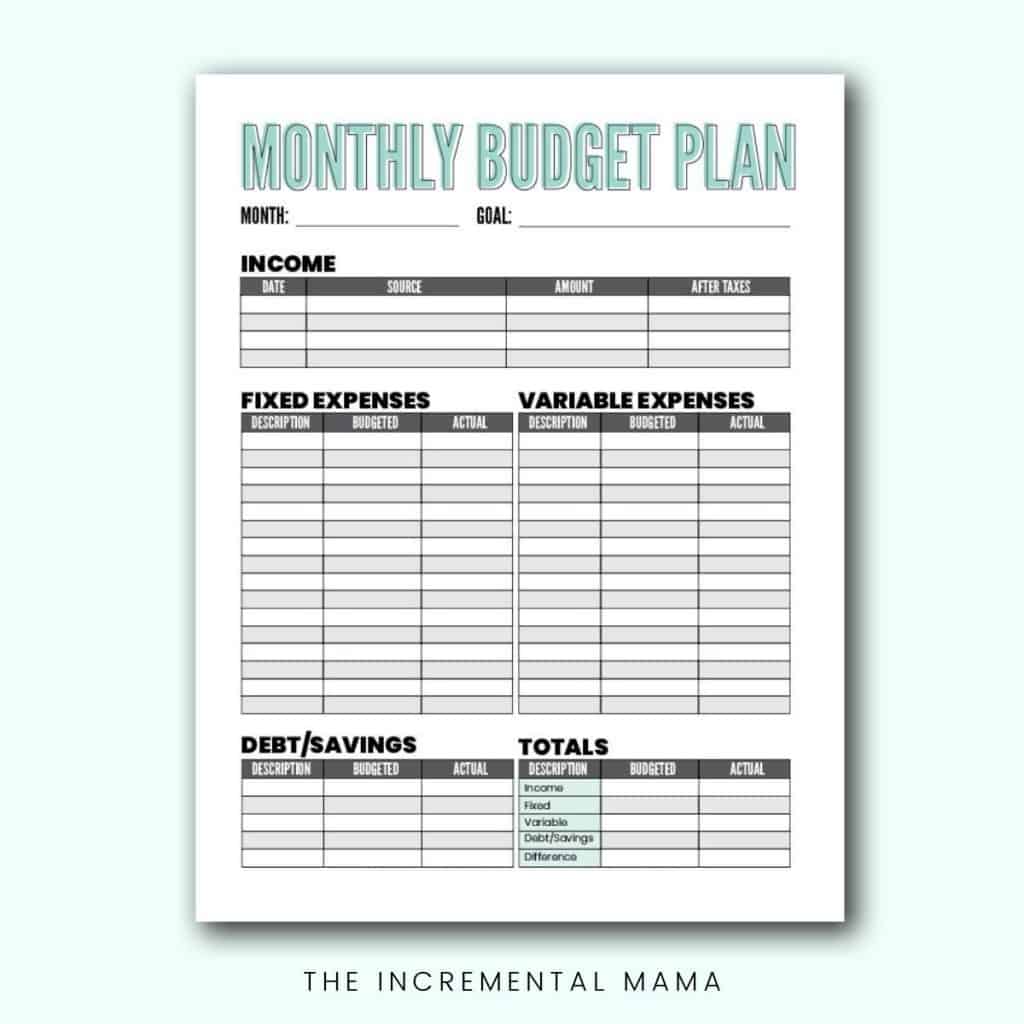 These monthly household budget worksheet pdf provides a simple template to allow you to both create a monthly household budget and track your monthly expenses.
Knowledge is power when it comes to organizing your finances. To create a monthly budget, you first need to calculate what your current expenses are. To do that, you need to list all of your expenses.
Any expense that could come up, needs a place on your monthly budget. Your expenses fall into 2 categories:
Fixed expenses
Variable expenses
Your fixed expenses stay the same month to month. These are things like car payments, mortgage/rent, phone bill, Netflix, and insurance.
Your variable expenses are expenses that change from month to month. These are things like groceries, utilities, clothes, eating out, entertainment, and transportation costs.
***CLICK HERE TO DOWNLOAD MONTHLY BUDGET***
1. List expenses
Note that your bank statements and credit card statements are great places to get a clear picture of what you're currently spending. Finding the average monthly expense for each budgeting category will help you with the next step.
2. Calculate monthly budget for everything
Once you know how much you spend on average, you can create a realistic budget. For every category of spending, put in your monthly budgeted amount.
Pick amounts you can actually stick to. Remember, too austere and you'll fail. You can always work your way to smaller numbers as you exercise your budgeting muscles.
Keep these amounts on a separate piece of paper or print of a monthly budget template that will just act as your reference guide when you make your monthly budget.
3. Set monthly goal
Now that you have a set budget, get a monthly budgeting printable and set your goal for the month. Tangible short-term goals help us with the long-term goals.
4. Track expenses during the monthly using the expense log below
With a budget and a goal set, it's now time to track expenses. You can use the Weekly Expense Tracker below, cash envelopes, or whatever works for you.
5. Put in total monthly expense in "Actual" column
Once you have total monthly spending, you will put the total for each category in the "Actual" Column.
6. Calculate totals to find difference
Now it's time work through all your calculations and see how you did!
MASTER YOUR MONEY BUDGETING PRINTABLES
If you're looking for more help and resources to help you create a budget you can stick to and truly crush your debt, then check out the Master Your Money Bundle.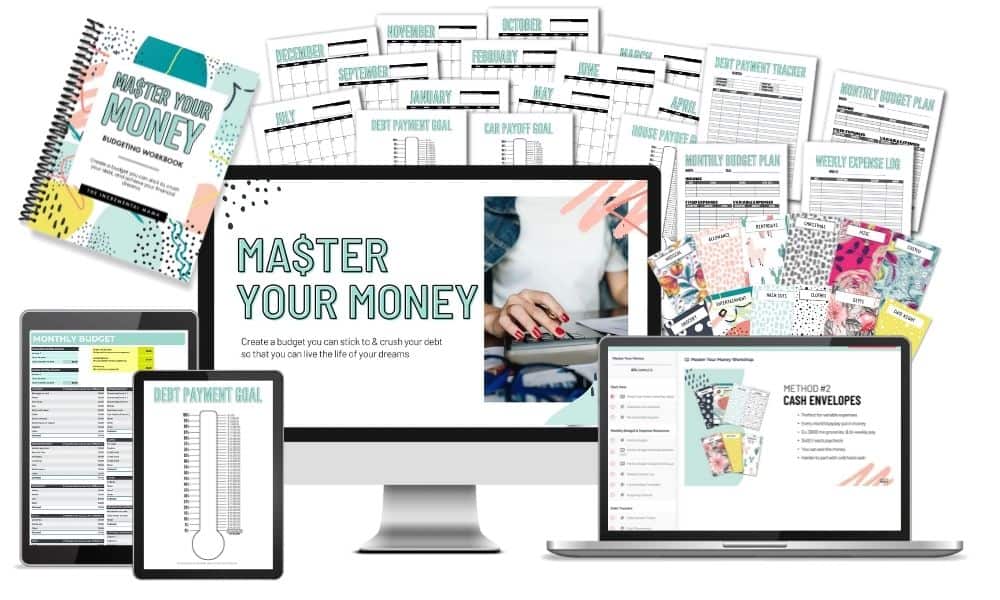 Make it easy to take charge of your finances with the Master Your Money Budgeting Bundle. It has everything you need to create a monthly budget and track your spending & debt.
50 Minute Workshop to guide you through all the steps
Fillable Workbook
Monthly budgeting PDF
12 Month Excel Monthly Budget
12 Month Google Sheets Monthly Budget
Weekly Expense Tracker
Debt Payment Tracker
5 Debt Tracker Thermometers (Credit Card, Home Loan, Care Payment, Student Loan)
January-December Budgeting Calendar Templates
8 cash envelope templates
…and more!
And best yet, the PDFs are fillable and calculate automatically. Meaning you don't have to be good at math to organizer your finances and crush your goals.
Now it's time work through all your calculations and see how you did!
WEEKLY EXPENSE LOG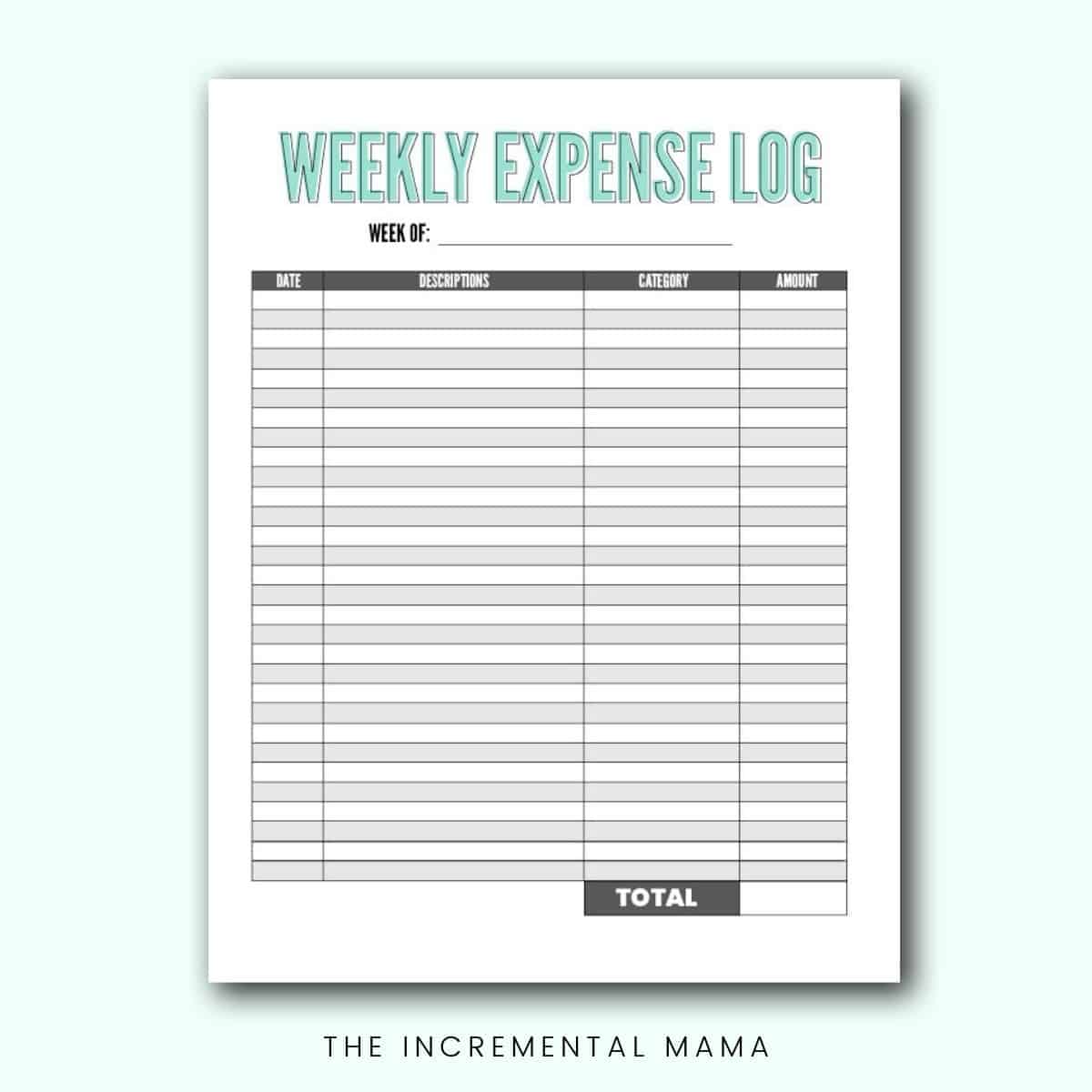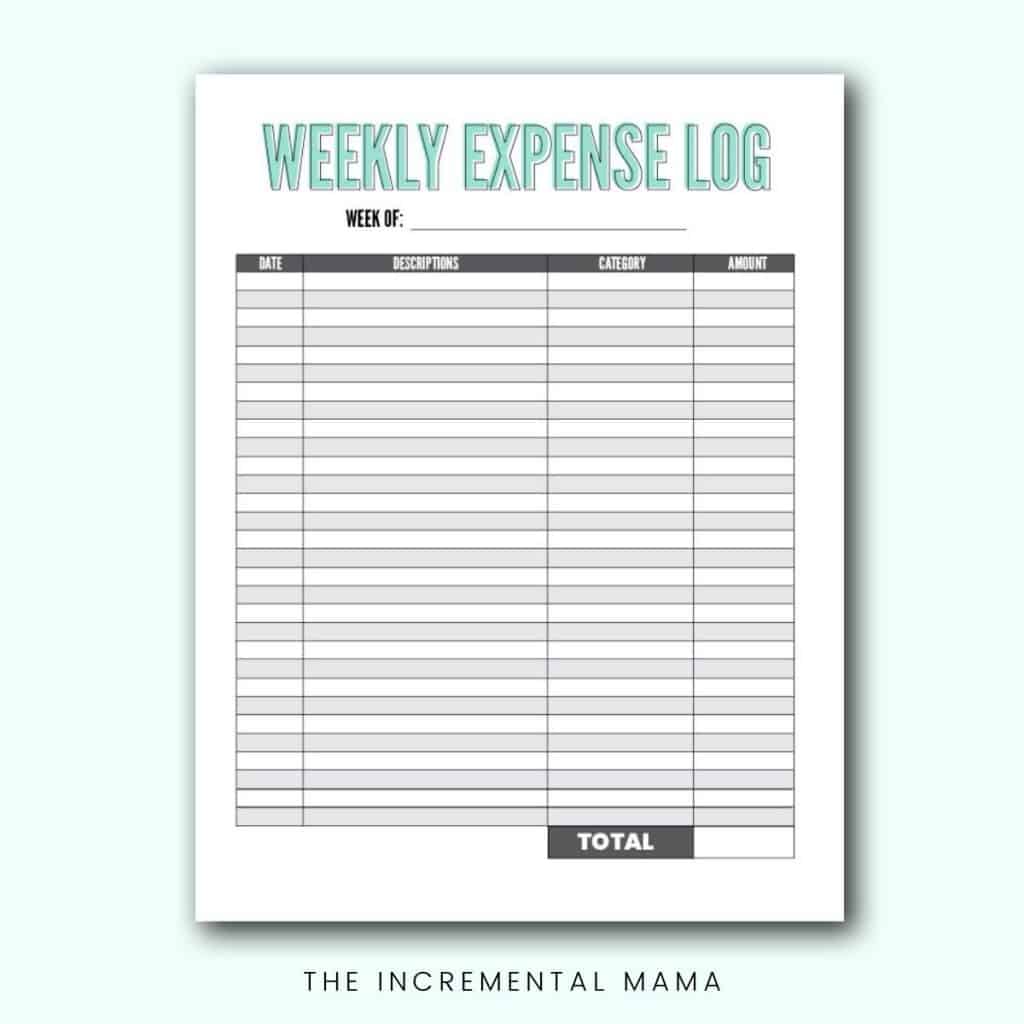 With the budget set, the hard mental work is done. It's now about the day-to-day budgeting. Which really comes down to tracking your daily expenses.
This weekly expense worksheet helps to track individual expenses each week and makes it easy to calculate monthly totals.
***CLICK HERE FOR WEEKLY EXPENSE LOG***
DEBT PAYMENT TRACKER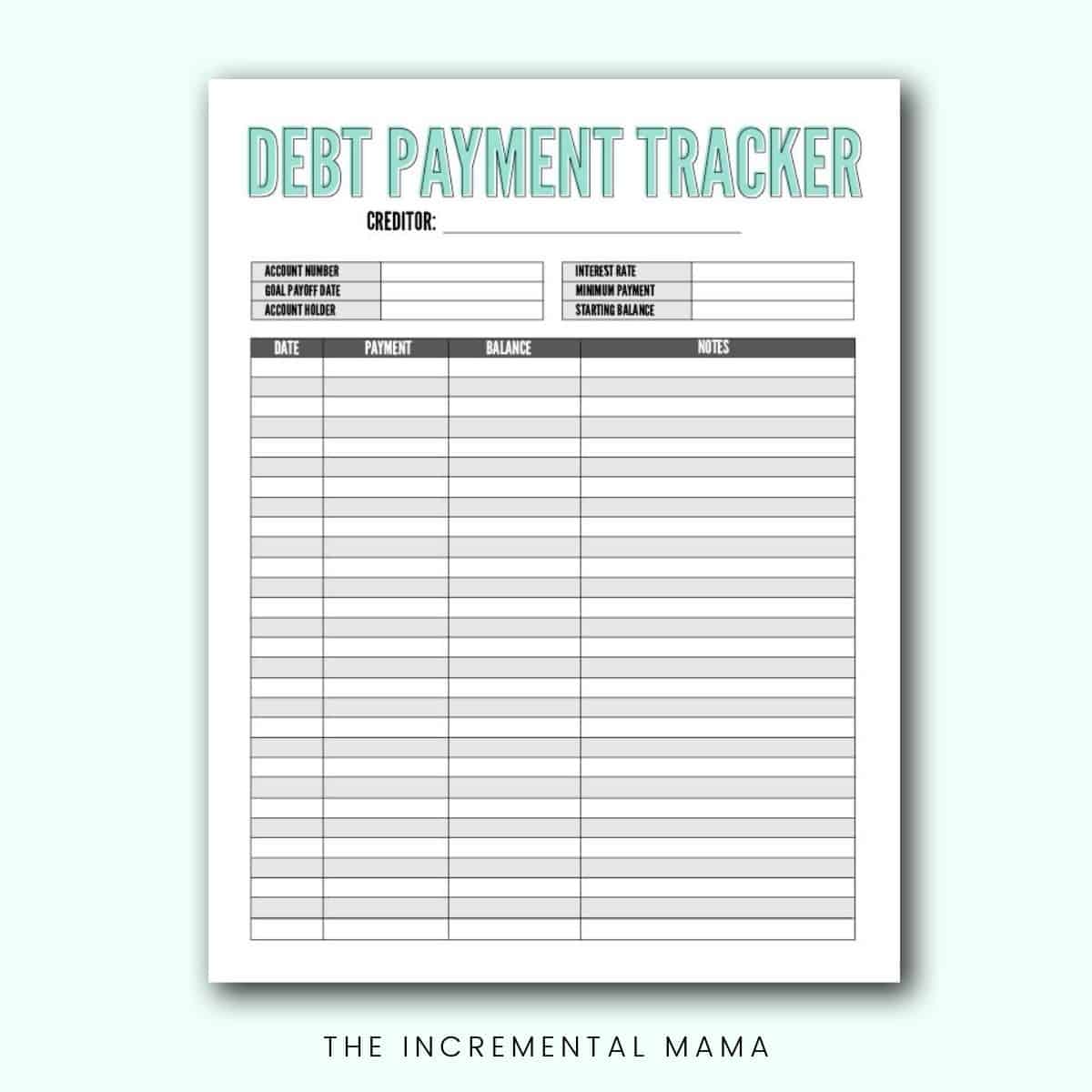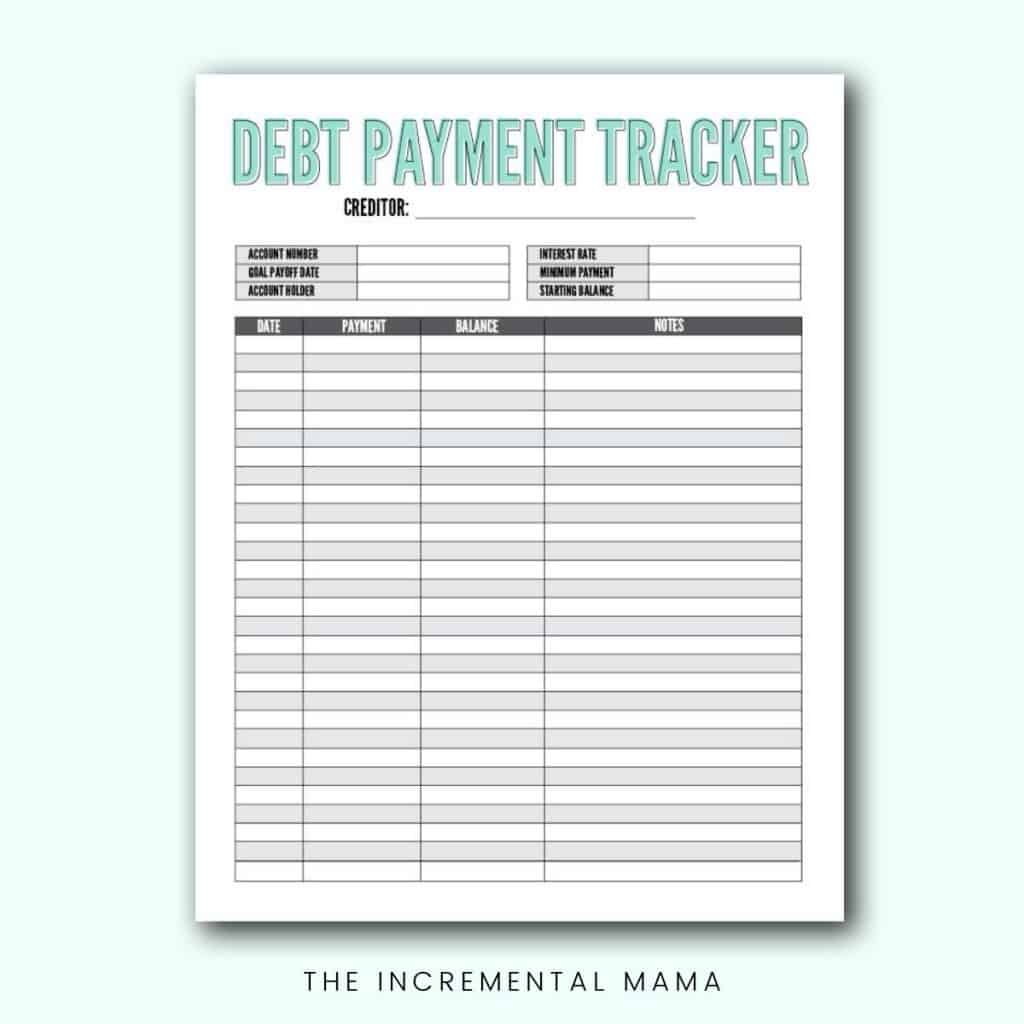 I can be easy to ignore debt until it starts to feel like a ton of bricks weighing you down. But with debt, knowledge is power. And this debt payment tracker help you stay on top of your debt.
Track your debt payoff with this free blank budget worksheet printable. Each time you put money towards debt, you can track how much you have left.
DEBT THERMOMETER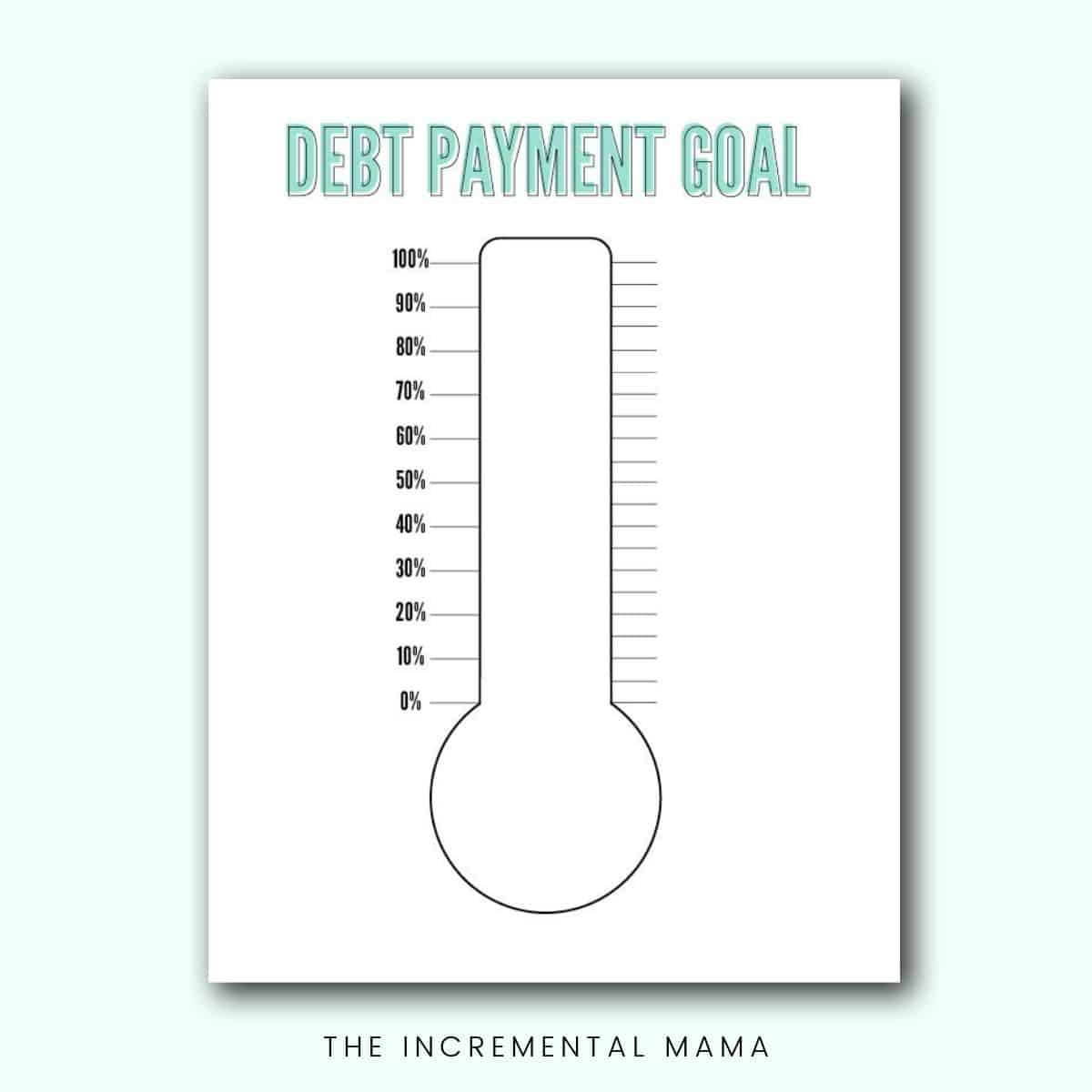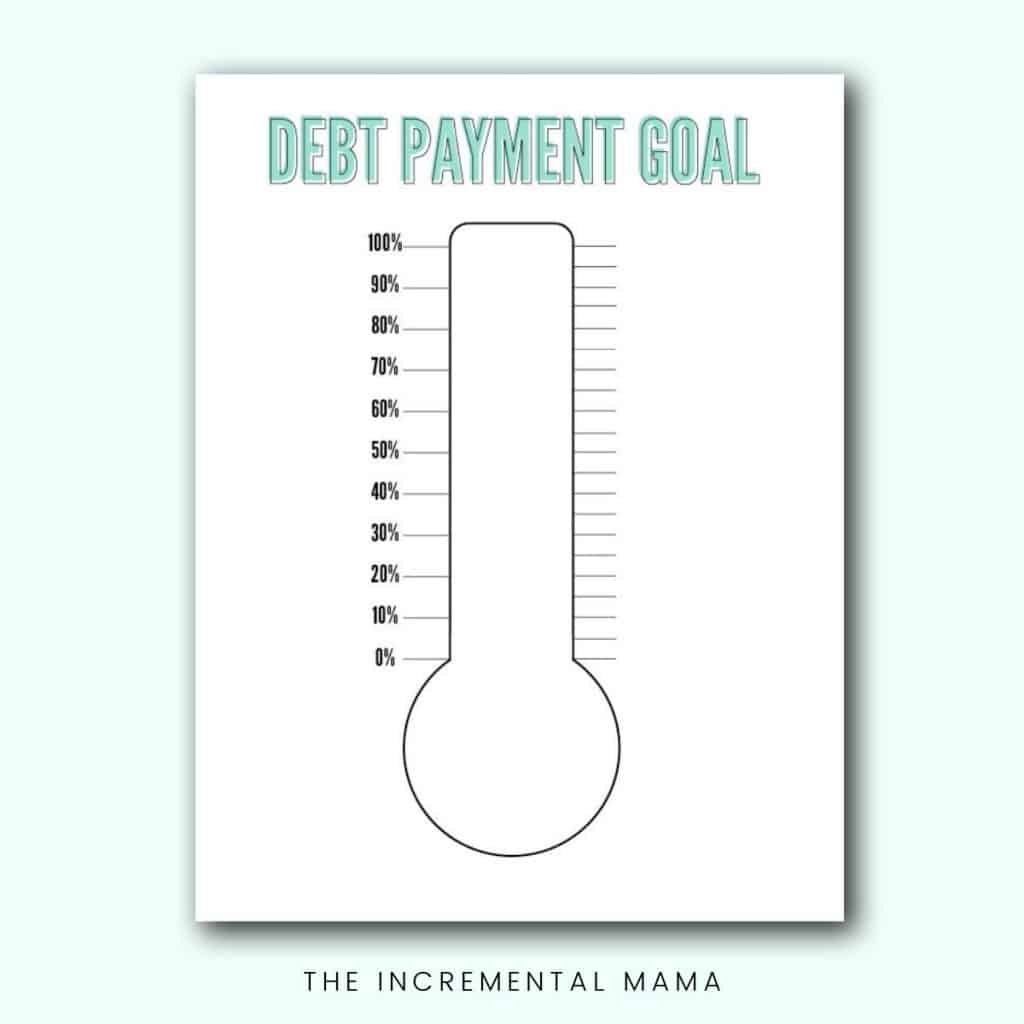 Another great way to see your debt payoff progress is using a debt thermometer. Because it allows you to:
see your debt clearly
be motivated to may it off as you fill in the thermometer
Part of the reason debt is so pernicious is that it's not visible in your daily life. It's easy to forget about it until you get a credit card bill and want to curl up in a ball in the corner.
But debt thermometers (especially when you post them in a visible spot) provide a simple visual representation of your debt. Which keeps the debt on mind when you're making the choice between ordering takeout or getting creative with your pantry offerings.
Tips to make the most of your Debt thermometer:
Stick it in a place you see it every single day
Make a separate thermometer for each debt you have
DOWNLOAD YOUR FREE BUDGETING PRINTABLES
And there you go! Four awesome blank budgeting worksheets and templates that help you take charge of your money and achieve your financial goals.