Though seemingly small, our daily habits ultimately determine the kind of life we live. Which means we can change our life simply by changing the little things we do each day.
Problem is, actually creating a new habit—one that will stick—can feel pretty daunting.
That's why running shoes gather dust in the closet, gym memberships go unused, and New Year's resolutions are abandoned before January is even over.
We need more than just a mere desire if we want to change our behavior. We need tools that can help up develop habits we want. Which is why I created this free 30 day habit tracker printable.
It can help you reach your goals and become the person you want to be.
RELATED: Free Printable Daily Planner Template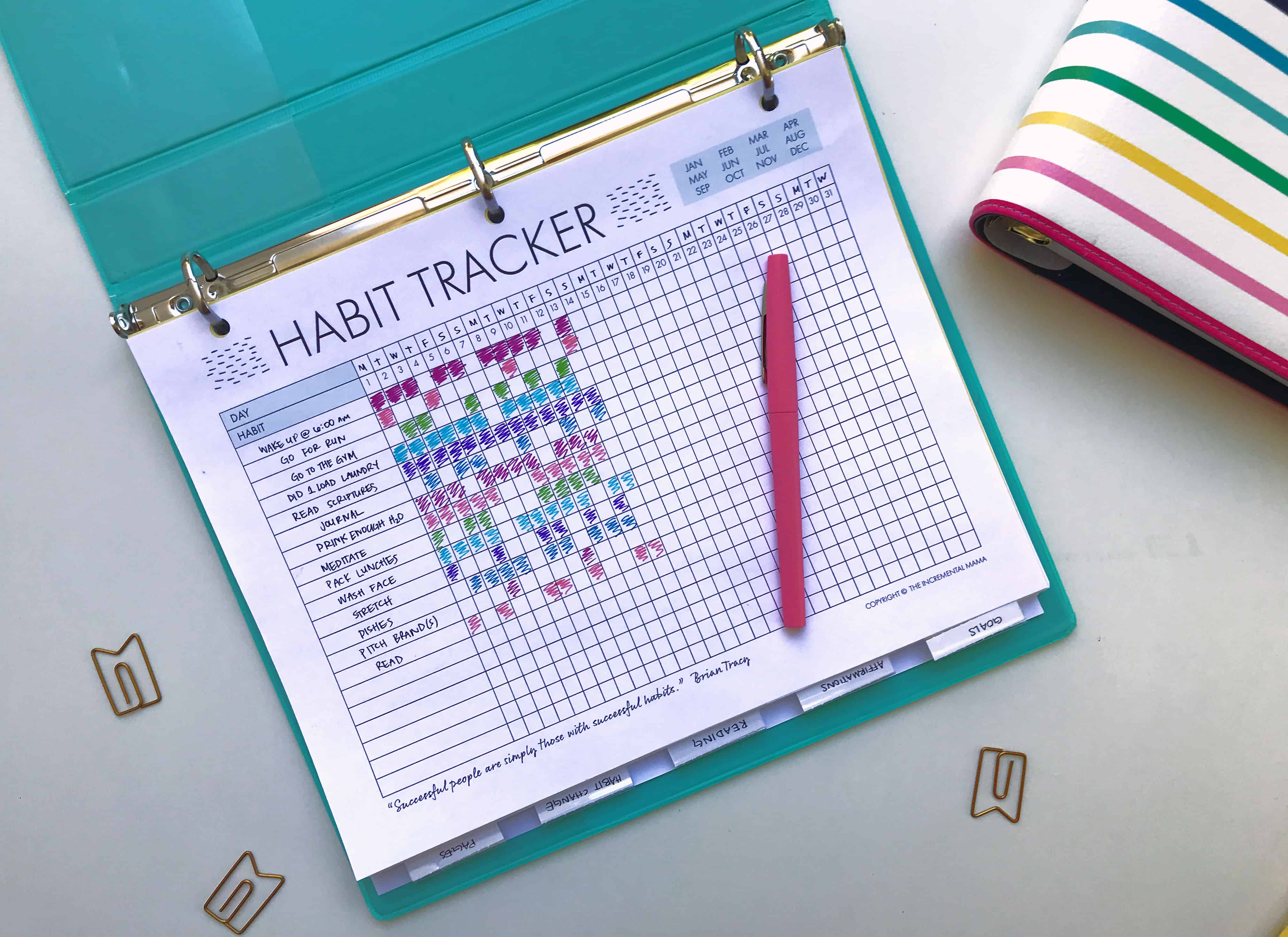 30 DAY HABIT TRACKER: WHY TRACKERS WORK
1. Tracking behavior changes behavior.
Habit trackers work because simply tracking our habits, helps us to change them. As author Gretchen Ruben puts it, "We manage what we monitor."
(When it comes to habit change, her book, Better than Before is pure gold! One of my all-time favorite books.)
In other words, our behavior automatically changes simply when we are tracking what we do. Because the reality is that most of us are blissfully unaware of what we're actually doing.
We underestimate how much we eat and overestimate how much we exercise. But when we become aware of what we're doing, we change what we do. Automatically.
For example, research shows that simply keeping a food journal changes how you eat.
And tracking your spending changes how you spend your money. In fact, a couple of years ago, I simply started to track exactly how much we spent on take-out. As a result, we practically stopped getting fast food because I realized just how much we were spending on it.
2. You Create a Chain of Success
Another benefit to the habit tracker is that once you get a few days into your habit, you create a visual chain–a chain you won't want to break (James Clear, author of Atomic Habits, talks more about that here).
You literally see a few boxes in row on your habit tracker printable colored in as a sign of your success. Seeing that you've got a little streak going on your tracker makes you not want to break the chain.
RELATED: Free Printable Goal Worksheet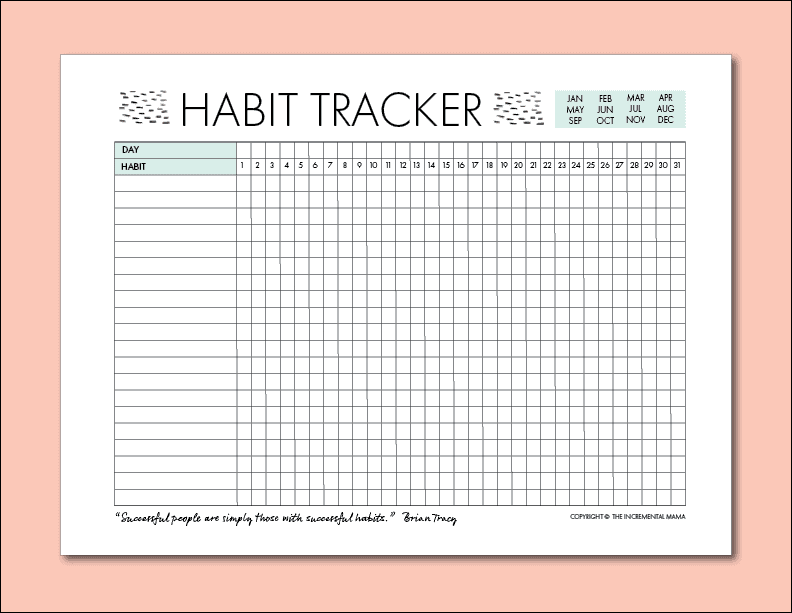 HOW TO USE THE 30 DAY HABIT TRACKER PRINTABLE
HOW TO PRINT THE DAILY HABIT TRACKER
You can grab your free 30 day habit tracker printable by going to the bottom of the post and clicking the download link. The download comes with 2 different habit trackers.
SUPPLIES NEEDED
Paper
Pens (These pens are my favorite).
Printer
SUGGESTED USE
The monthly habit tracker printable has spaces for each day of the month (1-31).
Print tracker.
Circle or highlight the month in the upper right-hand side.
Write the days of the week in the space above each number (e.g. M, T, W, etc.).
Write the habits you'd like to track on the left-hand side.
Schedule a time to update the tracker everyday. For example, you might do it before you brush your teeth at night.
Fill in the box of the habit you complete with the pen of your choice. Personally, I love the look of using these colored pens.
Once the month is over, you can keep the completed tracker as a record to track your progress over time.
IDEAS FOR WHAT HABITS TO TRACK
When it comes to figuring out what habits you'd like to track, it's a good idea to think for a bit about the person you want to become. Take a minute and imagine that it's a few years down the road and you're that future version of yourself that has it all together.
What habits do you have?
How much do you sleep, eat, and exercise?
What time do you wake up?
What things DON'T you do?
This little thought exercise is a good place to start when it comes to deciding what habits to track. And here are some other ideas to get you started:
Exercise
Drinking enough water
Reading
Journaling
Getting 7-8 hours of sleep (the recommended minimum for adults)
Limiting social media time (example: spent only 15 minutes on social media)
Arrive to school/work on time
Wash face
Floss
You can even track NOT doing something. So every day you don't do an activity that you'd like to stop, you can put it down. Like NOT eating out or checking Instagram.
Or maybe you just want to track exactly how often you do something (like change your sheets). The tracker is great for that too. Use it how it best suits your needs.
RELATED: How to Get Motivated to Workout
MORE FREE PRINTABLES
If you enjoy free printables, you're in the right place. I'm all about printables that help you get organized and create a life your can enjoy.
You can click here to see more free printables.
DOWNLOAD THE FREE MONTHLY HABIT TRACKER PDF
Are you ready to start creating the life you want? Then download your habit tracker by clicking the link below and get started!
>>> CLICK HERE TO DOWNLOAD HABIT TRACKER <<<
YOU MAY ALSO LIKE
Free Printable Daily Planner Template
A Simple Cleaning Schedule you Can Stick to
10 Best Health & Wellness Podcasts for Women