I started making free printable monthly calendars a few years ago to add to the printable resources on my website. And this year, I'm excited to introduce the brand new floral calendar template that you can download for free in this post.
This beautiful monthly calendar design features different floral themes for each month. I love that each month offers a new pop of color to your planning.
If you're looking for a beautiful calendar for the new year, look no further than these 12 free US letter sized printable floral monthly calendar templates.
Please note that these colorful free printable calendar templates are for personal use only. To share, simply share this post!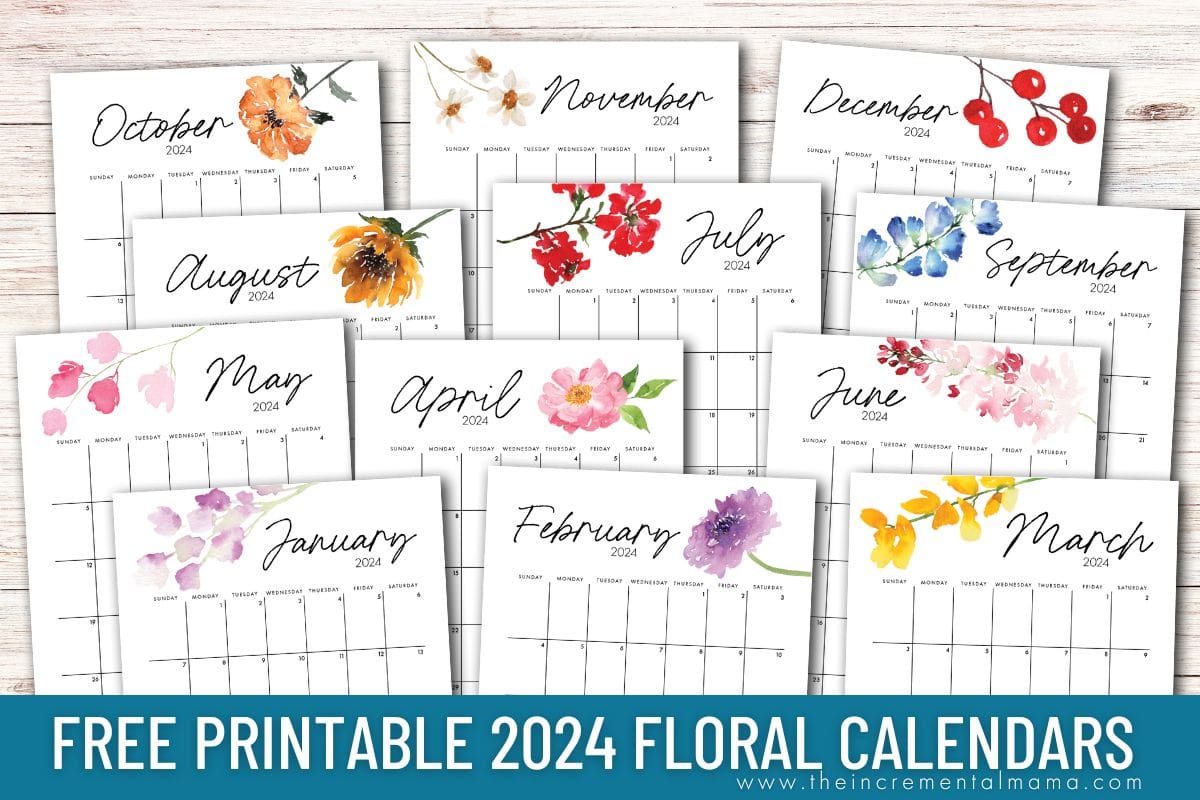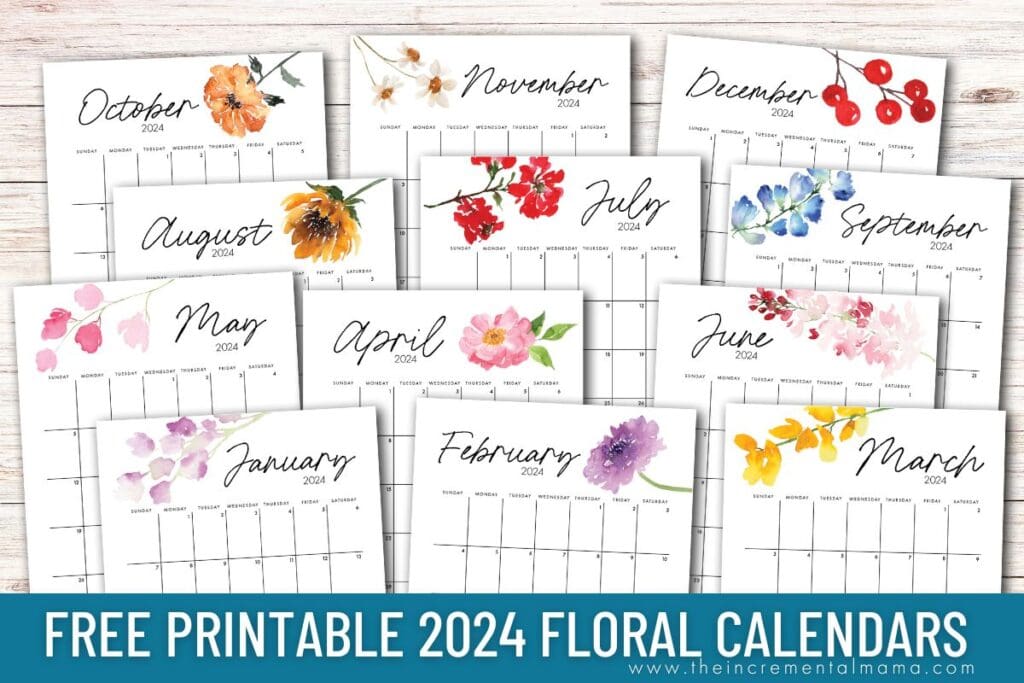 How to Use The Free 2024 Floral Calendar Printables
These vertical calendars feature a different floral pattern for each month of the year, January through December 2024. As these floral monthly calendar pages are blank, there is enough space to write in a variety of things for each day.
Here are just a few ideas of how you can use the floral calendars:
Personal Appointments: Schedule doctor visits, haircuts, and other personal appointments.
Meal Planning: Organize daily meals and grocery shopping lists.
Habit Tracking: Monitor daily habits such as reading, meditation, or drinking water.
Birthdays & Anniversaries: Remember important dates for family and friends.
Work Calendar: Track shifts, meetings, or deadlines.
Budgeting: Note bill due dates, paydays, and savings goals.
Exercise Log: Plan and track daily or weekly workouts and fitness goals.
Holiday Calendar: Use the calendars to track the holidays you celebrate.
Academic Planner: Organize assignments, tests, and study sessions for school or college.
Do you use them for something else? Let me know in the comments.
How to Keep The Calendar Templates Organized
And since I also have so many other 2024 monthly calendar designs, you can download multiple styles and use them for different purposes.
But my one caution with downloading any calendar or free printable is to be sure that you have an organization system for keeping those printables organized.
Here are 4 ideas for how you might organize your calendar printables:
1. Binder or Planner
Use a 3-ring binder or disc-bound planner to organize all your planning printables. You can insert each month behind dividers for quick access. This is especially great if you like to add additional notes or pages alongside your calendars.
4. Wall Organizer
Use a wall-mounted pocket organizer or a pinboard. You can display the current month as a wall calendar and have the upcoming months easily accessible along with other helpful organizers.
4. Clipboards
Hang a few clipboards on the wall in a row or column. Clip the current month on the top clipboard and subsequent months below. This creates a decorative and functional display.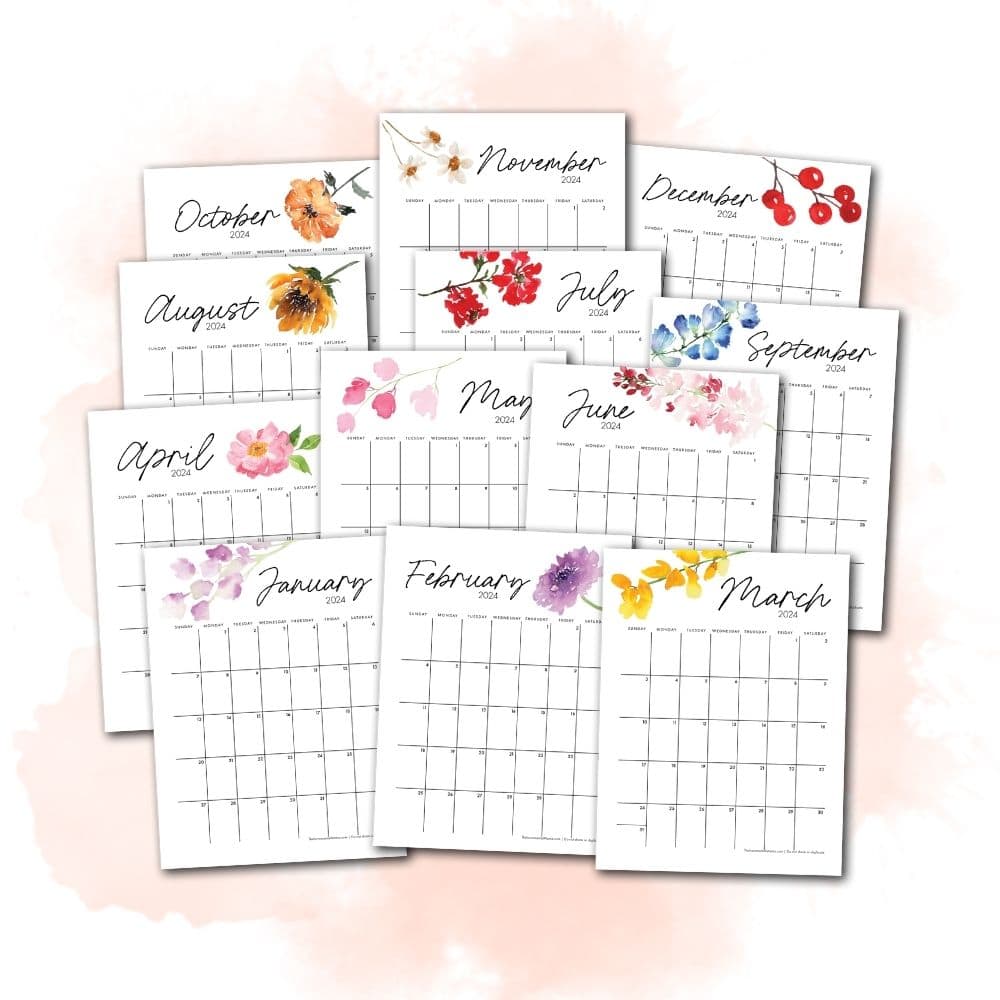 Tracking Holidays With The Calendar Templates
While these printables are blank in order to get the widest use possible, you can easily add in holidays. Here are some holidays you may add to your calendar.
United States Federal Holidays
New Year's Day – January 1
Martin Luther King, Jr. Day – Third Monday of January
Washington's Birthday (often referred to as Presidents' Day) – Third Monday of February
Memorial Day – Last Monday of May
Independence Day – July 4
Labor Day – First Monday of September
Columbus Day/Indigenous Peoples' Day – Second Monday of October
Veterans Day – November 11
Thanksgiving Day – Fourth Thursday of November
Christmas Day – December 25
Other Major Holidays
Here are some other major holidays you may want to include on your calendars templates.
Religious Holidays:
Easter (Christian): Date varies (based on the lunar calendar, between March 22 and April 25)
Good Friday (Christian): Friday before Easter
Hanukkah (Jewish): Date varies (based on the Jewish lunar calendar, usually in December)
Passover (Jewish): Date varies (typically March or April)
Rosh Hashanah (Jewish): Date varies (usually September)
Yom Kippur (Jewish): 10 days after Rosh Hashanah
Diwali (Hindu): Date varies (typically October or November)
Eid al-Fitr (Muslim): Date varies (based on the lunar calendar, at the end of Ramadan)
Eid al-Adha (Muslim): Date varies (based on the lunar calendar)
Cultural and Heritage Celebrations:
Cinco de Mayo: May 5
Juneteenth: June 19
Kwanzaa: December 26 – January 1
St. Patrick's Day: March 17
Lunar New Year: Date varies (usually late January or February)
Other Observances:
Valentine's Day: February 14
Halloween: October 31
Mother's Day: Second Sunday of May
Father's Day: Third Sunday of June
Earth Day: April 22
Pride Month: June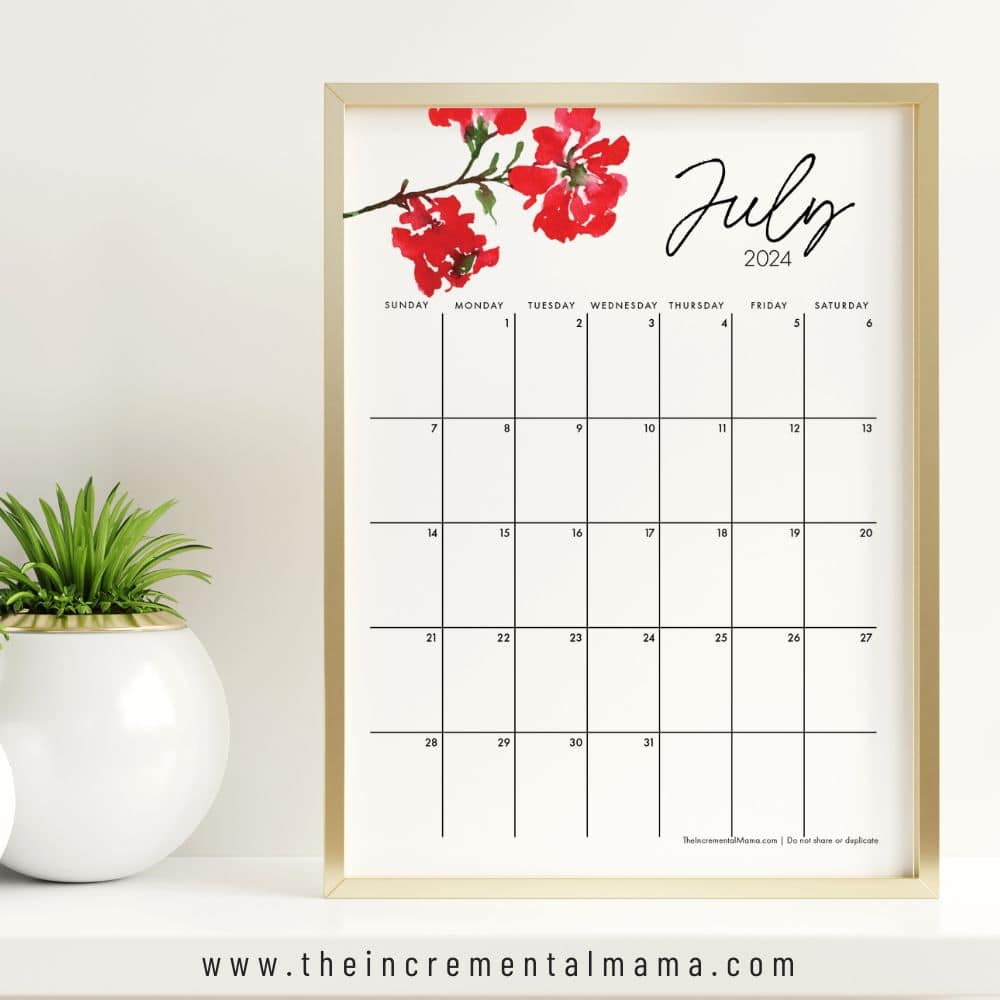 How To Download & Print The Free 2024 Monthly Calendar Printables
Now let's dive into how to download and print these free floral calendar Printable PDFs. For best results, I highly recommend following these directions.
Here are the steps to download and print:
Step 1: Download the Floral Calendars
When it comes to downloading the 2024 monthly floral calendars, you have 2 options:
Option 1: Get all 12 free printable floral monthly calendar templates sent to your email inbox.
Option 2: Download each monthly calendar individually by clicking the calendar images below.
Both options are entirely free. However, getting them sent to your inbox allows you to have all the calendars in one file, plus you get access to more free resources and planning tips.
If you are on a mobile device, please make sure you have a PDF reader app. I personally recommend the Adobe Reader app.
Step 2: Open the Floral Calendar PDF File
After downloading, click the calendar file to open. It should open in whatever PDF reader you have on your device.
Please note that the download includes a cover page with some important information about the download.
If you download all 12 calendars, they follow in order after the first page. If you download individually, you'll find the calendar printable on page 2.
Step 3: Click "Print" in you PDF Reader
Click "Print" in order to open the printer information box.
Step 4: Select Pages to Print
With printer box open on your screen, select which pages to print. Again, DO NOT PRINT PAGE 1.
Be sure to have US letter sized paper loaded in your printer.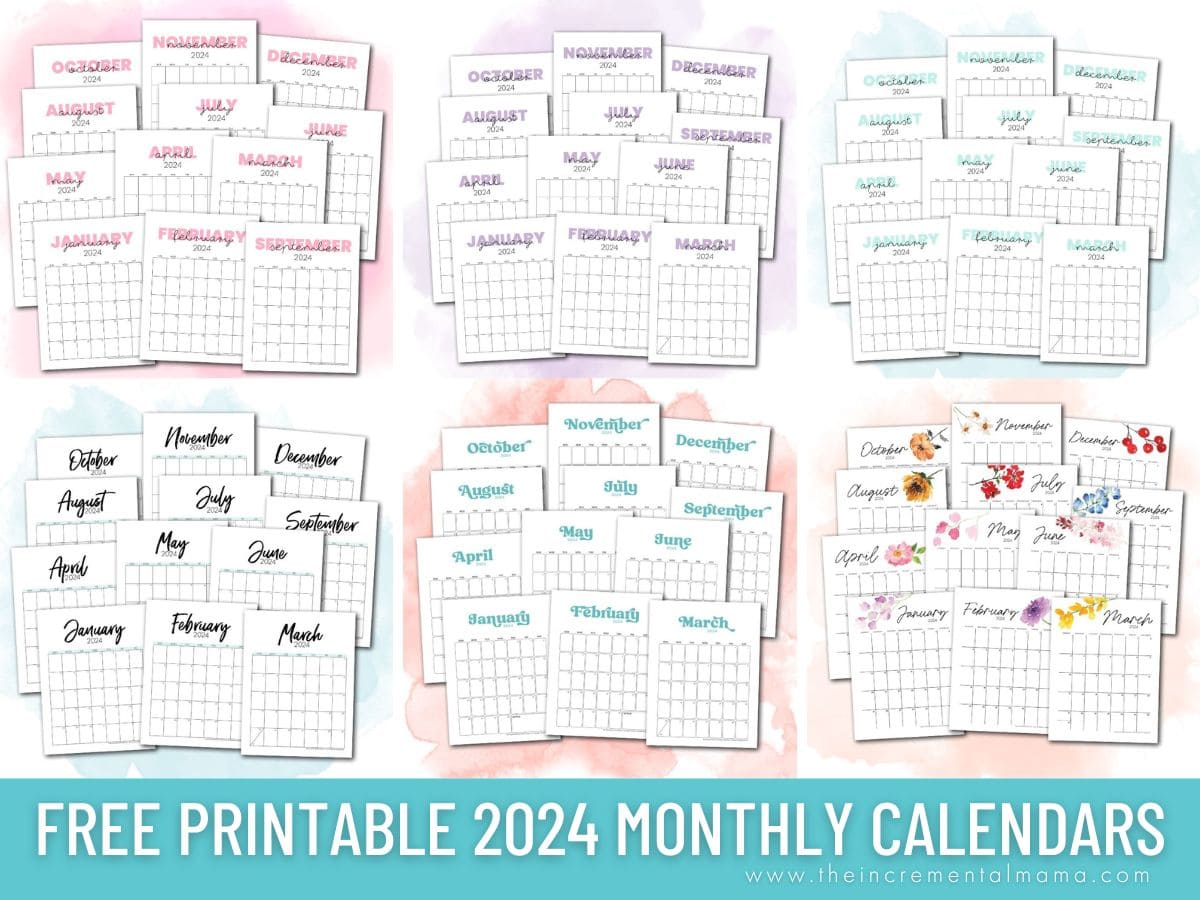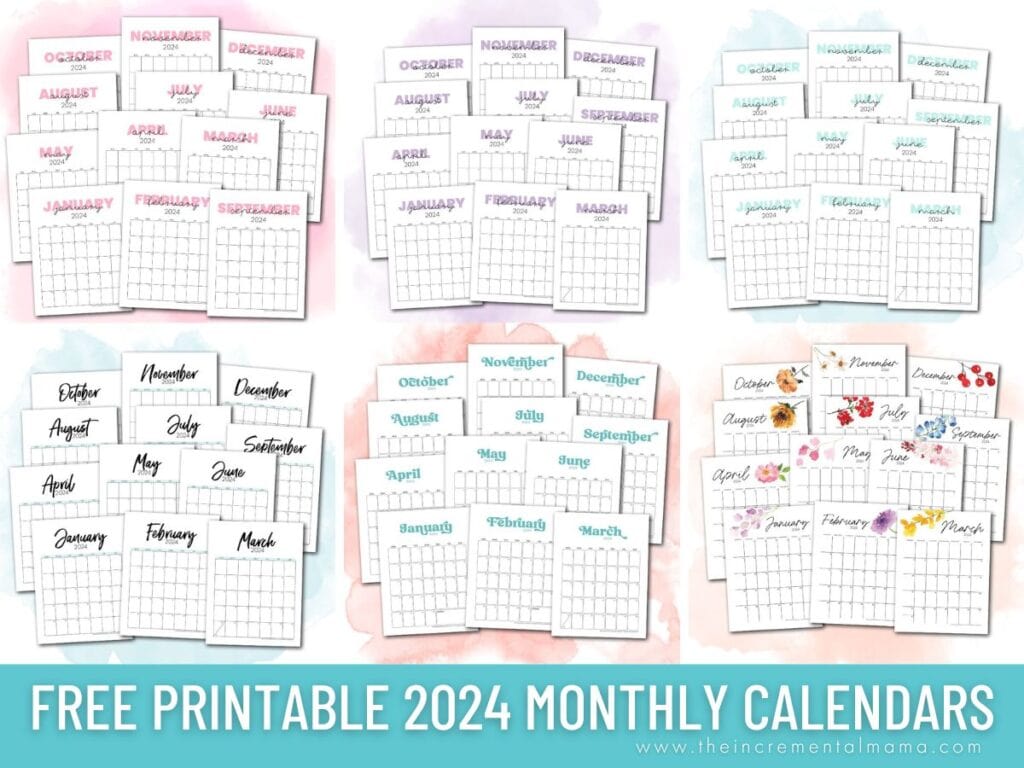 More Free Calendar Printables You Can Download
But if you're looking for more cute free printable calendars for 2024, I've got so many different designs to choose from.
Check out the other free monthly calendar printables below
Teal 2024 Monthly Calendar Templates – This simple design features a double font for the month, with a light teal font behind a curvy script.
Purple 2024 Monthly Calendars – Like the Teal design, this purple design calendar features the month in purple with the script in front.
Pink 2024 Monthly Calendar Templates – This is the pink version of the above designs.
Simple Calendar Design for 2024 – This design features a brush script for the month with a little pop of teal over the weekday names.
Blue Retro 2024 Monthly Calendar PDFs – This design features the month written in at retro-inspired font in a blue teal.
If you're just looking for a blank monthly calendar that can be used month after month, then you can grab the 7 different blank monthly calendars and at-a-glance calendars.
However, if you're looking for a 12-month wall calendar I've created 9 styles of 2024 one-page calendar templates.
And when you sign up below to get all of the 12 monthly 2024 floral calendars, you'll also get free tips, organizational printables, and resources sent straight to your inbox each week.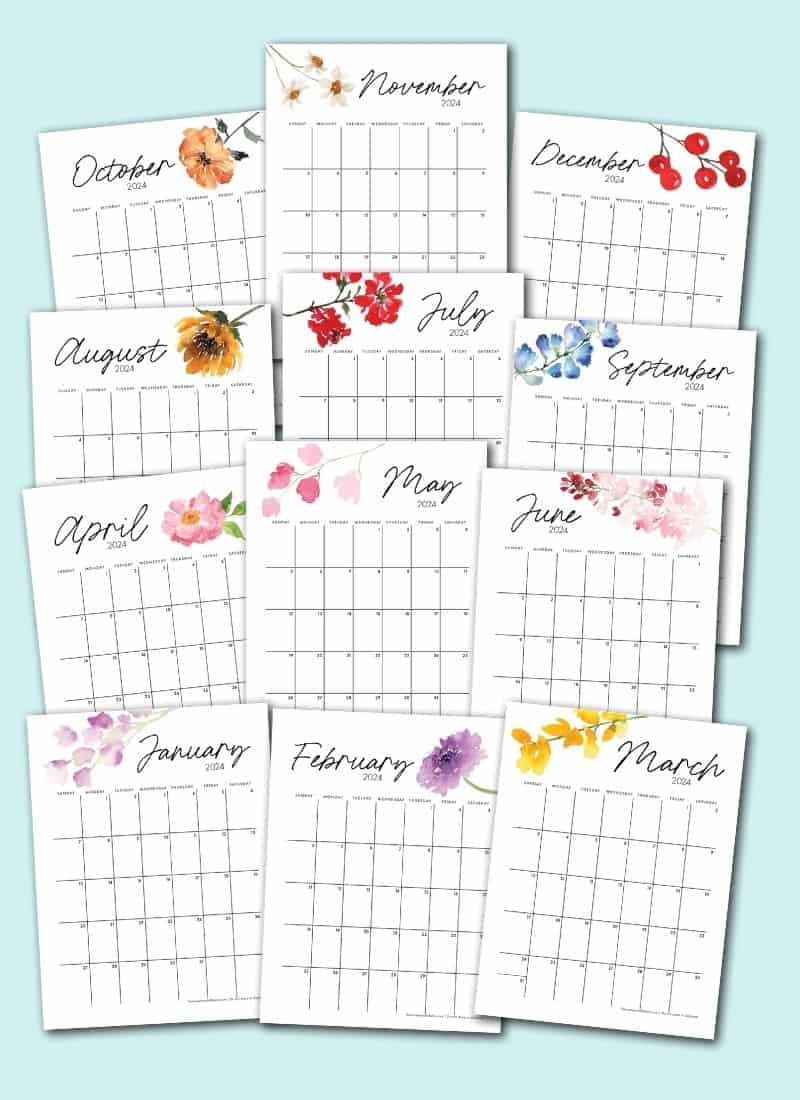 All 2024 Calendars in Your Inbox
Get all 12 cute monthly calendar templates sent straight to your inbox. Plus get free tips and resources to:
Save Time
Get Organized
Simplify Life
Click the button below to get started.
Download the 2024 Floral Calendar Templates
Please note that these pretty floral calendar templates are for personal use only. While you may print out each digital download as much as you'd like, please do not share the PDF. To share, please instead share the link to this post.
To download all the free printable 2024 floral calendar PDFs, you can click here and get them straight to your email inbox.
Otherwise, each monthly image below acts as the download link for that calendar template. Simply click the calendar image of the month you want.
A new tab will appear with the calendar template PDF in Dropbox, and you can click the download button and download the printable directly to your device.
You can download to your computer by clicking the arrow in the top right corner. You can print by clicking the print icon.
***Note there is a cover page to the download with the copyright policy, and you'll only want to print page 2***
Get Organized With The 2024 Floral Calendar Printables
I hope you enjoy your free printable calendar template! Whether you want to download individual monthly printables or get all 12 sent to your email inbox, you can do that above.
Want to say "thank you" for providing these free calendar template? Simply share this post to Pinterest or to friends you think would like them. This helps us so much in keeping these resources free.
If you enjoy free printables that help you organize your life and home, I invite you to stick around for a bit and check out some of the other awesome resources.
YOU MAY ALSO LIKE