While I've tried to shift to a digital planning, I always find myself coming back to putting pen to paper and planning. And since you're here, chances are you've felt the same. And because of pen to paper planners like us, I've made these cute printable calendars for 2024 that you can download for free in this post.
These free printable calendars are US letter-sized vertical monthly calendars for 2024. They are all Sunday start and include all 12 months of the year, from January to December.
There are also several different calendar designs of calendars you can download for free. For example, this free cute printable calendar comes in both a pink calendar and purple calendar version for 2024.
When it comes to downloading the free cute calendar printables, you have 2 options:
Option #1: You can download the individual monthly calendar PDF files (January through December) you want by clicking the download links further down this post.
Option #2: You can get all 12 cute monthly calendar templates sent straight to your inbox when you subscribe towards the bottom of this post.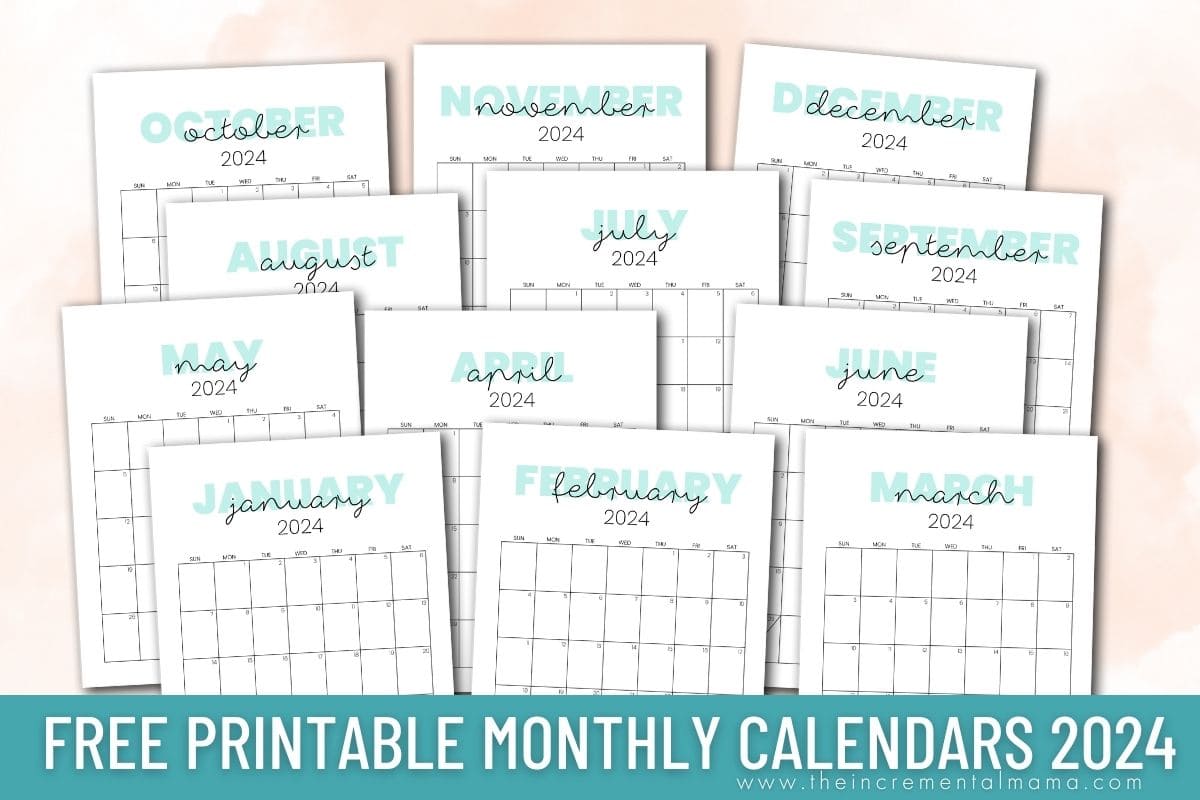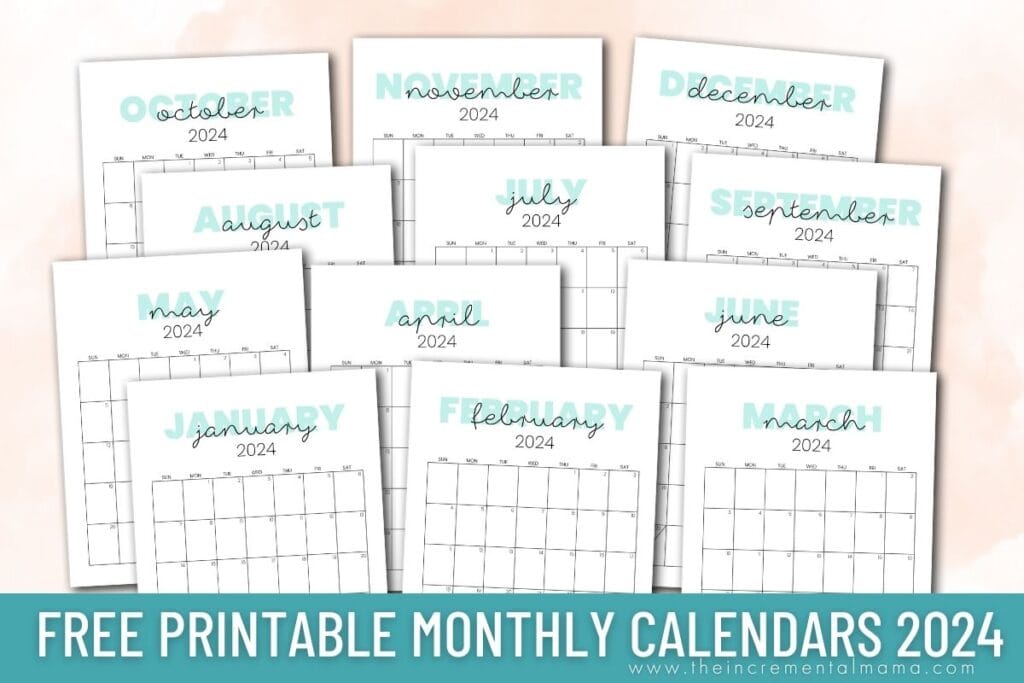 How to Use The Cute Printable 2024 Calendars
There are so many different ways you can use these free pretty printable monthly calendar templates. You can post them on a bulletin board or stick them in a binder. You can download several separate pages and use each for a different purpose.
The choice is yours!
Here are just a few ideas for how to use the cute printable 2024 calendars.
Personal Appointments: Schedule doctor visits, haircuts, and other personal appointments.
Work Schedule: Track shifts, meetings, or deadlines.
Meal Planning: Organize daily meals and grocery shopping lists.
Exercise Log: Plan and track daily or weekly workouts and fitness goals.
Budgeting: Note bill due dates, paydays, and savings goals.
Habit Tracking: Monitor daily habits such as reading, meditation, or drinking water.
Birthdays & Anniversaries: Remember important dates for family and friends.
Garden Planning: Schedule planting, watering, and harvesting of plants or crops.
Study & Homework Planner: Organize assignments, tests, and study sessions for school or college.
Event Countdown: Countdown to holidays, vacations, or other special events.
Please note that these printables are for personal use only. If you want to share them, please share the link to this post. We love shares!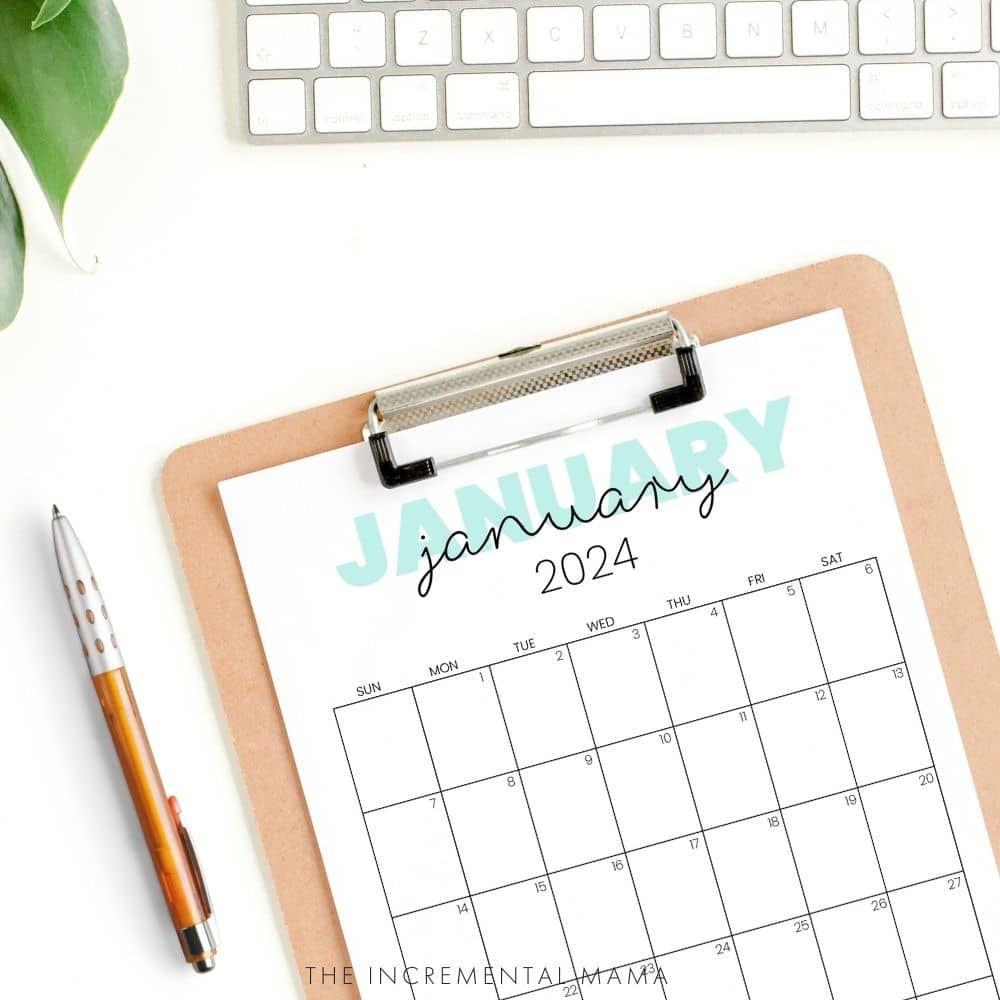 While these calendars are blank in order to make them as flexible as possible, you can add in holidays and the 10 United States federal holidays. These are:
New Year's Day – January 1
Martin Luther King, Jr. Day – Third Monday of January
Washington's Birthday (often referred to as Presidents' Day) – Third Monday of February
Memorial Day – Last Monday of May
Independence Day – July 4
Labor Day – First Monday of September
Columbus Day/Indigenous Peoples' Day – Second Monday of October
Veterans Day – November 11
Thanksgiving Day – Fourth Thursday of November
Christmas Day – December 25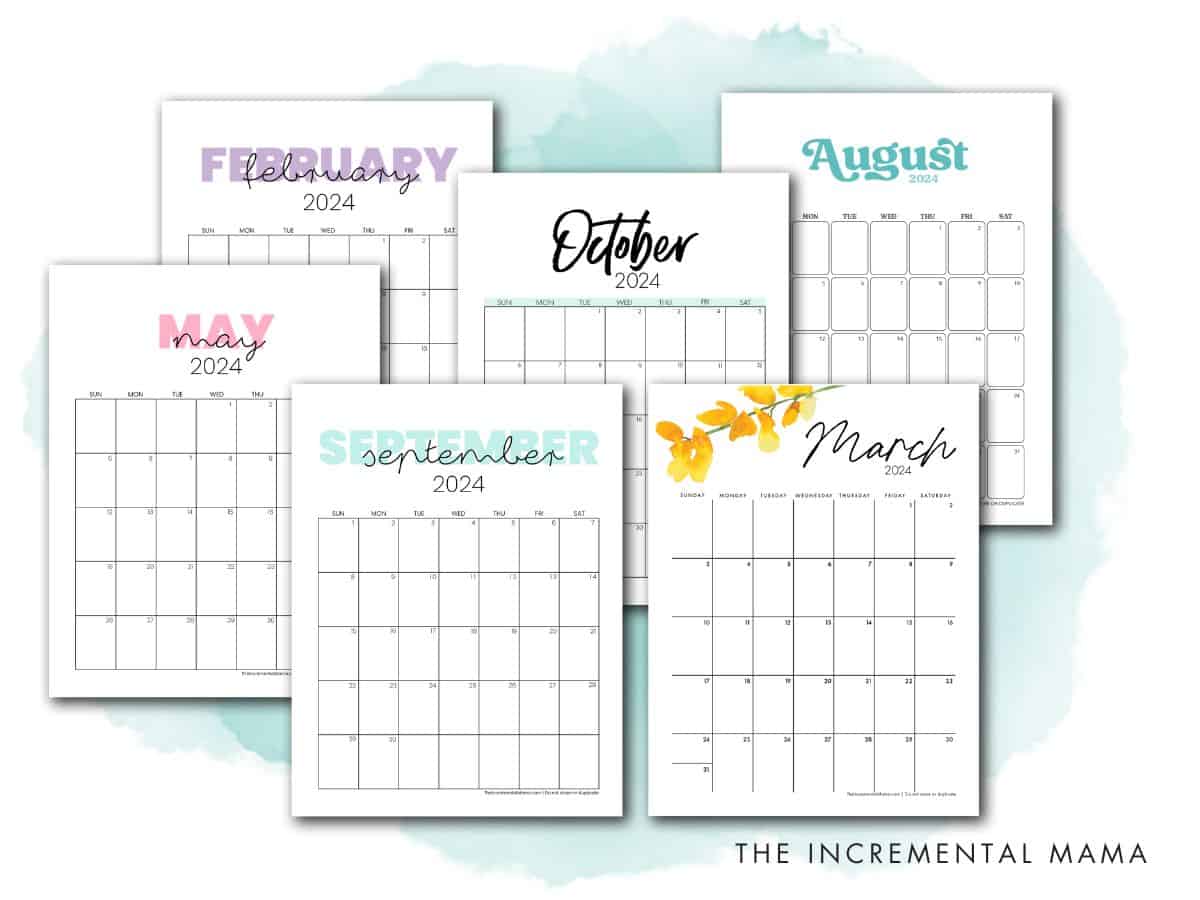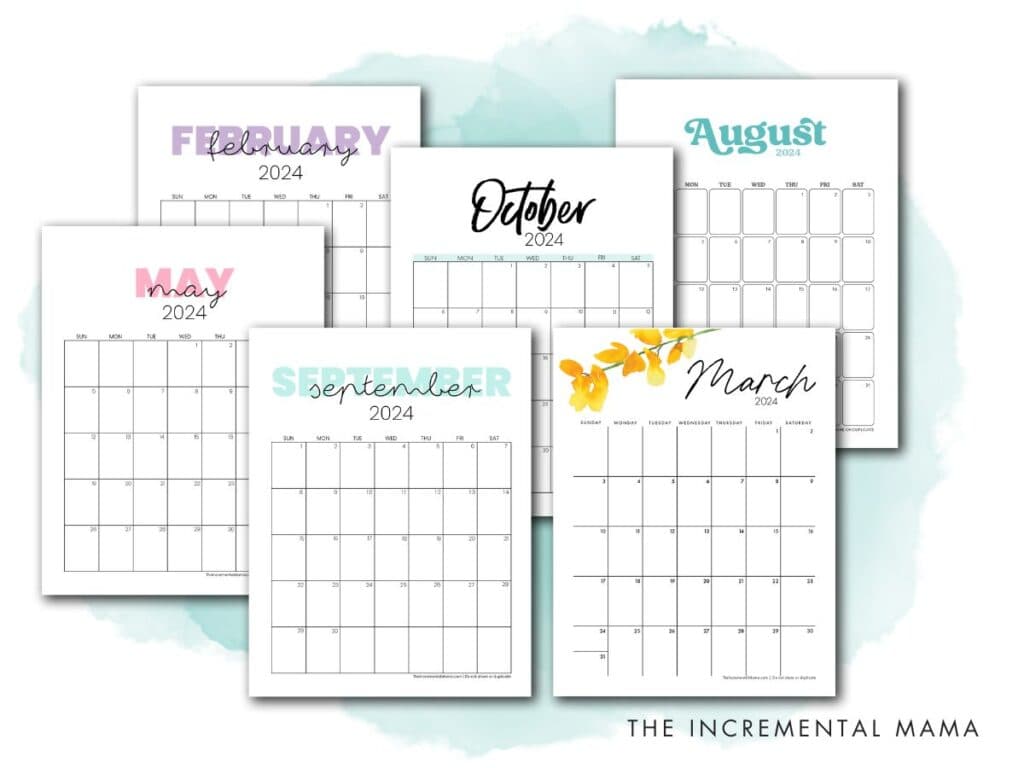 More Free Cute Printable Calendar Templates
If you're looking for more calendar and planning resources, you are in the right place.
Interested in blank monthly calendars? Then you can grab the 7 different blank monthly calendars and at-a-glance calendars.
But if you're looking from more cute free printable calendars for 2024, I've got so many different designs to choose from. And each year, I add new designs.
Click the links below to get the different 2024 calendar designs in portrait orientation:
>>> Simple Script 2024 Calendar Templates
>>> Purple 2024 Monthly Calendar Templates
>>> Blue Retro 2024 Monthly Calendar PDFs
>>> Floral Design 2024 Calendar templates (this pretty calendar is my new favorite!)
I also have 9 Free Printable 2024 One-Page Calendar Templates you can grab.
If you love printables that help you get organized, then you're in the right place.
I have literally hundreds of printable planners that will help you organize every area of your life–from meal planning to creating a realistic cleaning schedule, including editable PDFs you can customize to exactly what you need.
I also have a cute weekly planner with a to-do list.
And when you sign up below to get all 12 calendars, you'll also get free tips, organizational printables, and resources sent straight to your inbox each week.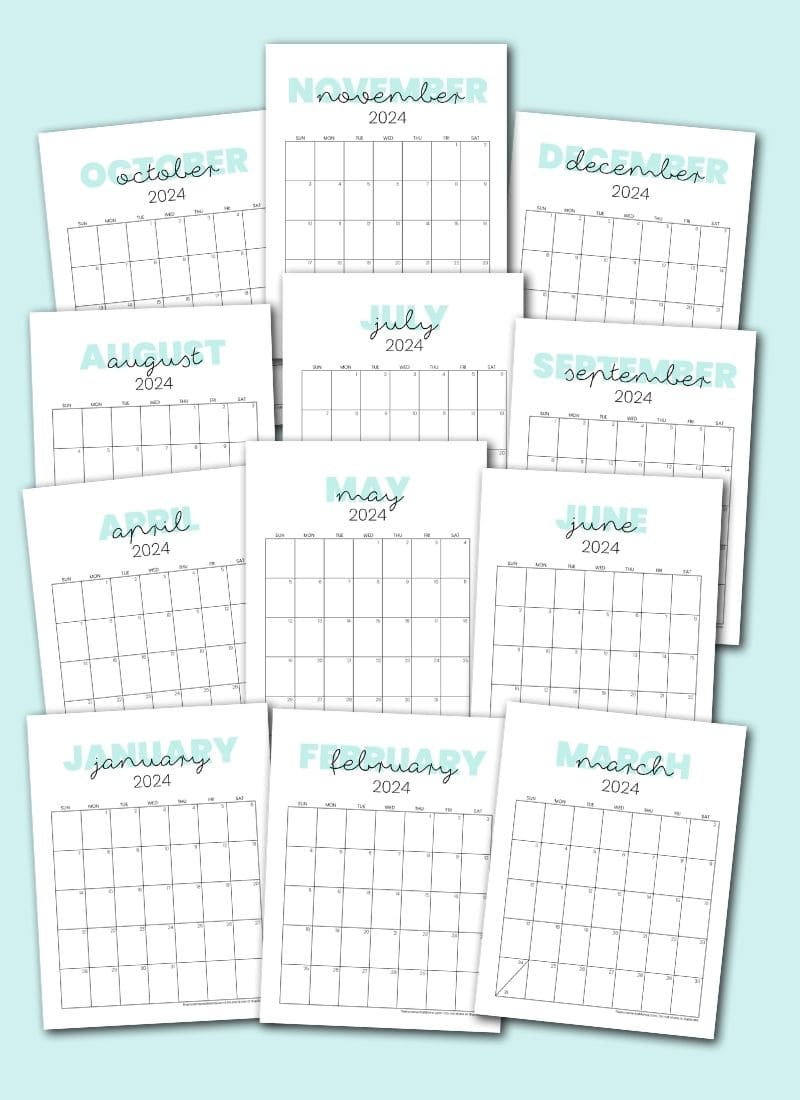 All 2024 Calendars in Your Inbox
Get all 12 cute monthly calendar templates sent straight to your inbox. Plus get free tips and resources to:
Save Time
Get Organized
Simplify Life
Click the button below to get started.
Download The Cute 2024 CALENDAR TEMPLATES
To get all 12 calendars at once, you can get all 12 free calendar printables sent to your inbox. Plus, you'll get some great tips and extra resources to help you organize your life and home.
However, if you want to just download the individual 2024 cute calendar template PDFs, simply click the image below of the month you want to download. This will open another window in Dropbox. Click the download link to download the calendar to your computer
Please note that these calendar templates are for personal use only. To share, simply share the link to this post with others and they can download their own copies.
***Note there are 2 pages to each download. Just print the calendar on page 2. ***
Download the Free Calendar Template Printables
I hope you enjoy these awesome free printable and super cute calendar templates. Whether you want to download individual monthly printables or get all 12 months, you can do that above. No matter what you use them for, I wish you well in your planning!