When it comes to planning, few calendar templates are quite as useful as a printable year calendar on one page. Because you can see the whole year with one quick glance, making planning and scheduling a breeze.
And I've created several different one-page calendar designs for 2024 that you can download for free. There are 9 different styles to choose from.
Pick the one that works best with your style or decor or just makes you happy!
(Personally, that's 100% the rainbow one)
Each single page calendar template is in portrait orientation and gives you all 12 months on one page. The downloads are US Letter paper size, in PDF format, and have a Sunday start.
These single page yearly calendars are available for personal use below.
Want more free calendar templates? Check out all the calendar templates on this site.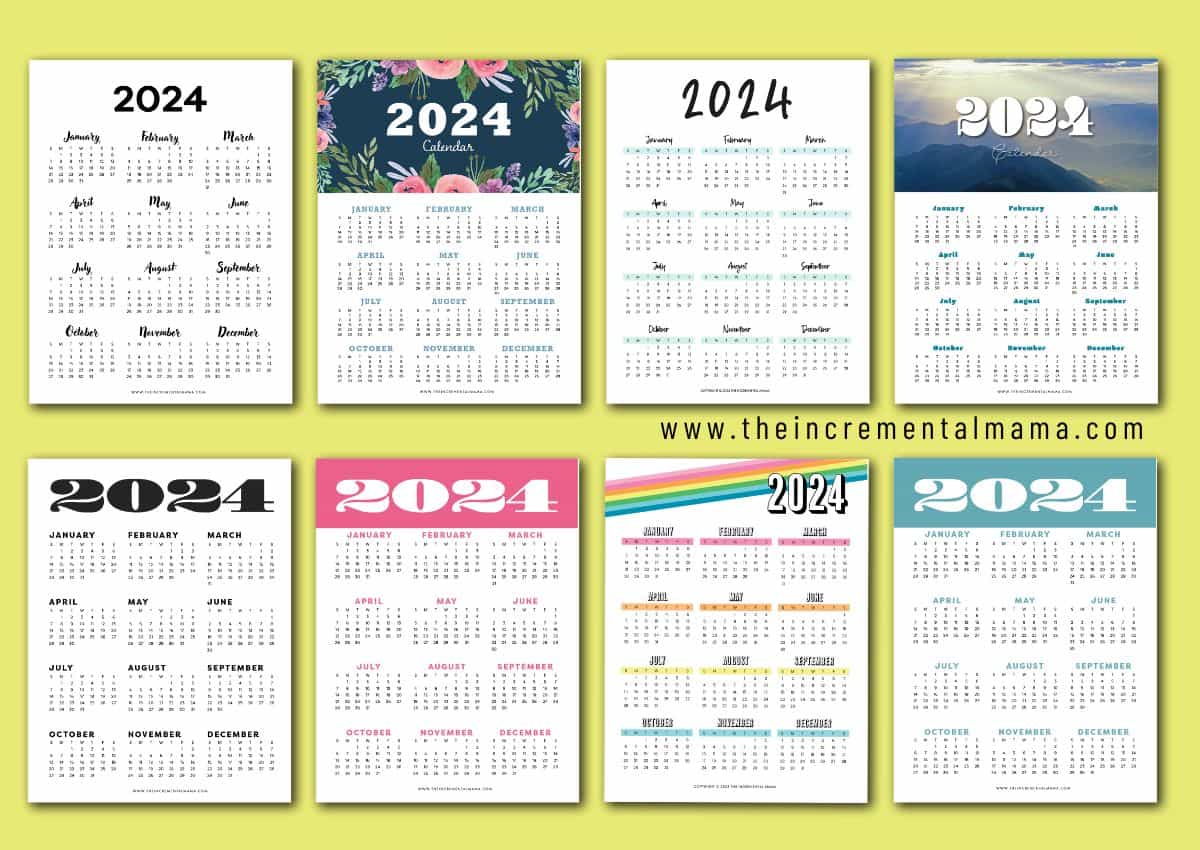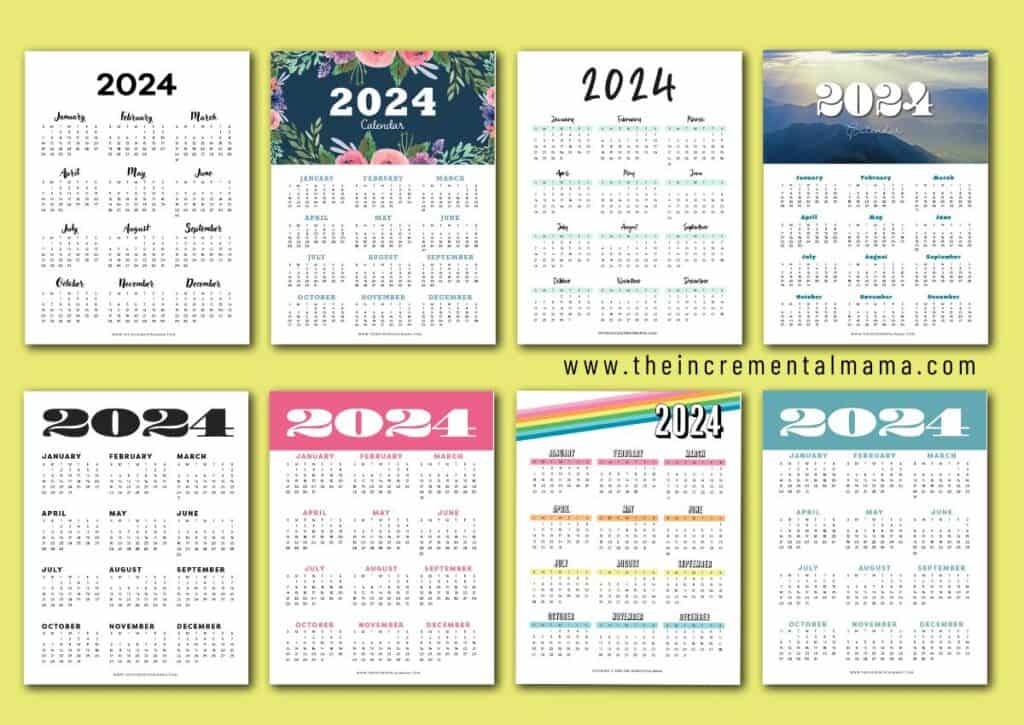 How to Use the Printable Year Calendar On One Page
One-page yearly calendars are really useful tools to stay organized because you can see the whole year with one glance and know which day of the week a certain day falls. Here are a few ideas for how you can use this 12-month calendar printable.
Post on bulletin board/family command center
Place in school binder
Use in planning binder or planner
Post on the fridge
Stick in bag or purse for quick reference
Use it as habit tracker (don't break the chain)
Track holidays or birthdays
Circle bill due dates
I personally have one up in my home office and use it as a quick date check for the year while I'm working. I also like to keep one on the bulletin board in the kitchen for quick reference with planning school and appointments.
My kids like to post them in their room and cross off days as they pass.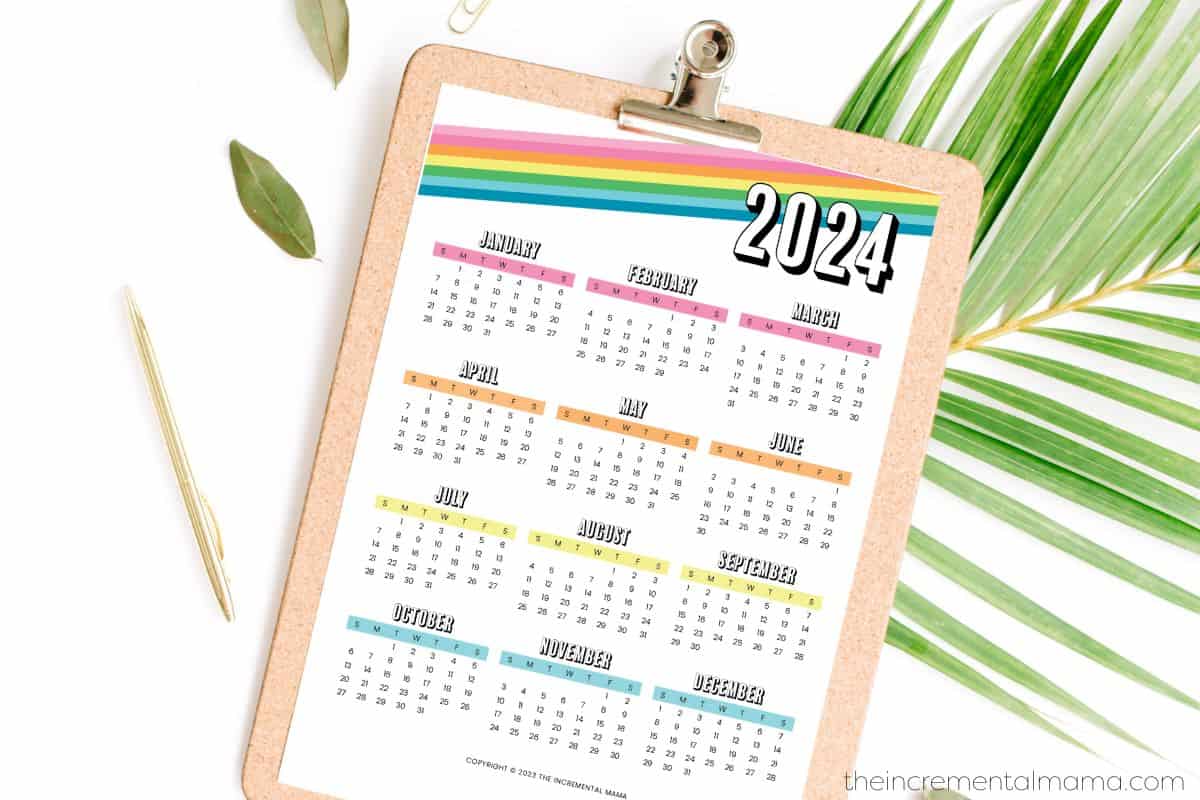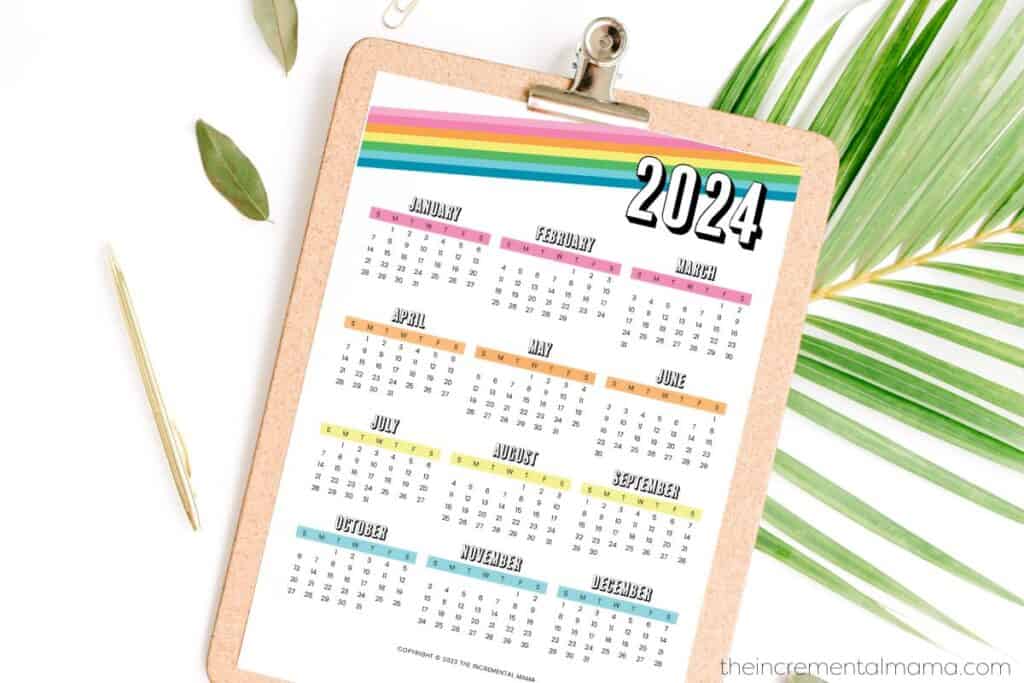 How to Download & Print the One-Page Calendar PDF
Here are the steps to download and print out your 2024 one-page yearly calendar PDF.
Step 1: Download the One-Page Yearly Calendar PDF
You can download the single page monthly calendars by clicking the monthly calendar images below. This will open a new tab in DropBox.
Click the download button in DropBox to download the calendar PDF to your computer.
Step 2: Open in PDF Reader
After downloading, click the calendar file to open. It should open in whatever PDF reader you have on your device. (I prefer Adobe Reader)
Please note that the download includes a cover page with some important information about the download.
Step 3: Click "Print" in your PDF Reader
Click "Print" in order to open the printer information box.
Step 4: Select Pages to Print & Print
Be sure to have US letter sized paper loaded in your printer. WIth printer box open on your screen, select page 2 so you just print out the printable year calendar on one page.
Again, DO NOT PRINT PAGE 1 which has the copyright info.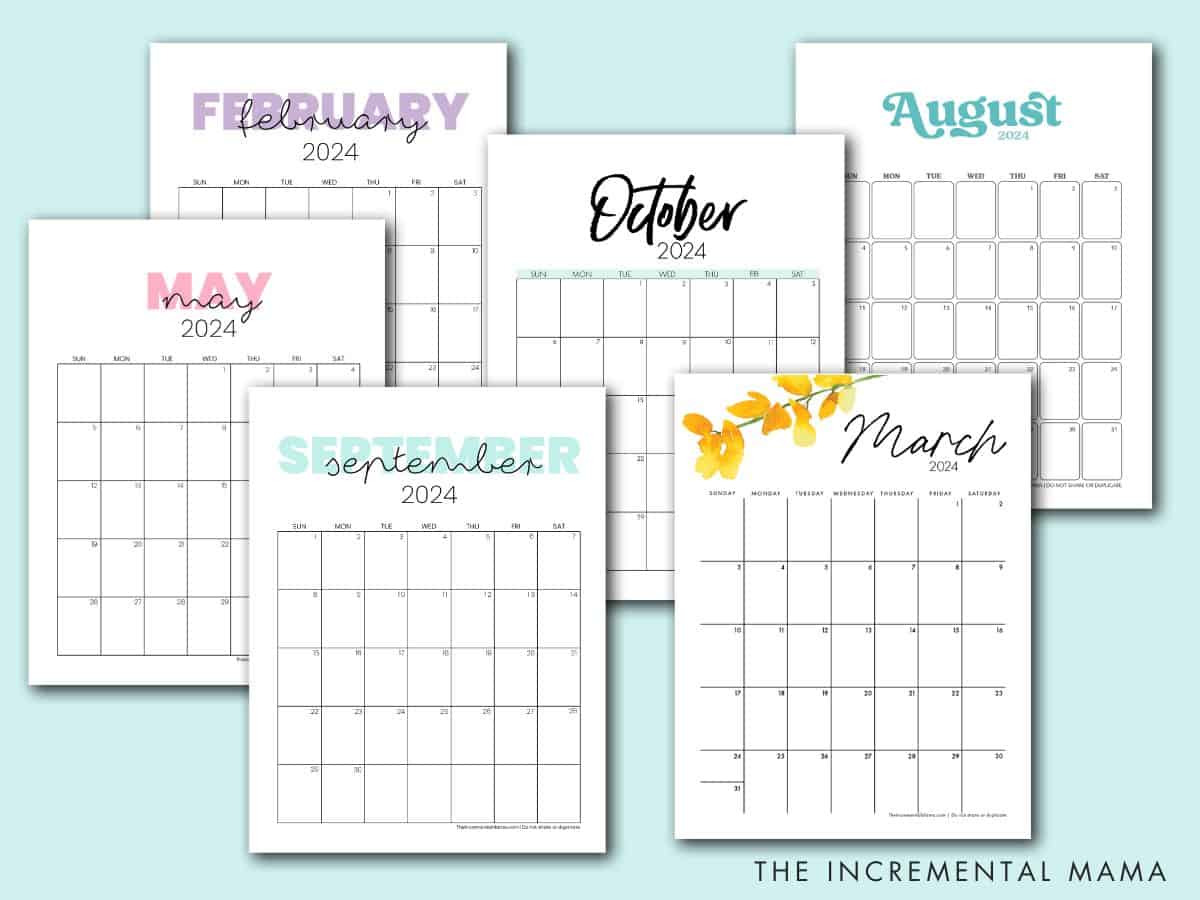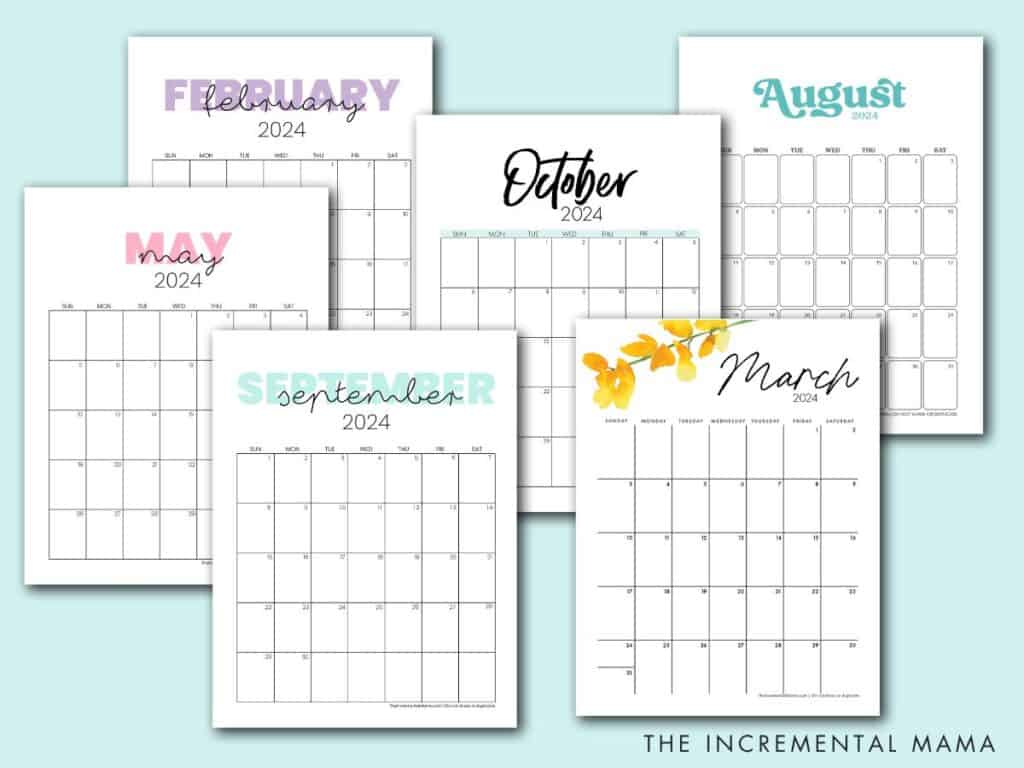 More Free Calendar & Planner Printables
More Free Calendar & Planner Printables
I have a huge collection of free printable calendar templates on my website if you're looking for more resources to track important events throughout the year.
Free Calendar Printables
These include blank calendar templates that can be used for any month or year.
And they also include monthly calendar templates in a variety of styles which you can find in the link below. These monthly calendars give you space to list appointments or important events on each day of the month.
>>> Teal 2024 Monthly Calendar Templates
>>> Pink 2024 Monthly Calendar Templates
>>> Minimalist Script Calendar Design
>>> Blue Retro 2024 Monthly Calendar PDFs
>>> Pretty Floral 2024 Calendar templates
Free Planning Printables
I also have a collection of free planning printables you can choose from that include a notes section.
>>> Free Daily Planner Printable – This will help you effectively plan each day.
>>> Free Weekly Planner Template – This teamplet allows you to quickly and effectivley plan out your weekly overview and priorities.
Download the Free One-Page 2024 Calendar Teamplates
Below you will see images for several adorable year calendars that you have to choose from. Click the image of the year calendar you want to download the PDF file.
A new tab will appear with the calendar template PDF in Dropbox, and you can click the download button and download the printable directly to your device.
Note that these calendars are for personal use only. To share, please share the link to this page.
***Note there is a cover page to the download, and you'll only want to print page 2***
1. Bold One-Page Calendar Template
2. Floral Yearly Calendar PDF
3. Rainbow One-Page Calendar
4. Blue 2023 Single Page Calendar
5. Pink 2023 Yearly Calendar
6. Yellow 2023 Calendar template
7. Simple 2023 One-Page Calendar PDF
8. Mountains 2023 Year Calendar
9. Pretty 2023 PDF Calendar
Benefits of Using a One-Page Calendar
There are so many benefits to using a printable year calendar on one page. Here are 5 of the awesome benefits of using your new calendar.
Overview & Clarity
A one-page yearly calendar provides a bird's-eye view of the entire year, allowing users to quickly grasp their year at a glance. This comprehensive view aids in identifying busy periods, holidays, or any free stretches of time, enabling better long-term planning.
Simplicity & Efficiency
With all 12 months on a single sheet, there's no need to flip through multiple pages or navigate digital interfaces to access different months. This streamlined format reduces clutter and aids in rapid referencing.
Goal Setting & Tracking:
By visualizing the whole year, individuals can set clear goals, milestones, and deadlines. Marking these directly on the calendar helps track progress, ensuring users stay on course to achieve their objectives.
Space-saving
Being confined to one page, this type of calendar occupies minimal space. It can be easily pinned to a bulletin board, placed on a desk, or even carried in a notebook, making it a versatile tool for both personal and professional settings.
Versatility
A one-page yearly calendar can be used in diverse ways – from tracking important life events, to plotting business timelines, to marking academic deadlines. Its simplicity is adaptable to various needs and applications.
Enjoy Your Free One-Page Calendar
I hope you enjoy your free calendar template. If you're looking for more resources to organize your life, time, and home, be sure and check out my many other offerings.
Here are some more resources you make like!