As a busy mom, I love weekly meal planning. And if you've ever stared into a fridge at 5:00pm with no clue what to feed your hungry family for dinner, you either love meal planning or you want to get started.
Because meal planning saves you tons of time, lowers stress (and your grocery bill), and makes it easier to eat healthy meals.
Which means no last-minute trips to the store for one missing ingredient. And no relying on last-minute take-out or fast food. And
In this post, not only am I going to provide you with several designs of printable weekly meal planner with grocery list templates…
…But I'm also going to show you exactly how to meal plan and provide you with dozens of additional free meal planning printables that will make meal planning a breeze including:
Weekly Meal Planner Printables
Printable Weekly Meal Planner with Grocery Lists
Weekly Menu Planner PDFs
Grocery List Templates
Monthly Meal Planners
Favorite Recipes PDFs
Recipe Card Printables
Food Diary Templates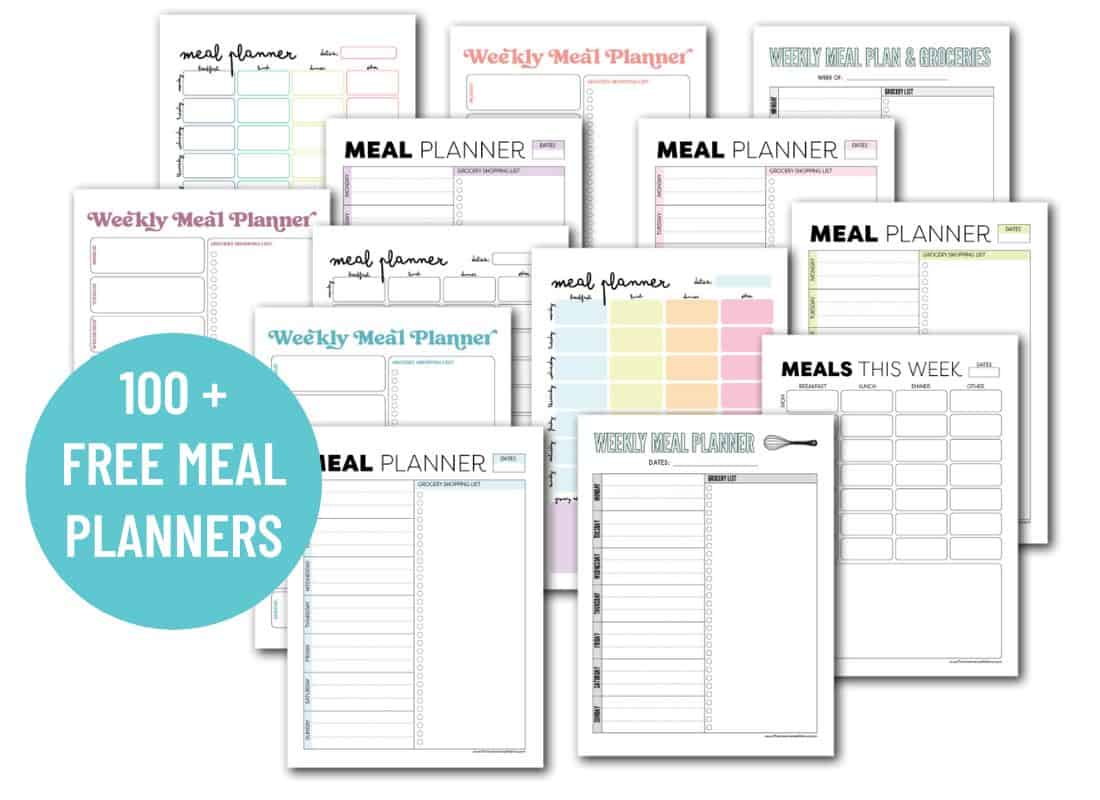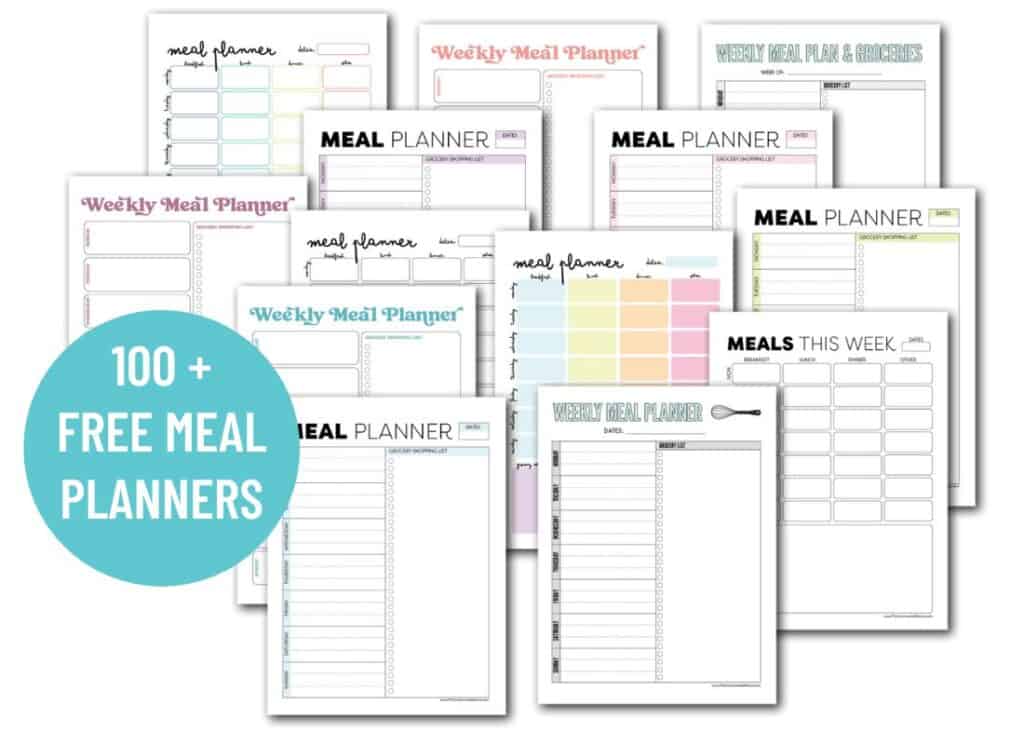 So if you're ready to save time and money, make it easier to get healthy meals on the table, and you love free printables keep reading and scrolling.
In this post, you'll find over 100 free meal planning printables in PDF format of various styles, designs, and different colors. Which means you can pick the styles and templates that work for you.
Please note that all printables are for personal use only. If you want to share them with friends, please share this webpage.
In fact, if you like this post and these free printable resources, the biggest "thank you" is to share this post.
Free Printable Weekly Meal Planner with Grocery List
While I go into more detail below about the steps of meal planning, at a minimum you'll want to start with a meal plan you'll want to download a printable weekly meal planner with a grocery list.
This will give you everything you need to at least get started with meal planning. Because not only can you go through and plan meals for each day of the week, but you can also write down any ingredients that you need to buy at the grocery store.
Note that you will find all weekly and monthly printables with both a Monday start version and a Sunday start version. Use whichever works best for your brain.
(Personally, I'm a Monday start kind of gal.)
Vertical Weekly Meal Planner with Grocery List Templates
These printable weekly meal planner with grocery list templates are letter-sized and vertical and come in various designs (pictured below).
If you're looking for horizontal orientation, keep scrolling to the next section.
They also come in both a Sunday or Monday start. These different designs provide enough space for both daily meals and your grocery list.
Some have meals listed (breakfast, lunch, dinner, and other for snacks or dessert). Others have ample space for whatever you want to put in each box.
* Click the links below the images to download the PDF of your choice.
Horizontal Printable weekly meal planner template
These Free printable meal planner templates are letter-sized and are in horizontal orientation. Click the links below the images to download. Pick either a Sunday or Monday start.
* Click the links below the images to download the PDF of your choice.
Free printable Grocery List Template PDFS
In this section you'll find various styles and designs of printable groceries list templates. To make it easier for you, they're all divided into categories.
Which makes grocery shopping much easier since you're not crisscrossing the grocery store as you work through your list.
*Click the links below the images to download the PDF of your choice.
I especially love this last one. If you often at Costco, Target, and Amazon, then this shopping list is for you. It's broken into 4 categories:
Grocery
Amazon
Costco
Target
That way, you can keep track of your various lists for each place. So you don't get back from Costco and realize you forgot the paper towels. This is a great one to post in a public place, so you can jot down items on your shopping list as you think if them,
How to Plan weekly Meal for Family (steps)
If you've ever wondered "How do I make my own weekly meal plan?" You're in the right place. In the steps below, I'm going to walk you through how to meal plan for you and your family. For best results, check out these steps and use the corresponding free download printables.
Step 1: Pick a set day and time for when to meal plan each week.
Truth is that unless we actually schedule something, it's probably not going to happen. If you don't schedule, your to-do list is just a wish list.
So pick a good day and time to do your weekly planning. I personally like Sunday afternoon. It's a low-key day and I'm mentally shifting into gear for the new week.
I do my weekly planning, block scheduling, and meal planning then. Pick what works for you and your family.
Want a great weekly planner to plan all the things? Check out this Free Printable Cute Weekly Planner Template.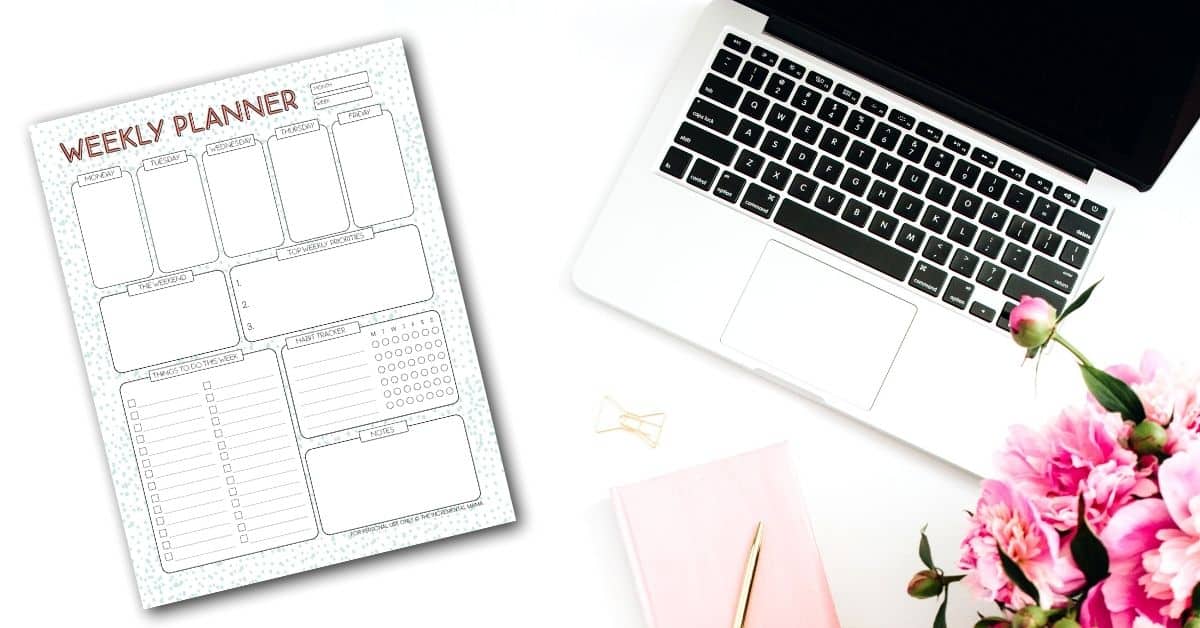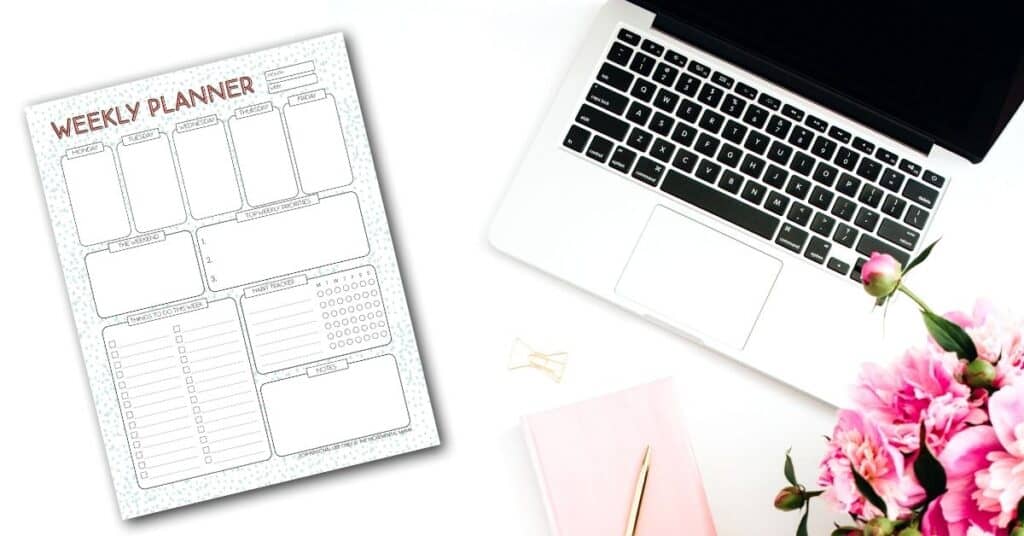 Let's be honest, it can be hard to remember all the recipes your family likes when you sit down to plan meals.
(Especially since you're probably already juggling a million other things in life.)
Which is why I recommend beginning the meal planning process by simply writing all the meals that your family likes to eat. Look through your recipes and cookbooks for inspiration.
As you discover new meals your family likes, add them to this list.
This running log of recipes makes it easy to plan when you're exhausted and trying to meal plan. You have a bunch of ideas to pull from!
***Note: Steps 3 and 4 are interchangeable depending on what works best for you. You may want to plan meals first and then figure out what you've got on hand. Or alternatively, you may want to know what's on hand first so you can plan meals based on ingredients you already have (to limit needed groceries). Do what works best for you.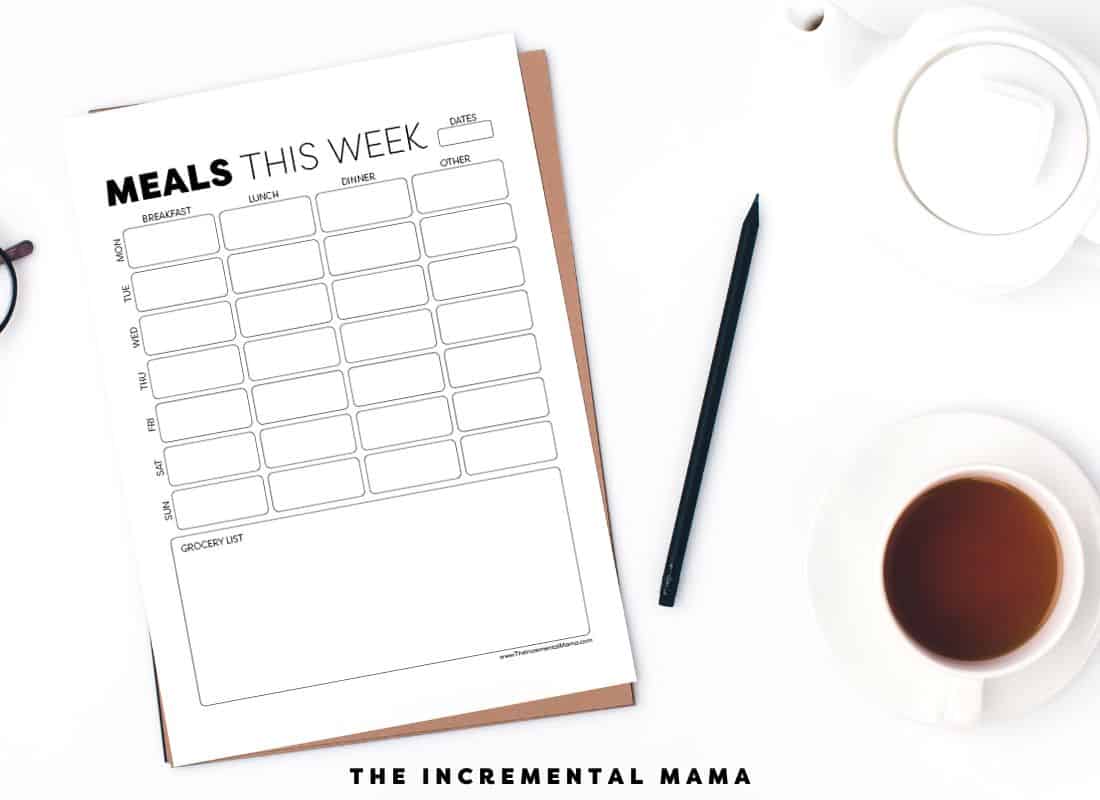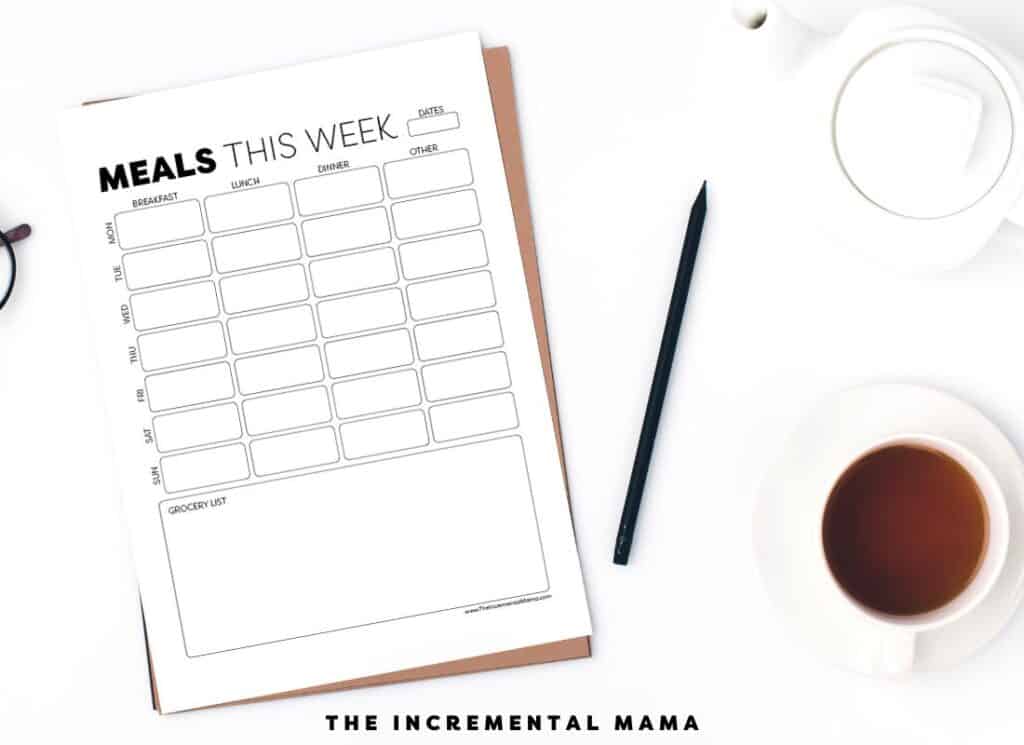 Step 3: Plan Your Weekly Meals
With your favorite recipes on hand, you've got the inspiration you need to create your weekly meal plan. Grab the meal planner printable of your choicer and start planning out your meals for the week.
Want some quick meal ideas? Check out these 7 Quick & Healthy Dinner Recipes in Under 30 Minutes.
Step 4: Take a Quick Inventory of Your Fridge, Pantry and Freezer
With a list of family favorite recipes to choose from, and your weekly meal plan…now you just need to figure out what you have on hand.
This allows you to think of what you can make with what you have on hand and also know which ingredients you don't have to add to your grocery list.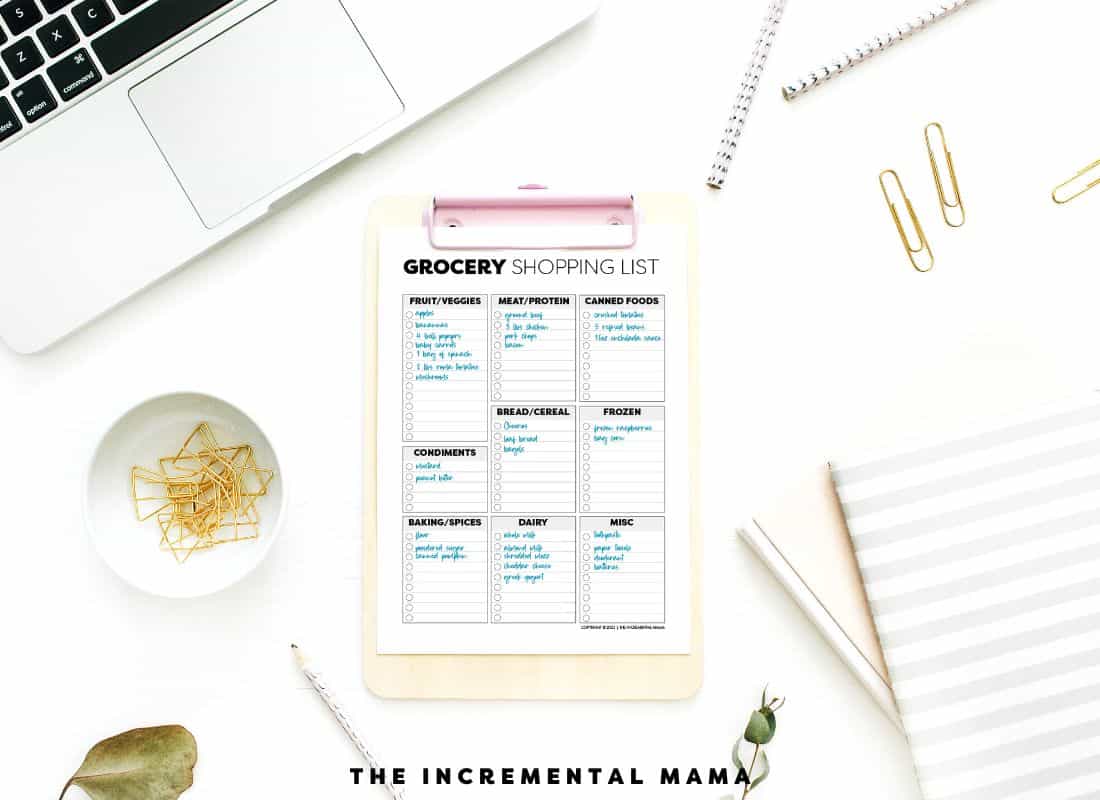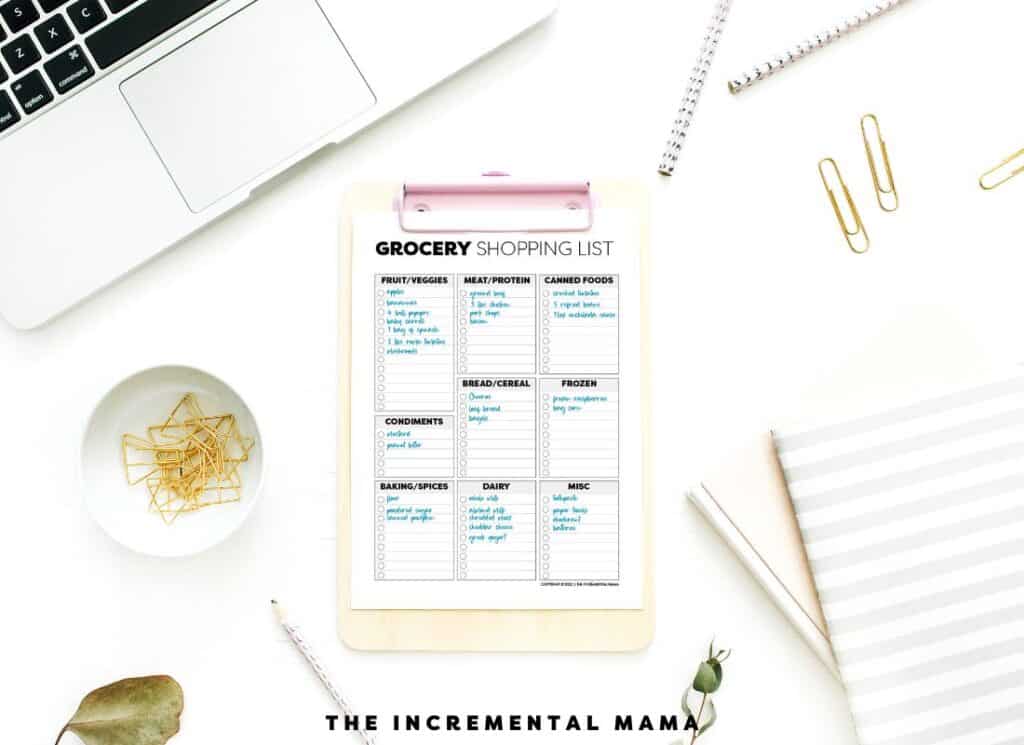 Step 5: Make Your Grocery List
Then, make your grocery shopping list. Write down anything you need to buy in order to follow through with your plan. That way you can shop once for the whole week.
You can use the section of the printable weekly meal planner with grocery list. Or you can use a separate grocery list template broken up into with categories to make grocery shopping easier.
Step 6: Do Your Grocery Shopping
With your grocery list complete, you're ready to do your shopping!
Since you're here, I can tell you're someone who likes to save time.
Therefore, I highly recommend doing grocery pick up if it's available in your area. All you have to do is order your items using the stores app and then set your pick up time.
It is a game changer and saves soooo much time.
During very stressful seasons of life, I've even found it's incredibly worth it to pay for grocery delivery because it saves me so much time and headache.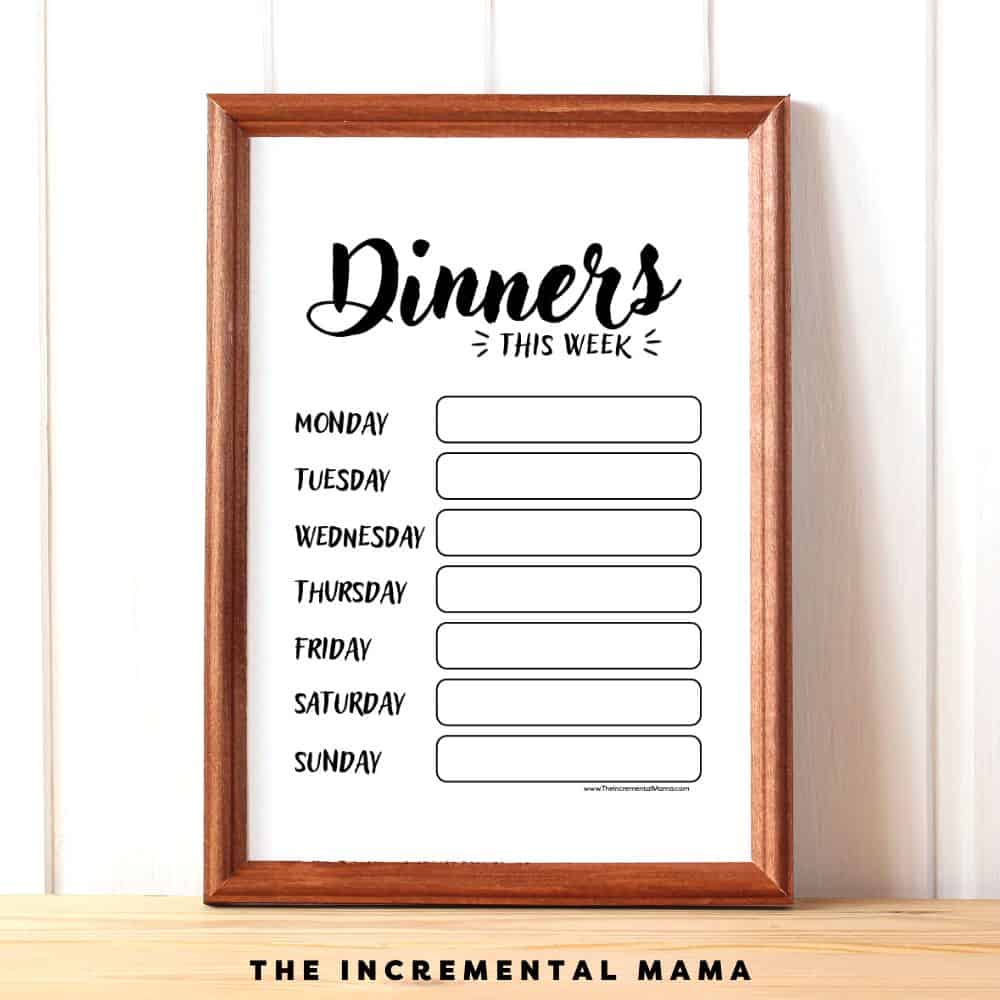 Step 7: Post your Menu Planner
If I don't post a menu, I will get asked at least 5 times a day "What's for dinner?" by my children.
So I'm a big fan of posting a menu. Not only does it stay fresh on my mind, but my family all knows what's going to show up on the table.
Just below this section, you'll find some super cute free printable weekly menu planners. These are designed to post your menu weekly on the fridge, bulletin board, or wall so that everyone knows what's for dinner.
More Free Printable Meal Planning Templates
Below, you'll find tons of extra meal planning printable templates that will help you as you work through the steps outlines above.
Weekly Menu Planner
These weekly dinner planner PDFS are designed for you to post your menu. You can laminate and post on your fridge or bulletin board and use a dry-erase marker.
Or you can even stick it in an 8 x 10 frame. You can easily use a dry-erase marker on the glass surface to write in meals each week.
Note these printable weekly meal planner templates come with both Sunday start and Monday Start. A couple designs also have grocery lists included.
*Click the links below the images to download the PDF of your choice.
Monthly Meal Planner Templates
If you really want to get ahead, you can use the monthly meal planner templates below to plan your meals for the whole month. These monthsly calendars come in a variety of styles and in both vertical and horizontal orientation.
The calendars are also both Monday and Sunday start.
Some also include grocery lists so you can plan your entire month of meals and make your shopping list with these meal prep calendar templates.
*You can download each Meal Plan Calendar by clicking the link below each image.
Favorite Recipes Meal Planner Template
As mentioned in the steps above, having a list of favorite meals is super handy when meal planning.
Because if you're anything like me, when you sit down to meal plan you suddenly can only think of 4 things your family eats. Keep a running list of your families favorite recipes or even simple weekly meals that are easy to get on the table.
(I also like to keep a list of easy weekday meals that use items I almost always have on hand.)
*Click the links below the images to download the PDF of your choice.
Recipe Card Templates
I don't know about you, but I rarely use a cookbook anymore (with the exception of a vintage Betty Crocker's Cooky Book which has THE BEST Snickerdoodle recipe).
Instead, I mostly use recipes I find online and then print out. So I keep most of my recipes in a 3 ring recipe binder.
And when I am meal planning, I like to look through my recipe binder for ideas for our weekly menu.
These recipe card templates are useful if you keep a recipe binder or if you just want to write down your recipes on a cute recipe template.
*Click the links below the images to download each PDF
Food diary template
Below you'll find several designs for daily food diary templates. Whether tracking how your emotions align with your food consumption or trying to pinpoint food sensitivities, many people like to keep track of the food they eat.
Tracking your food can also help you when meal planning to know what foods work best for you.
*Click the links below the images to download each PDF
Meal Planning Tips
In addition to all the above printables and templates, I wanted to also share the best meal planning tips that will help make this process as easy as possible.
Dry erase
Sunday afternoon
Days of the week
menu planning
Instant pot
Slow cooker
Tip #1 – Laminate Your Printables
Instead of printing out new templates each week, I like to laminate my weekly planners (or chore charts, or routine charts…) and use a dry-erase marker (I love these fine-tip dry-erase markers)
That way you can just wipe them clean and reuse each week.
I got this laminator off of Amazon and I use it ALL THE TIME.
Here are more recommended supplies when the using planning printables, checklists, and charts on this website.
Tip #2 – Theme Nights
To simplify your planning, consider having theme nights for your meals. Like pizza fridays, soup on Mondays, Instant Pot Sundays, or whatever works for you.
Maybe Tuesdays are super busy so Tuesdays will be slow cooker meals. That way you can prep dinner in the morning.
This makes planning easy and your family knows what to expect.
Tip #3 – When you sit down to plan, consider the following when meal planning
What do you have on hand? Any food about to go bad that needs to be used?
What do you have going on? Is there a busy day where a slow cooker meal or frozen pizza might be the right meal?
Are there certain dishes that make good leftovers?
Are there dishes you can make in bulk and freeze the excess?
With these in your mind, you can make a really great plan for the week and even start working on easy meal prep so you can have freezer meals on hand.
Tip # 4 – Start building in meal prep
Getting started with meal prepping, especially if you've never really done it, can feel daunting. But it doesn't have to be a big thing.
Instead, when you have a meal your family enjoys, consider making double or triple the amount and freezing the extra. All you really have to do is make sure you have enough ingredients when you plan your grocery shopping. This takes virtually no extra time and makes it easy to build up freezer meals for when life gets crazy.
Foods that freeze well:
Lasagna
Chili,
Tomato sauce (marinara, bolognese, pizza sauce)
Baked ziti
Cookie dough
Uncooked hamburger patties
Soups
Broth
Enchiladas
Many casseroles
RELATED: 7 Healthy & Delicious Meal Prep Breakfast Recipes
Tip #5 – Include the Whole Family
If you've got picky eaters–and even if you don't–it's a good idea to include the whole family when making your weekly menu plans. Ask them what meals they'd like to have.
How to Download the Meal Planner Printables
All these meal planner printables are in Dropbox. Therefore, once you click the click to download, you will be redirected to the PDF in Dropbox.
To download, click the "Download" button in the upper lefthand corner.
Grab The Free Downloads & Get Started
And there you go! Over 100 free printable meal planning printables including several printable weekly meal planner with grocery list templates. I hope they make meal planning and meal prep much easier for you.
Happy Meal Planning!
By the way, if you found this post helpful, please consider sharing it with your friends via social media or Pinterest! This makes it easier for me to keep providing free resources to folks like you.
Looking for more help meal planning? Check out The Super Simple Guide to Meal Plan for Your Family For a Week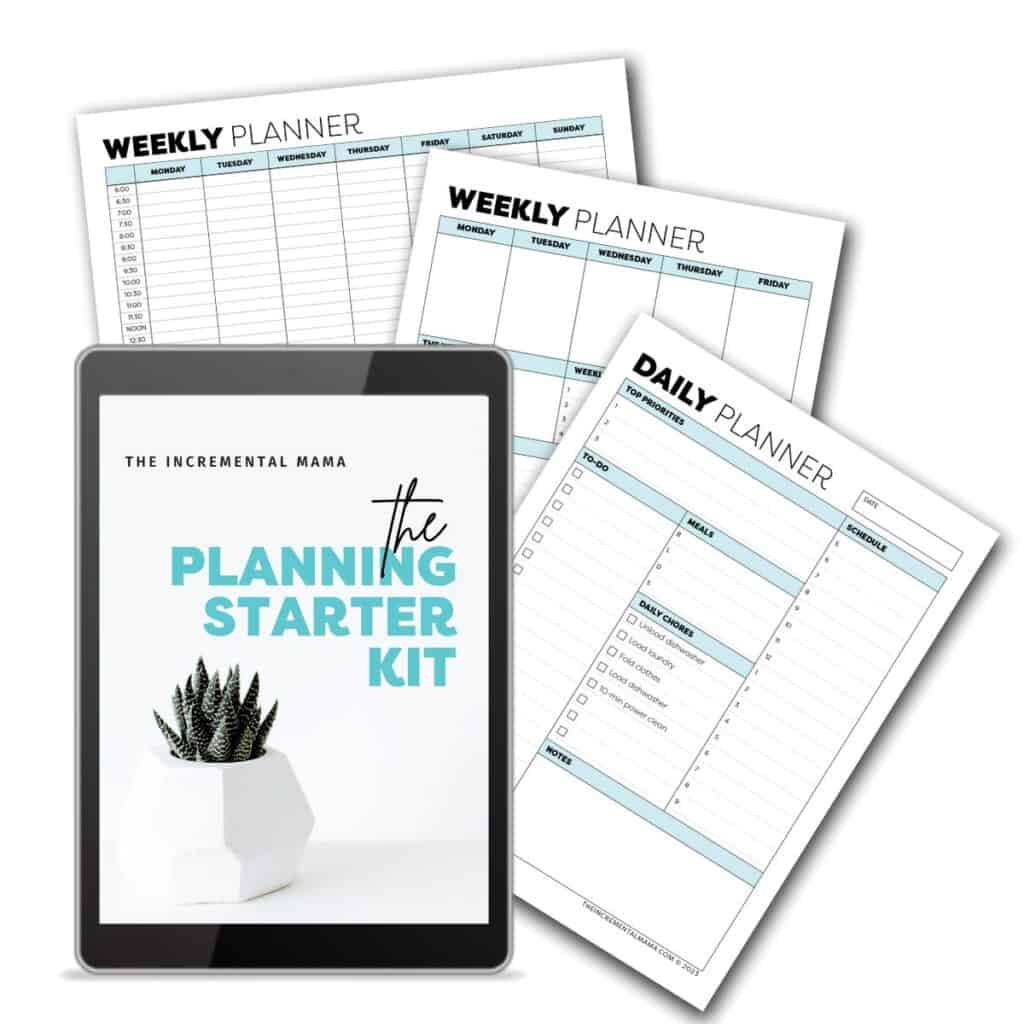 Ready to get started with planning? Grab the free Planning Starter Kit which includes:
A Guide to Getting Started
Daily Planning Template
Weekly Planner
Weekly Time Blocking Printable
YOU MAY ALSO LIKE: