In the quest to get healthy, everything starts with our small daily habits. And one of those habits that has a big impact on your health is drinking enough water. 
And to help you drink more water, I've created several very cute monthly water tracker printable templates to track your daily water intake.
Because tracking is a great way to build a new healthy habit!
These free printable water trackers will help you build the healthy daily habit of drinking enough water.
By the way, if you're trying to build multiple healthy habits, be sure to check out this free printable habit tracker.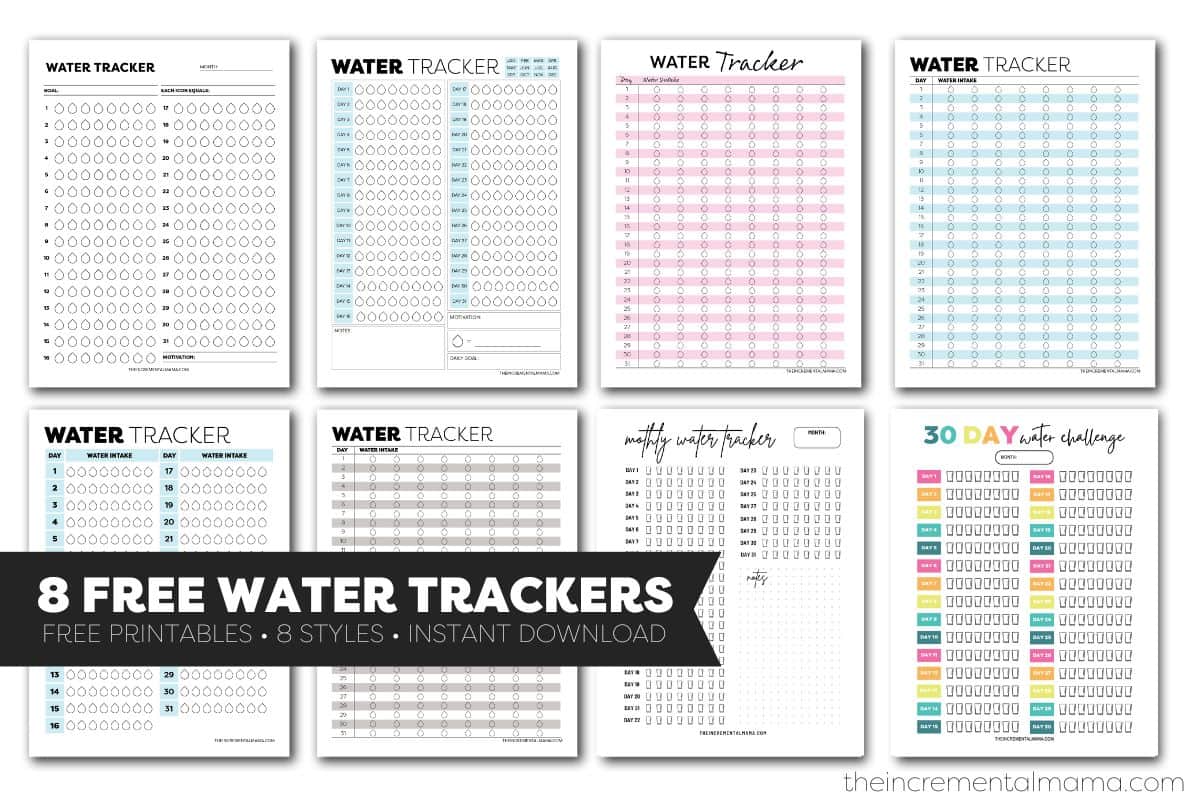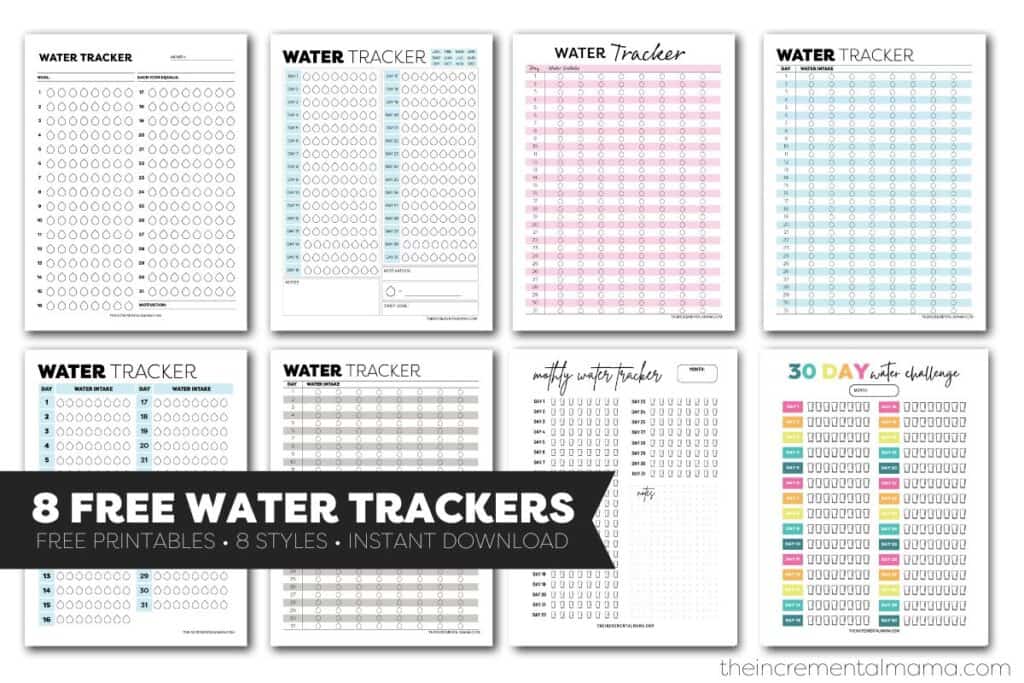 Benefits of Drinking Enough Water
While we all know generally that drinking water is good for us, when we dive into the exact benefits, it can increase our motivation to reach our daily hydration goal.
When you drink enough water daily, you will improve:
Physical performance: Staying hydrated helps prevent muscle cramps and keeps them working smoothly. If you're also trying to exercise more, drinking water will actually help you.
Skin health: Improves skin complexion and can reduce the risk of skin problems. Hydrated skin is happy skin!
Kidney function: helps flush out waste and toxins from the body.
Temperature regulation: helps regulate body temperature and prevents overheating.
Headache relief: dehydration can cause headaches, so drink up and avoid the pain.
Digestion: aids digestion and prevents constipation.
Weight control: water helps flush out toxins and can curb your appetite, making it easier to resist those tempting snacks.
Mood improvement: staying hydrated can improve mood and cognitive function.
Overall, drinking enough water is going to help you feel good and improve your overall health.
RELATED: The 10 Best Health Podcasts for Women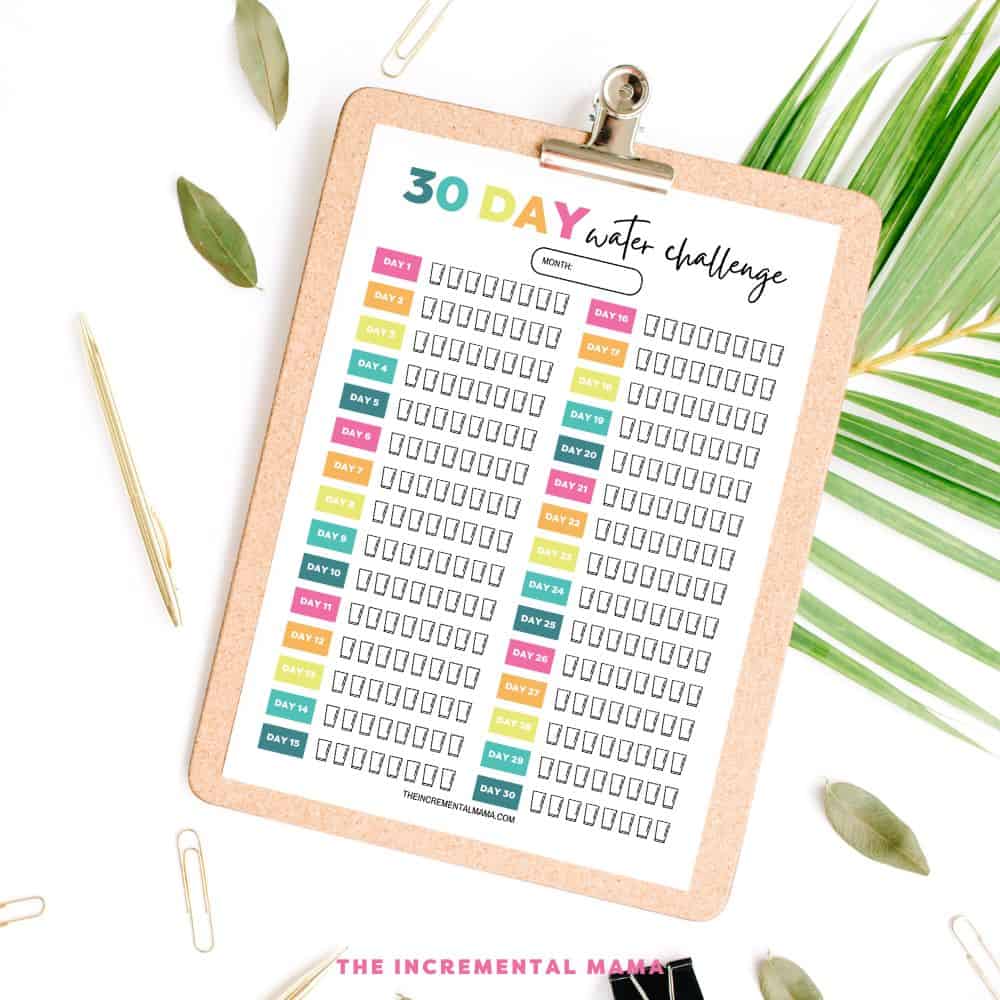 How Much Water Should You Drink?
The amount of water you should drink per day is dependent on several things such as your:
Age
Sex
Body weight
Activity level 
Overall health
However, a general guideline to healthy water intake is to drink at least 8 glasses (64 ounces or about 2 liters) of water per day.
According to the NASEM, the recommended adequate daily fluid intake for men is about 3.7 liters (about 13 cups) and for women, it's about 2.7 liters (about 9 cups).
(This includes water from all beverages and foods consumed in a day.)
It's important to note that these are just general guidelines and your own needs can vary. To figure out what's best for you:
Listen to your body
Drink water when you're thirsty
Drink more water in hot weather, during physical activity, and when you are sick
RELATED: Free Printable Habit Tracker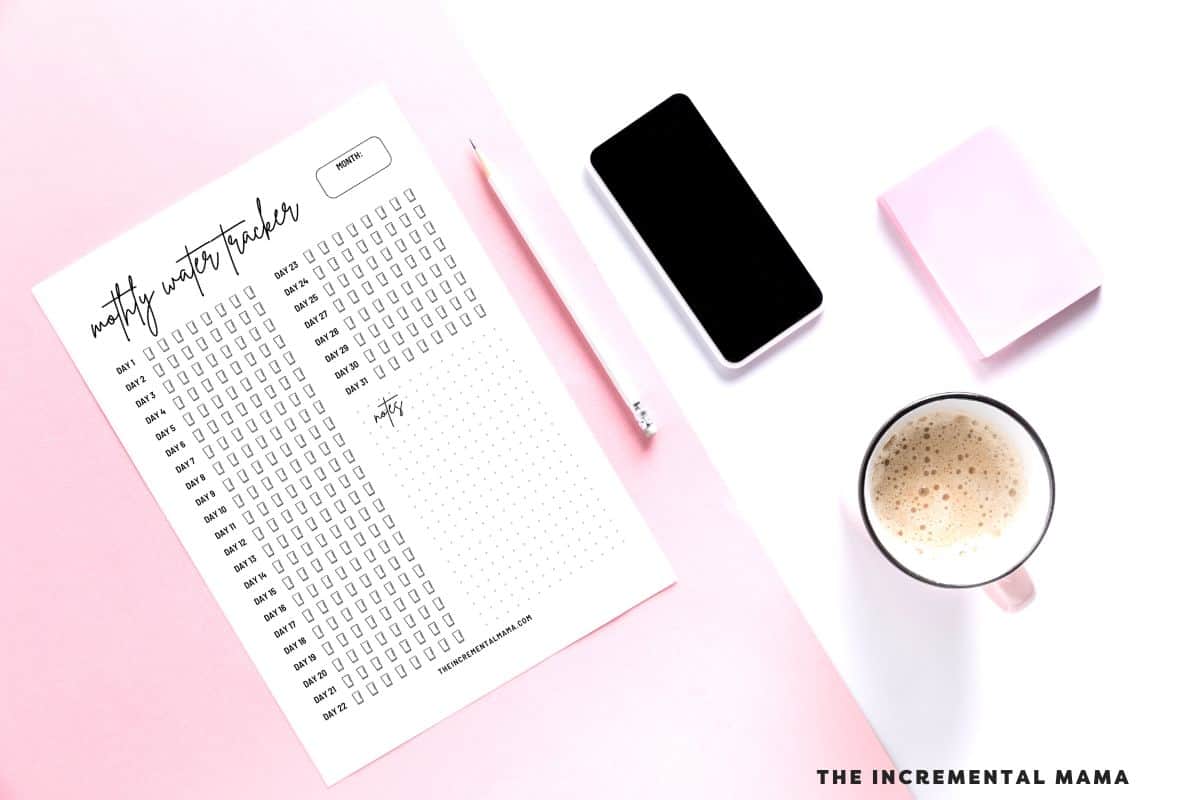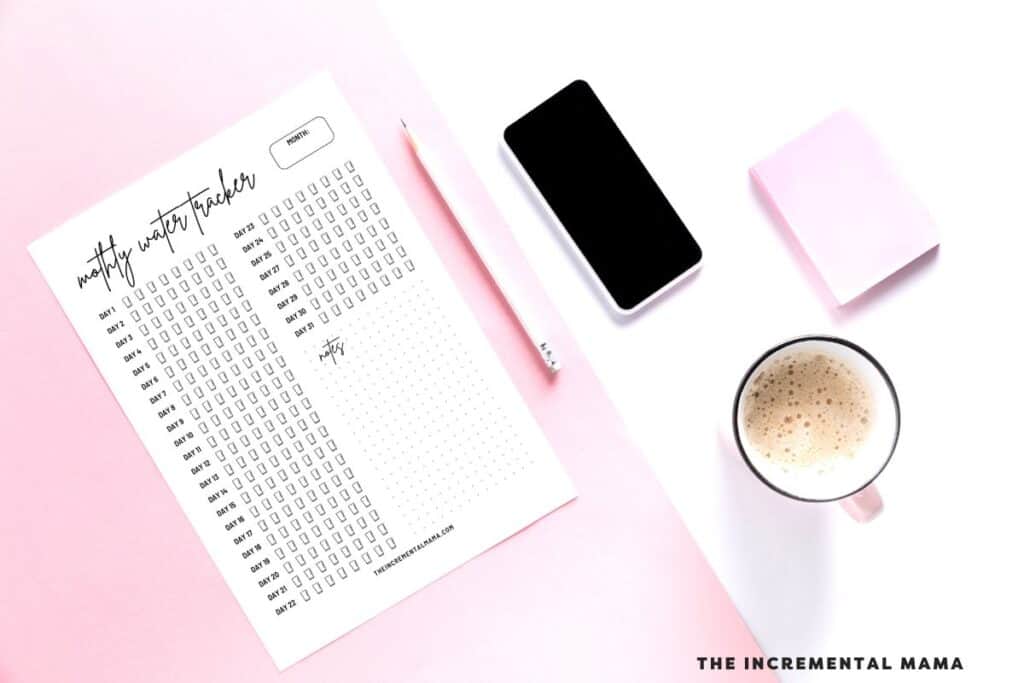 Benefits of USING A WATER TRACKER PRINTABLE
Tracking your water consumption gives you increased awareness of your water intake. Which helps you become more mindful of how much water you're drinking and how often.
And the truth is, tracking any habit often leads to change. Because we focus on what we track.
Overall, tracking your water consumption can be a helpful tool to support your hydration and overall health goals. And best yet, you can do so easily with these free water tracker templates below.
Easy Ways to Drink More Water
While you've set the goal to drink more water, the trick is finding ways to easily build it in as part of your daily routine. \
Here are a few suggestions for how to increase your water intake and reach your daily water goal:
Try drinking a glass of water first thing in the morning.
Set a daily goal and track your progress. These hydration trackers will help!
Keep a water bottle with you at all times. (These water bottles are both budget friendly and my absolute favorite)
Drink a glass of water before meals.
Use a water tracker bottle
Add flavor to your water with slices of lemon, mint, or cucumber.
Eat water-rich fruits and vegetables.
Use reminders, such as an app or sticky notes.
Substitute sugary drinks with water. (If you struggle to go from soda to lemon water, try something like Mio.)
Drink water before, during, and after physical activity.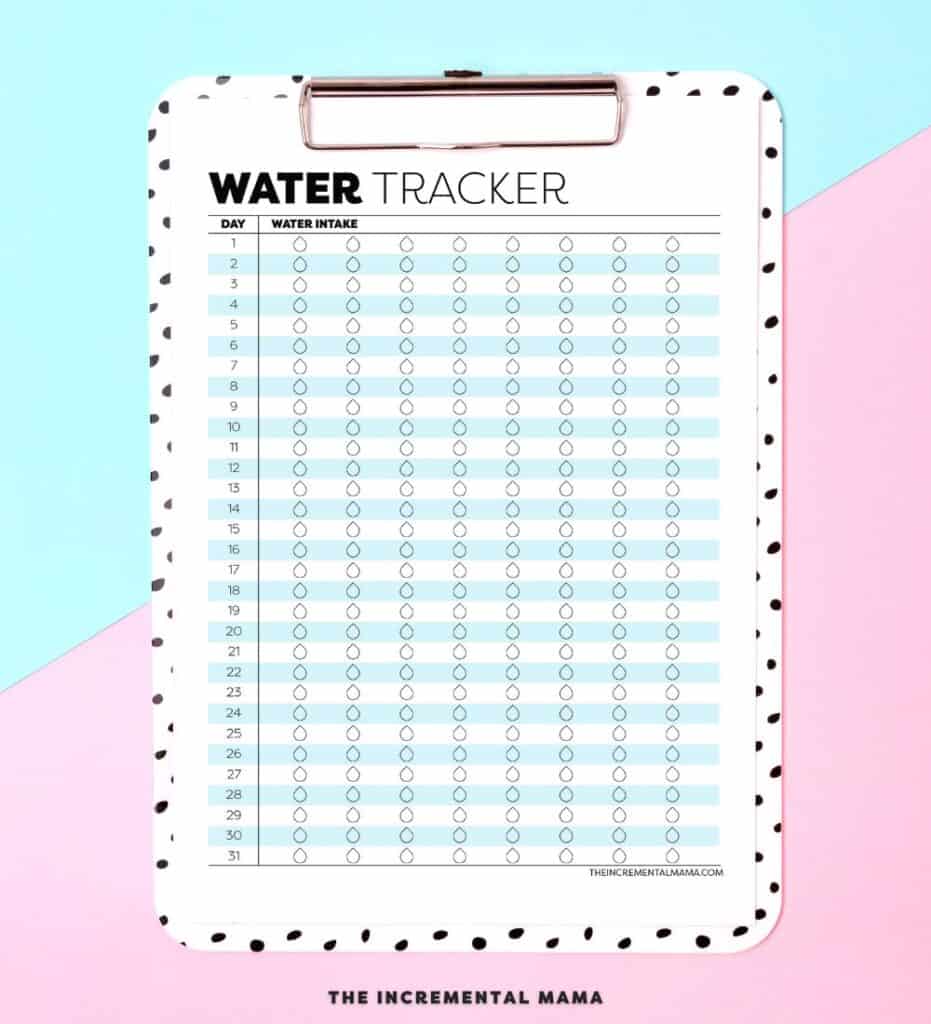 How to Use the Monthly Water Tracker
To use the monthly water tracker printable templates:
1. Decide how much water each icon represents.
For each day, you'll see 8 different icons (either water droplets or glasses of water) that represent a certain amount of water. That amount depends on you.
For example, each icon could represent:
a certain number of ounces of water
water bottles
glasses of water
Pick whatever works best for you. If you have no idea where to start, just have each represent 8 oz of water so you can get the basic recommended 64 oz a day.
2. Set a daily personal goal.
While there are 8 icons for each day, perhaps your icon represents that 32 oz water bottle you lug around with you everywhere. If that's the case, then maybe your daily goal is to drink 3 bottles a day. So your goal is to fill out 3 icons.
Or if you want to drink 80 oz of water daily, then each icon could represent 10 oz.
3. Stay consistent!
When it comes to building any new habit, consistency is the key. Keep the tracker handy so that you can actually use it.
Download the Water Tracker Printable Templates
Below you will find 8 different designs of monthly water tracker pdf files. These digital files are all US letter size and in PDF format measuring 8.5 x 11 inches. To download, simply click the links below the image of the water tracker you'd like to use.
Note that these monthly water tracker printables are for personal use only. If you'd like to share them, please share the link to this post.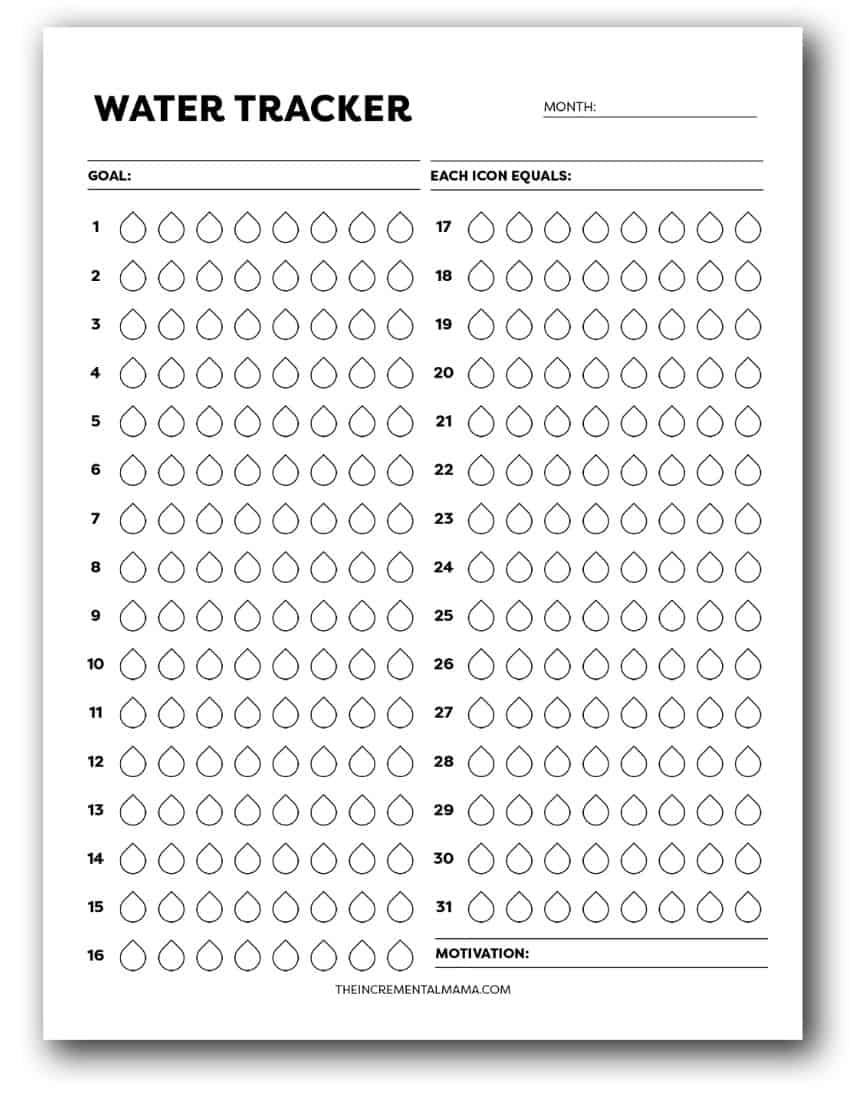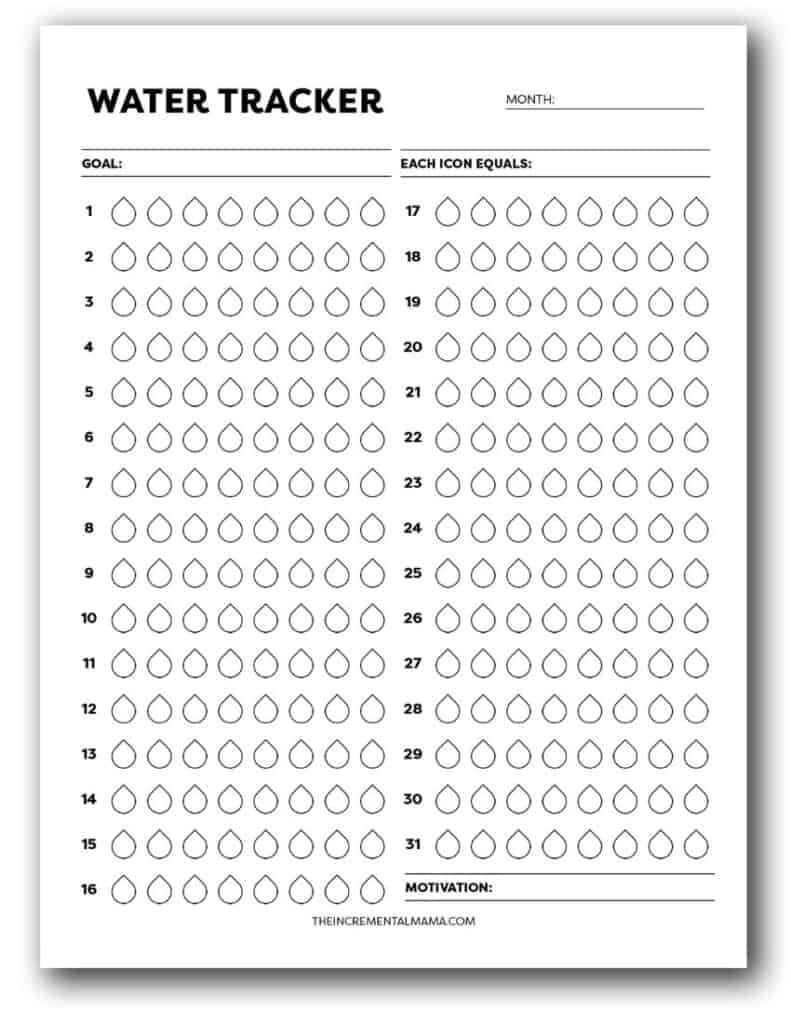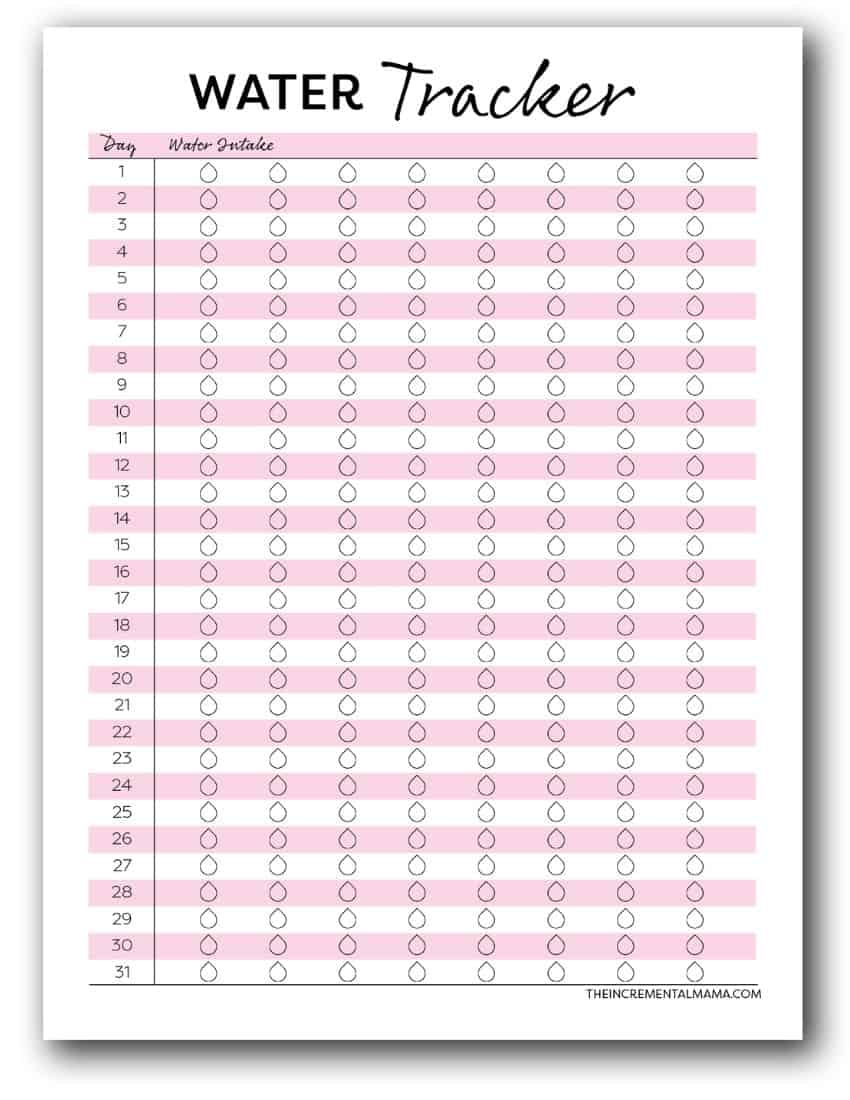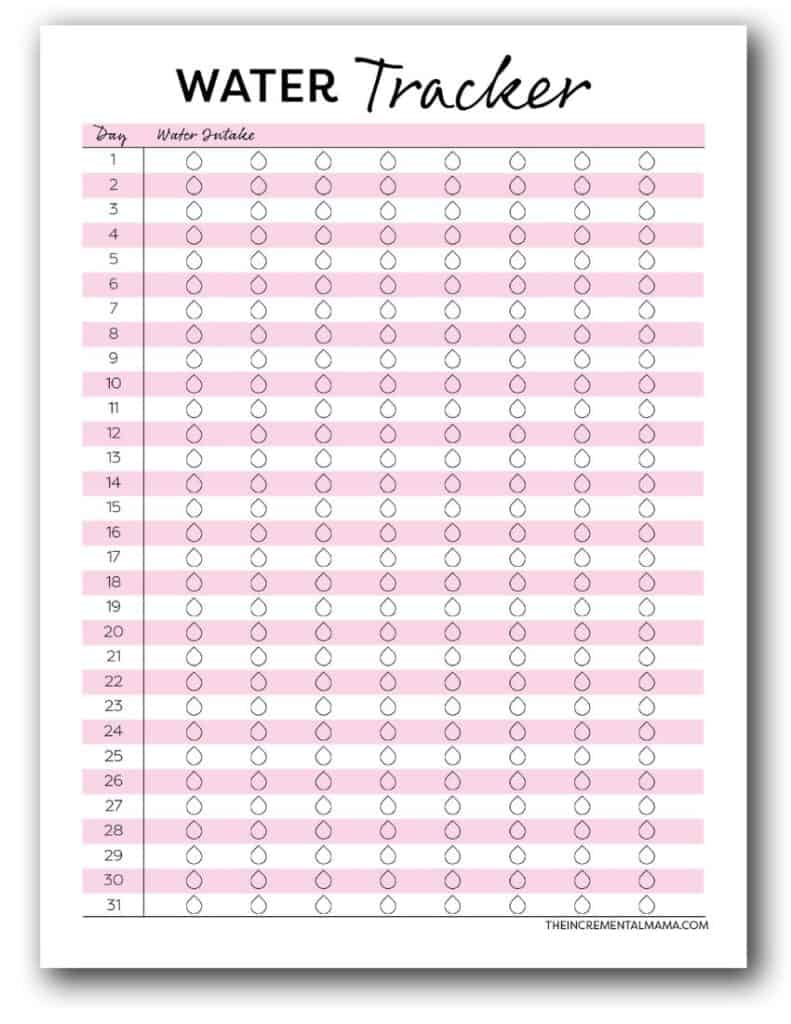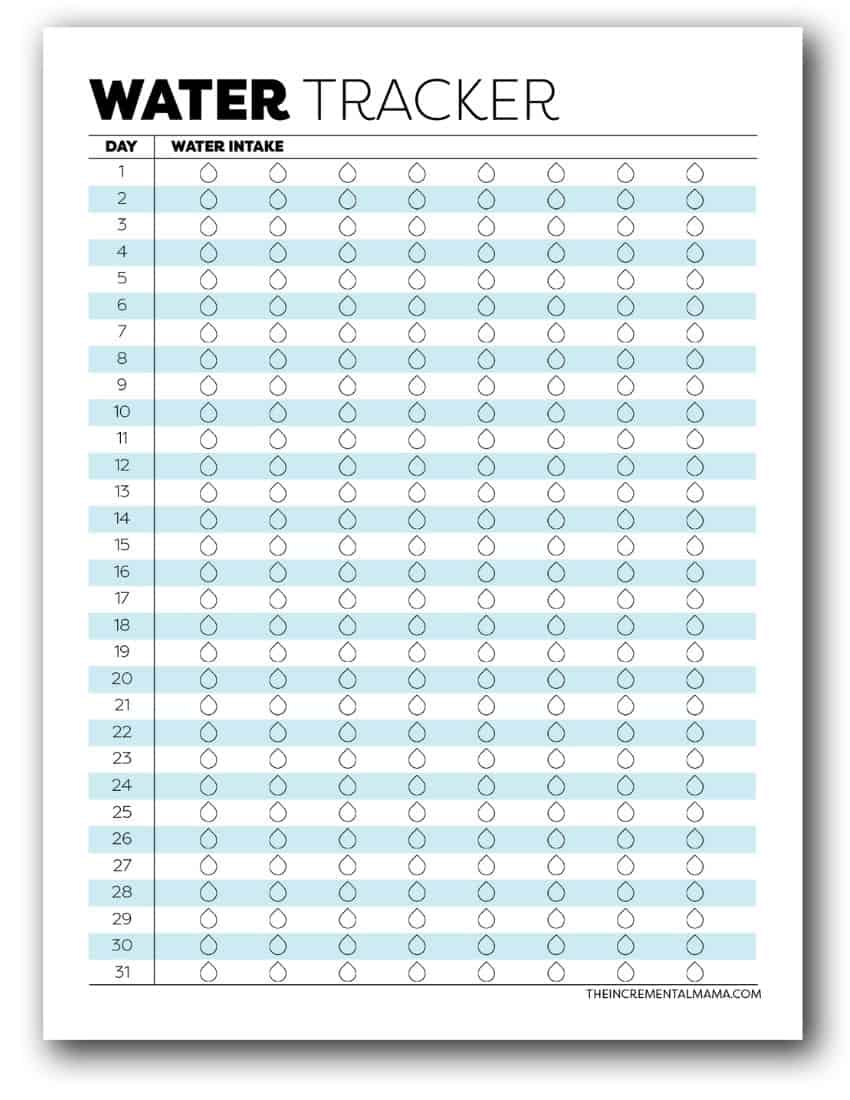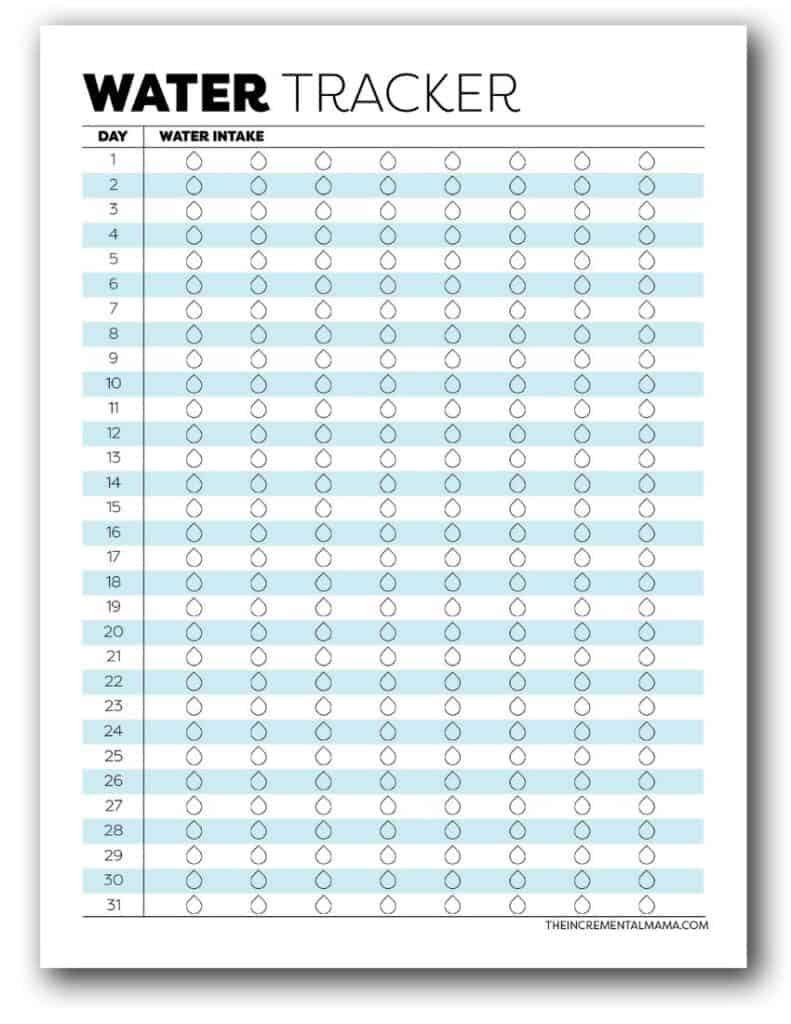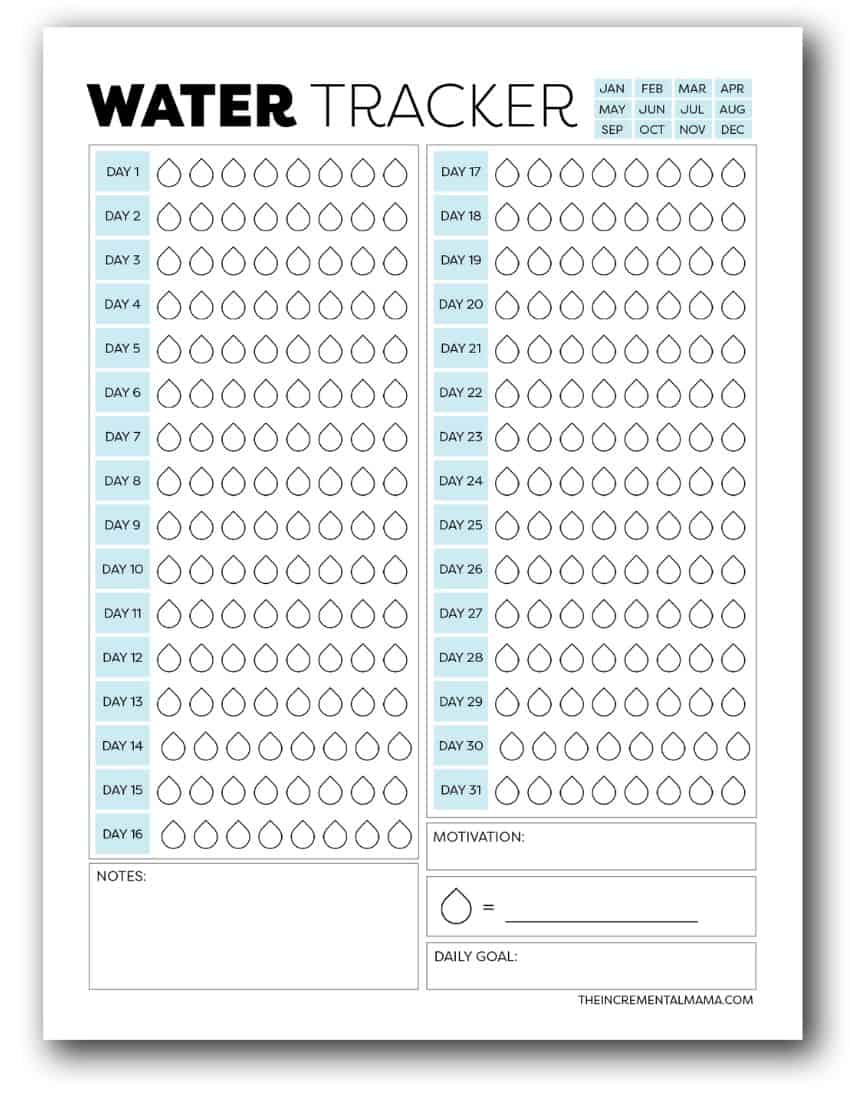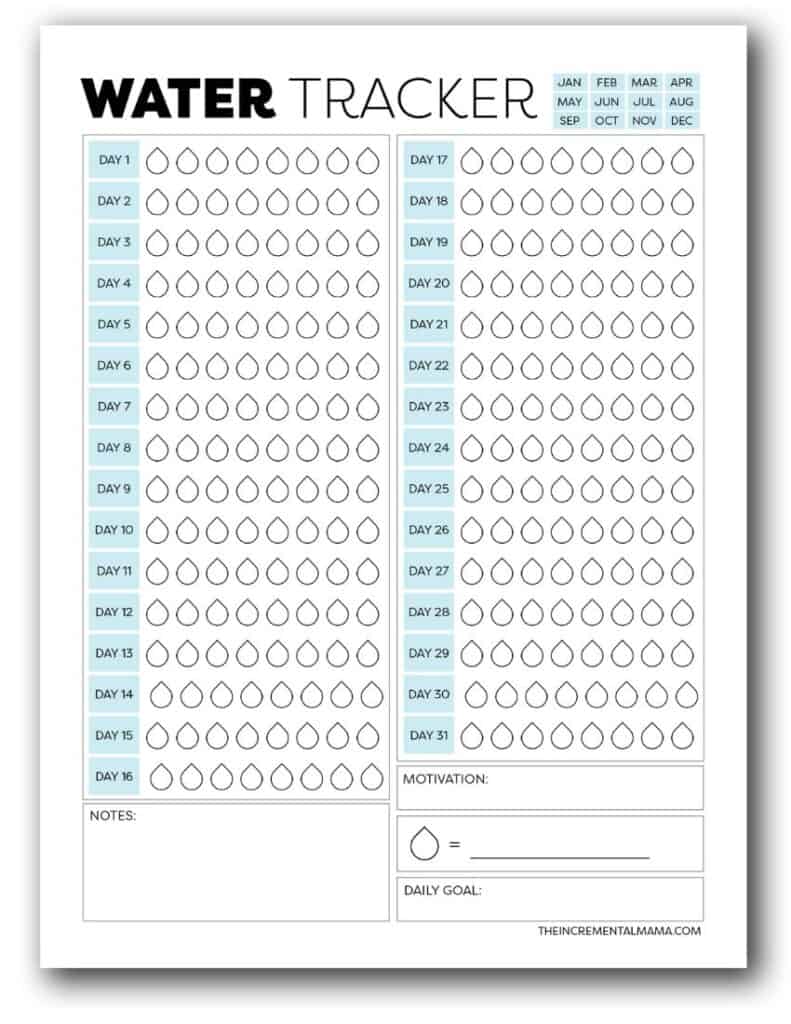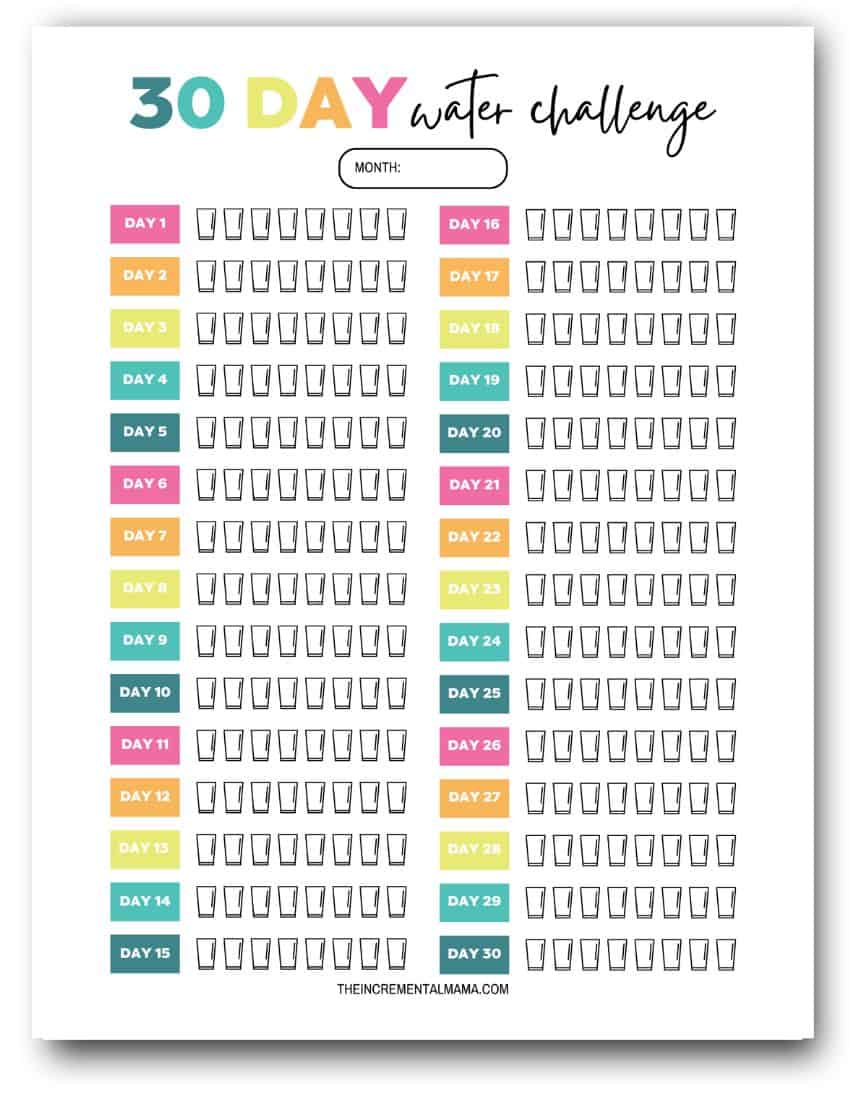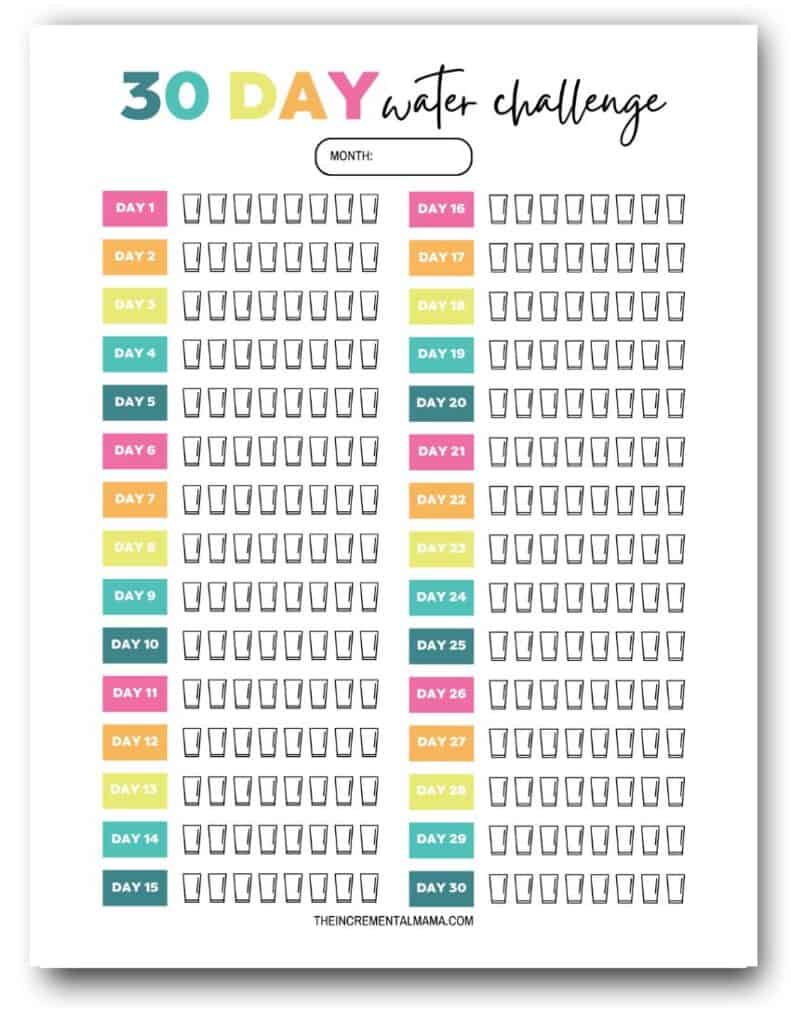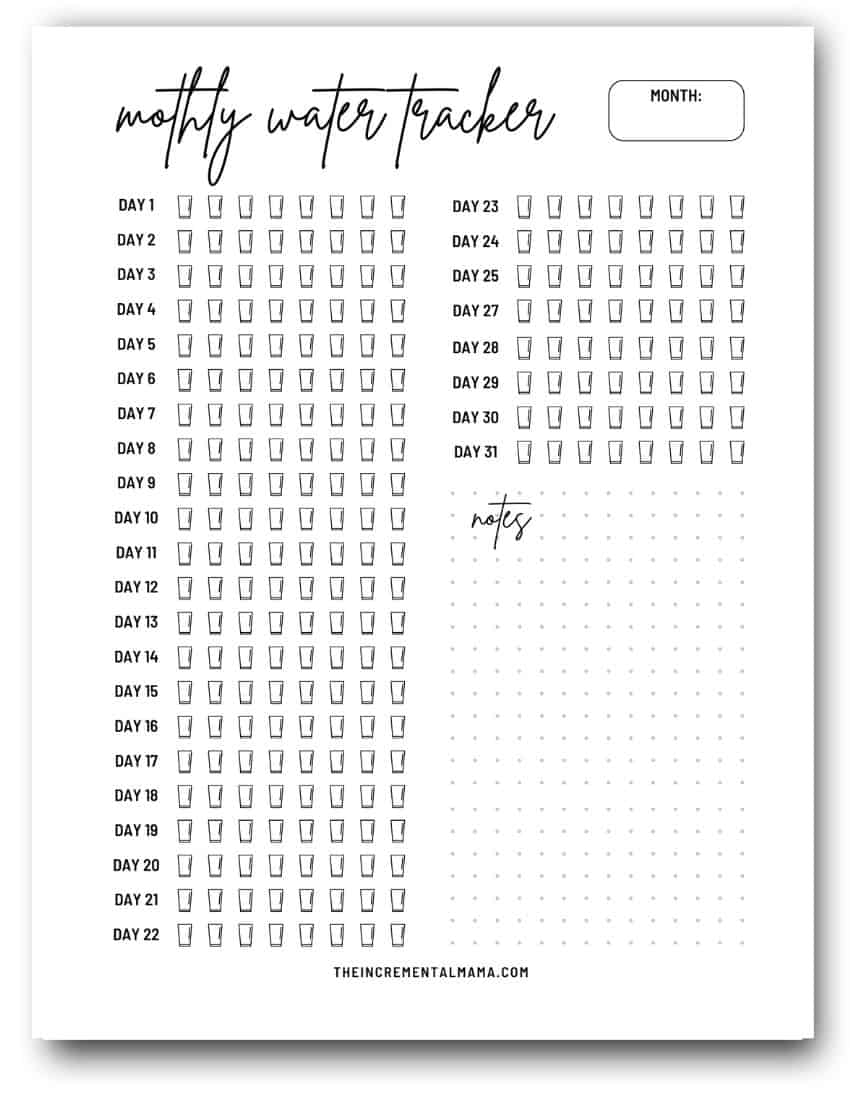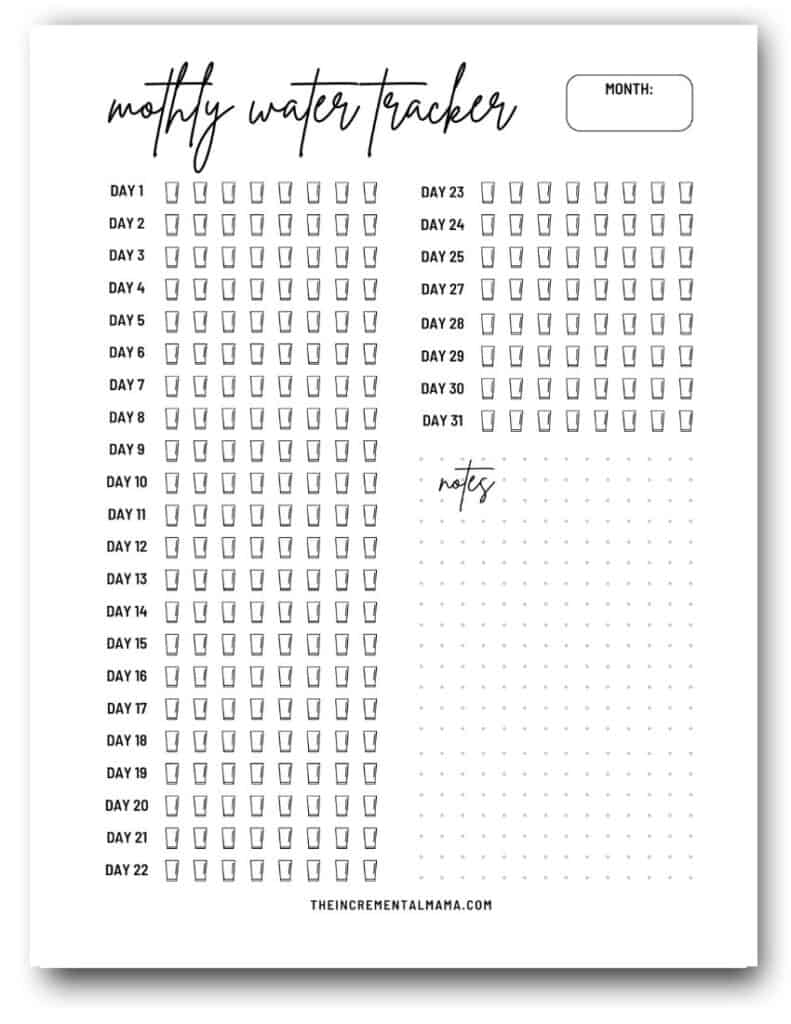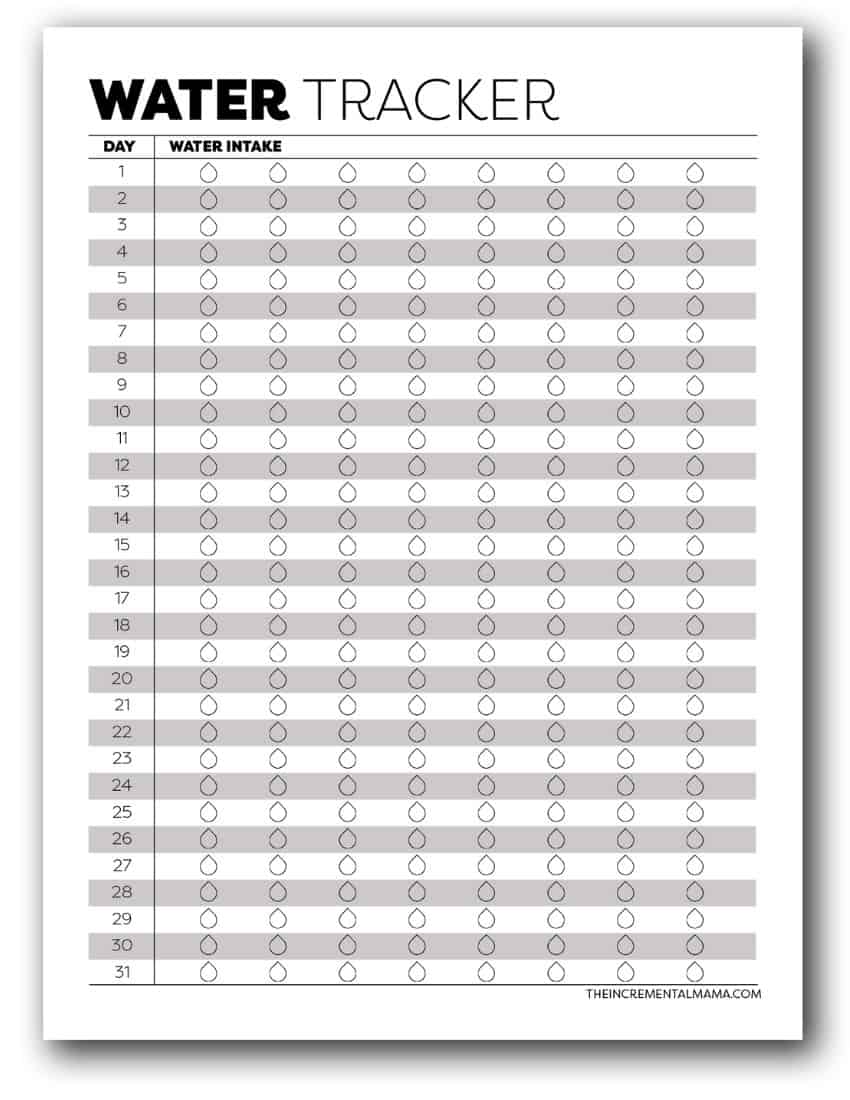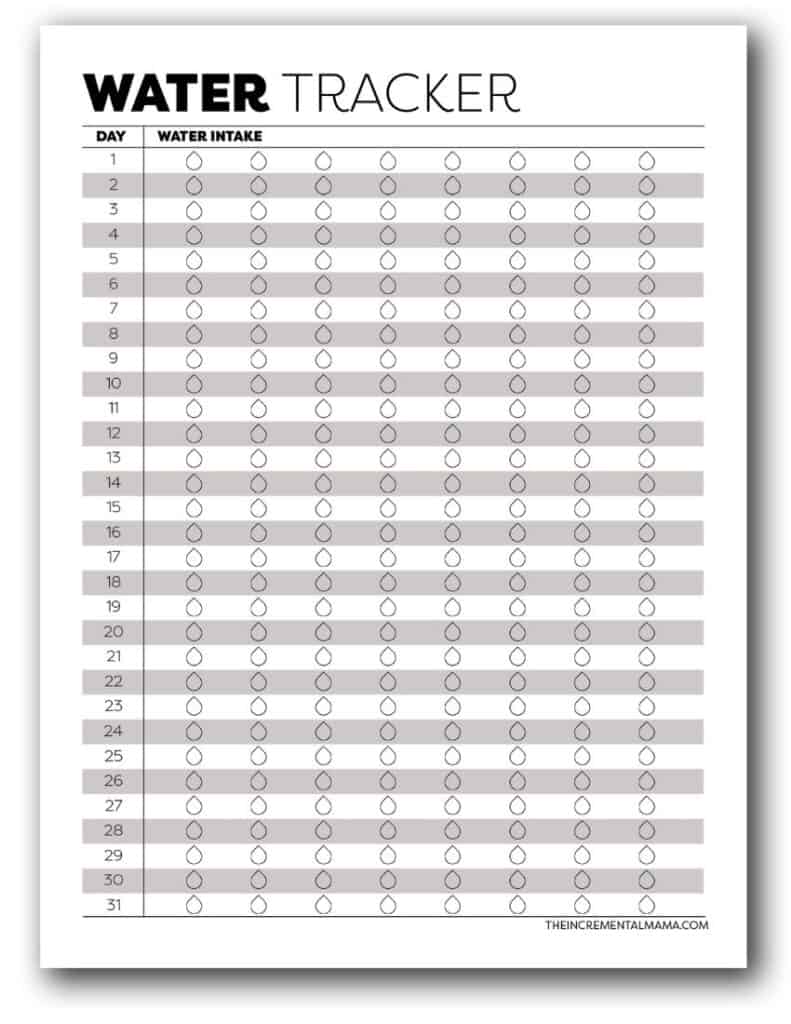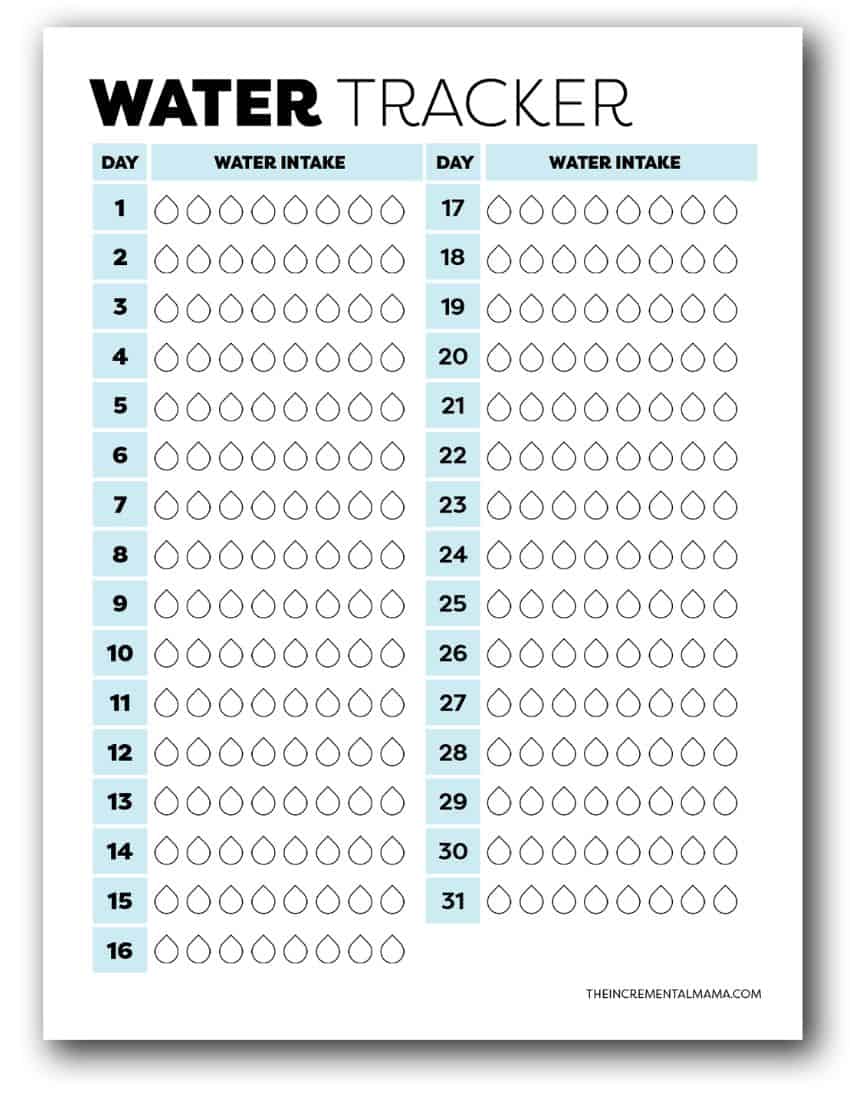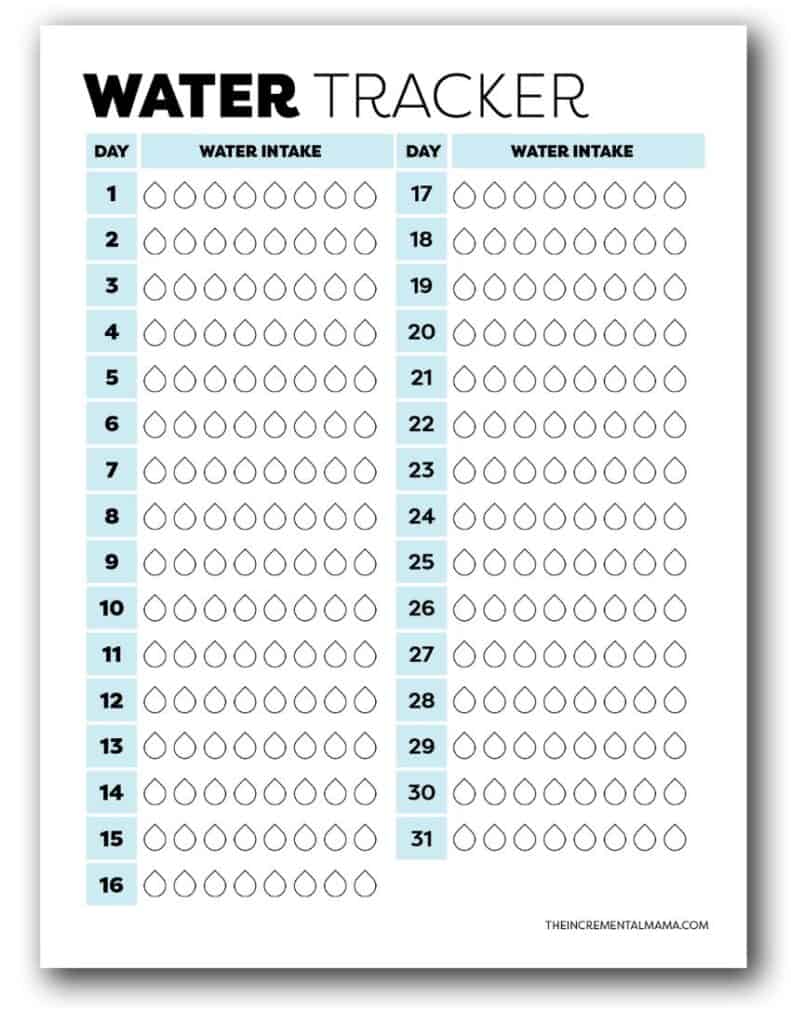 You Can Drink More Water
And there you have it! Now you know the benefits of drinking enough water, what tracking helps, and pus some tips to increase your water consumption.
Hopefully, you've picked the monthly water tracker printable that you like and you're ready to start drinking more water. So, grab a glass of H2O and give yourself the gift of hydration. Your body will thank you for it!
OTHER POSTS YOU MAY LIKE…