When it comes to creating structure in your home and getting kids on a routine and doing chores, chore chart printables are a fantastic tool.
As the mother of 4 little ones, they've been super helpful in both getting my kids motivated to help out (chore charts are fun!) and keeping track of daily tasks.
Which means LESS nagging and having to remind kids of their daily chores.
Because instead, your kids have a visual reminder of the daily and weekly expectations outlined on a handy little chore chart.
PICKING THE RIGHT CHORE CHART
But to create a successful chores system, you want the right chore chart that's going to work for you and your child.
Specifically, you want a chore chart and chores system that is:
Simple. No complicated system for parents to enforce and difficult for kids to understand.
Directions are clear. Kids know exactly what's expected of them.
Expectations are manageable. Meaning the child can easily manage the required tasks. Set your kid up to succeed!
For more on finding the right chore chart and getting your kids doing chores, check out How to Get Your Kids to Follow a Chore Chart
15 FREE CHORE CHART PRINTABLES FOR KIDS
So what's the right chore chart for you and your kiddo? To help you find that perfect match, I've broken up the free chore chart printables into 3 sections depending on what kind you're looking for.
You can click the links below to jump straight to the type you're looking for or you can scroll and see them all!
RELATED: 13 Ways to Get Your kids Excited About Chores
DAILY CHORE CHARTS WITH PICTURES
If you've got young kids, picture chore charts are the way to go! The following chore charts all outline daily tasks and routines for kids.
This free chore chart printable is great for toddlers and preschoolers and parents who don't want a complicated chore system to implement. (Plus, it comes with a few different color options).
With pictures and simple daily tasks, this is perfect for little ones just starting with chores.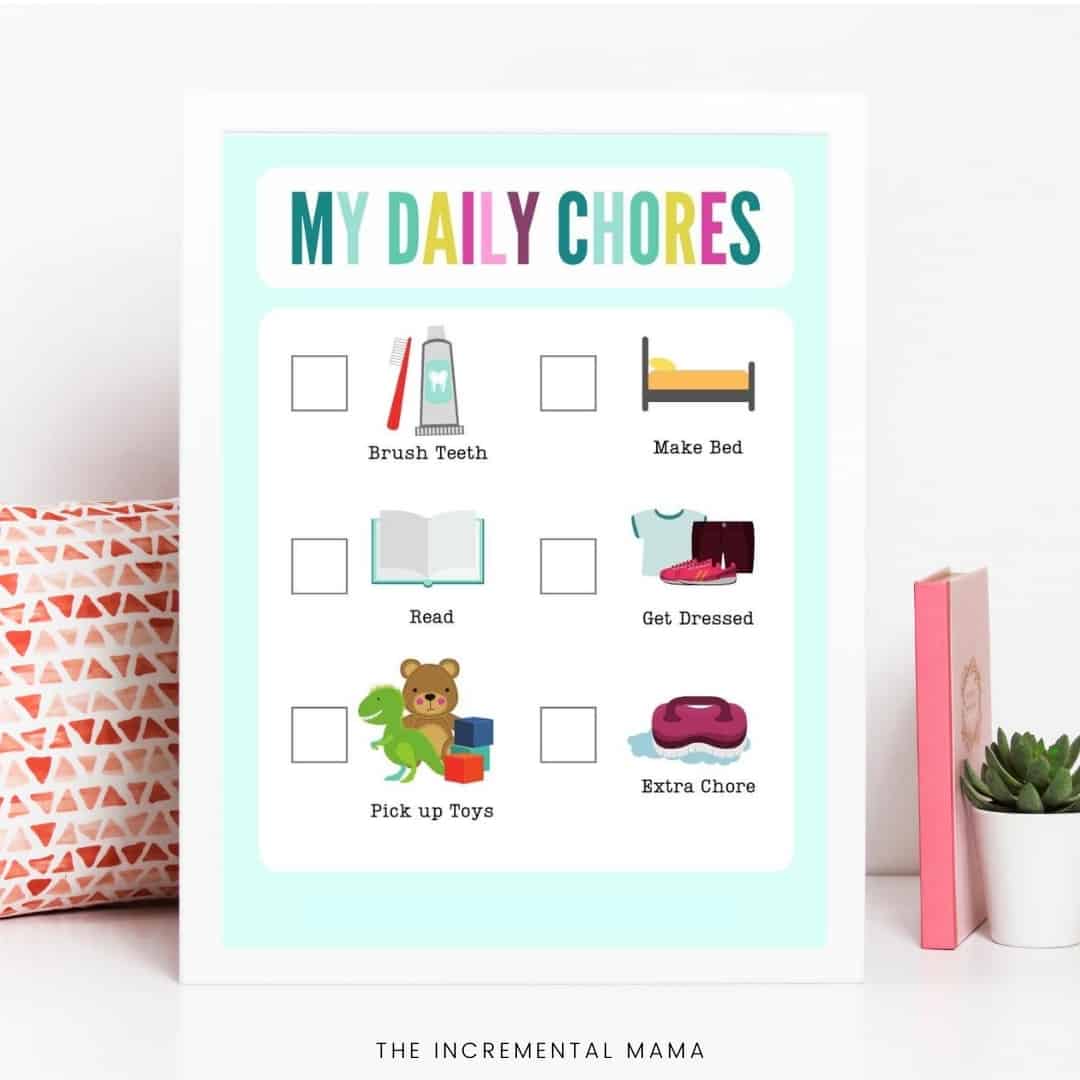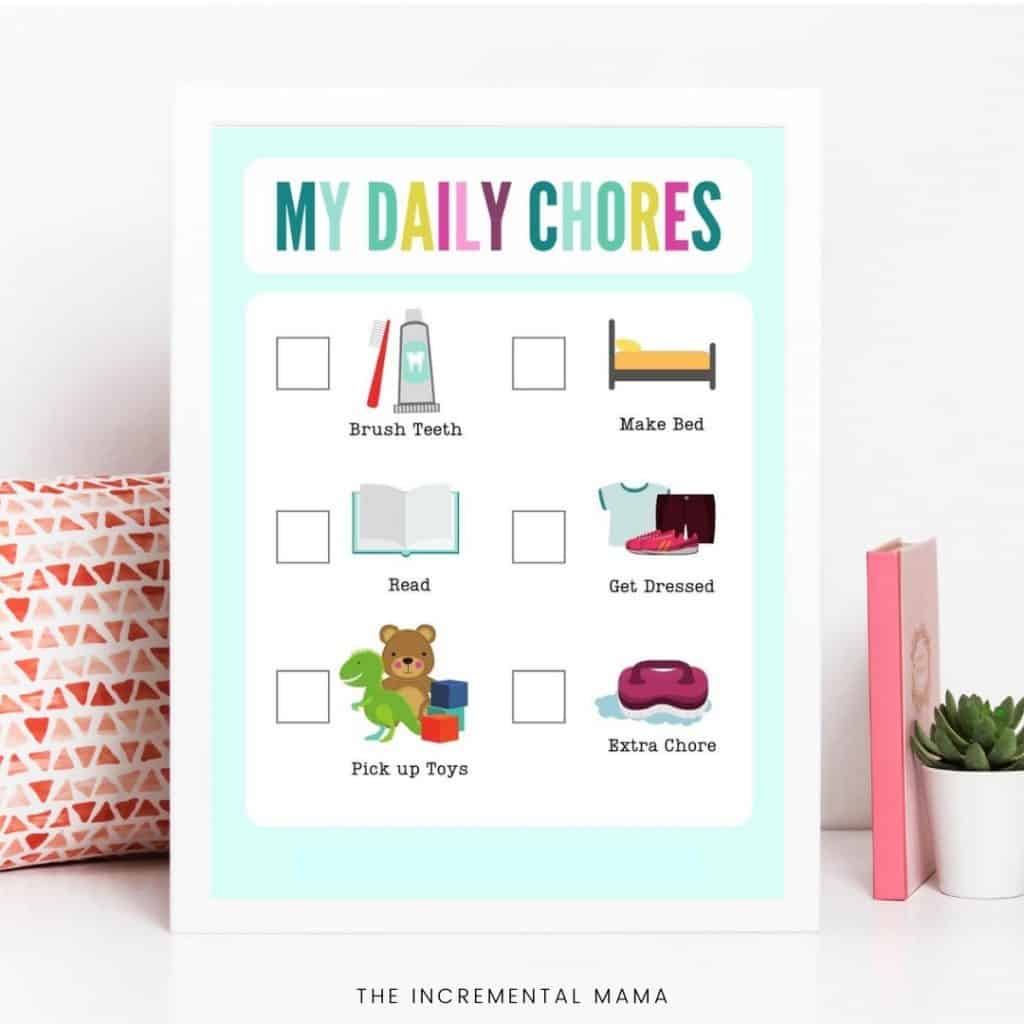 This is great if you want flexibility to choose which daily tasks your kid does. You've got several picture cards to choose from to create the right routine/chore chart for your toddler or preschooler.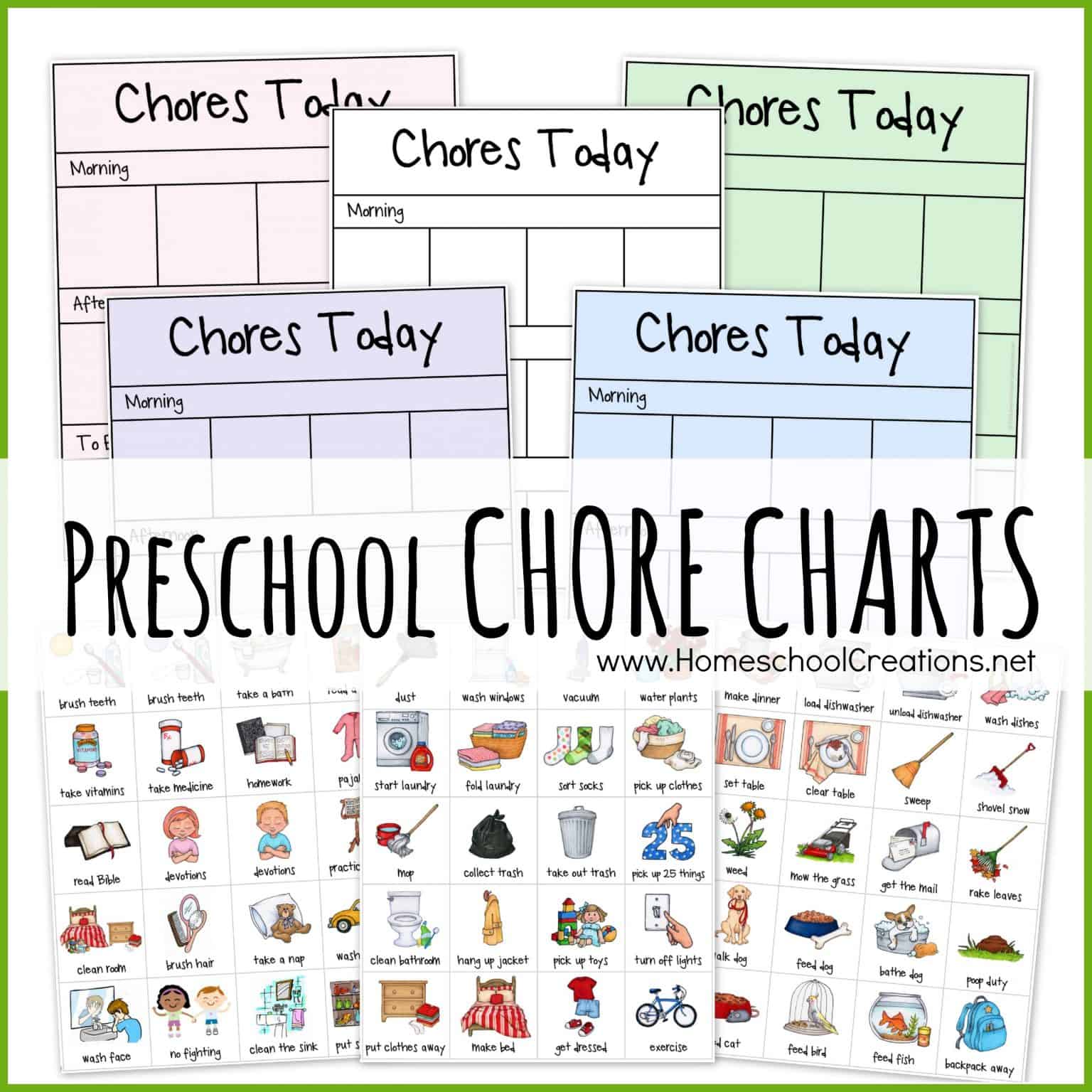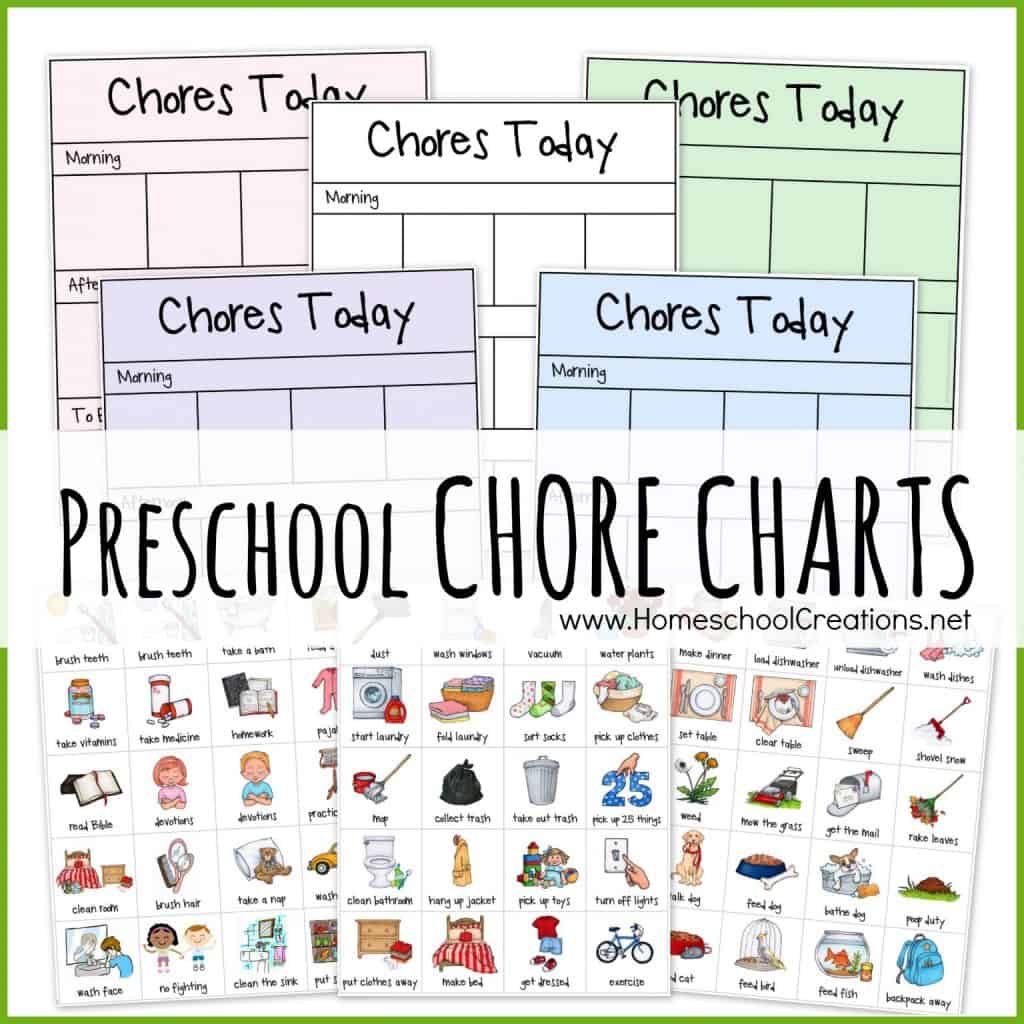 This is another great one if you want a daily chore chart that is both customizable and has a place for a reward.
I love that it keep things simple with just 8 daily tasks and keeps track of weekly progress!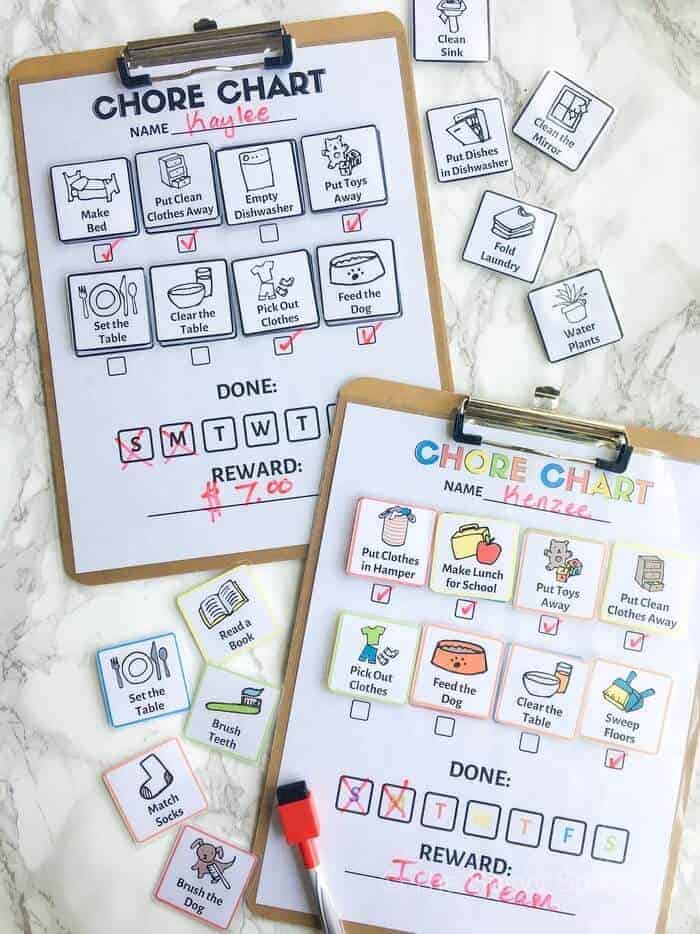 This is great for early readers (5-6 year olds) who are still helped with the pictures and are becoming more responsible.
However, if you're looking for a picture chore chart you can totally customize, check out this customizable picture chore chart that's an instant download.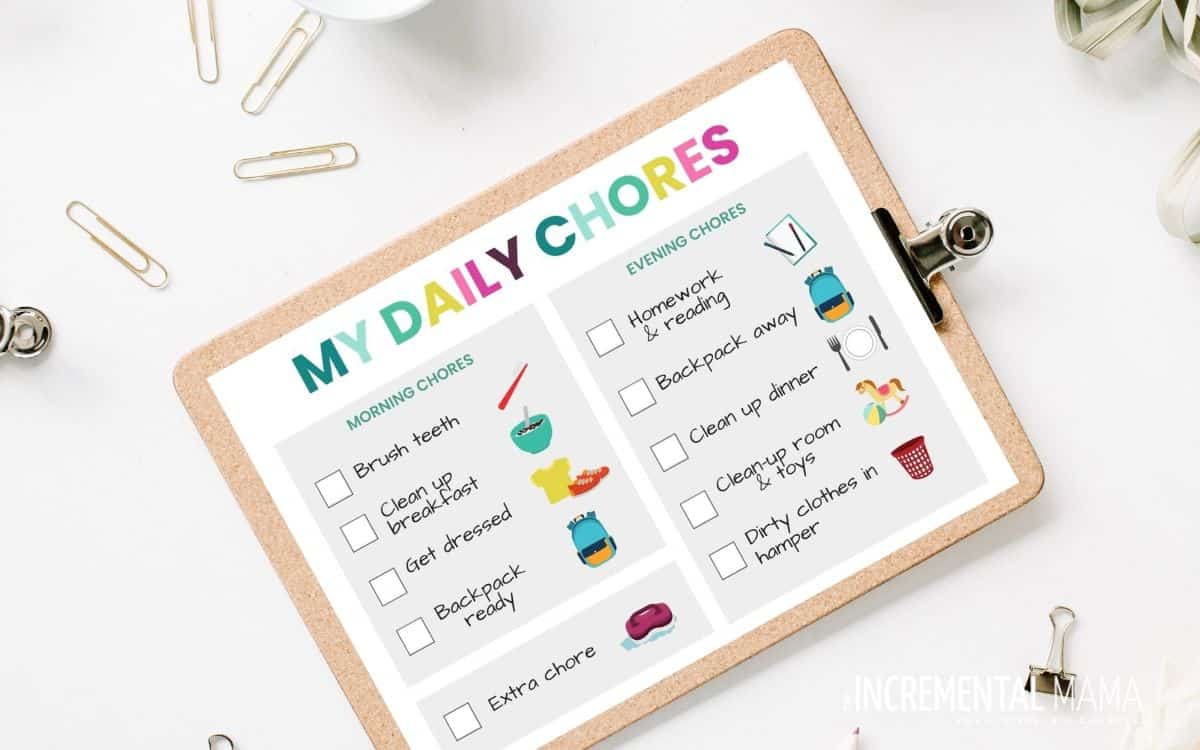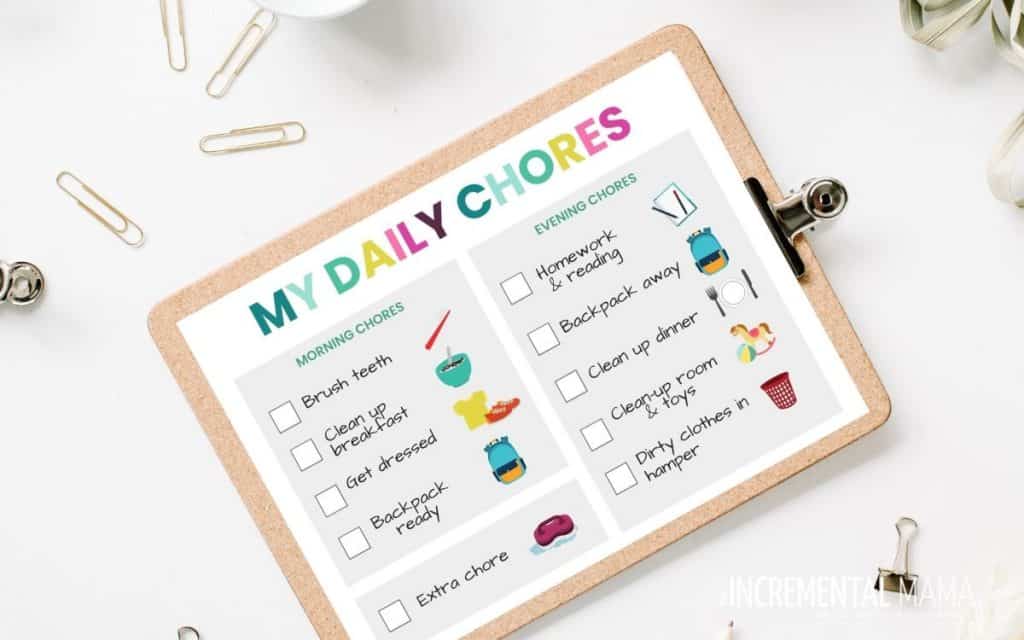 Not only is this free chore chart bundle absolutely amazing, but I'm obsessed with Tina's whole site and lovely strategies for helping kids become more mindful.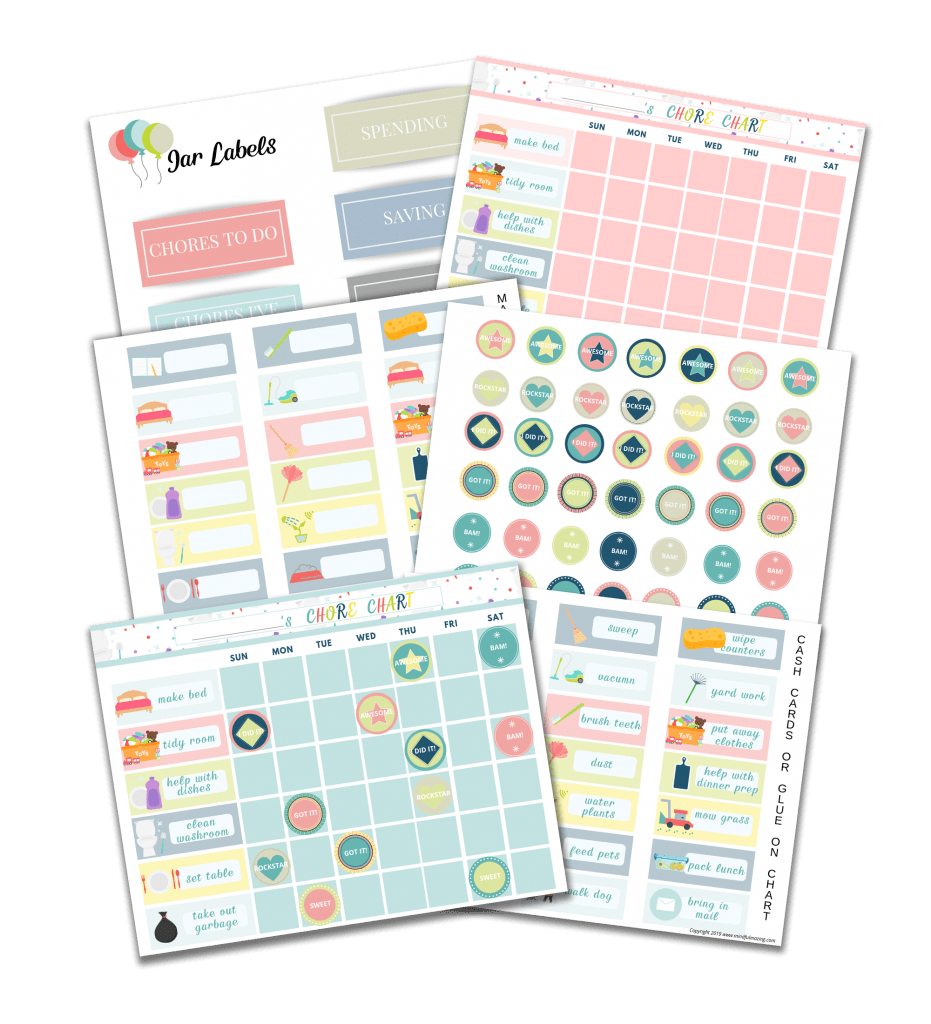 WEEKLY CHORE CHART PRINTABLES
These weekly chore chart printables are great for keeping track of chores and routines for older kids.
This fun colorful free chore chart printable download actually comes in 3 different color designs! Perfect for creating routines for kids aged 6-18.
You can also editable version of this chore chart is also available which can be filled out in Adobe Reader.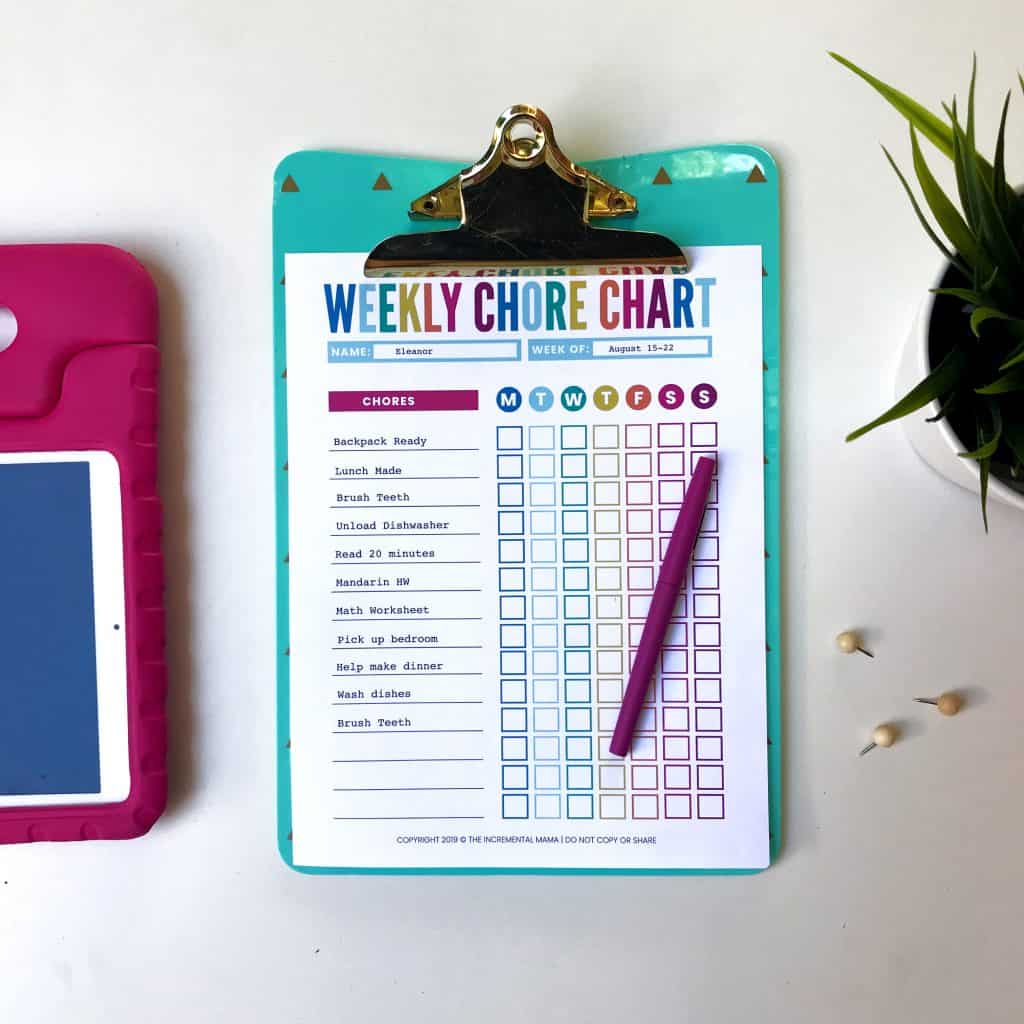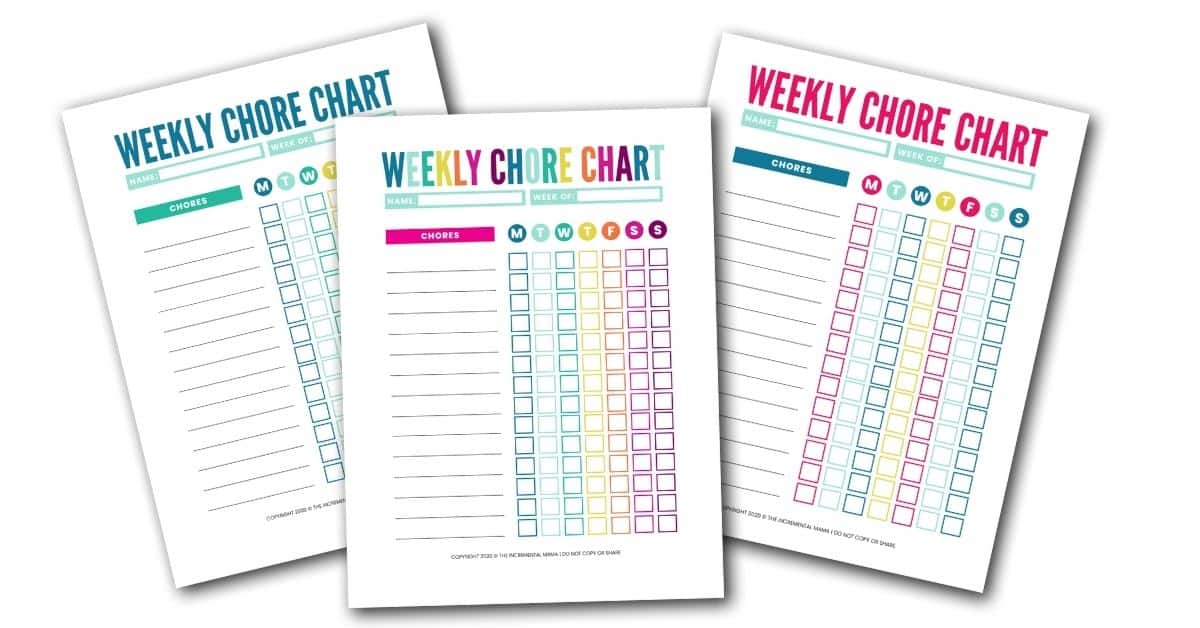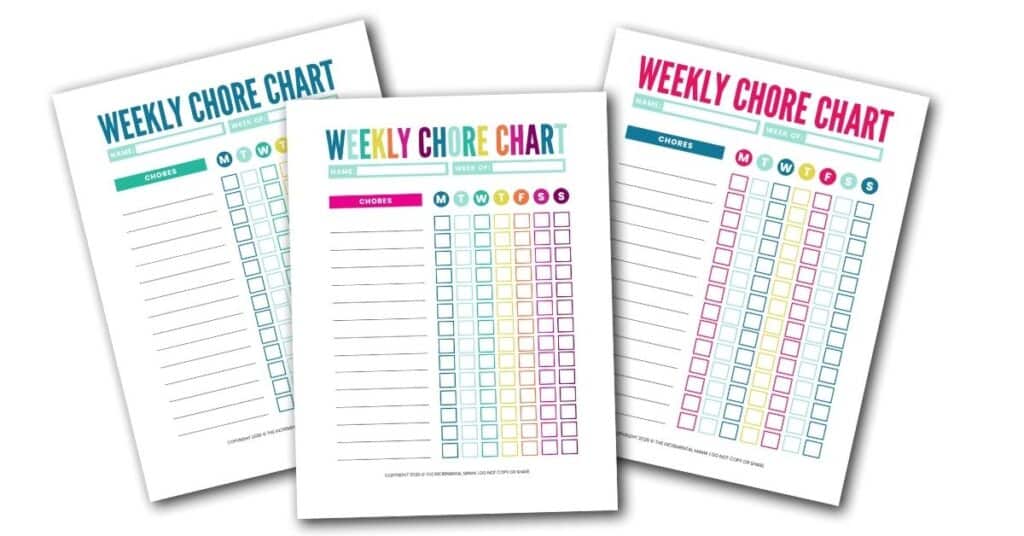 This is a great one to keep track of daily and weekly chores. Also has spot to put what privilege/reward the child can earn!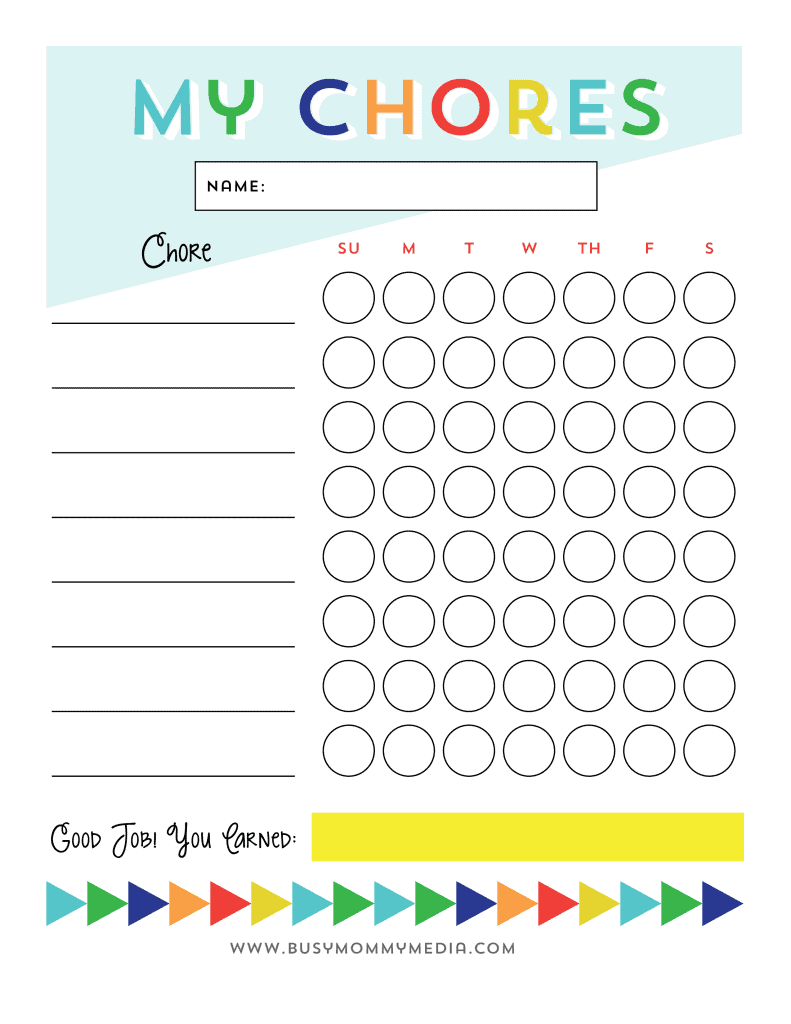 Another cute an colorful chore chart printable! This one is great because you can keep track of daily chores as well as the one-off weekly chores (like changing sheets, cleaning bathroom etc).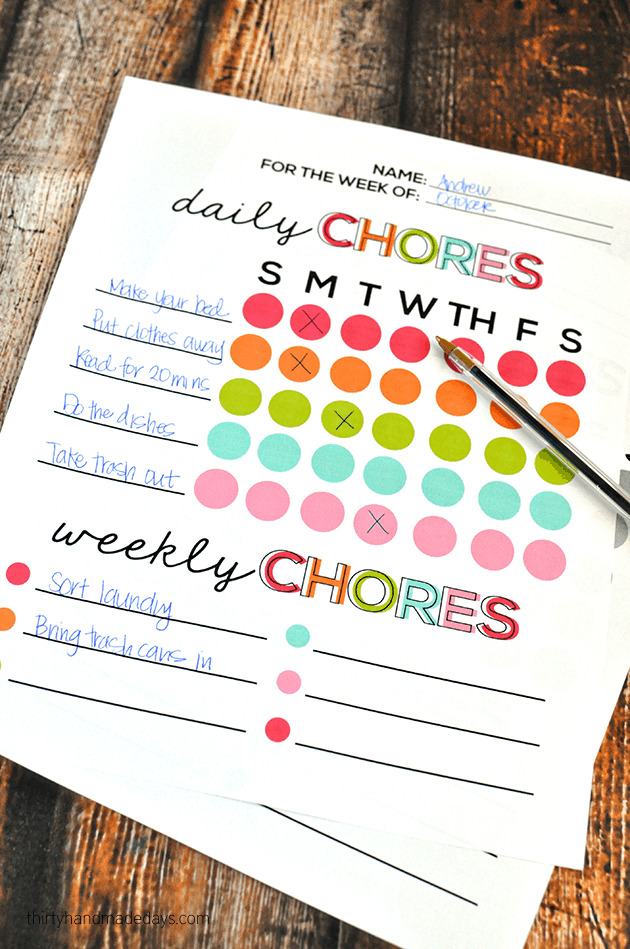 Cute, colorful, and simple, this is a great chore chart for younger kids that read.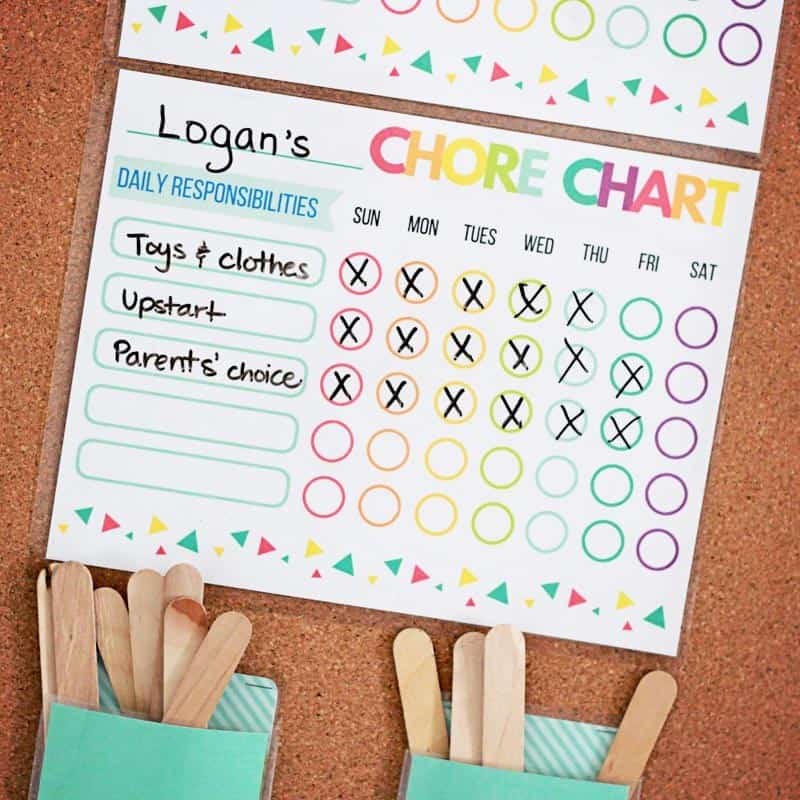 Yet another great weekly chore chart!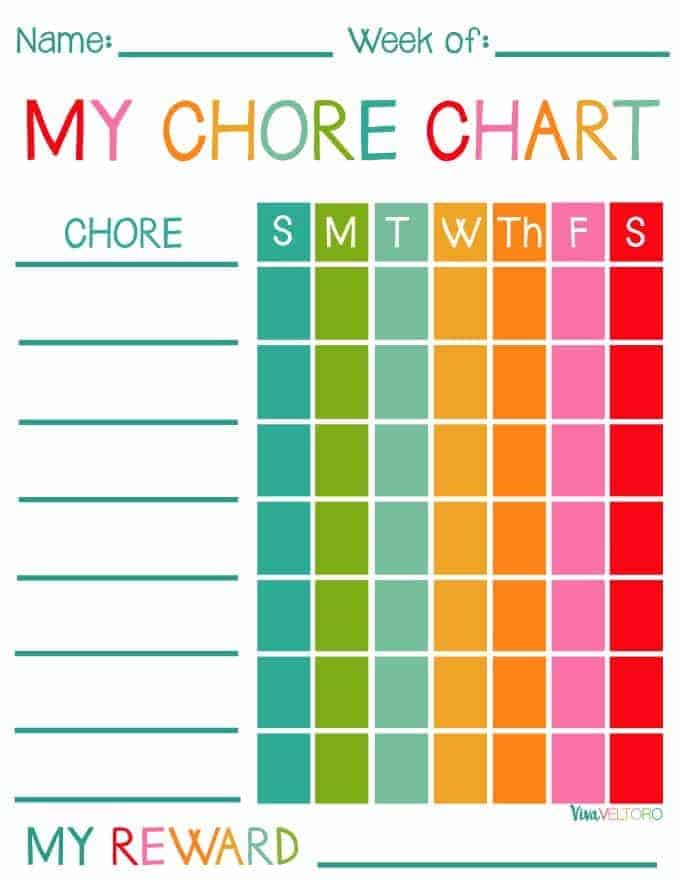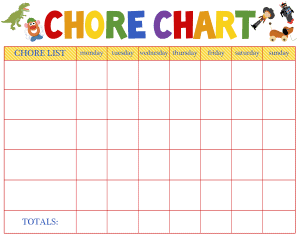 Keep track of daily and weekly tasks with this cute printable chore chart.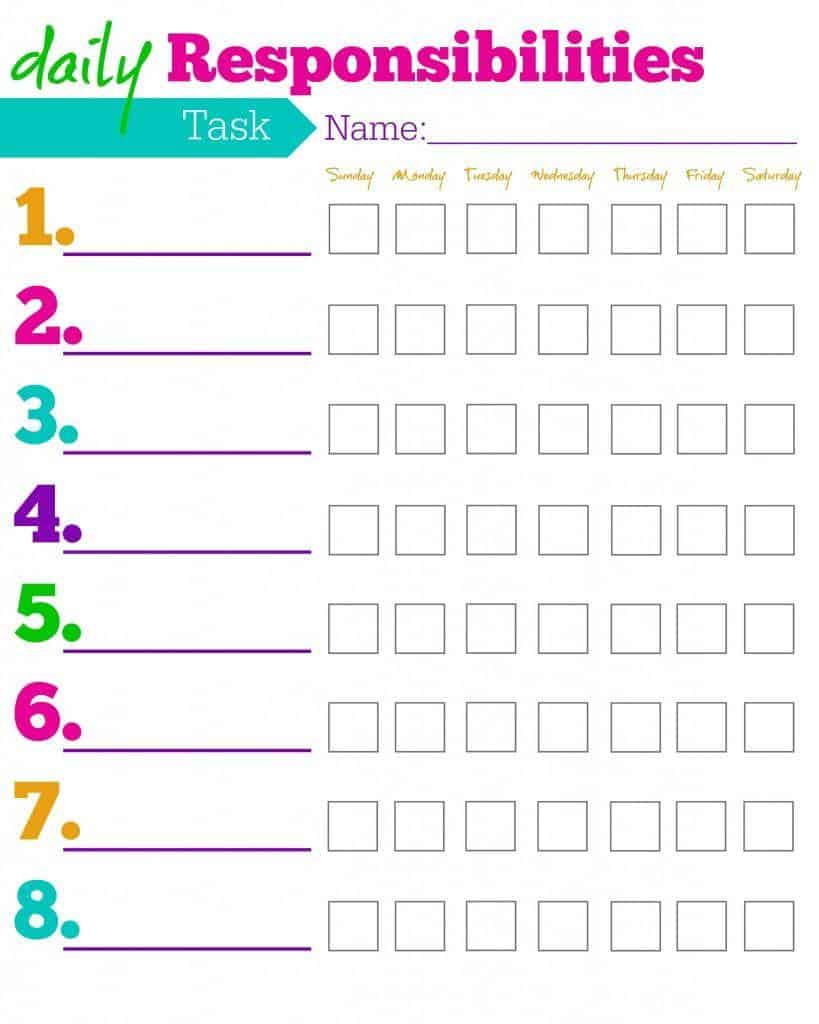 AGE-APPROPRIATE CHORE CHARTS
What chores should your child be doing? These chore charts list recommended chores for each age and stage. These are great resources to have around.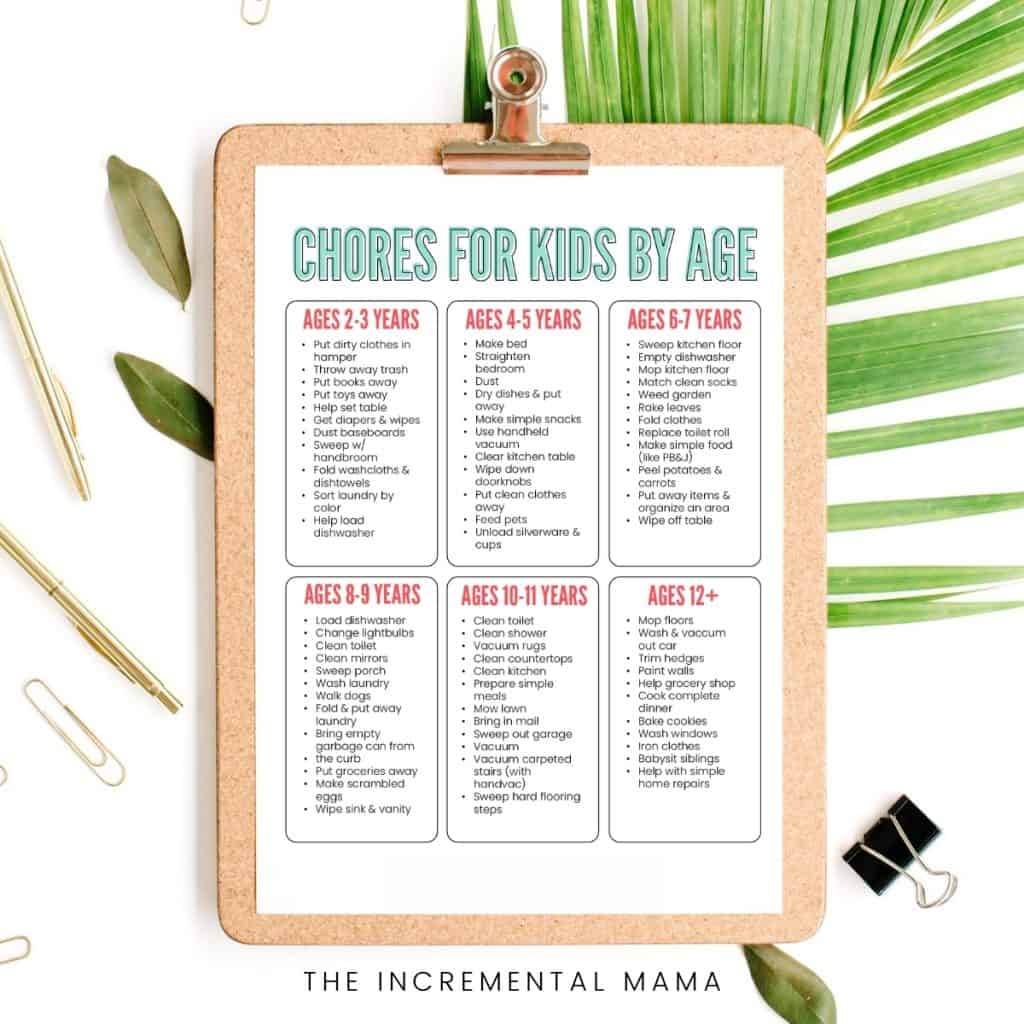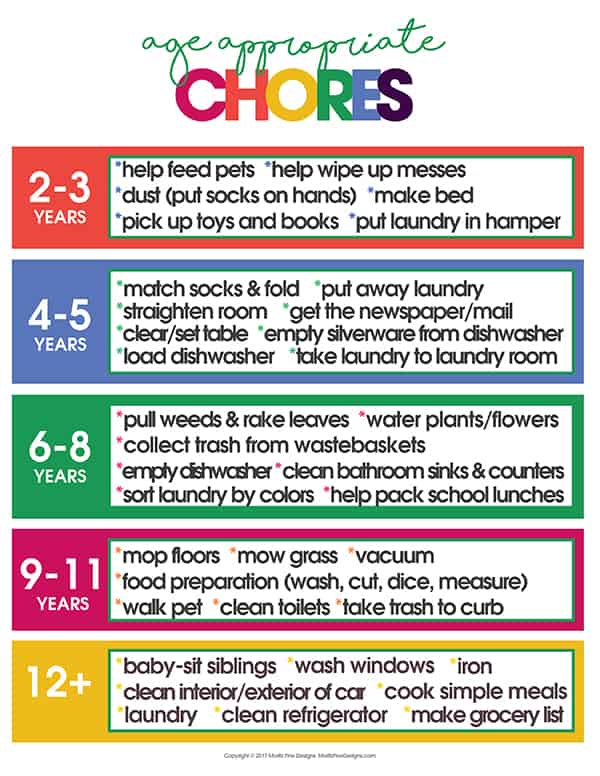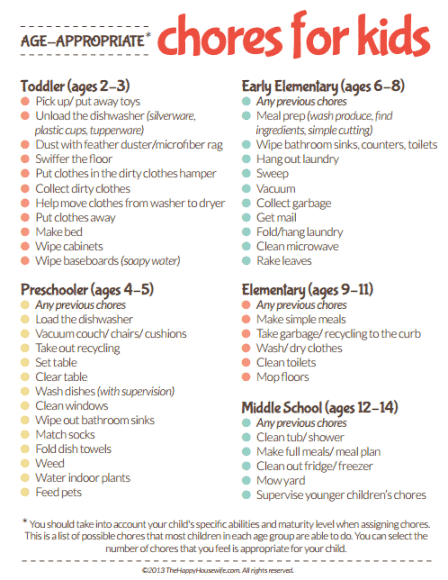 FIND THE RIGHT CHORE CHART
So there you have it! Fifteen free chore chart printables that'll help your kids get in the habit of helping out. Whether daily or weekly chores, hopefully you found just what you needed to get started.
Good luck!
YOU MAY ALSO LIKE:
13 Ways to Get Your kids Excited About Chores
Bedroom Cleaning Checklist for Kids
Bathroom Cleaning Checklist for Kids