There's no two ways about it: teaching your kids to do chores can be a real pain.
When you're tired and just want a clean house, it's easier and quicker to just do it yourself.
But you know that sooner or later, your kids need the skills and responsibilities that will help them be self-sufficient and capable. They need chores.
And you need to figure out how to get your kids to do chores—without complaining, whining or declaring that you're the meanest mom ever.
And in this post, you're going to learn several ways to get your kids excited about chores.
RELATED: The Simple Phrase to Get Kids Excited to Help Out
BENEFITS OF CHORES FOR KIDS
After posting on Instagram about an editable chore chart I had made, I got a comment something to the effect of "making kids do chores was exploitation and abuse of power as a parent".
When I saw it, I could hardly breath I was laughing so hard. Because there is an insane amount of research that shows the immensely positive impact that chores have on children.
Right away, chores help your kids to:
develop self-esteem
feel capable
develop fine motor skills
feel like an important part of the household
develop self-discipline
learn responsibility
And in the long run, research suggests that kids who do chores are much more likely to be successful adults. To have better relationships, more successful careers, and simply have happier lives.
What parent doesn't want that for their children? And chores can get you there.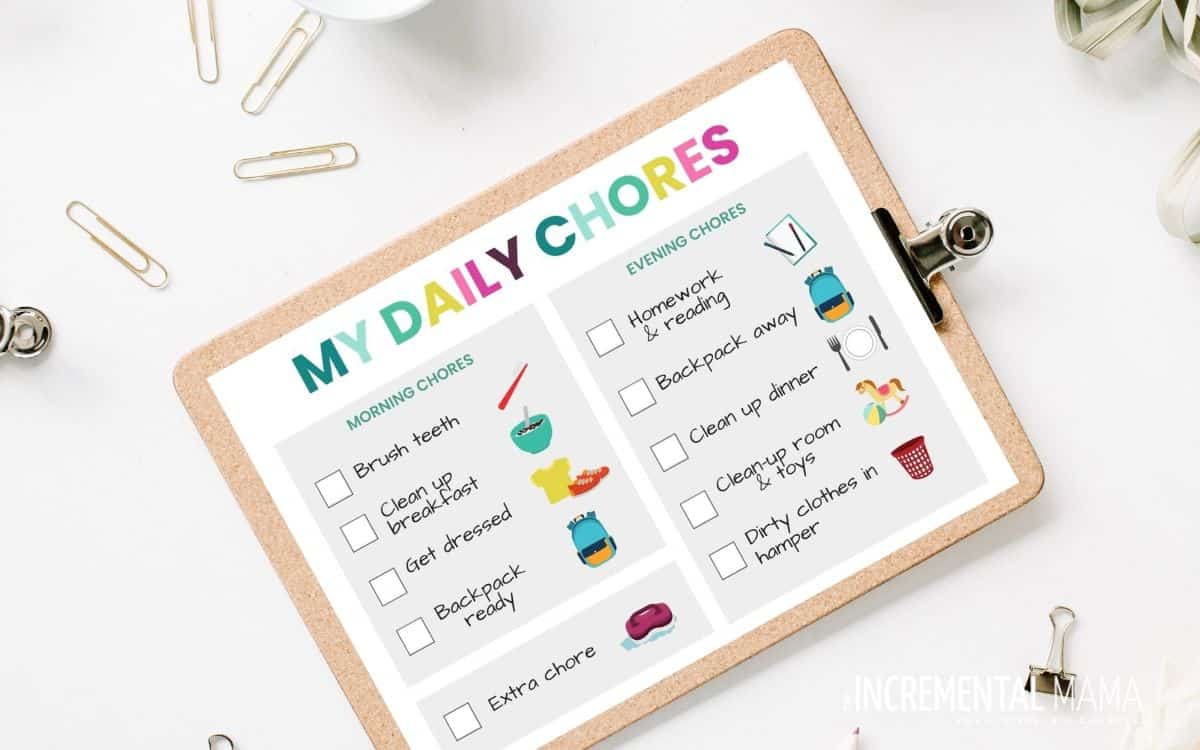 WHY YOUR KIDS NEED CHORES
In her fabulous Ted Talk on chores and parenting, parenting expert, Julie Lythcott-Haims says that we "strengthen [our children] through chores".
In discussing the research on chores, she says:
"The longest longitudinal study of humans ever conducted is called the Harvard Grant Study. It found that professional success in life, which is what we want for our kids…comes from having done chores as a kid.
"And the earlier you started, the better. That a roll-up-your-sleeves- and-pitch-in mindset…that's what gets you ahead in the workplace."
A University of Minnesota study determined that the best predictor of young adults' success in their 20s was that they participated in household tasks when they were three or four.
Truth is, your kids need chores.
And while teaching them chores is no easy feat, it's well worth the effort and patience it will take. Because teaching your children chores now is setting them up for a happier, more successful life.
So let's dive into how to get kids to do chores—without complaining!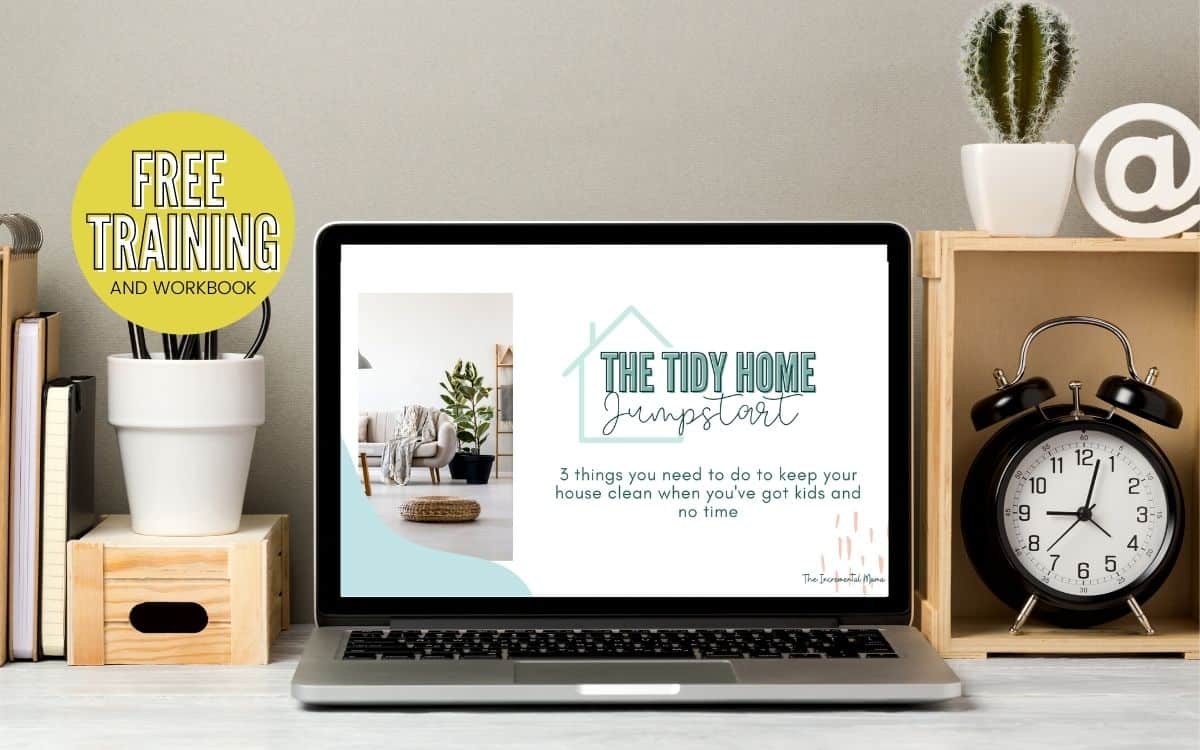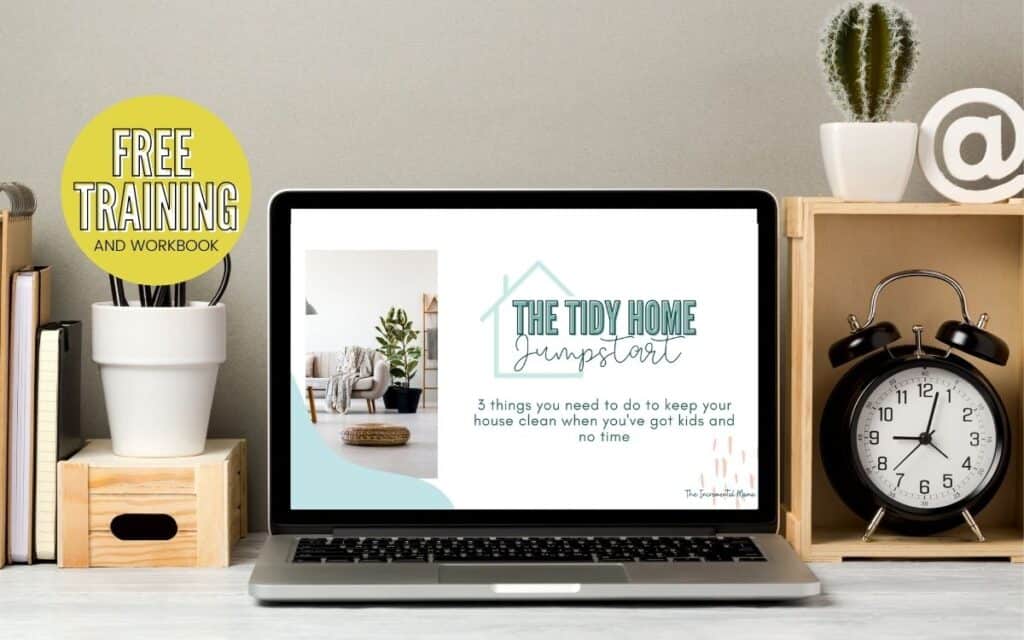 HOW TO GET KIDS TO DO CHORES
1. Start Young
Toddlers love helping. Sure, they have tantrums and their attempts to "help" can be pretty darn inefficient.
(Just allow a toddler to help you fold laundry and you'll see what I mean)
But they're naturally helpful. And tapping into that will pay off big-time.
Research shows that toddlers who help out, become helpful kids who don't complain and don't even need to be asked to do chore.
And they don't need rewards to do it. In fact, in a study of toddlers they found that not only did they stop playing to help and adult, but that rewards made them less motivated to help out again.
Toddlers just want to feel helpful.
Here are three ways to include toddlers in chores:
start them with simple tasks (throw away trash, fold washcloths, pick up floor)
include them in what you're doing
be super patient
But don't beat yourself up if that ship has sailed. If you're reading this and thinking "Great, yet another way I've messed up my kid" don't despair.
If you child is past the toddler stage, they can still learn all the skills and reap all the benefits. It just might involve more effort on your part and more complaining on theirs.
But no matter how you slice it, the best time to start is NOW.
RELATED: Picture Chore Chart for Preschooler & Toddlers

2. Start Small
Breaking down larger tasks helps kids stay motivated with chores and build confidence. That way, they can master small skills one by one.
For example:
Instead of asking a child to clean a messy floor, first ask them just to pick up the trash. Then move onto the toys.
Have a child start unloading the dishwasher by sorting and putting away silverware. Once they master that, add cups.
A child can start doing laundry by folding washcloths and hand towels. Then matching socks. Then sorting clothes by color.
As your child masters each small task, they will feel proud of their work. This builds confidence and get excited to help out and learn new skills.
3. Work Together
In her books Raising Able: How Chores Nurture Grit & Self-Discipline, Susan Tordella says:
"Even though children may say and act as if they don't want to contribute to the running of the household, everyone craves the feeling of feeling important, needed by, and connected to others."
Working together, side-by-side, in household chores not only teaches work ethic, but it also creates a team-like atmosphere in the home. It can strengthen your relationship with your kids.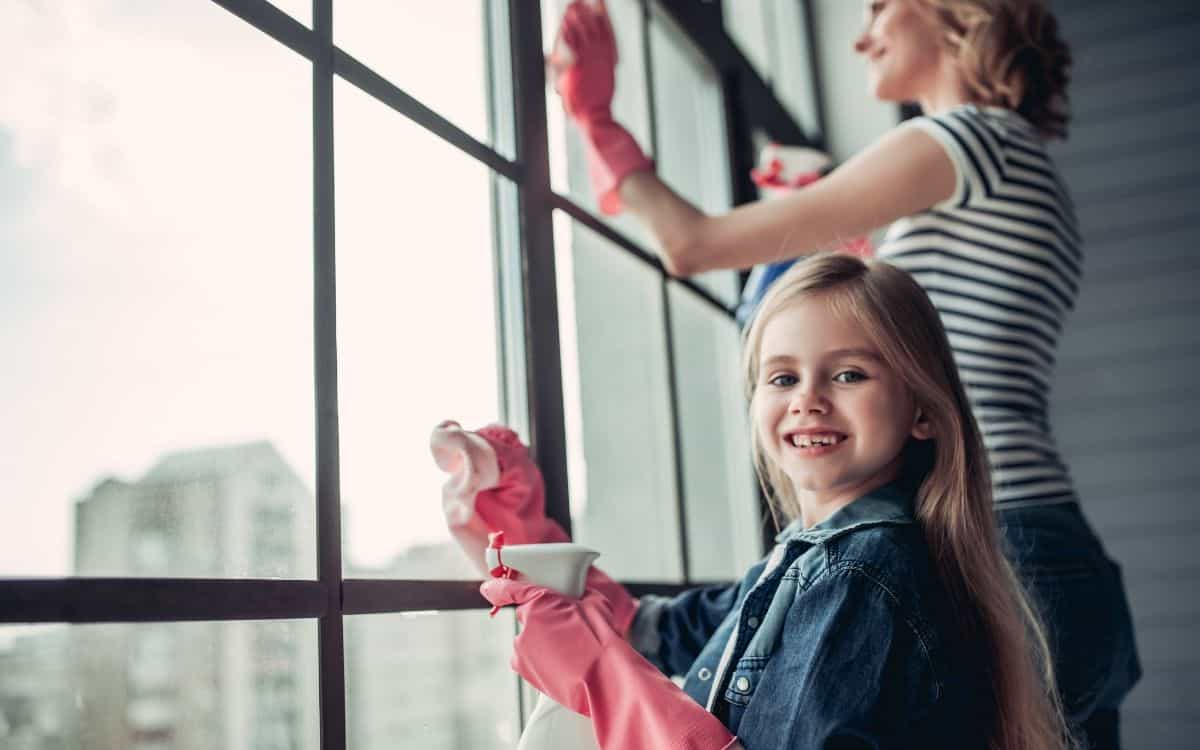 4. Involve kids in What You're Doing
While it's easy to look at kid's chores outside of our own tasks, including them in what we do makes them feel important, useful, and ultimately teaches them to be helpful.
Admittedly, it takes more effort to include your child than to just do it on your own. But personally, I've found that changing my mindset from "I'm in a hurry and I'll just do it myself" to "how can I include my kids" has brought massive changes.
Firstly, my kids are usually excited to be involved in what I'm doing, be it scrubbing dishes or folding clothes. While they used to complain about chores, they get excited to learn new skills.
Secondly, it's strengthened our relationships. It's in the moments when we're making dinner together or dividing out laundry that they start talking about their day and asking the "big questions".
5. Praise and Encourage
When it comes to keeping kids motivated, the best reward for children is praise. Not toys or money. And praise and encouragement will go a long way in keeping your kids motivated with chores.
Especially specific praise that encourages effort and helps them see the impact of their help.
For example, instead of the vague "Good job" say "That is so helpful. You are putting away the silverware so we can have clean spoons and forks when it's time to eat!"
Helping them understand the direct impact of their actions is really motivating for kids. They want to know that they make a difference!
RELATED: The Simple Phrase to Get Kids Excited to Help Out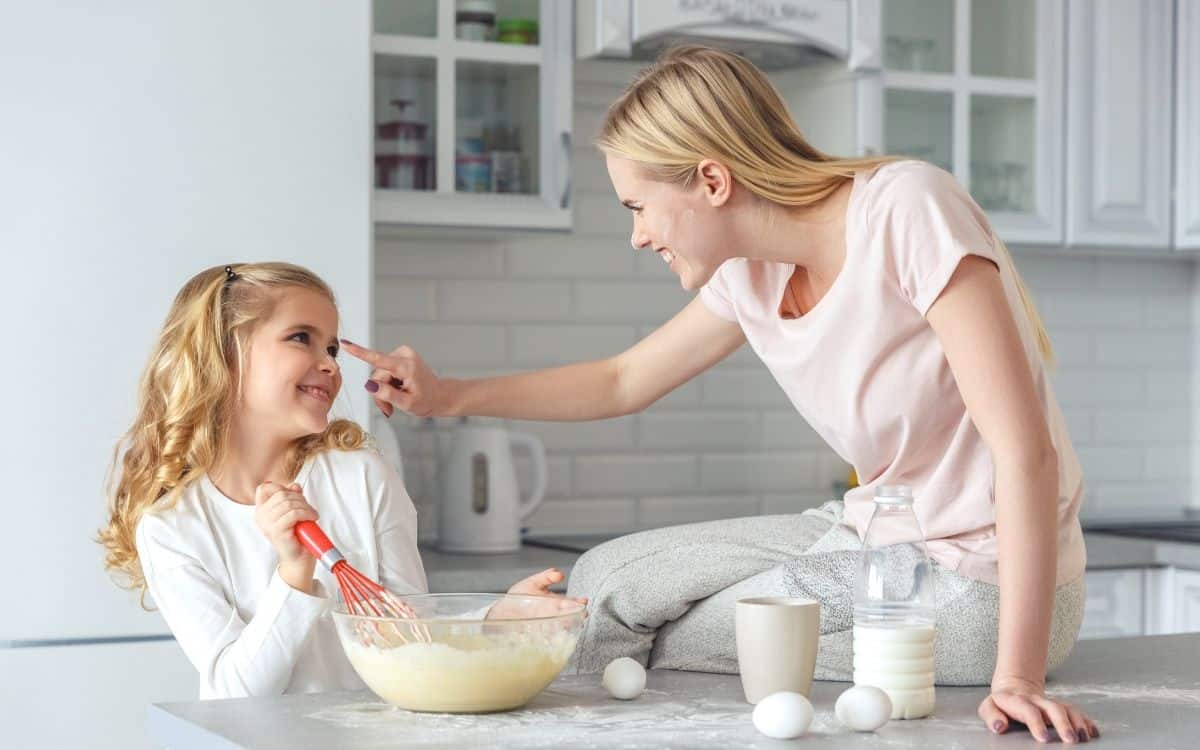 6. Set a Timer
Setting a timer motivates kids by creating a time barrier. When they see a countdown timer, they're automatically motivated to get moving.
(I am obsessed with this timer for kids)
Plus, it makes it fun by gamifying chores. You can try and "beat the clock".
We often use the timer during bedroom clean up before bed. We've found that with a timer, our kids can get done in 5 minutes what would otherwise take 15.
7. Offer Choices
When children have choices, they feel more in control. While some tasks will be non-negotiable (like cleaning up after themselves), give choices when it comes to extra chores.
Having some autonomy will make them more motivated to complete the task that they've chosen.
8. Give REAL Chores that are Important
Children love to feel important and that what they do matters. Which is why giving kids fake chores (i.e. made-up chores to just keep them busy) can really backfire.
Seeing the impact of their efforts is what motivates children in chores. Knowing that what they're doing is making a real difference.
Children feel pride when they see a clean floor after sweeping up a mess with a hand broom, or gaze upon then stack of freshly folded dishtowels.
Give children real tasks that are important to the running of the home.
RELATED: Age-Appropriate Chores Printable
9. Make it Fun
When children associate fun and happiness with chores, their attitudes about it change immensely. Here are a few ideas on how you can make chores fun:
Put on fun, upbeat music: At our house, we have a special cleaning mix full of full pump up songs that fuel our cleaning-dance party. We have fun and it really gets them happy and moving quickly!
Use chore charts: My kids love chore charts. They make chores special and individual for each child.
Make it a game: Like setting a timer, you can do little things to make cleaning a game. You can race to pick up legos or try and throw stuff in the trash from a distance. Use your imagination to make clean-up a game.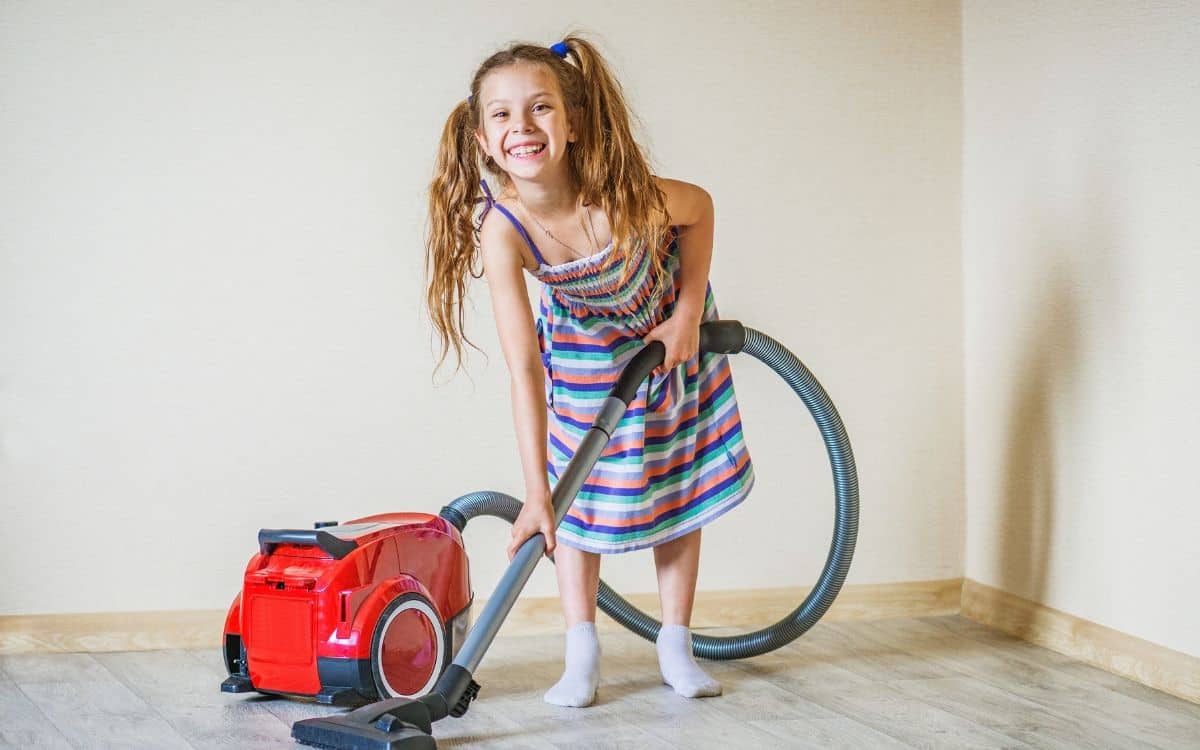 10. Give it purpose
Just like adults, kids want to feel like what they do matters. They want to see that their contributions have an impact. How we talk about chores will frame how they see them.
For example, we can talk about how:
Helping with laundry means that we have clean clothes to wear
Setting the table means we have what we need to eat a meal
Keeping the floor clean means we don't trip on things or step on them a break them
Cleaning up the house in preparation for a visitor mean making the home feel welcoming and peaceful
Helping make dinner mean we can have food to eat
Taking out trash means the house stays tidy and smells nice
I find it really helpful to talk about how the house feels when it's clean versus when it's dirty.
For example, a couple weeks ago my husband had had a rough day at work. And about 45 minutes before was going to come home, I looked around and saw that our house was complete disaster.
And my kids were tired and a bit cranky after a long day of school.
Instead of going with my natural instinct to nag my kids to pick up the house, I instead framed it as a mission to help dad end the day feeling happy.
I gathered the kids and told them that dad was having a bad day. Then I asked them to look around at the house.
"How do you think Dad will feel when he comes home and sees the house like this?"
"Not good."
"How would he feel if it was sparkling clean?"
They lit up and exclaimed that he would be so happy and that it would make home feel so much better.
With a set mission of creating a happy, relaxing environment for their dad, they happily got to work. We popped on their favorite upbeat mix of music and they worked quickly picking up the floor, wiping surfaces, sweeping, and vacuuming.
And when their dad came home they were so intensely proud of the job they had done.
11. Let them help in the kitchen
This has the double benefit of both teaching them to prepare food and helping them be healthy eaters. Research shows that children who help prepare food are more likely to eat it.
Kids can start very young by simply watching you in the kitchen. Then they can start getting involved by:
Count out ingredients (like scoops of flour or eggs)
Pour ingredients into bowl
Stir batter in a bowl
Measure out foods
Rinse fruits and veggies
Count out ingredients (like scoops of flour or eggs)
Spread butter or jam
Crack an egg
Cut soft fruits and veggies with plastic knife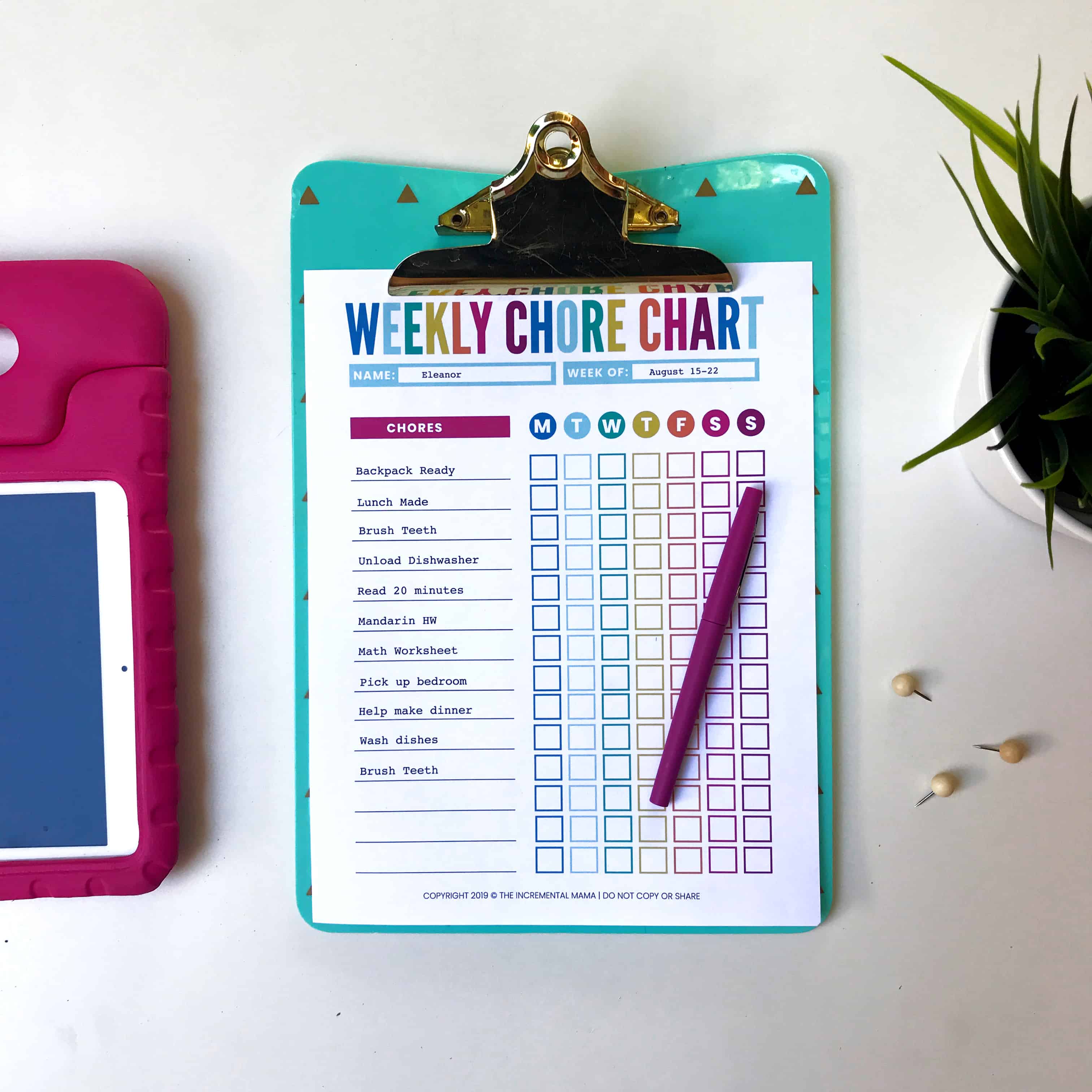 12. Use an Age-Appropriate Chore Chart
Chore charts are visual reminders of tasks and can be powerful is keeping kids motivated. With a chart, they know what's expected and they can mark it when complete.
Just like we love to cross thing off our lists, kids get the same boost from checking something off of their chore chart.
13. Stay Consistent
Consistency is key to making chores a regular part of the routine. Otherwise, if there are frequent starts and stops with chores, children will just learn to that chores aren't important and won't be enforced.
But if it's made clear that chores are simply how your household runs, they will quickly get with the program.
If you're not ready to unroll a comprehensive chore system, just start with a couple rules that you stick to. For example:
No screen-time until bedrooms are clean and homework is done
Every evening before bed, everyone works together to clean up for 10 minutes.
Everyone pitches in at meal time, setting the table and cleaning up
Start with one or two rules and then stick to them. Add on more responsibilities and chores as your children adjust.
YOU CAN TEACH YOUR KIDS TO DO CHORES
Kids who do chores learn responsibility, build self-esteem, and ultimately become more successful adults. While it feels daunting, you can get your kids to do chores. And it's worth every effort.
Start with a few of these strategies to help your kids learn responsibility and make chores fun. And remember, it's never too late to get started.
You've got this!