So, you've decided that it's high time your kid starts doing chores. After scouring the internet, you may have even found a chore chart you want to use.
But now you're trying to figure out how to actually get your kid to follow the chore chart.
How do you actually get your kid to do chores without starting world war 3?
In this post, we're going to break down exactly what you need to do to get your child doing daily chores and following a chore chart.
And while it can seem daunting to start a chore system in your home, you can totally do this. You don't have to be a parenting guru or have the patience of a saint to get your kids happily doing chores.
If that was the case, my 4 kids would not be the great little chore-doers that they are. I wouldn't have a 7 and 8 year old who fight over who gets to vacuum out the van and clean up the garage.
(Maybe it's the universe's way of rewarding me for not losing my mind after having 4 kids in 4 years?)
So let's dive into the exact steps to getting your kid to follow a chore chart and do daily chores.
RELATED: 13 Ways to Get Your kids Excited About Chores
HOW TO GET YOUR KID TO FOLLOW A CHORE CHART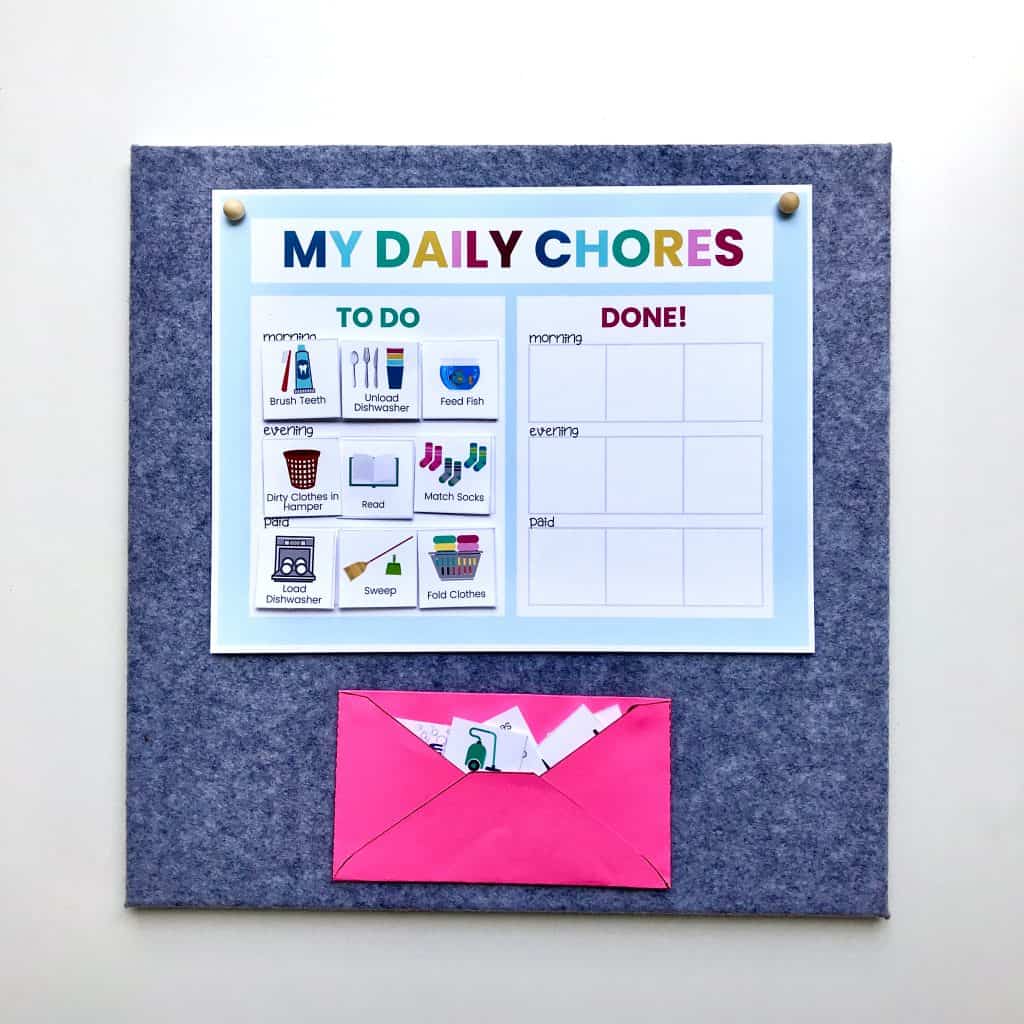 1. Get the right chore chart
The first step is getting the right chore chart. Which doesn't necessarily mean the cutest, but rather the chart that's going to work best for you and your kid. Keep it simple, clear, and manageable for your child.
If your child is young, pick a chore chart with pictures. Pick a chart that is fun for your child to use.
Why Some Chore Charts Don't Work
I've heard some parents declare that "chore charts don't work". But the truth is that the chart they were using didn't work for THEM.
Usually, the chore chart or chore system they tried to use was too complicated, too confusing for the kid, or they simply weren't consistent with it.
Because the fact is that for many parents, chore charts are an absolute godsend. And the reason chore charts work well for these parents is that the chore chart they chose is:
Simple. No complicated system for parents to enforce and difficult for kids to understand.
Directions are clear. Kids know exactly what's expected of them.
Expectations are manageable. Meaning the child can easily manage the required tasks. Set your kid up to succeed!
For chore chart ideas, check out 15 Free Chore Chart Printables for Kids.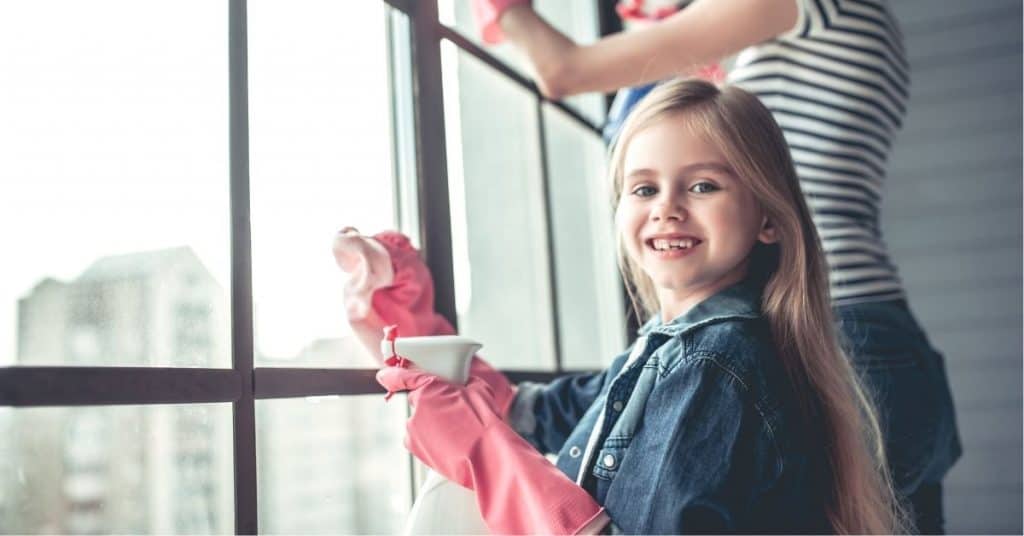 2. Teach child how to complete chores
Once you've got the right chore chart, it's time to teach your kid how to complete the tasks you want them to do. And don't get too crazy. Instead, start with ONE new task and help your child master it before moving on to another new task.
Taking the time to teach your child to do it for themselves will:
Increase their self-esteem & confidence
Make them feel more capable and important in the household
Make life easier for you as they become more and more capable
I promise, it's worth every single second.
Here are the steps to teaching your child to do chores:
Demonstrate: You show you child what to do while explaining steps.
Child does with your assistance: Give encouragement and earned praise while gently correcting.
Child does with you watching: Continue with encouragement, praise, and gentle correction.
Child does alone: Now the child is ready to fly! Go grab a tasty beverage and get ready for how nice it is to tell your kids to do something AND THEY ACTUALLY GO AND DO IT.
For more ideas on how to best teach chores, check out this post how to get kids to do chores without complaining.
3. Build Chores into Your Child's Routine
Now it's time to build chores into your kid's daily routines. Because when you schedule it, you do it.
Therefore, it's important that you pick the time of day that your child is to complete chores and that you will enforce. Build daily chores into your normal routines.
Here are a few ideas for when to build in chores:
First thing in the mornings (ex: make bed, unload dishwasher etc.)
After school (ex: put away lunch bag, backpack, fold clothes etc)
Bedtime routine (ex: put dirty clothes in hamper, pick up bedroom etc)
Regardless of when you choose, the important thing is that you decide on a specific time or part of the day when your child is expected to do chores.
Get the free CLEANING CHECKLISTS
Sign up and get the printable sent straight to your inbox!
Unsubscribe anytime. No spam ever.
4. Attach Privileges to Completion of Chores
Now it's time to focus on motivating your kids to create the habit of doing daily chores.
One of the most effective way to get kids to complete chores (once they understand expectations) is to attach privileges to the completion. Privileges like:
Playing with friends
Screen time
A favorite game
Going to a party
For example, my kids don't get any privileges until chores are completed. I've found this to be VERY effective in getting kids motivated to do their daily chores!
And when they know that they don't get those privileges without doing chores (and that you're not backing down) the complaining is drastically reduced.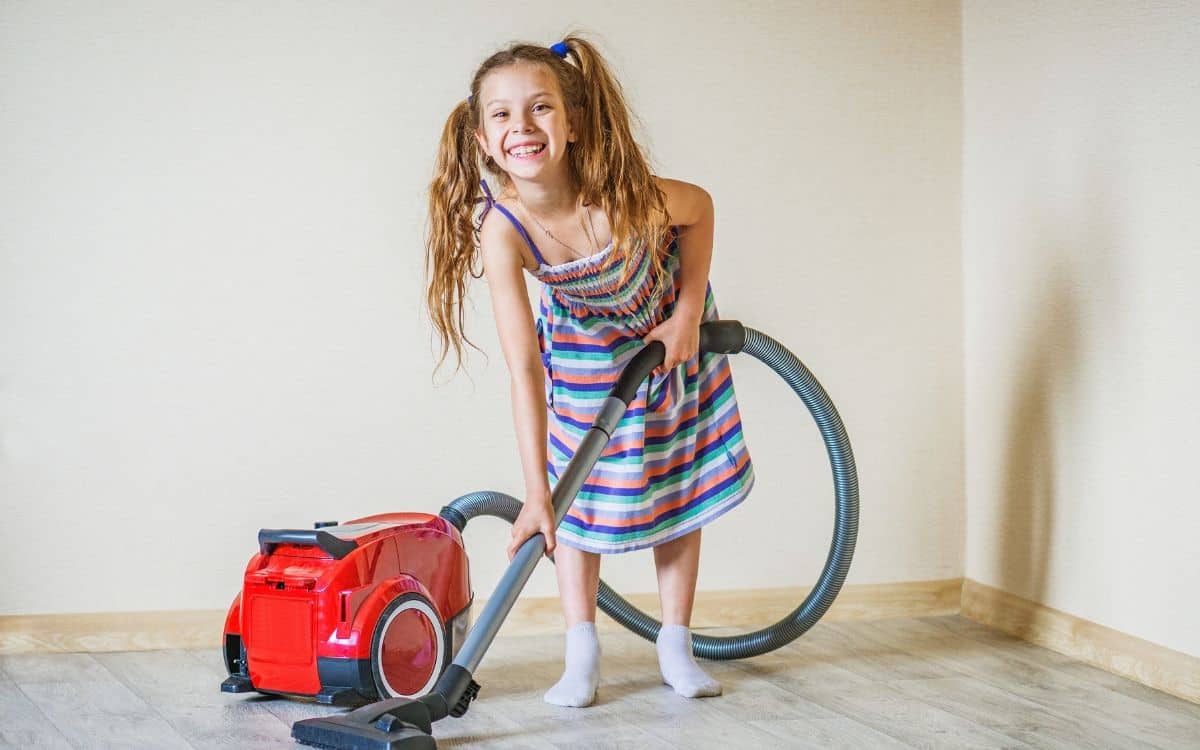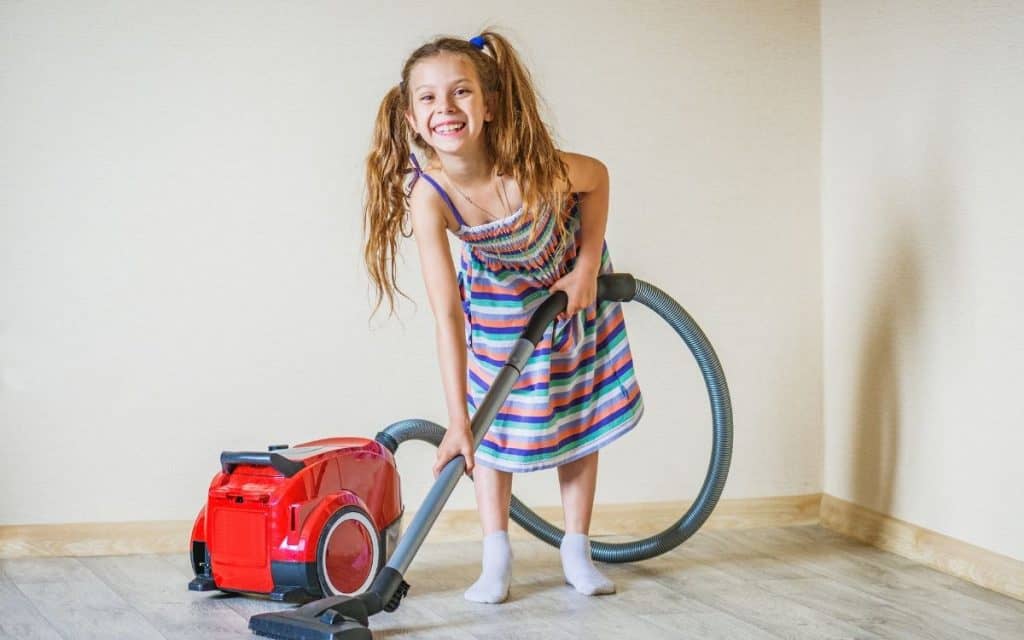 5. Encourage children using language of helpfulness
Next, you want to make sure that you're encouraging your kid by what you say and how you say it.
Kids crave feeling needed and important. And they are motivated and encouraged when they see that what they're doing is helpful and that it's making a real difference in their home.
Therefore, using the language of helpfulness as opposed to nagging is super effective in getting kids actually excited about helping out around the house.
An easy way to do this is to the following simple phrase when your child is doing somethings helpful:
"You (state what your child did) so that (result of their action). That is so helpful!"
For example: You picked up all your Legos so no one steps on them and gets hurt. That is so helpful!"
Instead of just saying "thanks" your kid sees how what they did makes a difference AND lets them know that it's helpful to you. It's amazingly powerful.
For more explanation and how this phrase totally changed things in our house, check out this post on using This simple phrase to encourage helpfulness.
RELATED: Bedroom Cleaning Checklist For Kids
6. Be consistent
When building any new habit, consistency is the key. And holding your child accountable with daily chores is a new habit for both of you.
So, it is essential to stay consistent with your expectations. To do that, I'd encourage you to:
Start with small & easy tasks: Start with quick tasks that will be easy to enforce and get your child in the habit of daily chores. You can then build on this foundation as it become habitual.
Clearly visualize your "why": Raising responsible, capable kids takes time and effort. But being clear on why it's worth that time and effort give you the strength to stick with it.
GETTING KIDS TO DO CHORES IS WORTH IT
So, there you have it: the simple steps to getting your child to do daily chores and follow a chore chart. Pick the right chart, teach your kids, and stay consistent. You've got this!
YOU MAY ALSO LIKE:
13 Ways to Get Your kids Excited About Chores
15 Free Chore Chart Printables for Kids