A while back, I realized that my kids and I had very different standard of what a "clean bedroom" constitutes. So I created a bedroom cleaning checklist for kids in order to set clear expectations for what they need to do.
Because some variation of this conversation used to happen every other day or so:
Kid: My room is clean. Can I watch Netflix.
Me: [crouching down, seeing that they've somehow stuffed everything they own underneath the bed] Sweetie, there's like a TON of stuff under your bed.
Kid: [most innocent face turned to 11] Oh, I didn't know I was supposed to clean under the bed.
Me: Sweetie, we've talked about this. Nothing under the bed. EVERYTHING had to be put where it goes.
Kid: [deer in headlights look]
Me: [leaves to find gummy bears]
But checklists have changed everything for us.
While my kids conveniently forgot the cleaning standards I said repeatedly, once they were on a colorful printable and stuck on their door, things changed. It was like Moses came down from the mountain and handed them their cleaning checklist.
Suddenly, their room was up to snuff, every time. Because the bedroom cleaning checklist pdf lays out exactly what's expected. No excuses.
(For more cleaning checklists for kids, check out The Bathroom Cleaning Checklist for Kids)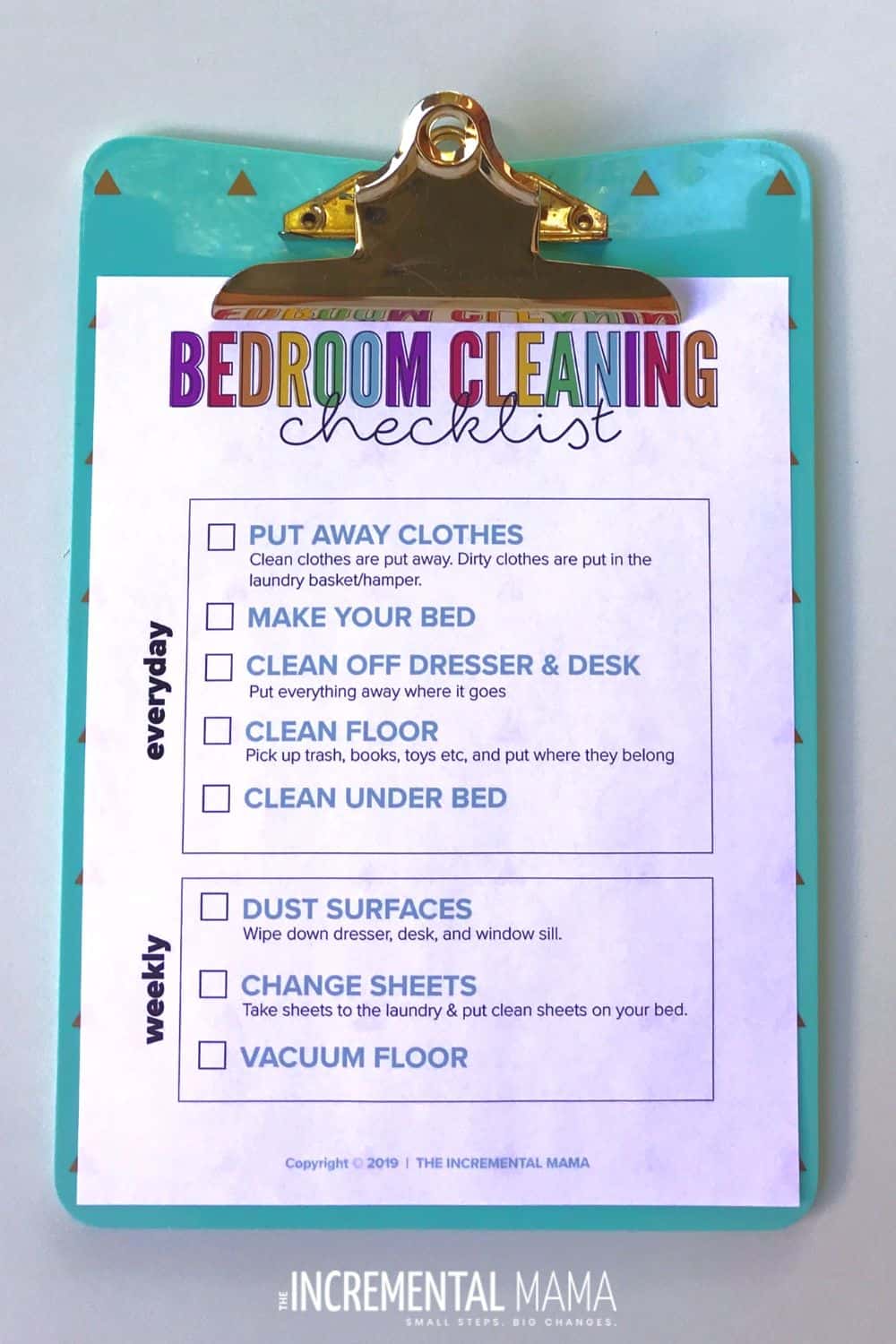 HOW TO USE THIS CHECKLIST
This bedroom chores checklist has the daily chores that are expected, as well as the chores that need to get done weekly.
Additionally, there are two different styles: the colorful one (pictured above) and simple teal one. Both come with the free download which you can grab at the bottom of this post.
There are two different styles of this bathroom cleaning checklist pdf. One colorful, the other simple and clean (both come with the download).
Whichever you choose, I highly recommend laminating the pdf (I use this laminator and these sheets for all my printables) and keeping the checklist on their door. That way it serves as a constant reminder for the daily and weekly expectations.
For more help on teaching your kids to clean, check out these 7 Tips to Teach Your Kids to Clean Their Bedrooms.
And if you're looking for more cleaning checklists for kids, check out the Cleaning Checklist Bundle for Kids. It's got both ready to print checklists and several fillable versions you can customize to perfectly suits your home and family.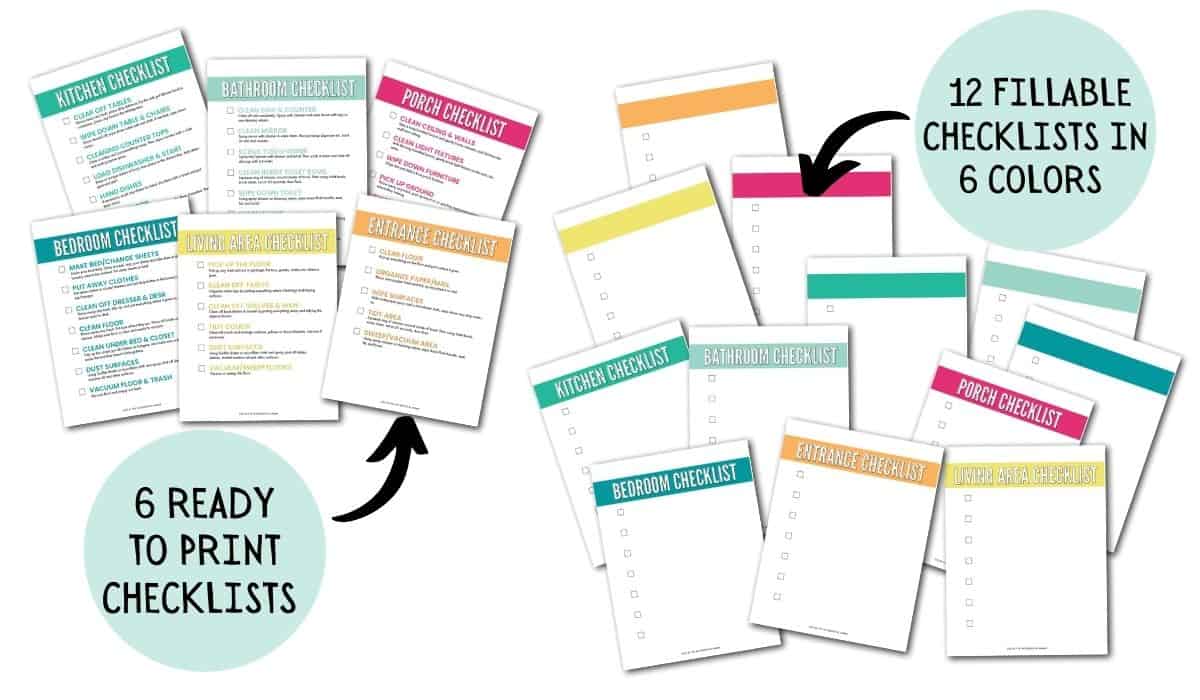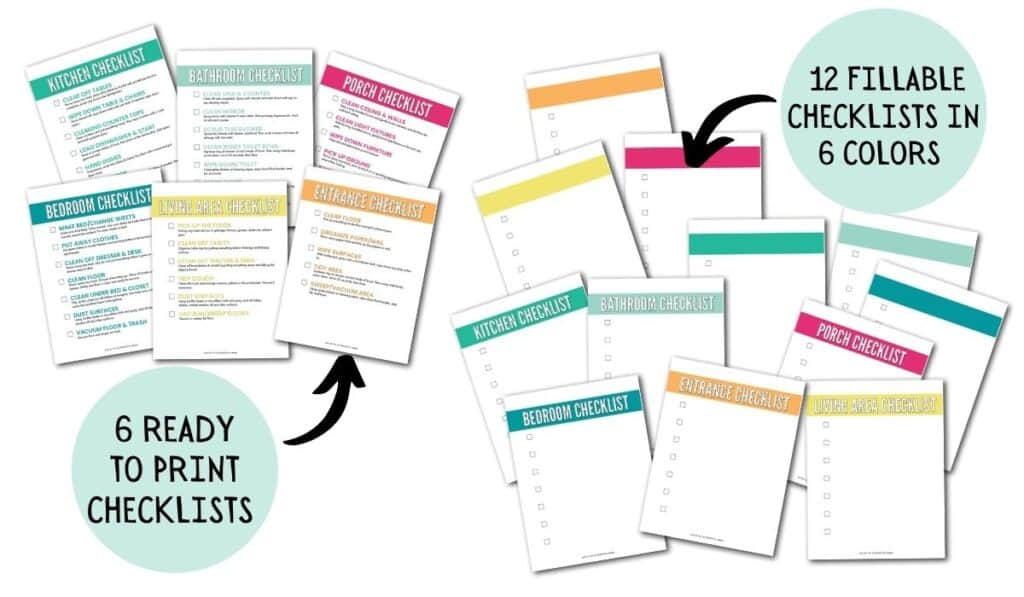 THE BEDROOM CLEANING CHECKLIST FOR KIDS
Here's what you can find on the printable checklist:
Daily Chores
Put Away clothes: Clean clothes are put away and dirty clothes are put in the laundry basket/hamper.
Make Your Bed
Clean off dresser and desk: And put everything away where it goes.
Clean floor: Pick up trash and throw it away. Put books, toys, etc away where it belongs.
Clean under bed
Weekly Chores
Dust off dresser, desk, and window sill: Using spray and rag (we love using Mrs Meyers all-purpose spray– safe, natural, and smells amazing), wipe down room surfaces.
Change sheets: Take sheets off bed and put with laundry. Put clean sheets back on your bed.
Vacuum the floor
DOWNLOAD THE BEDROOM CHORE CHECKLIST
Are you ready to make it easier for your kids to keep their rooms clean? Then download your free checklists!
Plus, when you download and subscribe, you get access to tons of other awesome checklists and printables that will help you create great routines and get organized!
YOU MAY ALSO LIKE:
Printable Bathroom Cleaning Checklist for Kids
A Simple Cleaning Schedule You Can Stick to
How to Put Together a Bathroom Cleaning Kit For Kids.