Getting a 5 year-old to do chores can feel like trying to get cats to march in formation. Between a complaining child and your already-packed schedule, you may wonder if it's even possible.
Well, good news: it is 100% possible! And one thing that helps is a simple chore chart.
Having a physical list of routines and tasks gives children clear expectations to follow. Think about how satisfying it is to check things off your to-do list.
In my experience, it's the same for kids!
They love the sense of accomplishment that comes from completing their chore chart.
After reading this post, you'll:
Know how to get your 5 or 6 year-old to do chores
Have several age-appropriate chores in your arsenal
Get a free printable chore chart perfect for 5-6 year olds
Just want the chore chart? You can download the free printable chore chart for 5 year olds at the bottom of this post.
RELATED: 13 Ways to Get Kids Excited About Chores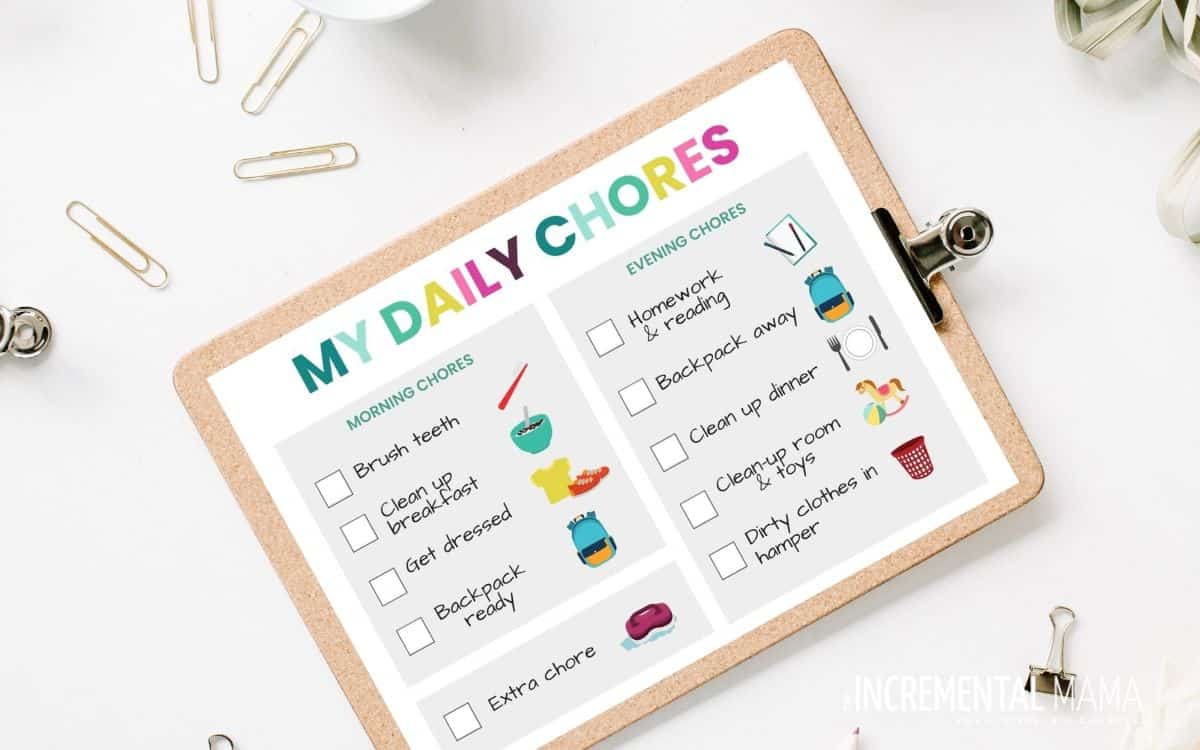 HOW CHORES BENEFIT YOUR KIDS
Your initial motivation for getting your kids to do chores is probably to teach responsibility. Plus, you want to include your kids in taking care of the house.
Cause, as you've probably declared to your family (as you pick up everyone's messes): You are not not the maid!
But in reality, giving your children chores now does more than simply teach responsibility. It sets them up for success later in life.
Research has shown that children who do chores are more likely to grow up to be successful adults. When kids grow up doing chores, they grow into adults who are more adjusted, have better relationships with family and friends, and have more successful careers.
In the Harvard Grant Study, which followed 74 high achievers (including President Kennedy) found that 2 factors influenced happiness and success later in life: love and work ethic.
And how do you instill work ethic in kids?
Chores.
When children do chores, they are participating in keeping the household running smoothly. They become an essential part of something bigger than themselves.
Doing chores gives kids a sense of accomplishment and boosts self esteem because they feel competent and capable.
Here are just some of the benefits of chores for kids:
Teaches responsibility
Helps children feel competent
Teaches self-reliance
Gives kids a sense of self-worth that stays with them throughout their lives
Helps them be successful later in life
While teaching children chores takes plenty of patience, research shows that your efforts will be well worth it.
HOW TO INTRODUCE CHORES
So how do you get started introducing chores to your kids? Here are a few suggestions:
Start young. Research shows that embracing toddlers natural desire to be helpful leads kids to contribute around the house without complaining as they grow up.
Tasks shouldn't be overwhelming. Start small. Break down a task and start with just giving part of the task. For example when unloading the dishwasher, start with just unloading and sorting the silverware. When it comes to laundry, start with folding washcloths.
Model. We all know very well that our kids do what we do, not what we say. When we ask them to do any chore, we should first model and explain what we're doing. Show your kids what needs to be done and how to do it.
Give positive feedback. When they do something correctly, say "You did it". This is such a powerful phrase in motivating children as they feel a sense of accomplishment.
Gently guide. To help your child continue mastering the skill, you can say "I love that you're helping out. It means so much to me. Let me show you what we can do to make sure it gets really clean next time."
Offer choices. When children have choices, they feel like they have control and autonomy over their lives. Giving them 2 or 3 choices will make them more willing to get busy on the chore of their choice.
Be patient. Starting out, helping your child do chores will always take longer than had you just done it yourself (sometimes MUCH longer). But the payoff is massive. For both of you.
They grow to be happier, more successful adults and pretty soon you'll have very capable help around the house as they master the tasks. So take a few deep breaths and remind yourself of the long term reasons behind instilling a work ethic in your child.
Make it Fun. Turn on music or make it a game. Not only can chores be fun, but they can be relationship building as we work with our kids to take care of our homes.
RELATED: Free Editable Printable Chore Chart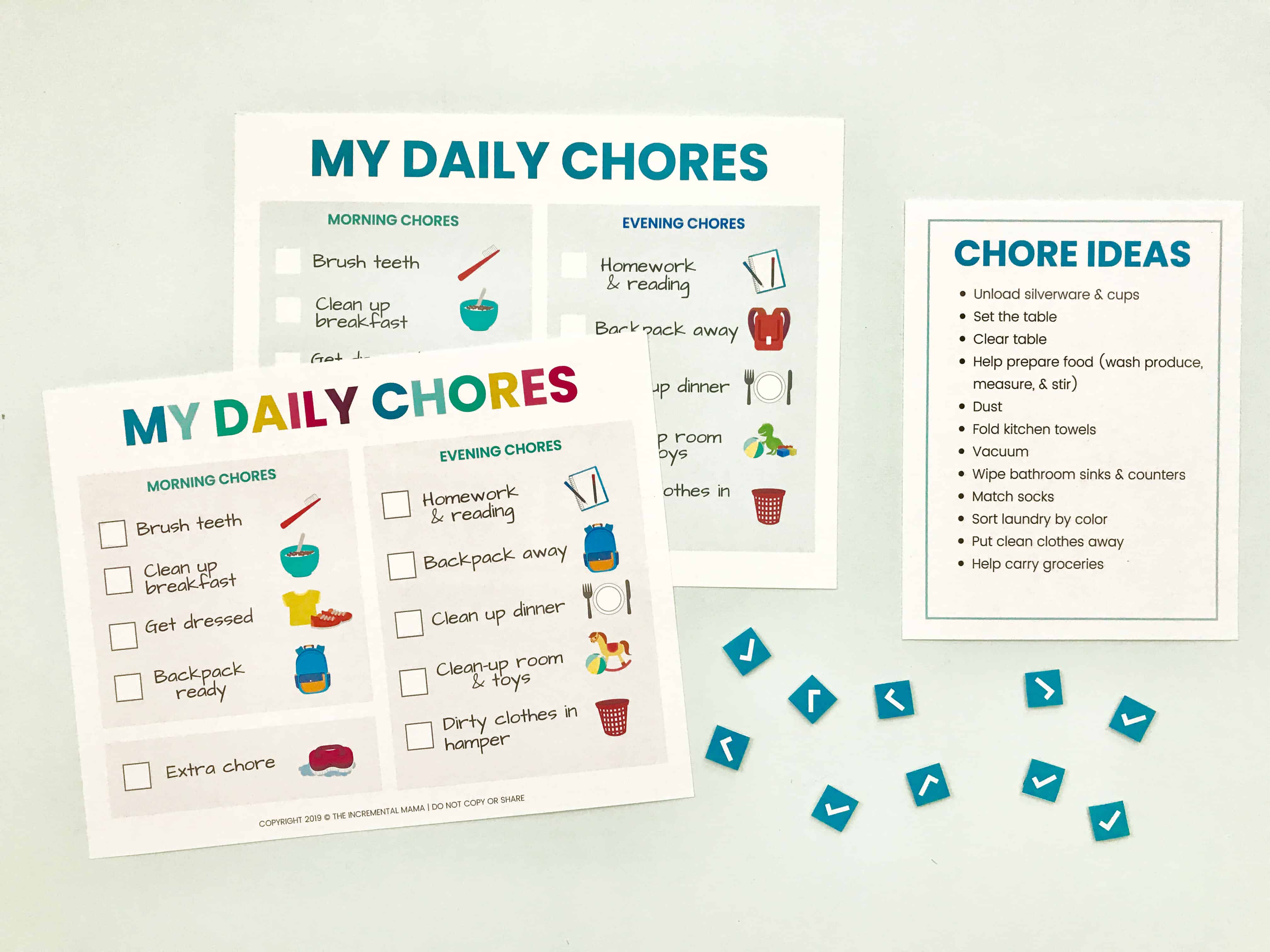 THE PRINTABLE CHORE CHART FOR 5-6 YEAR OLDS
As most children start school at 5, this chores chart is built around a school day where kids need to pack and unpack a backpack, read, etc.
These tasks are basic daily responsibilities that are age-appropriate for a 5-6 year old. Here are the listed chores/daily tasks:
Morning Chores
Brush teeth
Clean up breakfast (take dishes to sink, help clean up breakfast messes)
Get dressed
Get backpack ready
Evening Chores
Homework & reading
Backpack put away
Clean up dinner
Clean up room & toys
Dirty Clothes in hamper
Extra Chore
While the chores above are basic responsibilities for growing school-aged children, children benefit from doing chores that contribute to the greater good of the household. For example:
Setting the table for dinner
Unloading the silverware
Matching clean socks
Sweeping a room
The "Extra Chore" allows you to add on a chore of your choice each day to help keep your house running.
(A more comprehensive list of age-appropriate chores and chore ideas, check out the list near the bottom of this post.)
RELATED: Bedroom Cleaning Checklist for Kids
HOW TO USE THE CHORE CHART
The free pdf chore chart for 5 year olds (which you can download at the bottom of this post) includes the following:
Instructions for use
2 color choices
list of age appropriate chores
3 different "check mark" styles to use on your chart
All these resources give you several options as you how to use this chore chart to best meet your specific needs. For these methods, I use a laminator and laminating sheets.
Sidenote: Investing in an inexpensive laminator is well worth it as a mom. I bought one a couple years ago and it's been one of the best investments because I can laminate ALL THE THINGS. Flash cards, chore charts, cleaning schedules, kid's activities, cleaning checklists…I use it all the time.
Okay, back to the chart. When setting it up, I recommend the following 3 methods:
1) DRY ERASE MARKER METHOD
Supplies needed:
Directions:
Using a laminating sheet, laminate your sheet after printing.
Then simply hang your chart in a convenient location.
When your child completes a task, they can check it off with a dry erase marker.
Then, you just wipe it clean as you start a new day!
This is certainly the easiest to set up. But if you have small clever kids around, having a dry erase marker handy probably isn't the best idea.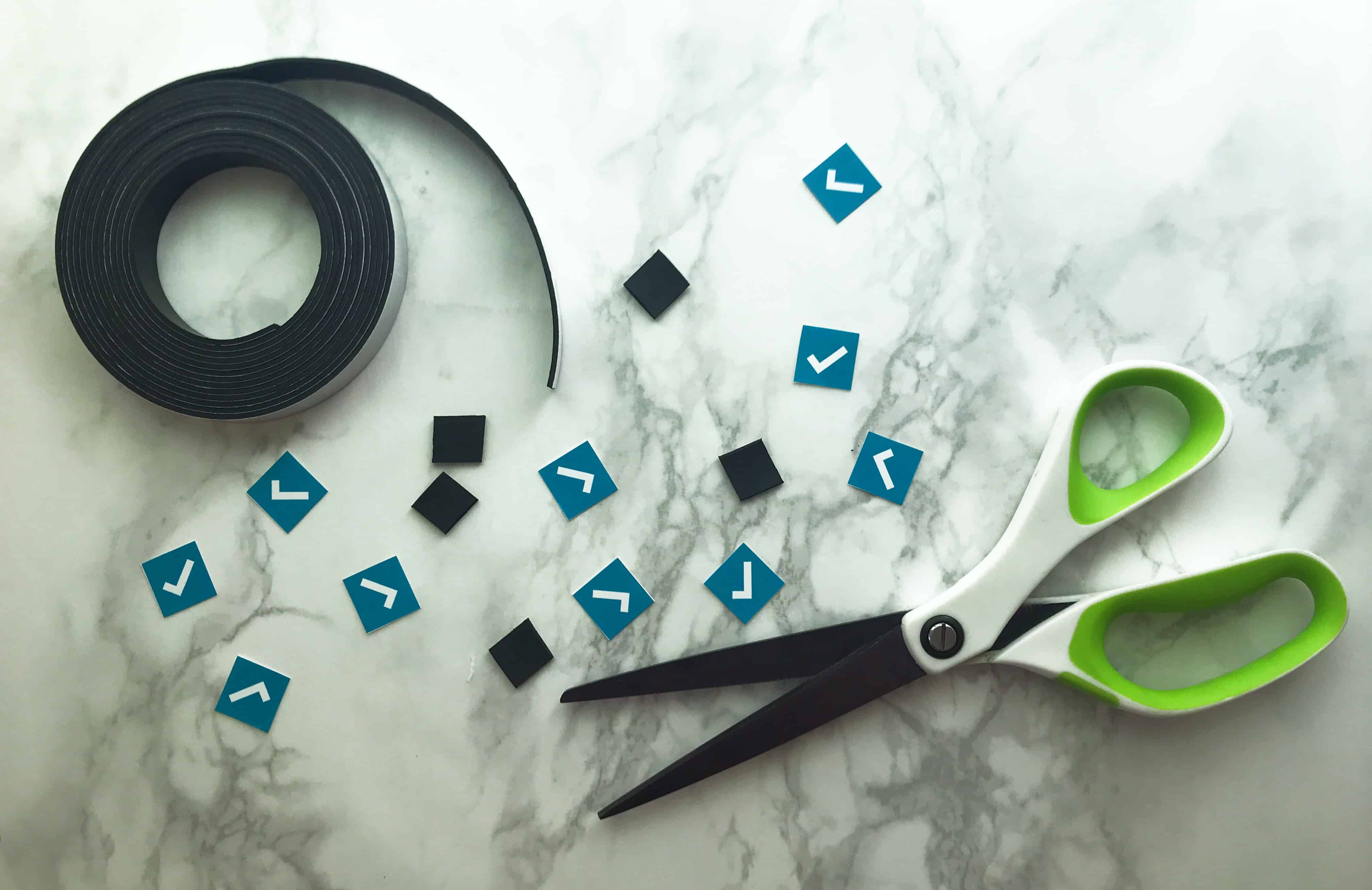 2) MAGNET METHOD
Supplies needed:
Directions:
Print and laminate chore chart.
For the magnets, you have a couple different options: you can just use 10 magnets as checkmarks or you can create your own magnetic checkmarks with a strip of sticky-backed flexible magnet.
If you choose to make your own checkmarks, cut out the checkmarks (on page 4 of the download) and also cut 10 small magnet pieces from your strip. I recommend laminating the printed and cut checkmarks before attaching the magnet.
To attach the magnet, peel off the sticky strip and apply to the back of the checkmark.
Then, place chart on a magnet board in a convenient spot. Once the child completes a task, they can move a magnet to "check off" their chore.
Move magnets to start each new day.
3) VELCRO METHOD
Supplies Needed:
Directions:
After printing, laminate your chore chart.
Cut out desired checkmarks (from page 4), laminate them, and then cut them out again. Once cut out, add a scratchy backed Velcro dot to the back of each one.
Then, add a soft Velcro dot to each checkbox on the laminated chart.
Hang chart in convenient spot and add Velcro dots as task are completed.
As pictured, you can use a little envelope to store the Velcro dots.
A note about Velcro:
Velcro is made up of two sides that stick together—a soft side and a scratchy side. Two soft side or 2 scratchy sides will not stick together. They must be opposite.
So whether you do as I suggest and put scratchy on the checks and soft on the chart or do the exact opposite, you need to be consistent in order for everything to work properly.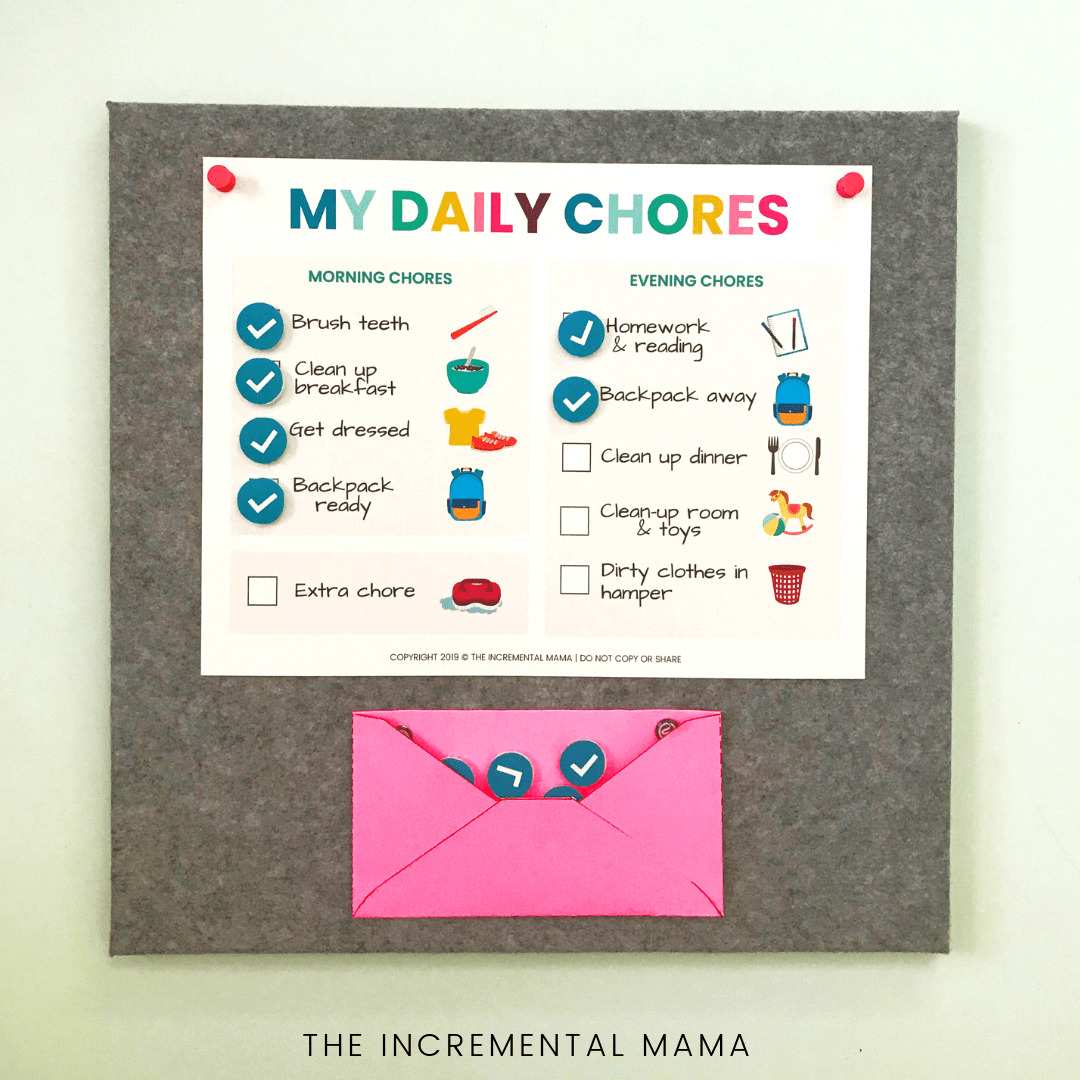 AGE-APPROPRIATE CHORE IDEAS FOR 5-6 YEAR OLDS
If you're wondering what chores are appropriate for a 5 year-old, here are several suggestions:
Unload silverware & cups
Set the table
Clear table
Help prepare food (wash produce, measure, & stir)
Dust
Fold kitchen towels
Vacuum
Wipe bathroom sinks & counters
Match socks
Sort laundry by color
Put clean clothes away
Help carry groceries
Feed pets
Prepare simple snacks
Disinfect doorknobs
Match clean socks
Replace toilet paper roll
Fold towels
Rake leaves
Gather trash
RELATED: Printable Chore Chart by Age
DOWNLOAD THE FREE PRINTABLE CHORE CHART FOR 5 YEAR OLDS
Ready to get started? You can get the free printable sent straight to your inbox by signing up below.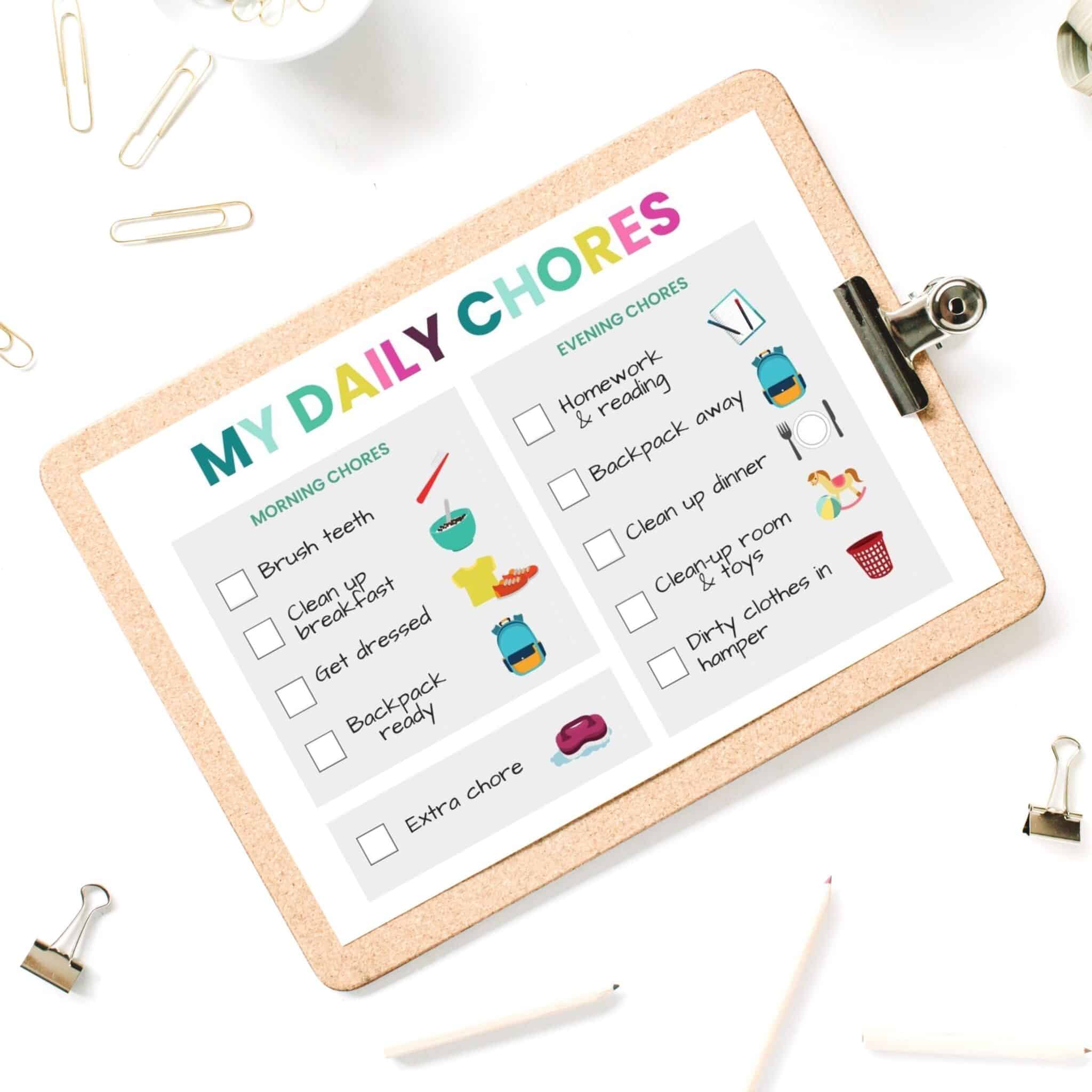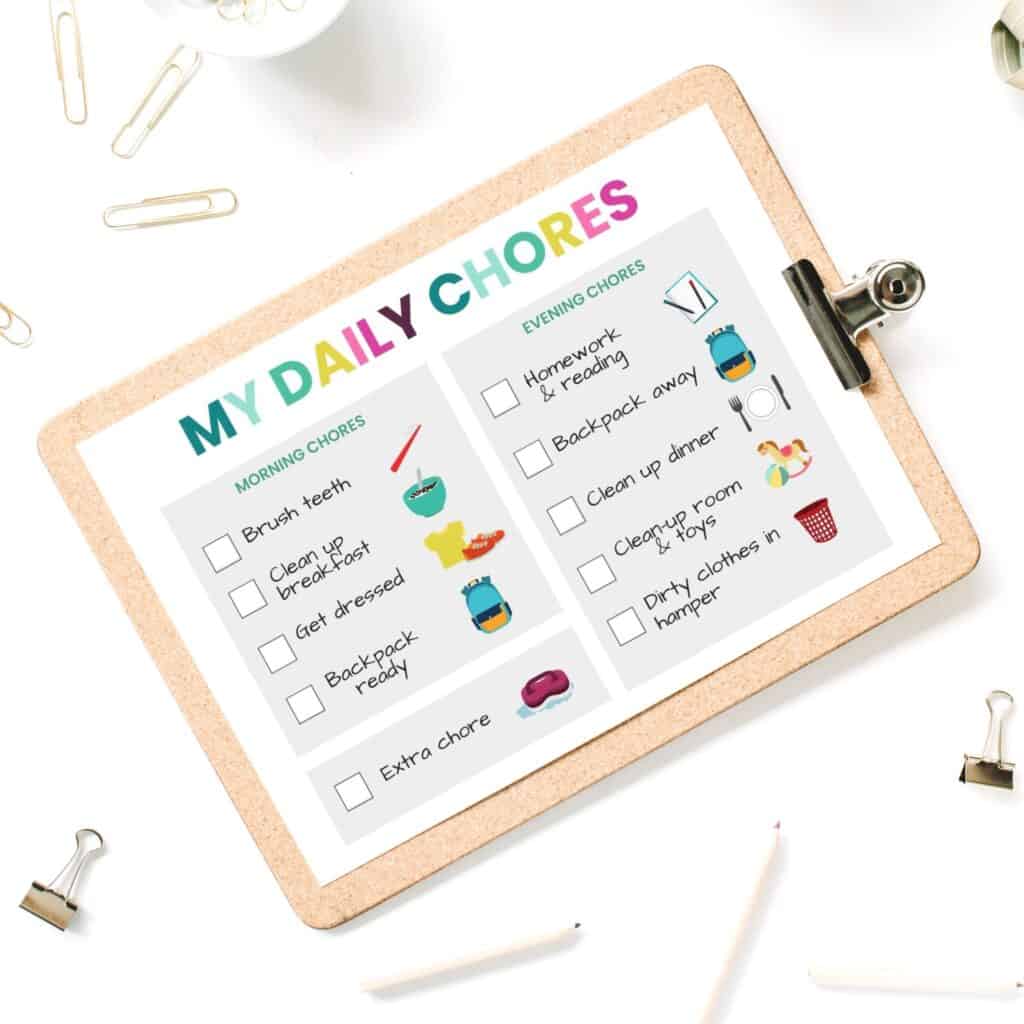 GET YOUR 5 YEAR OLD STARTED WITH CHORES
It's time to get fired up about chores, my friend. Because chores not only help your kids gain self-esteem and learn responsibility now, they are so important in helping them become successful adults later.
And with your the free downloadable chore chart, you can get your 5 year old doing age-appropriate chores for your kid.
You've got this mama!
YOU MAY ALSO LIKE:
13 Ways to Get Kids Excited About Chores
Free Editable Printable Chore Chart
Bedroom Cleaning Checklist for Kids