When it comes to giving your kid chores, it's important to give chores that are age appropriate. Believe it or not, kids actually like to be challenged, so you don't want to give tasks that feel like "busy work".
But give jobs that are too hard and you'll both end up frustrated.
While "age-appropriate" is different for every kid, this chore chart by age is a good place to start when looking for daily chores for kids.
RELATED: 13 Ways to Get Your Child Excited About Doing Chores
WHAT AGE TO START GIVING CHORES
Speaking of starting, many parents wonder at what age they should start giving chores. And the basic answer is: as young as possible.
Toddlers are naturally helpful. And while they may be inefficient little cuties, getting them started with chores while they're young means raising kids who naturally help out around the house—without complaining.
Plus, research shows that kids who do chores have higher self-esteem and are more successful later in life. In fact, doing chores when young is the best predictor of success in 20s.
Starting your kids with chores when they're little is one of the best parenting investments you can make.
But if your child is older and they haven't started with chores yet, It's not too late! Now is the perfect time to get started.
(Looking for the printable? You can download the free printable chore chart by age at the bottom of this post.)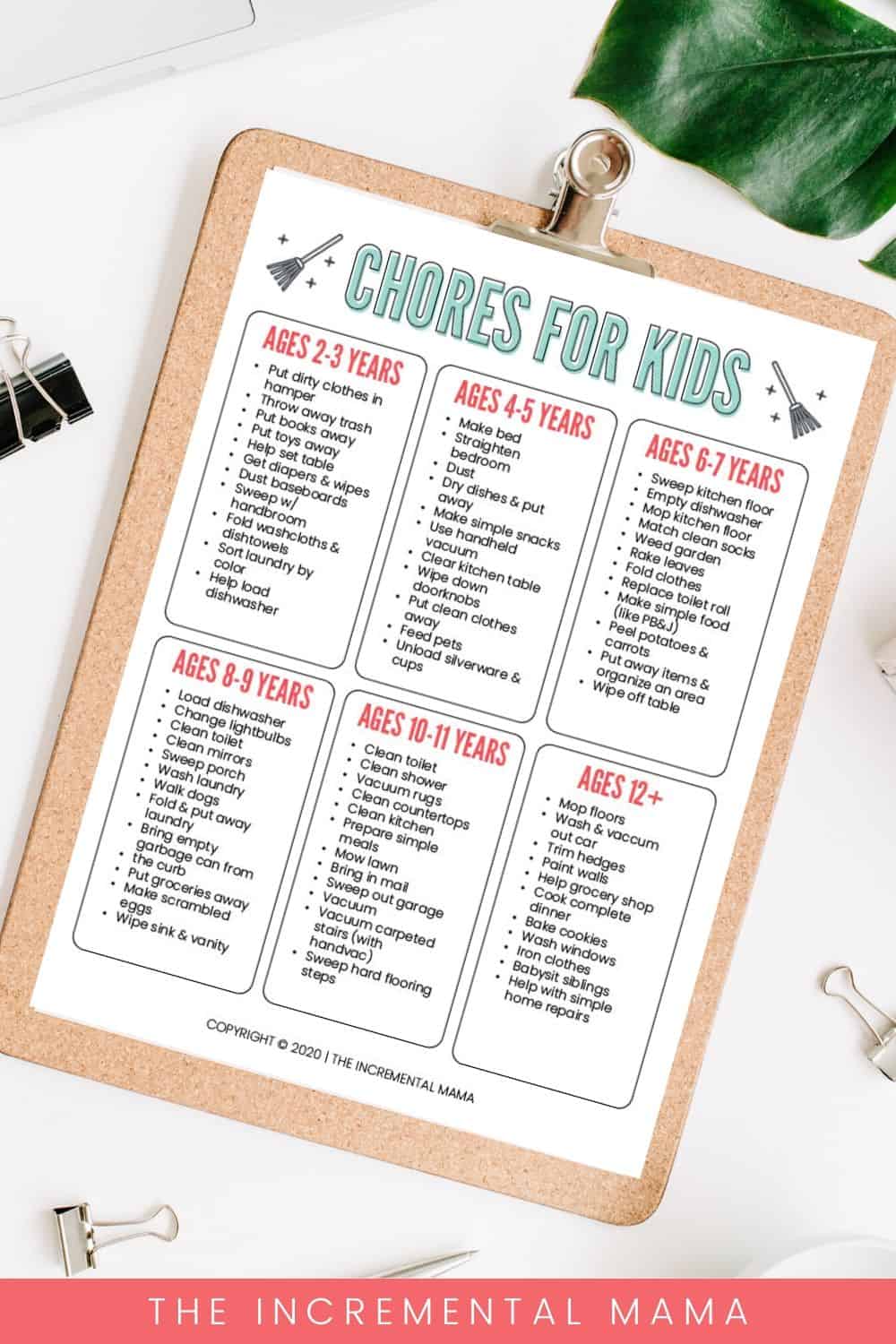 CHORES FOR TODDLERS AGES 18 MONTHS TO 3 YEARS OLD
Start your little ones with simple tasks like throwing away diapers or trash, picking up toys or dirty clothes. Have them help you with what you're already doing.
Praising their helpfulness will go a long way to keep them excited about helping out.
For more on how to effectively praise your children, check out The Simple Phrase to Get Kids Excited to Help Out .
Here are some ideas to get toddlers started with chores:
Put dirty clothes in hamper
Throw away trash
Put books away
Put toys away
Help set table
Get diapers & wipes
Dust baseboards
Sweep w/ hand broom
Fold washcloths & dishtowels
Sort laundry by color
Help load dishwasher
RELATED: Printable Picture Chore Chart for Preschoolers
DAILY CHORES FOR KIDS AGES 4-5
As your child gets older and more capable, you can add to their responsibilities. Children ages 4-5 should be able to do everything on the above list as well as the following age-appropriate chores:
Make their bed
Straighten bedroom
Dust
Dry dishes & put away
Make simple snacks
Use handheld vacuum
Clear kitchen table
Wipe down doorknobs
Put clean clothes away
Feed pets
Unload silverware & cups
RELATED: Free Printable Chore Chart for 5-6 Year Olds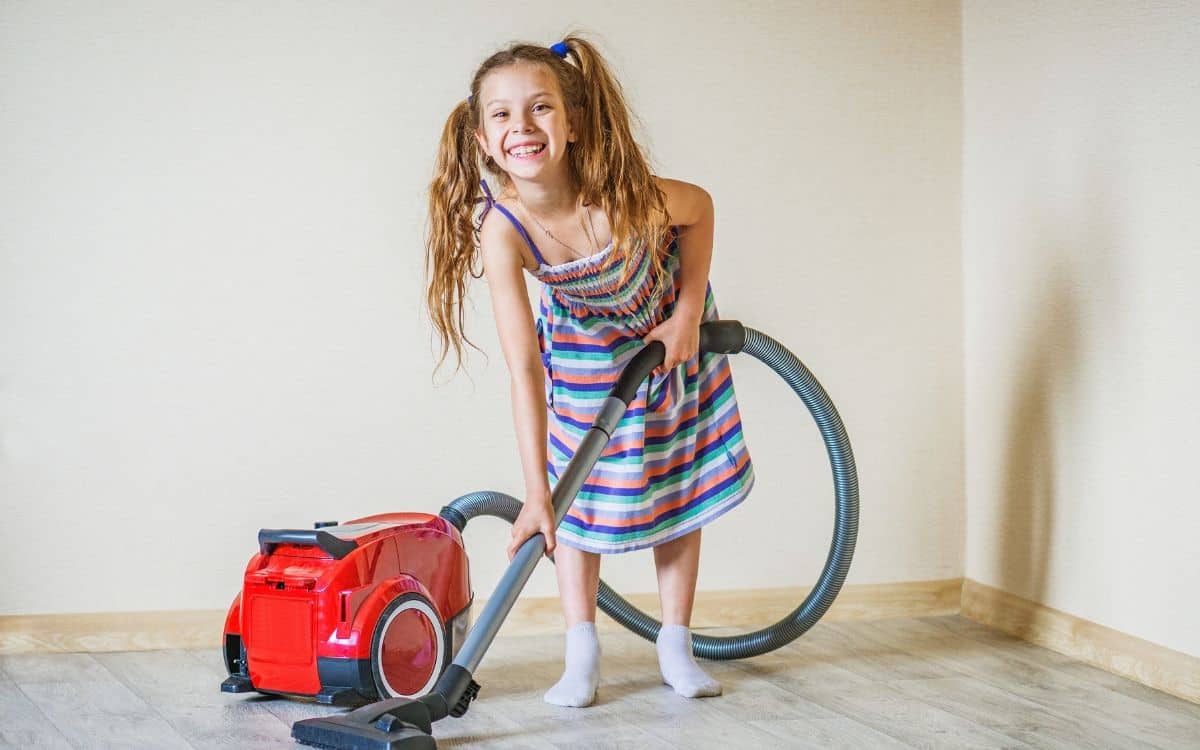 CHORES FOR KIDS AGES 6-7
When kids are 6 and 7, they should be able to do everything previously mentioned, plus you can get them started with these tasks:
Sweep kitchen floor
Empty dishwasher
Mop kitchen floor
Match clean socks
Weed garden
Rake leaves
Fold clothes
Replace toilet roll
Make simple food (like PB&J)
Peel potatoes & carrots
Put away items & organize an area
Wipe off table
CHORES FOR KIDS AGES 8-9
By age 8 and 9, children are remarkably capable. Historically, kids at this age were essential parts of running family farms and helping in significant ways. While we don't expect our children to do shifts in factory, we can continue to increase their responsibilities.
By age 8 and 9, children should be able to:
Load the dishwasher
Change lightbulbs
Clean toilet
Clean mirrors
Sweep porch
Wash laundry
Walk dogs
Fold & put away laundry
Bring empty garbage can from
the curb
Put groceries away
Make scrambled eggs
Wipe sink & vanity
AGE-APPROPRIATE CHORES FOR KIDS AGES 10-11
In addition to the tasks above, 10-11 year olds can start doing the following age-appropriate chores:
Clean toilet
Clean shower
Vacuum rugs
Clean countertops
Clean kitchen
Prepare simple meals
Mow lawn
Bring in mail
Sweep out garage
Vacuum
Vacuum carpeted stairs (with hand vacuum) (link to hand vac)
Sweep hard flooring steps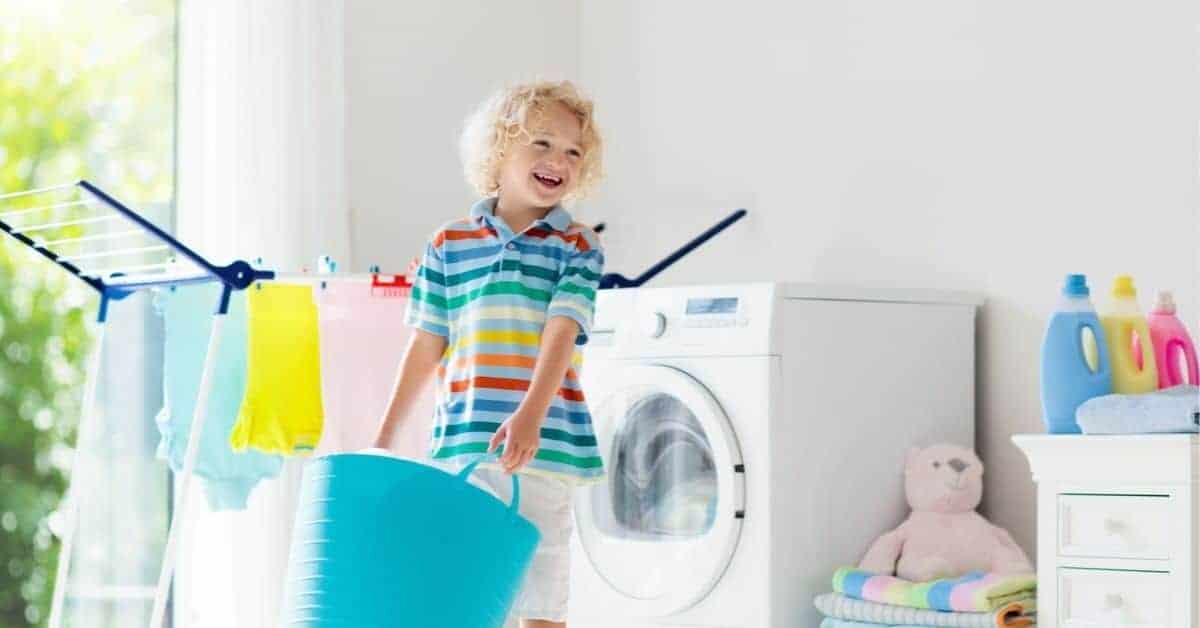 CHORES FOR KIDS 12 AND UP
For kids 12 and up, you can expect them to be able to:
Mop floors
Wash & vacuum out car
Trim hedges
Paint walls
Help grocery shop
Cook complete dinner
Bake cookies
Wash windows
Iron clothes
Babysit siblings
Help with simple home repairs
RELATED: Free Customizable Chore Chart for Kids
DON'T BE AFRAID TO CHALLENGE YOUR KIDS
As I mentioned in the beginning, these are just general guidelines. Don't be afraid to challenge your kids.
In fact, I've found that giving my kids more challenging chores is what gets them really excited about chores.
Yes, they actually get excited.
And make no mistake: my kids aren't some angel children who never complain and just naturally fall over themselves to help me. But they love doing tasks that they see as "adult". They love that they can do stuff their friends don't do.
Like using the shop vac. My 6 and 7 year-olds fight over who gets to vacuum out the family van every week. They love getting to help wash the dishes. I've found that when I'm handing out assignments, they fight over the more challenging tasks.
We all get a rush of satisfaction when we rise to a challenge. Kids are no different!
CHORES & ALLOWANCE
As for chores and allowance, there's a lot of debate when it comes to whether you should connect them together.
Some parents argue that allowance is a necessary reward for motivating our kids to do chores. After all, we don't go to work without getting paid, right?
But many experts counter that giving allowance for chores actually kills motivation. First off, household duties do not equal paid labor in the workforce. Taking care of our household and ourselves is part of regular responsibilities and self care. No one's paying you to vacuum your own floor or wash your hair.
Not all responsibilities you have come with pay.
Chores are just a part of being a member of the household. It's part of learning to be independent and eventually becoming a fully functional adult–which is our goal for our children.
While most experts don't recommend tying chores to allowance, they do recommend giving allowance for kids to learn financial skills (such as saving, giving, spending). I highly recommend a fantastic book The Opposite of Spoiled by Ron Lieber, a NY Times finance columnist called. It's a fabulous research-based book about teaching kids about money.
DOWNLOAD THE PRINTABLE CHORE CHART BY AGE
And there you have it! These are some ideas for daily chores for kids by age.
You can download the age-by-age chore chart by signing up below (you can unsubscribe anytime). To customize a chore chart for your kids, check out this customizable chore chart.
(Note that the download includes 2 different charts–one with the little brooms and one without. I decided that the brooms made me think of Halloween so I decided to make a simple one as well!)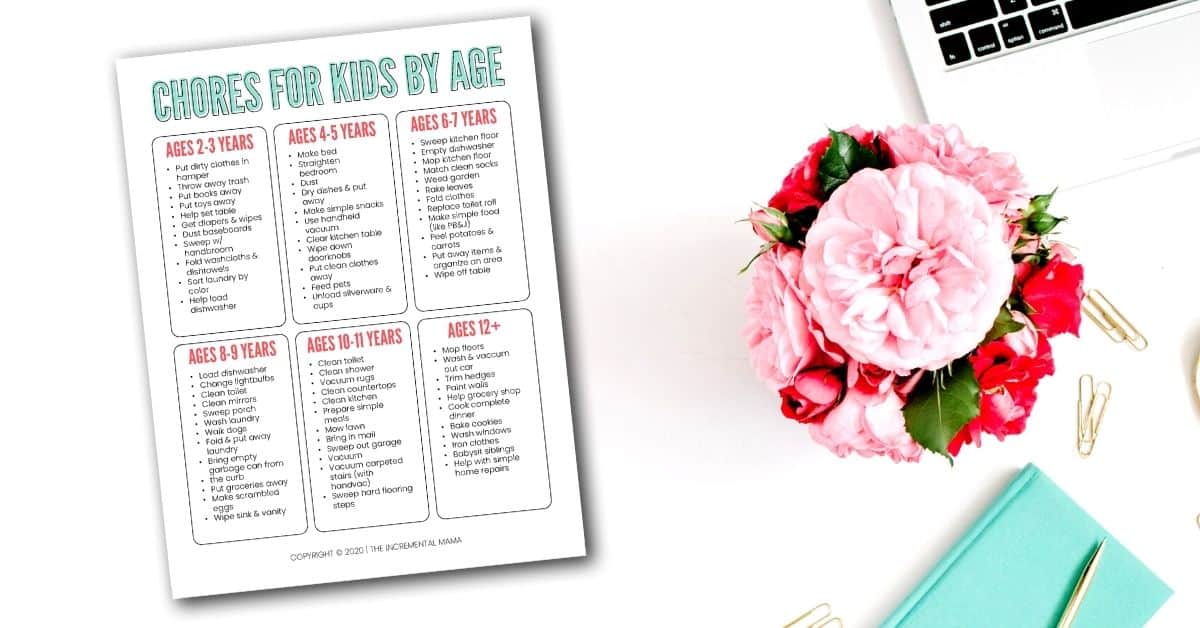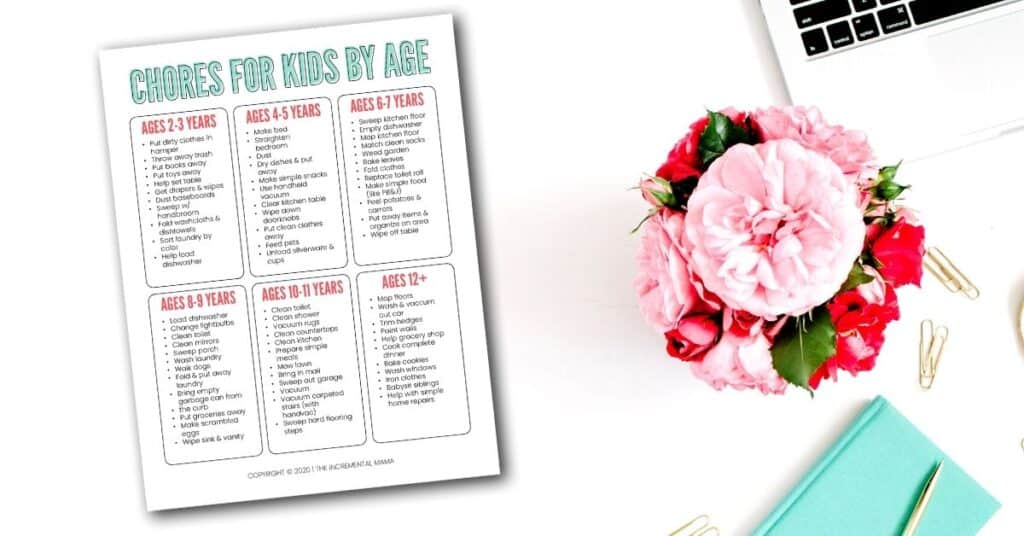 YOU MAY ALSO LIKE:
Free Customizable Chore Chart for Kids
Free Printable Chore Chart for 5-6 Year Olds
Printable Picture Chore Chart for Preschoolers