There are endless benefits to giving your children chores. It builds self-esteem and ultimately, it helps them become more successful adults.
And once they start getting the hang of it, it'll make your life a whole lot easier. Instead of shouldering all the household chores, suddenly you've got a little team of helpers.
Which is why teaching my children (aged 2, 4, 6, and 7) how to do household chores is a big priority for me. And right now, my 2 oldest kids are learning to clean their bathroom. And frankly, they think it's really fun.
(We'll see how long this lasts, guys…fingers crossed.)
But to master any task, children need clear expectations.
So in order to help my kids clean their bathroom, I've made this handy bathroom cleaning checklist for kids.
Kids thrive with chore charts and checklists. Because it gives them visual reminders of what to do. And this bathroom checklist is how my kids are learning how to step-by-step clean their bathroom.
RELATED: 13 Ways to Get Kids Excited About Chores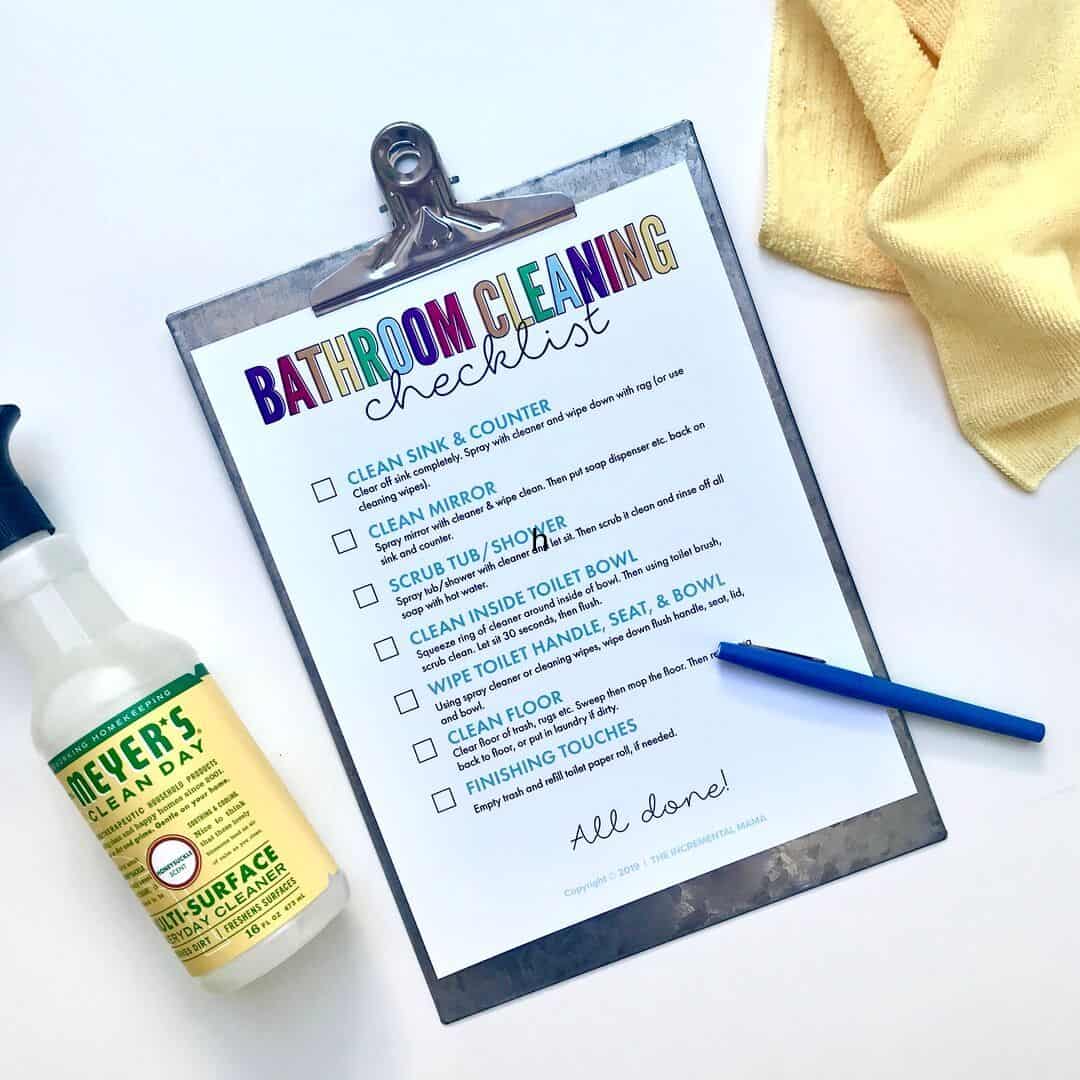 HOW TO USE THE BATHROOM CLEANING CHECKLIST
There are two different styles of this bathroom cleaning checklist pdf. One colorful, the other simple and clean (both come with the download).
Whichever you choose, I highly recommend laminating the pdf (I use this laminator and these sheets for all my printables) and either keeping it inside the bathroom door or with the bathroom supplies. We keep it inside their bathroom cleaning supply kit.
While I mention the specific supplies my kids use, the printable bathroom cleaning checklist is generic enough that it will work with whatever supplies you choose.
(For example, instead of using disinfectant spray, heavy-duty shower/tub cleaner, and a rag my 6 and 7 year-olds are using Clorox Wipes).
RELATED: Bedroom Cleaning Checklist For Kids
SUPPLIES TO CLEAN BATHROOM
Because my kids are little, I'm not comfortable with them using the same cleaners that I use when I clean the bathrooms.
(Not gonna lie, I love me some harsh chemicals. But I'm trying, so…don't judge me.)
So I've made them their own bathroom cleaning kit. These are the supplies in their bathroom cleaning kit:
For more details on the supply kit I made, checkout How to Put Together a Bathroom Cleaning Kit For Kids.
If you have small kids around, be sure and store your cleaning supplies in a child-safe cabinet. We store ours under the kid's bathroom sink which has these cabinet locks on them on them.
I assist them in getting the cleaners out of the cabinet and monitor the whole cleaning procedure (the laundry nook is right by their bathroom, so I can still hover and work on laundry).
BATHROOM CLEANING CHECKLIST FOR KIDS
In general, the order of tasks in the bathroom is to go from least dirty to most dirty (hence toilets near the end). I find that teaching your kids to clean the bathroom is a great opportunity to discuss germs and the important of washing hands!
Here's how to clean the bathroom:
Wipe Down Sink and Counter – Wipe down sink, counter, and faucet with cleaner.
Clean Mirror – Spray mirrors, then wipe clean with paper towels.
Scrub Tub/Shower – Scrub down the tub/shower. Rinse with warm water.
Clean inside Toilet Bowl – Put cleaner around inside of bowl, scrub, wait 30 seconds, and flush.
Clean handle, seat, and the outside of the bowl – Get new wipe and clean the toilet. Get second wipe if necessary.
Clean Floor – Shake rug, sweep, mop.
Finishing touches – Empty trash, put in new bag. Then refill toilet roll

(if needed)
And that's it!
And if you're looking for more cleaning checklists for kids, check out the Cleaning Checklist Bundle for Kids. It's got both ready to print checklists and several fillable versions you can customize to perfectly suits your home and family.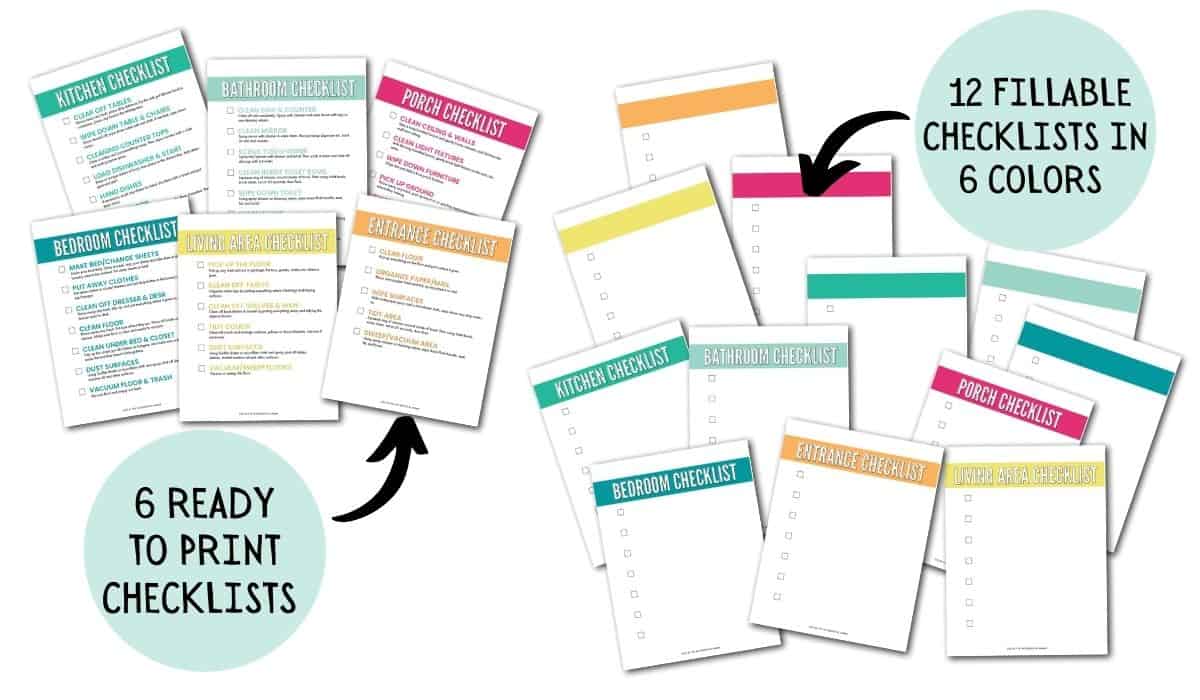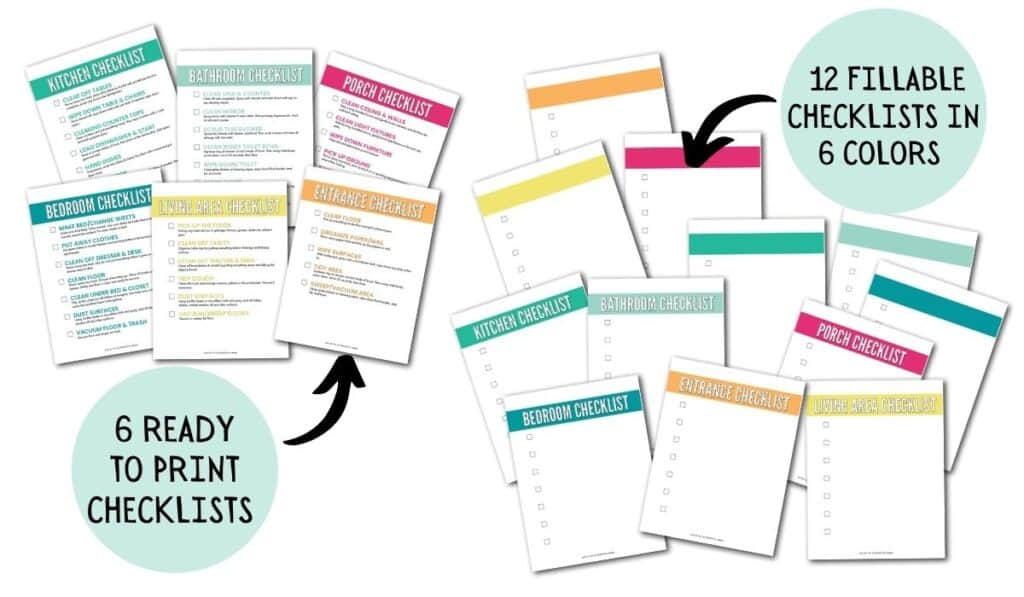 RELATED: A Simple Cleaning Schedule You Can Stick to
TIPS FOR TEACHING CHILDREN TO CLEAN
Also, a few things suggestions when your kids first start learning to clean:
Model how to clean. Show them exactly what you expect. I recommend having them shadow you as you clean your bathroom. Talk to them about each step and what you are doing. Use the same supplies you will expect them to use so they can see exactly how they should use them.
Then have them practice in their bathroom. Have them go through the checklist with you talking them through and giving them feedback and lots and lots of praise and encouragement.
Remember, encouragement and praise goes a long way. While they are learning and practicing, give lots of praise and encouragement. Instead of saying "good job" we say "You did it!" and that gives them a real sense of accomplishment. Point out what they're doing well.
Show them how important their contributions are to the home. My kids respond really well when they see how the chores they do help everyone. When they feel like they are an important part of how our house runs. We explain that cleaning the bathroom keeps us safe from germs, keeps the bathroom looking nice, and is important to taking care of our home. When they help, they play an important part!
Remember that kids will not get things "mom clean". At least not right away. It's going to take practice and a whole lot of patience on your end. While we sometimes want everything perfect (so we just do it ourselves), we deny them the sense of accomplishment and self-esteem that come with doing chores!
RELATED: 13 Ways to Get Kids Excited About Chores
DOWNLOAD THE FREE BATHROOM CLEANING CHECKLIST FOR KIDS
Well, there you have it! I hope you find this checklist useful. You can download it below, which will also give you access to a resource library full of other helpful checklists and printables including several free job charts!
Good luck!
YOU MAY ALSO LIKE:
Bedroom Cleaning Checklist For Kids
How to Put Together a Bathroom Cleaning Kit For Kids.
Free Customizable Job Chart for Kids