I'll admit it: I'm a total planning nerd. Even as a child, writing to-do lists absolutely thrilled me.
And as an adult, going to Office Max and looking at planners is pure ecstasy. I practically skip through the aisles throwing post-it notes and pens into my basket.
Why do I love planning? Because it saves me time, helps me accomplish me goals, and ultimately, helps me feel peace.
And planning can do the same for you.
To help you get all those amazing benefits, I've created this cute weekly planner printable that's designed to help you quickly and efficiently map out your week.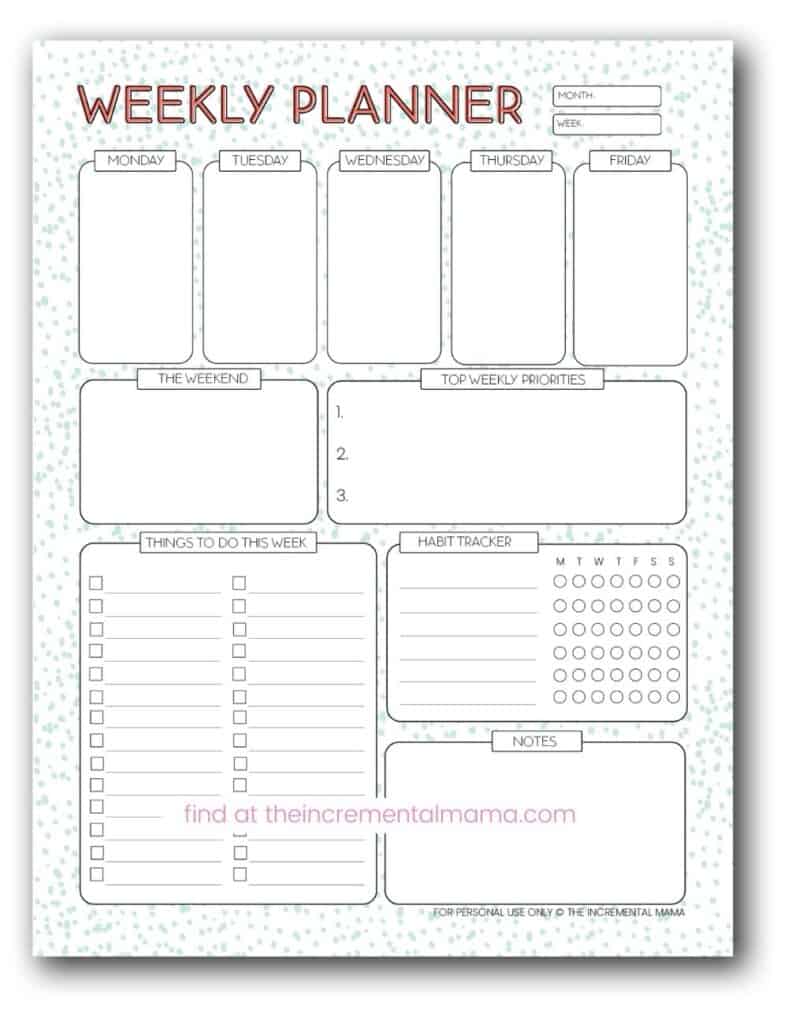 WHY USE A WEEKLY PLANNER TEMPLATE
The ultimate goal of a weekly planner is to sketch out your week so you can start Monday focused on what you have scheduled and what you want to get done.
And planning has so many incredible benefits.
Here are just a few of the benefits of planning:
Helps to relieve stress
Is good for your brain
Helps you achieve your goals
Increases productivity
Saves you time
Makes you happier
According to time-management expert Brian Tracy, taking just 10 minutes to plan each day saves you nearly 2 hours a day.
That's because you walk into each day knowing where you're going instead of just reacting to what's happening to you.
So if you want to save time and get more done, taking time to plan is just about the quickest and easiest way to do so.
Looking for a daily planner? Check out this Cute Daily Planner Template.
HOW TO USE THE CUTE WEEKLY PLANNER PRINTABLE EFFECTIVELY
The following tips will help you to effectively use this cute weekly planning template.
1. Set aside 15 minutes to plan your week.
It really doesn't take long to sketch out your week and walk into Monday with a plan. The trick is to be in the habit of scheduling your planning time.
Some people like to plan on Fridays at the end of the work day so they can relax over the weekend knowing they're ready for Monday.
Personally, I'm a Sunday planner. I feel like it's the perfect time as you're mentally and physically preparing for the start of the work week.
Bottom line: Figure out the time that works for your and build in your weekly planning session.
2. Identify your top 1 to 3 priorities
The first thing you want to do when you sit down to plan is ask yourself: What are the most important things I need to do this week?
You know as well as I that you can be super busy, but still not get much done.
the key here is honing in on the 1 to 3 top things you need to do during the week to achieve your goals or fulfill responsibilities.
This is where you will keep your focus.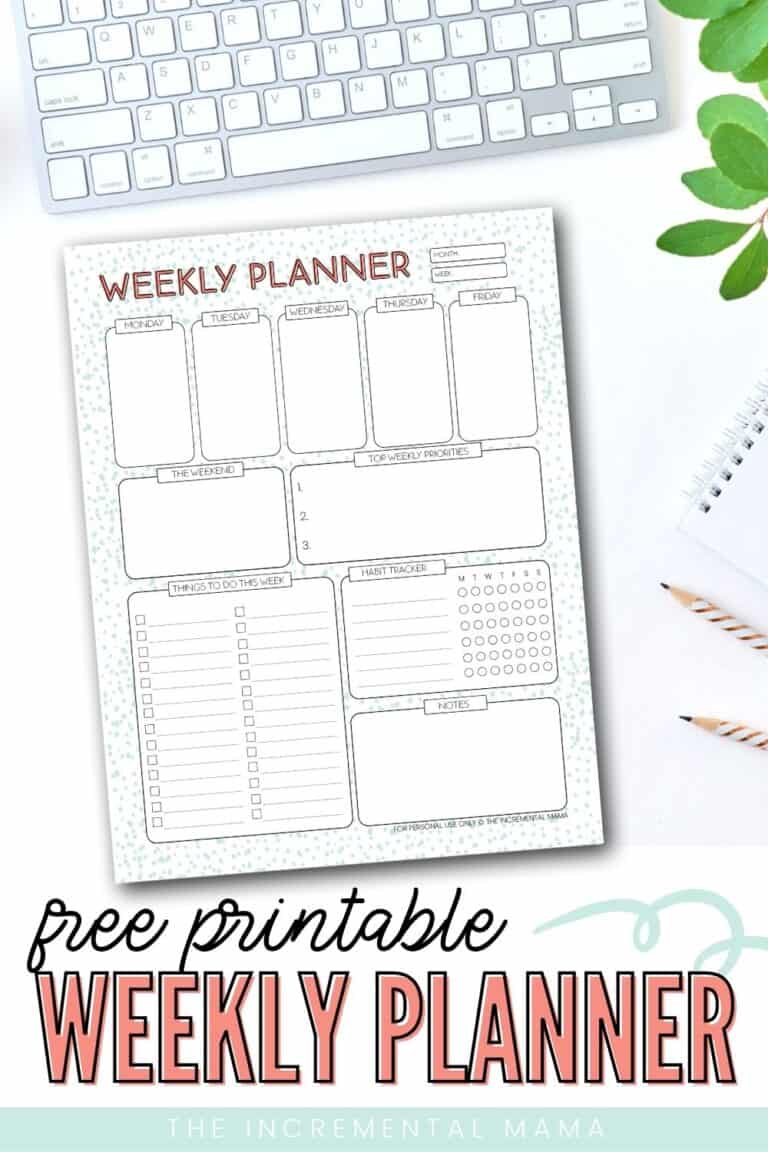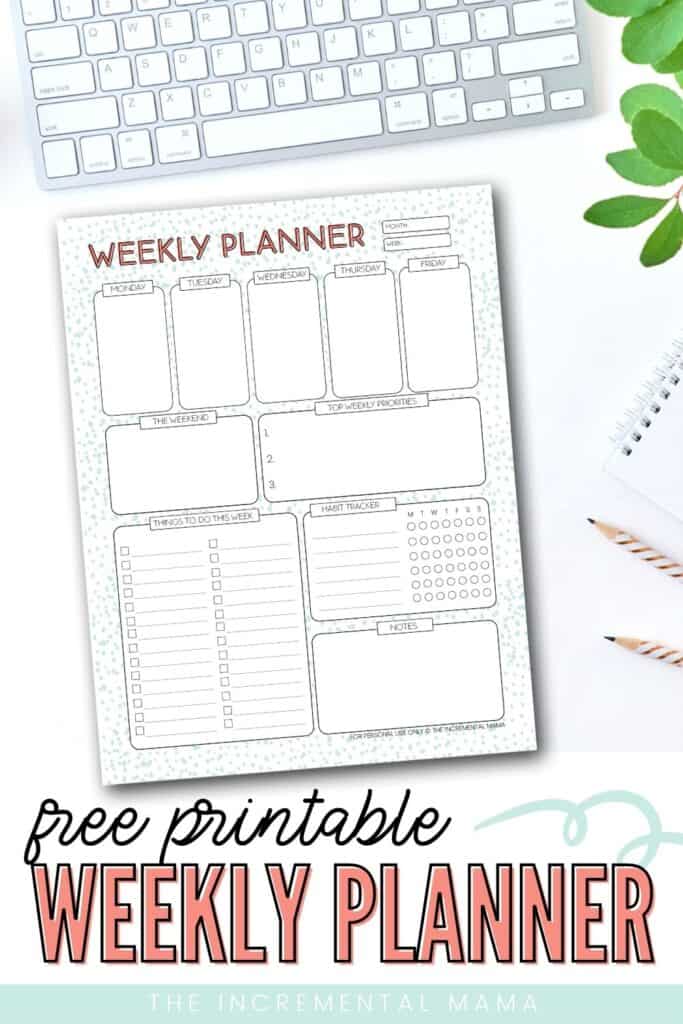 3. Sketch out each day
With your top weekly priorities in mind, you're now ready to briefly sketch out each day of the week.
First, determine what do you need to get done each day to accomplish those priorities by the week's end. And then write those tasks in each day's section.
You can also write in any appointments, daily workout plans, or other important things you need to remember for each day
4. Make your to-do list
With your days sketched out to achieve your top priorities, you can now take a step back and look at other things that need to get done in the week.
While not the most critical tasks (like your 1 to 3 priorities), the things that go in your weekly to-do list section are other important tasks.
Some ideas of what might go here:
errands to run
phone calls to make
emails to send
cleaning tasks
reading goals
Remember, you're not writing every single thing you need to do. Instead, you're focusing on the big-picture tasks that'll help you achieve your goals and fulfill your responsibilities this week.
5. List and track daily tasks or habits you're trying to develop
Another handy feature of this cute weekly planner printable is the built-in habit tracker. This is the perfect place to list and track the daily habits that you're trying to develop.
You might track:
your morning routine
daily exercise
meditation practice
reading
making your bed
waking up at your goal time
The key is to focus on the desired daily habits you're trying to develop. List them and check off the day you do them.
MORE FREE PLANNING PRINTABLE TEMPLATES
As I mentioned earlier, I'm a bit obsessed with planning which means that I've got lots of free planning resources you can use.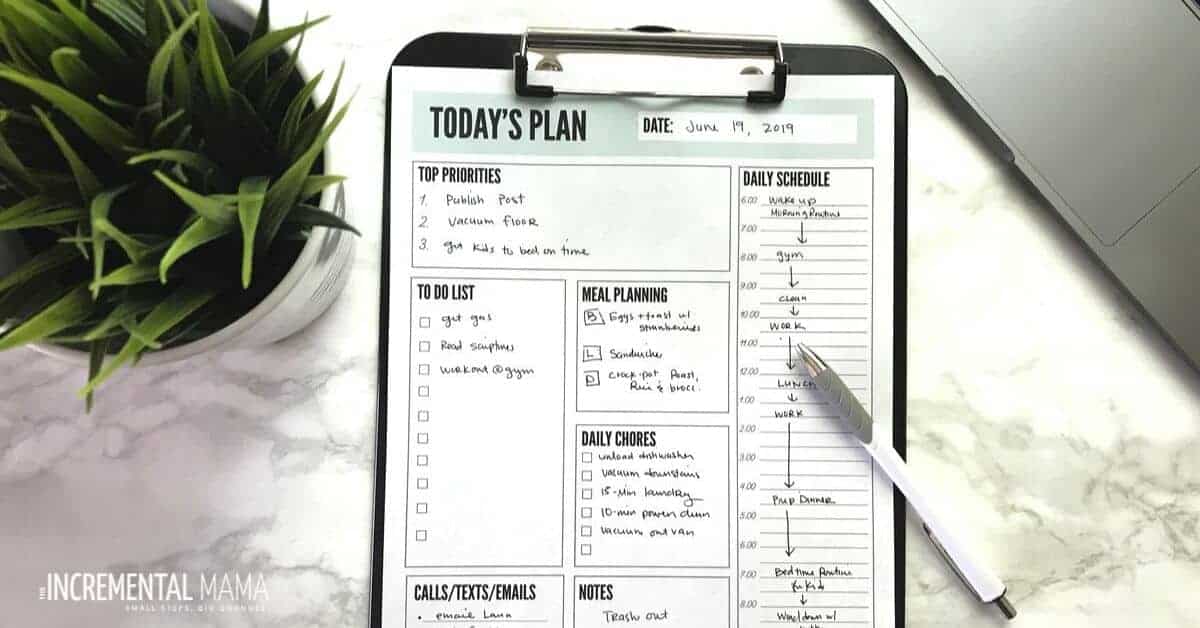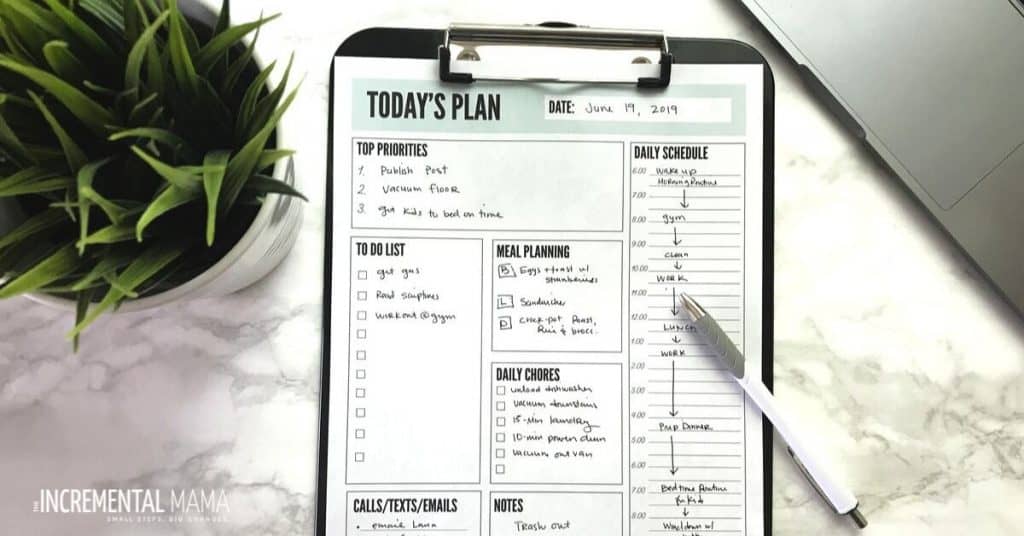 READY TO GET YOUR LIFE ORGANIZED?
The Organized Home Toolkit has everything you need to go from overwhelmed to crushing your day.
With hundreds of customizable printables and short instructional videos, the Toolkit is the resource library you need to quickly & easily organize your life and home.
…AND for less than a dinner out with the family!
Here's what Allison, a busy mom of 3 said about The Toolkit:
⭐⭐⭐⭐⭐
"This toolkit helped me go from drowning in housework and feeling unmotivated to feeling organized and like my life was more manageable in a week. I woke up to a plan, a schedule, routines and manageable expectations for my kids that helped combat the depression and burn-out I often feel as a mom. And I love the videos. I feel like it's 'Running a Home & Raising Kids 101' and it's the class I have needed for YEARS."
>>> Check out The Organized Home Toolkit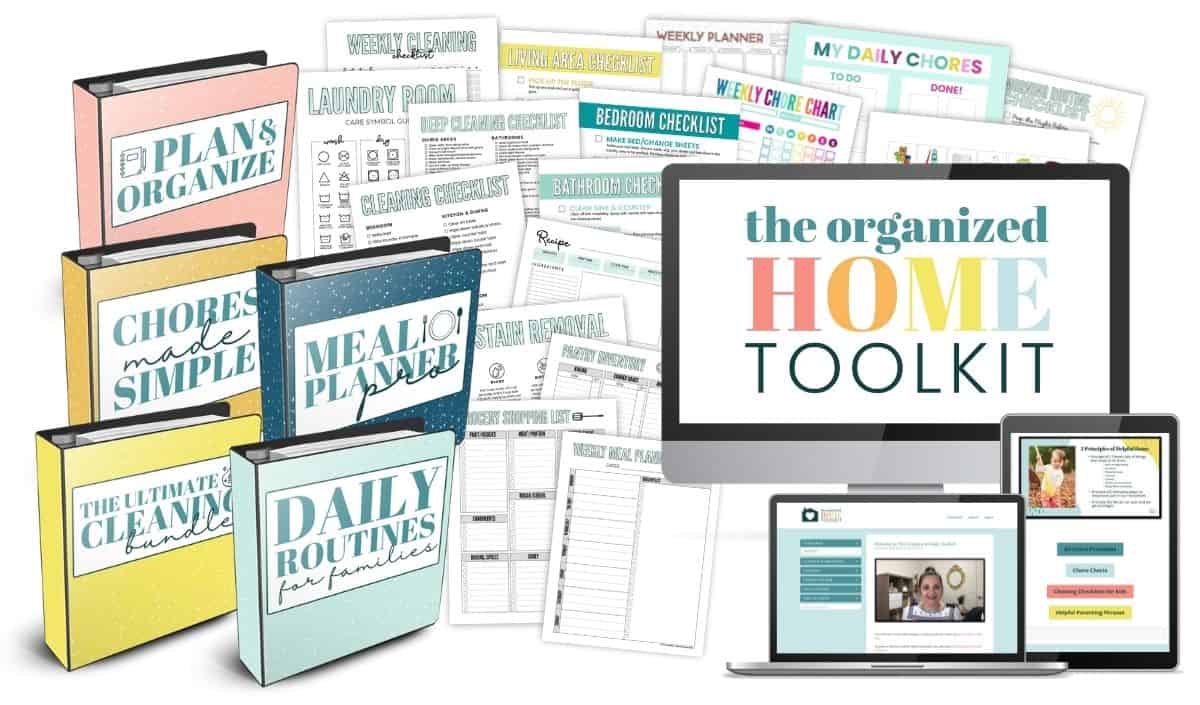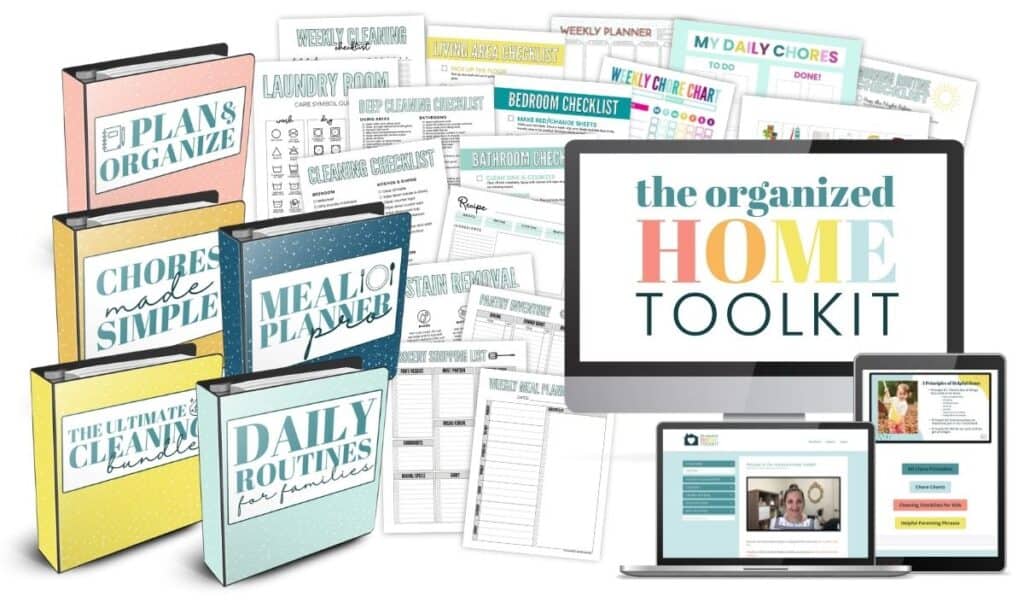 DOWNLOAD THE PRINTABLE WEEKLY PLANNER TEMPLATE
Now you're ready to be a little planning nerd too!
You can get the free printable weekly planner template by signing up below. The download will get sent straight to your inbox.
Happy planning!