After a long day of chasing kids, playing taxi, and knocking out my never-ending to-do list, dinner time is when I'm not really in the mood to do much of anything but sit down and stare at a wall.
Which is why I love my slow cooker. I mean, I've definitely caught the Instant Pot craze.
Don't get me wrong. It's amazing.
But when it comes to preparing meals when I have energy, I'm all about my Crock-pot.
RELATED: 9 Easy Slow Cooker Recipes Your Kids Will Love
Slow Cooker Meals: Perfect for Busy Parents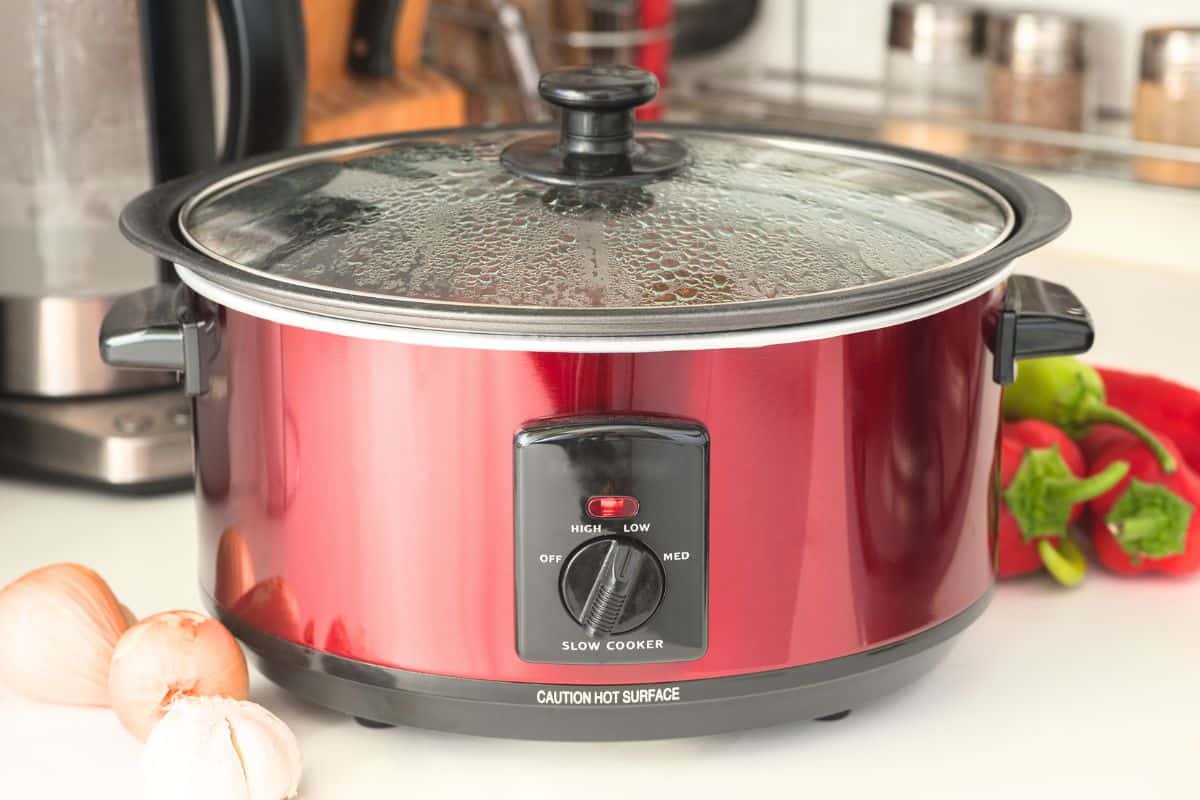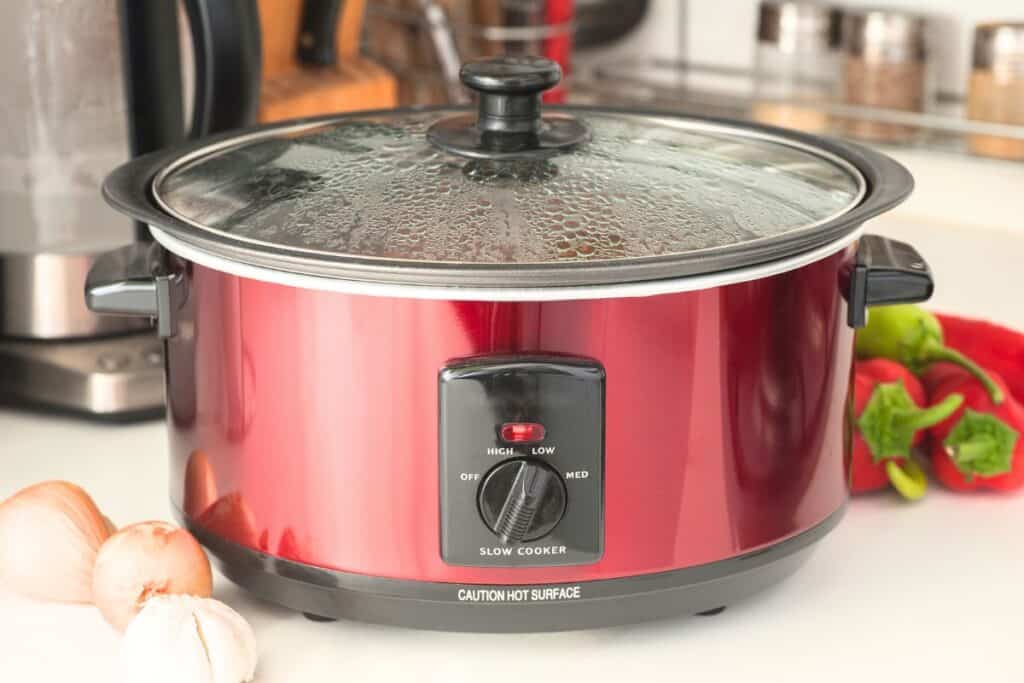 Because I can prep my meals in the morning while I'm running through my morning cleaning routine and then I don't have to worry about dinner when I literally feel like crashing on the couch and zoning.
Seriously, by the time I've gotten through my kid's homework routine, I feel like someone should be making ME dinner. But alas, I do all the cooking at my house.
But that also means that I get to control the menu. Which for me and my current health goals, that means I'm leaning towards the low-carb fare.
And since I'm all about slow cooker AND low carb, then it's natural to be in love with low carb slow cooker recipes that are both easy and tasty.
So if you're looking for some simple, yet tasty slow cooker recipes that are low-carb/keto, you're going to love these recipes:
RELATED: Over 100 Free Meal Planning Printables
Supplies for Slow Cooker Meals
When it comes to using slow cookers, other than a slow cooker, there'e not much you need. However, here's a few supplies that are super helpful.
Slow Cooker (obviosuly)- I always use Crock Pot brand and while I've owned several of varying prices, the cooking function is all basically the same. This is a great budget option that I love.
Slow Cooker Liners – If you've ever spent a bunch of time and arm strength trying fruitlessly to scrub the baked on junk on a slow cooker, then these slow cooker liners are going to change your life. I don't use them all the time (to save plastic waste) but I do use with cheesy recipes that crust easily.
Glass containers – These are awesome containers for leftovers or meal prep.
20 Delicious Low-Carb Slow Cooker Recipes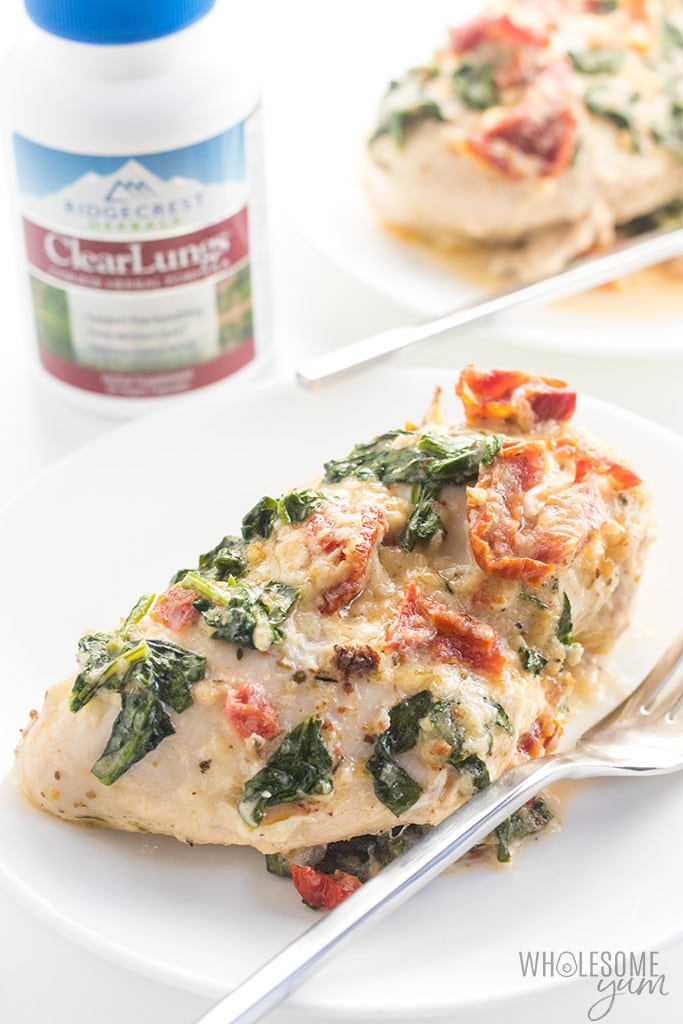 1. Creamy Tuscan Garlic Chicken from Wholesome Yum 
This is 100% one of my family's favorite meals, full stop. It's insanely tasty and actually quite impressive for guests! I've made it several times when we've had company and people are always gushing.
Personal note: I always use really high quality Parmesan cheese and I always add about more than the recipe calls for a creamier sauce.
(But we're huge parm fans)
2. Slow Cooker Crack Chicken by Fit Mom Journey
Crack chicken is always a winner. It's flexible with what sides you can pair it with…and it's a always a crowd favorite.
(Hence the name)
Additionally, it doesn't take much prep and it's SUPER quick and easy to throw in the crock pot in the morning. An added bonus is that it's grain-free, keto, and all around delicious.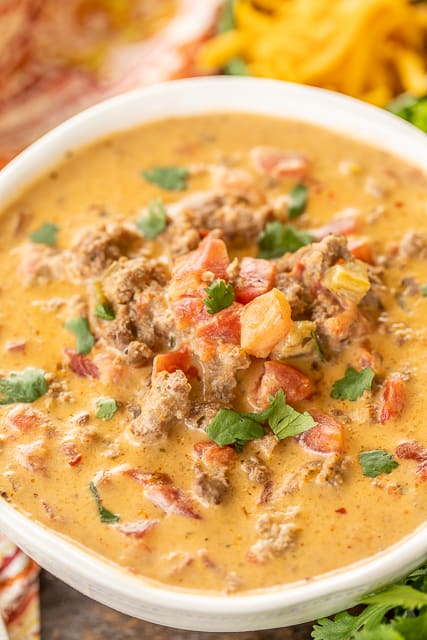 3. Low-Carb Taco Soup by Plain Chicken
In my opinion, taco soup is always a winner. My kids love it. And leftovers are great. And this highly-rated recipe is an awesome slow cooker recipe to add to your repertoire.
In fact, this is an awesome recipe if you want to meal prep low-carb lunches for the week. Make a batch, divide out into individual serving containers (we love these glass containers) and heat up for daily lunches!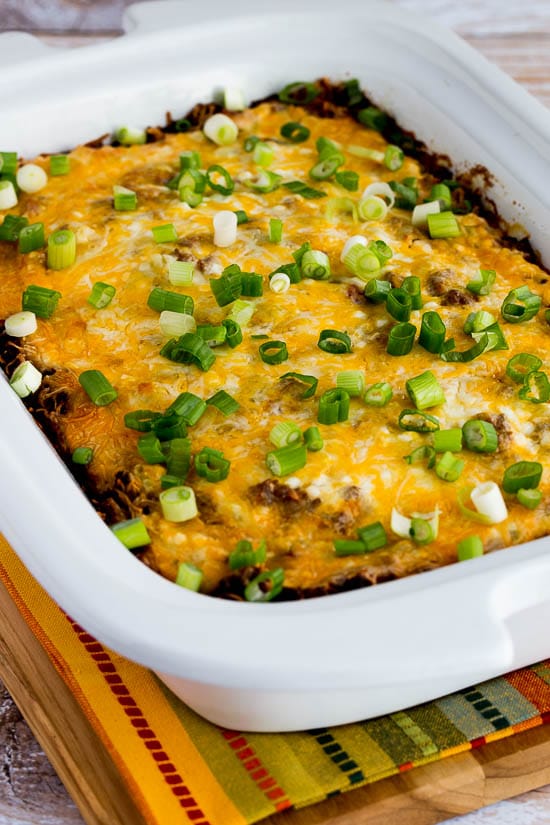 4. Slow Cooker Mexican Lasagna Casserole by Kalyn's Kitchen
Coming from the Southwest, I grew up with Mexican food (living in Virginia has been a struggle when it comes to good Mexican, I tell ya). And so we love some yummy Mexican-inspired recipes we can make.
This slow cooker Mexican lasagna is great because it's flexible! You can use shredded chicken in place of beef or change as you'd like.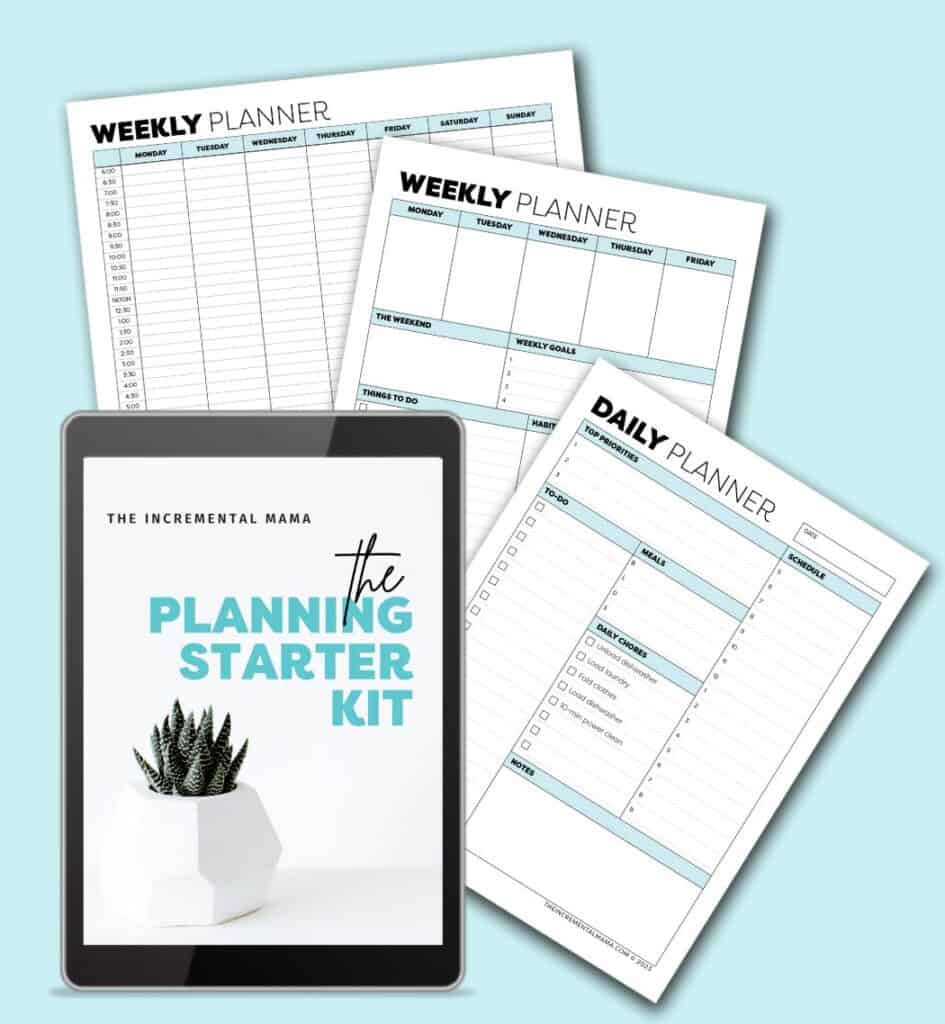 Free Planning Starter Kit
Ready to get organized? Grab the free Planning Starter Kit which includes:
A Guide to Getting Started
Daily Planning Template
Weekly Planner
Weekly Time Blocking Printable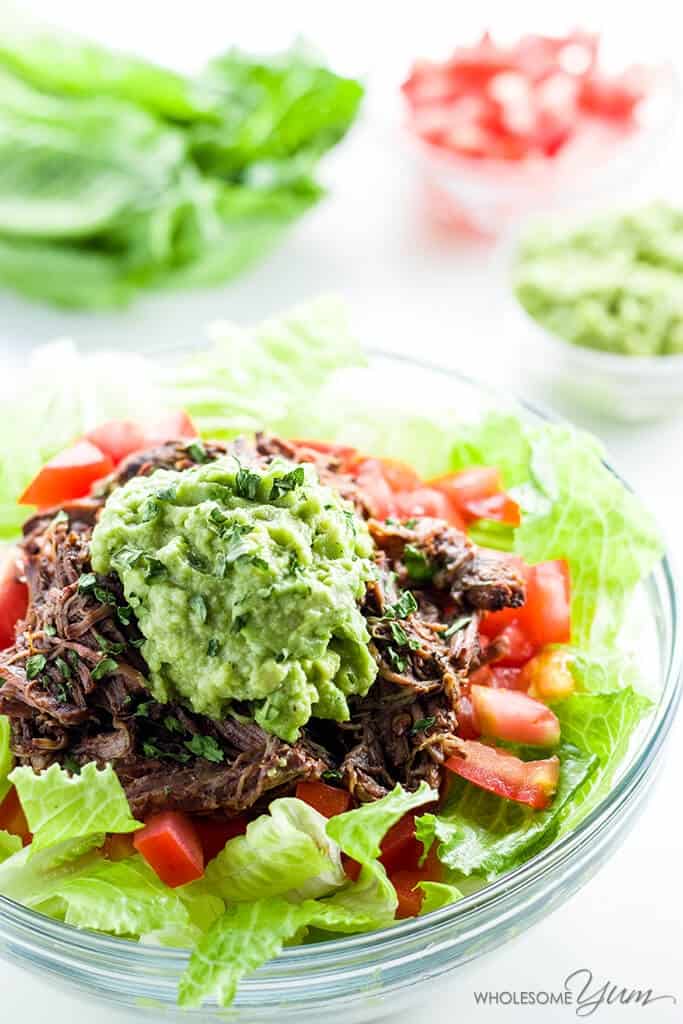 5. Copy-Cat Chipotle Beef Barbacoa in Slow Cooker from Wholesome Yum
Oh man, I love a good barbacoa beef recipe. And this one is not only super tasty, but it's low carb! Win-win.
This can be used in burritos, in a bowl, or as a salad topper. The leftovers can either be eaten throughout the week…
…or you can stick it in a freezer bag and stick it in the freezer. That way you've got another meal for another day.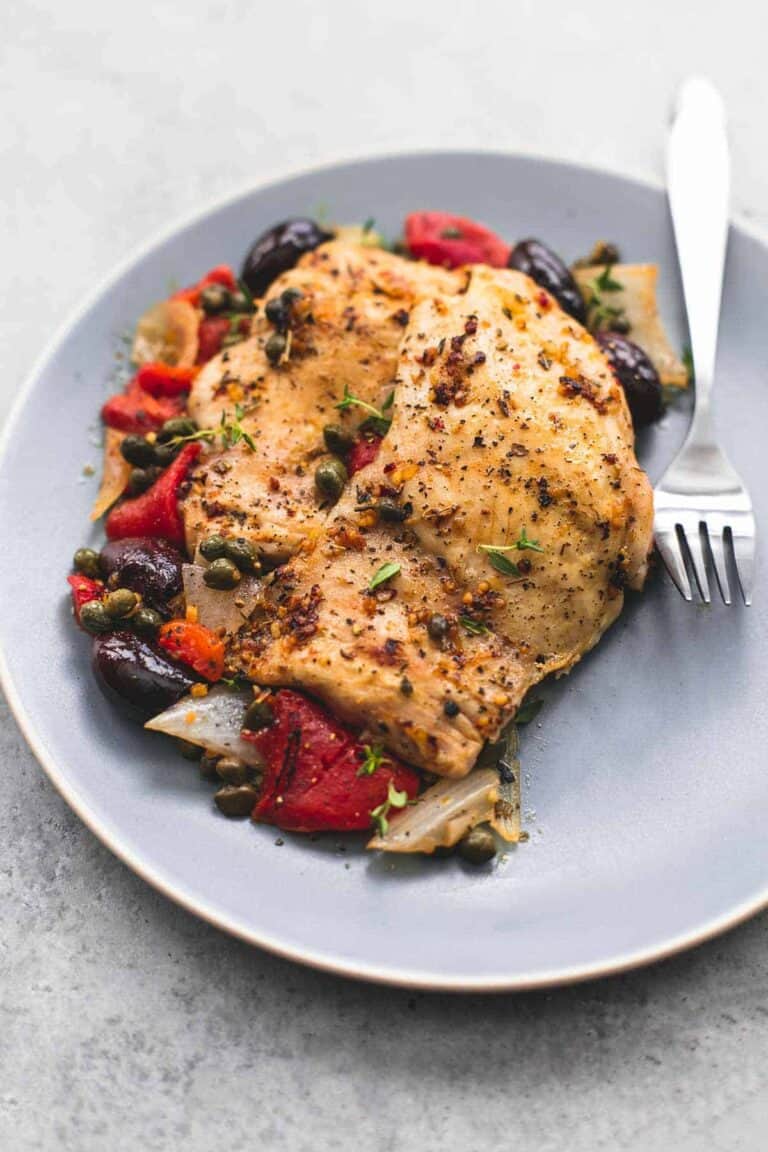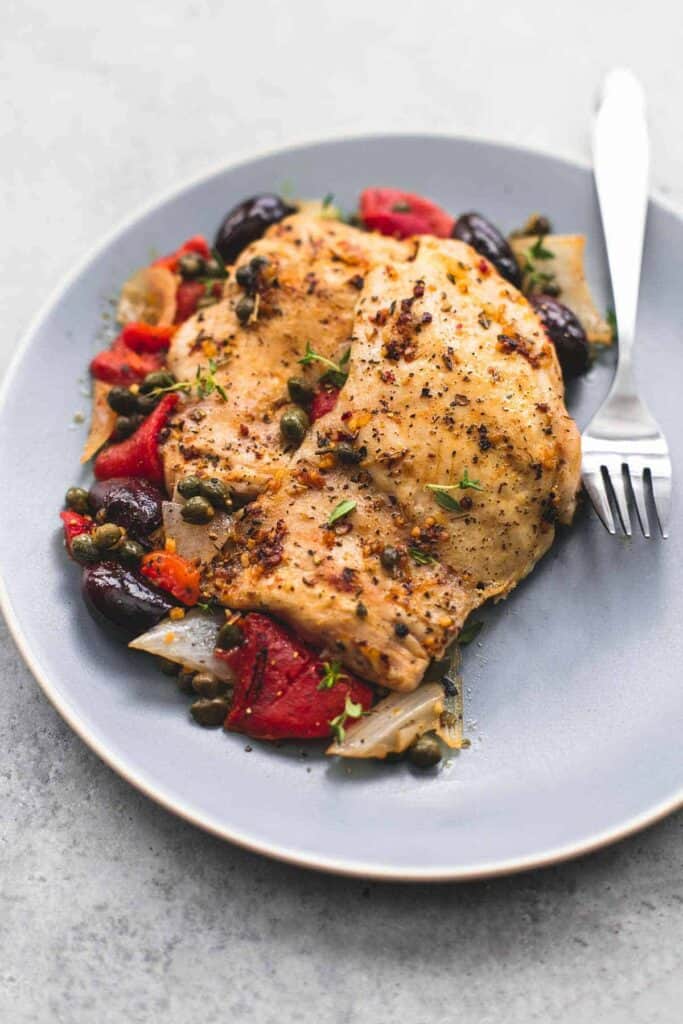 6. Slow Cooker Mediterranean Chicken by Creme de la Crumb
I'll be honest, I love a chicken recipe with capers. Oh the salty goodness! And this recipe is super tasty and delicious.
It's also really flexible. You can pair with roasted veggies, orzo, pasta, or whatever works for your family.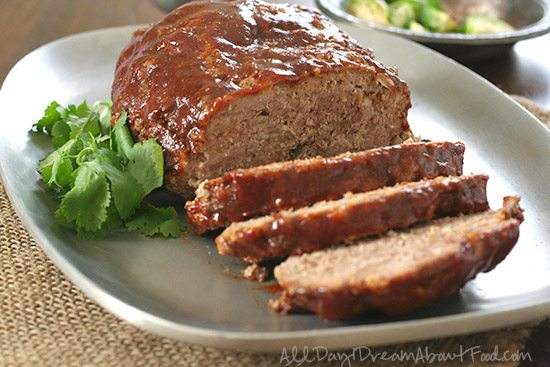 7. Low-Carb BBQ Meatloaf by All Day I Dream About Food
While it sin't the most popular food these days, I do love meatloaf. And I love meatloaf sandwiches (made with leftovers) even more.
(Seriously, if you've never had a toasted meatloaf sandwich with a hgood BBQ sauce, you've missed out.)
But as you've gathered, I rarely have the energy for making food when dinner rolls around. So this slow cooker meatloaf recipe is amazing!
8. Crock Pot Crust-less Pizza by Recipes that Crock 
This meat and cheese heavy is great if you're craving pizza, but want to skip the carbs.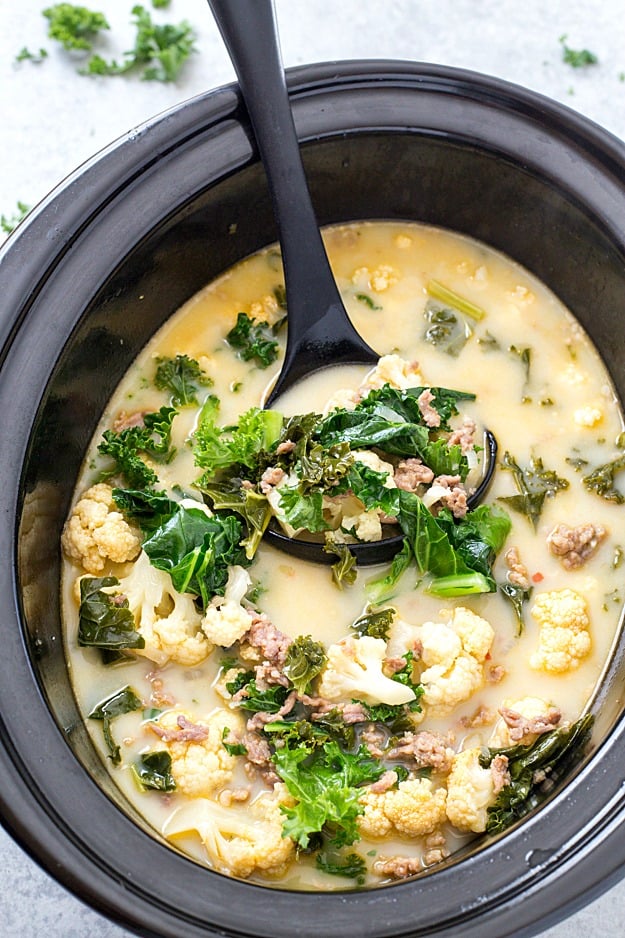 9. Slow Cooker Low-Carb Zuppa Toscana Soup by Gal on a Mission
Oh man, this soup is so delicious. Packed with yummy veggie and the Italian sausage brings an incredible flavor. Note that if you've got kids, you may opt for sweet Italian sausage so you don't get any complaints of "This is too spicy!"
10. Keto Low-Carb Chili from Wholesome Yum
Chili is a great comforting meal that can be eaten plain (or with toppings like cheese and sour cream), or put over a baked potato or paired with corn bread.
I will also freeze leftovers for an extra meal!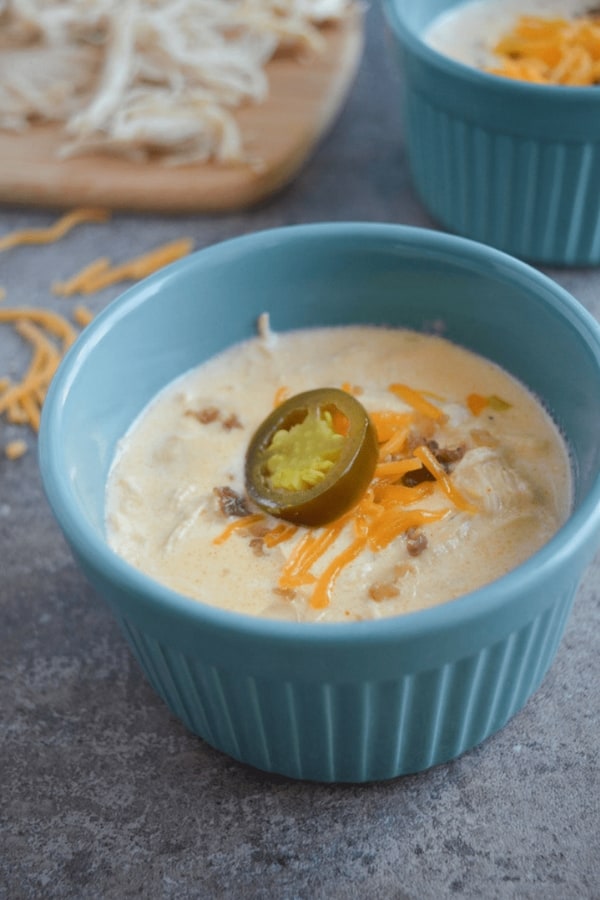 11. Keto Jalepeno Popper Soup by Hey Keto Mama
This recipe has instructions for both the Instant Pot and the slow cooker, which is great. Comes together in 25 minutes and is super-duper tasty.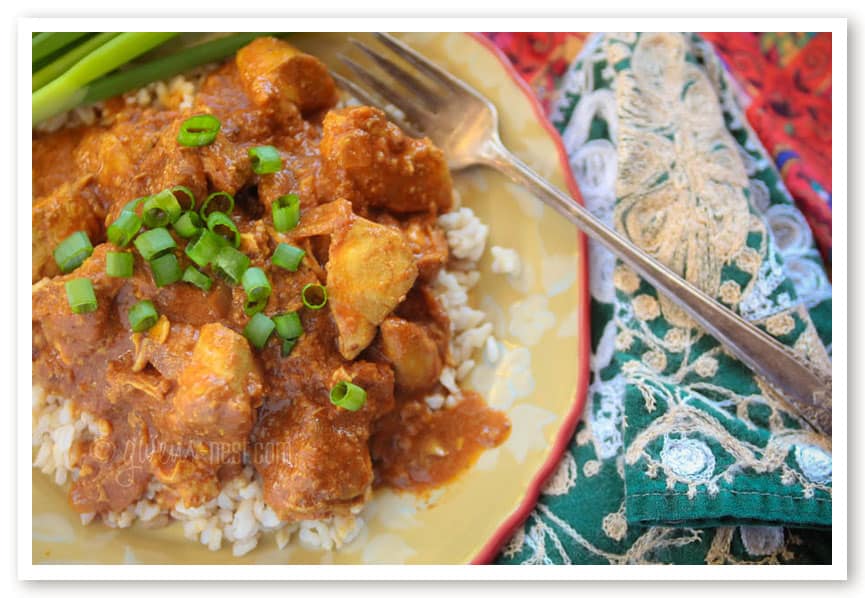 12. Crock Pot Butter Chicken by Gwen's Nest
I'll admit that my kids 100% don't know that butter chicken is Indian food. I have a kiddo that has food aversions to anything that sounds "different" and so somehow butter chicken has slipped through the cracks.
Not only does my picky eater love it, but so does every one else! Personally, I think this is a great kid-friendly meal as well as a low-carb offering!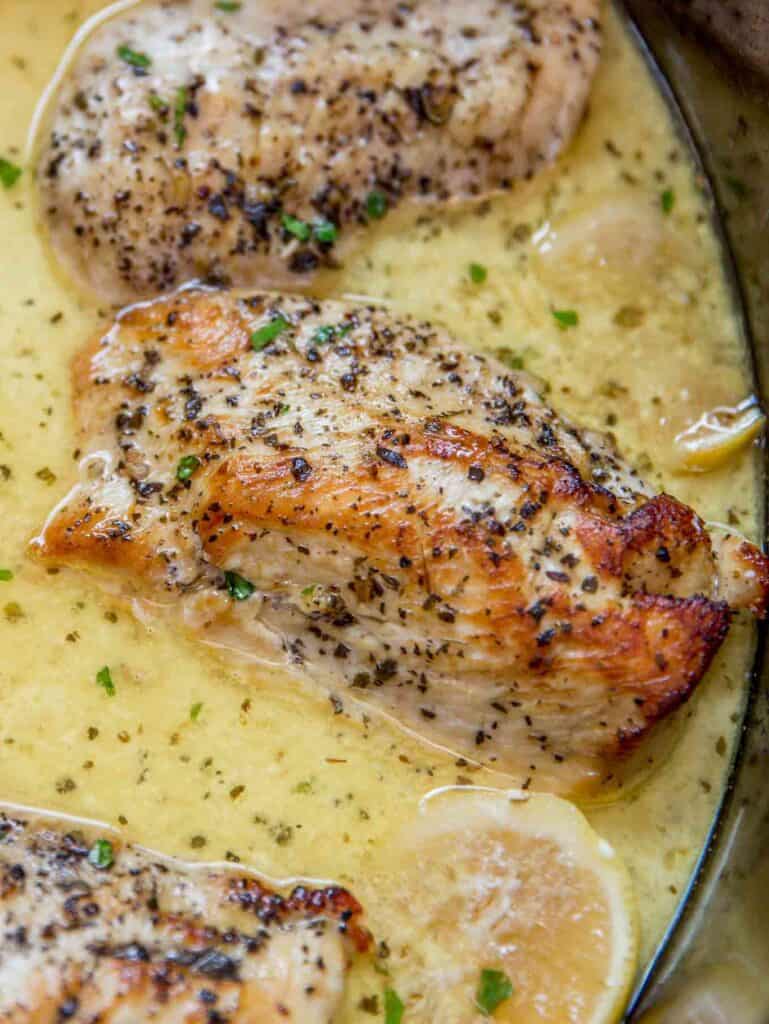 13. Creamy Lemon Chicken by Dinner Then Dessert
Oh man, my mouth is watering just thinking about this recipes. Dinner Then Dessert has been a really great go-to recipe website for me personally.
(She's a legit trained chef and it shows!)
And this creamy lemon chicken is some lip-smacking goodness that your family with also love.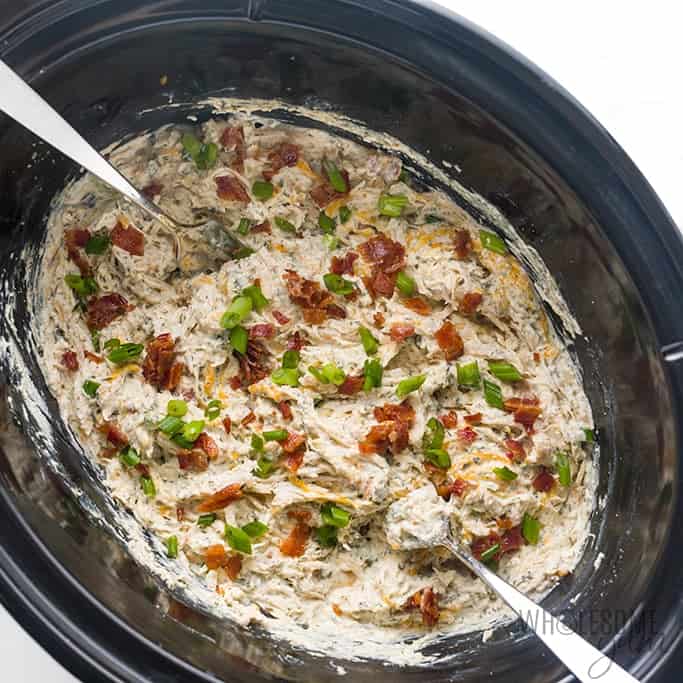 14. Slow Cooker Crack Chicken from Wholesome Yum
This is the second crack chicken recipe in this list. Why? Because both are amazing!
15. Low-Carb Malaysian Beef Curry from Ditch the Carbs
If you're looking for some serious flavor, check out this low-carb Malaysian beef curry from Ditch The Carbs. It keep it keto/low-carb she recommends that you pair with cauliflower rice.
(Which I actually love)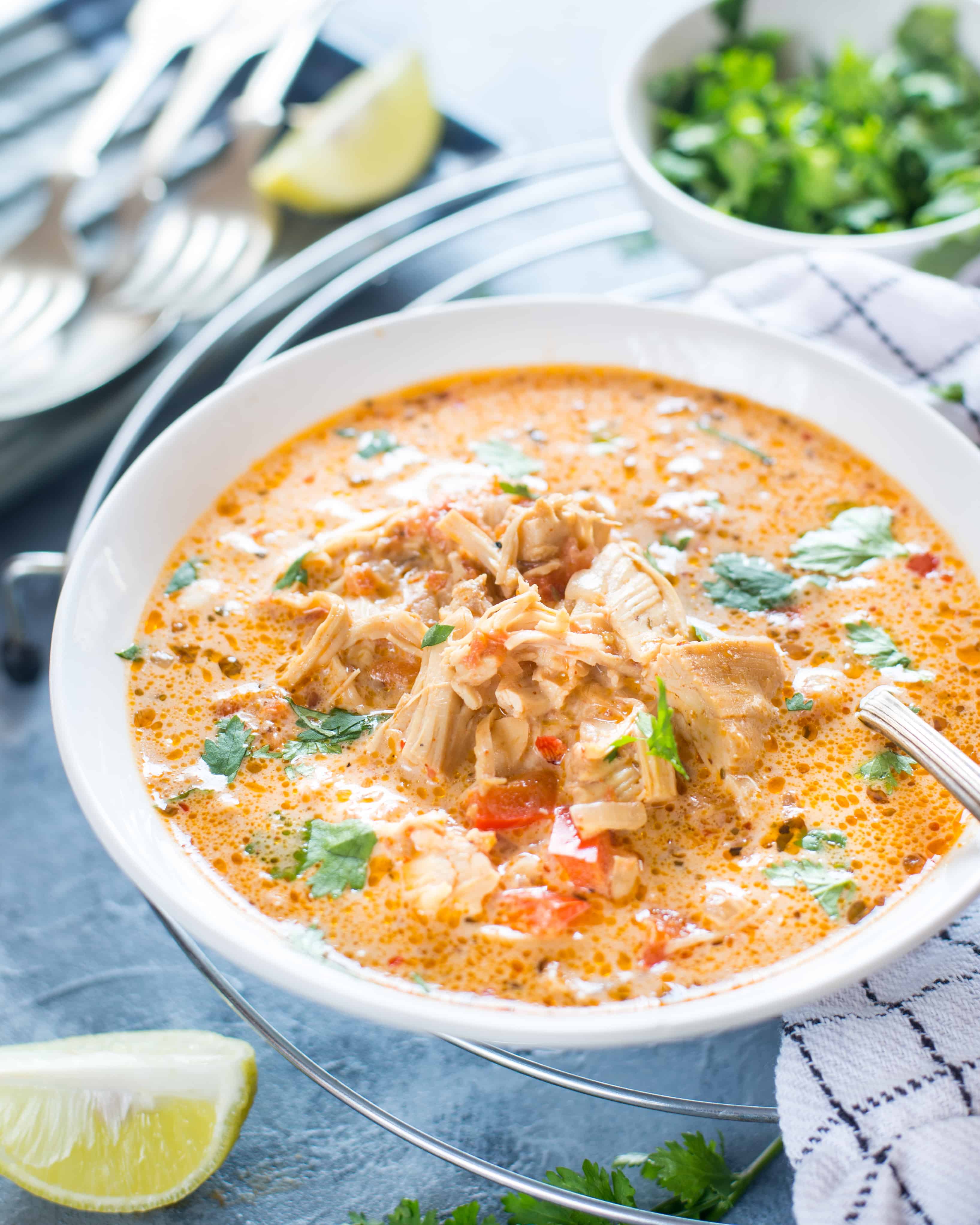 16. Mexican Chicken Soup by The Flavors of Kitchen 
This Mexican Soup is not only bursting with flavor, but it's actually super easy to throw together in your crock pot.
17. Keto Low-Carb Chili from Wholesome Yum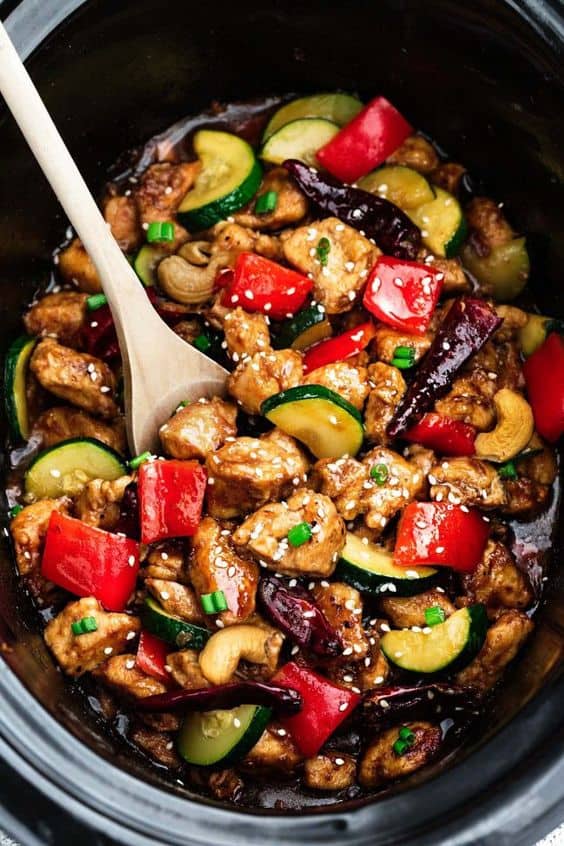 18. Low Carb Kung Pao Chicken from Life Made Keto
If you're craving Kung Pao Chicken but A) don't want the extra stuff and B) want to throw it together earlier in the day and have an amazing meal at the end of the day…
…then this is your winner.
It's got a decent long list of ingredients and isn't the easiest on this list, but it's tasty! Add some sriracha for some extra heat.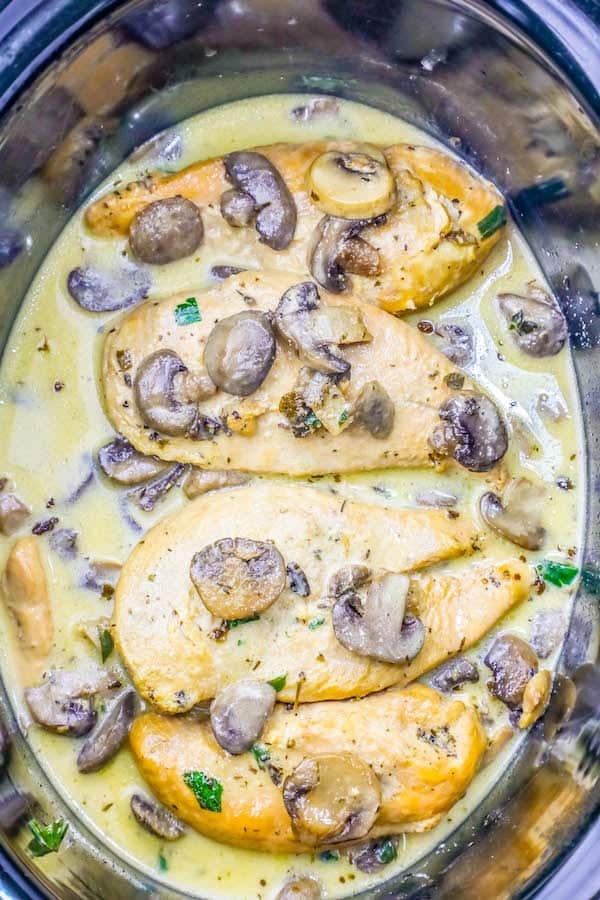 19. Easy Low Carb Chicken Marsala by Sweet C's Designs
If you're in the mood for some delicious chicken marsala, then this recipe is for you. Super tasty, but if you want a thicker sauce, I recommend adding some xantham gum as the sauce didn't thicken well for me.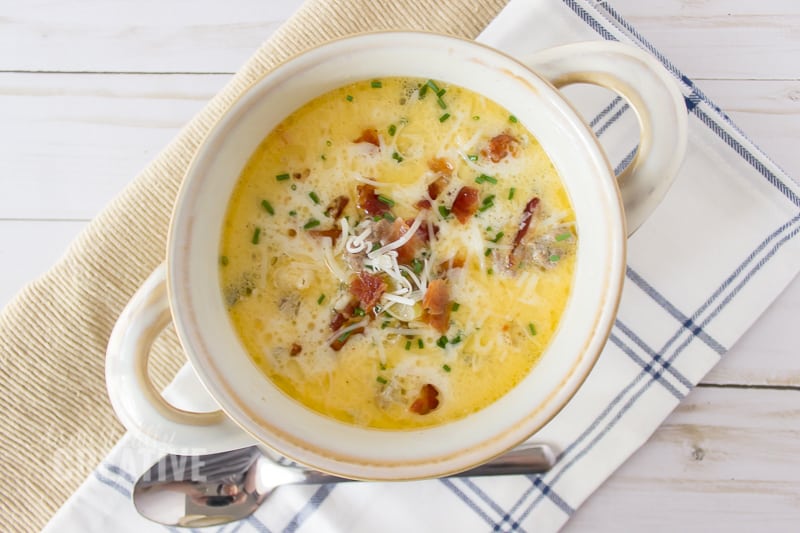 20. Low-Carb Bacon Cheeseburger Soup by Domestically Creative
There you go! Twenty delicious low-carb slow cooker recipes that are both easy and will help you with your health goals. Pick a recipe and get it on your weekly meal menu!
RELATED POSTS:
Over 100 Free Meal Planning Printables
7 Healthy Make-Ahead Breakfasts Your Family Will Love
10 Delicious Mason Jar Salad Recipes for Easy Meal Prep