Writing letters to Santa Claus has been a long-standing tradition for generations of kids in the US. In fact, they've been writing to Santa for over 150 years. And if you've got kids who want to join in on the fun, I've got the 12 free printable Santa letter templates for you.
Not only do I have 12 awesome Dear Santa letter templates for all ages, but I've also got 8 fantastic Letters from Santa templates if you want to customize a response from the big guy.
One thing that's really great about writing letters to Santa is that it helps the child to reflect on their behavior and growth over the year. And frankly, that's a great skill for everyone to develop.
In this post, we'll cover features of the various free printable letter templates and how to best use them to make this Christmas season extra magical.
Plus, we'll go over how you can use these free templates to get a response from Santa sent through the United States Postal Service and postmarked from The North Pole.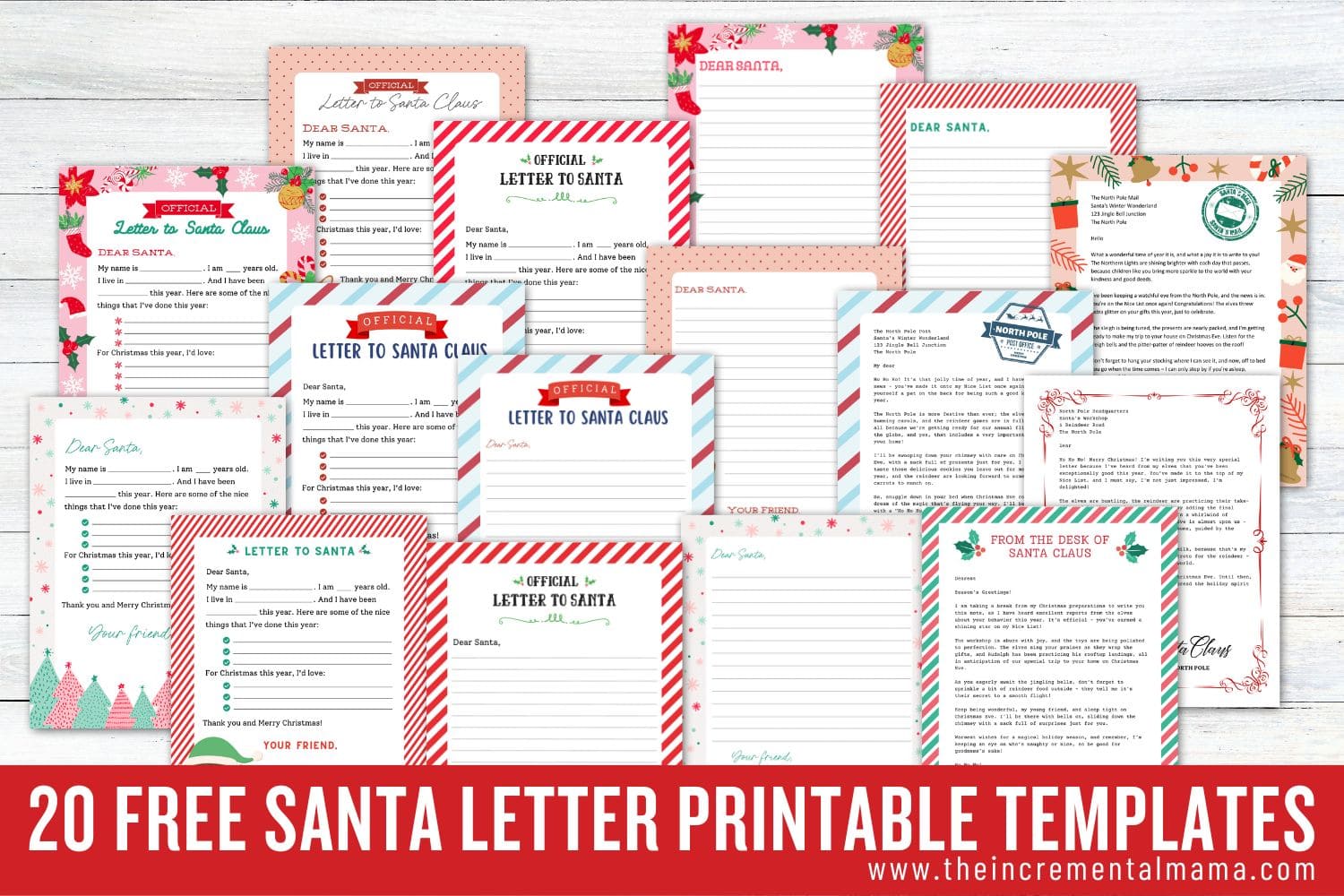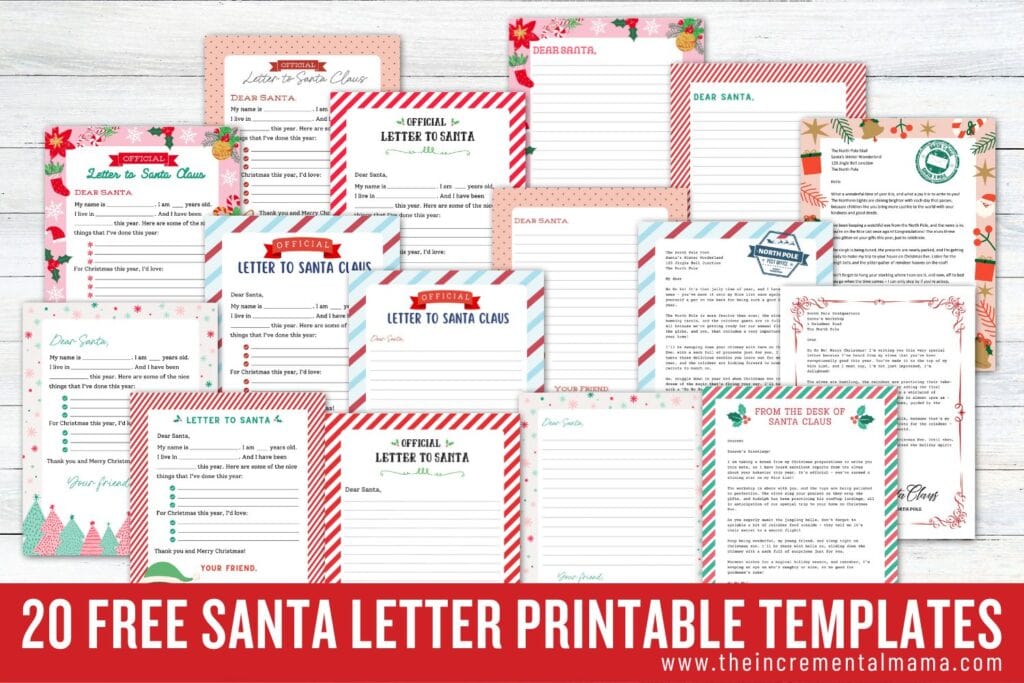 20 Free Santa Letter Printable Templates
I've designed a diverse array of letter templates that suit the needs of both older kids & younger children. An because there are so many, I've divided the free printable Santa letter templates into 4 categories for your convenience:
6 – Blank Dear Santa Letters where your child can write the whole letter
6 – Fill-in-the Blank Letter Templates (for toddlers and younger kids)
4 – Letters from Santa Templates with message from Santa Claus
4 – Blank Letters from Santa (to personalize your message)
You can grab the whole bundle of 20 free printable letters as a free download further down this post. Use the ones that work best with your child's writing skills.
I hope you enjoy these different designs as much as I enjoyed creating them!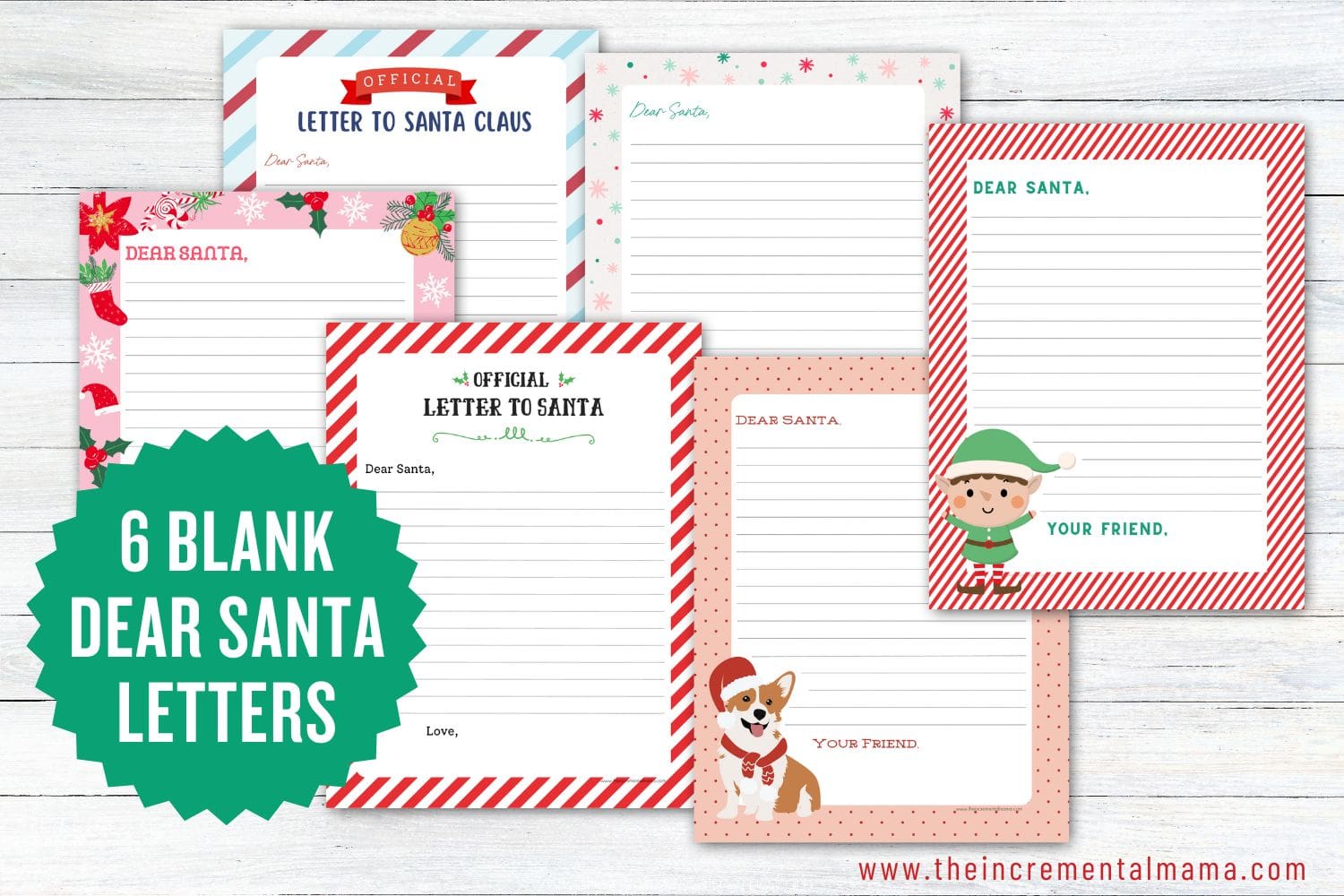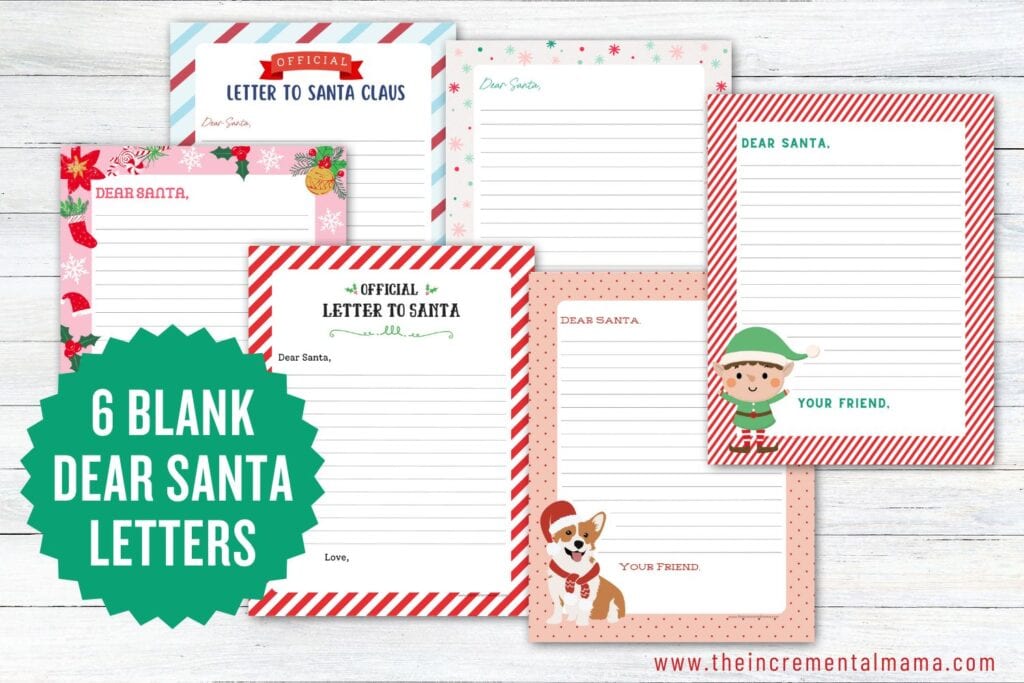 Blank Dear Santa Letter Printables
These 6 blank Santa letter template PDFs are great for older kids that can write out a letter from start to finish. In the letter, your child can highlight their good behavior and personal accomplishments. And then they can write out some items from their Christmas wish list.
(For an awesome Christmas wish list template, check out the Free Printable Christmas Planner. There's a great one in there.)
As they are blank, these simple letter designs give you maximum flexibility for your kid's letters to Santa. You can use the blank templates however they best suit your needs.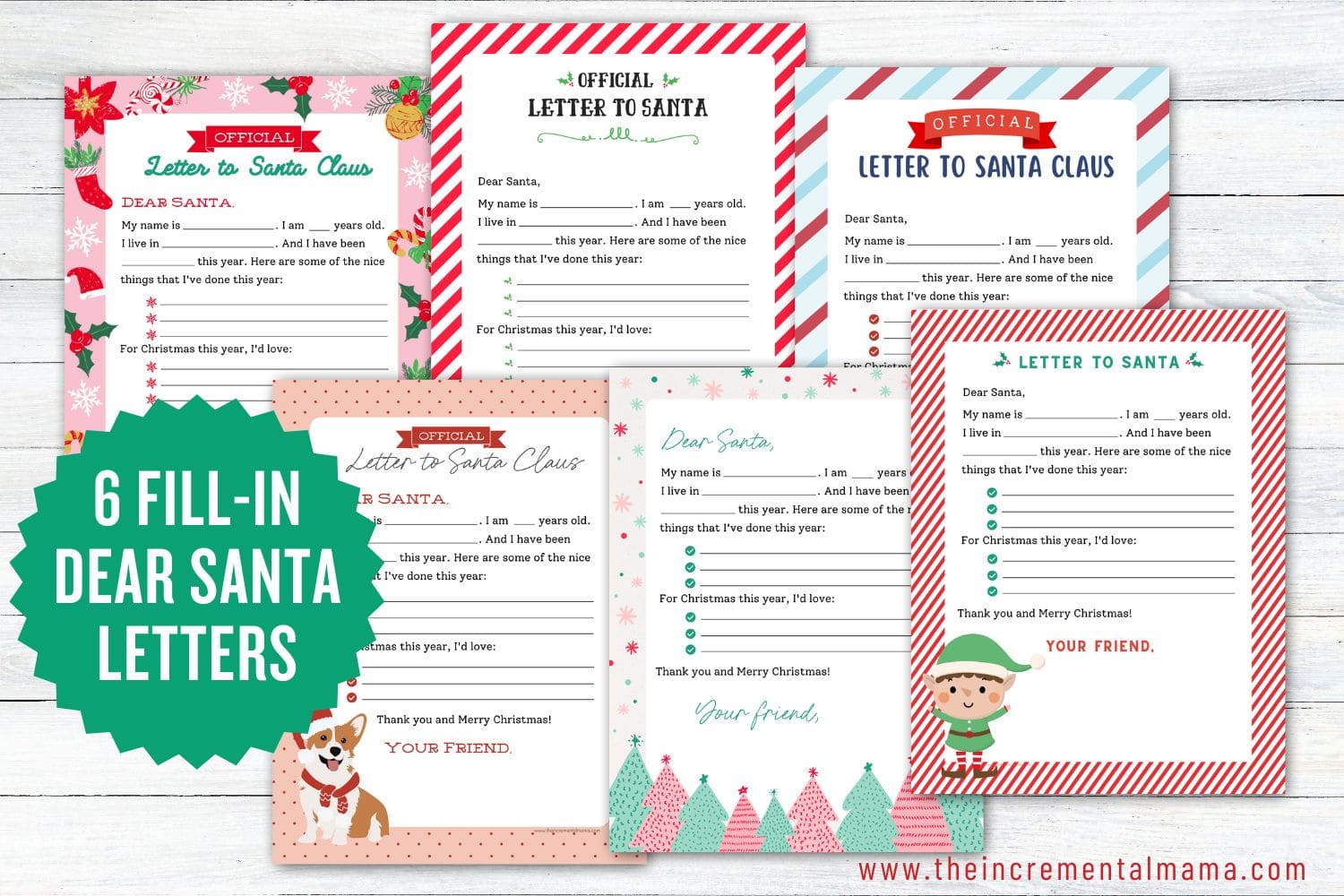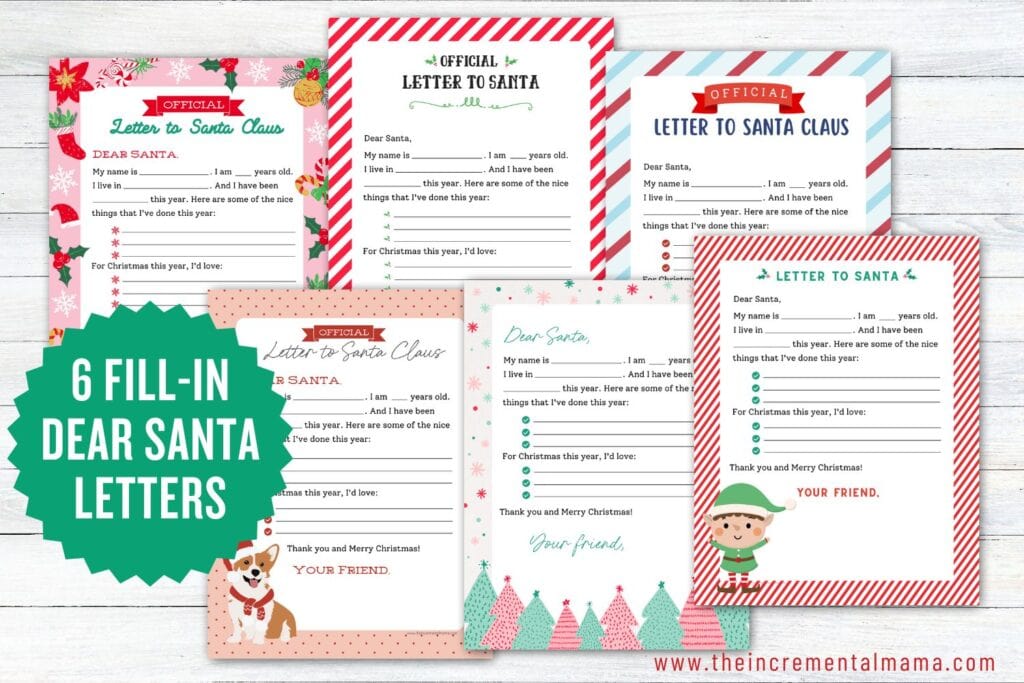 Free Printable Santa Letter Templates for Younger Children
This next batch of 6 free printable Santa letter templates is for toddlers or younger kids with emerging writing skills.
These letter templates provide a fill-in template structure that is perfect for young children, who can either write in answers or dictate responses for an adult to write in.
Your child can fill in the blanks to write their name, age, hometown, and whether they were good or not during the year.
Then, they can list the nice things they've done during the year before finally writing their Christmas wishes.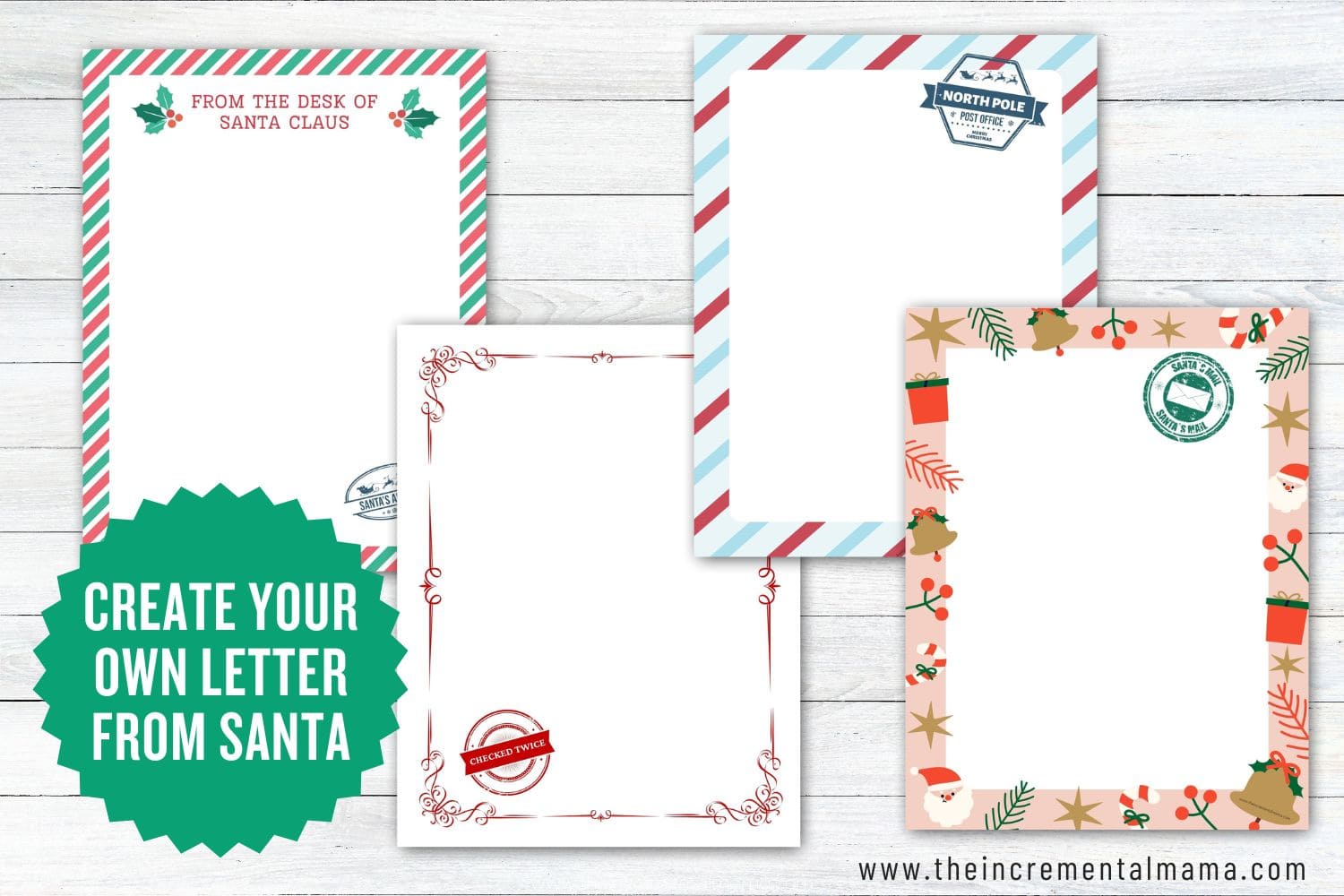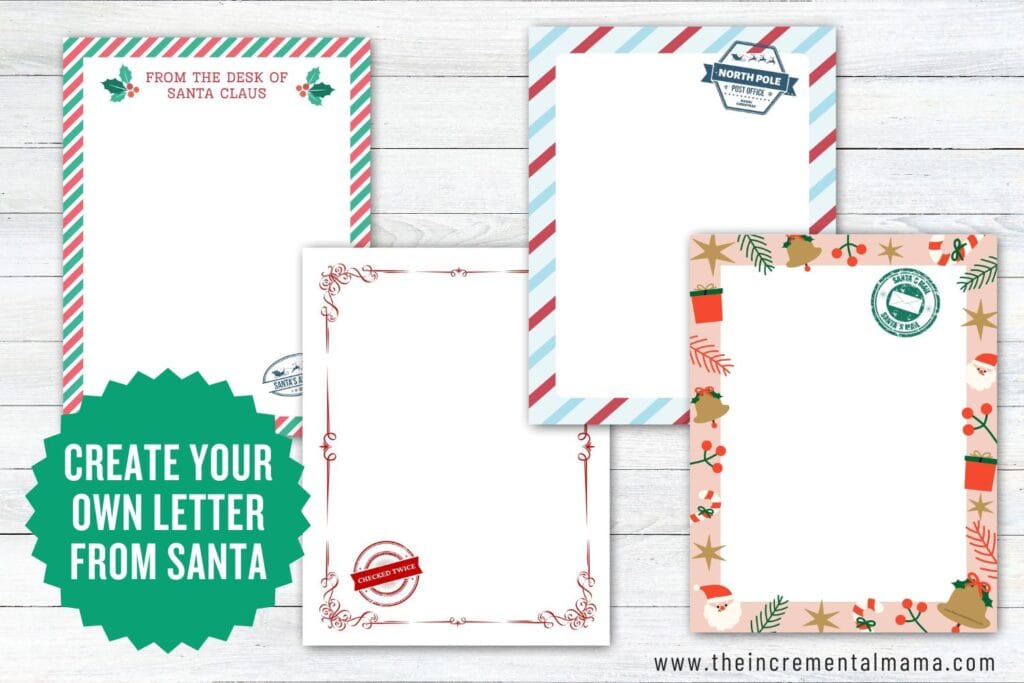 Free Letter from Santa Printable PDFs
These 4 blank letters from Santa allow you to handwrite a personalized letter to your child from Santa. Here are some ideas for what to highlight in your letter:
Your child's personal accomplishments from the year
New skills they've learned
Examples of how they've been helpful or kind
These are a wonderful way to really highlight your child's growth and good behavior over the year.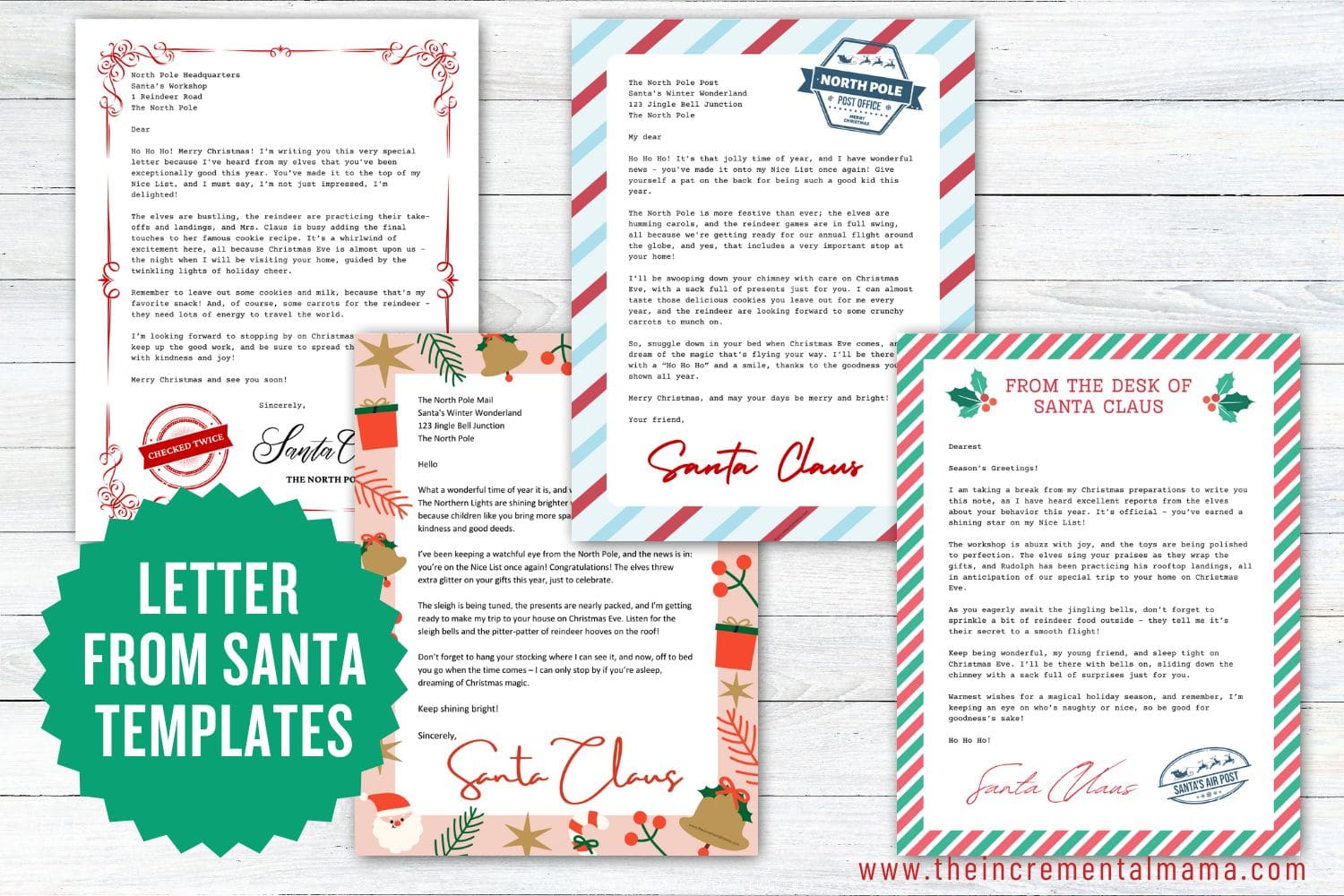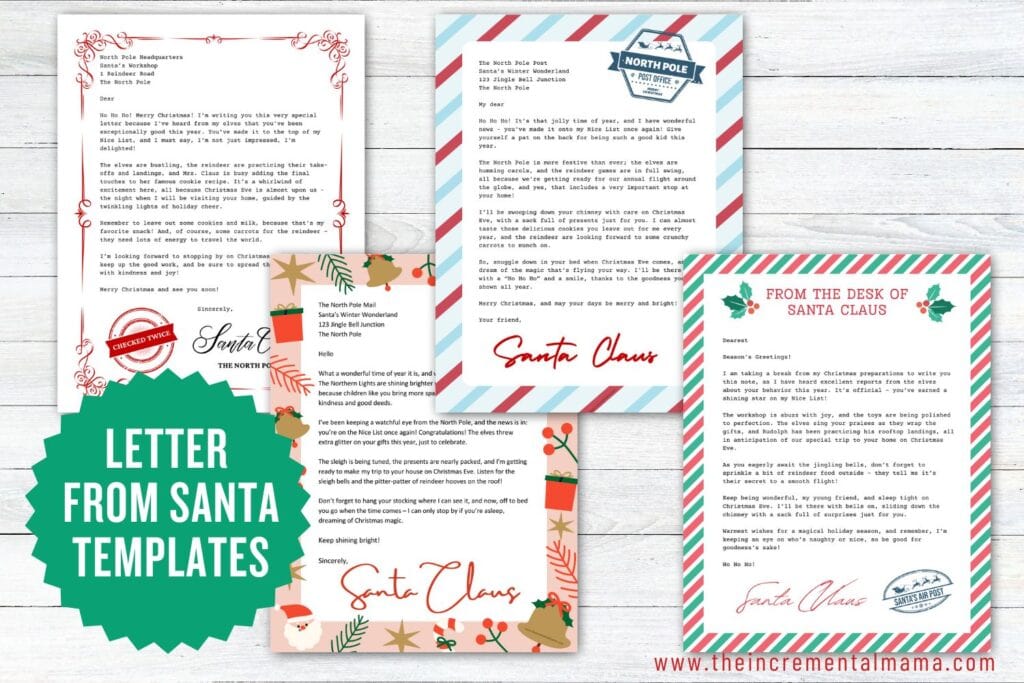 Blank Letter from Santa Templates
These letter templates are great if you want to create your own letter response from Santa Claus to your child's letter, but have it look like it was typed up in the North Pole.
These allow you to customize the child's name in Adobe Reader and feature sweet messages that the child is on the nice list and that they will be visited by dear ol' Santa come Christmas Eve.
Each of the 4 designs features a different message.
Please note that these templates are not editable other than the child's name. And in order to customize your child's name, you will need the free Adobe Reader software.
(See instructions further below for how to get it sent through USPS and postmarked from The North Pole)
But if you want to fully customize the letter, I've created an editable letter from Santa that you can customize right in Adobe Reader and print out a personalized letter from good ol' Father Christmas. Click here to check that out.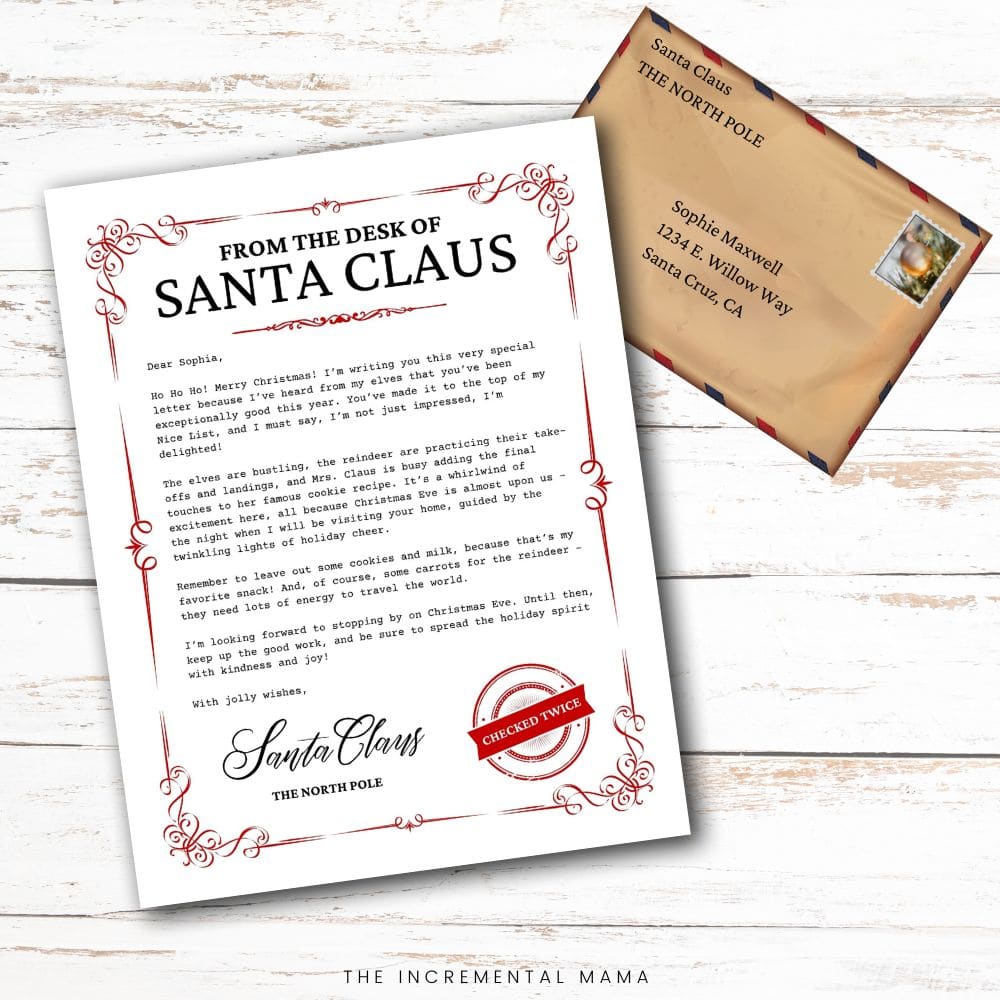 How to Get a Response Letter from Santa via USPS
Thanks to the wonderful United States Postal Service, your child can get a return letter from Santa postmarked from The North Pole. How amazing is that?
(Just FYI, the USPS recommends postmarking your letter to Santa by December 7th to give them enough time to get a reply out by Christmas.)
Of course, you could just send a reply in the mail, but having the letter postmarked from The North Pole is magical, if you ask me.
Here's what you do:
1. Write a letter to Santa (using any of the cute Dear Santa letter templates in this free bundle).
2. Write a personalized letter from Santa to your child. You can use the free letter from Santa templates in the bundle. Or if you want to write a personalized letter, I've created an editable Letter from Santa that you can completely personalize for your child.
3. Insert both letters into an envelope that has a 1st class stamp on it.
4. Address the envelope to your child with the return address marked as SANTA, NORTH POLE.
5. Place that envelope into a larger envelope (with appropriate postage) and address it to:
NORTH POLE POSTMARK
POSTMASTER
4141 POSTMARK DR
ANCHORAGE AK 99530-9998
Download the Free Printable Santa Letter Templates
You can get these free printable Santa letter PDF files sent straight to your inbox by clicking the button below. Please note that these letter templates are for personal use only and come in US Letter size PDF format.
Save to your computer and print only the pages you want to use.
Other Free Christmas Printables & Resources
If you love free printables, I have so many more awesome templates on my site. These include some awesome free Christmas printables you can check out below:
Christmas Gift Certificates – Not all gifts for Christmas need to be massive packages under the tree. In fact, they don't even need to come in a package at all. If you're looking to give the gift of service or give an experiential gift (like a trip or fun outing), then these printable gift certificates for Christmas are just what you need.
Free Printable Christmas Bingo – As this game has 20 different bingo cards, this free printable Christmas bingo game is perfect for your party, classroom activity, or just a fun thing to do with your kids.
30+ Christmas Border Paper Templates – Whether you're looking for Christmas stationery designs or just looking for border templates for the holiday season, you're going to love the 30+ free printable Christmas border paper PDFs you can grab for free
Hope you have a very Merry Christmas!