Not all gifts for Christmas need to be massive packages under the tree. In fact, they don't even need to come in a package at all. If you're looking to give the gift of service or give an experiential gift (like a trip or fun outing), then these printable gift certificates for Christmas are just what you need.
These free printable gift certificate templates allow you to present a wonderful gift from the heart to a family member or friend this holiday season.
I've created 6 super cute Christmas gift certificate template PDFs that you can download later in this post. These include space to write what the gift certificate is for, the recipient's name, and the sender. Many also include a space to write in a short message.
And while it's not technically a gift certificate, I've also included a cute little "Delayed Christmas Gift" notification from the North Pole for when a present hasn't arrived yet (for whatever reason).
As with the custom gift certificates, that can be found further down the post.
And if you're looking for editable versions, I made editable gift certificate printables for Christmas as well in my shop.
But the free version as all in this post.
RELATED: 7 Free Printable Coupon Book Templates for Every Holiday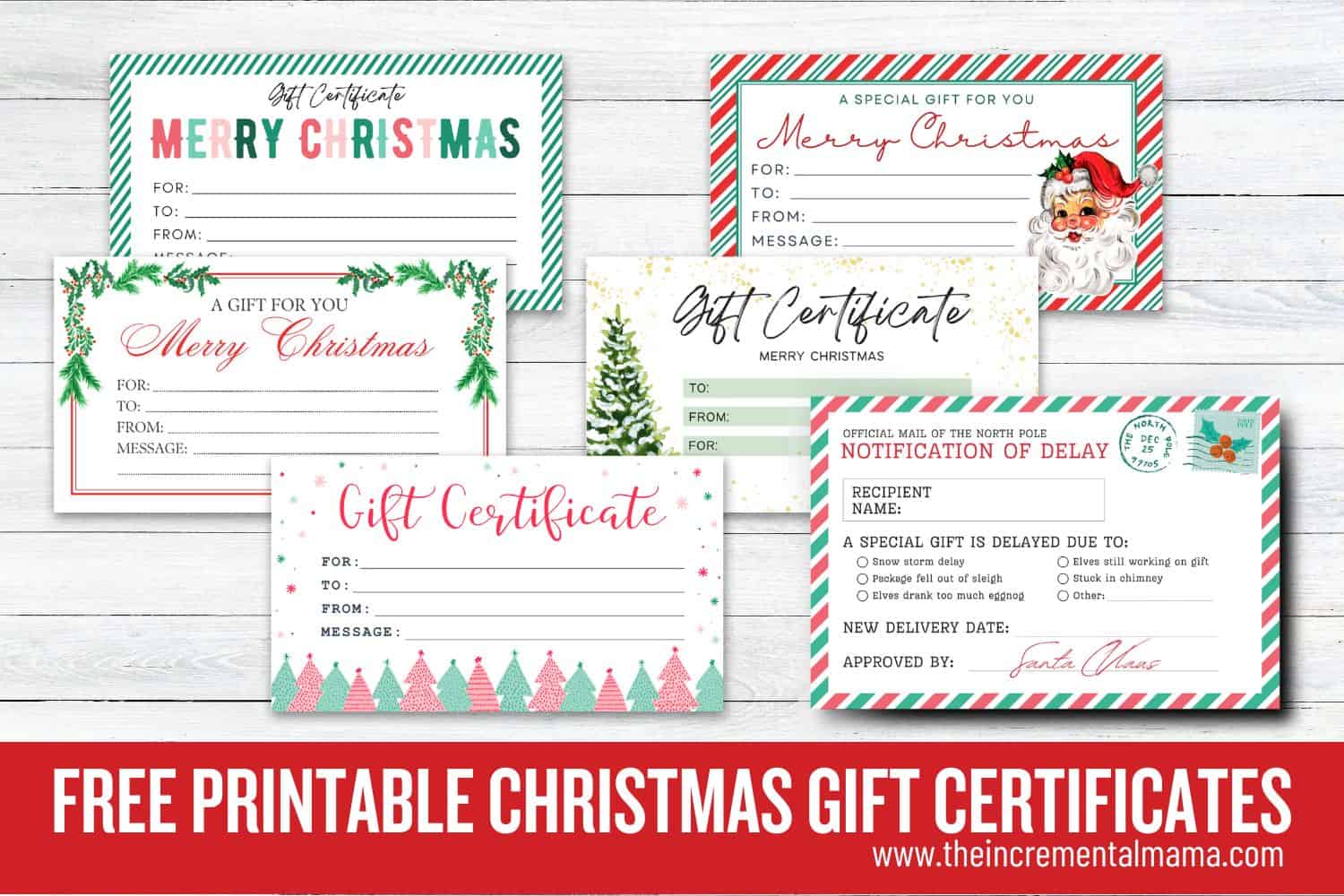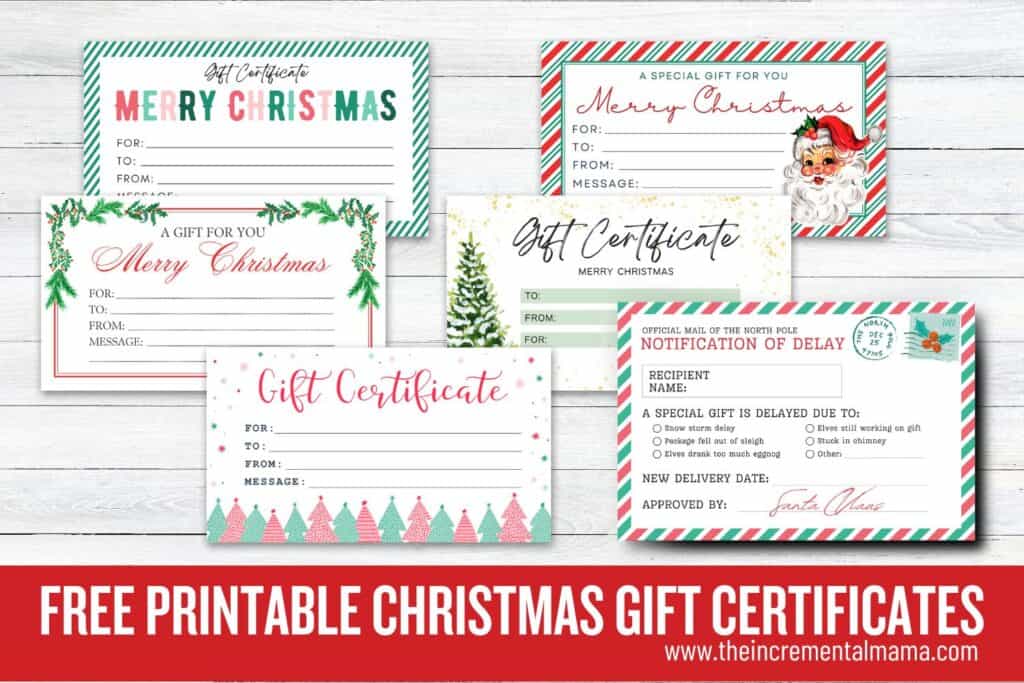 Benefits of Printable Christmas Gift Certificate Templates
Creating homemade gift certificates for Christmas can be a thoughtful and personalized way to show your love and appreciation for someone. It's the perfect solution to gift someone a service, an experience gift, or to represent a delayed gift.
There are so many awesome benefits to using homemade Christmas gift certificates printables. Because they can make your holiday gift:
Personal
Cost-effective
Unique & creative
Thoughtful
Environmentally friendly
They allow you to completely customize your gift by making your own christmas gift certificate. Your gift can be a genuine surprise that's perfect for your loved one. Or these can be a great solution if you need last-minute gifts.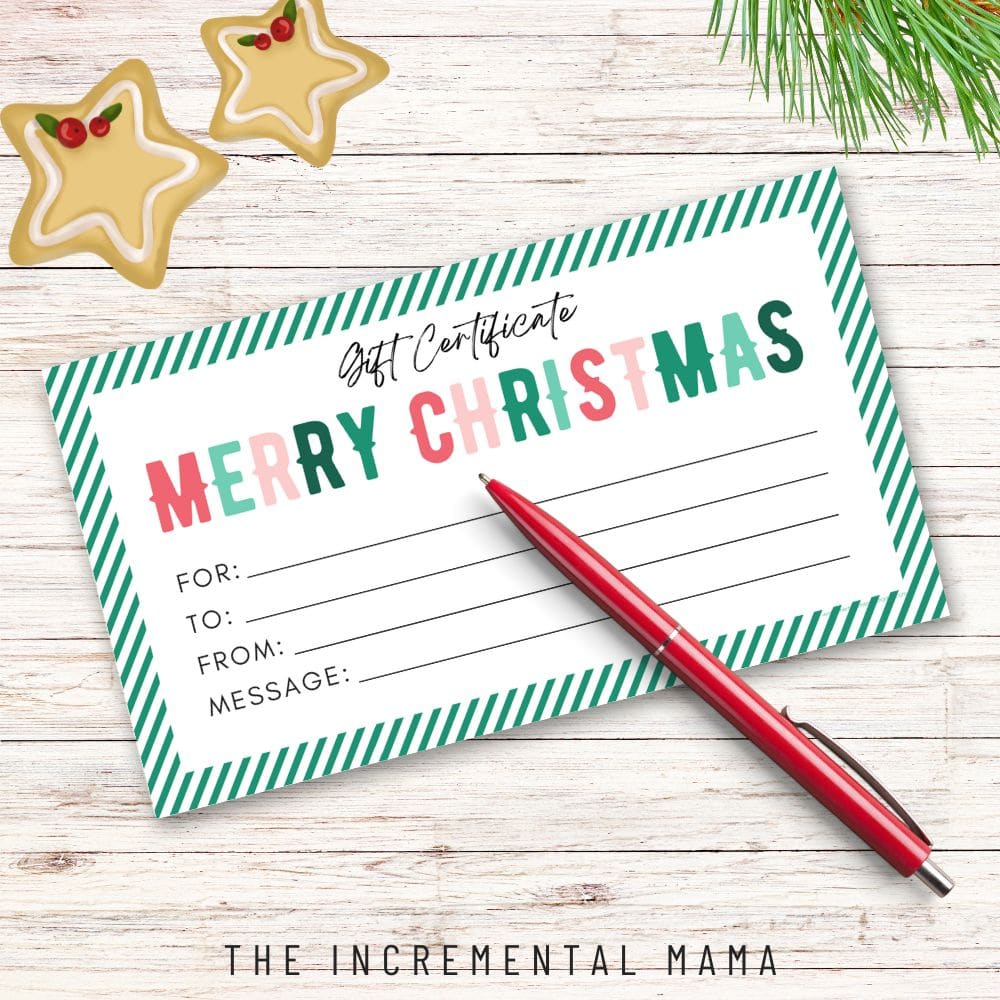 Ideas for Homemade Christmas Gift Certificates
The sky is literally endless when it comes to the kinds of Christmas gifts you can give using a printable gift certificate.
Some ideas of homemade gifts to get your creatives juices flowing:
Trip to the Zoo or Amusement Park: If you're gifting to kids, an experiential gift like the zoo or a park is an awesome gift.
Home-Cooked Dinner: Offer to cook a special meal for the recipient, complete with their favorite dishes.
Spa Day at Home: Create a certificate for a spa day, including massages, facials, and relaxation treatments done by you.
Babysitting Services: Give the gift of a free night of babysitting to parents, allowing them to have a date night or some much-needed alone time.
Tech Help: If you're tech-savvy, you can provide friends or family with a certificate for tech support or assistance with setting up devices.
Outdoor Adventure: Plan an outdoor adventure like a hike, picnic, or day at the beach, complete with a homemade picnic basket.
Gardening/Landscaping Help: Offer your gardening expertise with services like planting, weeding, or landscape design.
Home Organization: Offer to help the recipient declutter and organize a room or their entire home.
Pet Sitting or Dog Walking: Provide pet owners with a certificate for pet-sitting or dog-walking services when they need a break.
Photography Session: Do you have photography skills? Offer a certificate for a personalized photoshoot, capturing special moments or portraits.
Music Lessons: If you're musically inclined, provide lessons in playing an instrument or singing.
House Cleaning Services: Offer to clean the recipient's house, providing a deep cleaning or regular maintenance.
DIY Home Improvement: If you're handy, provide a certificate for a day of DIY home improvement help or advice.
Any of these would be a great use for your Christmas gift vouchers.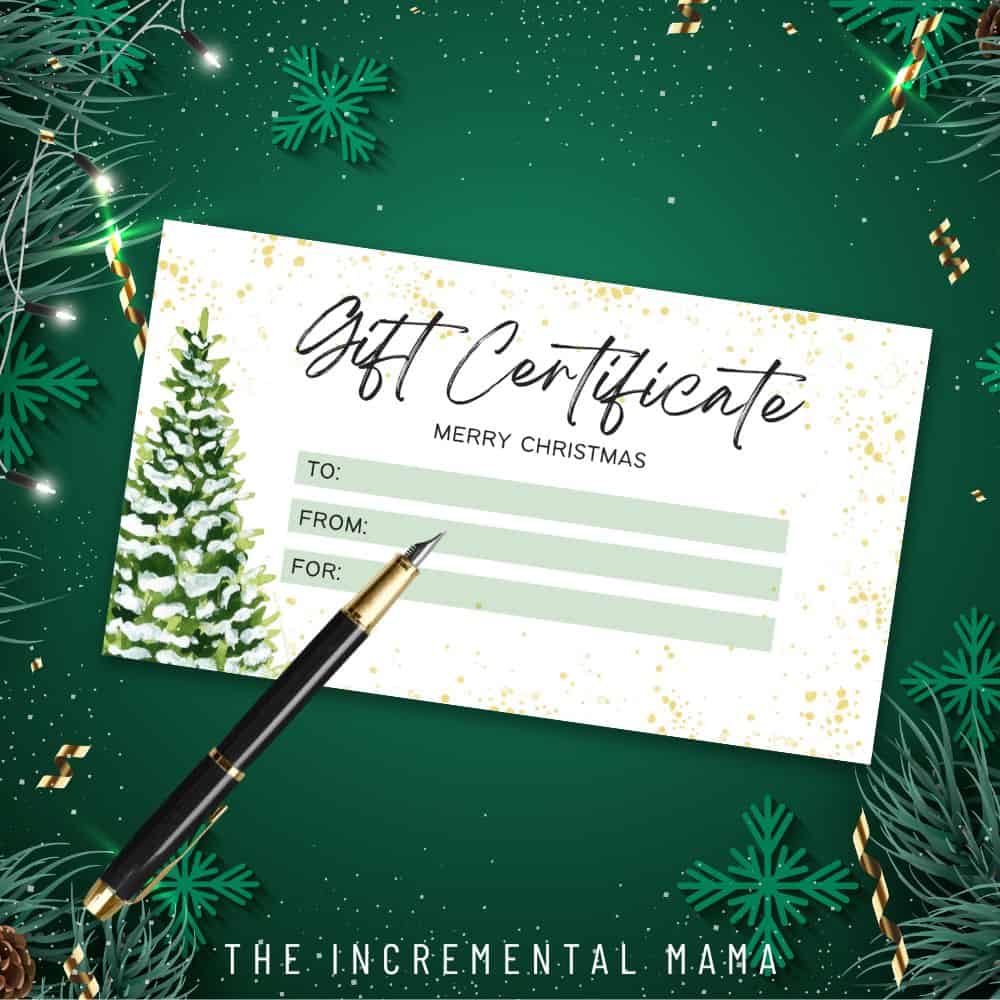 How to Print & Use the Free Printable Christmas Gift Certificate PDF
To download one of these free Christmas gift certificates, simply click the link below the image of the PDF you'd like. This will prompt a download to your device.
For best results when printing, be sure to have your printer set to US letter size and fill with 8.5 x 11 inch paper size.
I HIGHLY recommend printing on card stock.
Note that each download includes a front page with copyright & use info. You'll just want to print the second page!
Also, as printers and monitors vary, final printed colors may appear different.
As for filling out the free template, each of the printable gift certificates for Christmas in the post have space for:
What the gift certificate is for
Recipient's name
Giver's name
And some of them also include a space for a short message.
Once you've printed, cut out the card and fill out the certificate. These will all fit in a 5 x 7 envelope.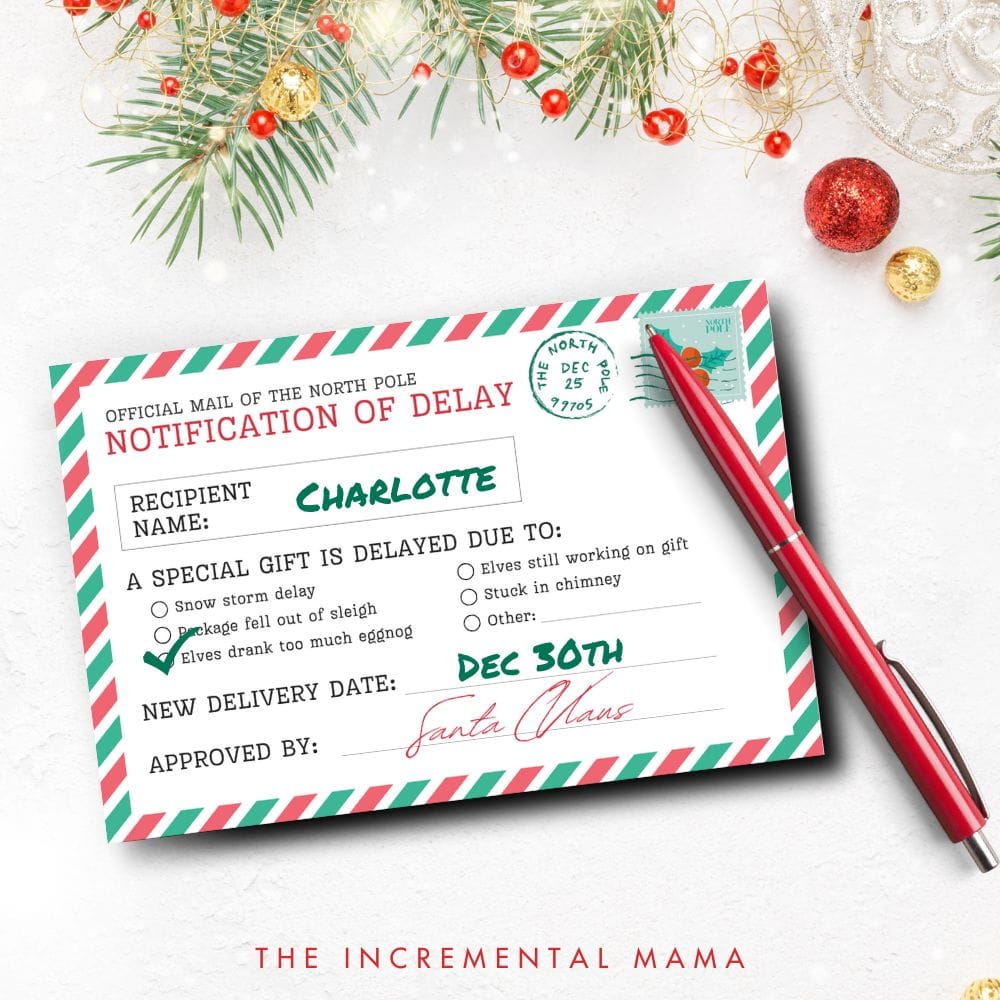 6 Free Printable Gift Certificate Templates for Christmas
Please note that all these free printable Christmas gift certificate templates are for personal use only and are not to be distributed or shared.
Below you'll see the images of all 6 of the free printable Christmas gift certificate templates. Click the link below the one you'd like to print.
#1 – Holly Printable Christmas Coupon Template
This gift certificate template is a simple design that features some pretty holly and a simple red border. This is a really classic design that can be used for all ages. It also includes a space for a personalized message to the recipient.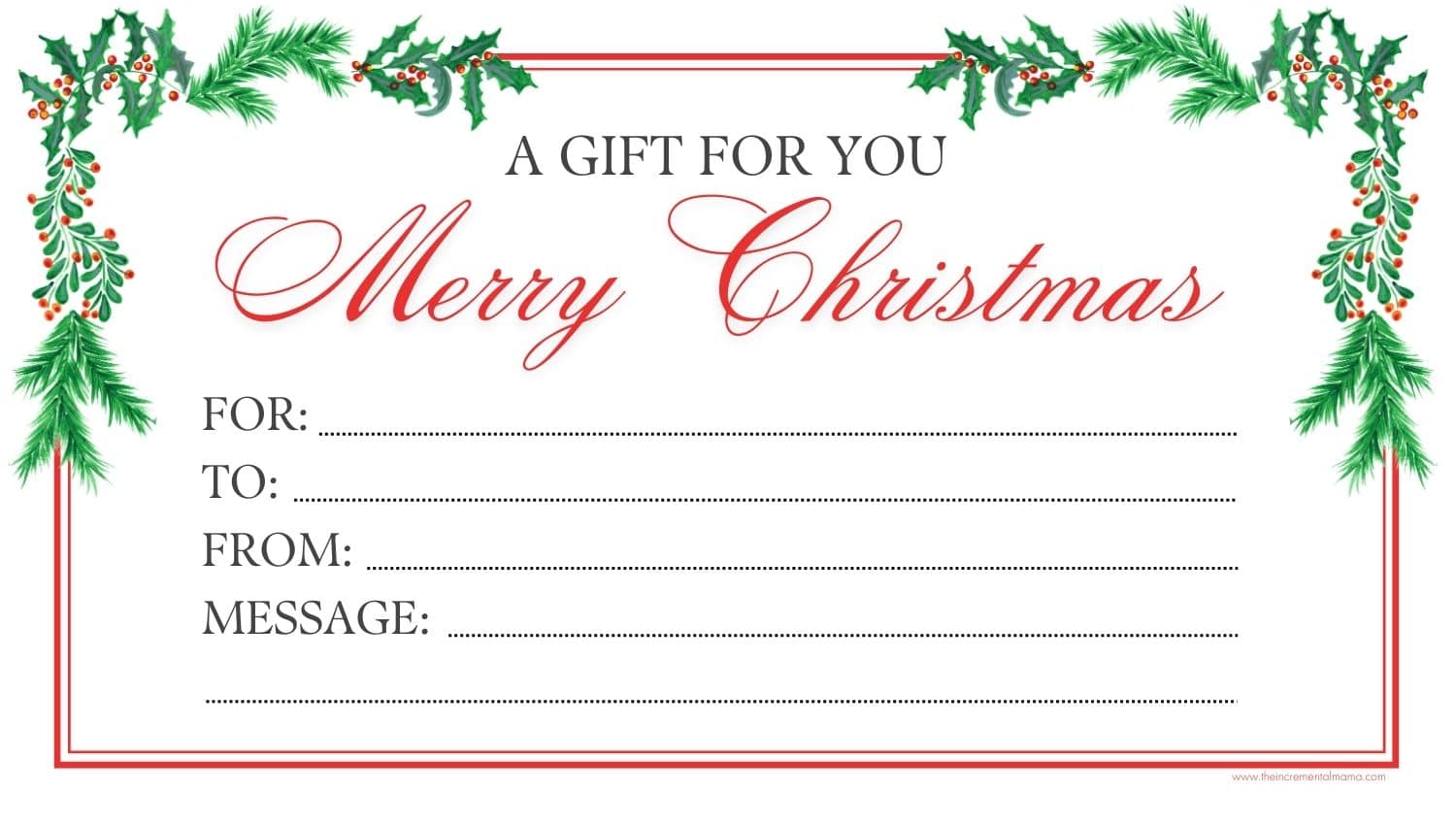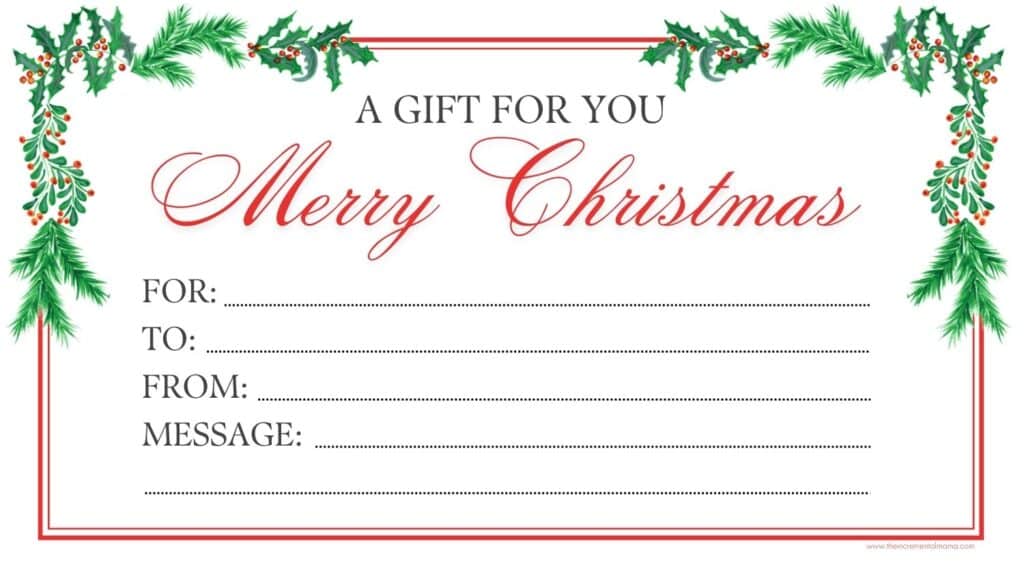 >>> Download the Holly Printable Christmas Coupon Template <<<
#2 – Christmas Tree Gift Voucher 
This elegant gift certificate design features a Christmas tree and some lovely gold flecks. There's space for recipient's name, giver's name, and also a space for what the gift certificate is actually for!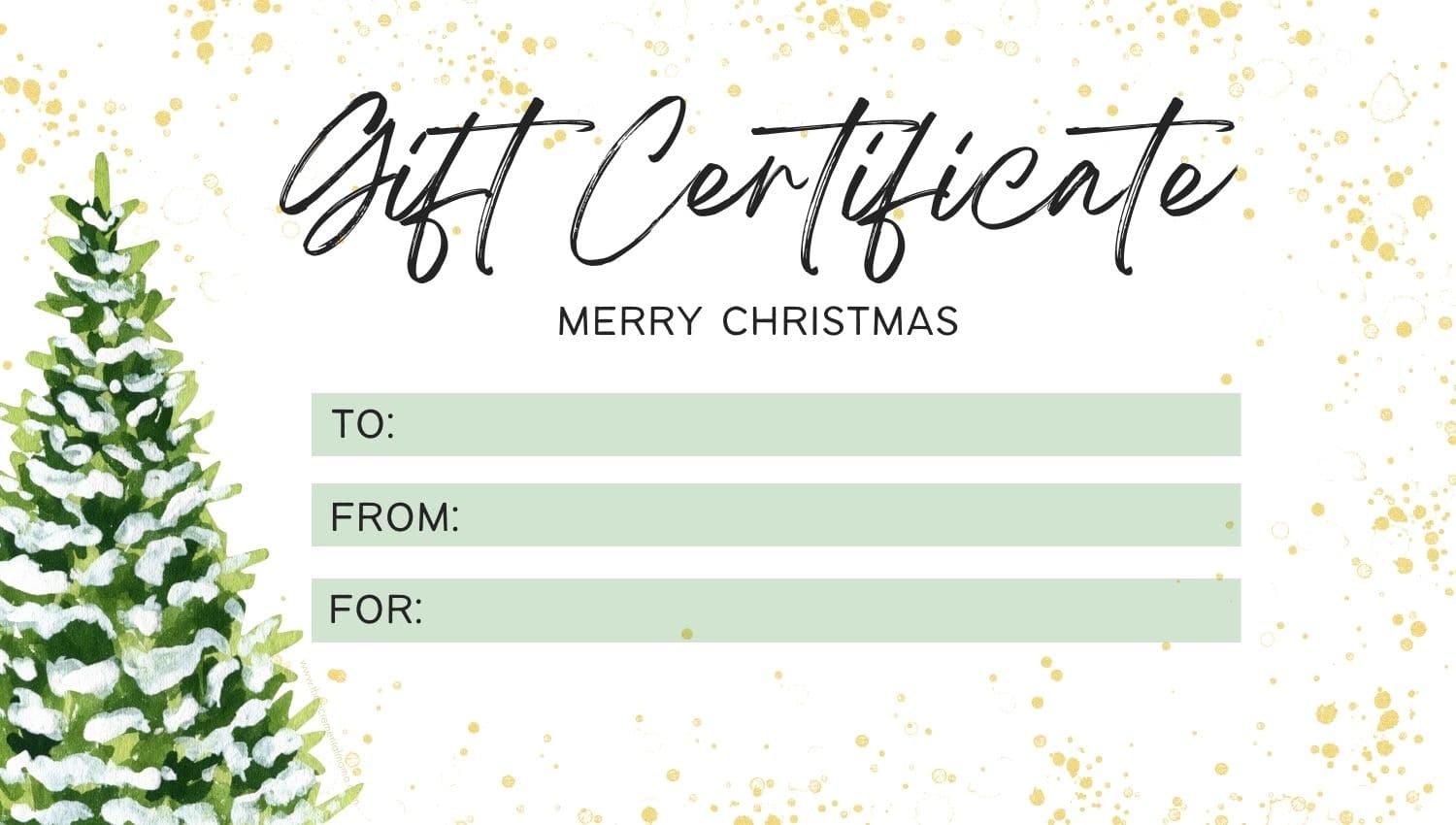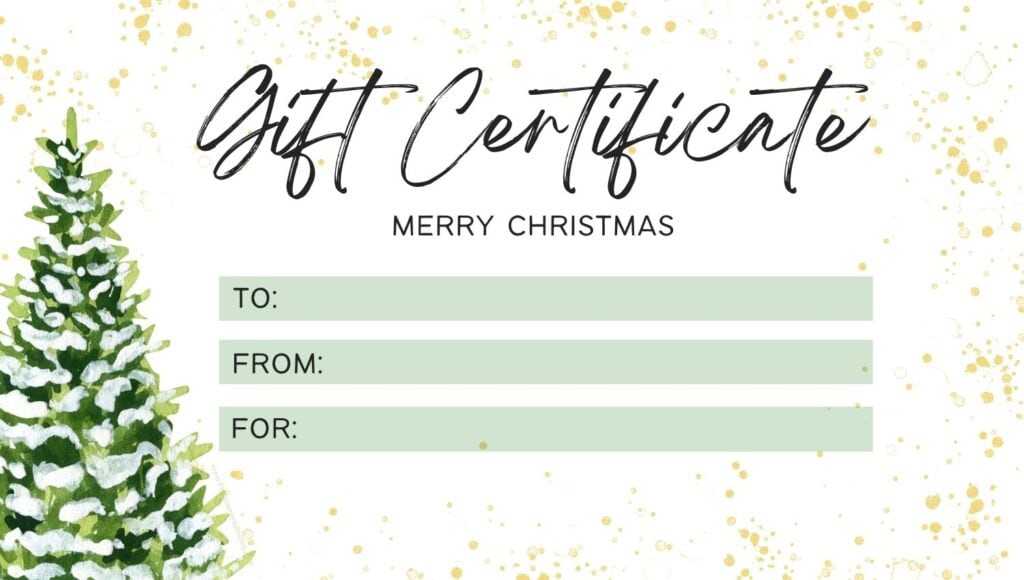 >>> Download the Christmas Tree Gift Voucher <<<
#3 – Free Santa Claus Gift Certificate Template
This fun Christmas card design features a jolly vintage Santa Claus and some candy cane stripes. This is great for anyone, but especially for kids. There's also a space for a personalized message.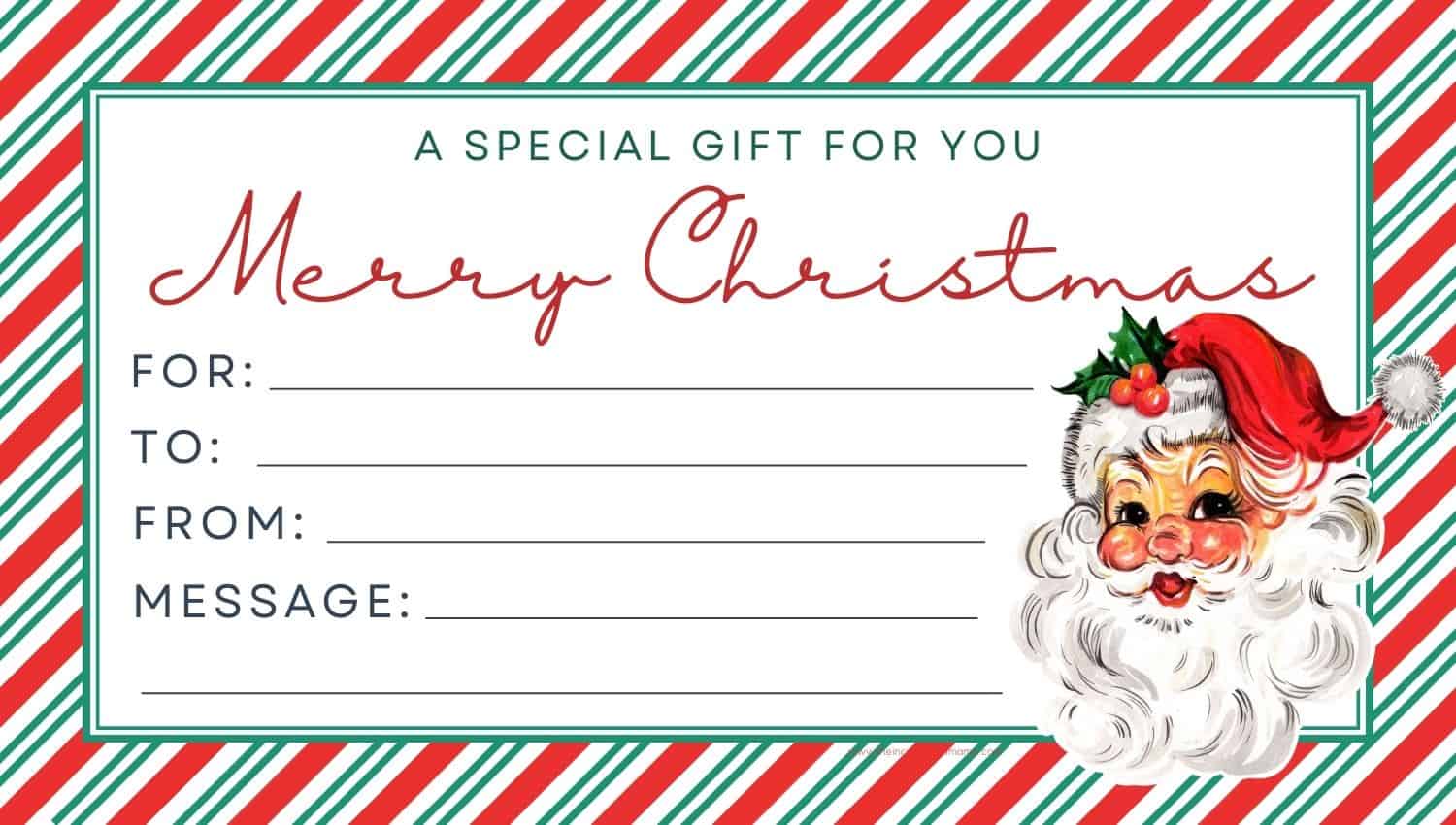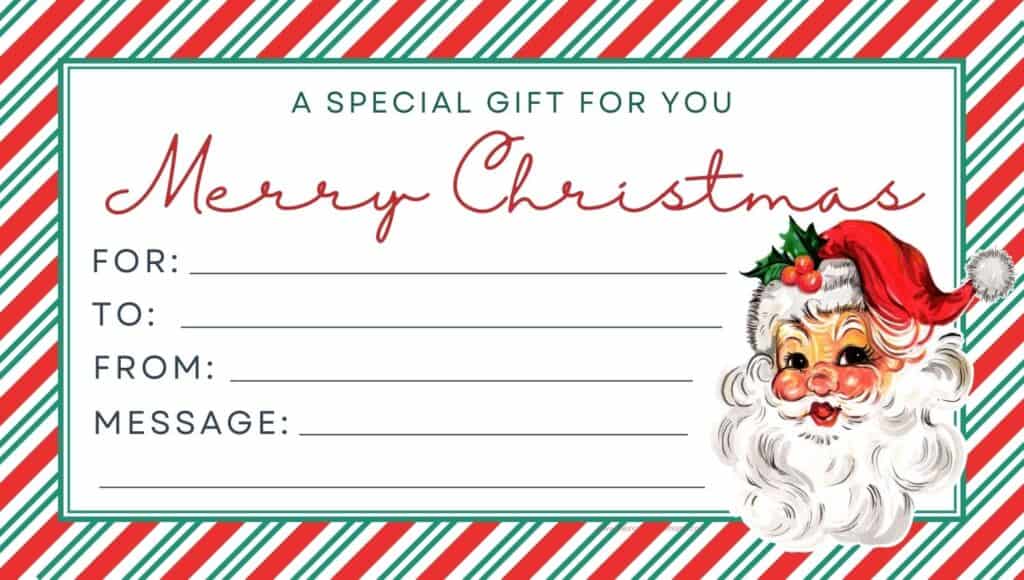 >>> Download the Free Santa Claus Gift Certificate Template <<<
#4 – Pink & Green Christmas Tree Gift Certificate
While not traditional, this gift certificate design is super fun and festive. I had so much fun designing it! It features some pink and green Christmas trees and snowflakes.
It gives off a very mid-century diner vibe. The perfect gift certificate for someone with a fun personality!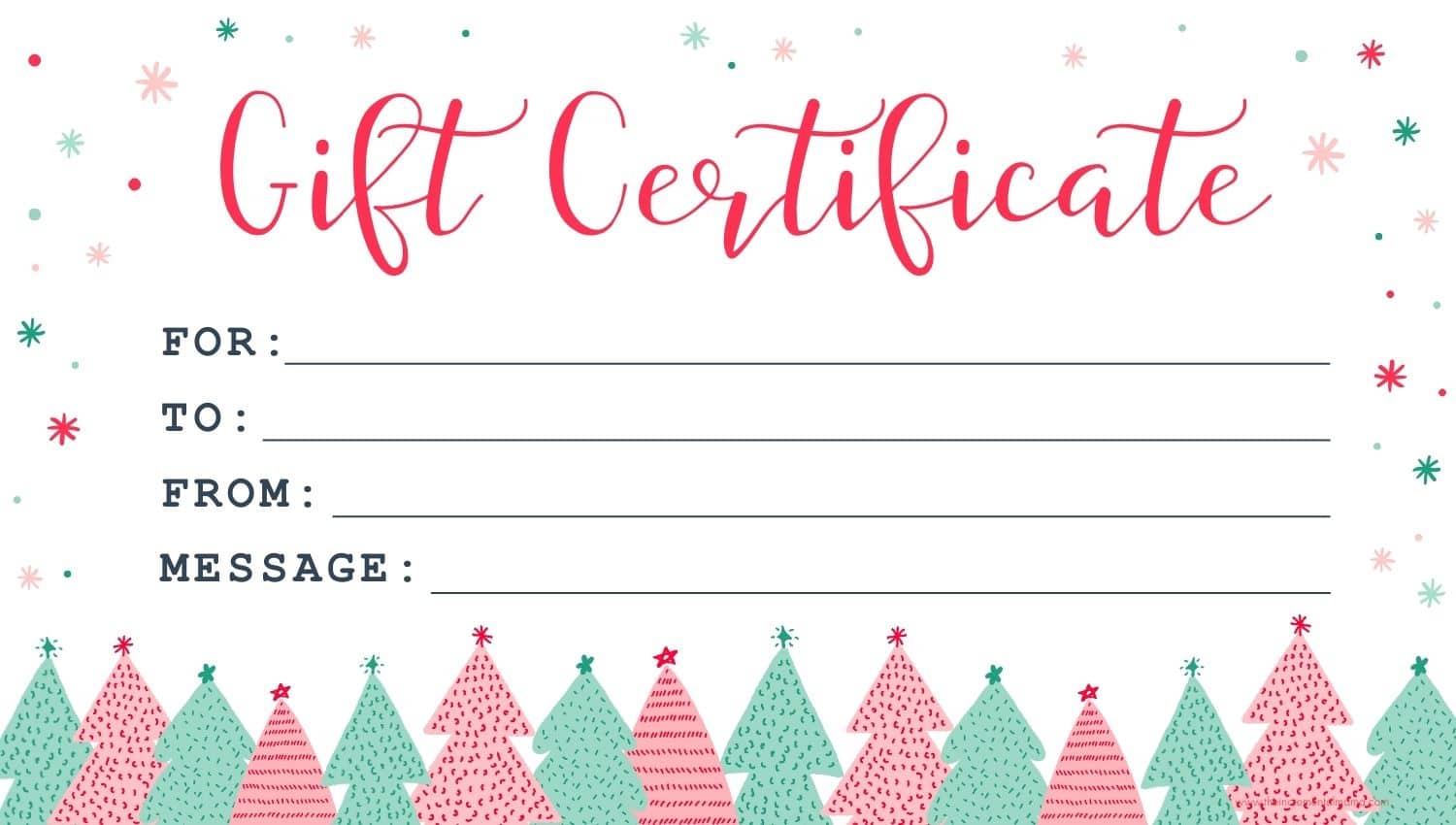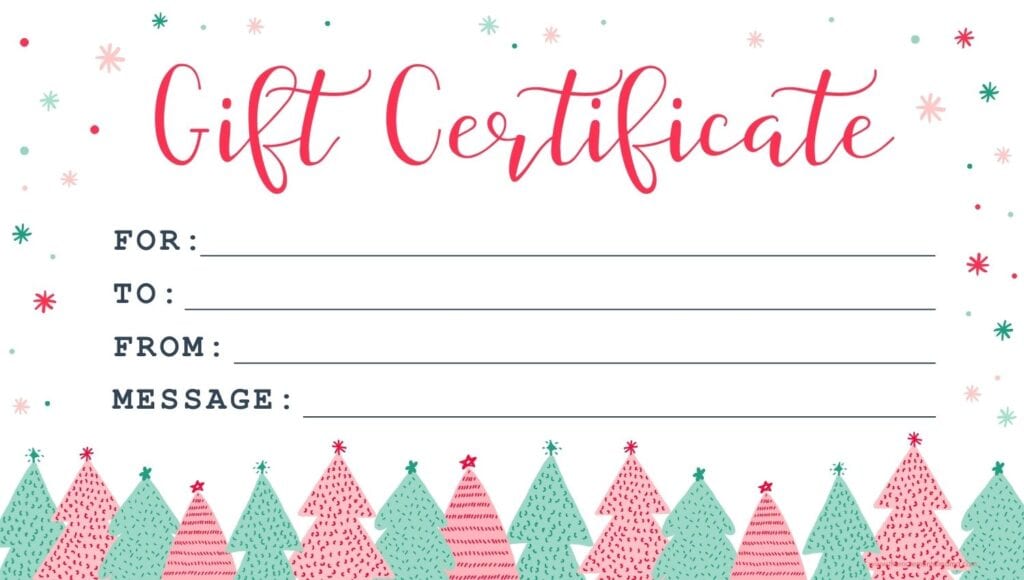 >>> Download the Pink & Green Christmas Tree Gift Certificate <<<
#5 – Colorful Merry Christmas Gift Certificate Template PDF
I'll be honest: these last 3 designs are my favorites of the bunch. I love color and things that are a bit funky. I love the fun Christmasy font with the fun colors.
This gift certificate has space for recipient name, giver name, what the gift is for, and space for a personalized message.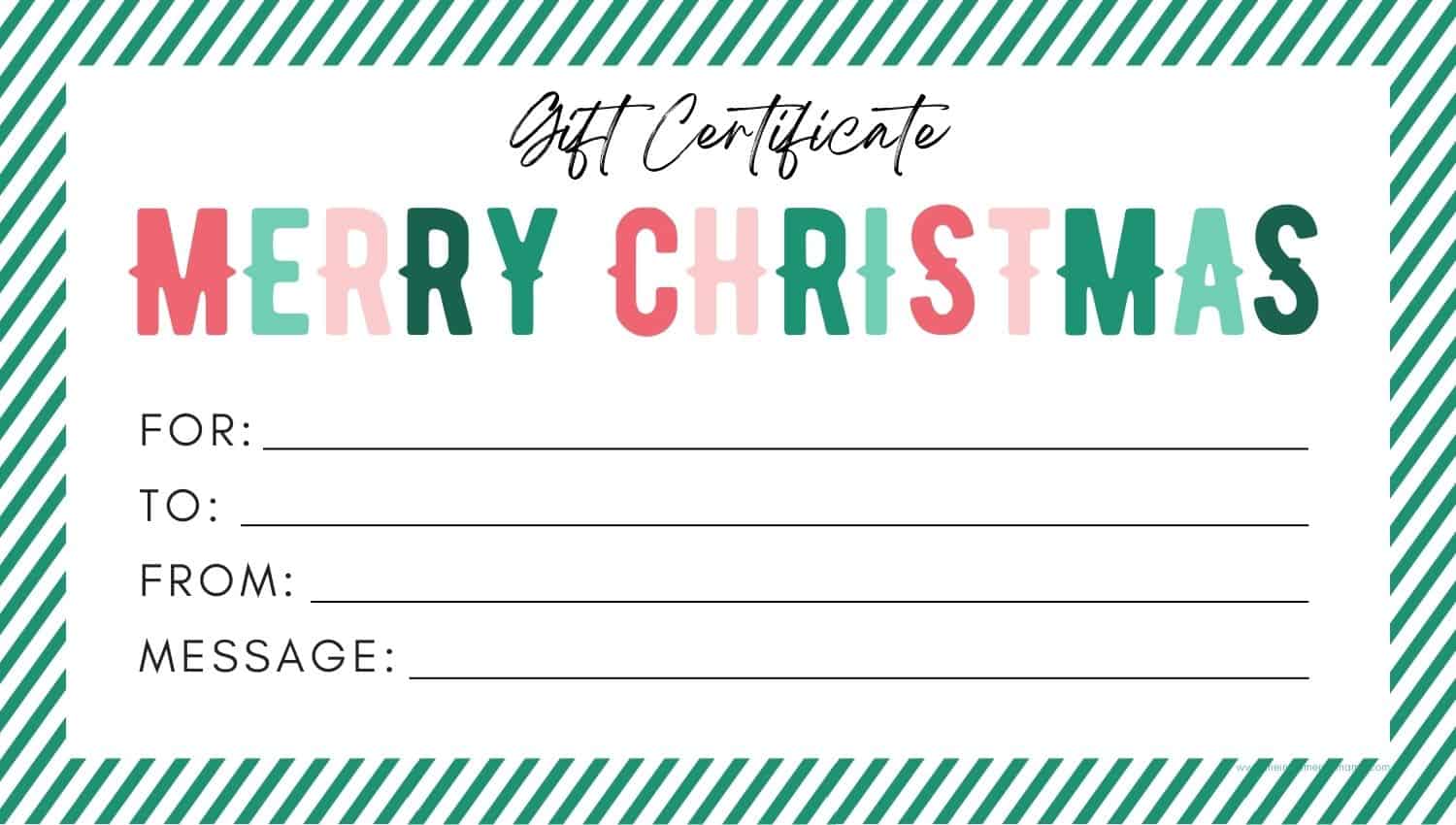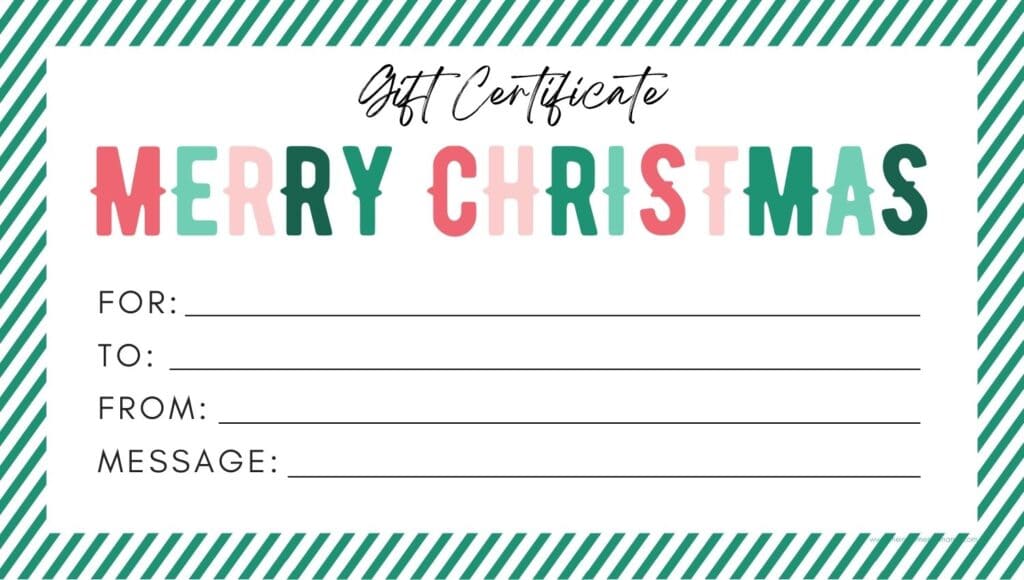 >>> Download the Colorful Merry Christmas Gift Certificate Template PDF <<<
#6 – North Pole Delayed Gift Postcard
I absolutely love this fun design. It's created to look like an official postal message from the North Pole postal service. This is perfect to use if you:
Have a delayed give that won't arrive in time
Didn't order the gift in time for Christmas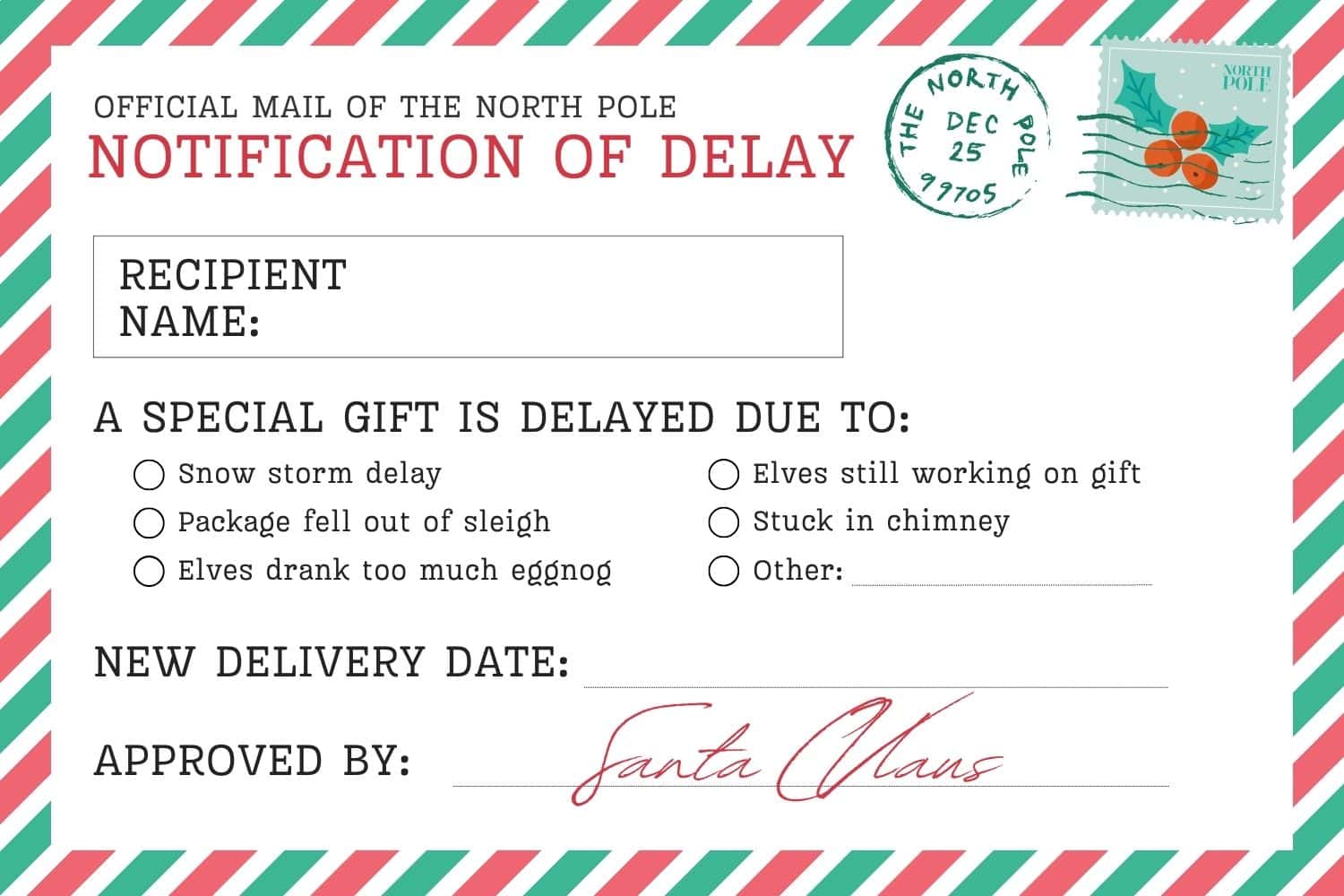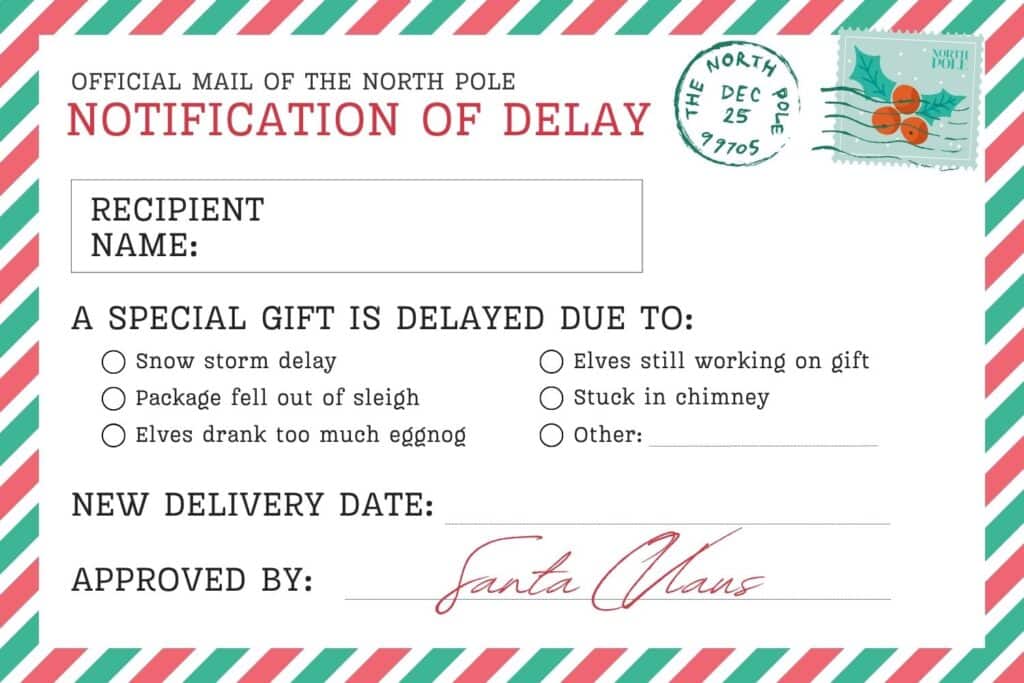 >>> Download the Delayed Christmas Gift Notification from Santa <<<
Want to type directly onto the PDF for a more professional look? Grab the editable version of this "Delayed Gift Notification" here.
Editable Printable Christmas Gift Certificate Templates
While all the above templates are free for you to use and customize, if you'd like an editable gift certificate template you can easily edit by typing directly into the PDF, I've created an editable version of the Printable Christmas Gift Certificates.
No special skills of software required!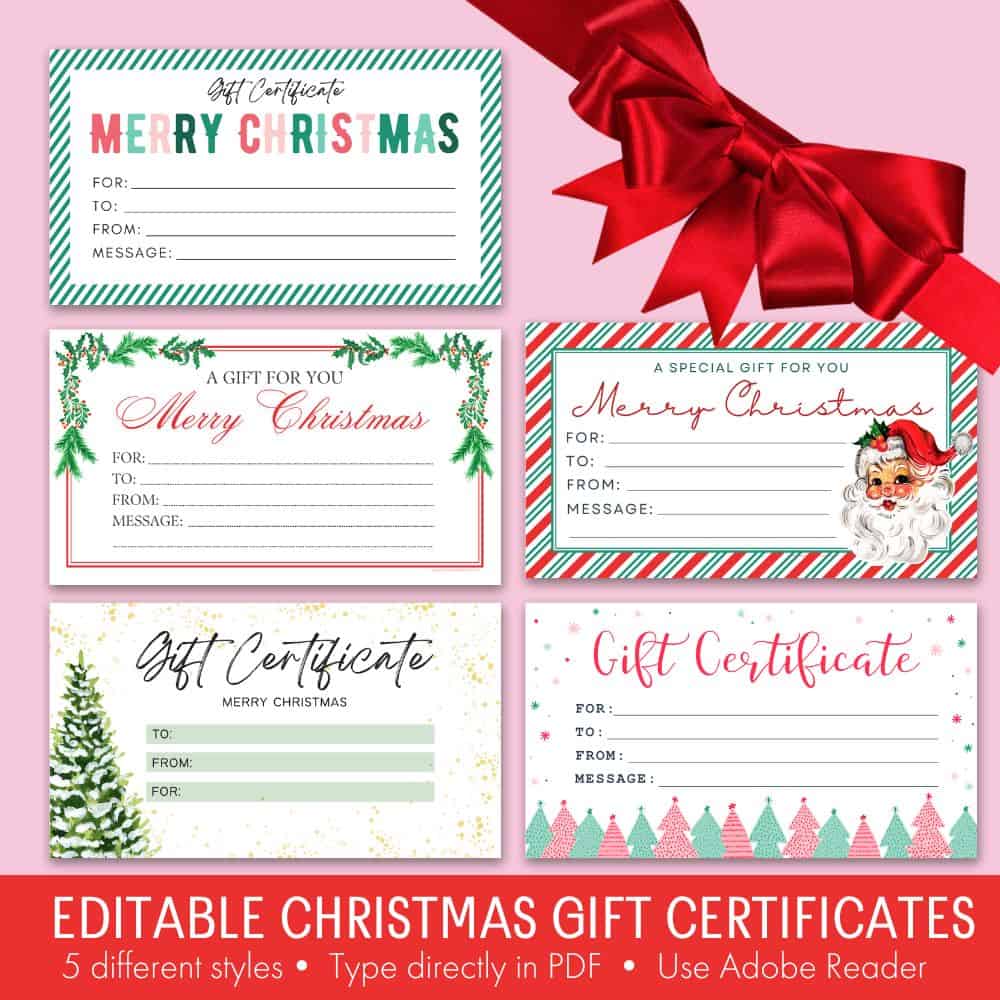 All you need is the free Adobe Reader software and you can type directly into the PDF to add recipient name, description and all that fun stuff. This is great if you're looking for a professional, sharp look.
>>> CLICK HERE TO GET THE EDITABLE CHRISTMAS GIFT CERTIFICATES
Other Free Printable Christmas Printables
If you love free printables, you are 10% in the right place. Not only do I love making them, I love using them and I have a bunch of awesome Christmas printables you can grab for free.
Free Printable Christmas Planner – Organize this Christmas season from top to bottom with this free printable planner. Included 9 free templates.
Free Printable Christmas Bingo – As this game has 20 different bingo cards, this free printable Christmas bingo game is perfect for your party, classroom activity, or just a fun thing to do with your kids.
30+ Christmas Border Paper Templates – Whether you're looking for Christmas stationery designs or just looking for border templates for the holiday season, you're going to love the 30+ free printable Christmas border paper PDFs you can grab for free
Over 200 Free Printable Christmas Gift Tags – These free printable Christmas tags are exactly what you need to take your gifts to the next level without breaking the bank or taking very much time.
Free Printable Letter to Santa Template – If you're looking for a magical activity for your kids or students, these letter to Santa template printables. Includes templates for younger children as well as older kids with more writing skills.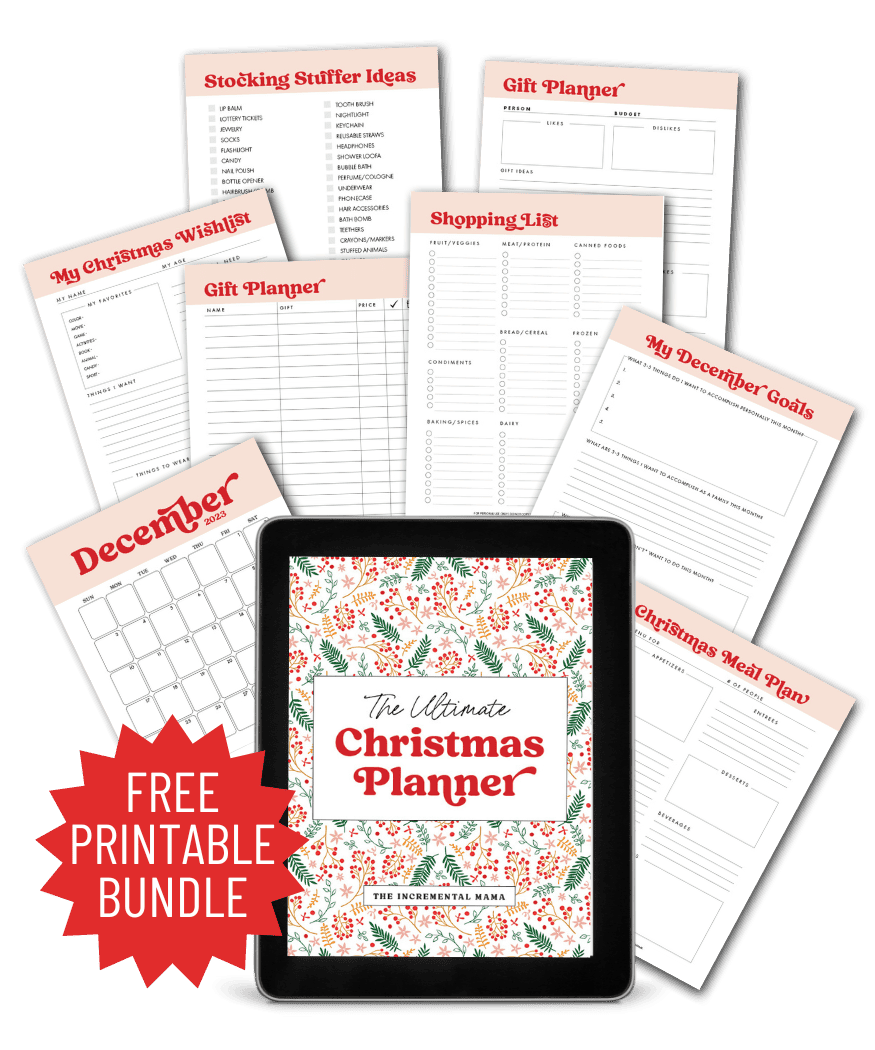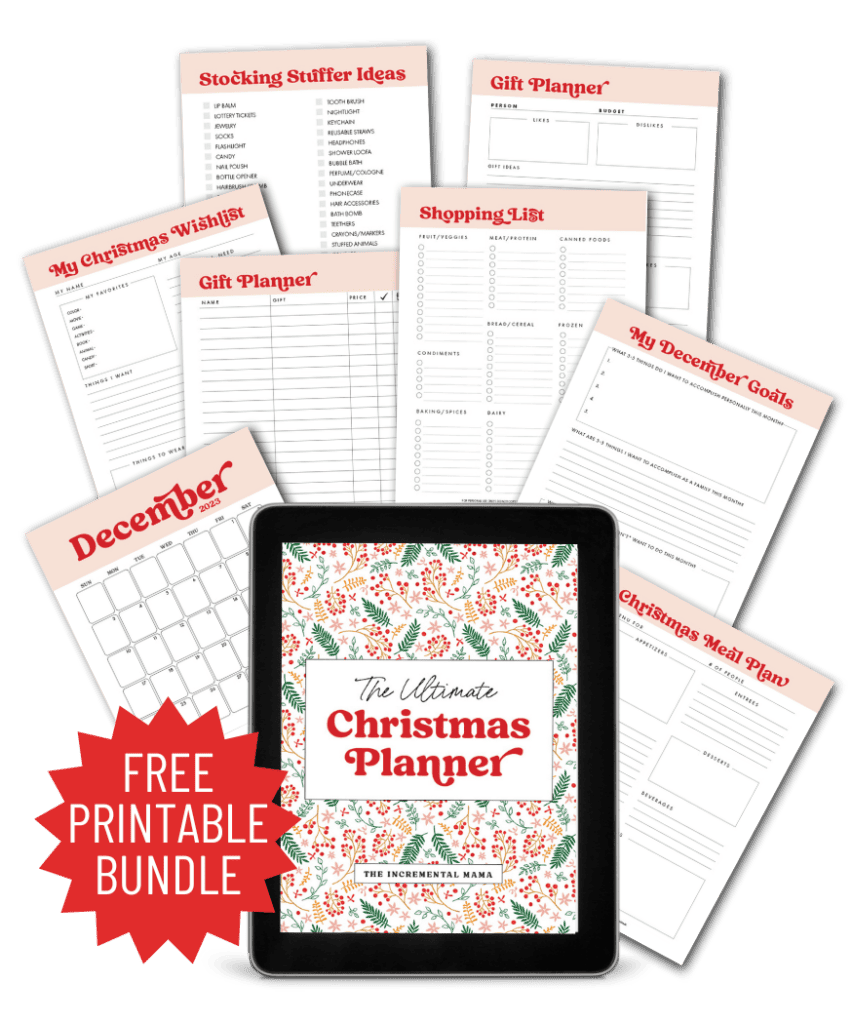 Free Printable Christmas PLanner
Click the button to get the 10-page Christmas Planner sent straight to your inbox. Everything you need to make this December less about stress and overwhelm…
…and more about making delcious memories with your family.
Enjoy the Free Christmas Gift Certificate Templates
Whether you create a gift certificate for a home-cooked meal, a day of babysitting, or a day trip to the zoo, these homemade gift certificates can be a memorable and cherished part of someone's holiday season. Grab the printable gift certificates for Christmas you'd like above. 
May you have a very Merry Christmas!
YOU MAY ALSO LIKE: