When it comes to getting into the Christmas spirit, nothing quite beats snuggling up on the couch and watching a great Rankin and Bass Christmas movie, looking at Christmas lights, or playing a fun Christmas game.
Like this free printable Christmas Bingo game you can download.
It's easy enough that even my 3 year old can play and fun enough that everyone has a great time.
Whether you need a game to play for an upcoming Christmas party, or just looking for a fun family (or classroom) activity, Christmas Bingo is perfect. It's super easy and way fun.
And best yet, with this free printable Christmas Bingo PDF, you get everything you need to play the game, including:
20 Christmas Bingo cards
24 bingo calling cards
Below, we'll go over how to play Christmas Bingo and ideas to best use your free printable download.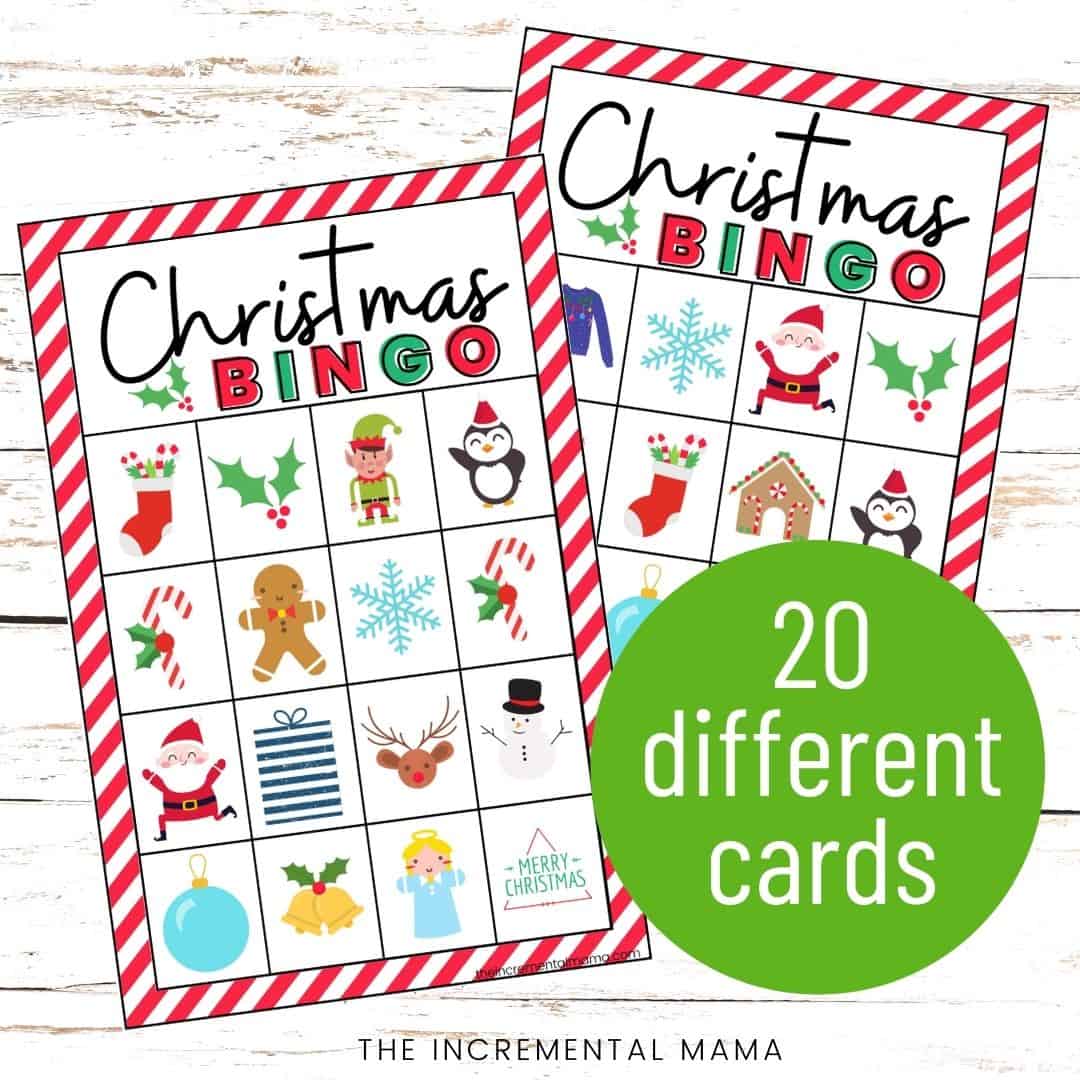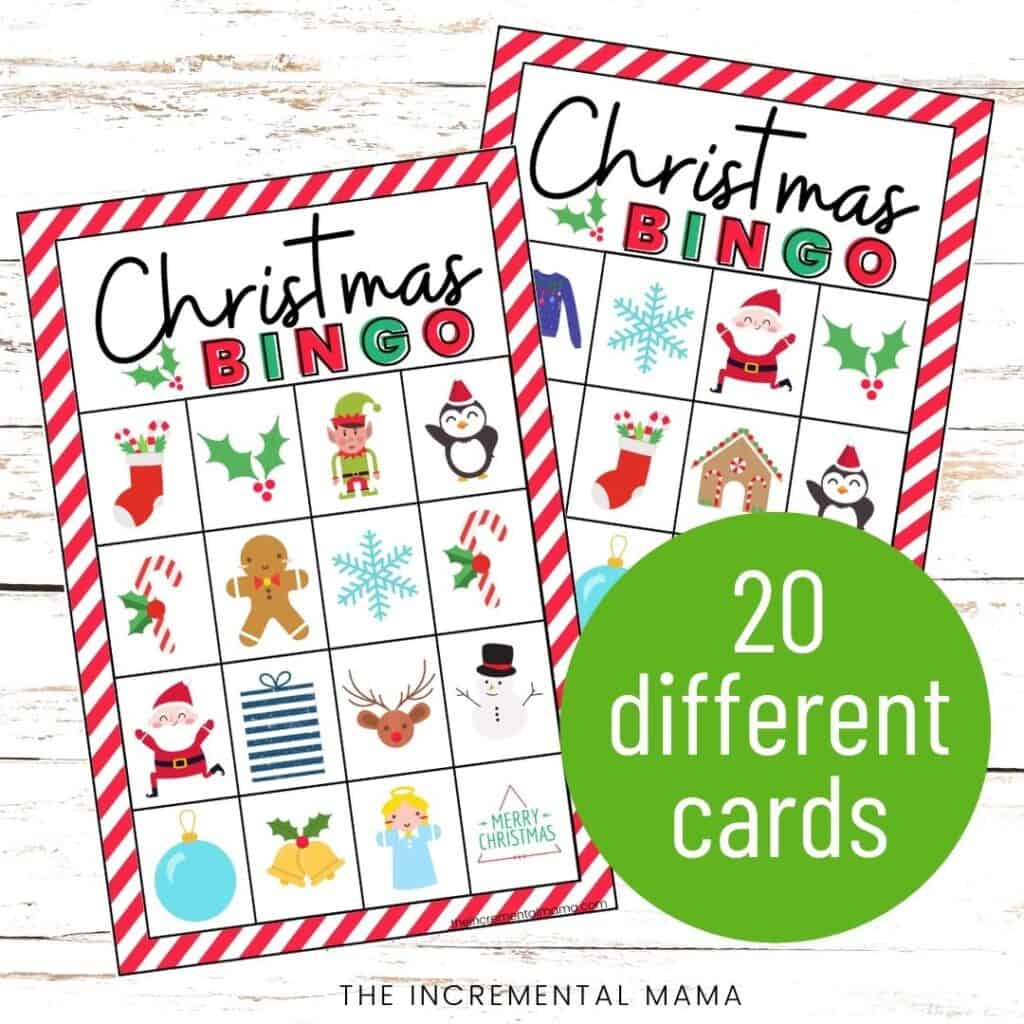 HOW TO PREPARE YOUR CHRISTMAS BINGO PDF
Depending on what you have on hand, you can be ready to play minutes after downloading the free Christmas Bingo printable. Here's what you need to do to prepare your game:
1. Gather Supplies.
You will need:
white paper or heavy cardstock
a pair of scissors (or a paper trimmer if you want to go really fast)
Bingo markers. Ideas include:

M&Ms
Hershey's kisses
Pasta
Skittles
Coins
Bingo Markers (you can print and cut these out, but the above options are much easier!)
When it comes to bingo markers, candy is really fun for the kids and it's super easy for you since all you gotta do is pick up a bag of M&Ms or Hershey kisses and call it a day.
While it's totally optional, if you want your Christmas Bingo pdf to last, I highly recommend laminating the cards. I'm kind of obsessed with laminating all the things, and I use this laminator and these sheets for all my printables.
If you choose, you can also gather some prizes for winners. Some ideas for bingo winner prizes:
2. Download and Print out the free printable Christmas Bingo Cards
At the bottom of this post, you'll find the link to get the download sent straight to your inbox.
A few notes on printing:
I recommend printing on card stock. Makes for a much more durable Christmas Bingo card.
Additionally, select "Fit" as opposed to "actual" in your printing options panel. This ensures that your printer won't cut off part of the edges of the bingo cards and they can look like the pictured examples.
While you are welcome to print as many copies of Christmas Bingo for personal use, do not share or distribute the free download. If you want to share with friends or family, please share the link to this post so they can get their own download.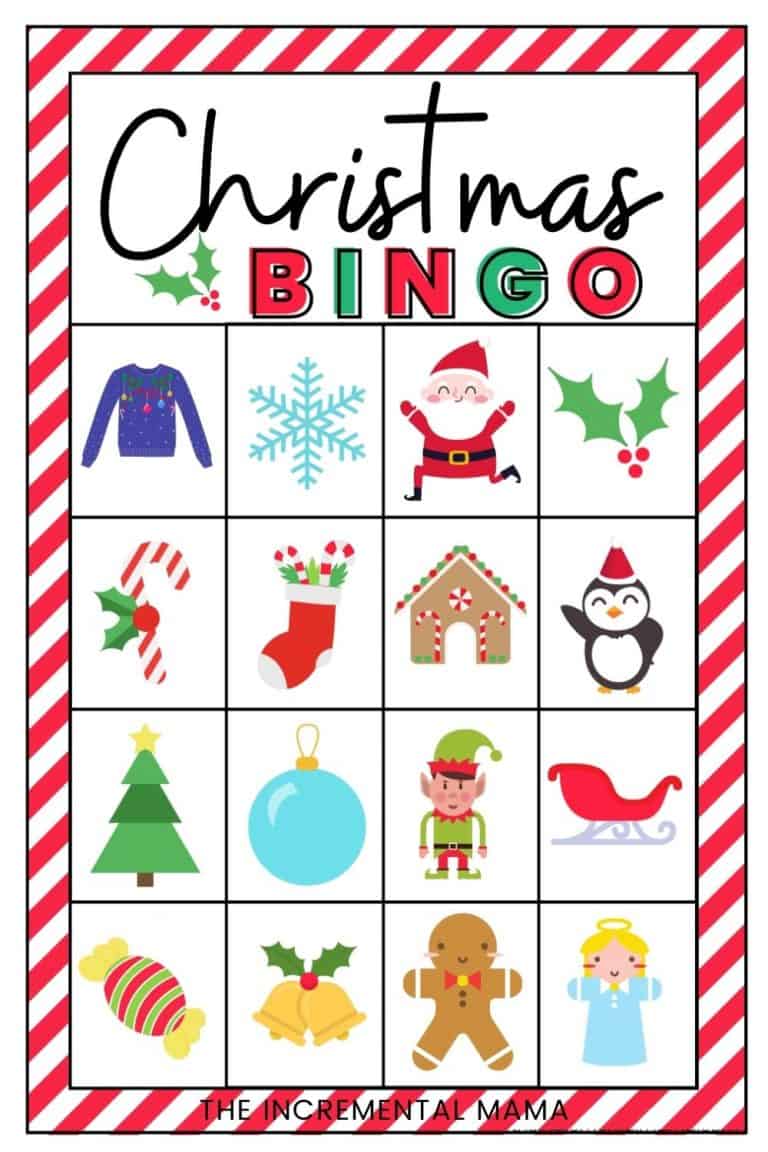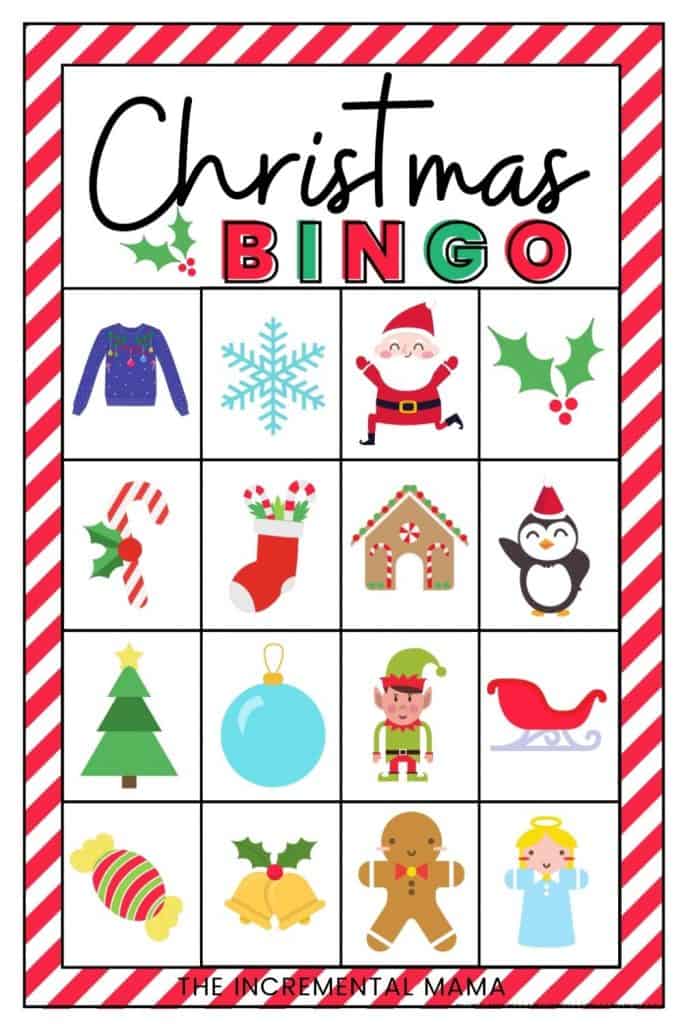 3. Cut out Christmas Bingo cards and calling cards
Once printed, cut out the bingo cards and the calling cards (last page of the download). If you're especially brave or totally not a type A personality, you can get your kiddos to help you cut everything out.
Then, once cut you can laminate the cards if you choose.
Gather all the calling cards together in a bag or small bowl.
HOW TO PLAY CHRISTMAS BINGO
Now that you've done all that, you're ready to play Christmas bingo! And it's just like any other bingo.
First, give every player a bingo card. (Note: There are 20 different cards in the download)
Then give every player a handful of bingo markers/candy. While each person needs a maximum of 16, if you've got kids who are going to snack on the candy (so most kids), they'll need more.
Gather calling cards in bowl
Randomly select a card and announce it to the group. Players with that image can place a marker on that picture on their board.
Repeat until someone gets 4 across.
Optional: Give winner a prize
Continue game as long as you'd like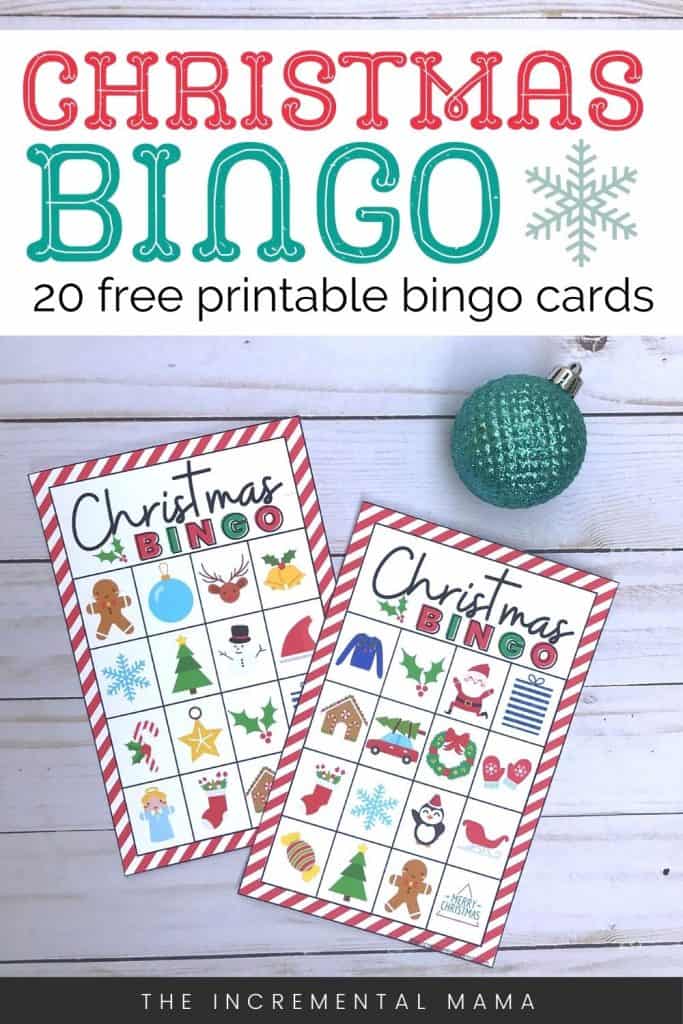 OTHER FREE CHRISTMAS PRINTABLES & RESOURCES
If you're in the Christmas spirit and looking for other fun Christmas printables, I've got some more you may love.
20 Free Printable Letter to Santa Templates
Another fun activity to do with your kids is to write letters to Santa. Not only do they get to practices writing and do a fun activity, but you also get an insight into what they're wanting for Christmas. In this free download, you'll find letter templates for both young and older kids as well as several letter FROM Santa templates.
Grab the 20 Free Santa Letter Template right here.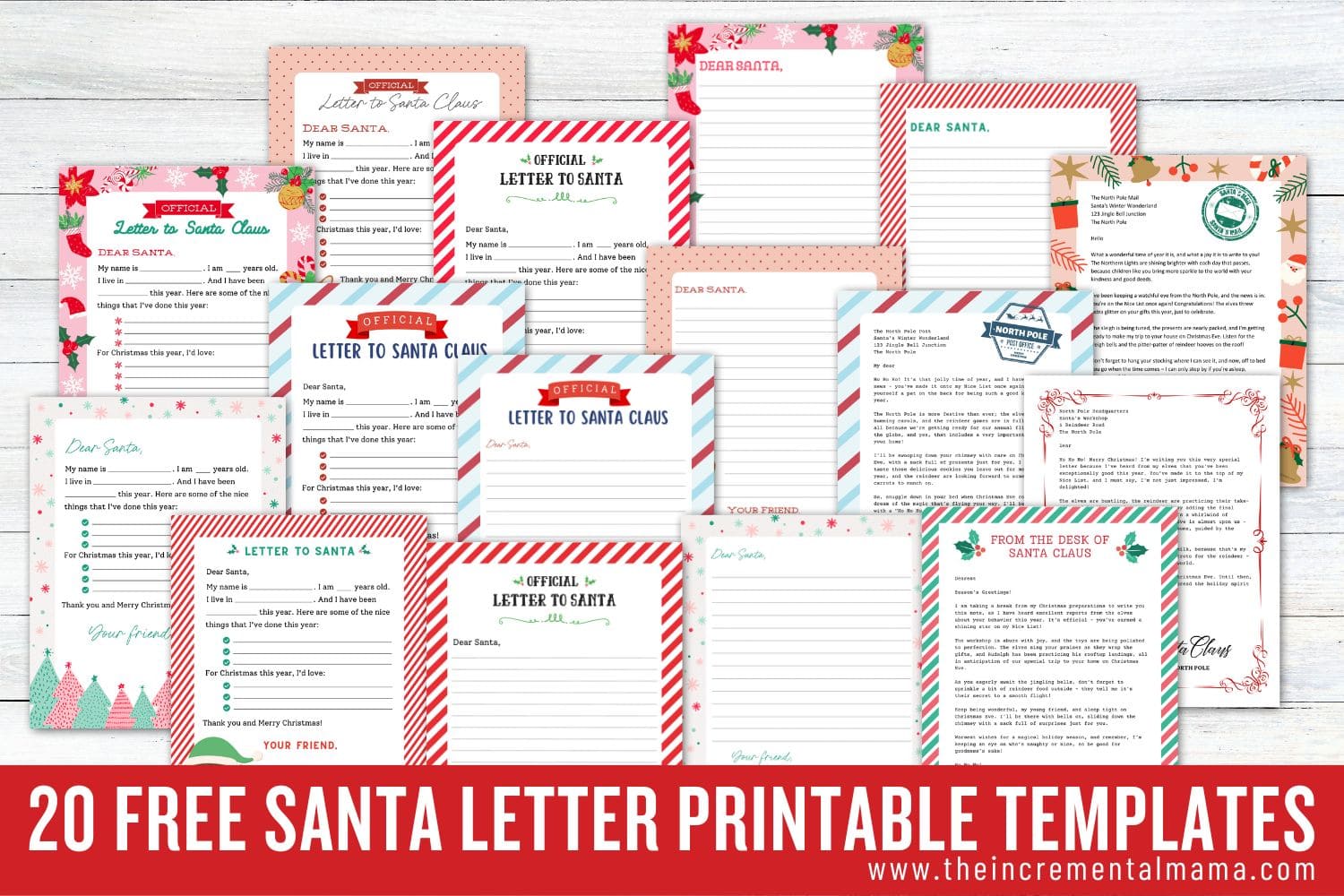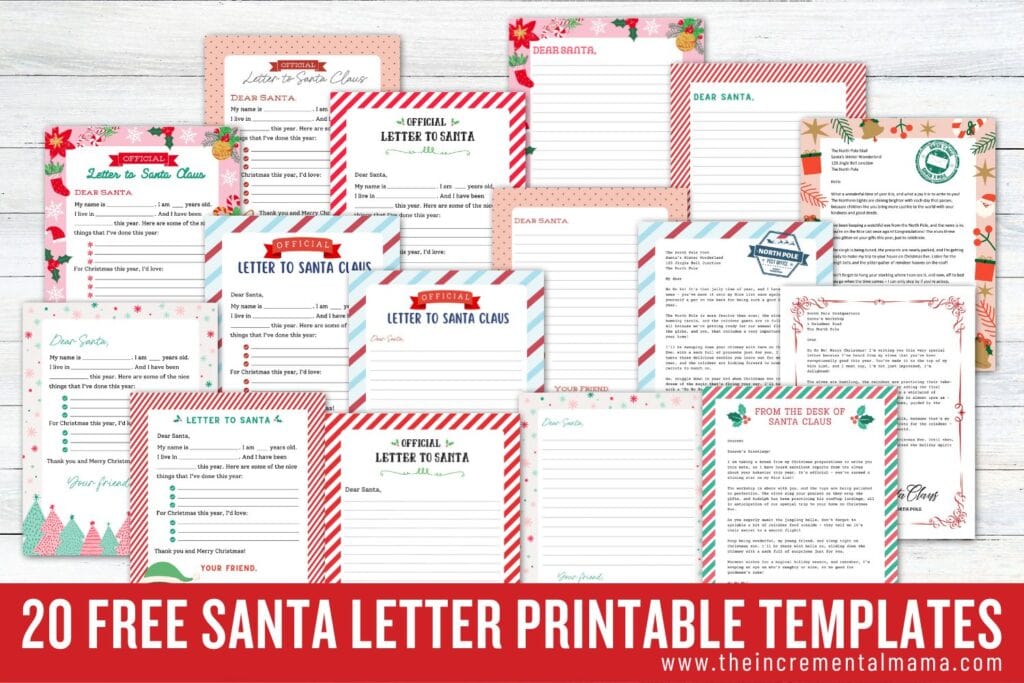 Over 200 Free Printable Christmas Gift Tag
Looking for some fun Christmas tags to spice up the gifts under your tree? Check out this collection of over 200 free printable Christmas tags.
DOWNLOAD THE FREE PRINTABLE CHRISTMAS BINGO PDF
With that all said, you're ready to download the free printable bingo cards! Click the link below and you'll be able to get the entire Christmas Bingo game printable sent straight to your inbox. Please note that these printables are for personal use only.
Enjoy & Merry Christmas!