They say that "if you need something done, ask a busy person". Because busy people know how to save time and get a lot done everyday. And they do it by being great at planning.
Because when you plan–even a few minutes–you can save hours every day.
And you can make planning your day super easy with this free printable daily planner.
You can plan your whole day in just minutes. It includes a place for:
top priorities
to-do list
meal planning
hourly schedule
daily chores
texts/calls to make
notes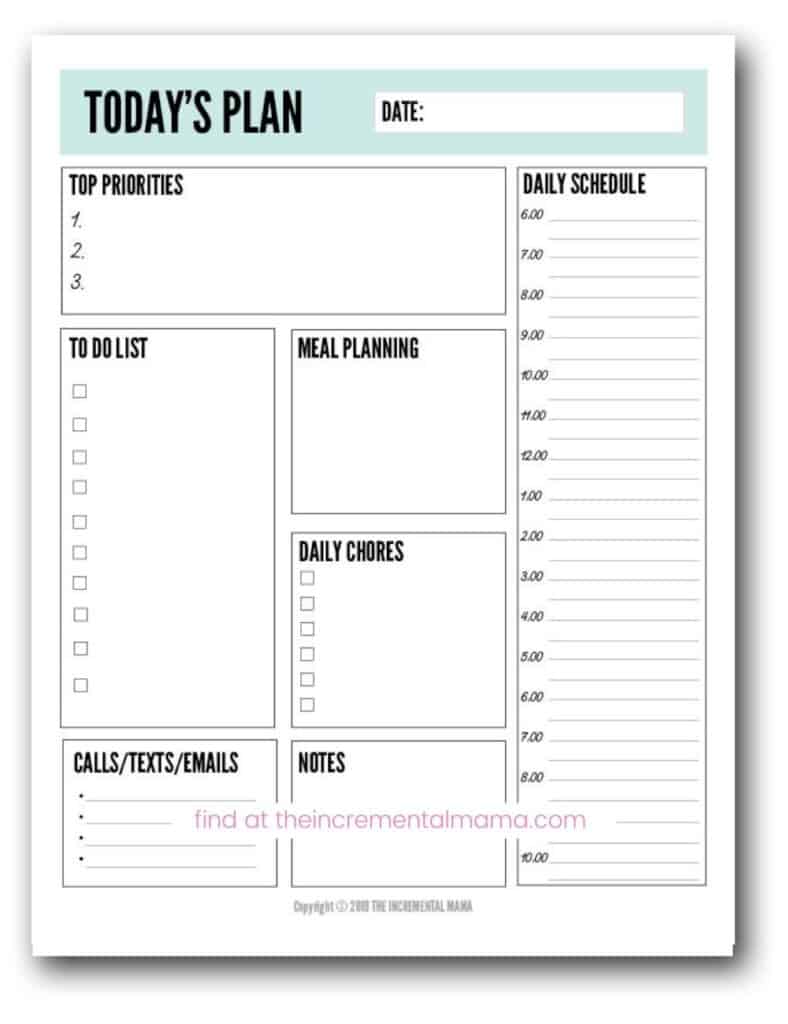 FREE PRINTABLE DAILY PLANNER TEMPLATE WITH HOURLY SCHEDULE
This free printable daily planner and schedule template is designed to help you quickly and thoroughly plan, prioritize, and schedule your day.
So you can spend less time planning and stressing and more time enjoying your life.
The free printable contains 2 different templates: One is blank for your to customize as you want, the other has some suggested items filled in (i.e. daily chores, and lists the 3 typical meals).
HOW TO USE THE FREE DAILY PLANNER PRINTABLE
While you are welcome to use it as you see fit, here are some suggestions on how to make the most of this daily planner pdf.
1. Set your daily priorities.
In the fantastic book, Eat That Frog, productivity expert Brian Tracy recommends that when planning to pick the top 3 priorities for each day. Ask yourself:
What task, if you complete it or work on it, will make the biggest difference to your long term goals?
What are the 3 most important tasks I can complete?
Don't put down things you will do anyways. I am a life-long list writer and I've been guilty of writing things down just so I can cross them off.
Heck, I've written things down after I've done them just so I can get the high that comes from crossing it off.
Use this section is for those important tasks that you will otherwise procrastinate (e.g. exercise, decluttering project, work task you've been neglecting, etc.)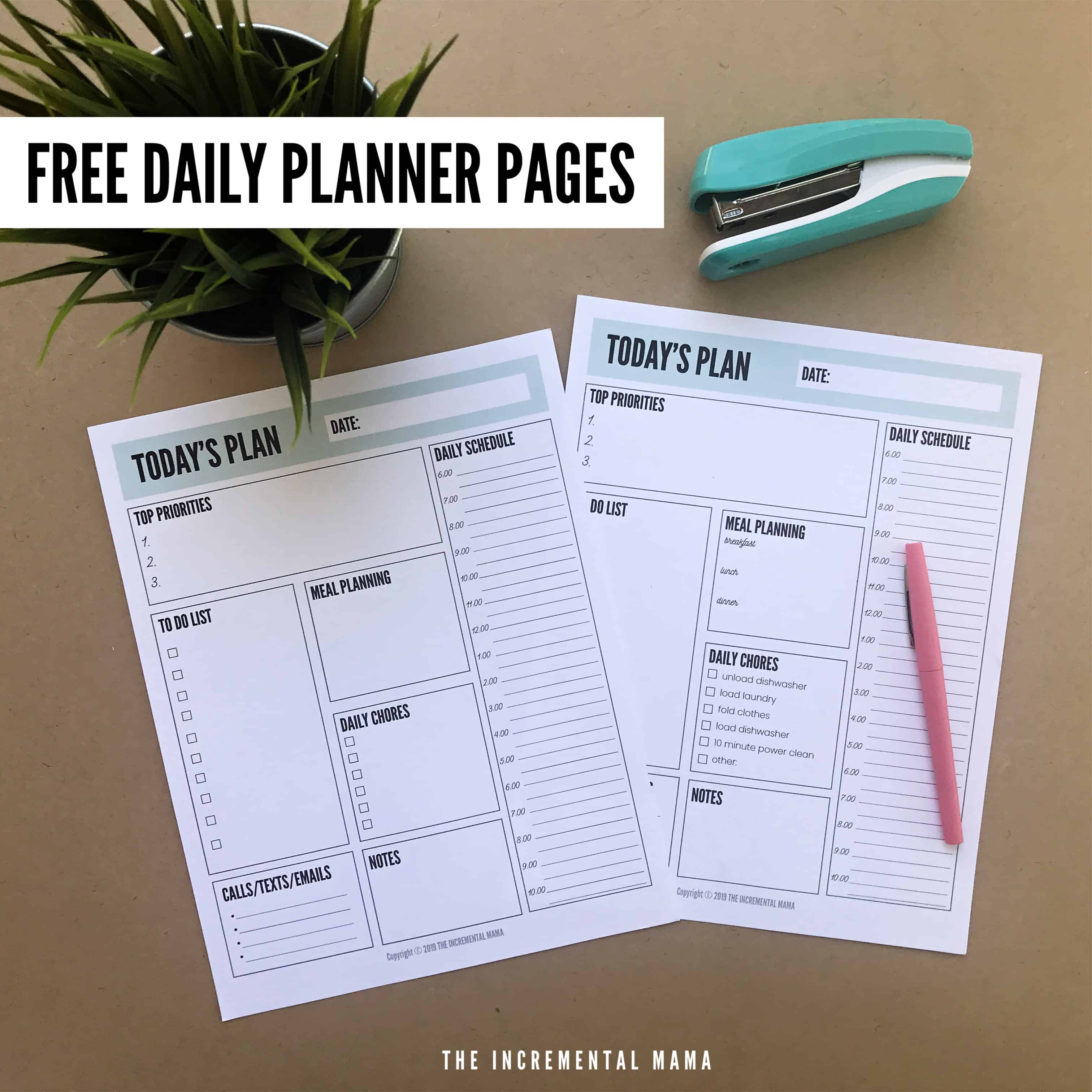 2. Write to-do list
Once you have the most important task figured out, what else would you like to get done in the day?
In the To Do list section of your daily planner template:
First, write the tasks you should get done.
Then, write the tasks that would be nice to get done.
And as you approach your day. Be sure you prioritize the top 3 priorities over this to do list. Once you've knocked out the priorities, you can work on the tasks you should do, then the ones that would be nice to get done.
3. Plan your meals
Planning your meals ahead of time is really helpful because:
You won't be super hungry and trying to figure out what to eat while your brain isn't working well.
You'll save time by knowing exactly what you're making.
Overall, the practice will save you a lot of time—and unplanned trips to the store. On days that are going to be really busy, you should plan quick and easy meals that won't take time or energy to complete.
If you need ideas, these easy and healthy make-ahead breakfasts make awesome breakfasts on-the-go.
And these easy dinner recipes that can be made in under 30 minutes.
4. Plan the calls/texts/emails you need to send
Then take a moment to think about any calls you need to make or texts of emails you need to send.
Do you need to schedule a dentist's appointment? Or text someone about an upcoming event? Maybe you've just been meaning to email an old friend and catch up.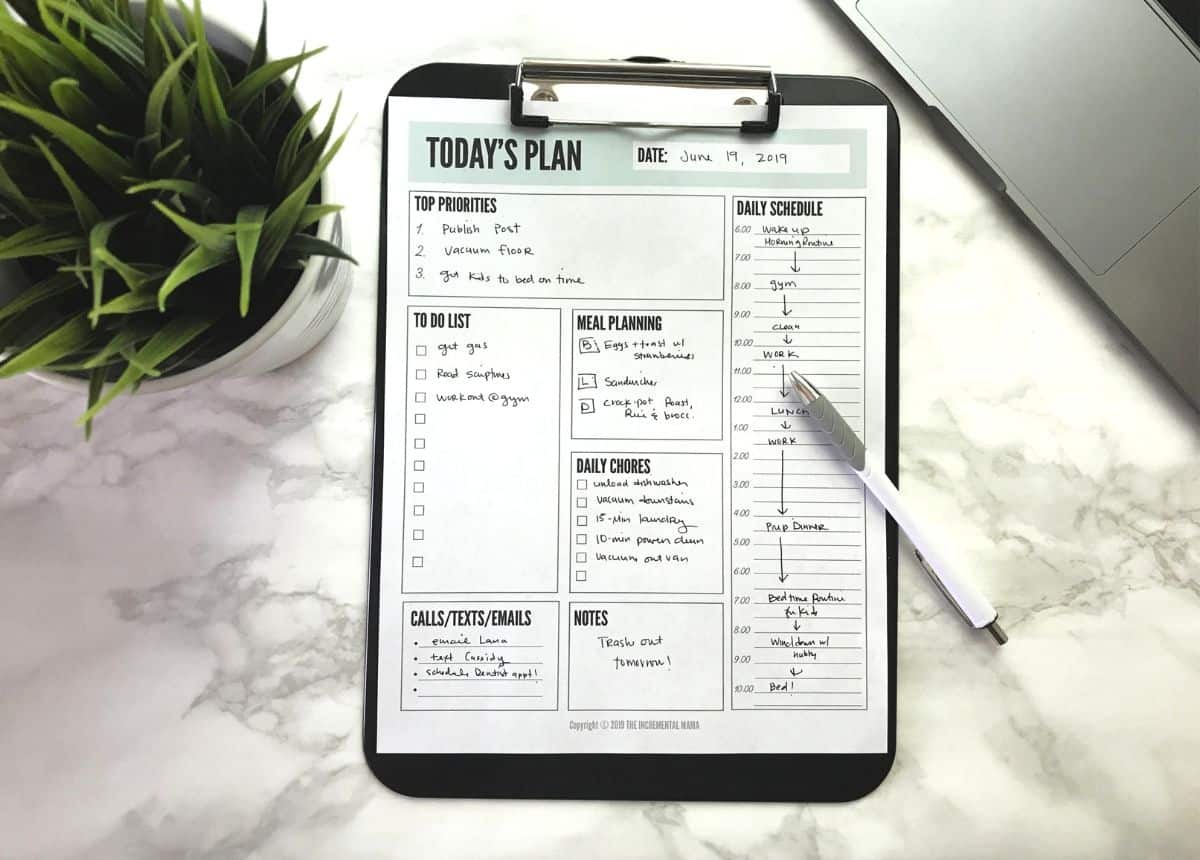 5. Plan chores
Doing household chores daily—even for a few minutes—makes it much easier to keep a neat and tidy home. In the daily planner templates, there is one that is entirely blank that you can fill out according to your routine.
But if you don't have a set cleaning routine, there's also another with some simple core daily chores that will be very helpful in keeping a clean and tidy home. They're part of this simple cleaning schedule you can also download for free.
6. Block schedule your day
Once you've figured out everything you need to do for the day, then you can plan when you'll do each task using the daily schedule template. Block out activities in half-hour increments using the time slots provided.
The first thing you should do is block out time to complete your top three priorities. Research suggests that you have the most willpower in the morning, so it's often a good idea to schedule these tasks first thing.
Then block out time to do the rest of the things you have written on your daily planner.
DAILY HOURLY PLANNER PDF
These strategies really do work.
I had 4 kids in under 5 years. And I've managed to keep 4 kids alive, dressed (Elsa costume and rainboots count), and happy. While I balanced maintaining a home (and keeping it tidy), teaching college classes each semester, and maintaining this website.
And I'm not especially skilled. It's just because I've learned how to effectively plan. And this free printable daily planner template is the exact formula I use to plan my days.
READY TO GET YOUR LIFE ORGANIZED?
The Organized Home Toolkit has everything you need to go from overwhelmed to crushing your day.
With hundreds of customizable printables and short instructional videos, the Toolkit is the resource library you need to quickly & easily organize your life and home.
…AND for less than a dinner out with the family!
Here's what Allison, a busy mom of 3 said about The Toolkit:
⭐⭐⭐⭐⭐
"This toolkit helped me go from drowning in housework and feeling unmotivated to feeling organized and like my life was more manageable in a week. I woke up to a plan, a schedule, routines and manageable expectations for my kids that helped combat the depression and burn-out I often feel as a mom. And I love the videos. I feel like it's 'Running a Home & Raising Kids 101' and it's the class I have needed for YEARS."
>>> Check out The Organized Home Toolkit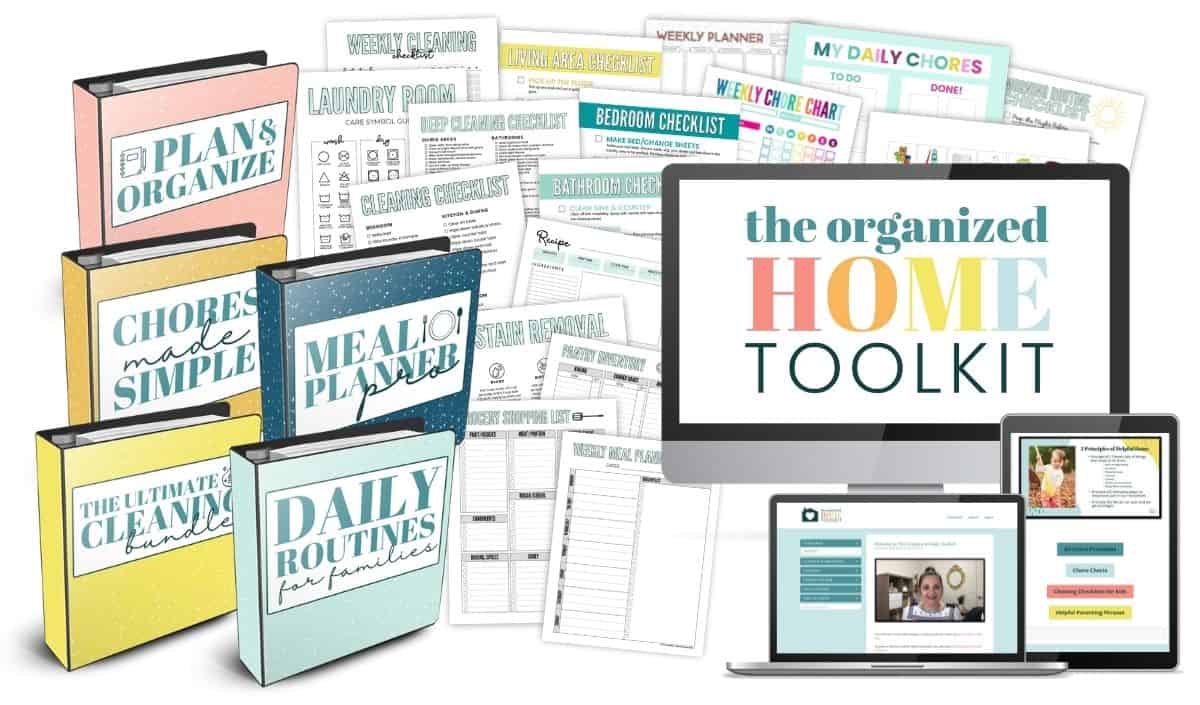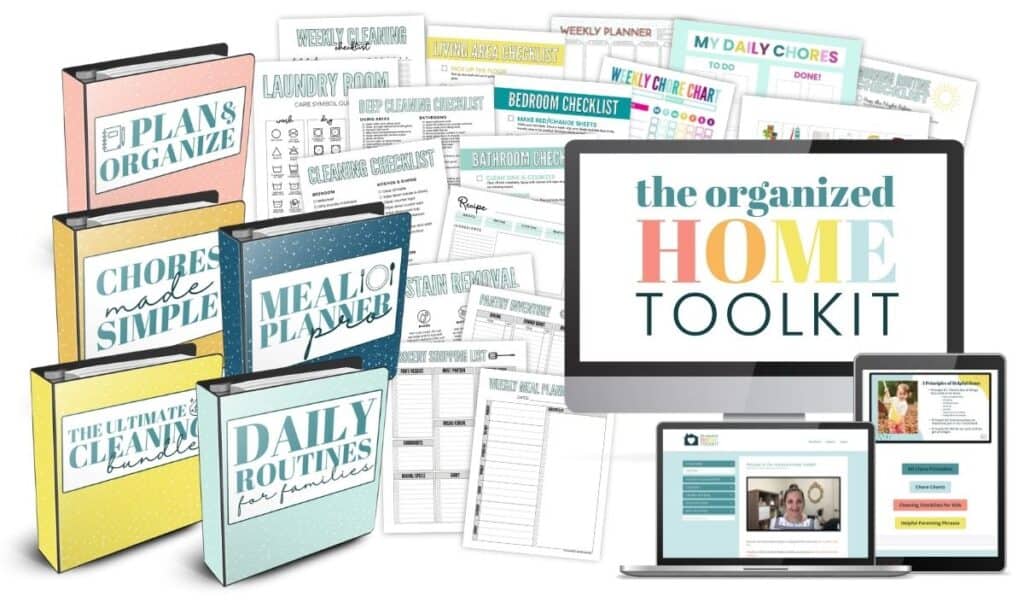 DOWNLOAD THE DAILY PLANNER & SCHEDULE TEMPLATE PDF
And there you have it! These strategies will help you plan effectively using the daily planner. Download your free printable pdf and start creating a more productive and organized life.
You've got this!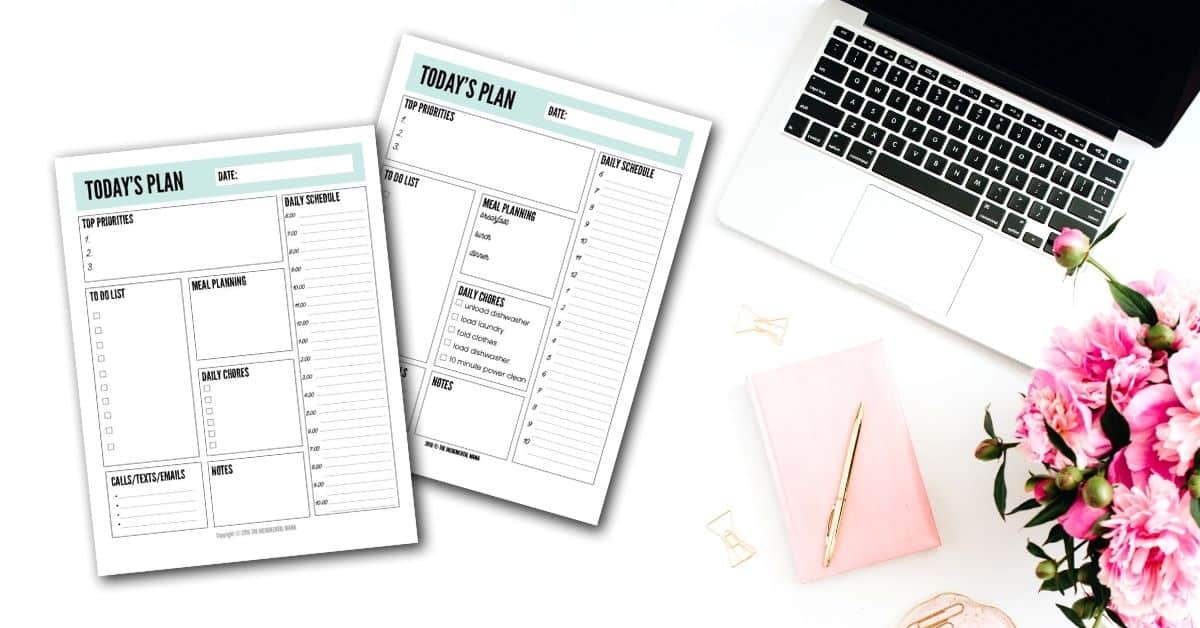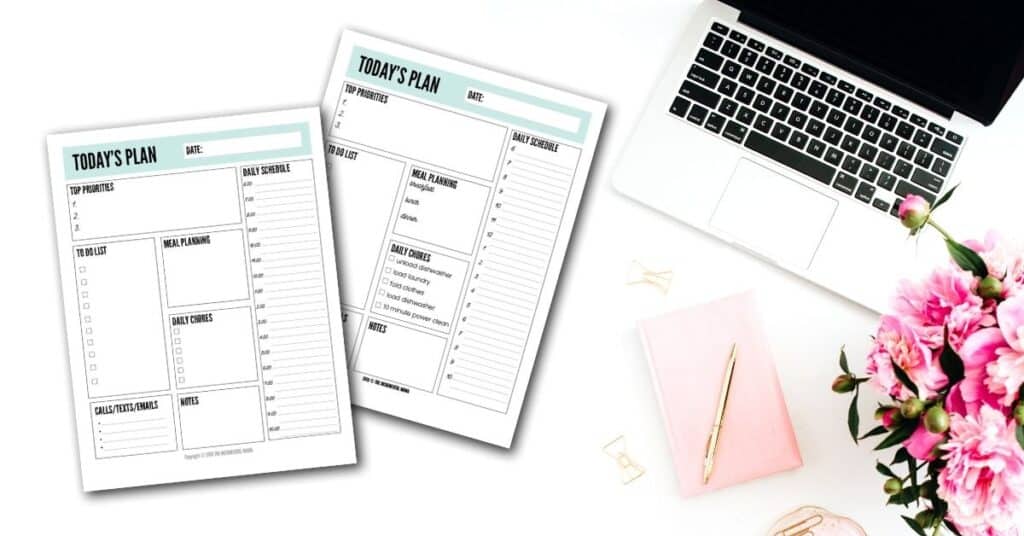 RELATED POSTS:
How to Wake Up Early When You're a Nightowl
5 Keys to a Stress-Free Morning with Kids