I know this isn't a food blog. But if I had a dollar for every time someone asked me for how I made pizza rolls for my kid's lunches…
…or how often my kids came home saying their friend wants pizza rolls in their lunches too, I could take my family out to a nice dinner.
(I've even had teachers from my kid's school contact me for the recipe for pizza rolls)
So today, I want to share this super simple recipe for pizza rolls. And while I give the exact recipes I use further down the post, the truth is, you can use any pizza dough recipe and any pizza sauce recipe you like.
RELATED: How to Meal Plan For Your Family + Free Planning Printables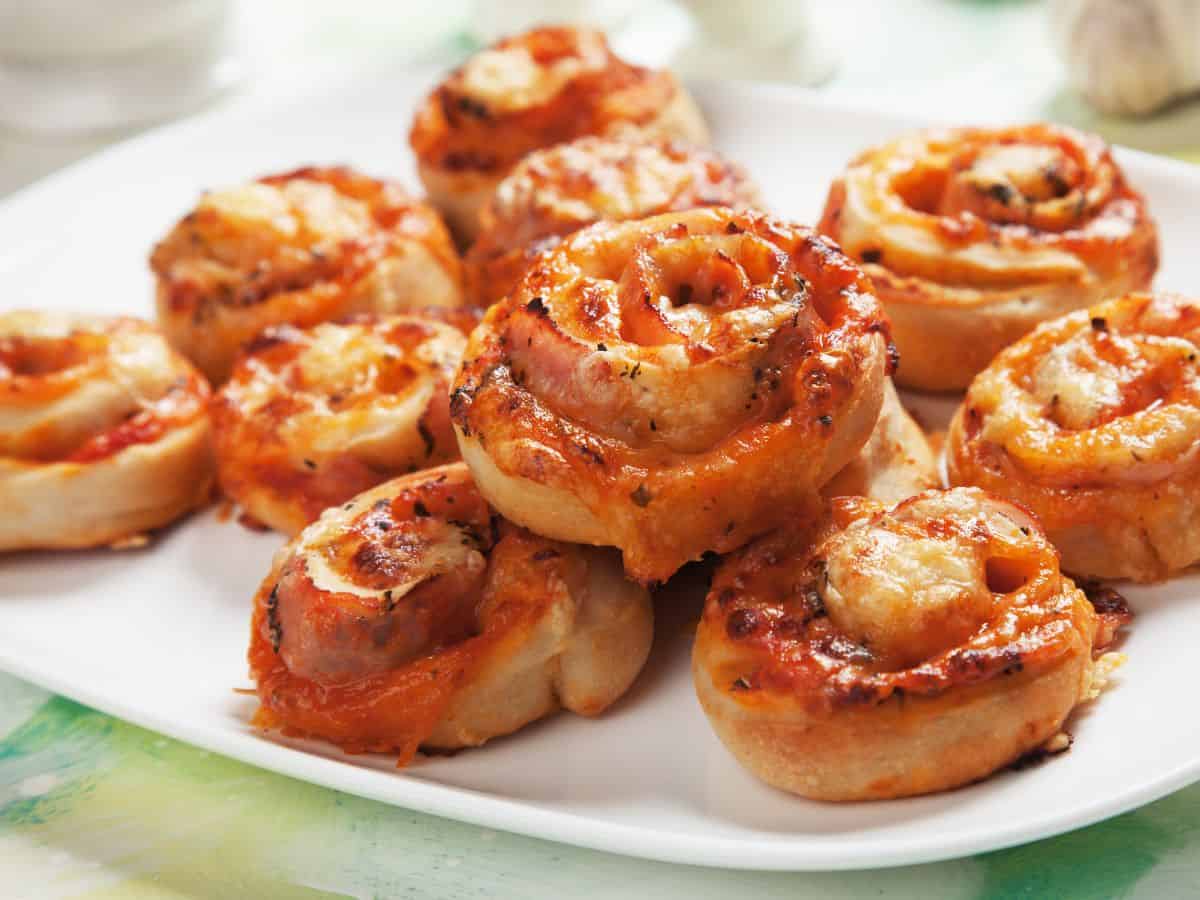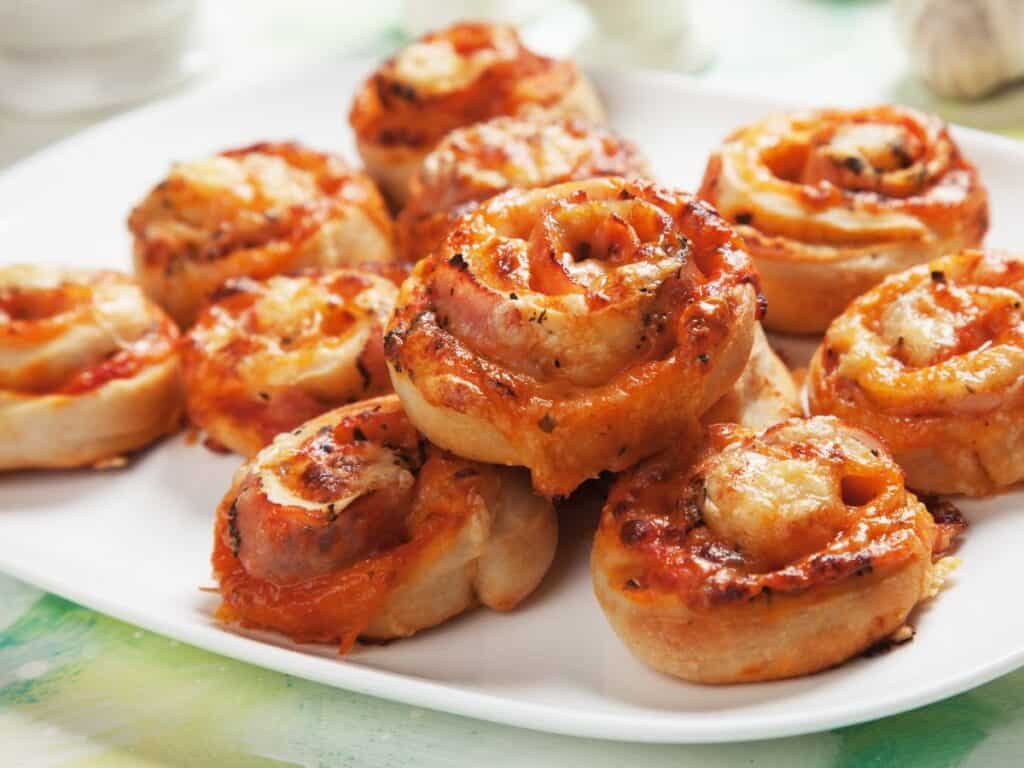 A Few Notes on The Pizza Rolls Recipe
The key to making pizza rolls is to make then the way you would make cinnamon rolls. It's the same thing with just some different ingredients.
And once they've cooled off, they freeze really well. You can throw them into a gallon freezer bag, and then put them in the freezer. Then all your kid has to do is pull out one of the rolls, and stick it in their lunchbox.
It'll defrost by the time lunch rolls around, and your kid has a tasty lunch!
They also make great after-school snacks. All they have to do is warm it up in the microwave for about 20-30 seconds. In general, these are great to have around for kid-friendly food on-the-go.
Personally, I like to make a wheat pizza crust. That's because I'd like to get extra fiber and extra nutrients into my kids' diet. Sometimes I will even add Chia seeds or flax when making the dough to make it more nutrient and fiber-rich, while also making the meal more filling.
The pizza sauce recipe I provide below is an awesome simple, basic red sauce that you can use on top of pasta, on pizza, or however you'd like.
*You can grab a PDF version of all the recipes below at the end of this post *
Basic Pizza Roll Recipe
While this makes an easy meal, it also makes for a great meal prepped food for kids to grab! You can freeze these in gallon-sized freezer bags and pop out for quick snacks or lunches on-the-go.
If you'd like the specific recipes I use for the pizza dough and sauce, keep scrolling after this recipe.
MAKES: 24
INGREDIENTS
2 balls pizza dough (can be frozen/store bought or see below for my recipe)
Pizza sauce of your choice (You can even use jarred marinara or sauce)
16 oz Mozzarella Cheese
Optional: pepperoni, various cheeses
INSTRUCTIONS
1. Preheat oven to 425 degrees.
2. Prepare dough according to instructions (with 2 risings).
3. Roll out dough into a rectangle shape with a rolling pin.
4. Spread thin layer of pizza sauce. If you add too much sauce, the pizza roll won't stay together very well. Add layer of mozzarella cheese and any toppings. Note that pepperoni should be chopped or sliced before putting on pizza.
5. Roll dough into a long log (as one would with cinnamon rolls). Cut into rolls (I usually do 12) with serrated knife or dental floss method (only if dental floss isn't flavored)
6. Repeat for second ball of dough.
7. Place rolls on lined baking sheet. And cook for 10-12 minutes or until crust is golden and cheese bubbly.
8. Serve immediately with pizza dipping sauce or if doing meal prep, cool on cooling racks. Once cool, you can flash freeze (see below) and place in gallon freezer bags.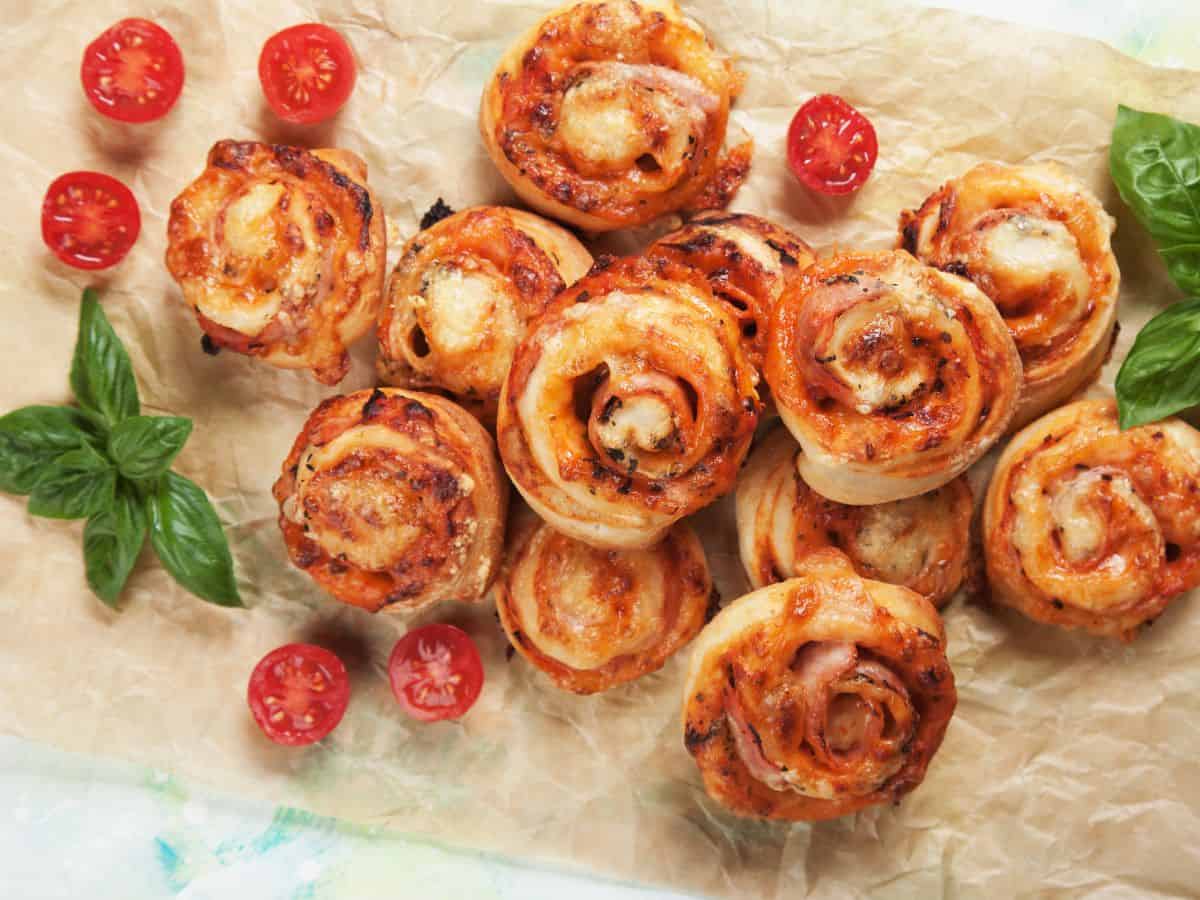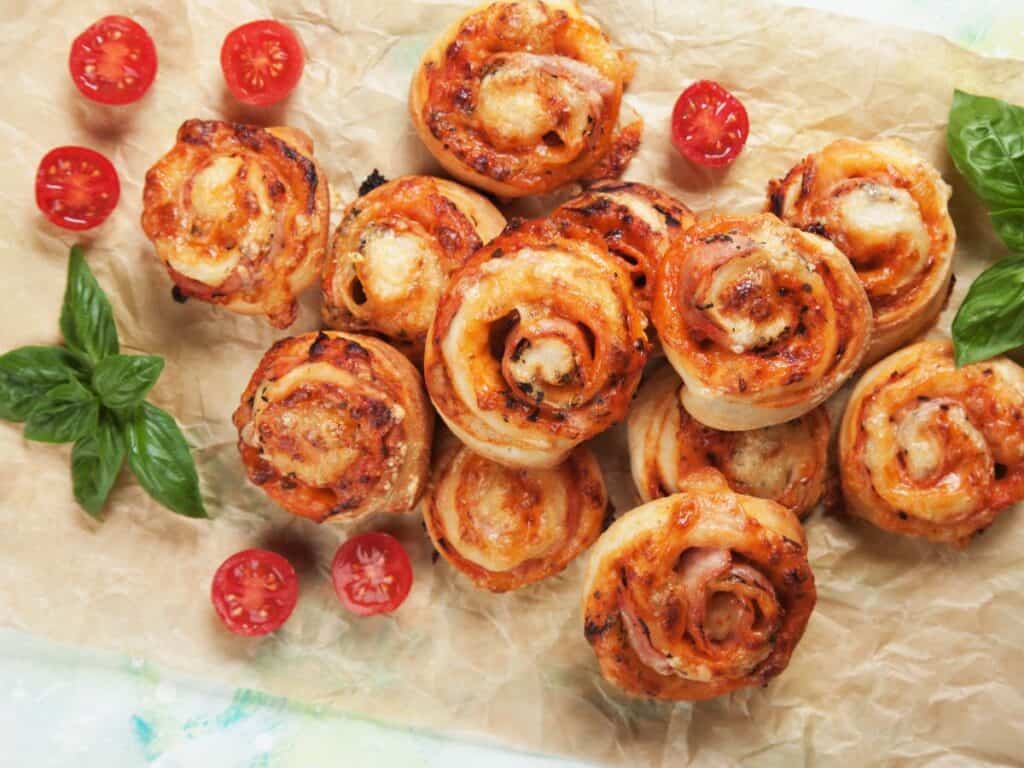 How to Freeze Rolls
If I'm being perfectly honest, I usually just throw all the pizza rolls in gallon freezer bags once they've cooled off. They don't usually stick together so I rarely flash freeze.
However, if you don't want the to stick together in the bags, you can flash freeze. Here's how to do it:
To flash freeze, place parchment paper or silicone sheet on clean baking sheet. Place cooked rolls on parchment, allowing a little space between each. Place baking sheet in freezer. Once rolls are frozen, remove and place in a gallon freezer bag. That way you can easily grab one at a time from the freezer without them sticking together.
Easy Pizza Sauce Recipe
This basic sauce is both easy and incredibly versatile. It makes a fabulous pizza sauce and tastes amazing paired with your favorite pasta and some Parmesan cheese. Can easily be frozen in quart bags.
INGREDIENTS
1 – 28 oz can crushed tomatoes
2 TBSP tomato paste
2 TBSP olive oil
2 cloves garlic (crushed/minced)
1 TBSP Italian Seasonings
1 tsp salt
1 TBSP sugar
DIRECTIONS
1. Heat oil in a large pan on medium heat. Add minced garlic and cook until fragrant (about 1 minute).
2. Add can of crushed tomatoes, tomato paste, salt, sugar, paprika, Italian seasoning and mix thoroughly. Reduce heat to low and let simmer for at least 15 minutes. If you don't have tomato paste, no worries. Just skip it and it'll still come out great.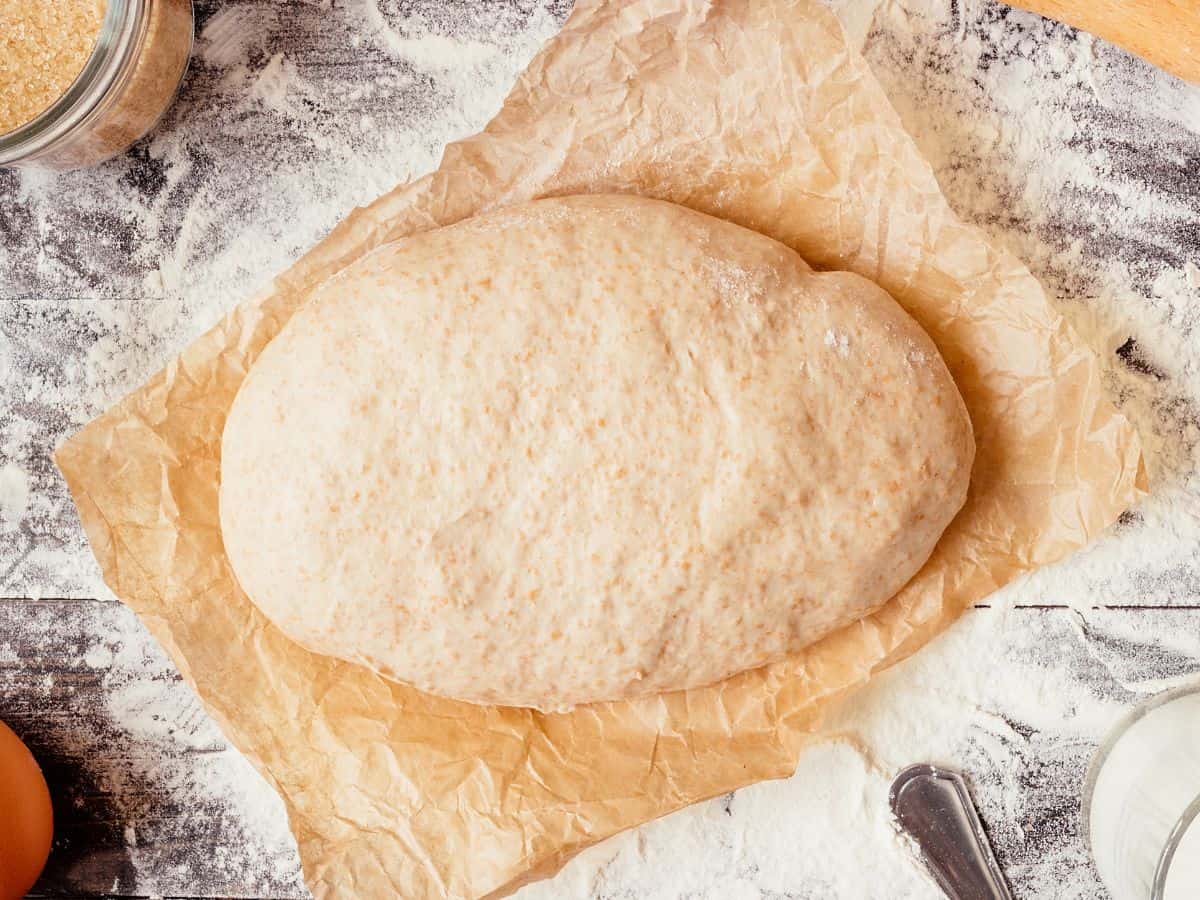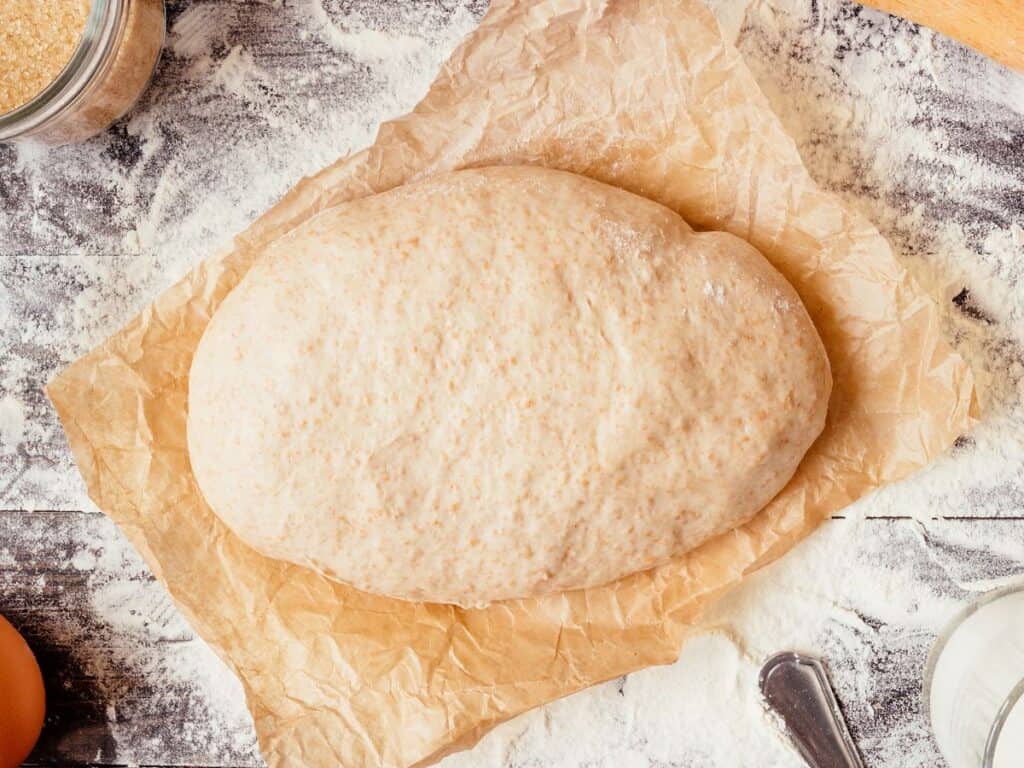 Whole Wheat Pizza Dough
Makes 2 pizzas or 24 pizza rolls.
INGREDIENTS
1 tsp white sugar
1 1/2 c. Warm water
1 TBSP active dry yeast
1 TBSP olive oil
1 tsp salt
2 c. Whole wheat flour
1 1/2 c. All-purpose flour
DIRECTIONS
1. In large bowl (or mixer), dissolve sugar in warm water. Sprinkle yeast over the top and let stand for 10 minute or until nice and foamy.
2. IN MIXER: Stir the olive oil, salt, wheat flour, and regular flour. Mix for 8-10 minutes then continue to step 4 or 5.
3. BY HAND: Stir the olive oil and salt into the yeast mixture. Then mix in the wheat flour and 1 cup of the regular flour until the dough starts to come together. Tip dough onto floured (with remaining 1/2 cup) surface. Knead until dough ball becomes smooth, about 10-12 minutes.
4. TO STORE: if you're making dough a few days ahead of time or to store in freezer, now is the time to place dough in Ziploc bags and store (see note). To make immediately, continue to step 5.
5. Place dough ball in oiled bowl and cover with loosely with towel. Let stand in warm place until doubled (about 1 hour).
6. When dough is doubled, tip the dough out onto a lightly floured surface and divide into 2 dough balls (for thin crust) or leave in ball for thick crust. Let rise until doubled (about 45 minutes).
7. Preheat oven to 425 degrees. Prepare dough into crust of desired thickness. Top with sauce and toppings as desired.
8. Bake for 15-20 minutes or until crust is crisp and golden at the edges.
MEAL PREP NOTES
Dough can store in the fridge for several days. In fact, you'll get chewier crust if it has been in the fridge for a day or so. After mixing/kneading dough together, cut into 2 pieces. Wrap each piece in Ziploc bags and place in fridge or freezer.
To prepare refrigerated dough, remove dough from fridge, place in oiled bowl, cover, and let rise until doubled (1-2 hours) and then pick up directions at step 6.
For frozen dough, place in fridge until defrosted and then follow steps above.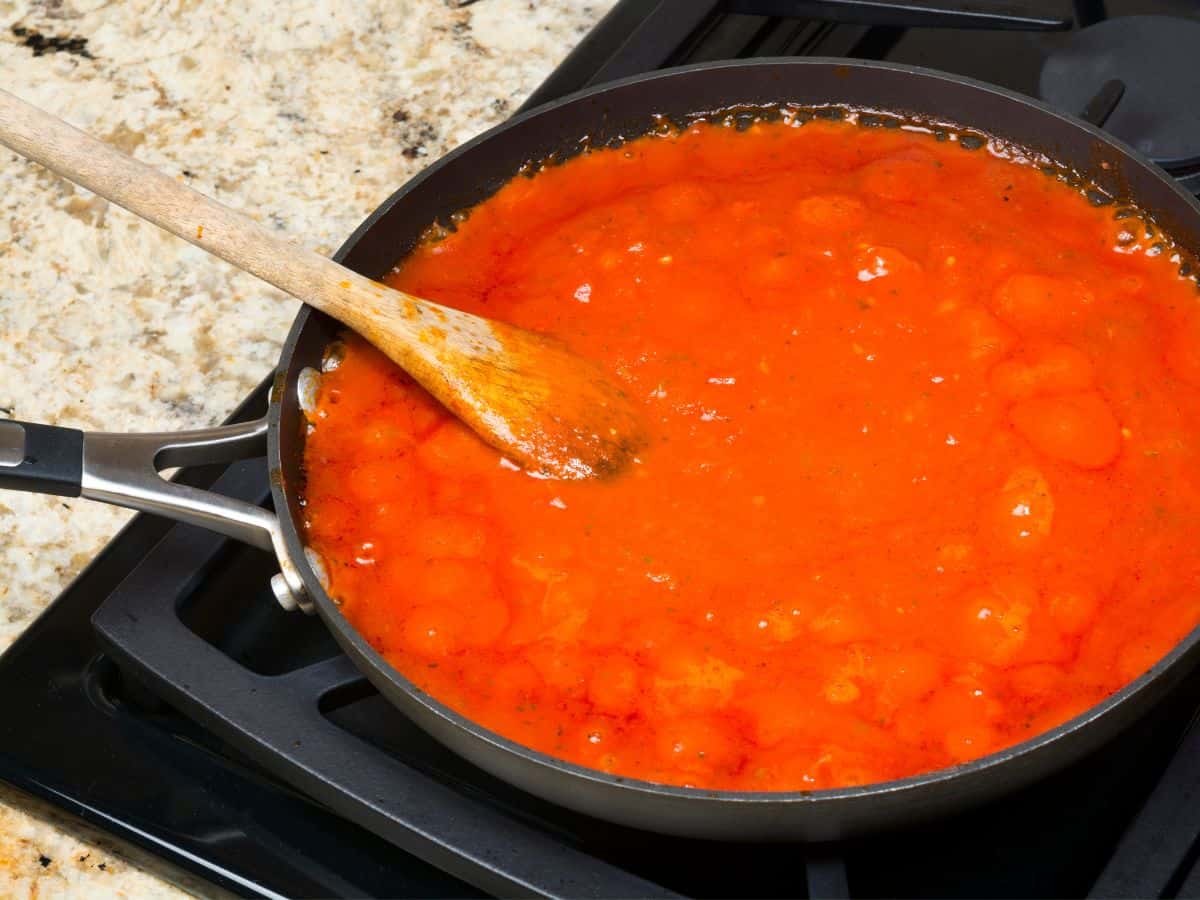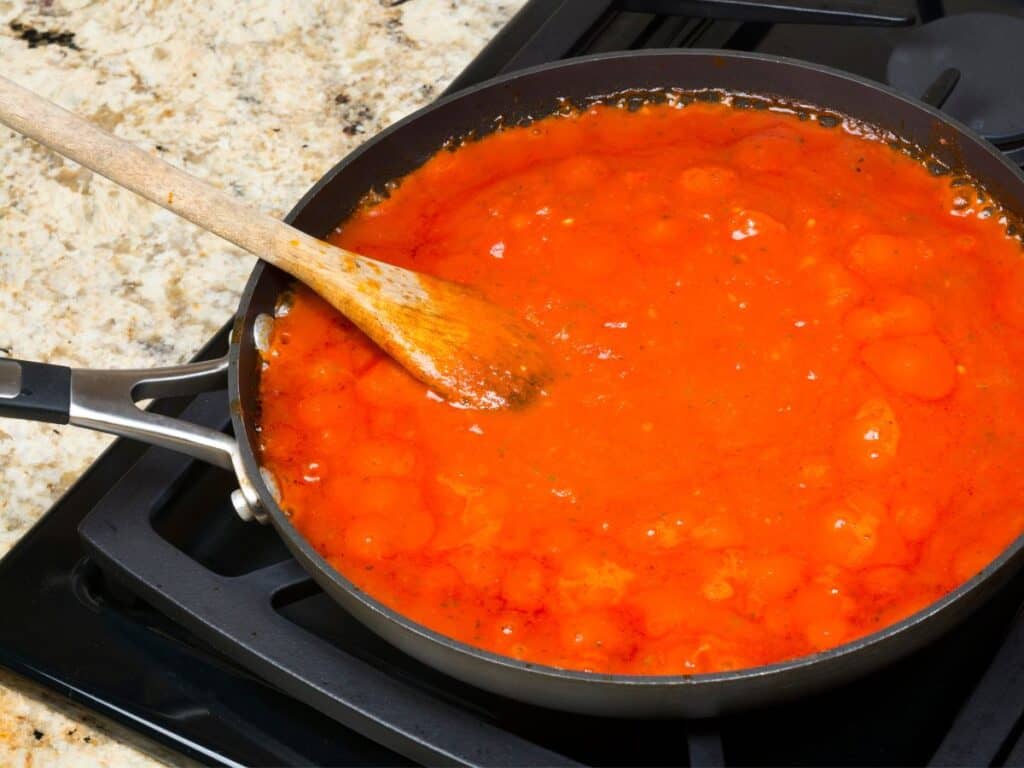 More Free Meal Prep Recipes & Resources
The Ultimate Guide to Getting Started with Meal Prep – This guide has everything you need to start saving loads of time and energy by meal prepping–even if you've got a big family and no time. Learn the simple way to start healthy and easy meal prepping complete with loads of ideas, meal prep routine tips, and recipes to get started.
7 Make-Ahead Breakfast Recipes That Will Transform Your Mornings – Meal prepping breakfast is one of the easiest ways to organize your mornings and make them run smoother. All these recipes are kid-friendly and are all staples in our house.
How to Meal Plan for Your Family + Free Meal Planning Printables – Here you'll not only learn exactly how to make a meal plan for a family, but you'll get loads of tips to make it simple and easy. Plus you can grab the free Meal Planning Starter Kit.
Download the Pizza Roll Recipes
For your convenience, I've also created a PDF with all the recipes in one convenient place. These are great recipe to add to your recipe binder or wherever you keep your recipes.
To download, click the link below and it should download automatically from dropbox.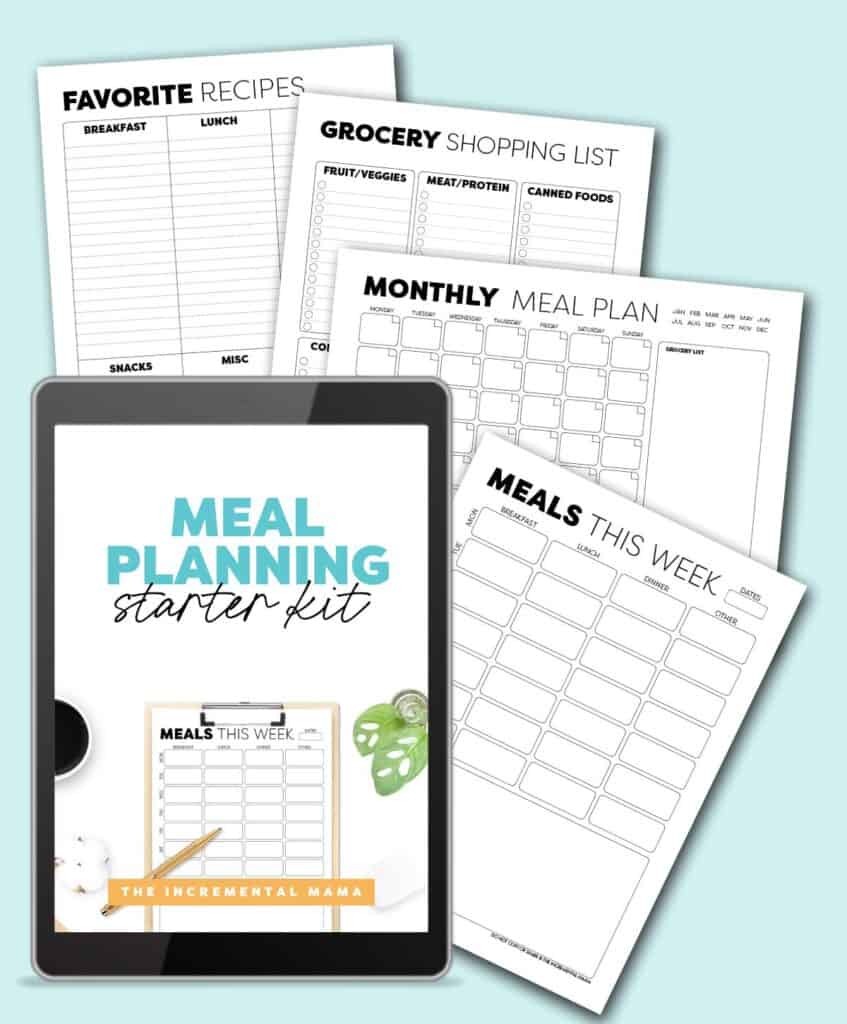 Free Meal Planning Starter Kit
Ready to save time, money, and effort by planning your meals? Grab the free Meal Planning Starter Kit which includes:
Weekly Meal Planner
Monthly Meal Planner
Favorite Recipe Template
Grocery Shopping List
YOU MAY ALSO LIKE: