Your habits determine whether your home is clean or messy. It's not a matter of having hours every day devoted to cleaning. The small little things we do (or don't do) as we go about our day.
So if you're wondering how to keep your house clean and organized, these 10 simple habits are the answer.
Developing these habits alone will make a massive difference in the state of your space and they don't take much time.
RELATED: A Simple Cleaning Schedule You Can Stick To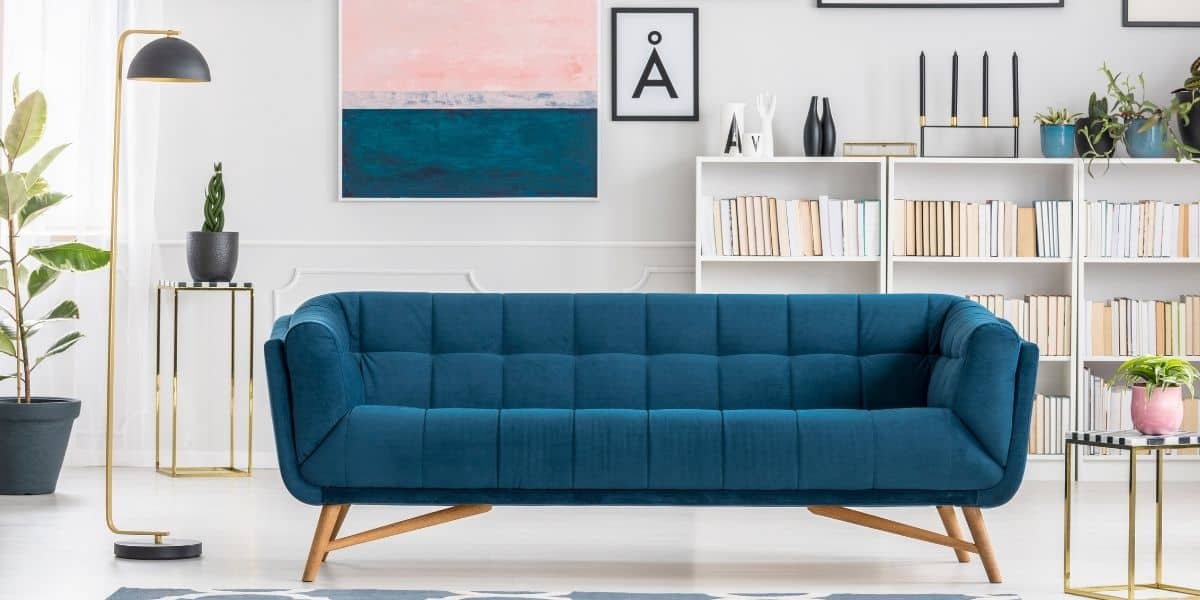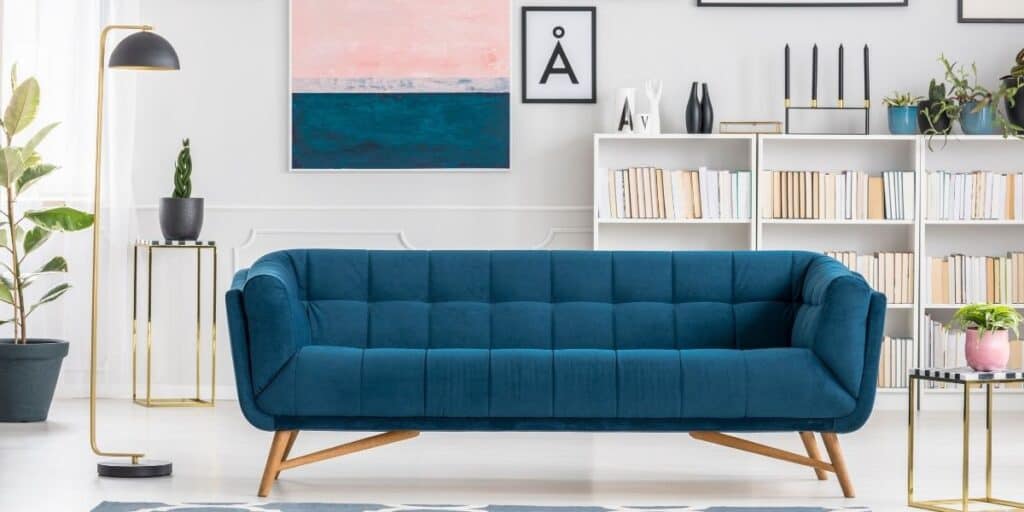 THE SECRETS TO KEEPING A CLEAN AND ORGANIZED HOME
Dealing with a mess right away is the most efficient way to deal with it. Which is why most of the habits we're about to discuss fall under the theme of "dealing with a mess right away".
If you were to look around your home, easily 75% of messes that have built up have come from a mess being left to deal with later (or ignored entirely). Therefore, when we get in the habit of dealing with our messes immediately—whatever that looks like—we can take care of a lot of problems before they even start.
And in addition to just having a cleaner home in general, the added benefit of taking care of a mess right away is that you usually end up spending less time on it. So your house stays cleaner with less effort.
Let's get started!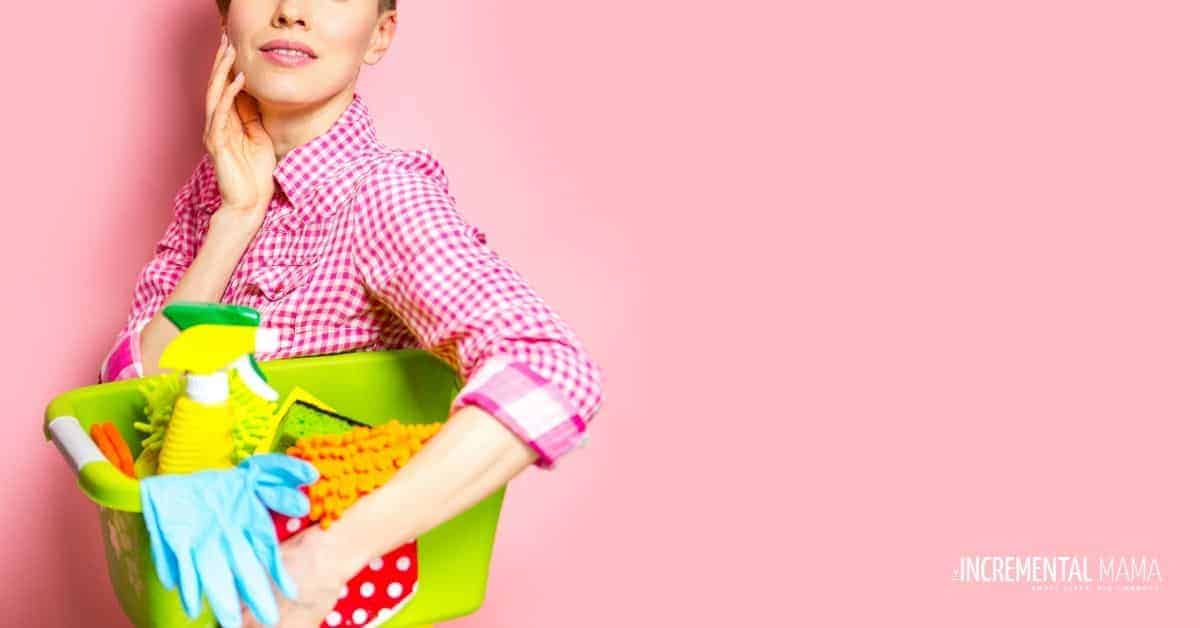 10 HABITS TO KEEP YOUR HOME CLEAN AND ORGANIZED
And a quick note before you dive straight in…
As you go through these 10 habits, note one or two that you'd like to work on. Don't try to start doing them all at once because that'd be overwhelming.
And what happens when you feel overwhelmed with cleaning? It's super easy to throw in the towel altogether.
So instead, pick 1 or 2 habits to work on, and then get started. Once you've built that habit into your daily routine, add another.
And a great place to start?
1. Make Your Bed Everyday
I used to think making my bed was a waste of time because I was just going to get back in it again at the end of the day. But after starting this habit, I realized that I was just plain wrong.
Making your bed is a powerful way to start the day. It takes just a few minutes but gives you an immediate sense of accomplishment right when you wake up.
And plus it gives a mood boost when you look at your neatly made bed. And every time to look at that nicely made bed during the day, you'll just that little rush of satisfaction.
And I swear, it feels so much better slipping into a made bed at night. And according to a National Sleep Foundation survey, people who make their bed are 19% more likely to report regularly getting a good night's sleep.
There are some very practical reasons to make your bed other than having a tidy space.
And here are some tips to help you develop the habit of making your bed:
Do it the second you pop out of bed: make it an automatic habit. Get that boost first first thing.
If it's a major pain to make your bed, because of pillows and bedding, then simplify! Get rid of the pillows. Change to bedding that's easy to make up every morning. If it takes more than a minute or two to make your bed, it'll be harder to develop this habit.
Get new bedding that you really love. When you love the look of your bed, it's motivating to keep it made. Plus, it's easier to develop new habits when we experience a change. So the added benefit of creating newness around your bed, will make it easier to start a new bed-making habit. Personally, I love Target bedding. Affordable and super cute.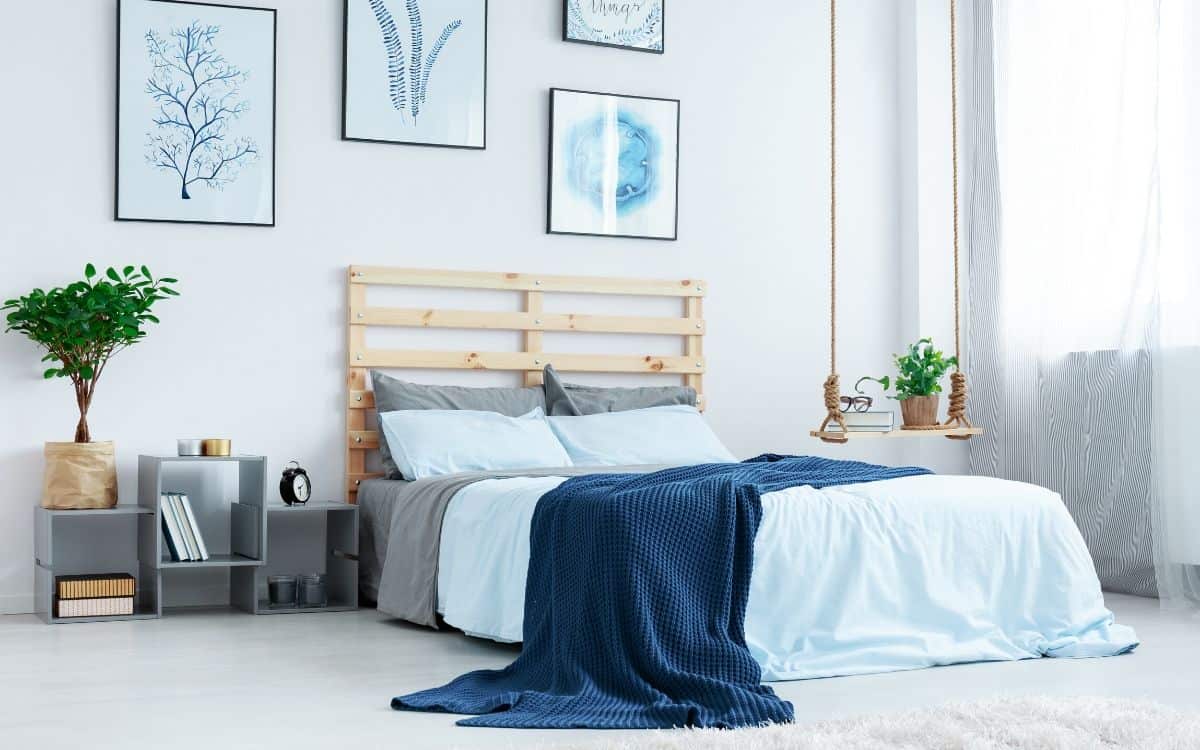 2. Never Leave a room empty-handed
This habit is all about taking care of the clutter that ends up in the wrong parts of the house. Which especially becomes a problem when kids are in the mix.
The beauty of this habit is that it doesn't take any extra time. And it will make a huge difference in the amount of clutter around your home.
Think about it: You've probably got stuff all over your house in places it doesn't belong. Shoes on the stairs, toys in the bathroom. Dirty kitchen towels that need to get to the washing machine.
So the habit of never leaving a room empty handed means that you're getting those items closer to where they belong. You're not necessarily putting it away, but you're taking it closer to where it belongs as you move through your home going about your day.
Your job is to just go where you were going anyways but carrying stuff closer to its destination. Maybe it's throwing it in your kid's room as you walk past.
You're just making use of walking through your house. This also is a powerful habit that keeps things from building up. Especially as you train the rest of your family to do it as well! And it takes ZERO extra time.
RELATED: How to Clean Your House When it's a Disgusting Mess (Plus Free Checklist)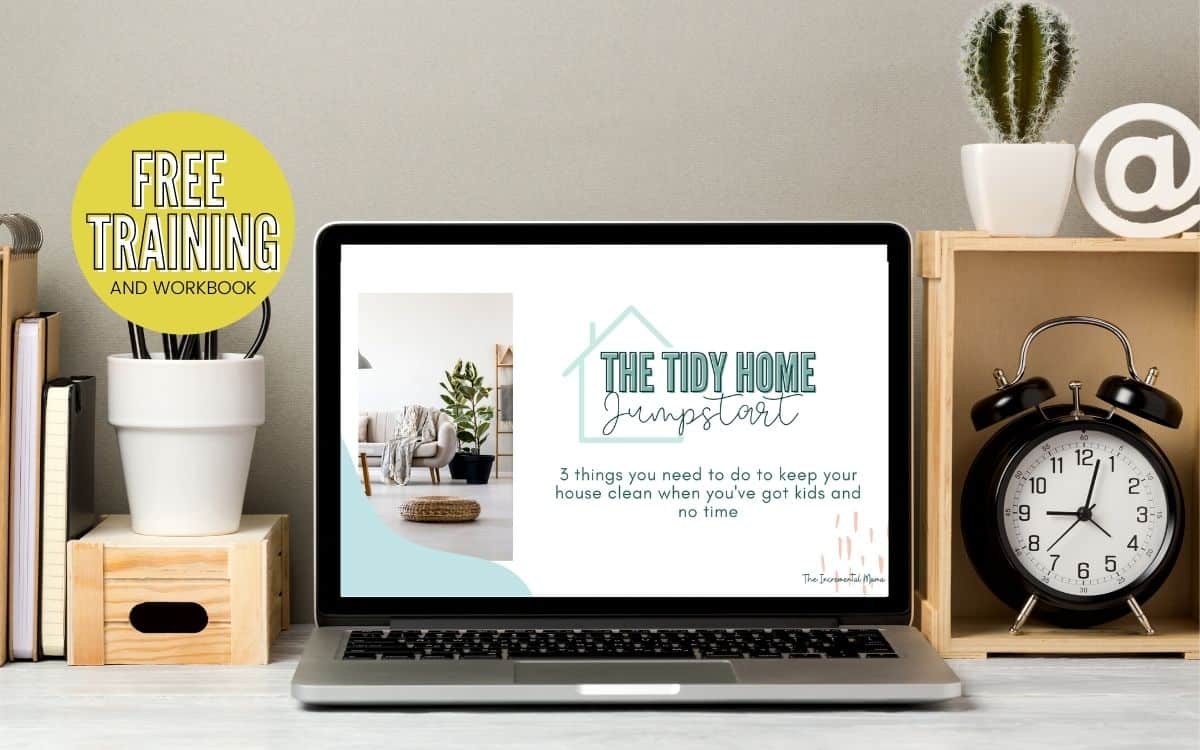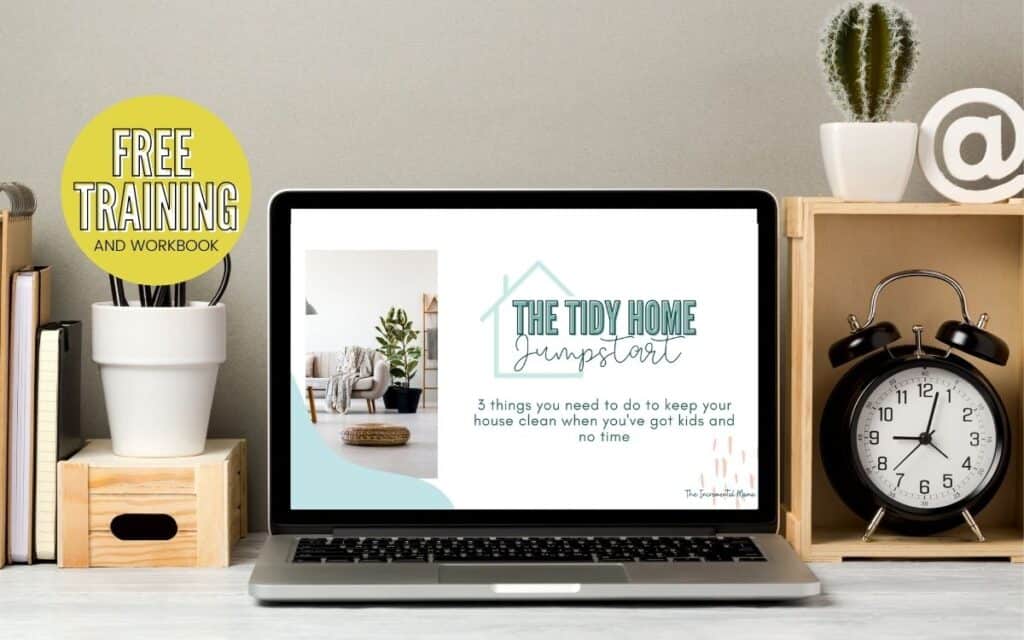 3. The 1-Minute Rule
This habit means that basically anything that can get done in less than a minute, you do right away.
You put away the cereal box sitting on the counter. Your shoes go to your closet after you take them off. You put your clothes in the hamper or back in your closet at the end of the day (instead of throwing them on your bed or floor).
You put the mail where it goes instead of leaving it in a pile on the kitchen counter. You wipe down the light switch that looks like it's been sneezed on etc.
If it's a quick task, you do it automatically. This keeps things from building up and feeling overwhelming. Getting in the habit of doing small tasks right away means that big tasks don't develop. This habit alone keeps clutter at a minimum at our house.
4. Wash dishes every day.
Leaving dishes in the sink overnight is both unsanitary and super inefficient because cleaning caked on food takes exponentially longer to clean up. I speak with a lot of experience here.
Not dealing with dishes immediately is actually a huge time-suck.
Plus, staying up consistently on the dishes goes a long way to keeping the kitchen clean and tidy all the time. Which'll make you feel pretty good about life, right?
So never leave dishes overnight. Instead, make sure to load and run the dishwasher every evening (or wash by hand if you don't have a dishwasher).
A secondary habit that pairs nicely with this is to get in the habit of putting away dishes in the morning when you're grabbing breakfast. That way at the beginning of the day, you're starting fresh with dishes! You can also delegate that task out to your kids. Silverware and cups is great place to start for small kids.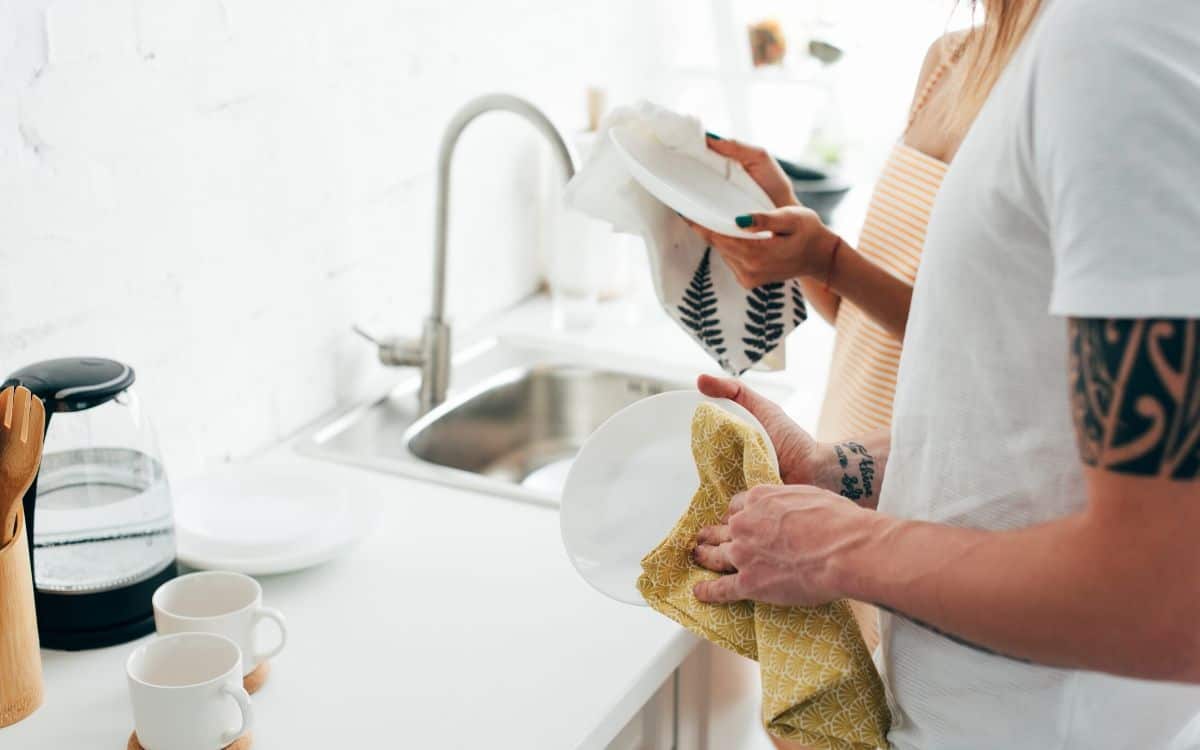 5. Use timers
Messes can feel overwhelming. Hence why we opt to deal with them later. A great way to overcome this is by using timers.
Timers help us rip the bandaid and just get started with whatever task we've got to do. And secondly, when we have a short period of time, we tend to be more effective with that time. For example, when I was in school, if I had 2 hours to finish an assignment, it took me 2 hours. If I had 30 minutes, miraculously, it took me 30 minutes.
Now, if I set a timer to clean the bathroom, it will take me less time than if I don't. Timers are powerful.
They're also fantastic when it comes to starting a task that feels overwhelming. Instead of feeling like you have to tackle a mess from start to finish–clean the whole kitchen, vacuum & mop all the floors, fold 10 loads of laundry–just set a timer for 5/10/15 minutes (or whatever feels manageable) and start.
I often just use the timer on my phone. Or this timer cube from amazon is amazing.
6. The 10-Minute Power Clean
You can do anything for 10 minutes. And it's pretty amazing how much can get done with a few minutes of focused effort.
When we know we only have to work for a short period of time, we can usually work much faster and more efficiently. Thus, a 10 minute whirlwind clean–especially in the evenings–can do a lot to keep your house clean and organized.
It's especially efficient when you get the whole family on board. At our house, we put on an upbeat dance mix on the bluetooth speaker and it becomes a family dancing/cleaning party.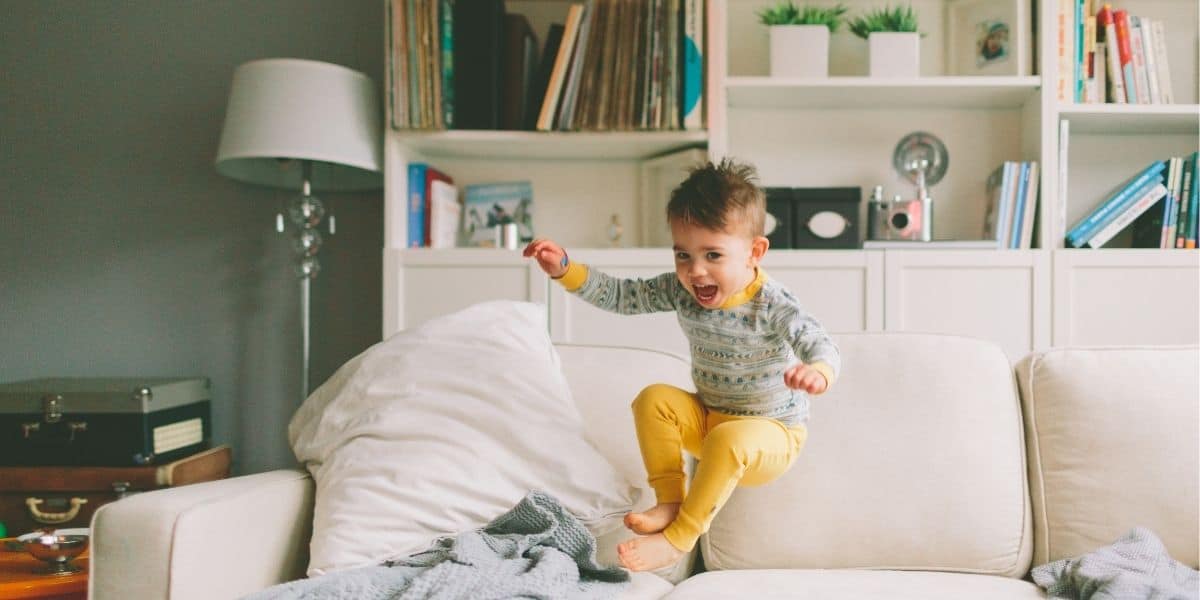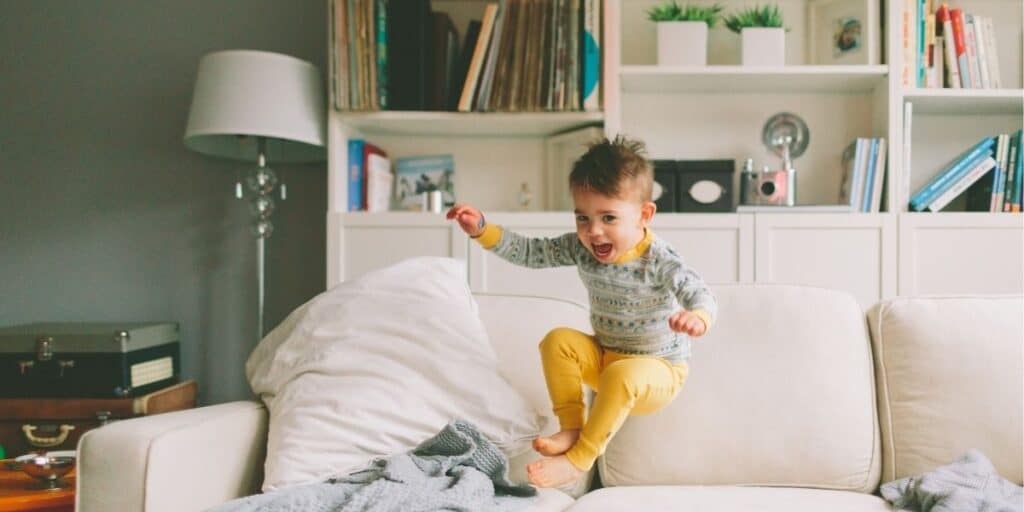 7. Declutter Constantly
We live in an age of stuff. For a variety of reasons we have more than we need, more than we use, more than we have room to keep organized.
And not only is it bad for the environment, it's also not great for our well-being. Because all this stuff has led to a whole lot of clutter and disorganization (and subsequent anxiety and frustration).
And there's a constant influx of more stuff always coming in. Especially when we have kids (think clothes and shoes as they grow, birthday and holiday gifts coming in each year etc).
Therefore, the habit of constantly decluttering is another powerful habit to keep your home clean and organized.
As you tidy your things, you should be asking yourself a few questions as you ponder your possessions:
Do you use it?
Do you love it?
Do you need it?
If you don't get a "heck yes" somewhere in there, it needs to go.
To start this habit, you need 2 things:
somewhere to toss your unwanted stuff immediately (whether to donate or throw away)
a place you can donate them
If it's trash, throw it in the trash right away or recycle, if possible. If it's worth donating, then keep a cardboard box or garbage sack somewhere handy to toss in unwanted items.
If you're not sure where you can donate stuff in your area, ask around or look it up on google. Thrift stores like Goodwill and Deseret Industries accept a lot of donated items. You could also check out local shelters that accept donations.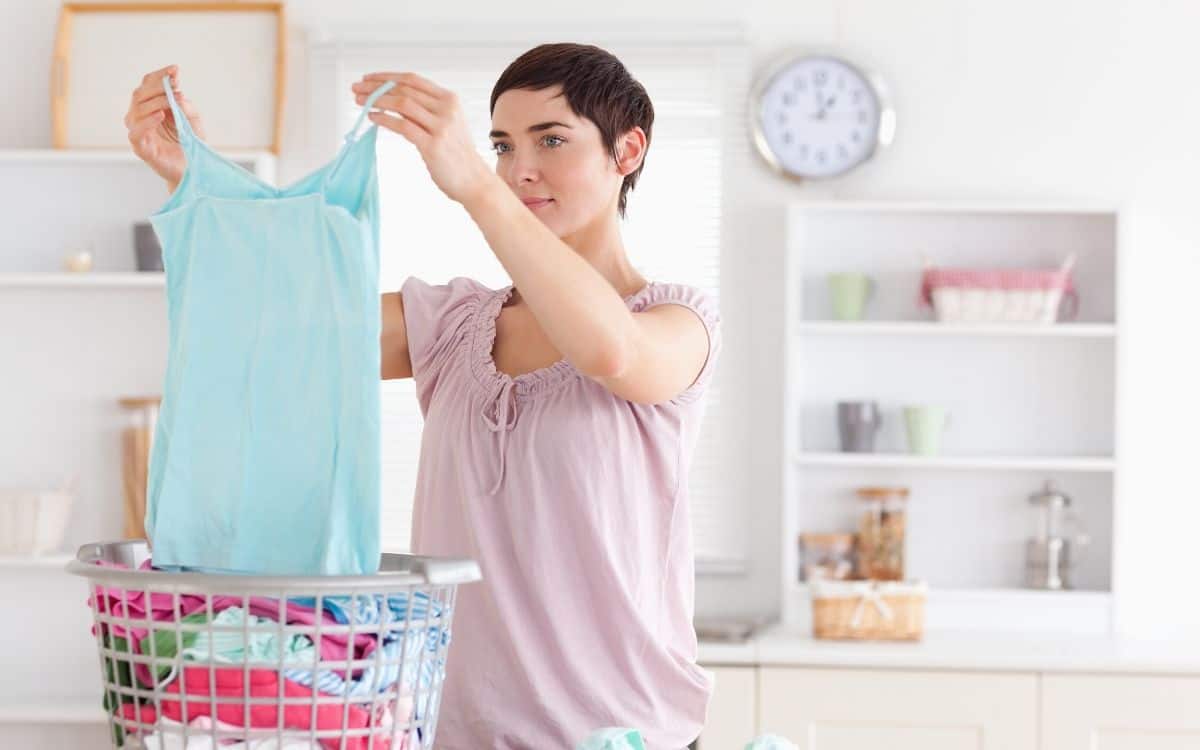 8. 15 Minutes of Laundry a Day
Unless you've got a family of 8 or more, you can pretty much stay up with laundry in 15 minutes a day. I know it seems like that's impossible, but it's true.
I can't tell you how many skeptical friends I've shared this routine with who've come back later, completely thrilled, that it actually works.
Here's what you do:
Wash a load
Fold the load from the day before
Put folded laundry away
At some point in the day, move the load to the dryer
That's it. Just try it out for a week. I'm telling you: if you do this you will pretty much always be caught up on laundry. No more piles of dirty laundry accumulating around your house. And no more clean laundry lying around in baskets for weeks getting mixed with the dirty laundry.
9. Clean as You Go
Many of us are inflicted with I'll-do-it-later-itis. Especially, I'll-do-it-later when I have energy itis.
Problem is, we rarely have that mystical burst of energy when we feel like doing all the cleaning we left from before. Which is why this habit can be such a game changer to keep your home clean and organized.
It's just putting things away right after you use them. This is especially game-changing when it comes to preparing meals. While you're cooking put away ingredients when you're done with them, rinse off dishes and load them in the dishwasher immediately, wipe down the counter where you spilled some liquid etc.
Again, doing it immediately usually saves a lot of time as messes tend to be more difficult when left for later.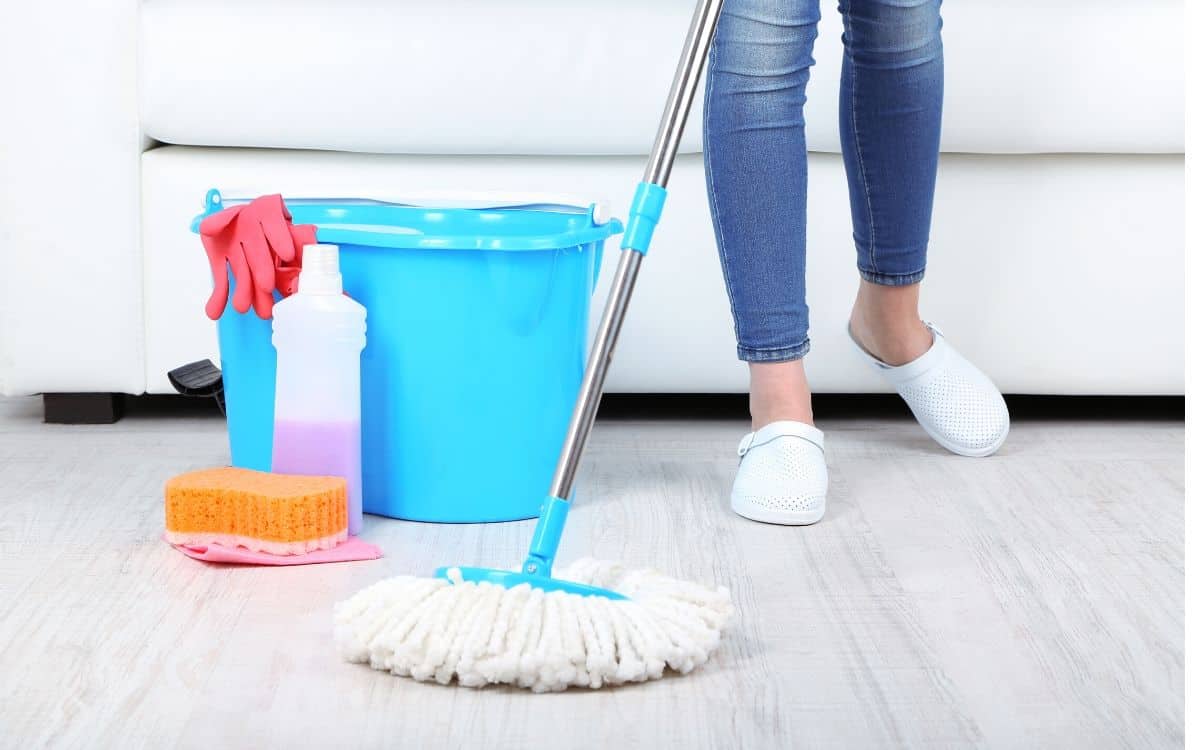 10. Keep it Fun
As humans, we avoid unpleasant tasks like we avoid the guy who acts like he's got tuberculosis in the checkout line at the grocery store.
Therefore, making cleaning as enjoyable as possible helps motivate us to keep with good cleaning habits. One way to do this is through what is called coupling or pairing.
Basically, you couple an enjoyable task with something you're trying to get yourself to do. Like to be motivated to go to the gym, you could only allow yourself to watch your favorite show when you're on the treadmill. Or coupling your morning cup of coffee with practicing 5 minutes of mediation.
When it comes to cleaning, this could be putting on fun music while you clean. Or only allow yourself to watch Netflix when you're washing up the dishes in the evening. I personally pop in my headphones and listen to my favorite podcasts while I clean.
Need some great podcasts to listen to? Then check out these Binge-worthy Podcasts Series Your Need in Your Life .
CLEANING TIPS TO KEEP YOUR HOME CLEAN AND ORGANIZED
These habits will make it so much easier to keep your home clean and tidy! Pick one or 2 and start working on building these habits. For help, you can download this free habit tracker.
If you're looking for a simple cleaning schedule you can actually stick to, check out this free printable cleaning schedule.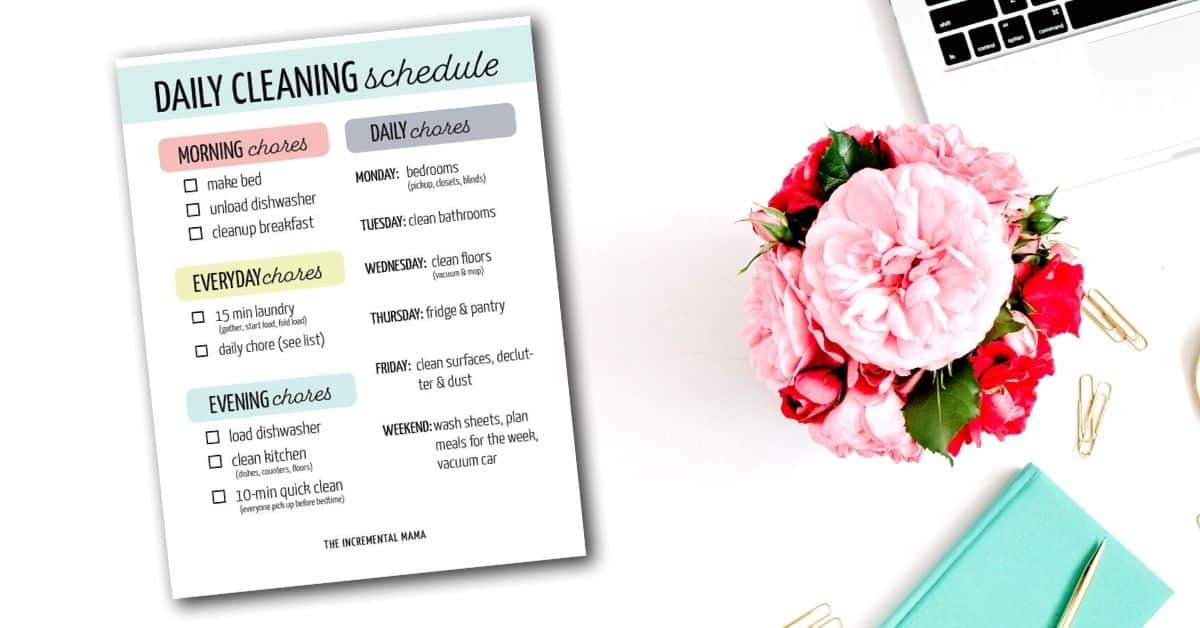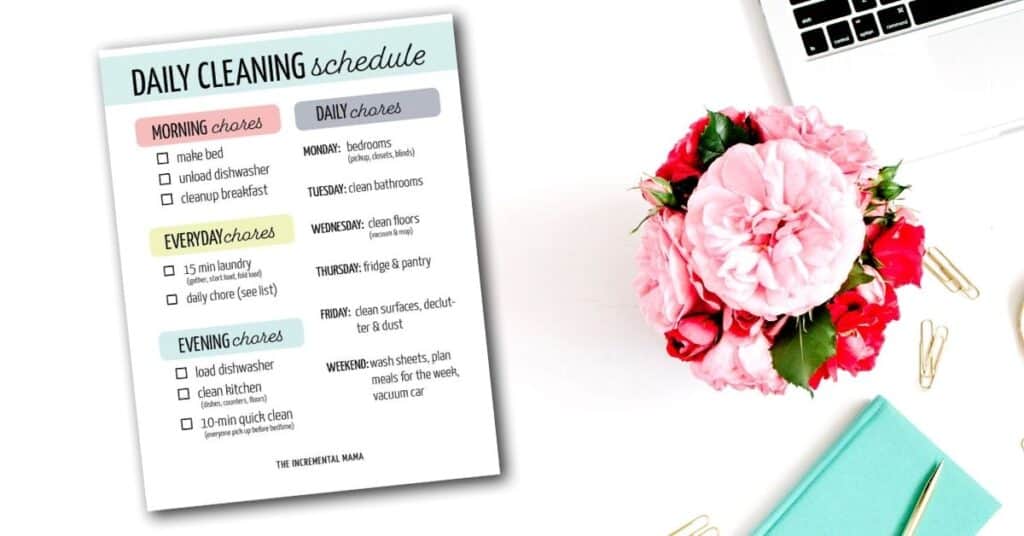 YOU MAY ALSO LIKE:
How to Clean Your House When it's a Disgusting Mess (Plus Free Checklist)