I always breathe a deep sigh of relief once school's out for summer. No more scrambling to get 4 kids fed, ready, out the door, and in the van by 7:40am.
No more stressing over math homework or spending hours in the car hauling kids to and from school.
As my kids put away their backpacks in storage and kick off their sneakers (to spend the next couple months in bare feet or sandals), I can feel the rigid school year schedule giving way to a more relaxed summer vibe.
But while it's more relaxed, we all know that going into summer with no structure and no plan usually ends with bored kids, a messy house, and a frustrated mama.
Which is why I made this cute & customizable summer chore chart printable. So that you can keep your kid happy and on a helpful routine this summer.
Which means you get to build fun memories this summer instead of counting down each day until school starts back up.
You can use the sample daily checklist or use the customizable summer chore chart to personalize to your child.
(By the way, You can grab the free printable at the bottom of this post.)
If you're looking for more free printables to organize your summer with kids, check out this Best Summer Schedule for Kids + Free Printable Bundle.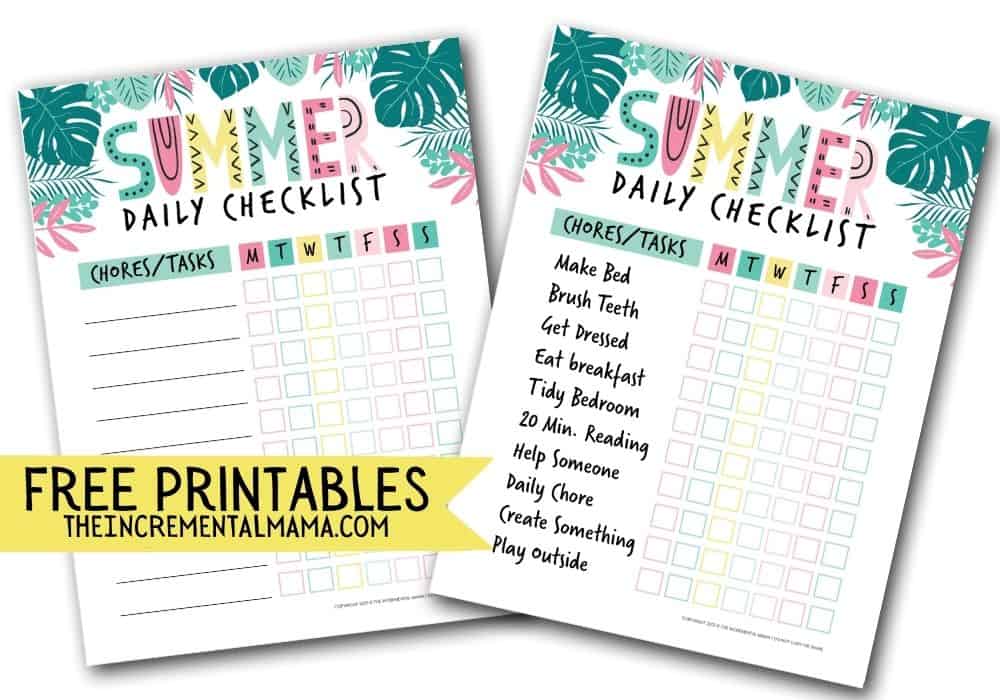 DAILY & WEEKLY SUMMER CHORE CHART PRINTABLE
Truth is, kids crave routine and structure in their day. With so much out of their control, children thrive with healthy routines they can count on.
Also, kids benefit immensely from doing chores. Research shows it increases self-esteem and kids who do chores tend to be more successful adults.
And this summer chore chart will help you create a healthy and helpful daily routine that your kids can expect during their summer break while also giving them the kind of responsibility that helps them grow.
These free printable summer chore charts includes 2 printables:
1 – Sample summer chore chart with suggested daily routine for kids
1 – Customizable daily summer chore chart with blank tasks you can fill in
This weekly routine/chore chart has a checkbox for each task for each day of the week (Monday to Sunday).
RELATED: Encourage Reading with the Free Printable Summer Reading Log
TIPS TO USE CHART & GET YOUR KIDS EXCITED ABOUT CHORES
Here are my suggestions for getting the most out of this free printable summer chore chart.
1. Laminate the chore chart.
Or place it in an 8 x 10 picture frame and having your kid use a dry-erase marker to check off each task. That way you don't have to waste paper and ink printing off a new copy each week.
(I'm obsessed with this inexpensive laminator.)
2. Post it in easy-to-see place & let your kids check off the tasks on their own.
Out of sight, out of mind. And when it comes to building new routines & habits, you need it visible to both you and your kid (like on the refrigerator).
Also, kids LOVE checking things off a list. In fact, the feeling they get checking things off their chart can actualy become a motivating force in getting their daily chores done.
Not only have I found this with my own 4 kids, but I hear from lots of moms how their kids love toe check things off their lists.
(Kids–they're just like us!)
So let you kids check off the tasks on their own. If your kids are young and you're nervous about hem using a dry-erase marker, just be sure to supervise and store the marker out of reach.
But let them do it on their own. They'll feel important and independent.
3. Keep it positive.
When kids sense your frustration or anger, they tend to shut off or get ornery as a way to cope. So as you're getting your child to do new chores or tasks, it's essential to keep the mood upbeat and positive.
Let them know how helpful their contribution is to the household. Be encouraging of their efforts and patient as they learn.
I've learned over and over that I'm the thermostat of the home: my mood effects everyone. Be aware of what "temperature" you set around chores.
4. Make chores fun.
While it's unrealistic to expect that chores should be a blast for your child, you certainly can do a whole lot to make it a positive experience.
Here are a few ideas on how to make chores fun:
Turn it into a game (ex. using the trash can as a basketball hoop for trash)
Set a timer and race against the clock
Put on fun music & make it a dance party
For more tips to get kids to help out without complaining, check out 13 Secrets to Getting Kids Excited About Chores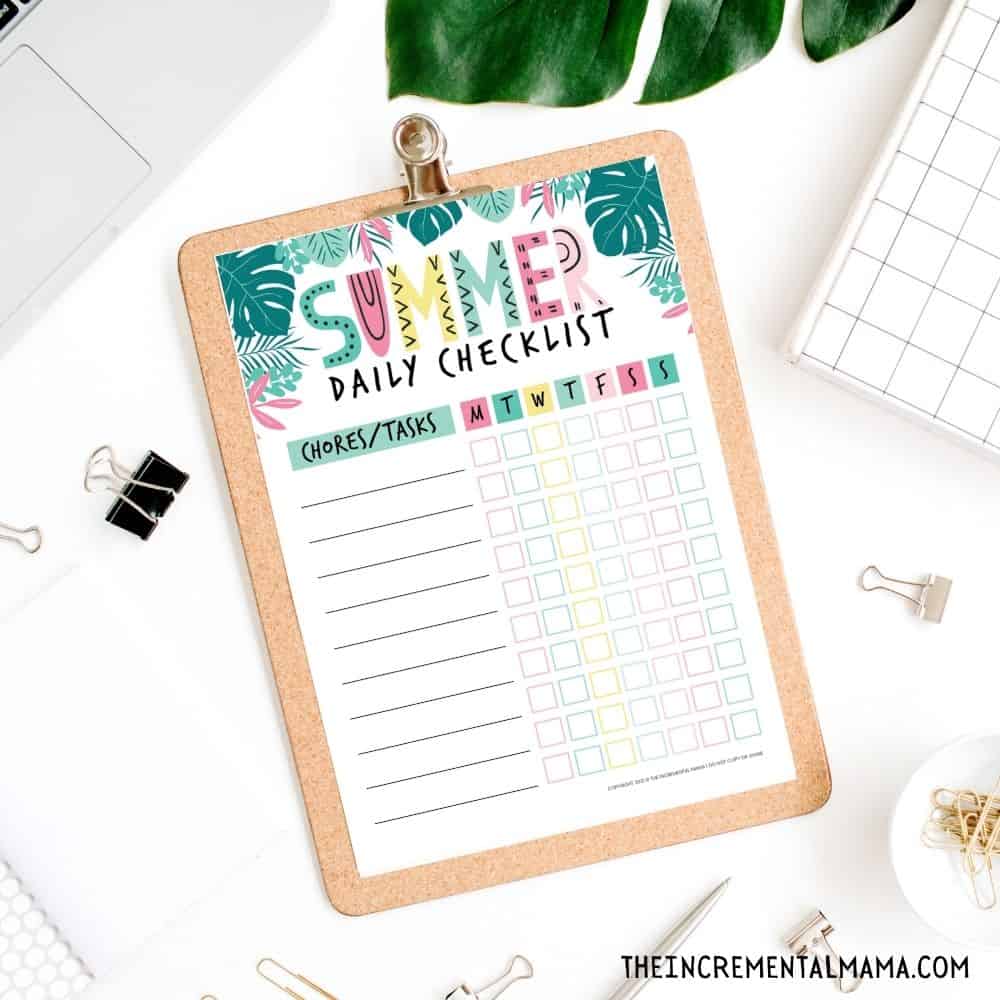 SUMMER CHORE LIST IDEAS FOR KIDS
It's totally normal to be a little lost as to what chores you should give your kids. And you may even wonder what kinds of chores to give during summer.
Personally, I think that summer is great time to level up with the chores and teach my kids new skills.
During the school year, it's easy to get caught up in the tight schedules and nightly homework. But during summer I feel like I have a bit more mental space and time to teach my kids how to do some new chores or how to prepare food.
I've also found that kids are incredibly capable. Don't be afraid to give them tasks that may stretch them.
Kids get a real self-esteem boost when they can do a task viewed as difficult.
That being said, here is a list of summer chore ideas for kids:
Unload the dishwasher
Match clean socks
Fold towels
Help divide dirty laundry
Make toast to accompany a family breakfast
Set the table for meals
Wipe down table
Mow the lawn
Pull weeds
Dust with a swiffer duster (my kids LOVE dusting)
Sweep
Use the hand vac
Watch younger siblings
Make bed
Keep bedroom tidy
Help you make meals
For more age-specific chore ideas, check out this Printable Chore Chart by Age
EDITABLE SUMMER CHORE CHART TEMPLATE
While the free printable summer chore chart includes a sample chore/routine chart and a blank one you can customize, you may be looking for an editable summer chore chart that doesn't feature your handwriting.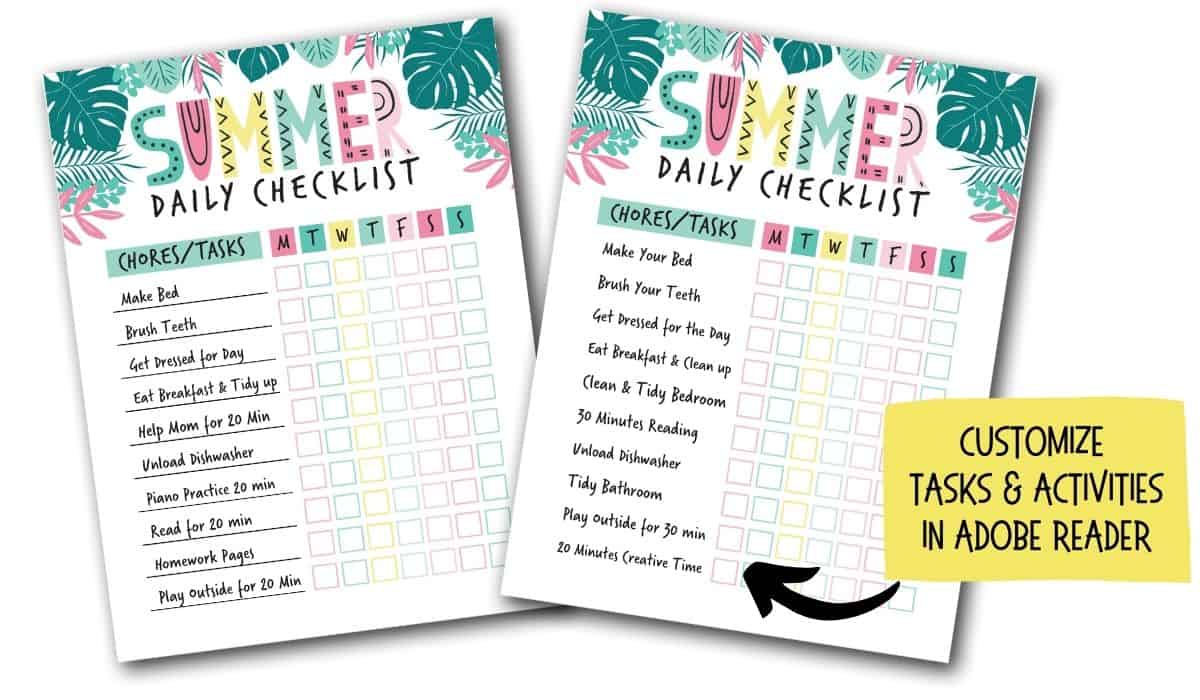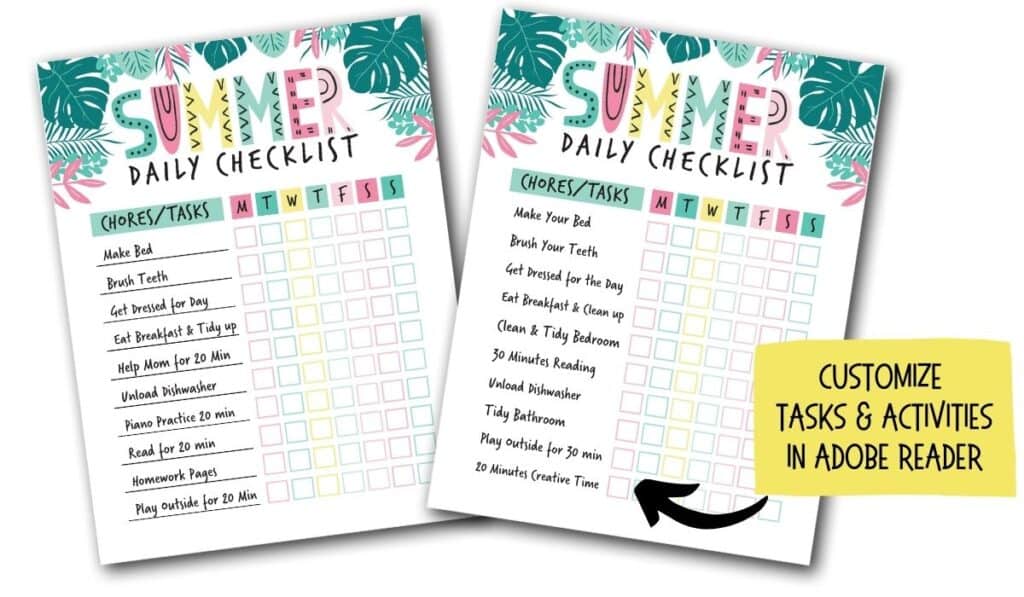 If you're looking for a fillable PDF in which you can fill out the daily chores/tasks, you're in luck. I've also created a fillable version of the summer chore chart
>>>CHECK OUT THE FILLABLE SUMMER CHORE CHART HERE<<<
Note that this is not the free chore template. That can be downloaded by signing up below.
DOWNLOAD THE FREE PRINTABLE CHORE CHECKLIST
If you're ready to keep your kids productive and happy this summer (and stay sane), then go ahead and download the free summer chore chart printables below. Sign up and get both the sample daily chore checklist and the customizable chart sent straight to your inbox.
Have a great summer!
YOU MAY ALSO LIKE: