It's no secret that we live in a society swimming in screens. From the TVs in your home, the phones in our pockets, the tablets on the counter, and the school laptop in your kid's backpack.
And without setting screen time rules for our kids, it's safe to assume that they could easily pass untold hours with their little faces glued to one screen or another. Which is why I created this free printable screen time checklist template bundle.
This free printable bundle includes 4 pages of templates including a summer screen time checklist template, an after school screen time PDF, and blank version of both templates.
You can grab the free digital download at the bottom of this post. But in the meantime, I will cover:
how to use the screen time checklists
Current Screen Time Guidelines for Kids
How to Create a Screen Time Plan for your family
Let's dive in!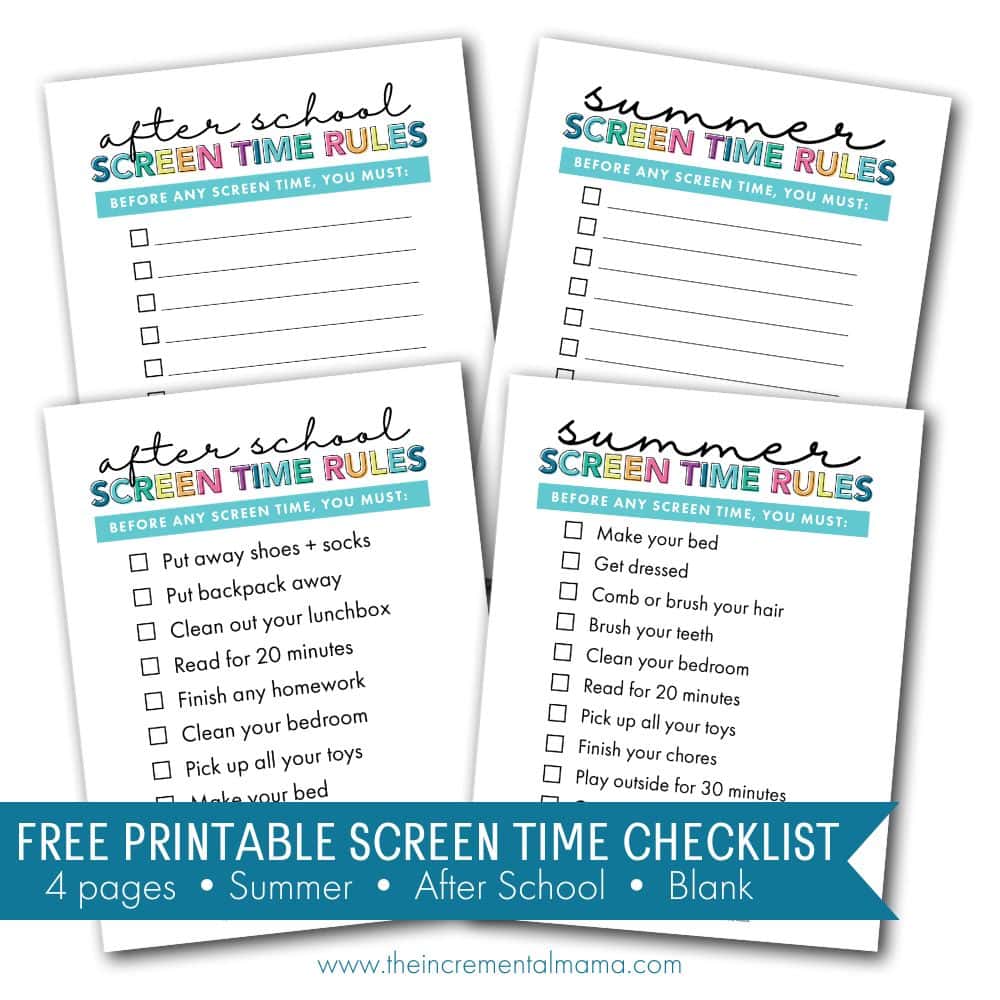 Summer & After School Screen Time Checklists PDFs
If you've been around my site for longer than 10 seconds, you know I love charts for kids. Because they give clear expectations for kids and make it easier for kids to do what they need to while also having a more orderly and peaceful home.
But the chart that has had the biggest impact on my kids is posting our family's screen time checklist this past summer.
While they each have always had individual chore charts they check off daily, posting the summer screen time checklist by their charts not only gave them clear expectations for them to watch TV…
…but gave them some serious motivation to get their chores & other daily tasks done!
And frankly, it's not weird that kids are motivated by screen use.
Honestly, there are few things I find more comforting than snuggling up after a long day and watching the BBC Pride & Prejudice with Jennifer Ehle and Colin Firth.
(THE BEST VERSION EVER. I will die on this hill.)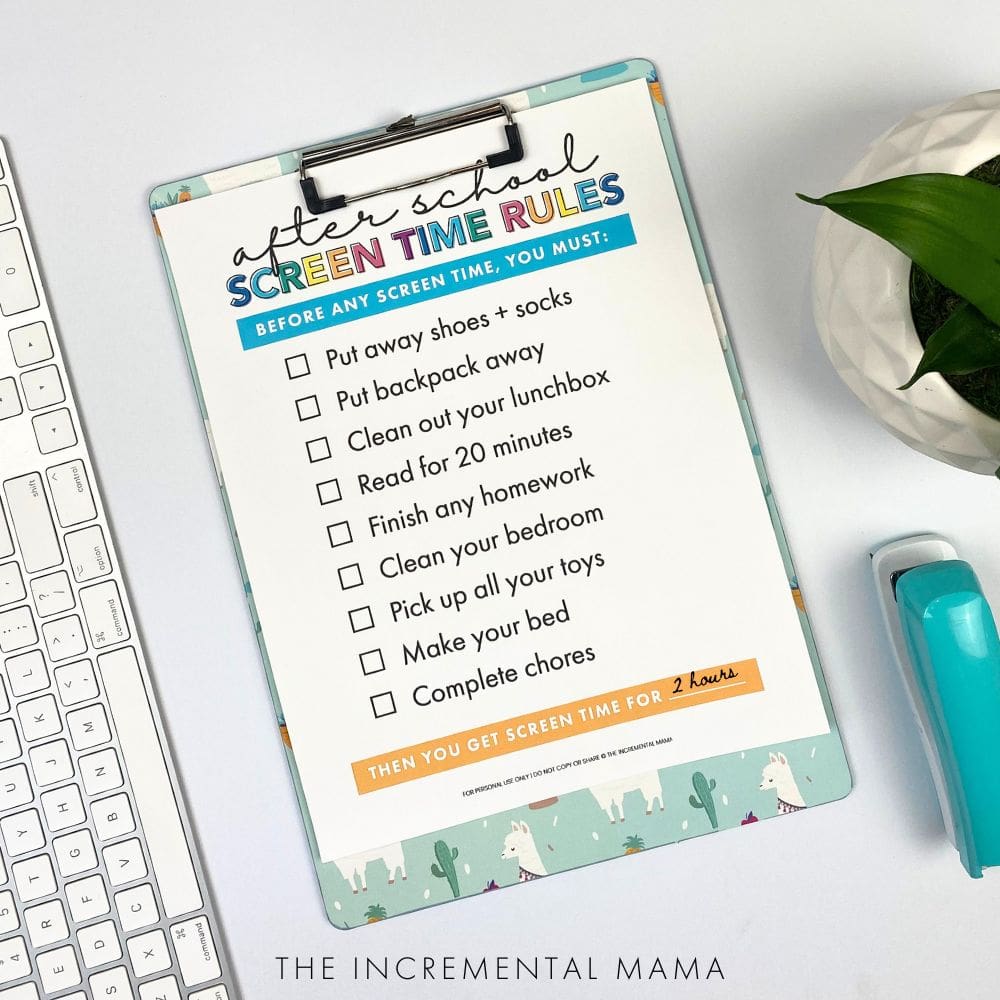 But not only do these awesome before screen time checklist templates provide clear expectations by listing each daily task and motivation, they also establish screen time limits with your kids.
Because at the bottom of each chart, is a space for you to put exactly how much screen time they earn when completing all their daily responsibilities.
How to Use the Free Printable Screen Time Checklist Templates
In the done-for-you screen time checklists, you'll find some basic recommended tasks for your child to complete each day.
But since we all have different family situations, you may want to customize the chart for your own use. And that's where the blank screen time templates come in.
You can simply write in whatever daily expectations that apply to your kiddo!
But if you don't like your handwriting and would rather have a customized chart that you can type out and print, I've also created an Editable Screen Time Checklist Bundle.
(Which also included an extra editable daily screen time checklist)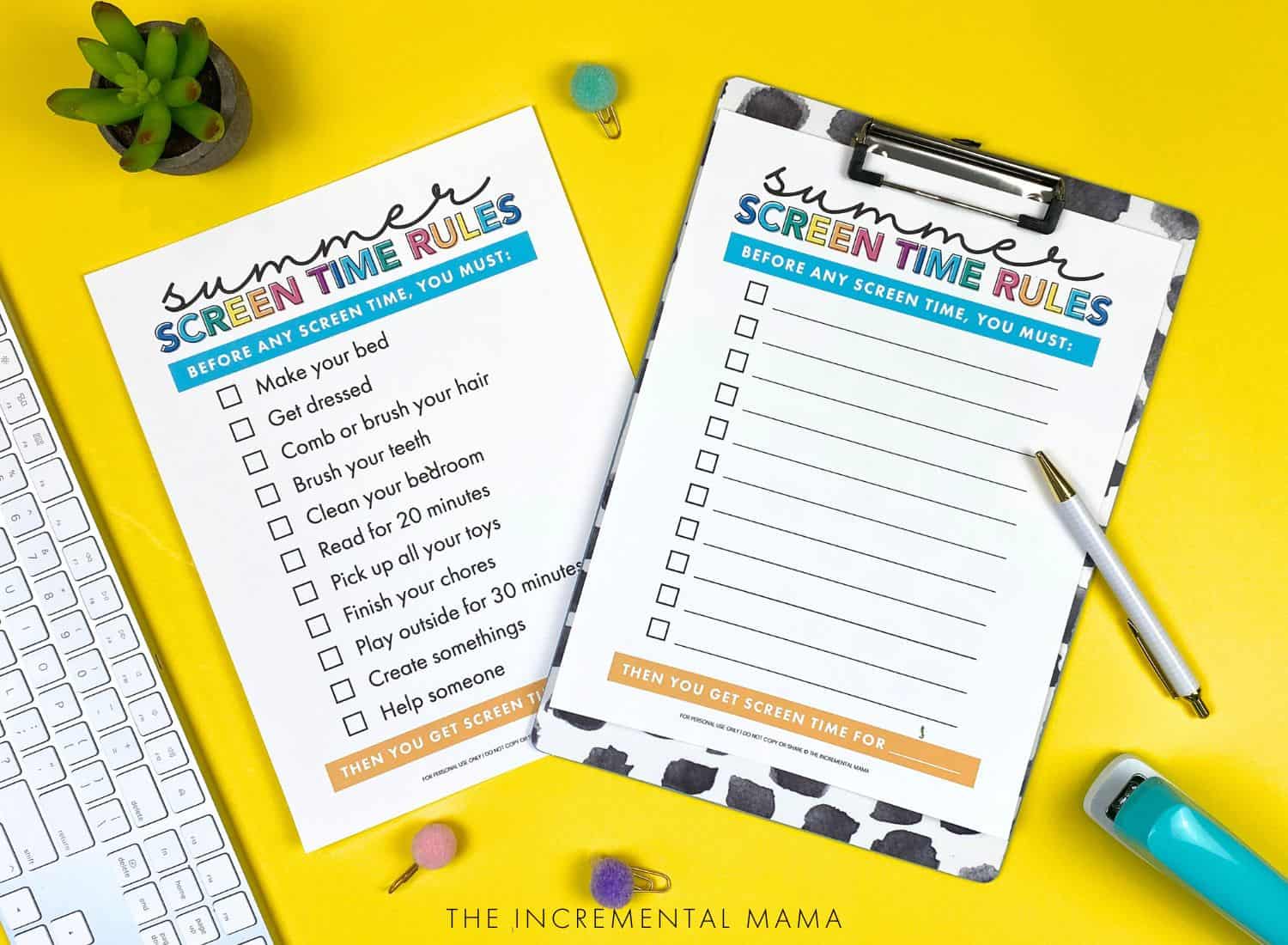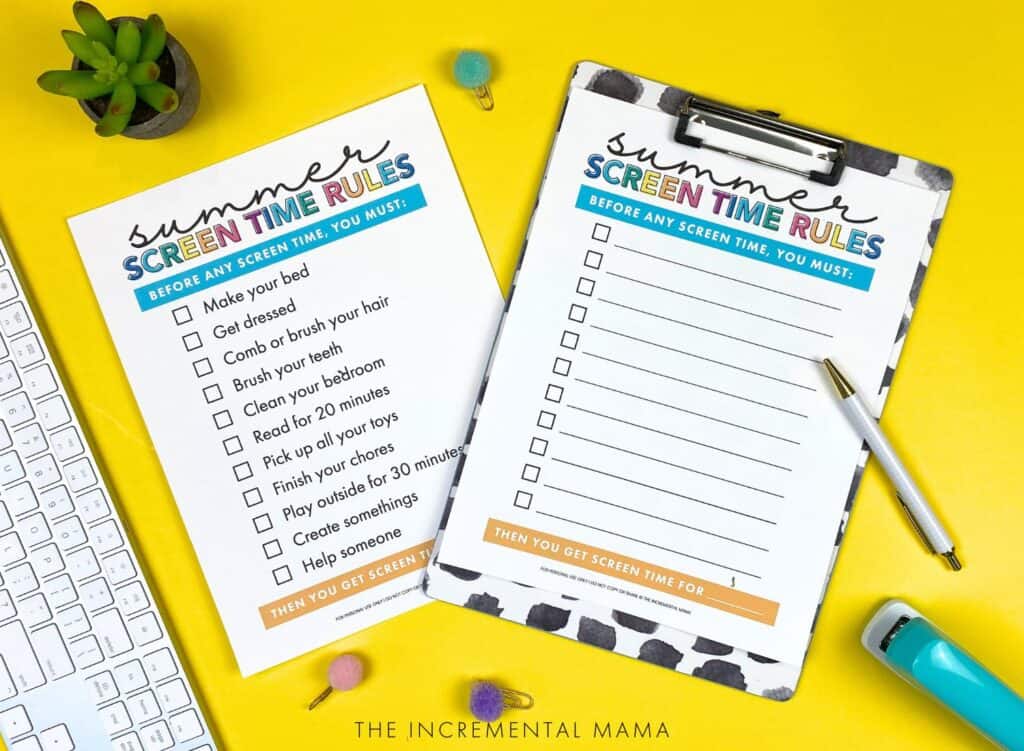 Free Printable Summer Screen Time Checklist
Without the built-in structure of the school year, summer is often the time when we can find ourselves allowing waaaay more screen time than we'd like.
But using the summer free screen time checklist template will allow you to set expectations and give structure and order to your day…
…so kids don't spend days at a time playing video games or bingeing some show on Netflix.
The summer screen time rules chart includes 11 suggested daily tasks for your kid:
Make bed
Get dressed
Comb or brush hai
Brush teeth
Clean bedroom
Read for 20 minutes
Pick up toys
Finish your chores
Play outside for 30 minutes
Create something
Help someone
But if you want to create your own list, just use the blank template!
Looking for more help creating structure and a daily schedule this summer? Check out How to Create the Best Summer Schedule for Your Kids + Free Printable Bundle
After School Screen Time Printables
And while the school year offers less time for screens, it's still important to have clear screen time rules. This after school screen time checklist template includes daily household and self-care tasks.
These include:
Put away shoes & socks
Put backpack away
Clean out lunchbox
Read for 20 minutes
Finish any homework
Clean bedroom
Pick up toys
Make bed
Complete chores
Do you love charts and printables that help you get organized? Here are more free printable charts for kids that help you organize your family.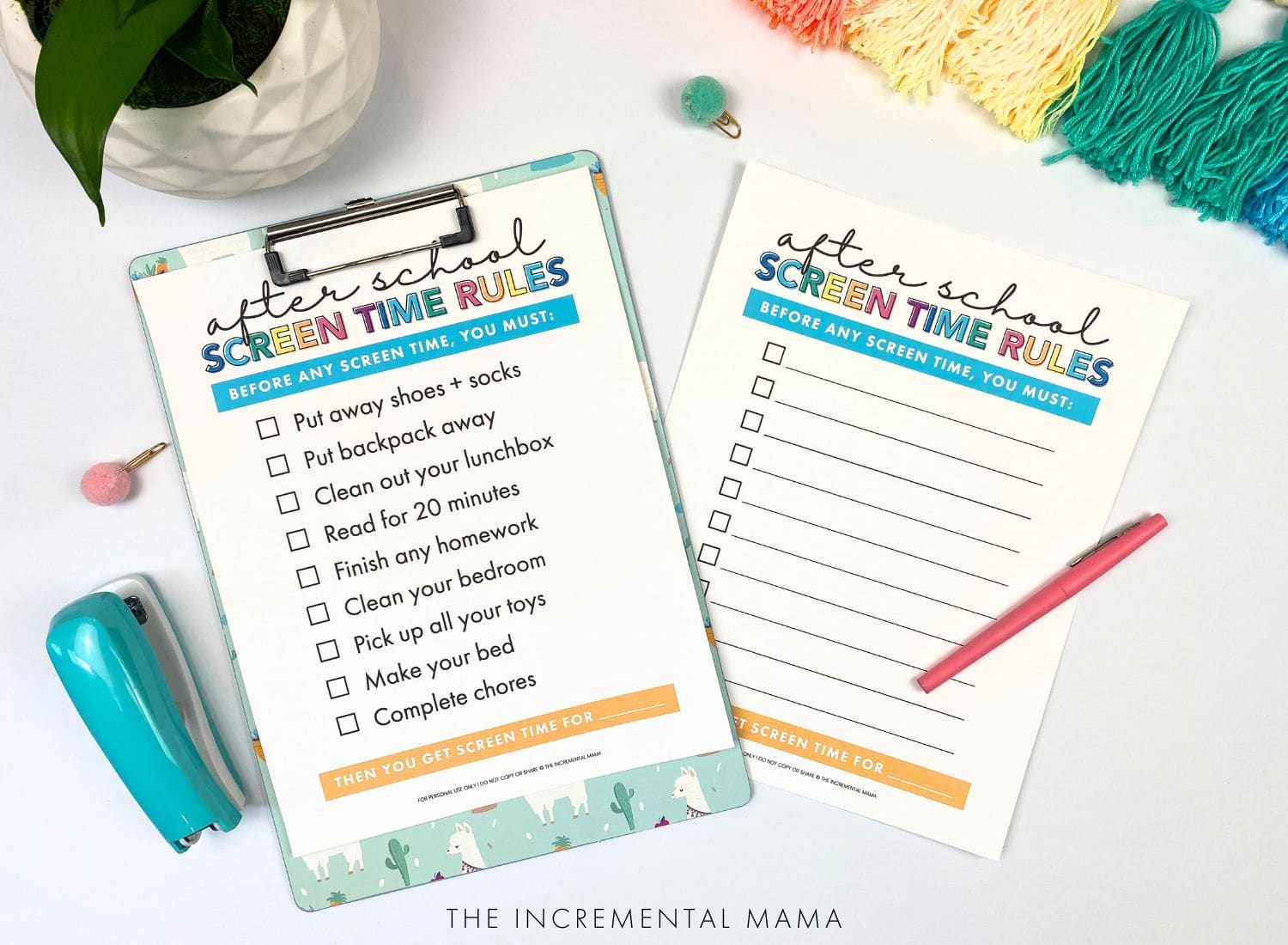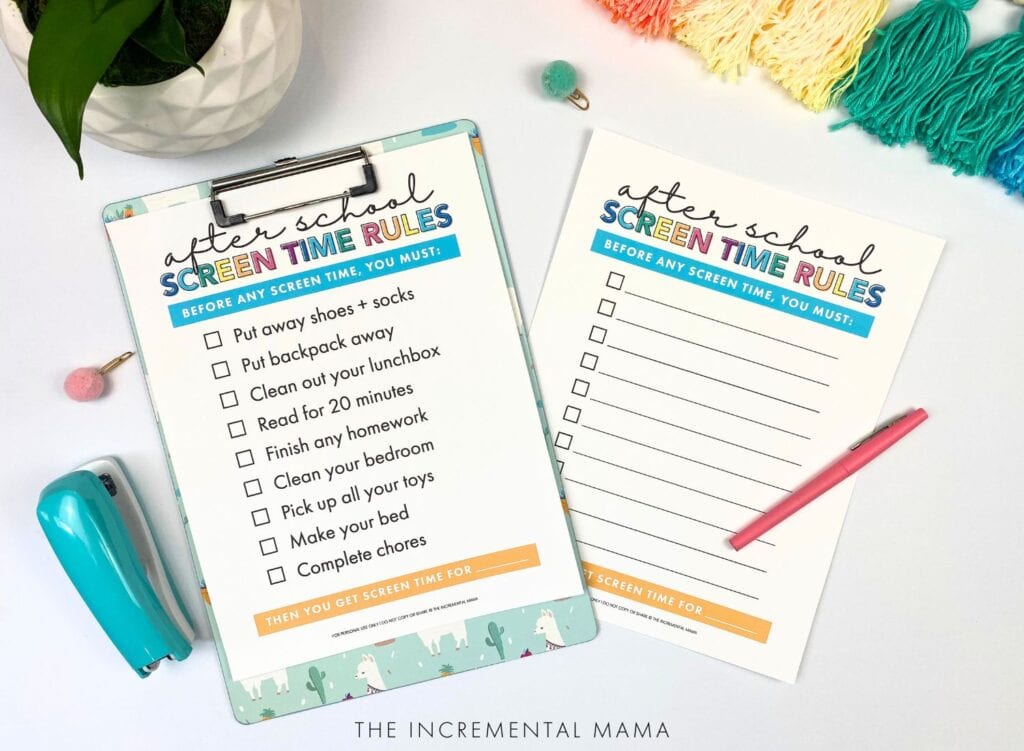 How Much Screen Time Per Day is Healthy for Kids?
Let's be honest: quality educational programming (like Daniel Tiger) and FaceTiming family members are a far cry from Cocomelon or toy unboxing videos on YouTube.
Not all screen time is equal.
And saying NO SCREENS is just not realistic for most families. But too much screen time causes issues.
So we need to find a balance.
Dr. Jason Nagata, assistant professor of pediatrics at UCSF and screen time researcher said:
"Screens themselves aren't inherently bad and they are here to stay. We need to learn to live with them. You can still watch movies and have great discussions with friends about them. You can interact with people by video in real time. It's more about how screens are making you feel, and whether screen time is displacing things like physical activity."
So what's the current suggested screen time limits as of the time of publishing this post?
According to the American Academy of Child & Adolescent Psychiatry, the current Appropriate screen time guidelines by age are:
Infants (0-18 months): Avoid screen time, except for video chatting. Because face-to-face interactions are crucial for healthy development during this stage.
Toddlers (18-24 months): Limit screen time to high-quality, educational content where the child is watching with a parent or caregiver.
Preschoolers (2-5 years): Limit screen time to around 1 hour per day of non-educational content daily.
School-age children (6 and older): Encourage healthy habits by ensuring that screen time doesn't interfere with sleep, physical activity, or face-to-face interactions. Balance use of screens for educational, recreational, and social purposes.
(Note that The American Academy of Pediatrics has very similar recommendations)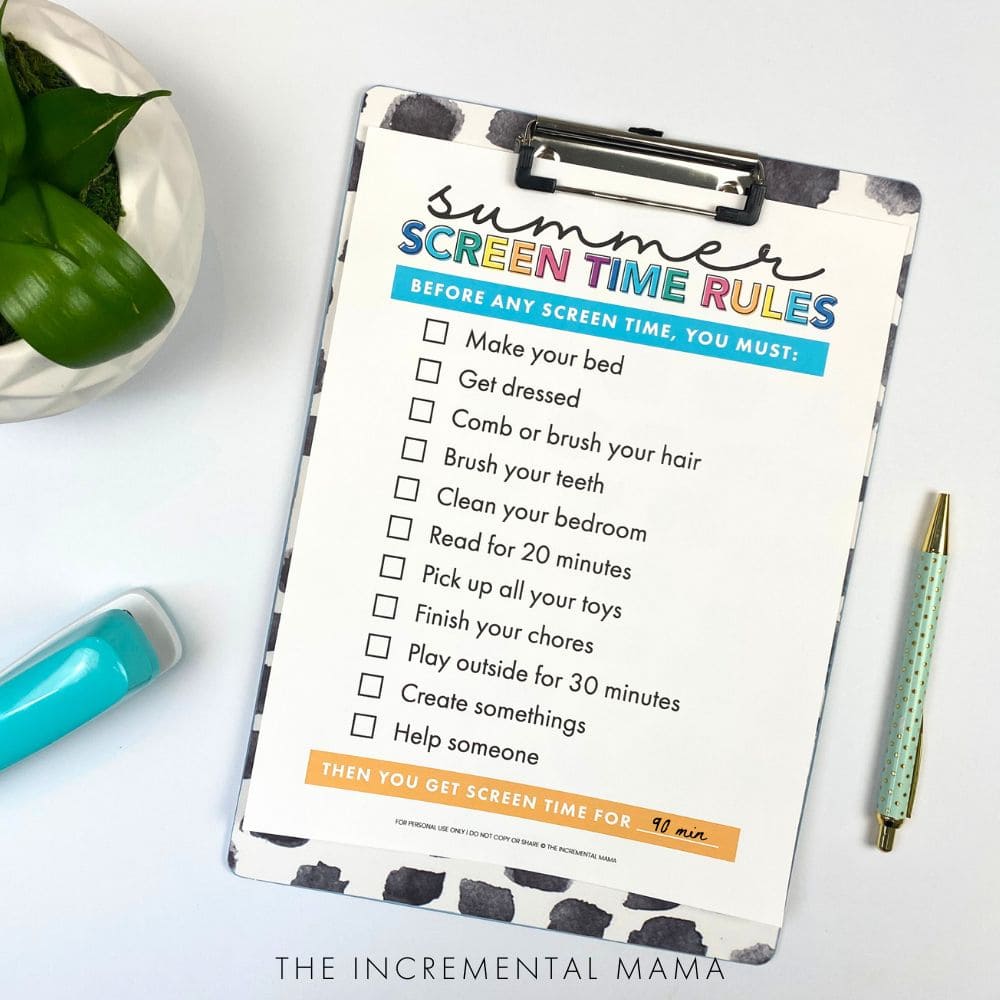 How to Create a Screen Time Plan for Your Family
Regardless of the ages of your kids or your situation, researchers recommend that we create a screen time plan for our families.
While restricting screen time isn't always easy, it's important for their overall well-being. Here are some strategies to help you create a screen time plan for your family:
And some recent research published January 2023 suggests that kids getting 2 hours+ of screen time as infants had a noticeable and negative impacts on their brains at the age of 9.
1. Set Clear Rules
Establish clear and consistent rules about when and how much screen time is allowed and how to use social media. Make sure your child understands these rules and the reasons behind them.
2. Lead by Example
Let's be honest, kids learn more by what we do than by what we say. If we want them to have healthy screen habits, we should also model those habits ourselves.
3. Create Screen-Free Zones
Designate certain areas of the house, such as the dining room or bedrooms, as screen-free zones. This helps promote other activities like family meals and relaxation without screens.
4. Use Screen Time Apps/Controls
Many devices and operating systems offer parental control features that allow you to set time limits for specific apps or activities. You can use these tools to automatically enforce screen time limits.
We use the built-in Apple screen time limits on our devices.
(For Android users, Qustodio is great)
5. Establish Screen-Free Times
Designate specific times of day as free of electronic devices, such as during meals, before bedtime, or during family activities. This encourages children to engage in other activities and promotes better sleep.
6. Encourage Other Activities
Provide a variety of engaging alternatives to screen time, such as playing outside, reading books, doing arts and crafts, playing board games, or engaging in sports.
For some ideas of awesome open-ended play activities, check out 21 Screen-Free Ways to Keep Kids Busy so You Can Get Stuff Done
For younger kids, check out these 20+ Fun & Easy Activities for 2 Year Olds.
7. Plan Fun Activities Together
Plan activities that you can do as a family, such as hiking, cooking, gardening, or visiting museums. These activities can be enjoyable alternatives to screen time.
This Free Printable Neighborhood Bingo is a great family activity that gets you all moving and having fun.
8. Educate About Healthy Screen Use
Help your child understand the importance of balancing screen time with other activities and the potential negative effects of excessive screen use.
9. Communicate Honestly, Openly & Often
Have open discussions with your child about screen time. Explain the reasons behind the restrictions and listen to their thoughts and concerns as well.
10. Monitor Content
Keep an eye on the content your child is accessing in video games, social media, on their cell phones, and on TV. Ensure that the content is age-appropriate, educational, and aligns with your family's values.
Check out the best parental controls apps here.
11. Be Flexible
While it's important to have rules, flexibility is also key. There may be times when screen time extends beyond the limits. The goal is to find a balance over the long term.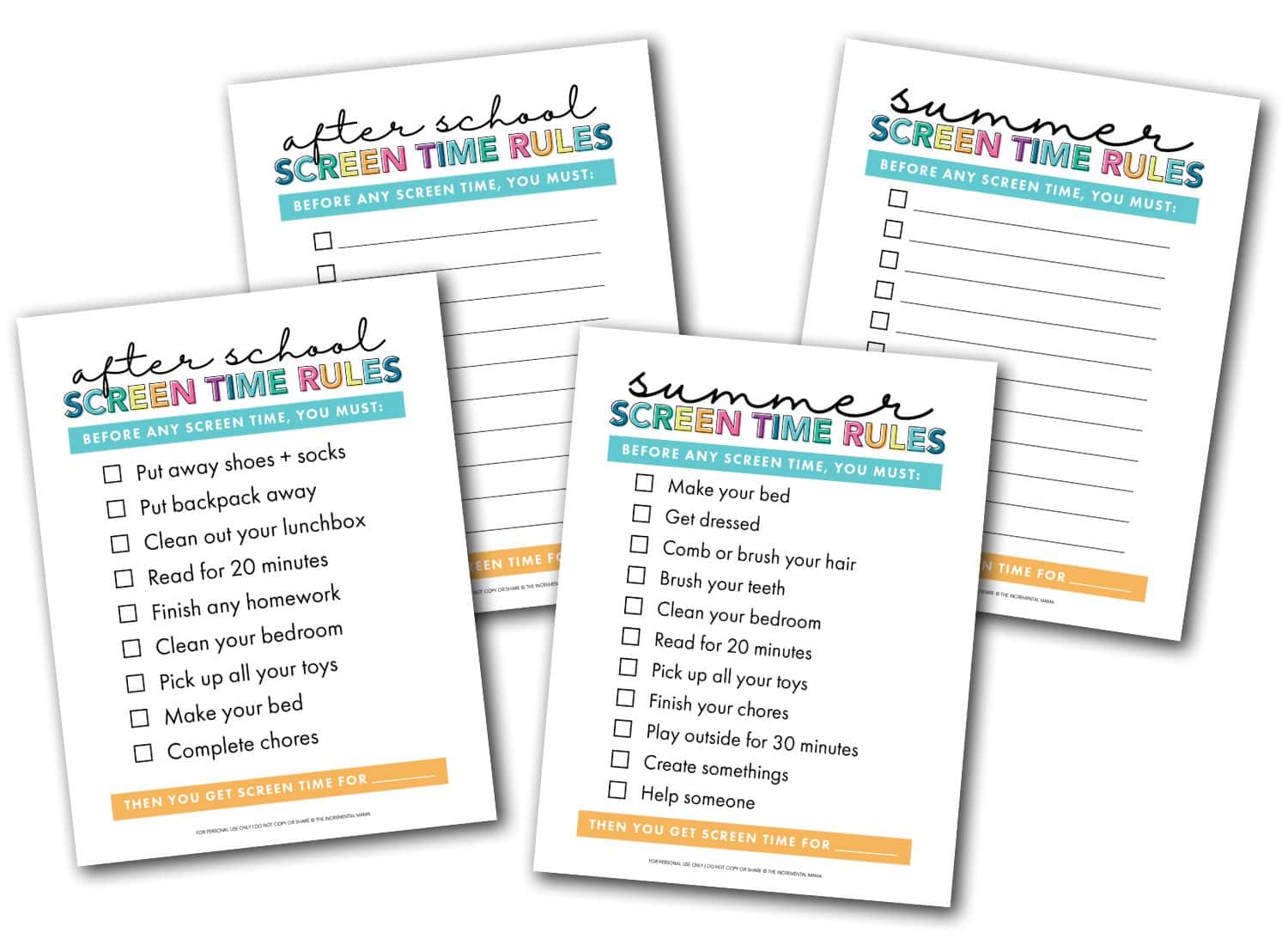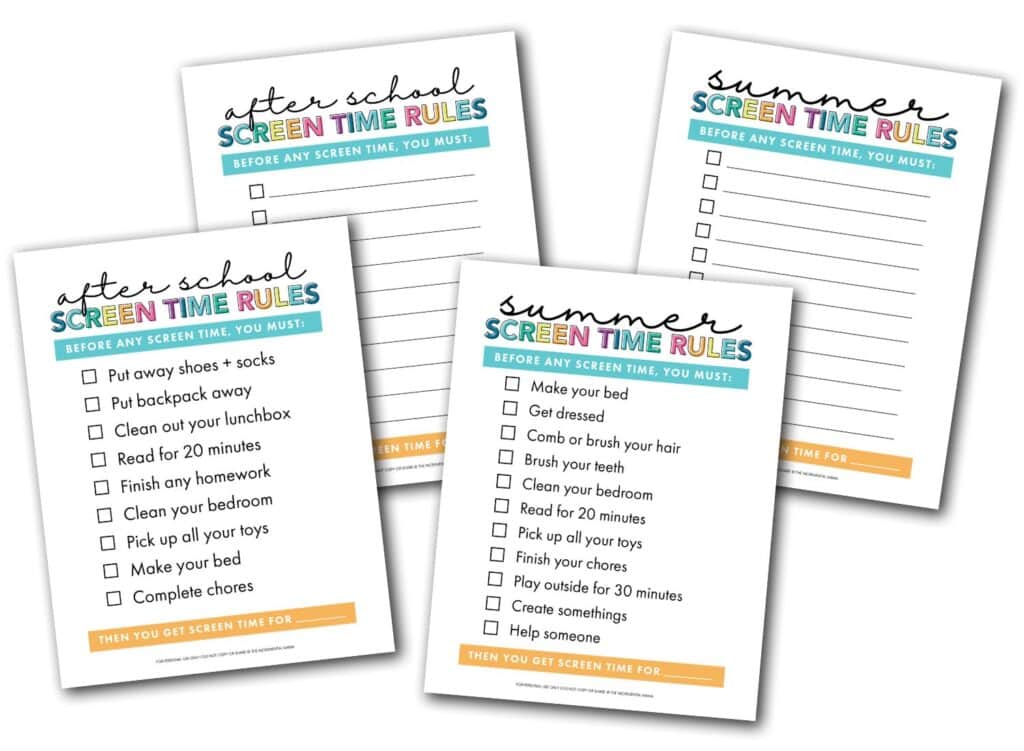 Download the Free Screen Time Rules Checklist Templates
You can get the free printables by hitting the big ol' pink button below. Note that these printables are for personal use only. To share these printables, please share the link to this post.
Editable Summer & After School Screen Time Checklists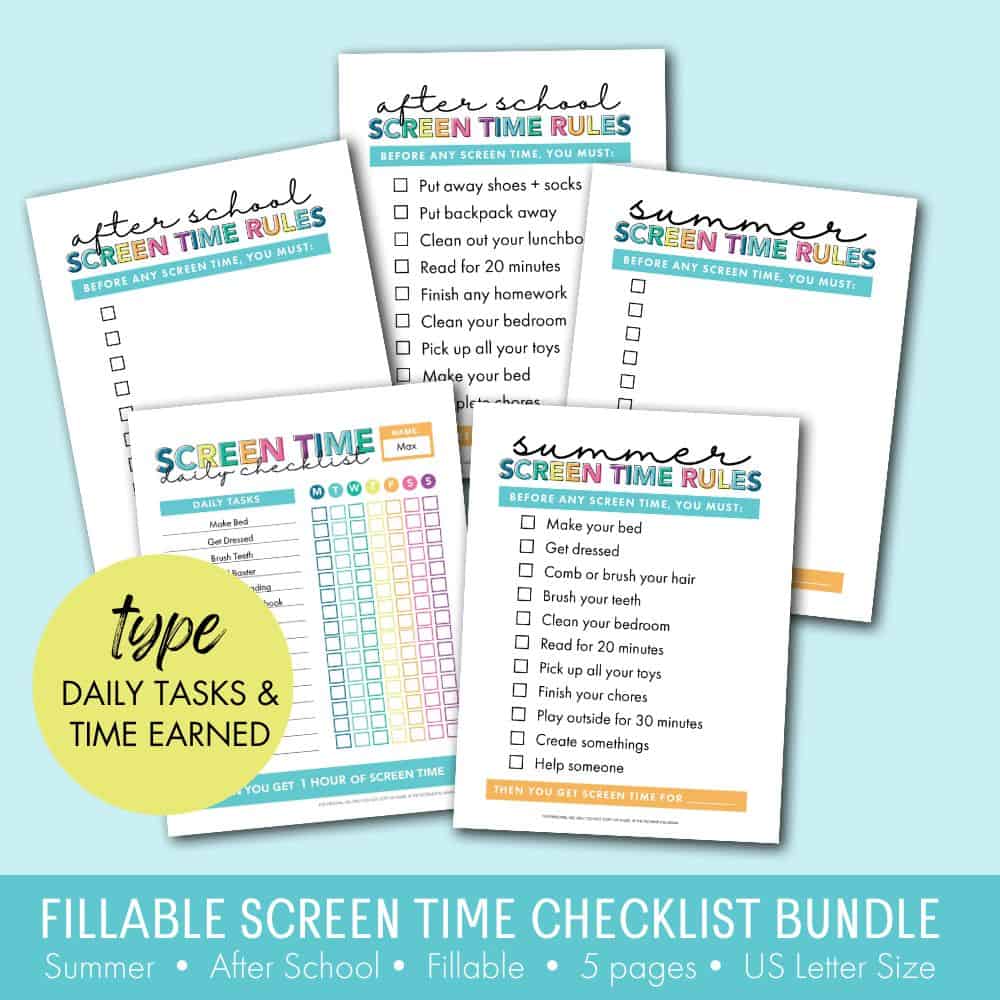 But if you'd like to customize your screen time checklist without having to write it by hand on the blank templates, I've created an editable screen time checklist template that you can edit directly in Adobe reader.
That way you can customize the chart to the exact daily tasks you'd like, I created a fillable screen time printable bundle.
This includes 5 pages of:
Fillable Daily checklist for kids
Editable Summer Screen Time Checklist Template
Editable Summer Screen Time Checklist Template
>>> Click here to check out the Editable Screen Time Checklist Printables Bundle
Manage Screen Time for Your Kids With The Checklist
And there you go! I hope that this screen time rules printable helps your family as much as it's helped mine. Remember that every family is unique, and what works for one may not work for another.
You've got this!
YOU MAY ALSO LIKE: