If you're hosting Thanksgiving this year, planning ahead is essential to ensure both an enjoyable gathering and that you don't get overwhelmed…
…and end up promising to never host again.
And to help you skip the stress and chaos and plan your perfect holiday feast, I've created this awesome free printable Thanksgiving planner. It's got everything you need to plan your menu, guest list, shopping list, and it even breaks down your to-do list for the weeks leading up to the big day.
Time and time again, I've found that planning brings peace of mind. It allows you to spend more time enjoying family, making memories with loved ones and less time stressing over all the details.
This Thanksgiving planning template will help you squared away all the details well in advance of the big day.
Looking for more printable planners for the holiday season? Check out this Free Printable Christmas Planner!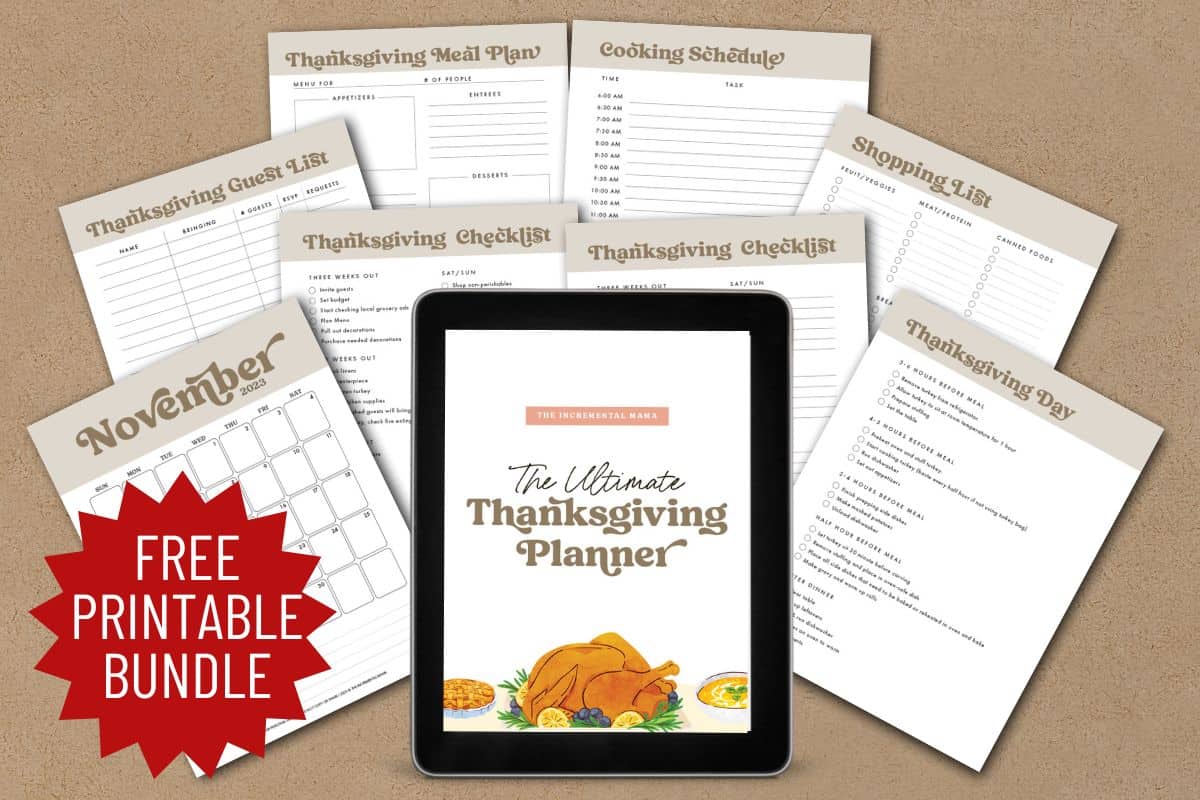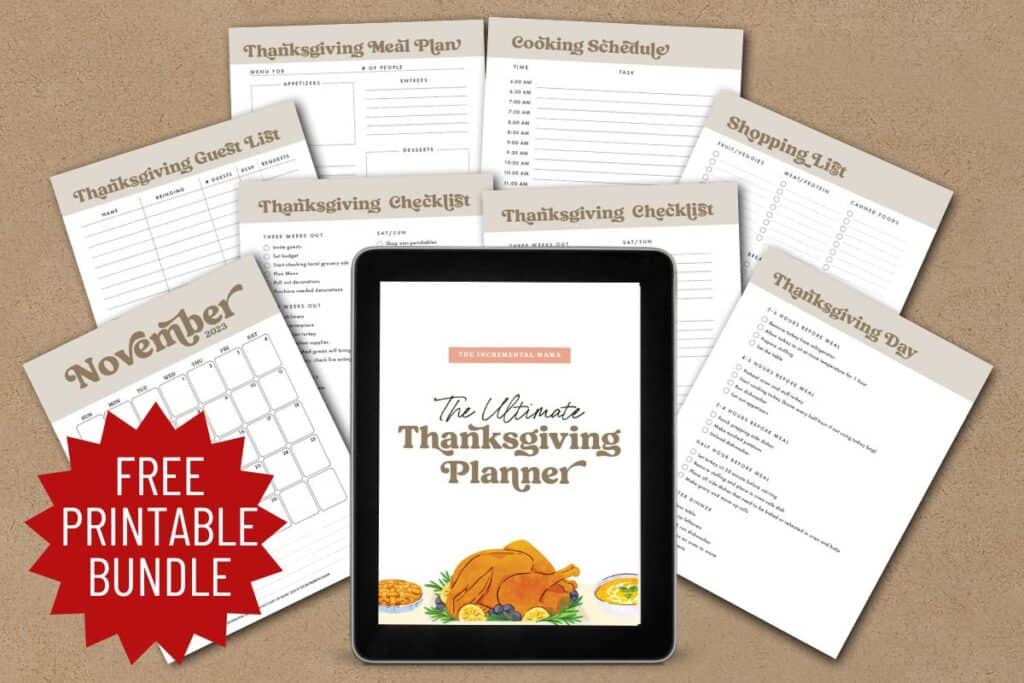 FREE PRINTABLE THANKSGIVING PLANNER TEMPLATE
This free printable Thanksgiving planner template includes 8 awesome planner printables that will help you plan an incredible Thanksgiving feast for your loved ones. This includes:
November Calendar
Thanksgiving Guest List
3 Weeks Leading to Thanksgiving To-Do Checklist
Blank Checklist Template (you can customize)
Thanksgiving Day To-Do Checklist
Thanksgiving Menu Planner
Cooking Schedule
Shopping List
Below, we'll break down how to use each of the free thanksgiving planner printables and you'll find the link to download the free printable planner. But first, you may be wondering…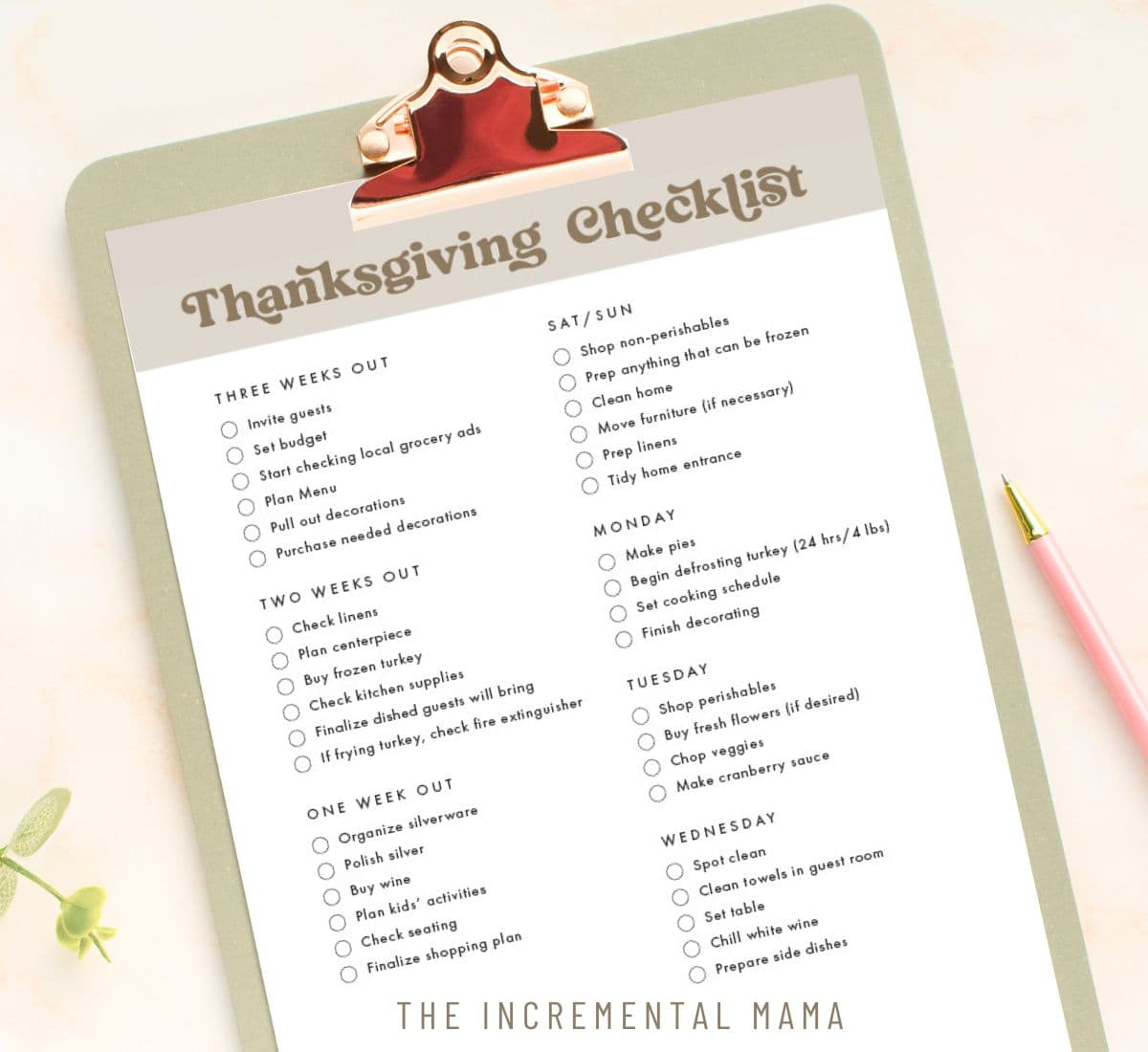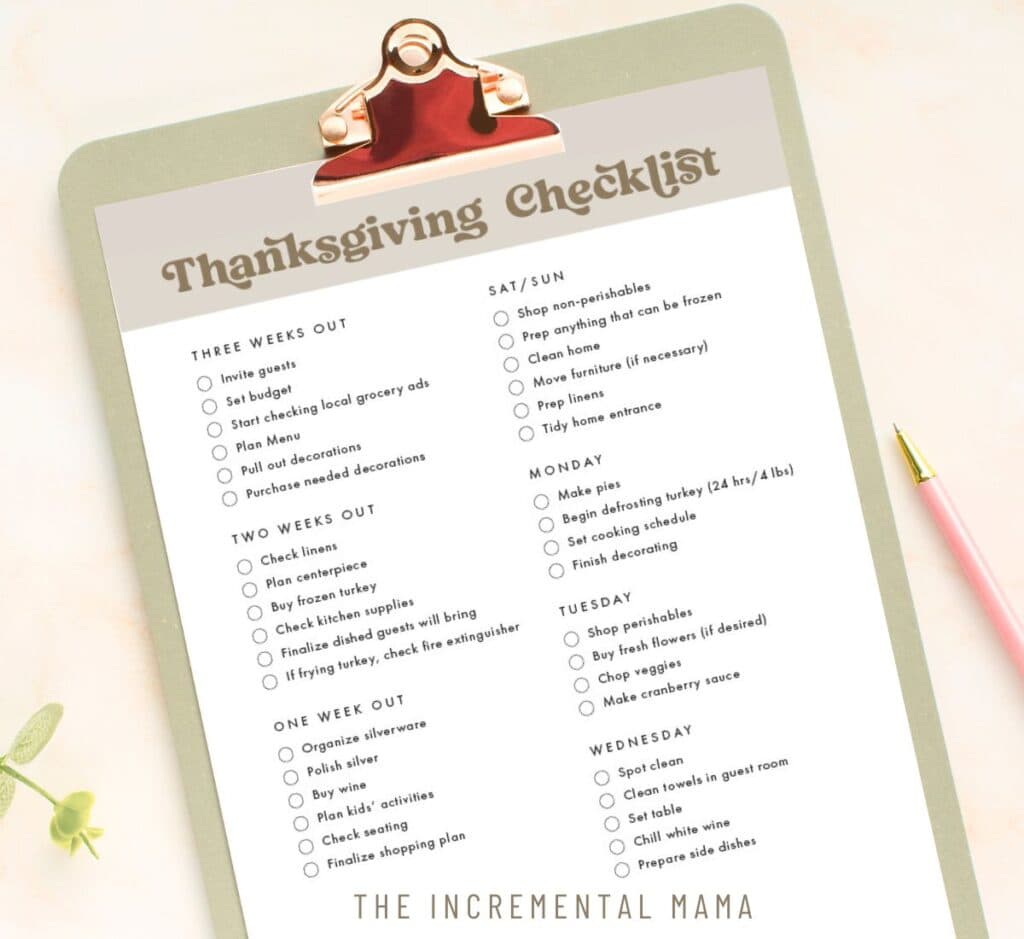 When should I start Planning for Thanksgiving?
There is no "too" early when it comes to planing. Since many people line up Thanksgiving plans well in advance of the holiday, I recommend having your guest list created and invites sent out by the end of October, or early November at the latest. This gives you a chance to get RSVPs and plan your menu by the time November rolls around.
You should actively be preparing for your Thanksgiving meal 3 weeks before your event.
What is in a Thanksgiving Dinner Checklist?
There are 3 done-for-you Thanksgiving Checklists in this bundle. These include tasks to complete:
3 weeks before Thanksgiving
2 weeks before Thanksgiving
1 week before
The week of the holiday feast
An hour-by-hour list of what to do on the day of Thanksgiving
THE THANKSGIVING PLANNING TEMPLATES
Below you will find a description of each of the 8 free thanksgiving planner pages you'll find in the Thanksgiving Planner as well as tips to use them and plan your big event.
November Calendar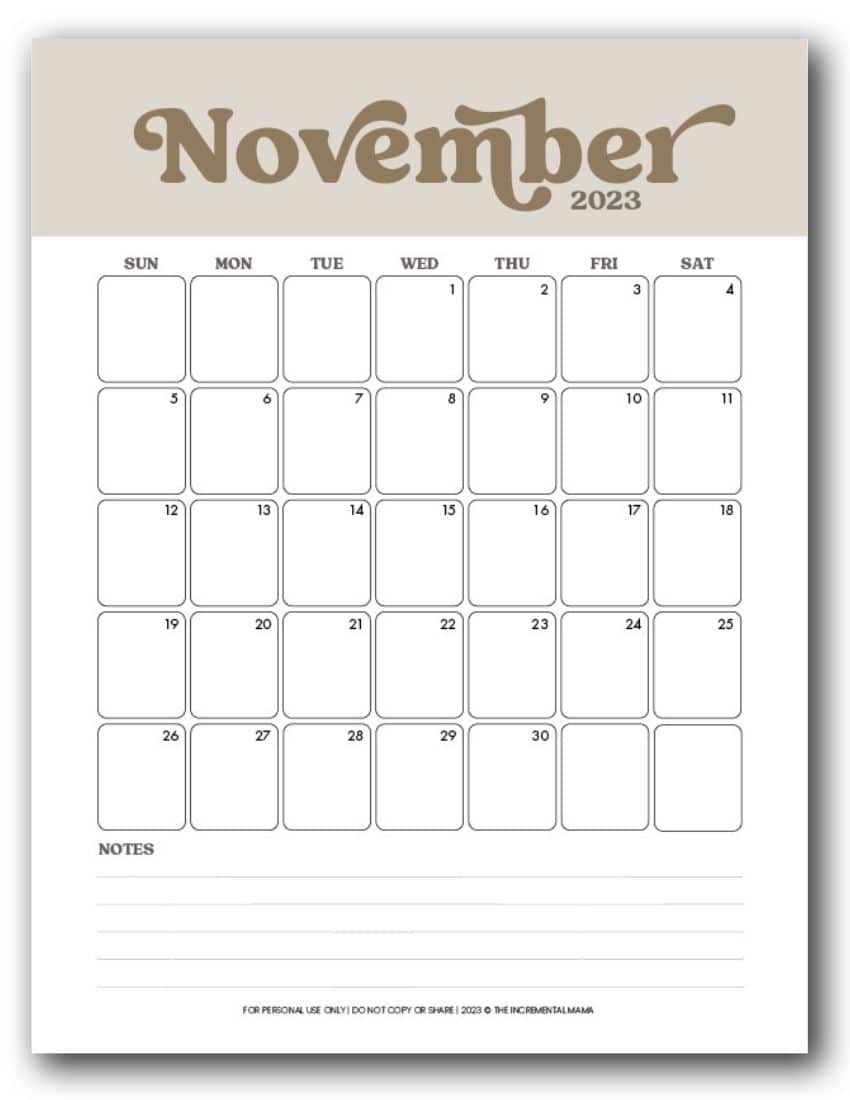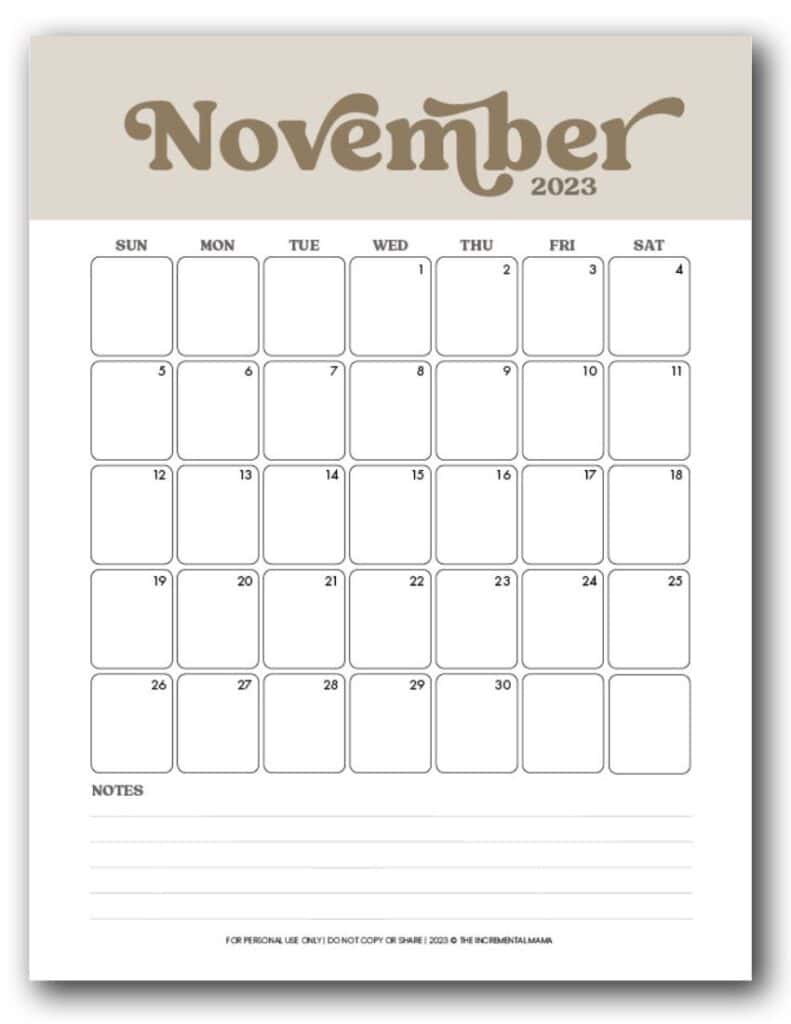 A big part of planning is actually scheduling WHEN you'll complete the items on your to do list. This November calendar allows you to plan out your month and schedule exactly when you'll do each task on your to-do list.
Note that while the image shows 2023, this calendar will be updated for each new year.
Thanksgiving Guest List Printable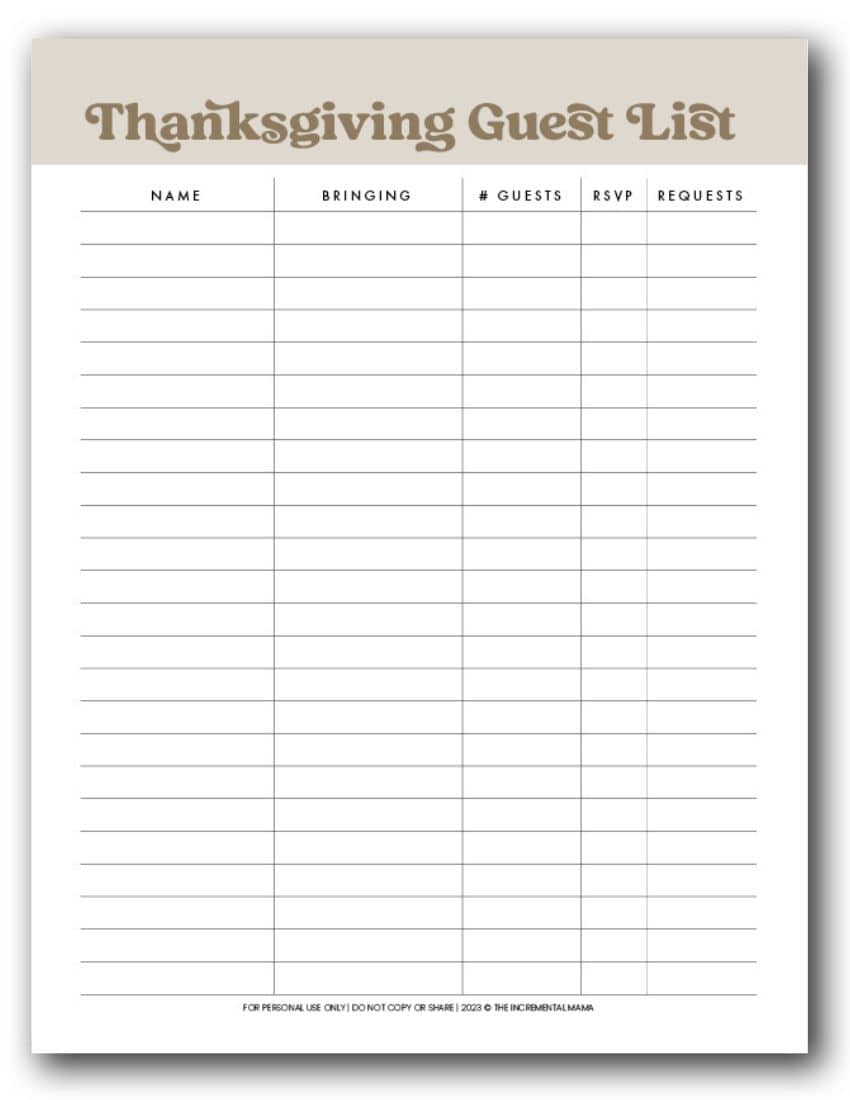 One of the first steps in planning Thanksgiving is to first make your guest list for the event. This allows you to plan your menu, seating arrangements, activities, and accurately plan you shopping list.
Here are a few tips when creating your Thanksgiving Guest List:
Start Early: Start creating your Thanksgiving dinner guest list as soon as you can. This allows you to accurately estimate the number of attendees and make necessary arrangements for seating, food, and space. Consider any travel plans your potential guests might have and provide them with ample notice.
Consider Personalities & Preferences: Take into account the preferences, dietary restrictions, and dynamics of your potential guests. Ensure there is a balance of personalities and interests to foster engaging conversations and a harmonious atmosphere. If possible, inquire about any dietary needs or allergies to tailor the menu accordingly.
Potluck: Many people love to contribute to big events potluck style. This takes the burden off of you to provide all the food, and allows others to showcase their favorite thanksgiving recipes and specialties. The guest list has space for listing what guests are bringing should you do a potluck style feast.
Request RSVP and Confirmation: Clearly communicate the RSVP process and deadline to your guests. Once you receive responses, confirm attendance to finalize your guest list. This helps you plan for the right amount of food, seating, and other logistical details. Be sure to account for any unexpected plus-ones and adjustments.
When it comes to invites, you can find some really cute Thanksgiving invitations on Etsy.
Or if you want to create your own Thanksgiving Invitations, I highly recommend using Canva. They have ready-made templates that make customization really easy!
Thanksgiving To-Do Checklist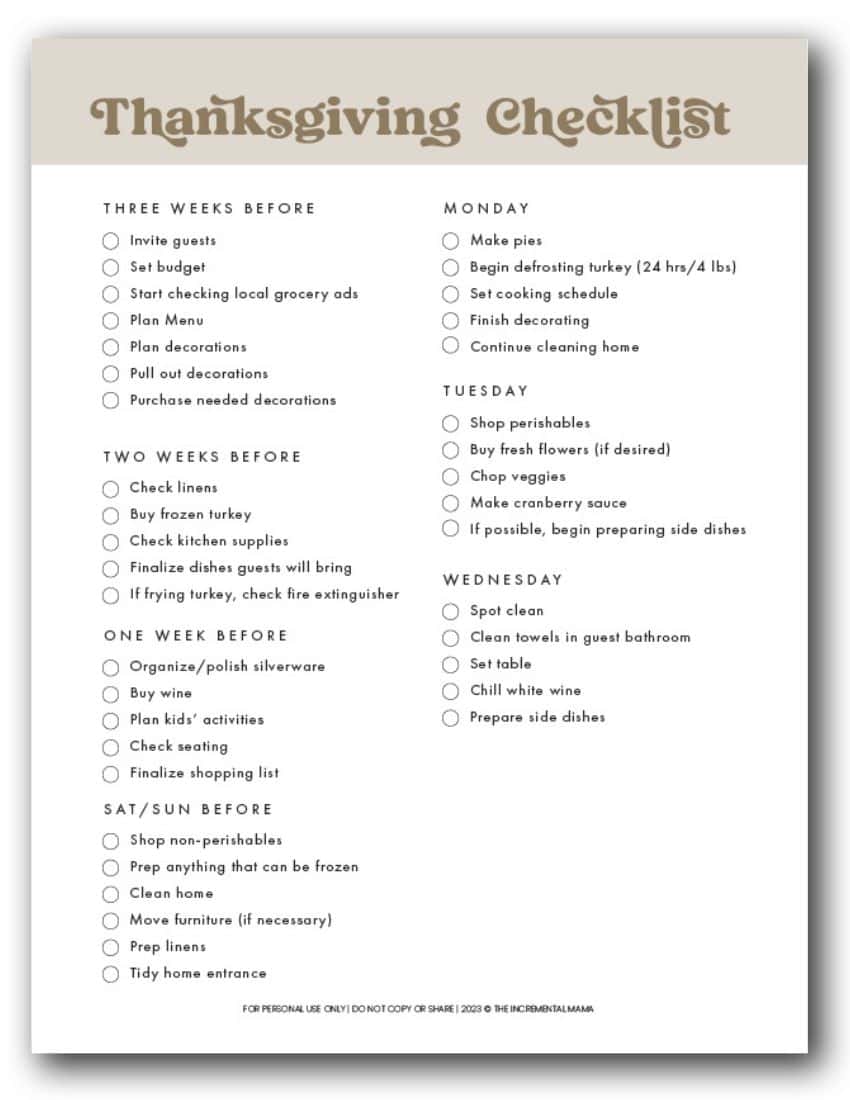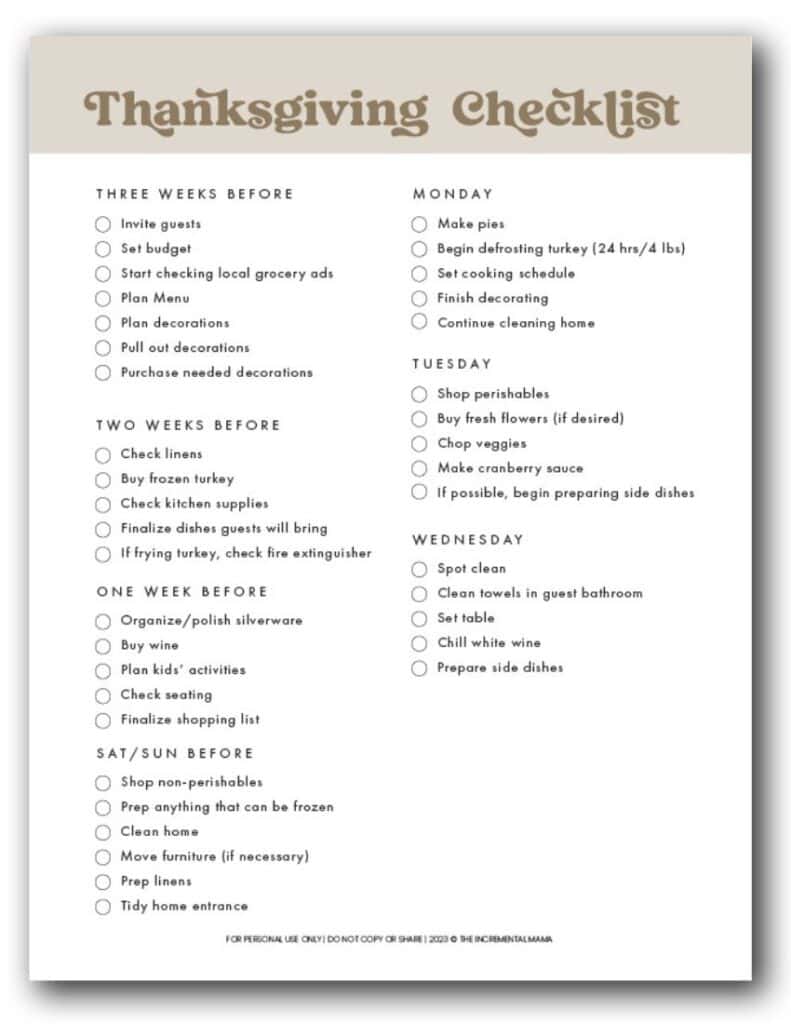 This checklist gives you weekly and daily tasks in the 3+ weeks leading up to Thanksgiving Day. This included detailed tasks for each day of the week of Thanksgiving, which allows you to break up the monumental task of not only preparing a large meal, but also preparing your home to host the event.
Blank To-Do List Checklist Template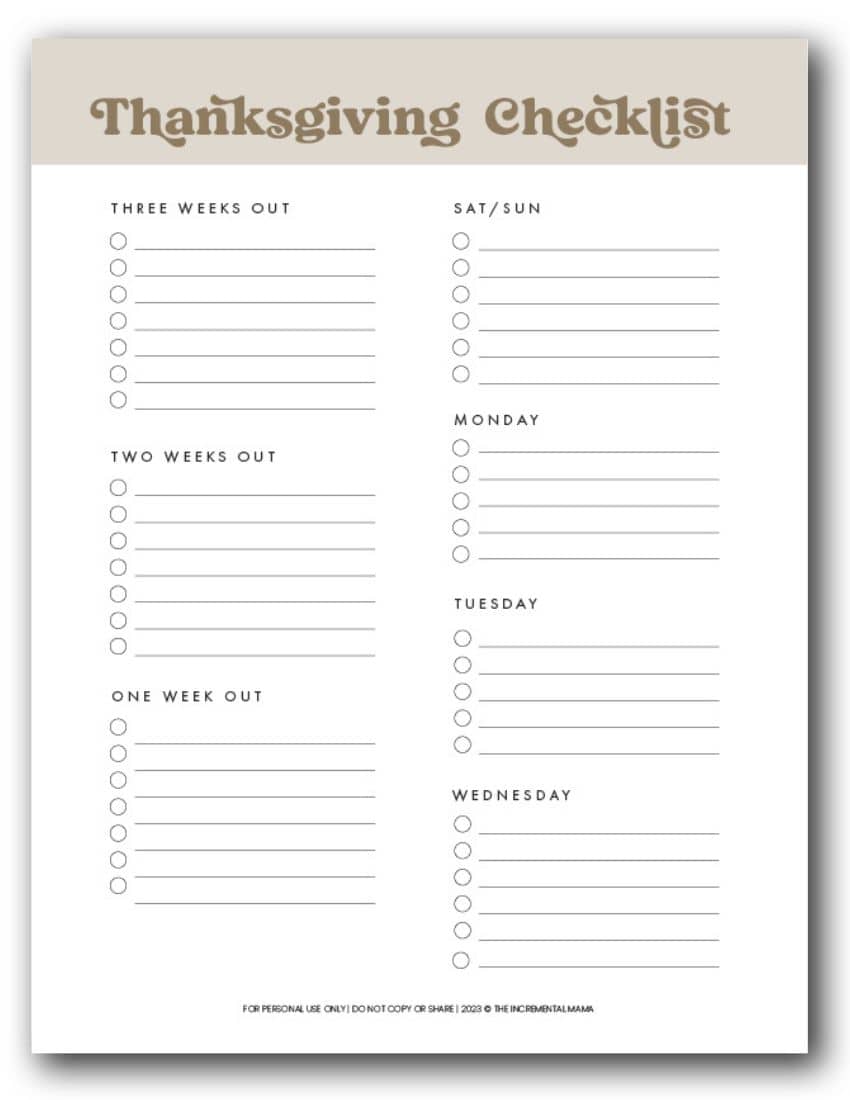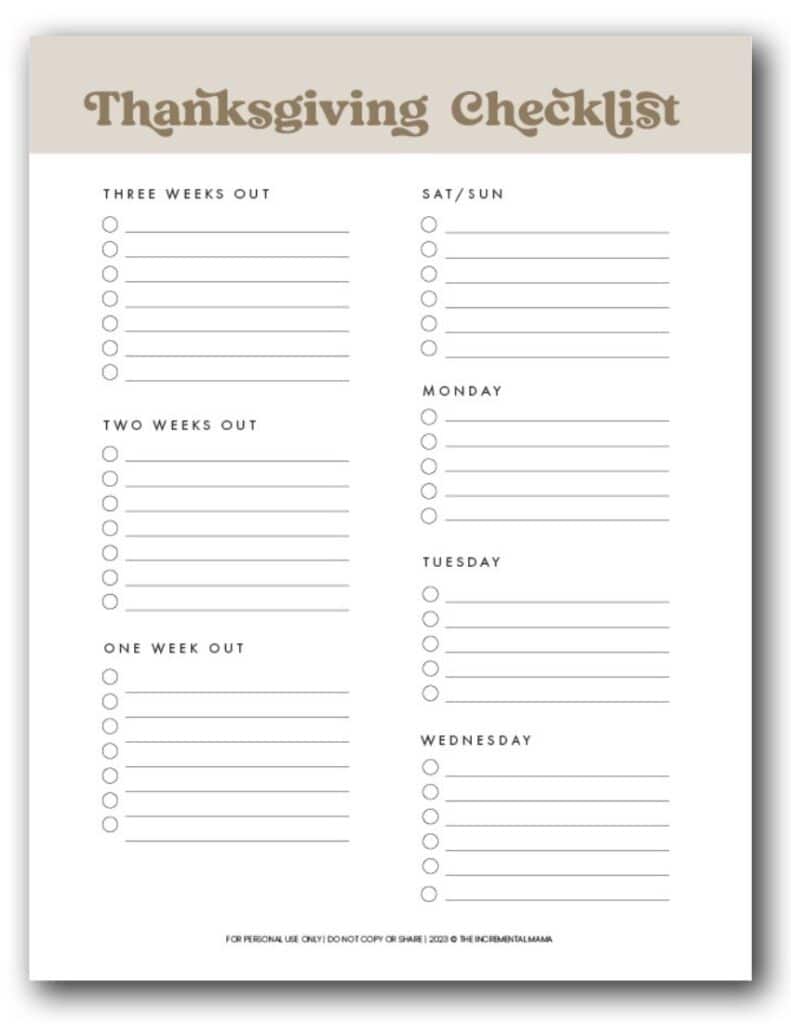 While the checklist above is great, you may have some unique needs to prepare for your specific Thanksgiving dinner. This Thanksgiving plan template allows you to create a customized to-do checklist based on your unique needs.
Thanksgiving Day to-do Checklist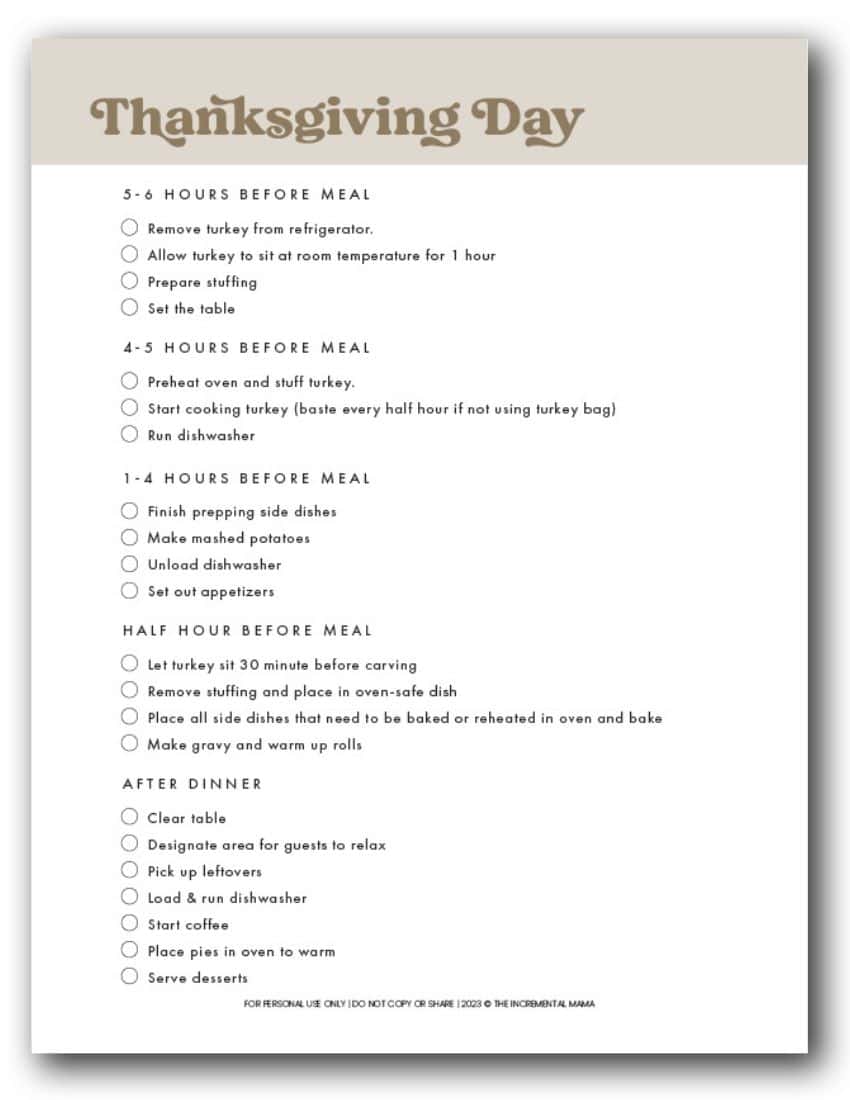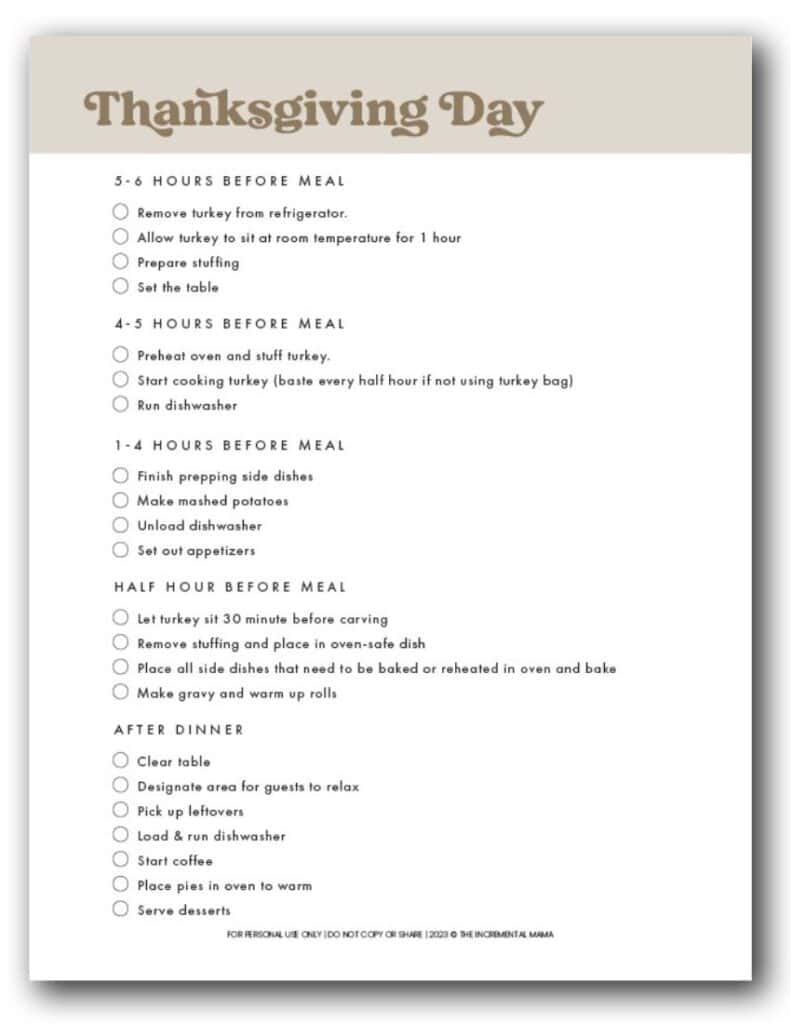 The big day is here! This Thanksgiving dinner checklist gives an hourly breakdown of tasks to complete on Turkey Day so your dinner is a big hit and you're able you enjoy the time with friends and family.
Thanksgiving Menu Planner Template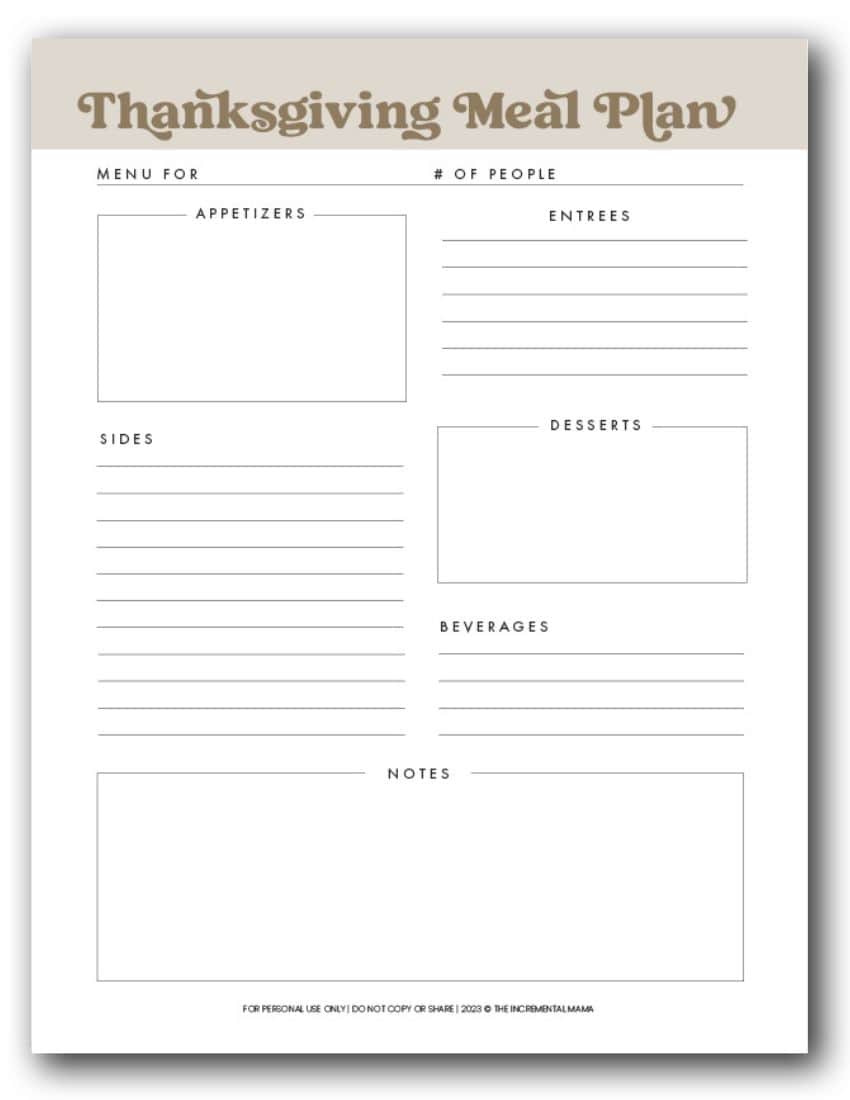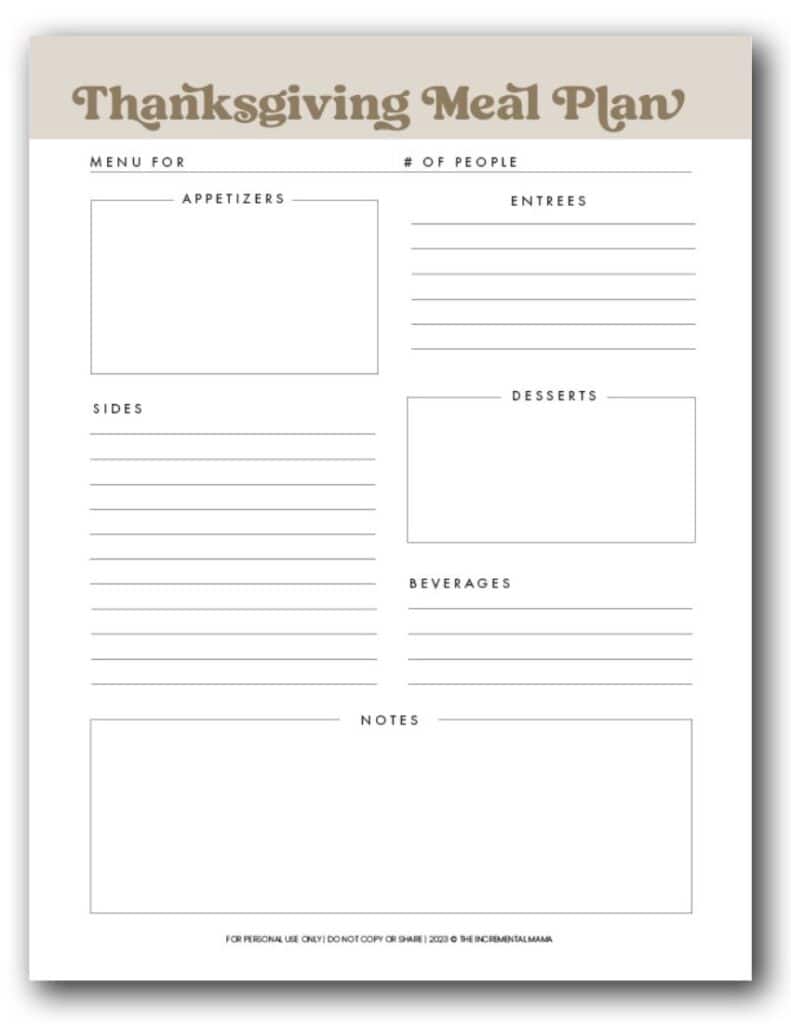 This free printable Thanksgiving dinner planner allows you to sketch out your plan for your entire Thanksgiving meal including:
Appetizers
Side dishes
Main dishes
Desserts
Beverages
And it even includes a space for any notes you may need to jot down.
Here are a few tips for using the free printable Thanksgiving menu planner:
Pick a Diverse Selection of foods: Craft a Thanksgiving dinner menu that offers a variety of flavors, textures, and options in order to please different tastes and dietary needs. Include traditional dishes like roasted turkey and stuffing, but also consider adding vegetarian or vegan alternatives, gluten-free sides, and a range of vegetables. This ensures that all your guests can enjoy a satisfying meal.
Balance Your Menu: Strive for a well-balanced menu with complementary flavors and textures. Pair rich, savory dishes with lighter, refreshing options to create a harmonious dining experience. Consider contrasting colors and ingredients to make the table visually appealing. For instance, balance a creamy mashed potato dish with a vibrant cranberry salad.
Prepare Make-Ahead Dishes: To ease the cooking process on the day of the event, incorporate make-ahead dishes into your menu. These could include appetizers, side dishes, and desserts that can be prepared a day or two before and reheated or assembled just before serving. This approach not only reduces stress on the day of the dinner but also allows you to spend more time with your guests.
Remember, thoughtful planning of your Thanksgiving dinner menu makes sure your guests thoroughly enjoy the meal while allowing you to enjoy the festivities without being overwhelmed by last-minute preparations.
Cooking Schedule Planning Template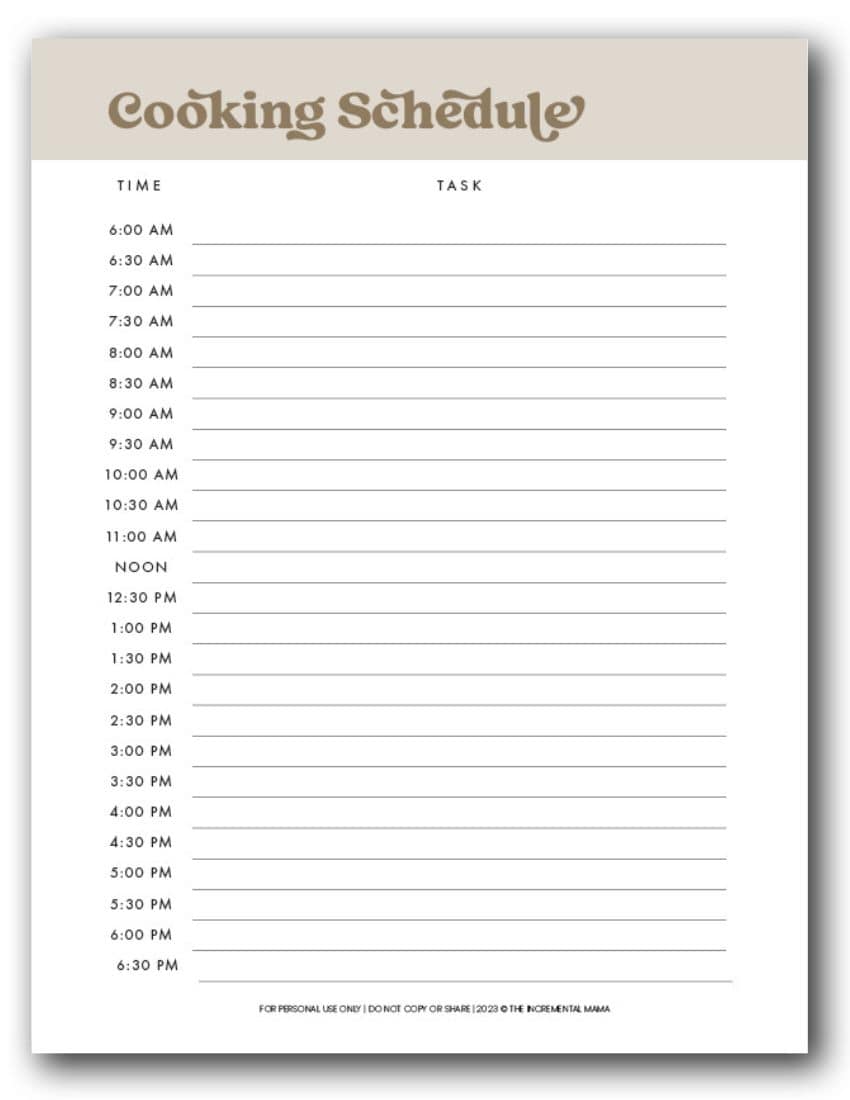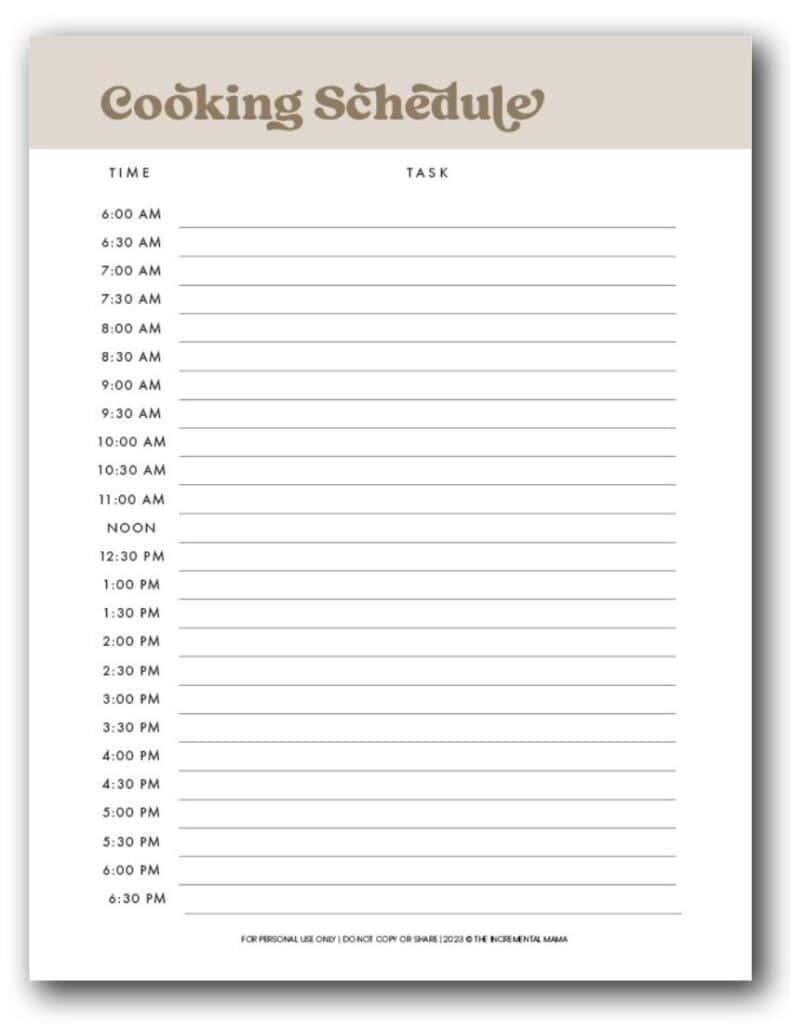 If you've ever tried to make several dishes at once you know that poor planning can lead to uncooked dishes by the time your guests arrive. Allong with all the checklists provided in this planning bundle, this cooking schedule allows you to thoroughly plan out when dishes go in the oven in order to ensue all dishes are cooked by the time your guest arrive.
Here are some tips when planning out your cooking schedule:
Create a Timeline: Develop a detailed cooking timeline for Thanksgiving Day. List each dish along with its cooking and prep times. Start with the dishes that take the longest to cook, like the turkey, and work backward. This ensures that everything is ready and warm at the same time, minimizing stress and chaos.
Prep in Advance: Prepare as much as you can the day before or earlier in the week. Chop vegetables, assemble casseroles, and make sauces in advance. This reduces the workload on the big day and allows you to focus on the final touches and last-minute cooking. Following the checklists will help your do this.
Use a Kitchen Timer: Set multiple kitchen timers to keep track of different dishes cooking simultaneously. This prevents overcooking or burning, especially when dealing with various cook times and temperatures. Consider using timers on your phone or investing in a multi-timer device.
Delegate and Enlist Help: Don't hesitate to ask for assistance from family members or friends. Assign specific tasks like setting the table, stirring sauces, or monitoring the oven. Enlisting help not only eases your workload but also encourages a sense of shared responsibility and togetherness.
By following these tips, you can ensure a smoother cooking process on Thanksgiving day, allowing you to create a delicious feast while maintaining a calm and enjoyable atmosphere for both you and your guests.
Thanksgiving Shopping List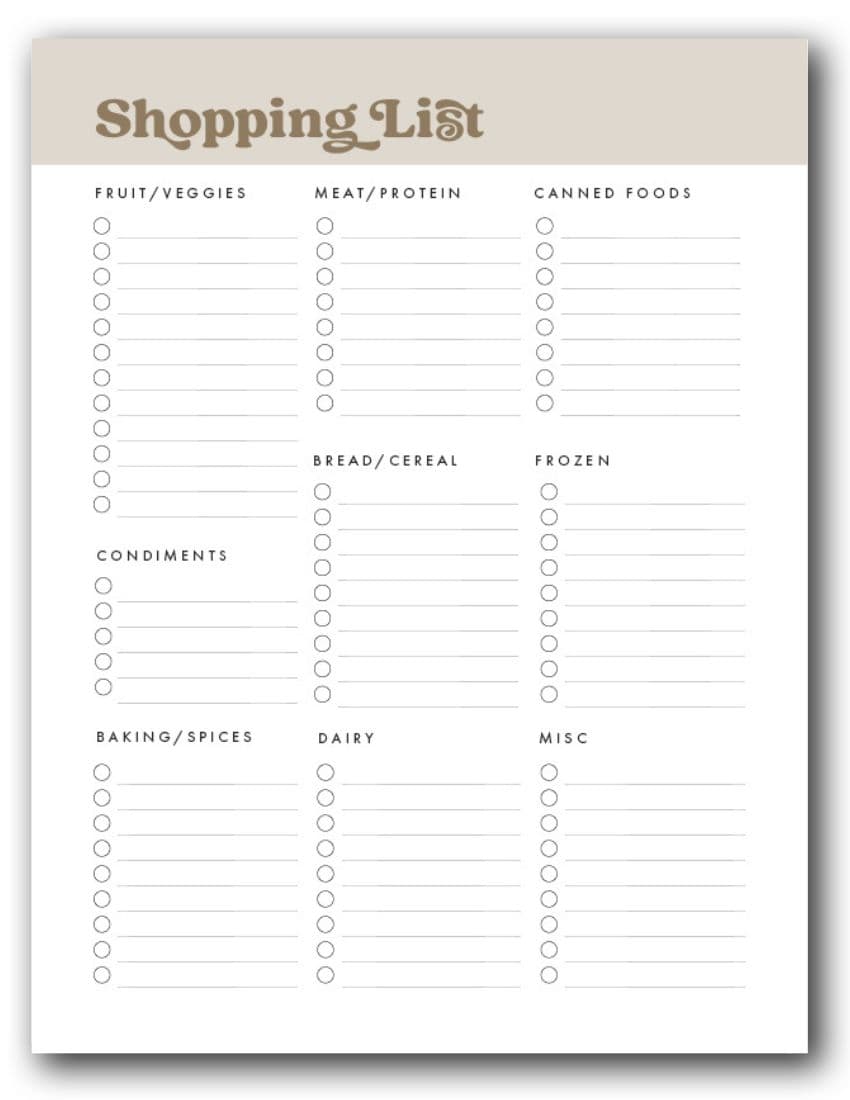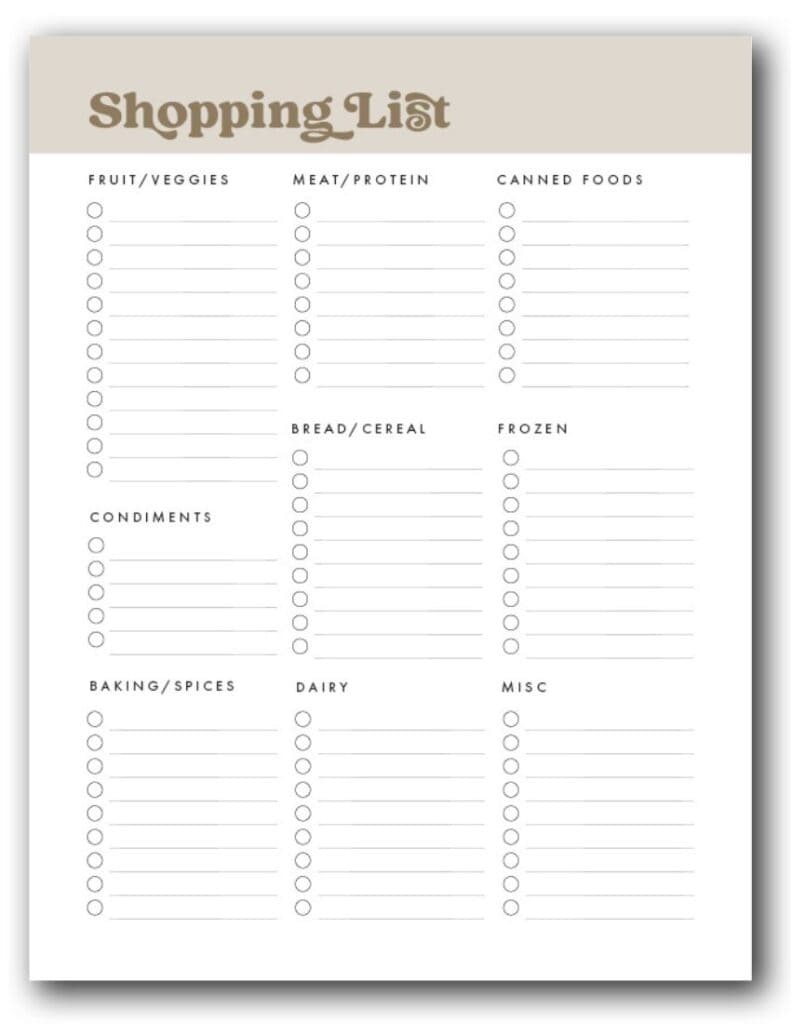 And last but not least: The Thanksgiving Shopping Lists. THis list has spaces for each category of items you'll find on your grocery list. I recommend having all your recipes out and go item by item to ensure you either have the item listed or it's on your shopping list. That way you can save yourself multiple trips to the grocery store.
THINGS TO REMEMBER WHEN PLANNING THANKSGIVING DINNER
While challenging, planning and hosting a large Thanksgiving dinner can be an incredibly rewarding task. While I a know to question my sanity in the lead up to hosting big events, making memories and building relationships always lead me to feel like it was incredibly worth the planning and effort
Here are 8 important things to remember to ensure a successful and enjoyable event:
Guest List and Invitations: Start by creating a guest list and sending out invitations well in advance. This helps you estimate the number of attendees and plan for seating, food, and accommodations.
Menu Planning: Design a balanced and diverse menu that accommodates various dietary preferences and restrictions. Make a list of dishes you'll be serving, taking into account appetizers, main courses, sides, desserts, and beverages.
Timely Preparation: Create a detailed schedule and timeline for the days leading up to the event. This includes tasks like grocery shopping, meal preparation, decorating, and cleaning. Preparing some dishes in advance can help reduce stress on the day of the dinner.
Delegate Responsibilities: Hosting a large dinner is a team effort. Assign tasks to family members or friends, such as setting the table, decorating, or helping with cooking. Delegating responsibilities lightens your load and encourages a sense of shared celebration.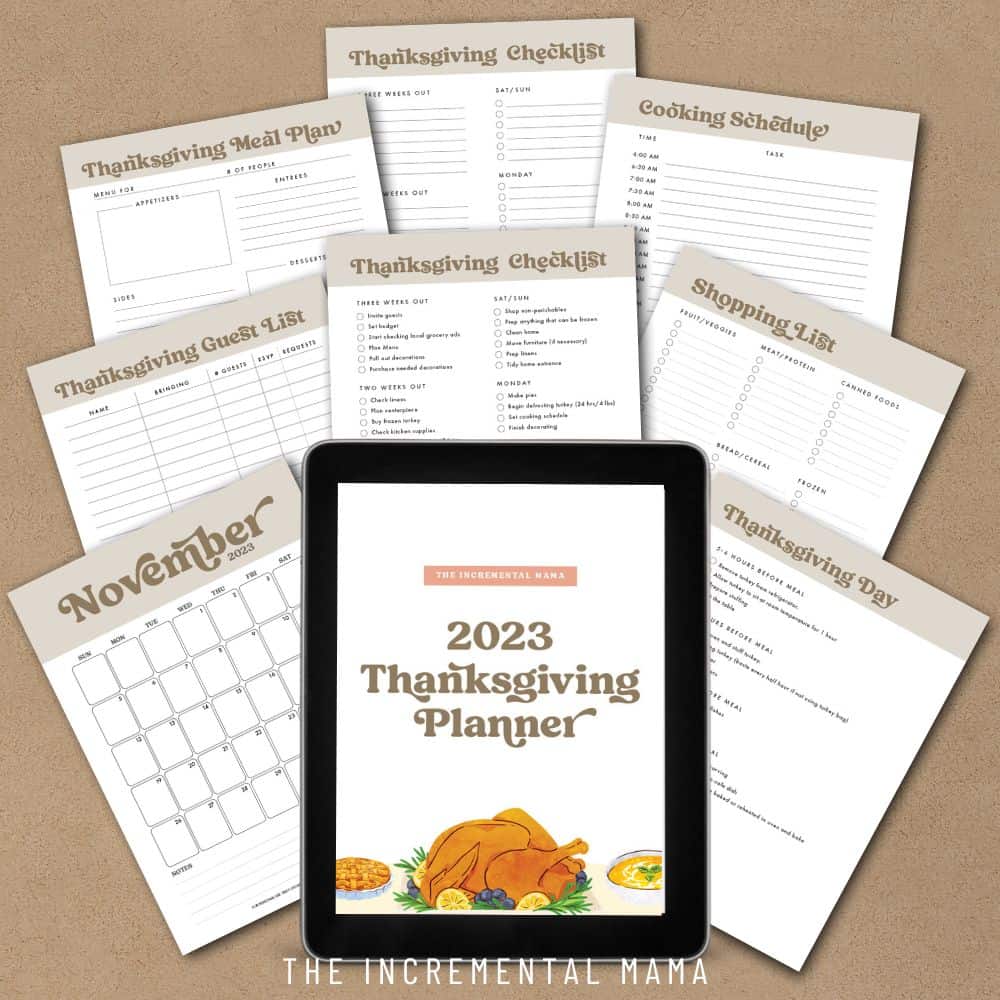 Seating Arrangements: Carefully plan seating arrangements to foster a positive and enjoyable atmosphere. Consider the dynamics among guests and try to seat people who get along well or have common interests. Mix up the seating to encourage mingling.
Comfort and Entertainment: Ensure your guests are comfortable by providing ample seating, appropriate lighting, and a comfortable temperature. Offer entertainment options, such as games, music, or a designated area for socializing, to keep everyone engaged and entertained.
Gratitude and Traditions: Thanksgiving is about giving thanks and sharing gratitude. Consider incorporating traditions like a roundtable where guests express what they're thankful for. Make a heartfelt toast to kick off the meal, and encourage others to share their sentiments.
Leftovers and To-Go Containers: As the dinner concludes, have containers ready for guests to take leftovers home. This not only reduces food waste but also allows everyone to enjoy the delicious meal for days to come.
MORE FREE THANSGIVING PRINTABLES
Looking for more free Thanksgiving printables? Check out these awesome free printables you can download instantly: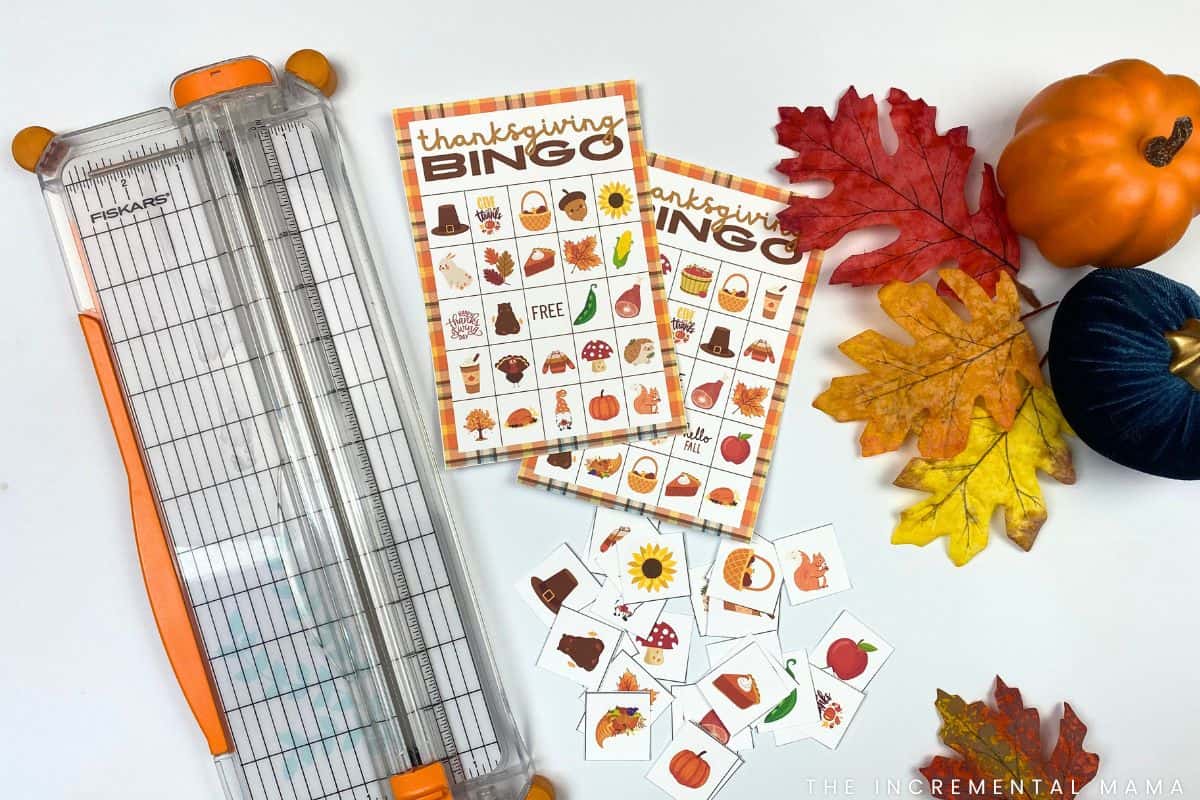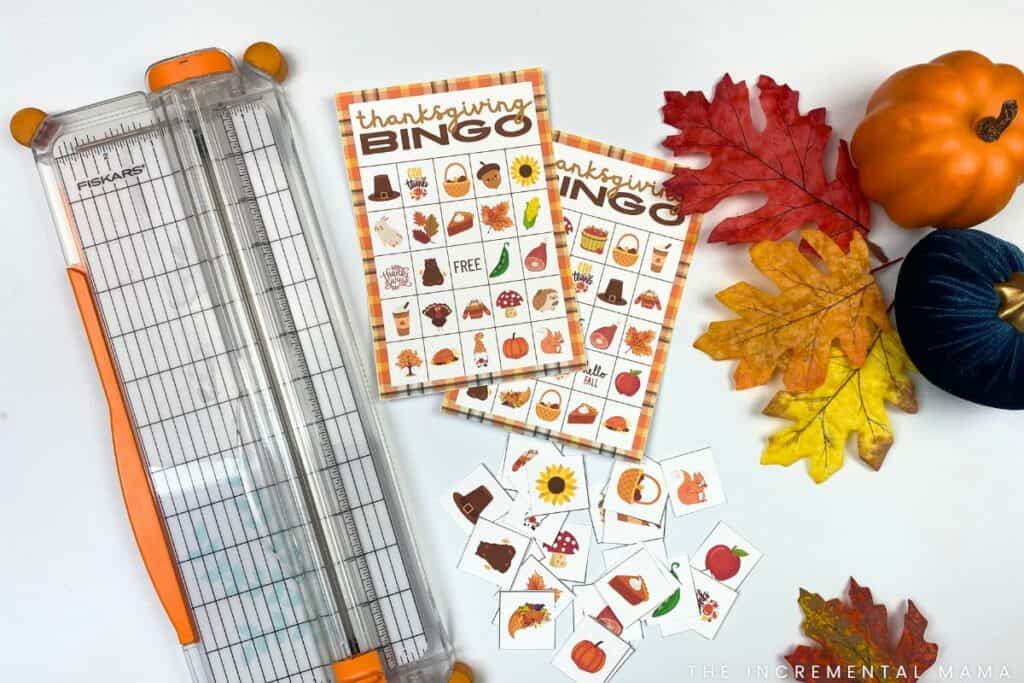 Free Printable Thanksgiving Bingo – This fund and free game would make an awesome activity to play at your Thanksgiving dinner. Also, with 24 different bingo cards, it makes for a great classroom or large group activity.
Printable Thanksgiving Turkeys –

DOWNLOAD THE FREE PRINTABLE THANKSGIVING PLANNER
To download the free printable Thanksgiving Planner, simply click the button below. The digital file will be sent straight to your inbox when you sign up. You will then be able to save the PDF file your to computer or just print it out immediately.
Please note that these printables are for personal use only.
Happy Thanksgiving!