Having a toddler and a baby is no joke.
With two little bodies to care for, you spend your days trying to hold 2 kids at once while nursing, making meals, and trying to keep your house from looking like the aftermath of a tornado.
Annnd you can't remember the last time you went a day without having spit up or food stains on your clothes.
(And come to think of it, did I brush my teeth today?)
Girl, I've been there. Several times, in fact.
I gave birth to my second child when my oldest was just 14 months old. And then, before I knew it, I had 4 kids 4 and under. While still teaching college classes in the evenings
I know just how crazy it can feel with a baby and a toddler. But I've found that one of the best ways to get organized and have happy kids is to establish a schedule and routine that works for you, your baby, and your toddler.
That's what this post is all about: providing a sample stay-at-home mom schedule for a toddler and a baby AND helping you adapt it to create your own schedule that works for you.
And best of all, there's a free printable you can download that has both the sample toddler and baby schedule as well as a customizable daily schedule template that you can fill out to meet your individual needs.
(Just want the printables? You can grab them at the bottom of this post!)
RELATED POSTS: How to Get Stuff Done with a Baby and a Toddler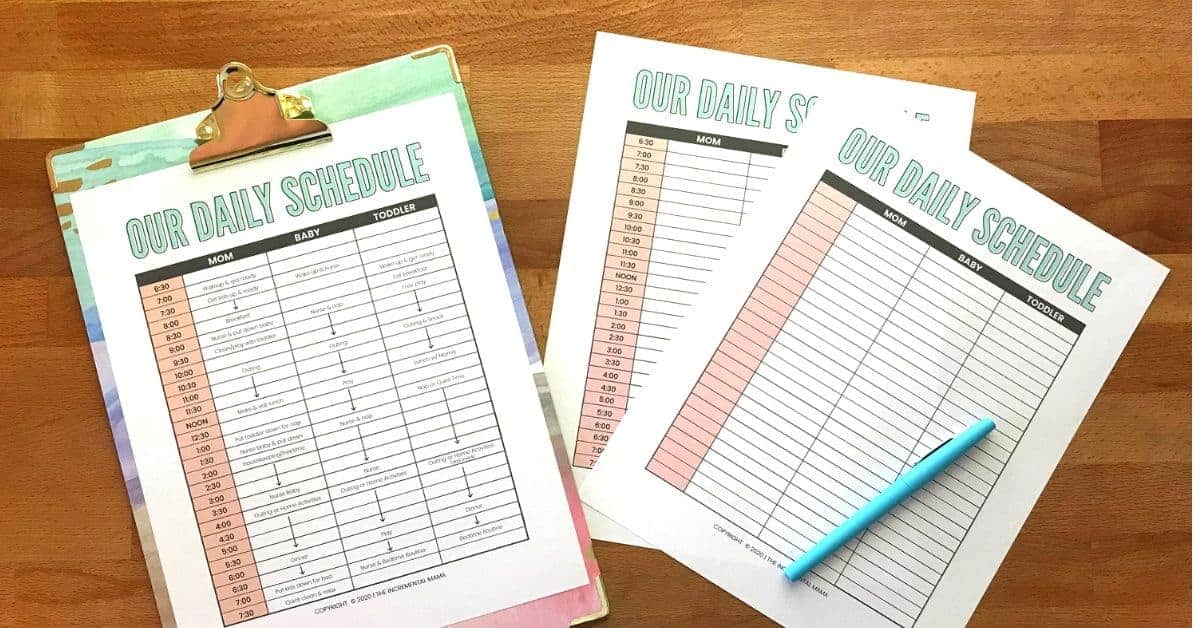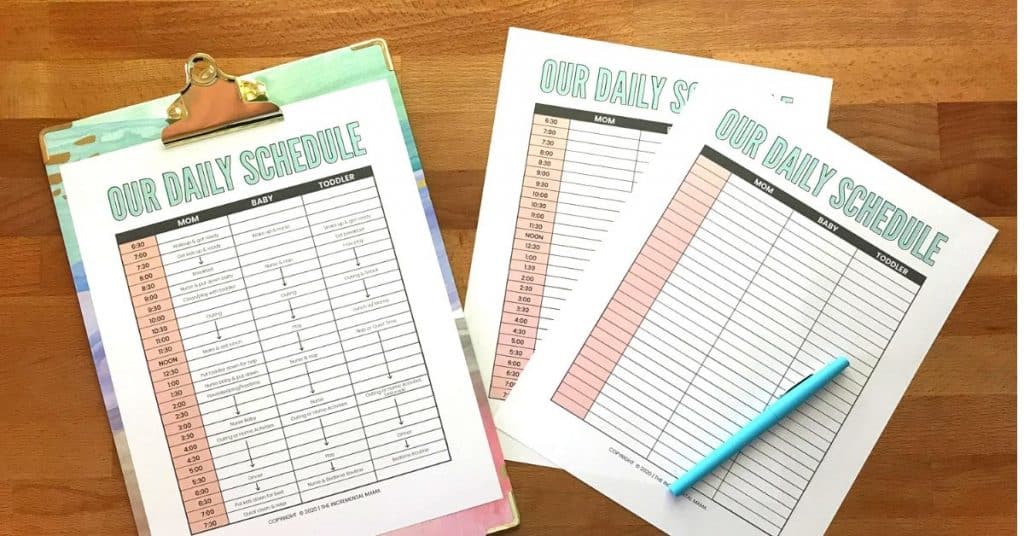 Creating a Schedule for Toddler and Baby
It's important to note that no 2 kids (and no 2 moms) are the same. Therefore, it's important that you find what works for you and your children. Therefore, the sample schedule for toddler and baby provided is just to give you an idea about how you can create a schedule that includes:
nursing/feeding baby
meal and snacks
naps for baby and toddler
outings and activities
cleaning tasks
everyone getting enough sleep–including YOU
Also, I don't believe in keeping rigid schedules with kids. Because it doesn't really work when your number one goal is to meet your kids needs. Naps and feeding times change, appointments pop up, and crap happens. Literally.
RELATED POSTS: 8 Tips to Survive a Newborn and a Toddler
But predictable routines and patterns make life easier for everyone.
Kids and babies crave predictable patterns that they can come to expect. So while I don't believe rigid schedules, I DO believe in creating a basic schedule and sticking to routines at generally the same time. It's keeps kids happy (since they always know what's happening next) and it keeps life running smoothly.
Plus, creating a daily schedule with everything you want to accomplish will help YOU stay sane. Because schedules and routines make for an organized and productive day. And seriously, I am obsessed with routines!
Not only are routines great for kids and babies, but they're great for moms. Because when we firmly establish routines in our lives, it's easy to just go through the motions and follow our "muscle memory".
If we create daily routines that include everything we need to do, we can accomplish a lot every single day. As a busy and often tired mom, you can just go with the flow as you follow the routine and you don't have to push yourself too much or expend willpower.
And with the free printables, the sample schedule, and the following tips and strategies, you'll be able to create a fantastic daily schedule for a toddler and baby that totally works for you.
So let's dive in!
RELATED POST: How to Prepare Your Toddler for a New Baby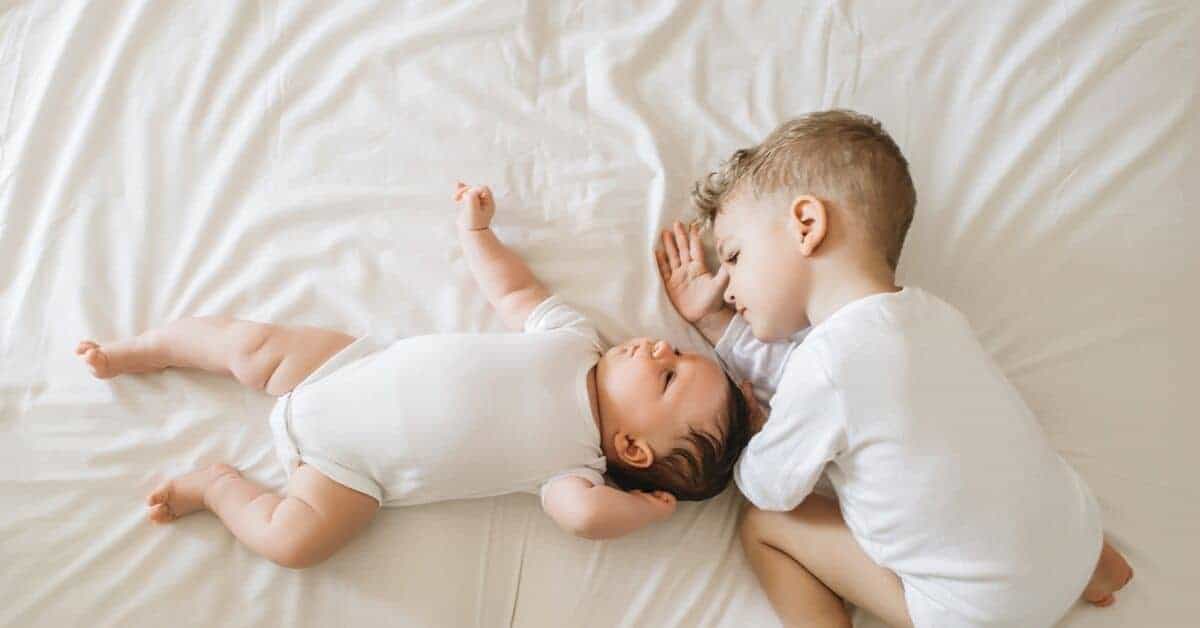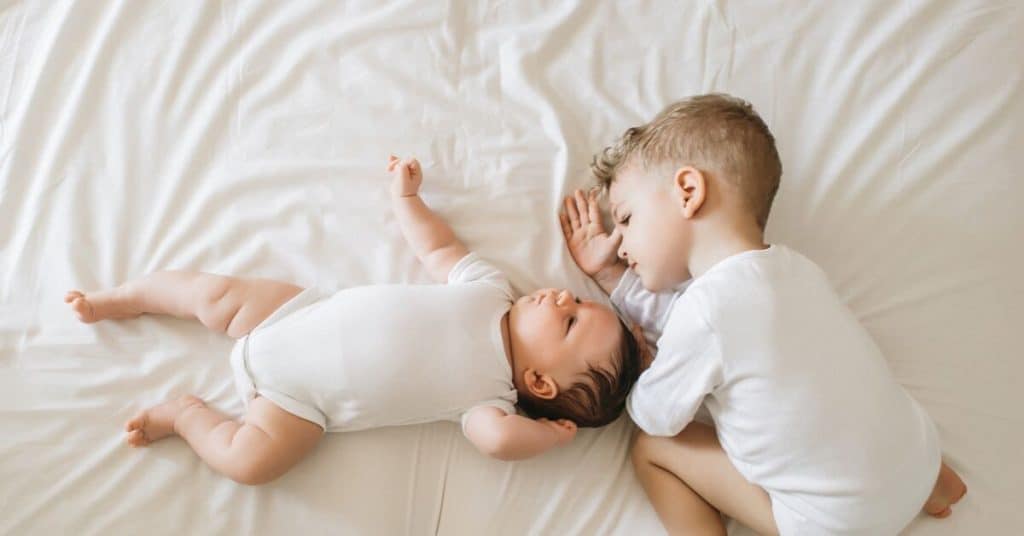 SAMPLE STAY-AT-HOME MOM SCHEDULE FOR A TODDLER AND BABY
This is a sample schedule for a stay-at-home mom of a toddler and a nursing baby of around 3-6 months (e.g. a baby that's down to 2-3 naps a day).
With this schedule:
Mom can get 8 hours of sleep and stay up on household duties.
Baby gets 2-3 naps, 5 nursing sessions, and around 15 hours of sleep
Toddler gets 1 nap (or quiet time) and about 14 hours of sleep
You can adapt this schedule and the routines to meet your unique needs. For example, if you start your day later, you can just move up all the activities. Or you may need to add or take away a nap or feeding. This is just to give you a sample schedule that has worked for other moms (including me).
6:30 Wake up & Get Ready
Wake up and have some personal time to get ready for the day before your children are up. I'm a firm believer that waking up before your kids helps you to be happier and more organized. Even if it's just 15 minutes.
This is a great time to get dressed, plan your day, and get centered before the kids are up and you don't have any time for yourself.
If you need help getting yourself ready for the day, check out the free 5-day Morning Makeover email challenge or sign up below.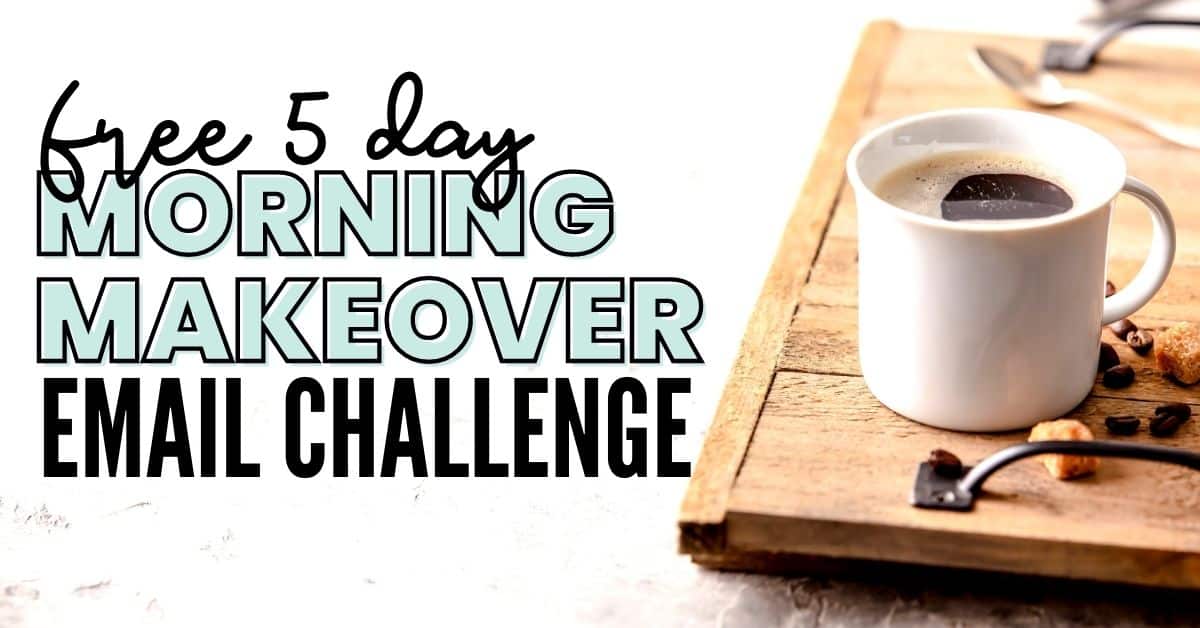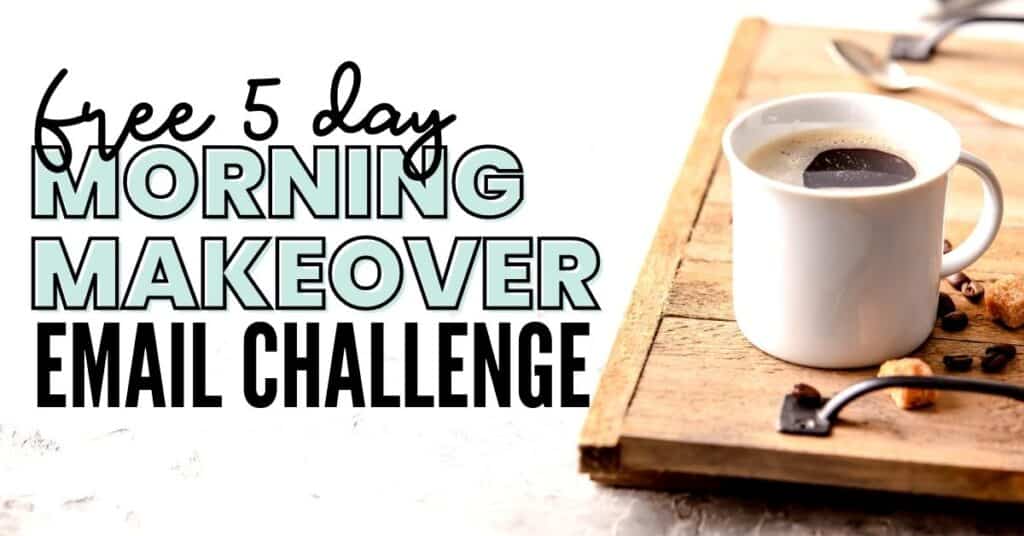 7:00 Get Baby up
You're up, teeth brushed and dressed for the day, and now it's time for the real action! Time to get the baby up and ready for the day. After waking the baby, you'll change the diaper, get dressed, cuddle, and nurse.
It's nice to get the baby up before the toddler in order to be able to get in some one-on-one baby snuggles.
7:30 Get Toddler Up
After taking care of baby, it's time to get your little busy bee up and ready for the day. After getting your toddler up, take the little one to the potty or change the diaper and get dressed for the day. This is also a good time to make sure the room is all picked up.
(In fact, research suggests that starting tidying habits while in the toddler stage makes it more likely s/he'll be helpful when older!)
If your toddler wakes up earlier than you'd like, this genius alarm clock can help. It tells kids when it's okay to leave their bedroom in the morning by changing color at a pre-set time. You can teach your toddler to quietly play with toys in their room upon waking and come out once the green light goes off.
Also, black-out curtains are a game-changer if you have little ones who wake up with the sun.
They keep the sun from filtering through the window and waking up your kids at horrifically early hours. We got ours at Target and they were the best investment ever. Inexpensive and super cute.
8:00 Breakfast
Now that everyone's ready for the day, it's time to make and eat breakfast. Well, you and the toddler. Baby is already fed!
Personally, I've found that meal prepping breakfast makes a HUGE difference in how my morning goes. I like to make healthy muffins, whole wheat waffles, or pumpkin wheat pancakes in bulk and freeze them. Then I simply pop them in the microwave for 30 seconds, and BOOM, instant breakfast.
That way I'm not struggling to throw something together while trying to manage the little ones. Here are my favorite make-ahead breakfast recipes.
8:30 Baby Nap/Toddler Playtime
After breakfast, the baby should be ready for the first nap of the day. During your baby's nap, this is a good time to do some housekeeping tasks and to give some one-on-one attention to your toddler.
You can get your toddler playing independently and then you can get a few things done around the house. I love having toys around that house that my toddler can play with on her own so I can get a few things done before we play together.
I recommend doing the following during this time:
clean up breakfast
throw in a load of laundry & fold a load from the day before
play one-on-one with your toddler
I've found that doing a quick clean after breakfast and doing just one load of laundry a day takes very little time, yet goes a long way to keeping a neat and tidy house.
Bonus if you can get your toddler to join you in tidying! I've found that little kids love to be helpful and while it may take a little longer, you get to bond with your little sweetie, teach them to clean, and still get stuff done around the house.
This is the simple cleaning schedule that I follow to keep my house tidy with minimal effort.
RELATED: The Simple Cleaning Schedule You'll Actually Stick To
10:00 Wake Baby & Feed/Nurse
At this point, you've cleaned up, played with your toddler, and maybe even done a bit of laundry. Time to wake and nurse the baby.
10:30 Toddler Snack & Go for Outing
Getting out of the house every single day goes a long way to keeping you and your kids sane and happy. And right after a little snack (for the toddler) and the baby's morning nap is a fantastic time to head out for an adventure.
Everyone is fed and rested. And you've probably got the most energy you'll have all day. You can even go for outings that both get you out of the house and check something off your list like exercising or going to the grocery store. You know–two birds, one stone.
Here are some ideas:
Go for a walk
Go for a run with a double running stroller (All my kids have loved going for runs. This is the stroller I've used almost daily for the last 5 years)
Visit the zoo (we always get a yearly zoo pass)
Hit up the gym (if they've got good childcare and it fits your budget)
Get your grocery shopping done
Visit friends
RELATED: The 10 Best Double Strollers for a Newborn & Toddler
The key is to get out every day. It breaks up the day nicely and prevents anyone from getting to stir crazy. Plus, you can use the outing to get stuff done!
If you do visit the grocery store, here are a few quick tips:
Park next to cart return so you can easily grab and put away your cart
Wear your baby (I love this carrier when my baby is small and this one when they get a bit bigger)
Have water/snacks handy
12:00 Lunch
After your outing, it's time for lunch! Lunchtime starts the transitioning from the busy morning to the quiet and calm afternoon where both kids will nap/have quiet time. So you'll make and enjoy a quick lunch with your toddler, and then start transitioning for the afternoon naps!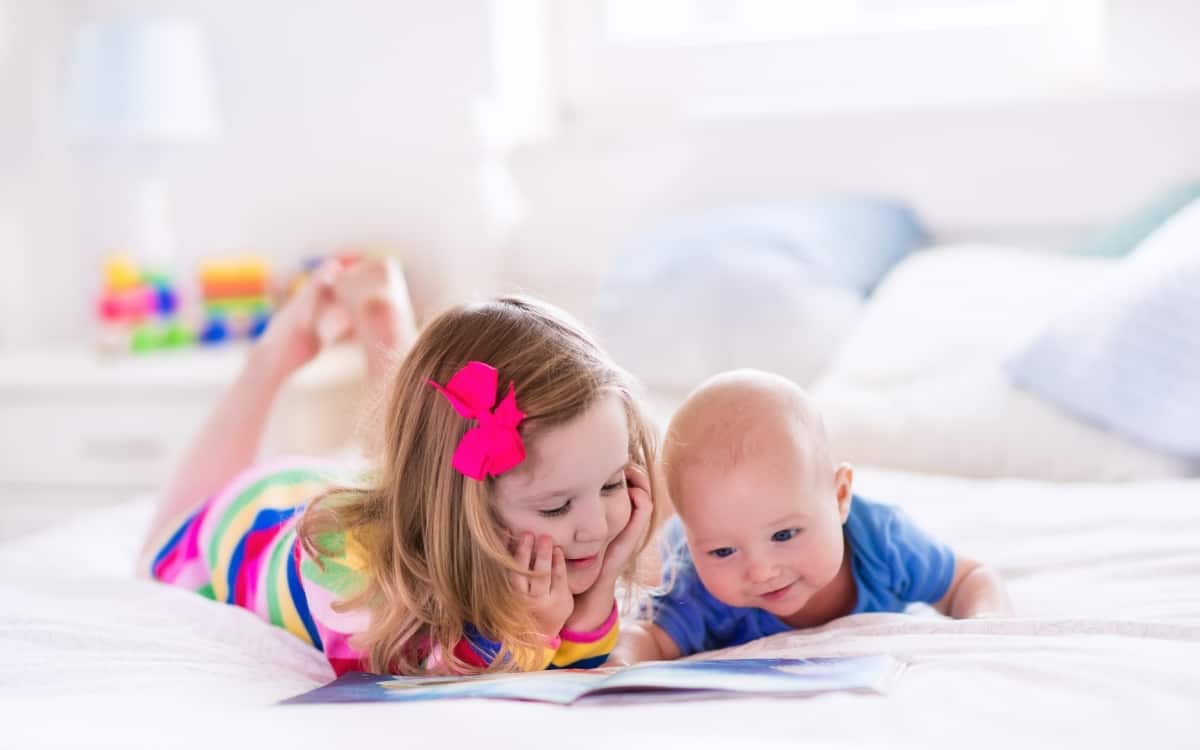 1:00 Nap for Toddler/Nurse & Nap for Baby
Once lunch is done and you've tidied up, it's time for the toddler to go down for an afternoon nap. If s/he's no longer napping, you can institute quiet time in which the child is to quietly play in a designated area for a couple hours so the baby can sleep (and so mommy doesn't go berserk).
Personally, I like to help my toddler transition into naps by reading a short book and/or singing a song.
Once the toddler is down, it's time to nurse and put down the baby for another nap.
After the kids are both down (or doing quiet time), you can take a minute for yourself. If you are exhausted (especially if you're still getting up with the baby at night), taking a quick cat nap will give you an energy boost and help you get through the second half of the day.
After resting (if you need it…and let's face it, you probably do), this could be a good time to prep dinner. You can do all the prep work (e.g. chopping, measuring, etc) so that you can easily throw dinner together later on. Or you could even throw something in the crockpot and be done with it.
Remember, this is your quiet time too. Do a little something for yourself to give you the boost you need to get through the second part of the day. Self care really does go a long way.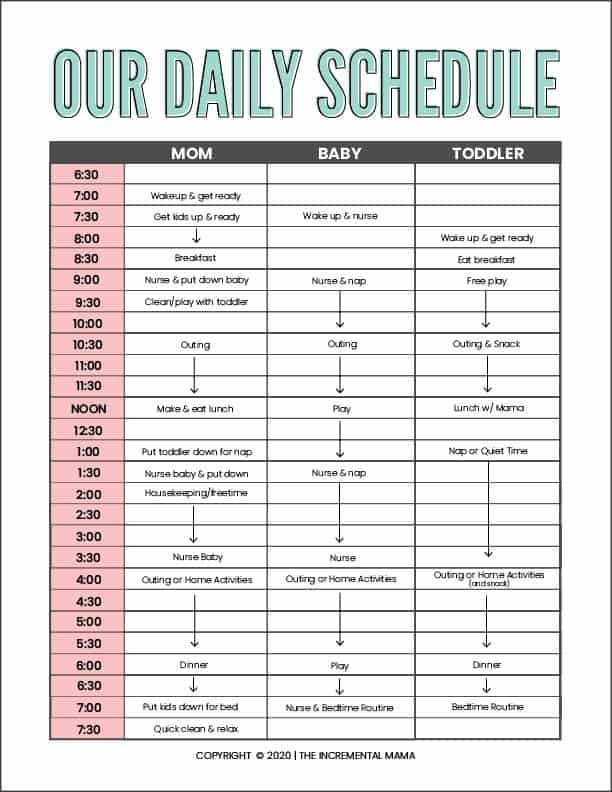 3:30 Wake up Baby & Nurse
Before your toddler is up and about, give your baby a post-nap feed so she'll be content during the hustle and bustle of dinner and your early evening.
4:00 Play or Outing #2
Depending on your energy level and how everyone is feeling after their naps, you could either have playtime and activities at home or head out for a second outing by going for a walk or to the park (or run out to the store to grab an ingredient you need for dinner). This may be a good time to fit in a daily workout!
Here are some ideas to fit in a quick workout at home.
5:30 Dinner & Family Time
It's dinner time! Hopefully, you've prepped in advance so it's easy to get dinner ready. If you're anything like me, you want something quick, easy, and preferable healthy. These 7 recipes are healthy and can be made in under 30 minutes.
With baby playing in a swing or bouncer, the rest of you can eat dinner together and enjoy family time before the bedtime routine begins.
7:00 Bedtime Routine
At 7:00pm, start the bedtime routine for your little ones. This is a great time to divide and conquer with your partner. You can do bath time together and then:
Read books
Nurse the Baby
Sing a lullaby
For more help on creating a great bedtime routine, check out these tips for a simple and tear-free bedtime routine.
7:30 Tidy House & Prep for Tomorrow
With your partner, do a quick clean and tidy up the house (e.g. load and start the dishwasher) so you can spend a couple of stress-free hours relaxing together.
Even though you both are probably exhausted, even a 15 minute power clean is going to go a long way to keeping your house tidy. Which will lower your stress level. (Nothing makes me more stressed and irritable than a messy house).
This is also a great time to make any preparations you can for the next day (e.g. get food out of the freezer to defrost, get out the ingredients for making breakfast, get diaper bag ready for tomorrow's outing etc).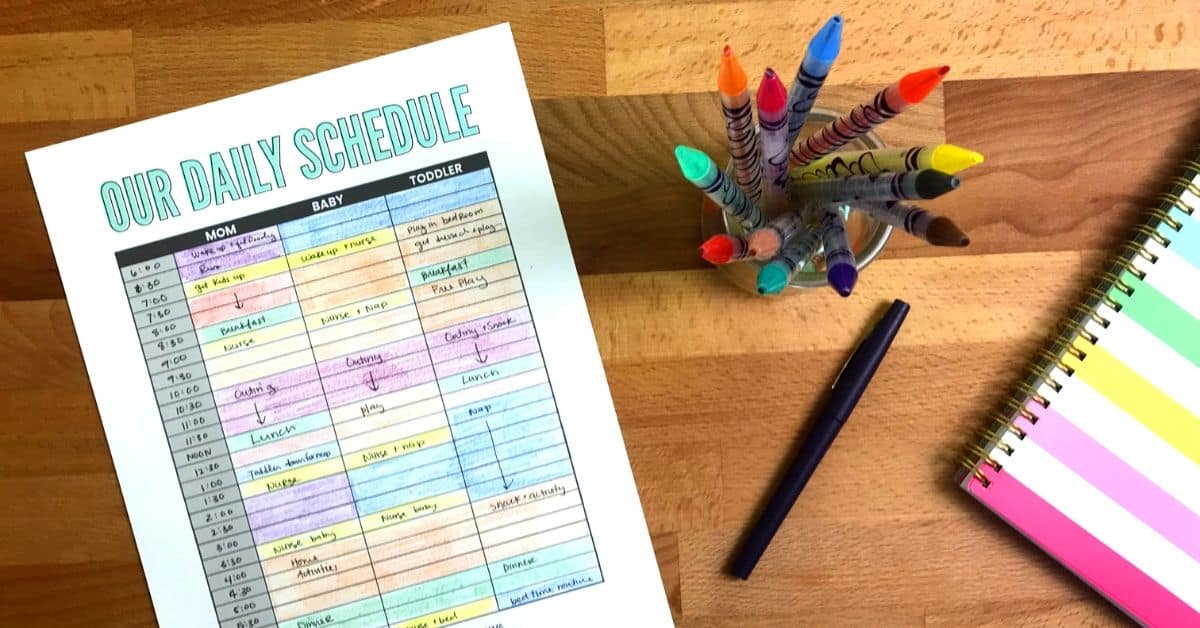 8:00 Relax and Unwind!
By this point, you're probably drop dead exhausted. But you're not ready to head to bed. Instead, you're probably craving a little time to yourself and adult conversation with your partner.
While it can be tempting to park in front of the TV and veg until you scrape yourself off the couch and shuffle off to bed, that's probably not the best way to feel relaxed, rejuvenated, and ready for a good night's sleep. (research shows that screen time before bed inhibits quality sleep)
Instead create an intentional nighttime routine that makes you happy, relaxed, and sets you up for some quality shut eye.
Here are some ideas:
read
talk to your partner and share a snack
take a hot bath
stretch
journal
write your to-do list for the next day
Once my kids are in bed, I personally like to stretch (since I'm always in a hurry and rarely stretch well at the gym), take a bath while reading a book, and visit with my husband. Occasionally, we'll watch something together, but we have to be careful or hours will pass without us even realizing it.
(Honestly, I avoid TV because I would binge an ENTIRE SEASON of a Netflix show without moving off the couch.)
9:30/10:30 Bedtime
While it can be hard to force yourself to bed when you get so little relaxation time, getting a full 7-8 hours of sleep is probably the most important thing you can do for your health and well being. Which means a lot of extra effort if you still have a baby waking at night.
Personally, I've found that when I'm getting enough sleep, everything seems to fall into place. I feel better, I have far more energy, I'm more effective and efficient. Which means I'm happier, more patient with my kids, and I get more done in less time.
CREATING YOUR OWN SCHEDULE FOR A TODDLER AND BABY
Hopefully, the above sample stay-at-home mom schedule for toddler and baby gave you some ideas about how you can create a daily schedule and routine that works for your family.
When it come to creating your ideal routines, you'll want to build out your daily schedule by planning the following activities (in order, if possible):
Sleep times
Meals and Snacks
Outings
Exercise
Cleaning schedule
Meal Prep
While this season of life isn't easy, it sure is full of wonderful slobbery kisses and the most delicious cuddles you could imagine. Grab your free printable daily schedules (with both the sample schedule and some blank templates) for a toddler and a baby and create your perfect schedule.
You've got this, mama!
READY TO GET YOUR LIFE ORGANIZED?
The Organized Home Toolkit has everything you need to go from overwhelmed to crushing your day.
With hundreds of customizable printables and short instructional videos, the Toolkit is the resource library you need to quickly & easily organize your life and home.
…AND for less than a dinner out with the family!
Here's what Allison, a busy mom of 3 said about The Toolkit:
⭐⭐⭐⭐⭐
"This toolkit helped me go from drowning in housework and feeling unmotivated to feeling organized and like my life was more manageable in a week. I woke up to a plan, a schedule, routines and manageable expectations for my kids that helped combat the depression and burn-out I often feel as a mom. And I love the videos. I feel like it's 'Running a Home & Raising Kids 101' and it's the class I have needed for YEARS."
>>> Check out The Organized Home Toolkit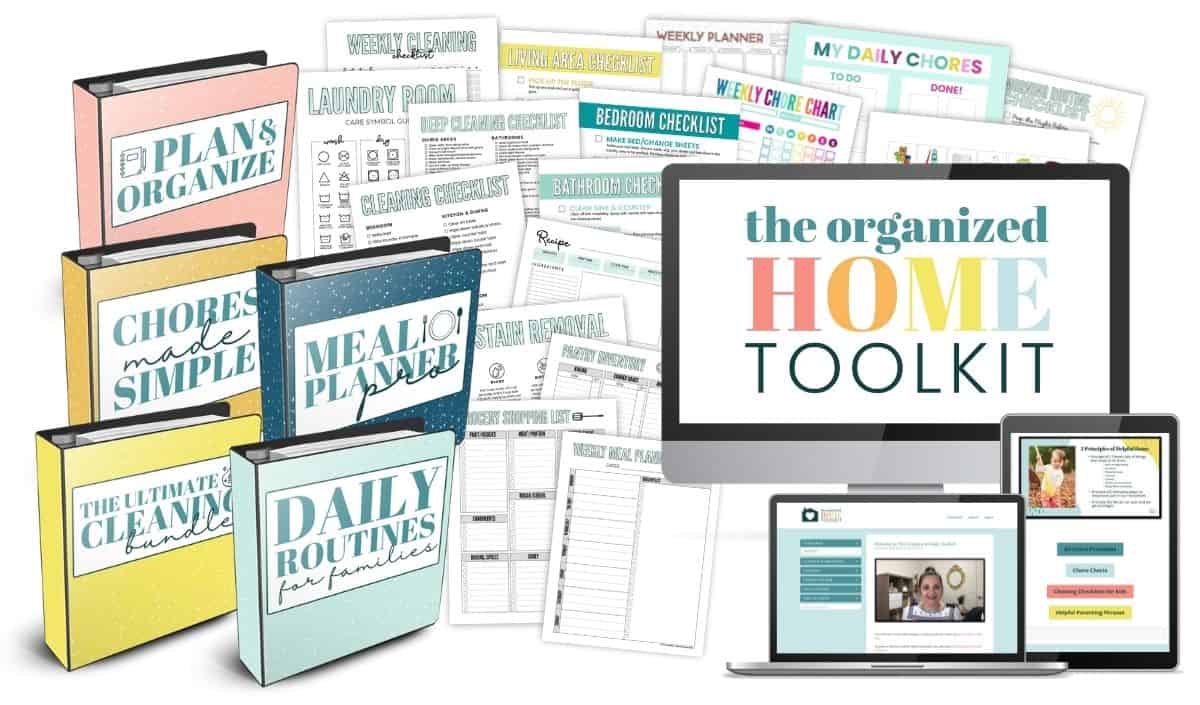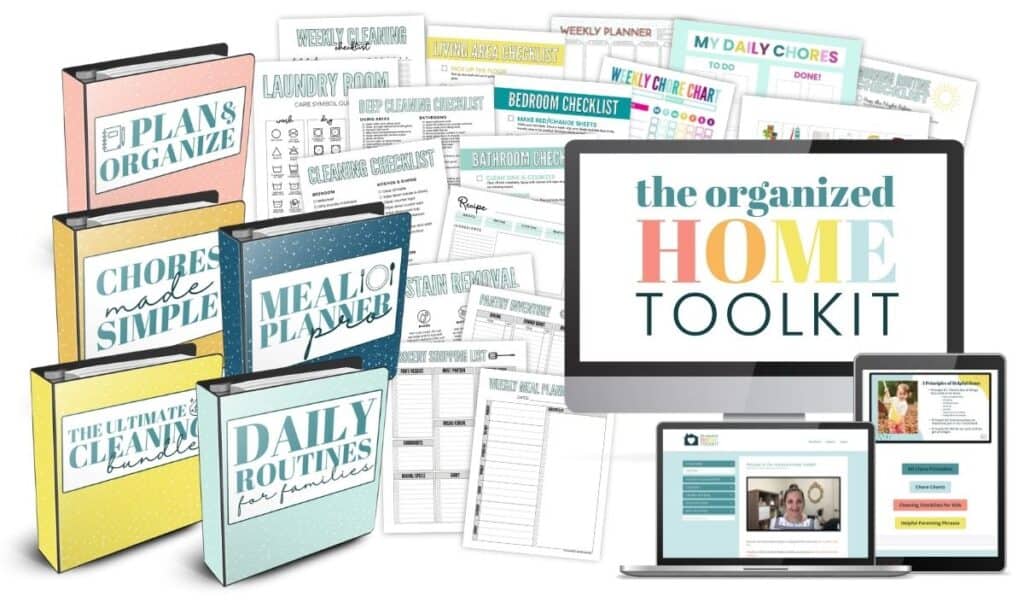 ADDITIONAL RESOURCES: