Investing in the right double stroller makes life with 2 kids much easier. And when you have a toddler and a baby, you definitely need all the help you can get.
(I can attest to that)
So in this post you'll find the 10 best double strollers for a newborn and toddler. Whether you're on a budget or have a little more to invest, you'll find the right one to meet your needs.
And as a mom who had 4 kids in under 5 years, I know that firsthand that having the right stroller for you and your lifestyle makes all the difference.
The difference from being the on-the-go mom seamlessly trekking 2 kids around town or standing in a parking lot swearing at a hunk of metal and plastic while your toddler demands a snack.
RELATED: The Best Diaper Bags for a Toddler & Newborn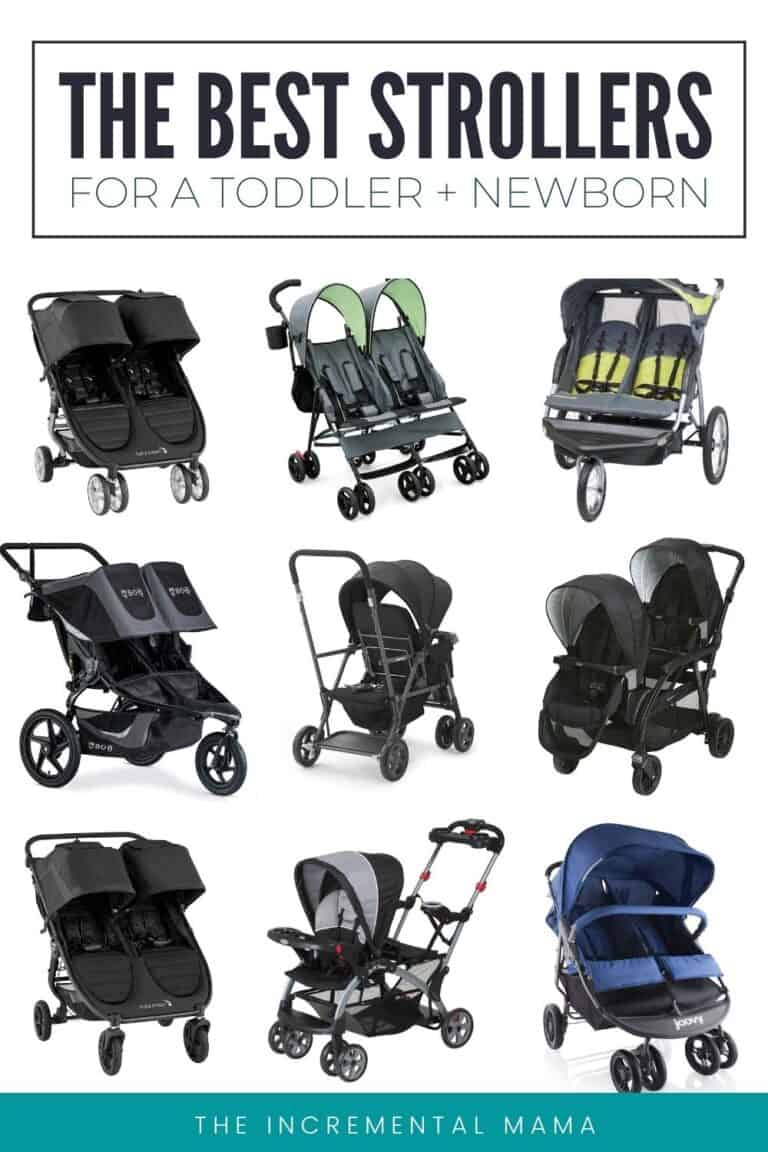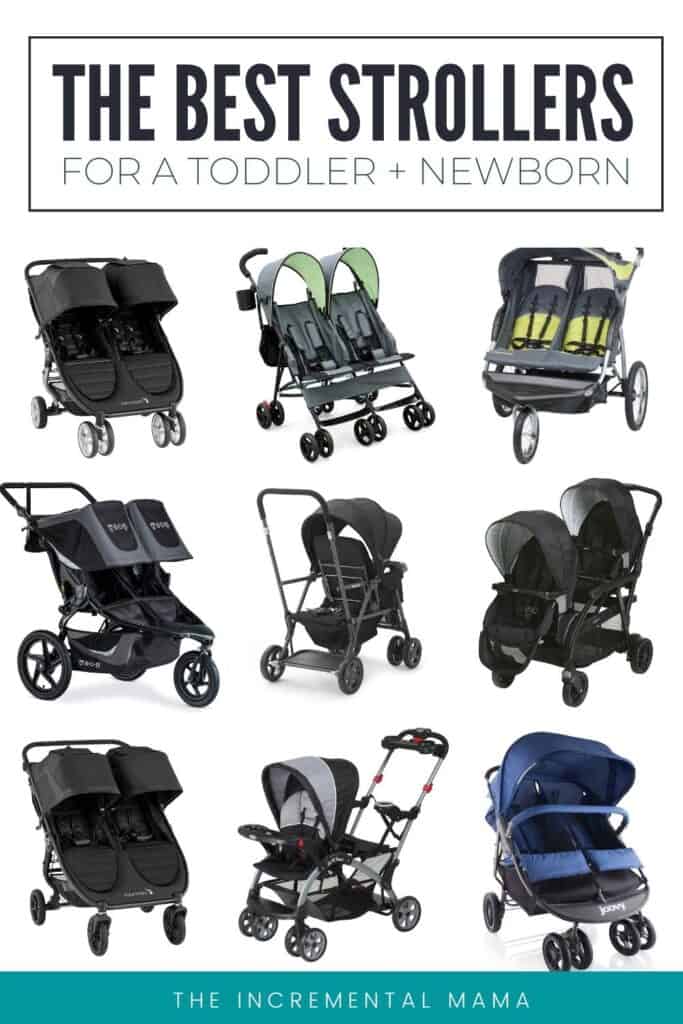 WHAT YOU NEED TO KNOW BEFORE BUYING A DOUBLE STROLLER
But before you know which double stroller is right for you, you need to take into consideration your family and lifestyle. Because what's right for one mom, might drive you totally insane.
Firstly, you need to decide which double stroller style–which vary by types of wheels and structures–is best for you.
These include:
Side-by-Side Strollers
Joggers
All-Terrain
Sit and Stand
Inline/Tandem
Below you will find descriptions and recommendations for each. But before selecting, consider the following when determining what is the best double stroller for newborn and toddler FOR YOU:
Age Difference
Kids close in age do well in most all double strollers. But older they get, they prefer to be able to see what's in front of them. So with a toddler, you may want to pick a side-by-side stroller or your may end up with frustrated kids.
Lifestyle & Location
Your lifestyle has everything to do with what style of stroller is best for you.
Do you travel a lot? Then you probably want a good umbrella stroller.
Are you a runner? Then you'll probably want a jogger.
Do you spend a lot of time outdoors? Then all-terrain might be right for you.
Is the stroller primarily for shopping outings or urban environments? Then a solid side-by-side might be perfect.
How Long You Plan to Use it
If you want to a stroller that will last for years and through multiple children, then you may consider investing in a higher quality (usually more expensive) stroller.
Also, because more expensive strollers have higher resale values, once you are done, you can make back a decent portion of your investment.
How Many Strollers You Plan to Have
If you're like me, you probably want to have one stroller that meets your needs. You don't want to have to store (or buy) multiple strollers for various uses.
However, if you have the space and the means, perhaps you want to invest in a couple different strollers for particular uses. For example, you may have a double jogging stroller for running and use around town, but also have an umbrella stroller for travel.
RELATED: Stay-at-Home Mom Schedule for a Toddler & Baby
THE BEST DOUBLE STROLLERS FOR NEWBORN & TODDLER
When it comes to finding the best strollers for infants and toddlers, you want to make sure you pick the ideal style for your family. Therefore, the following double strollers are organized by style.
Best Side-by-Side Double Strollers
Side by side strollers are great general needs double stroller. They're easier to push than the inline/tandem, but harder to push through doorways. They have bigger wheels than an umbrella stroller and smaller than an all-terrain.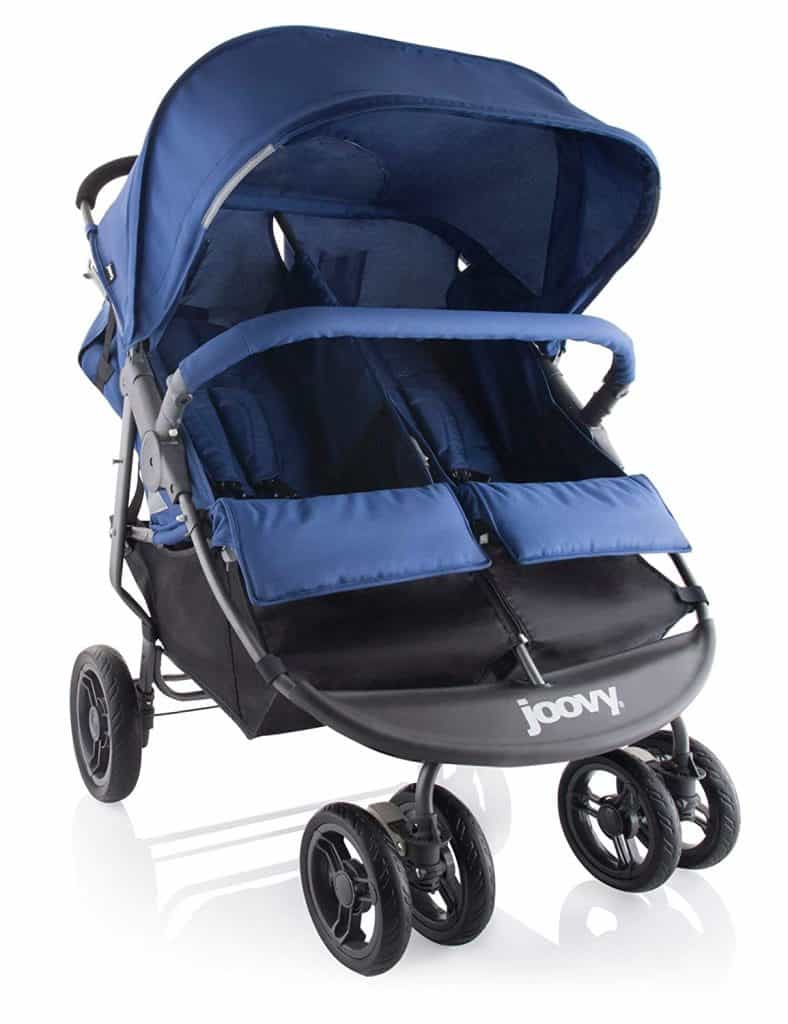 This stroller is great if you want quality, maneuverability, but are working with a budget. In addition to getting rave reviews, it's easy to fold, fits easily through doorframes, seats recline nearly flat and there is plenty of storage.
On the downside, it's a bit heavy making it harder to throw into a trunk or haul up stairs if you're in a walk-up apartment.
One Reviewer Said:
" I did lots of research because I have heard so many good things about the CityMini double stroller & the Britax double. In my opinion the Joovy has them beat. The massive storage, ease in maneuvering & the value pricing make this a no-brainer….Joovy is a solid choice & will save you about $300."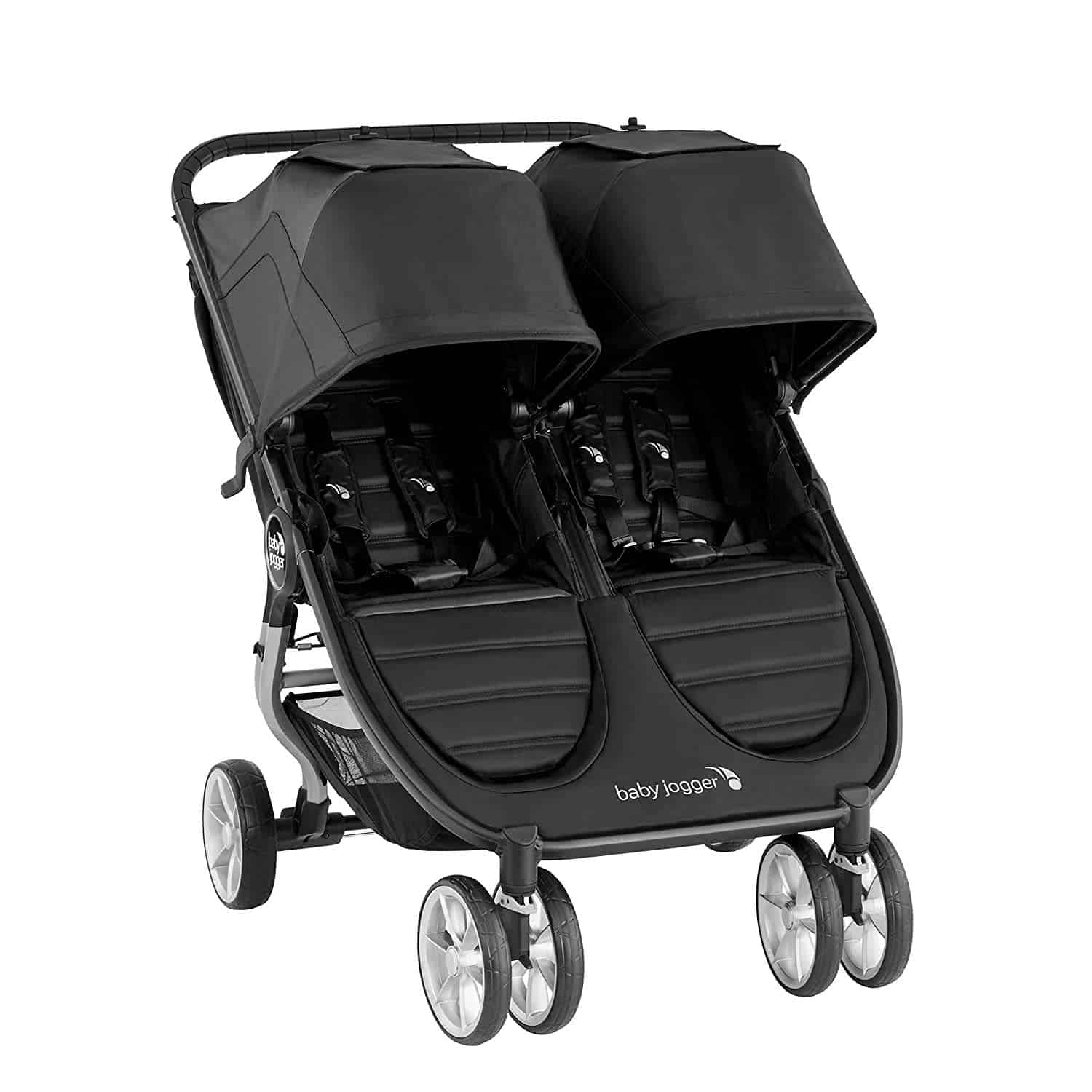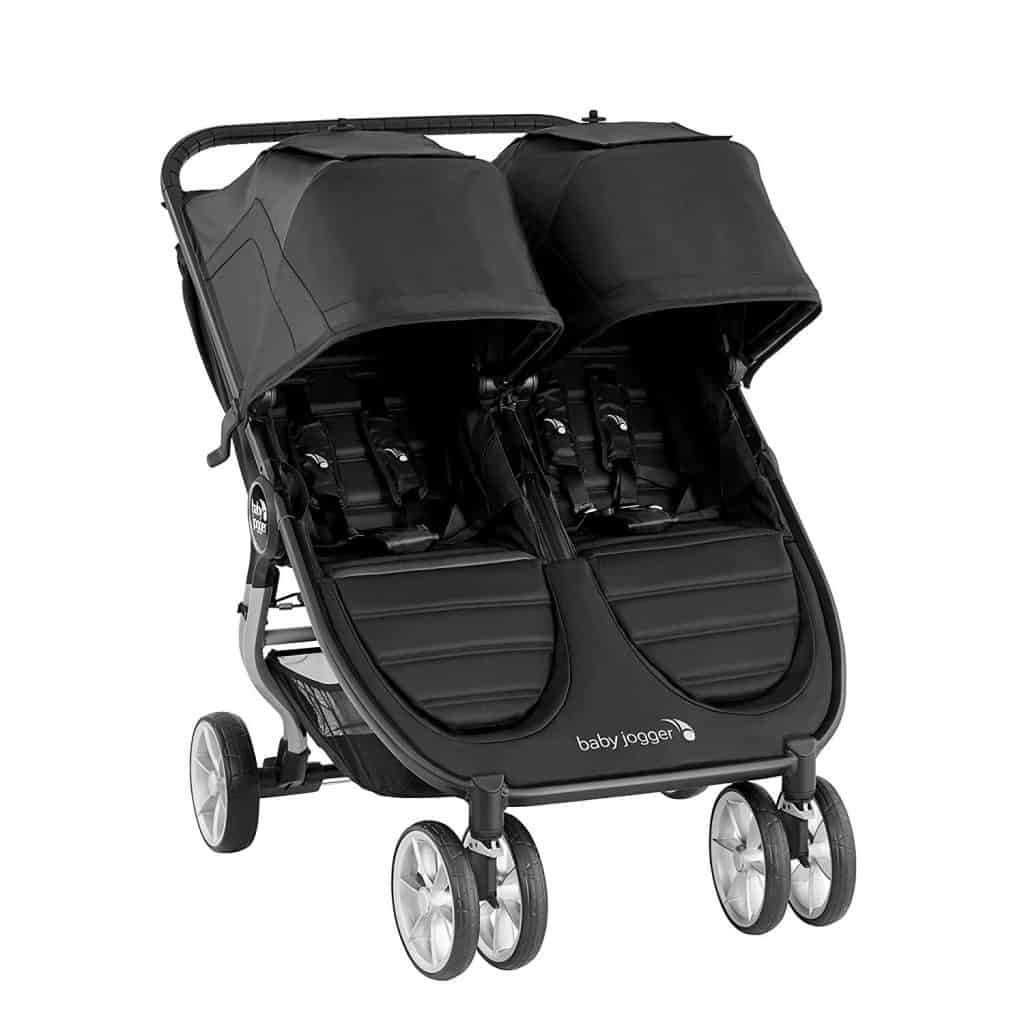 This highly rated side-by-side double stroller has a higher price point, but comes with more convenience. If you're looking for the best double stroller for newborn and toddler, this one is hard to beat.
Fits newborns (with car seat and adapter) to kids up to 50 lbs, giving you years of usage.
This is an awesome all around stroller with plenty of space for all paraphernalia, individually adjust seats, smooth ride, very durable. Comfy for kids. But it does come in on the heavy side.
One Reviewer Said:
"As a mom of four kids five and under we have had many, many strollers. Several of these have been double strollers and even one quad. None of those have been as good as this one. It folds up really easy and it doesn't weigh that much which I thought was surprising considering it's a substantial size. It's very very maneuverable and weaves around things so easy. Even with two 30 pound children in it it's still very easy to turn and push."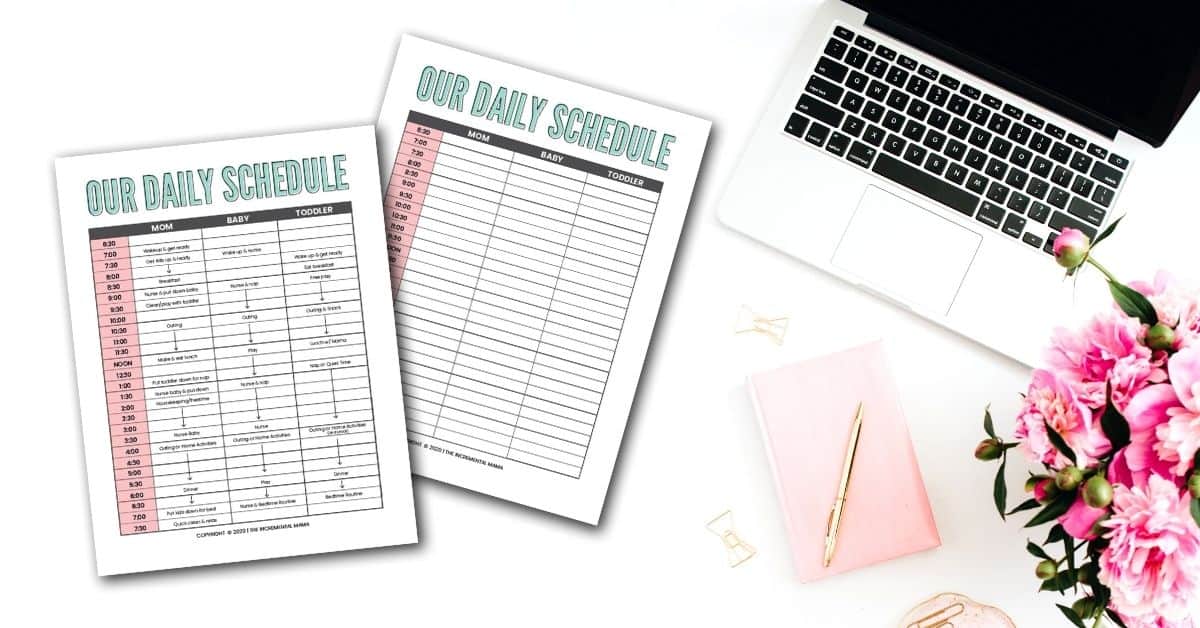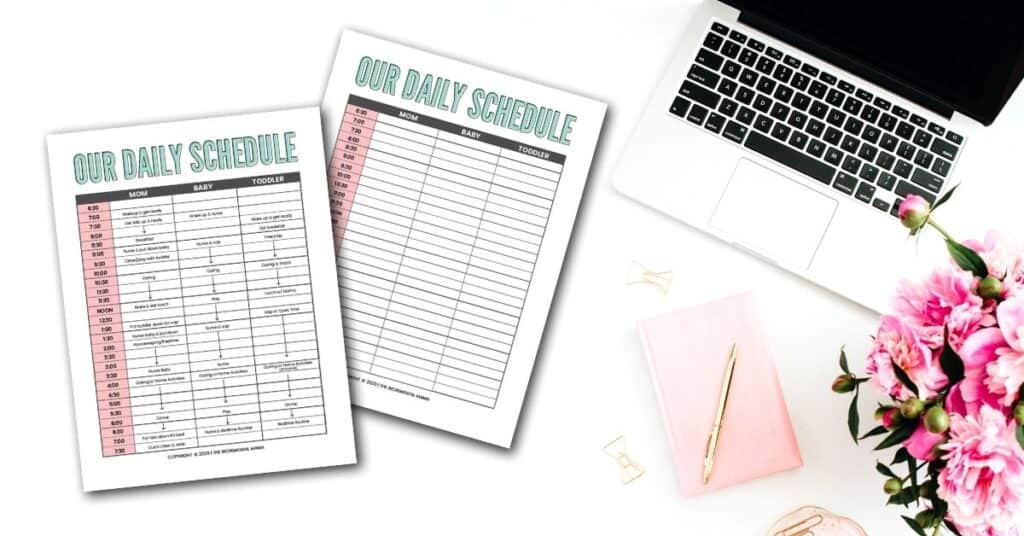 Best Inline/Tandem Stroller
Same width as a single so it's great for navigating doorways. However, being so long makes them hard to maneuver. Also, kids over 2 tend to like to see and don't like being in the backseat.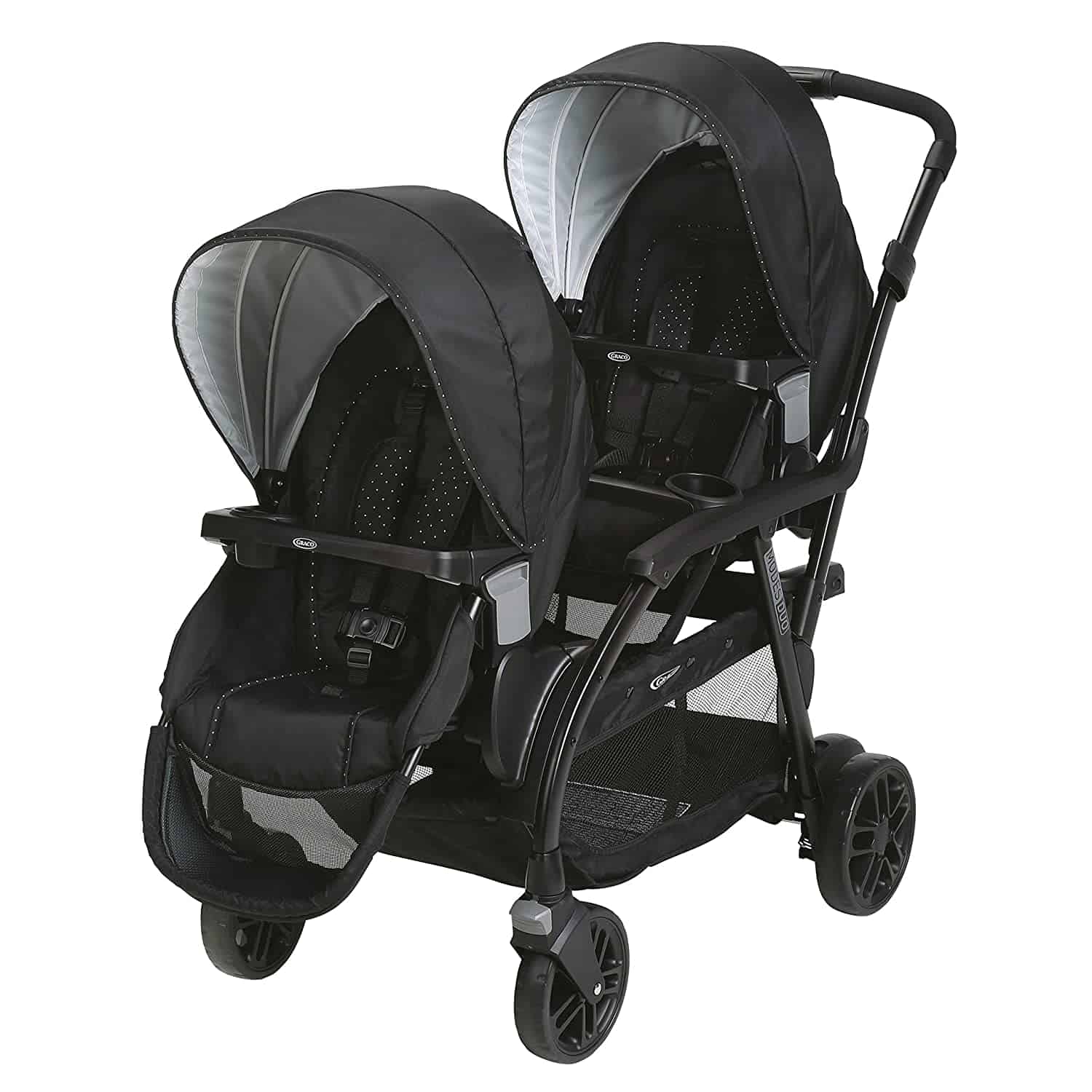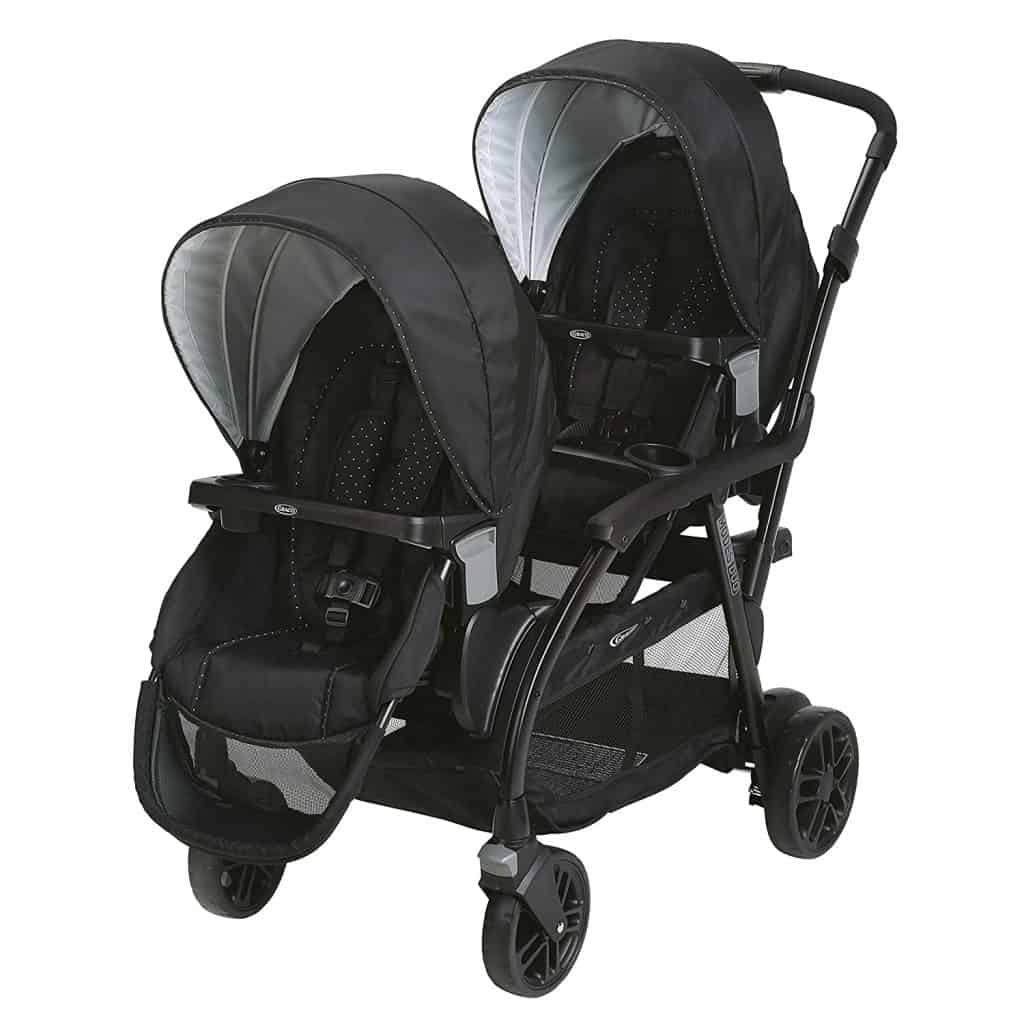 Touting 27 riding options for 2 kids, the Graco Modes Duo Stroller in the way to go if you are looking for an inline stroller for your infant and toddler. It doubles as a sit and stand stroller!
This stroller is extremely versatile. With removable seats, a bench seat or standing platform, there are so many configurations to adjust to your needs. Plus, it accepts all Graco car seats.
While I'm generally not a fan of the inline strollers (due to maneuverability and one kid can't see as much), if you're set on one, this is one to look at.
One Reviewer Said:
"Overall, I am super super happy with this stroller. It was easy to assemble, handles very well, and I love that the seating is so versatile. Not only is it a great buy but the price point is crazy reasonable. I would buy this again in a heartbeat."
RELATED: How to Get Stuff Done with a Toddler & Newborn
Best All-Terrain
All-terrain strollers have air-filled tires (like a bike) and they're made to maneuver easily over many surfaces, from stores and sidewalks to grass or a dirt trail. All-terrain strollers have easy steering and a smooth ride, but tend to be more expensive.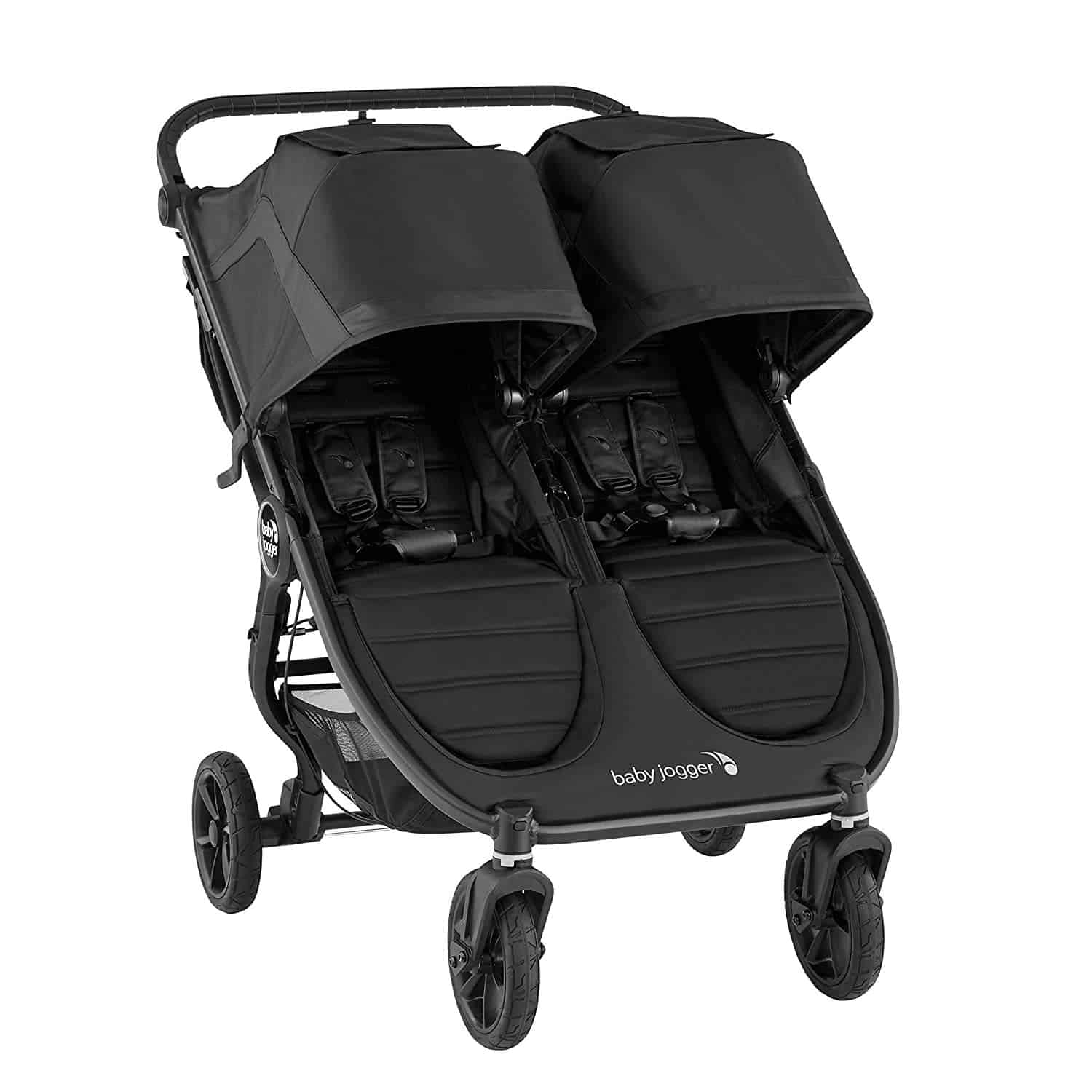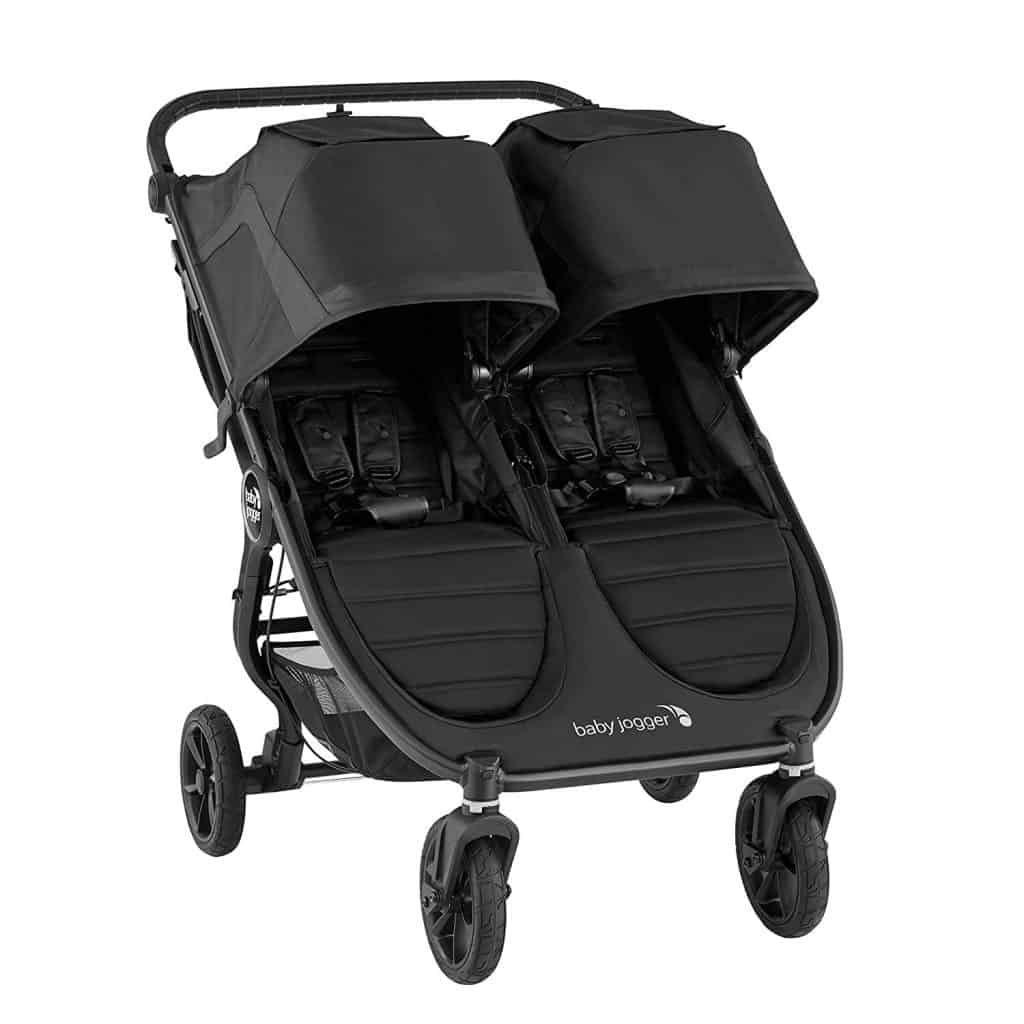 If you don't need a jogging stroller, but want a stroller that can handle a variety of terrain, the City Mini GT2 is perfect!
With forever air tires, all-wheel suspension, and adjustable handle bars, this lightweight all-terrain double stroller is a quality choice. Easy to fold, individual canopies, and plenty of storage.
One Reviewer Said:
"This stroller is incredible! We have a 6 year old and two under 2 and we were stressed about having to get a double stroller because they are so big. But this stroller fit perfectly in our car and still allowed room for more. Very compact, lightweight, tons of accessories, and easily foldable. Definitely worth the money!"
Best Double Jogging Strollers
Like an all-terrain stroller, jogging strollers are made to go over most surfaces, but have larger air-filed tires and 3 wheels with the front wheel that is either fixed or on a swivel. A must-have if you're a runner.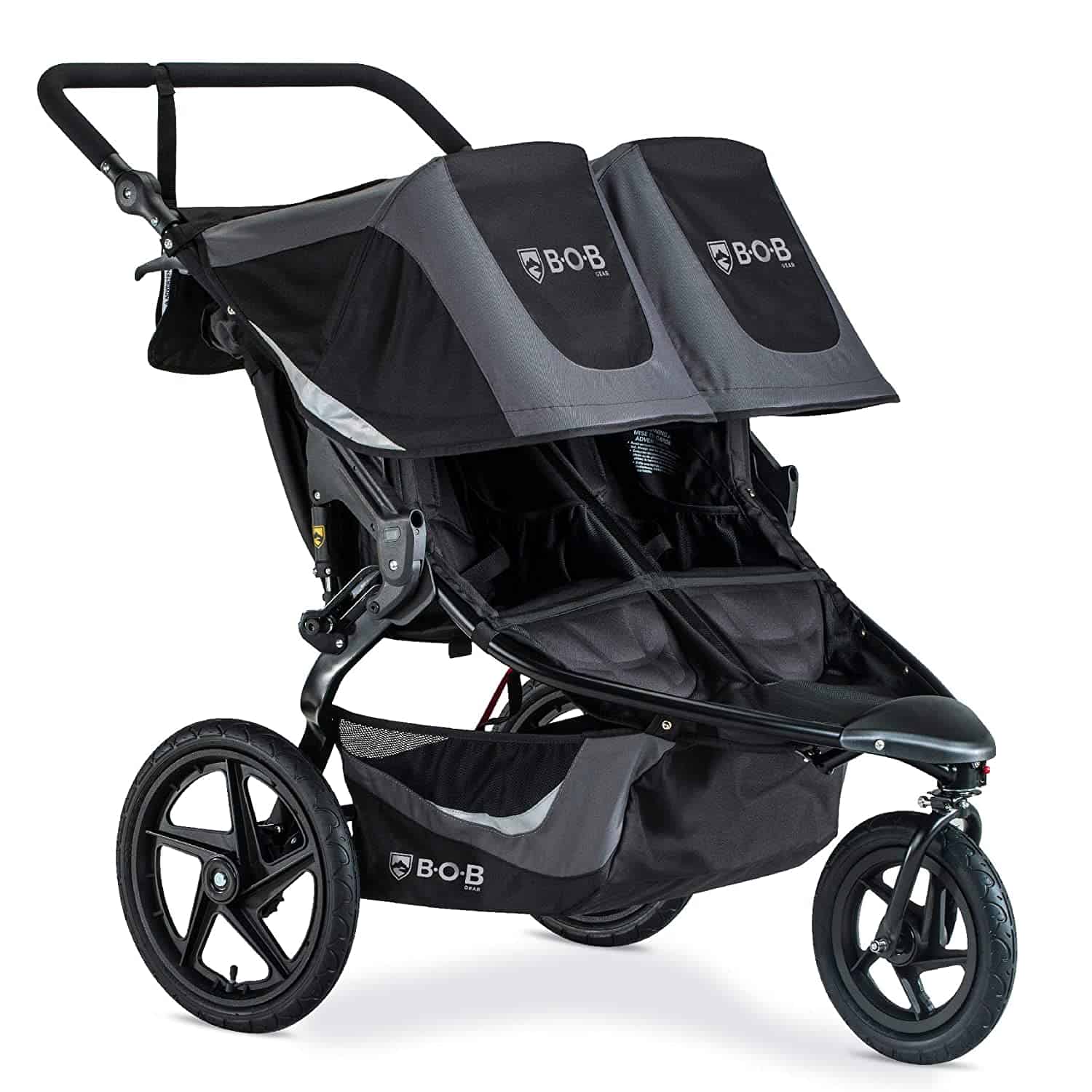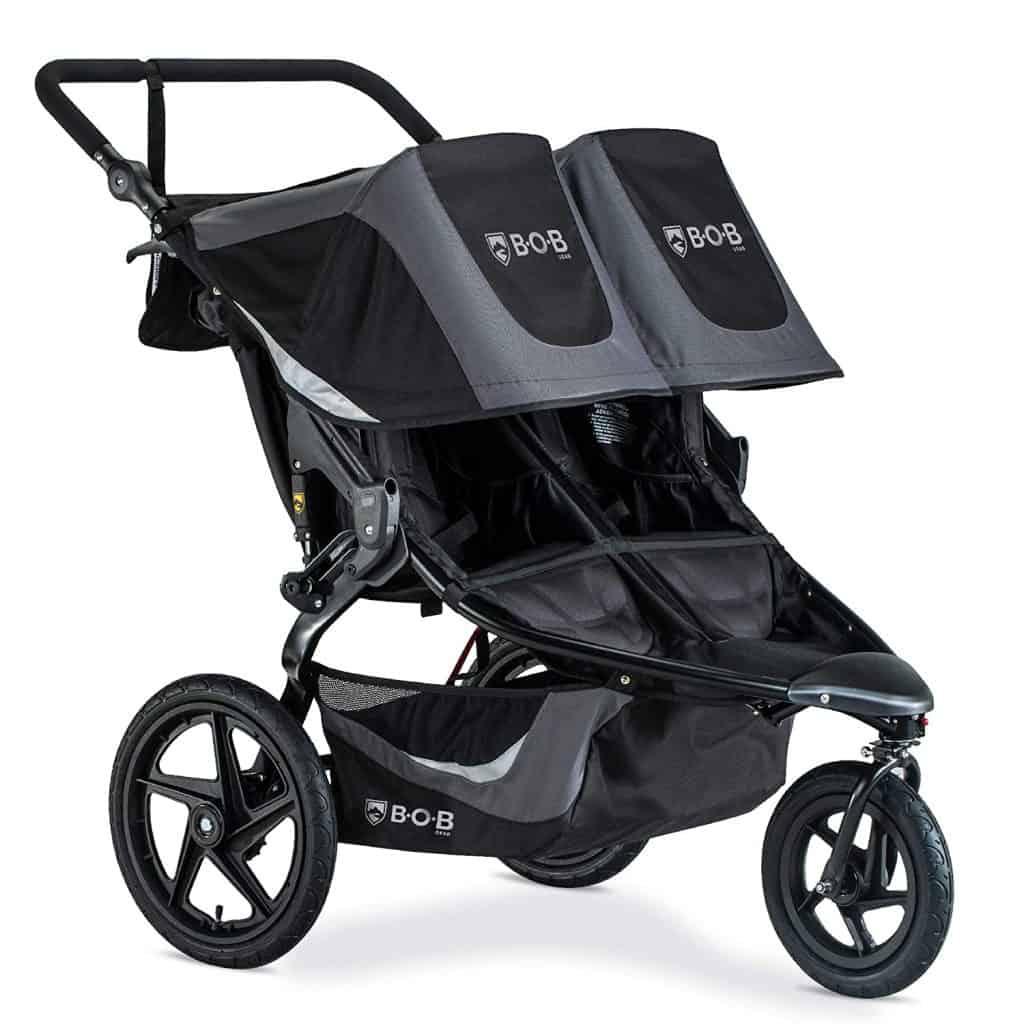 If you are a runner, then a BOB is worth single last penny. With mountain bike style suspension and tires, it can handle virtually any terrain. It turns on a dime, rides like a dream for you and the kids, and has an adjustable handle bar.
Personally, I'm completely obsessed with this stroller and it made having 4 kids in under 5 years much easier. From daily runs to zoo trips, this stroller was amazing.
In addition to the amazing handling, I loved the Peek & Chat window. You can easily check on your child without raising the shade or even slowing your pace.
While on the pricier side, you can either buy used or but new and then resell it once you're done. Personally, I bought my BOB Duallie new, had it for 6 years and sold it for half the purchase price. I then bought a used single!
One Reviewer Said:
"I have some friends who had BOB strollers and assured me I would not regret the purchase, and they were right. If you lead an active lifestyle then the BOB is definitely a stroller to consider. It is a very smooth ride and maneuvers very easily."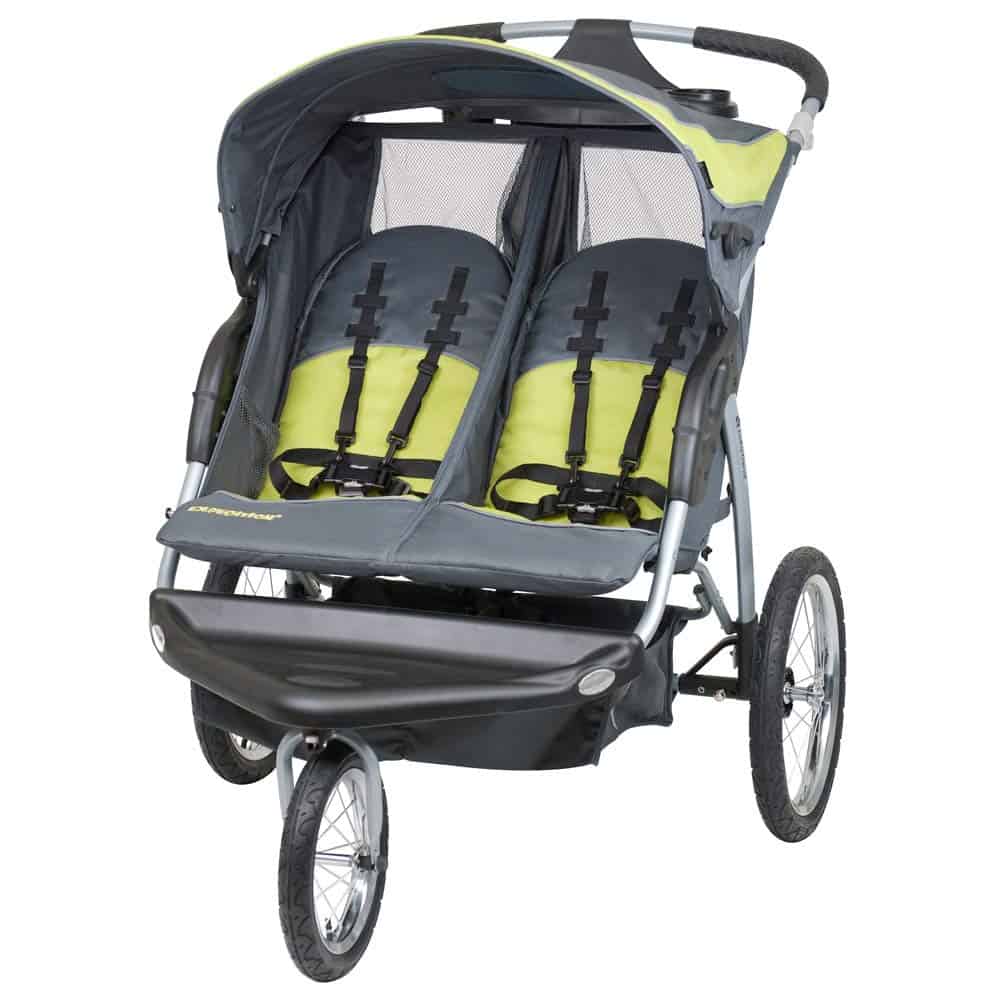 If you're on a budget and looking for a great double jogging stroller, then this one's for you. Fits kids from 6 months to 50 lbs, is easy to maneuver, has reclining seat, plenty of storage, sterling reviews, and comes in at under $200!
One Reviewer Said:
"I figured I had to find a decently priced double stroller that had big rubber tires and a front wheel that swiveled. It seemed like a very tall order until I saw the Baby Trend Expedition. It pushes effortlessly with one hand (with a 40 lb. child on one side and 27 lb. child on the other). The space on the bottom is so generous and can easily fit 4 lightweight bags of groceries."
Best Sit-and-Stand Strollers
These are great for 3-5 year age gaps. Preschool age kids tend to like to be able to stand, making the sit-and-stand strollers a great option.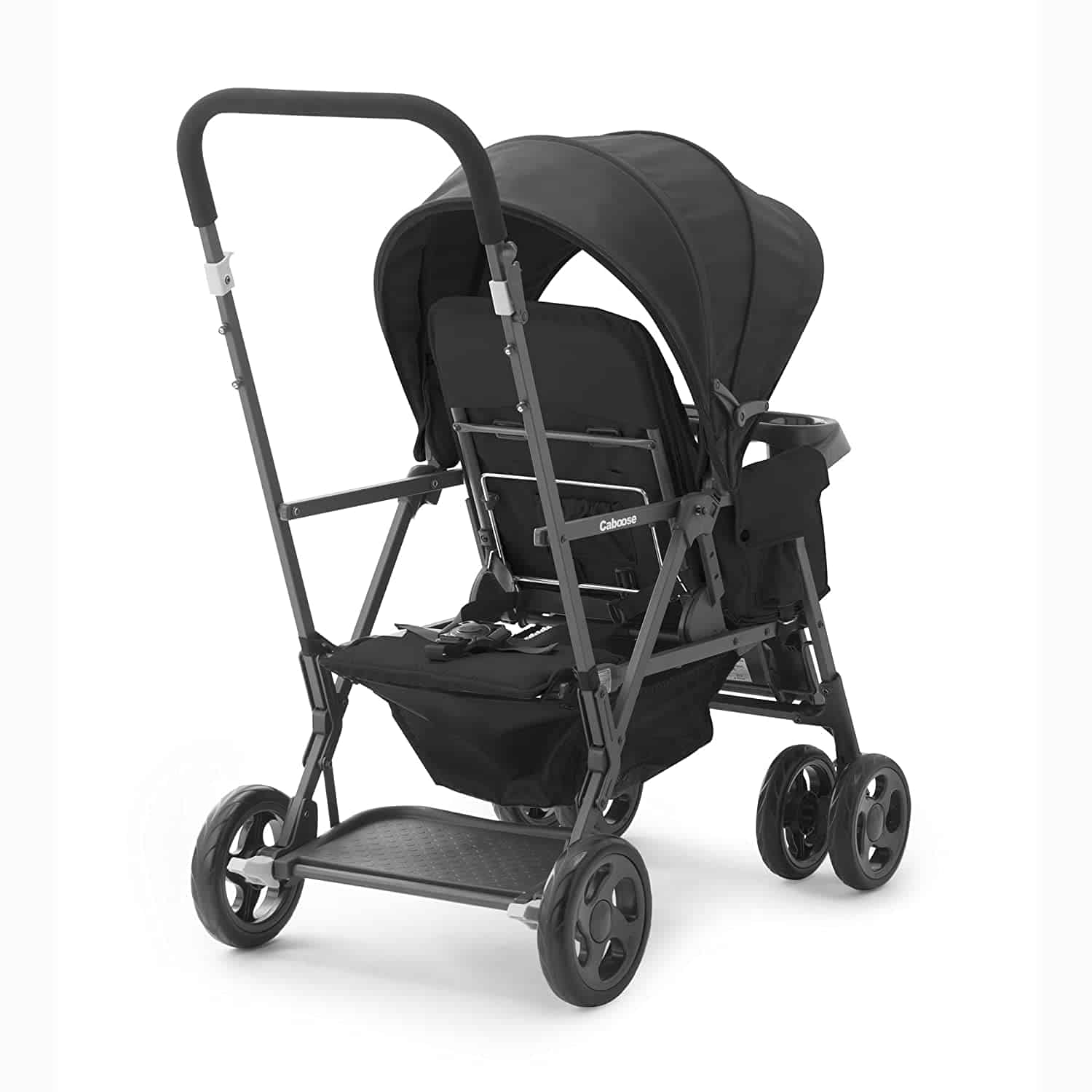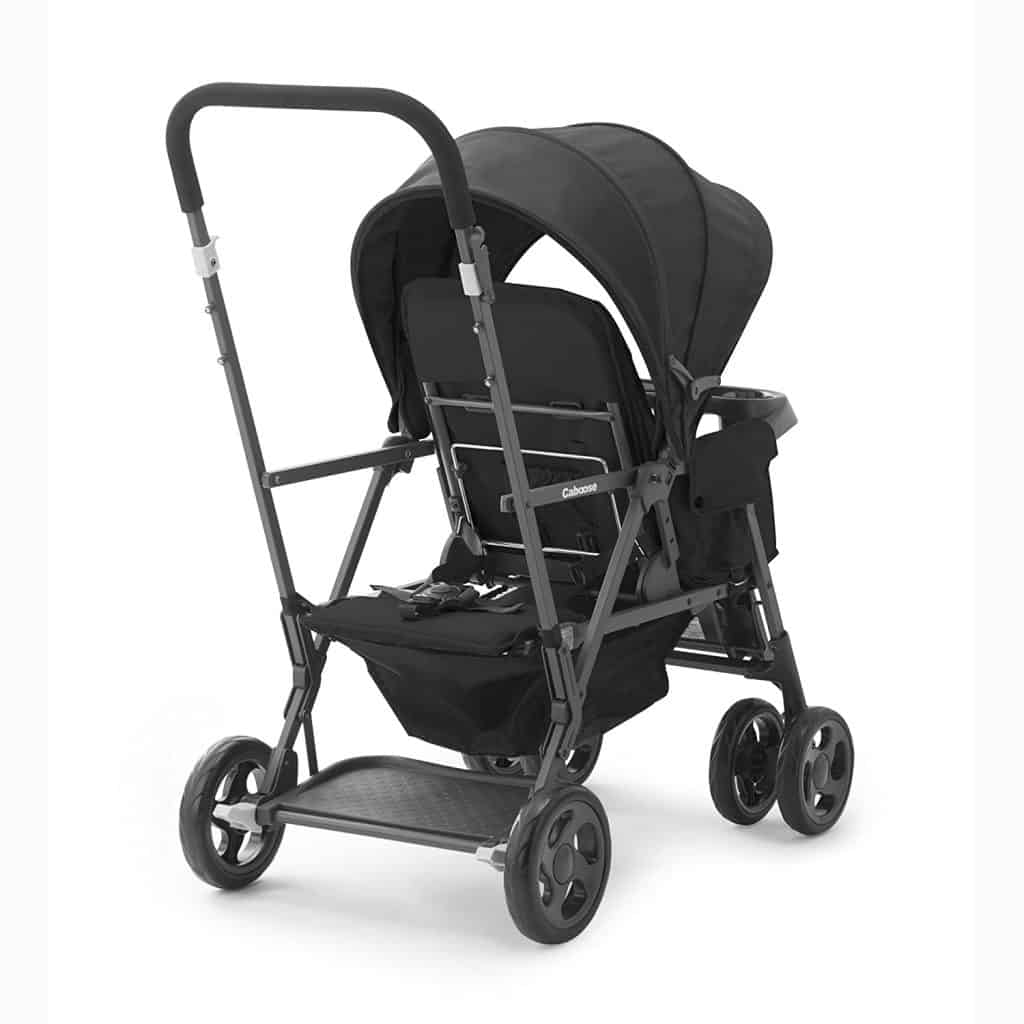 The Joovy Caboose is compact, practical, and easy to maeuver. It fits 2 kids up to 45 lbs each. The rear seat can be removed to make standing platform for your older child.
But being compact, it doesn't leave much room for your toddler if you have a baby seat in the front.
One Reviewer Said:
"I just had my baby 6 months ago so we've been using the frame stroller for the car seat and having to carry our two year old around. We finally decided to get a double stroller because the two year old is getting heavier and it would make our lives easier having both girls in one stroller together. This is why we chose the Joovy Caboose and we could not be more happy with that decision!"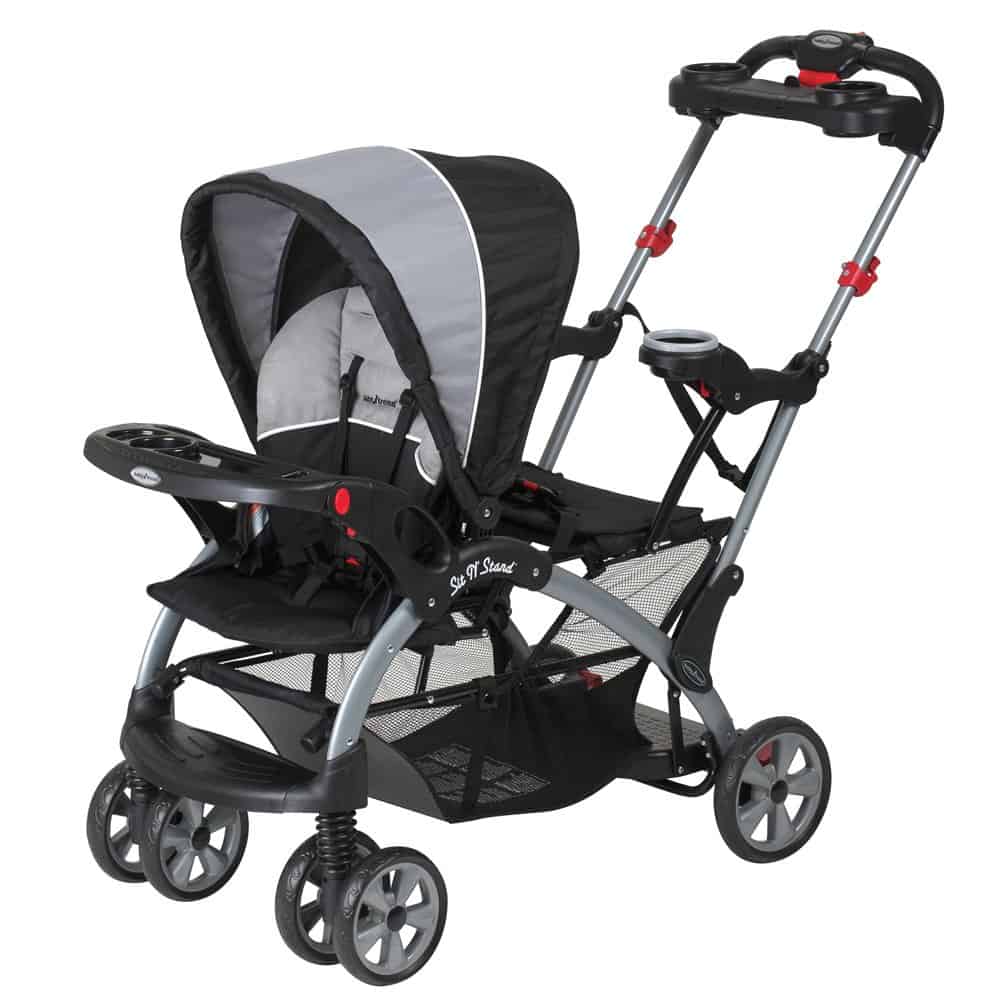 Another great option, this tandem stroller is affordable and versatile, allowing the older child to sit or stand comfortably. Plenty or space and compact for easy storage.
One Reviewer Said:
"Love it! exactly what i was looking for! It fits our Graco Snug Ride 35 Click Connect perfectly, on the front and on the back. I have two girls, a 5 month old and a 2 year old and they love it and mommy too! I like to take them on my walks on different terrains and they are very comfy and it's not heavy at all. The front tires have suspension which is great for dirt trails.."
Best Double Stroller for Travel: The Umbrella Stroller
These are lightweight strollers with small wheels that fold up pretty compactly. They're easy to get in and out of cars, but they tend to have very limited storage. These are the best double strollers for travel and outings, but may feel limiting as a primary stroller.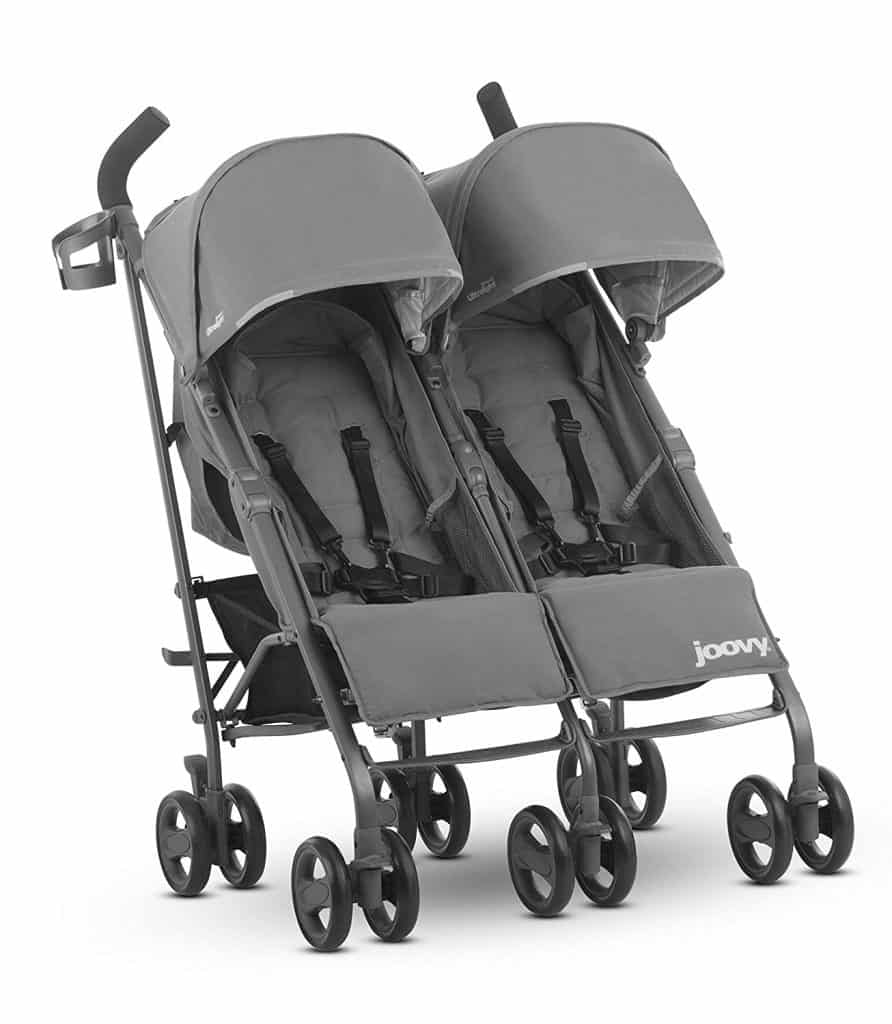 This lightweight, yet sturdy, umbrella stroller is made for newborns and kids up to 50 lbs and is perfect for a traveling family. Decent storage for an umbrella stroller!
One Reviewer Said:
"Best stroller I ever bought! I have a city select jogger that cost a fortune and this beats it. Searched high and low for a lightweight side by side for Disney and finally decided on this. Seats recline completely for naps. Big canopies with uv protection. Decent basket under both seats 3 cup holders for mom and dad. Folds up small enough to fit through xray security at airport with an arm strap for carry on the bus to Disney. WORTH EVERY PENNY."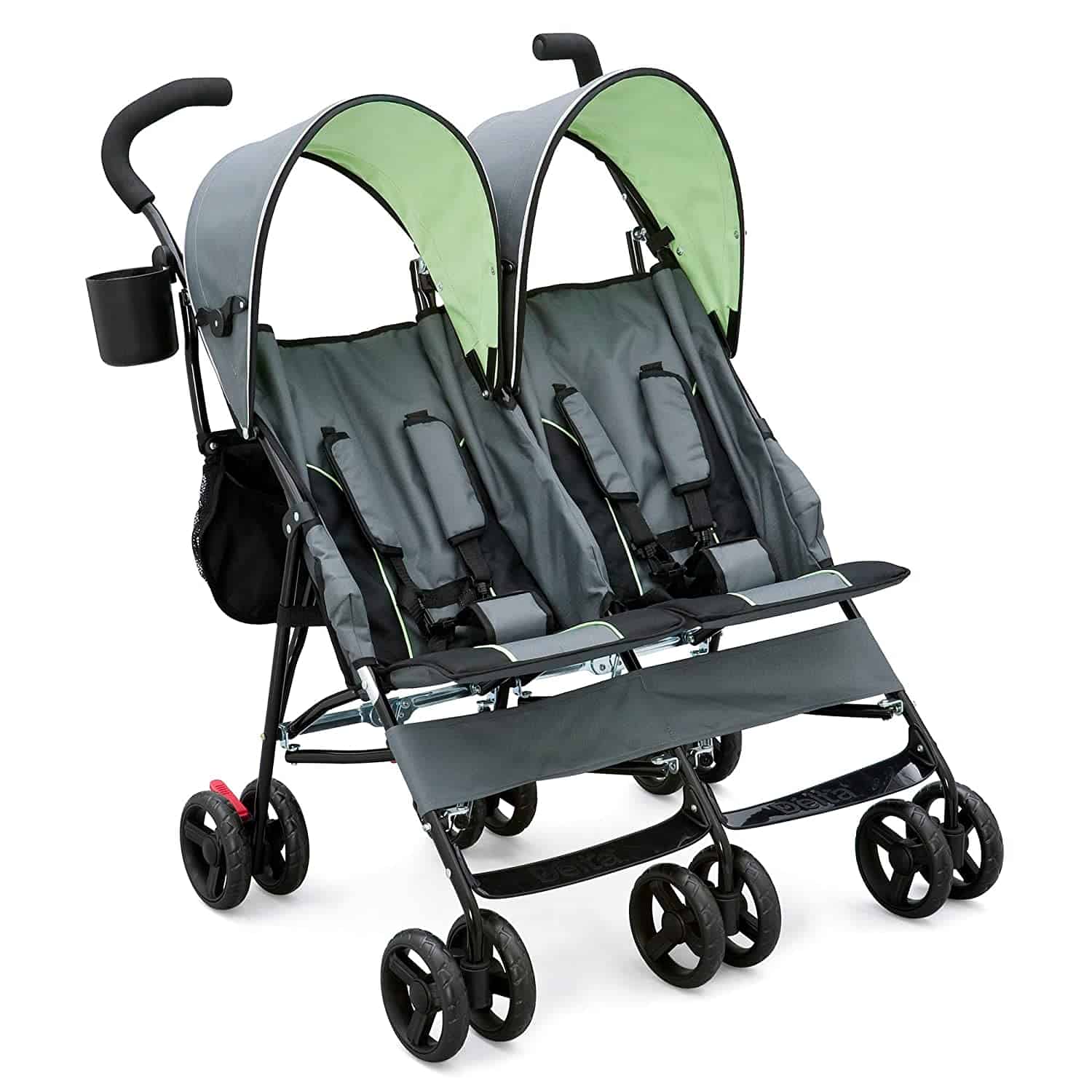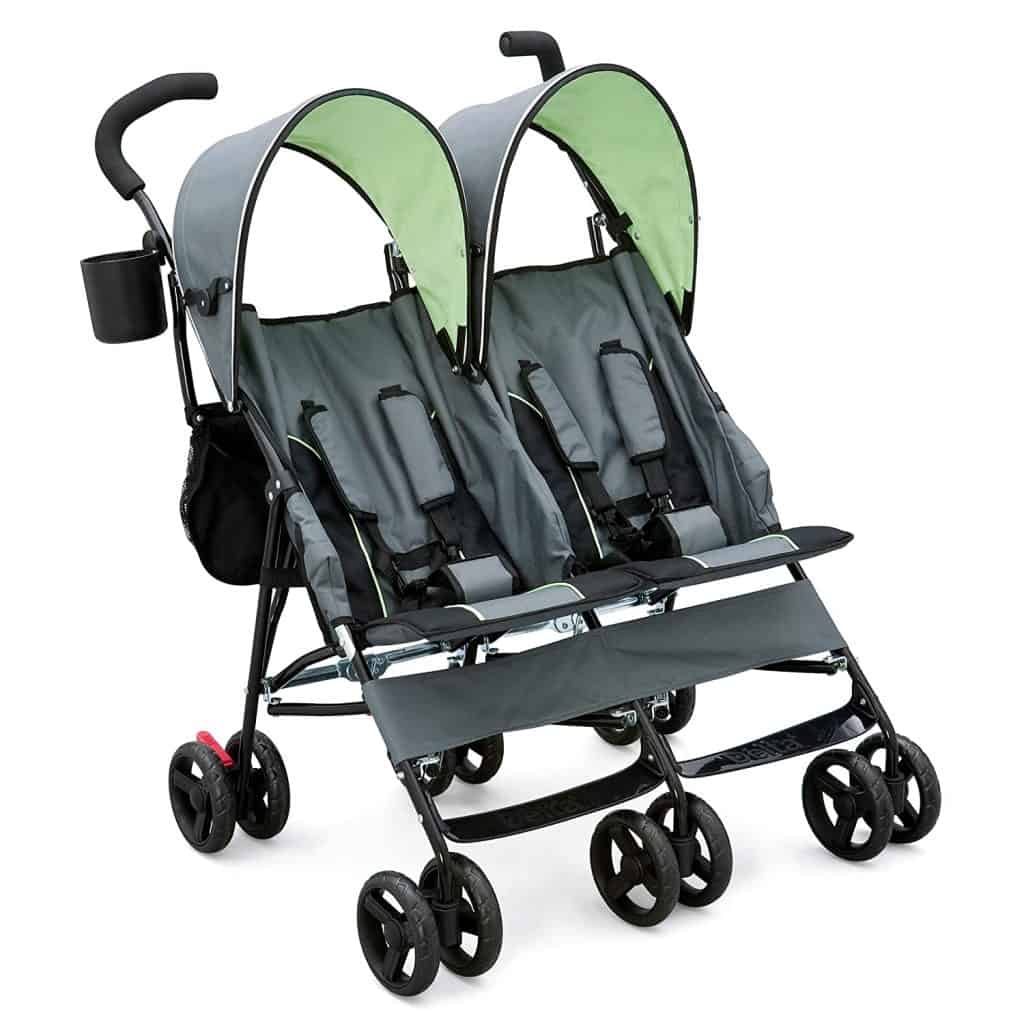 If you are on a budget, but would like a sturdy umbrella stroller for travel or to keep in your car, then this is the way to go. It's super light (18. 3 lbs) and is only stroller allowed on American Airlines.
Downside: small sunshades and very little storage.
One Reviewer Said:
"We used this stroller to travel all over London. We took it in airports, on the underground, on buses and in cars. It is fantastic!! My children sat and slept in it comfortably. It is easy to maneuver and small enough to fit through doors easily. Best of all, it collapses easily and compactly. "
PICK THE BEST STROLLER FOR YOUR INFANT & TODDLER
So there you have it: The best double strollers for a newborn and toddler!
And remember, a double stroller is often one of the bigger baby gear investments. But it's an investment that can make your life with and infant and toddler much easier.
So make sure you take a minute and really think about which stroller style will best meet your lifestyle and budget. And you're ready to to pick the right double stroller for you.
YOU MAY ALSO LIKE:
How to Get Stuff Done with a Toddler & Newborn
The Best Diaper Bags for a Toddler & Newborn