Please note: I am not a medical professional or a nutritionist. This is simply me sharing my meal plan that has helped me lose weight. Please talk to your doctor before starting any health plan.
I love food. Always have. And when I'm nursing, I used to have ZERO control. Even if I'd been sitting on the couch all day, I'd eat like a linebacker at an all-you-can-eat buffet.
But heaven knows I tried. I always tried to eat well, but I failed. And losing weight while breastfeeding was near impossible for me with my first 3 babies.
In fact, I would gain weight while nursing.
But after the birth of my 4th child, with steely determination and the go-ahead from my doctor, I started intermittent fasting while breastfeeding.
Over the past year, through intermittent fasting while breastfeeding I've managed to lose over 35 lbs and get to my weight from before having 4 children.
In sharing my success with intermittent fasting and breastfeeding, people have asked a lot of questions about the IF process, how I planned my meals, and what kinds of meal I ate etc.
And since my mission is to help moms live happier healthier lives, I wanted to share a bit more about my journey and the intermittent fasting and breastfeeding meal plan that has brought me the most weight loss success.
I also created an awesome intermittent fasting and breastfeeding printable pack with sample meal plans, fillable meal plans sheets, and a weekly log to track your results. Be sure and check it out at the bottom of the post!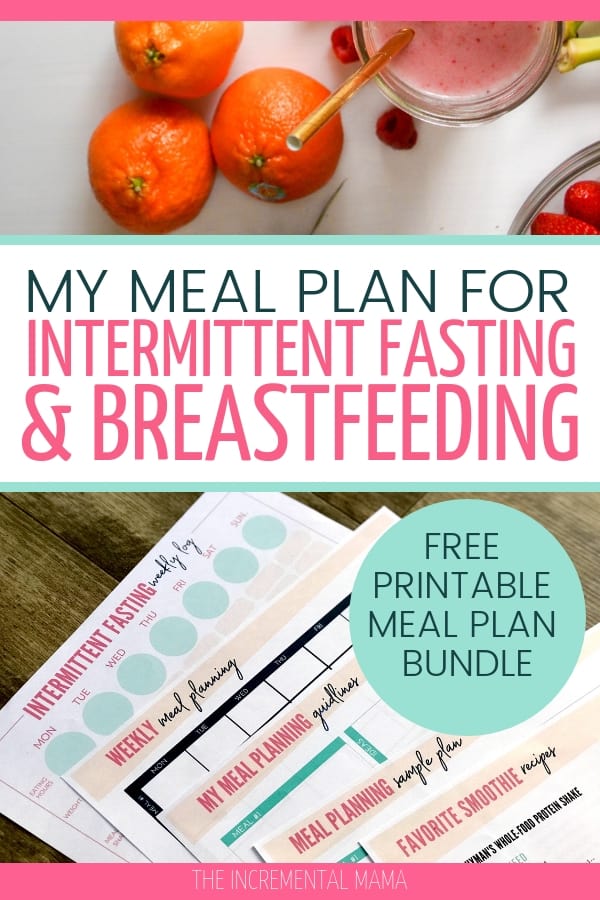 PHASE 1: GETTING CONTROL
I first began intermittent fasting with a eating period from noon-8pm (and I've strayed very little from that over the last year).
At that point, I was less concerned about an exact meal plan as just getting some control over my cravings. While I was hungry before my first meal for the first few days, my body quickly adjusted, and the 8 hour eating window felt perfect.
THE FIRST COUPLE MONTHS I NOTICED 3 THINGS:
I no longer felt like a prisoner to my hunger and cravings
I was learning to recognize and listen to my bodies true hunger cues
I was naturally tuning into how different foods made me feel
During this period, I went from just trying to gain a modicum of control to naturally moving towards intuitive eating and making better health choices.
Which is when I'd say I entered Phase 2.
PHASE 2: EXPERIMENTING & FINDING MY GROOVE
Once I felt like I had control and was listening to my body, I was able to start researching and experimenting with different meal plans.
In addition to reading online research and listening to health podcasts, I read 2 heavily-researched books that have had a huge impact on me (and I highly recommend):
The 10-Day Detox Diet by Dr. Mark Hyman: Though a bit restrictive, this plan hands-down gave me the most energy I've ever had in my life.
Why We Get Fat and What to Do About it by Gary Taubes: Heard carbs are bad for you, but not sure why? This book breaks makes complex scientific research easy to understand.
Influenced by my research, I tried to eliminate or seriously limit white flour, dairy, and sugar. Which for me is like sawing off my own toes. As a sugar addict and lover of cheese and ice cream, sugar and dairy have been the toughest for me.
But as I followed Dr. Hyman's 10 day detox, which eliminates all sugar, gluten and dairy and basically consists of a truckload of veggies, healthy fats, and lean proteins I not only lost weight, but I felt better than I'd ever felt in my life.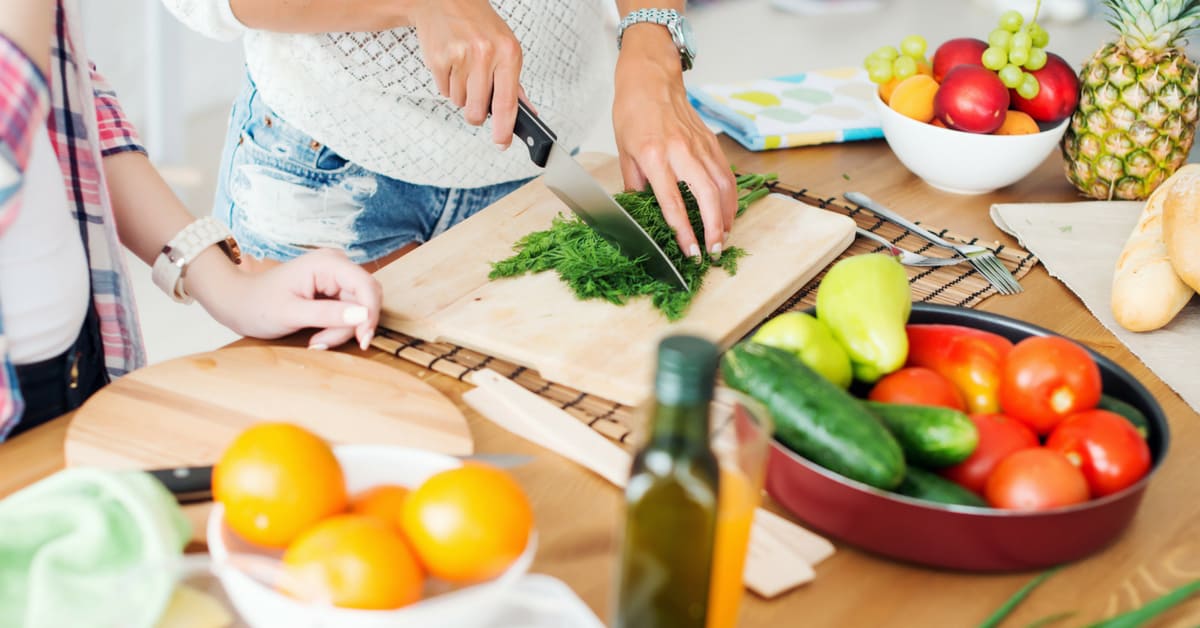 PHASE 3: MY INTERMITTENT FASTING AND BREASTFEEDING MEAL PLAN
This is the general intermittent fasting and breastfeeding meal plan that brings me the best results. Not just weight loss, but actually feeling really great. The plan follows the general philosophy of filling my diet with:
Lots of vegetables
Lean proteins
Healthy fats
Lots of fiber
Restricting: sugar, white flour, dairy
What follows is my general meal plan with 3 meals and a possible snack.
Please note that I do not calorie count. Considering breastfeeding needs and exercise, I find it's best to listen to my body's actual needs. Therefore, what follows (other than the breakfast shakes) does not give exact portions.
Also note that I do not follow this perfectly all of the time. I shoot for 80-90% perfection.
MEAL 1: HEALTHY SMOOTHIE OR ON-THE-GO OPTIONS
Often, I start eating for the day with a smoothie packed with protein, fiber, and healthy fats. The result is that I an satiated, loaded with awesome nutrients, yet not weighed down by a heavy meal.
Since the smoothies I tend to make tend to be pretty big, I'll slowly drink the smoothie over the course of an hour or so as I run around getting stuff done.
If I am in a serious rush and can't bother with the blender, I will grab a homemade whole grain muffin or a protein bar and an apple.
Check out my 7 Healthy & Delicious Make-Ahead Breakfasts for my favorite healthy muffin recipes that can be made, frozen, and ready to eat after 30 seconds in a microwave. As for protein bars, these are my favorites as they are yummy and full of fiber and protein.
If having a smoothie, I usually will have one of these 2 smoothie recipes (click here to print smoothie recipes). The first is from The 10-Day Detox Diet, and the second one is my own invention.
DR HYMAN'S WHOLE-FOOD PROTEIN SHAKE
½ cup frozen blueberries
½ cup frozen cranberries
¼ organic lemon with rind (optional–but I like it)
1 TBSP almond butter
1 TBSP pumpkin seeds
1 TBSP chia seeds
1 TBSP hemp seeds
2 raw walnuts
2 raw brazil nuts
¼ avocado
½ TBSP coconut butter
½ cup unsweetened almond or hemp milk
½ water
If you can, soak all the nuts in the ½ cup of water at least 30 minutes prior to blending to activate enzymes. Blend all ingredients until smooth. With the lemon rind, you may need a second blend.
Note: I will measure out nuts for like 10 smoothies and put them in snack bags which makes it really easy when I'm ready to make this smoothie.
ERIN'S CHOCOLATE BERRY SMOOTHIE
2 cups packed baby spinach leaves
1 cup frozen berries (I do either a 3 berry mix or just blueberries)
1 scoop vegan chocolate protein powder
1 TBSP coconut butter
1 TBSP almond butter
3 TBSP chia seeds
½-1 cup ice (depending on your preference)
½ cup unsweetened almond milk
½ cup water (or more if needed)
Add spinach first to your blender, then the rest of the ingredients and blend until smooth.
MEAL 2: SALAD WITH LEAN PROTEIN
For my second meal, I usually have a veggie packed salad with a lean protein (usually grilled chicken, flank steak, or canned salmon). I shoot for:
Between 5-6 cups of veggies between greens and chopped vegetables
Around a 6 oz. portion of protein
1-2 TBSP of homemade dressing or salsa (depending on salad)
As a busy mom, I rarely have time to make a salad every single day for myself. So I am all about quick meal prep and mason jar salads. You can make a whole week of salads in under an hour that you just pull out of the fridge and enjoy. (Here are the mason jars that I use).
Here are my favorite make-ahead mason jar salad recipes:
MEAL 3: LEAN PROTEIN, LOTS OF VEGGIES, & BROWN RICE OR QUINOA
My last meal of the day is nearly always a meal I make for my entire family. Since my goal has not just been improving my health and habits, but also that of my husband and 4 kids, I don't make a separate dinner. I mean, who has time for that? As a result, I tend to like to provide a bit more variety than I would if I was just cooking for myself.
Here's what this meal usually includes:
Lean protein (usually grilled chicken or fish, but we occasionally indulge in tri-tip)
2 veggie dishes (like a roasted veggie & green salad)
A whole grain dish like brown rice or quinoa
Here are 7 Healthy Dinners you can make in under 30 minutes that a great.
SNACKS
If I need a snack (like on heavy gym days), I generally shoot for fiber and protein in each. Here are some of my favorites:
Veggies with a dip (like humus)
Apple slices and almond butter
Nuts
MY RESULTS

This is where I am after a year of IF and changing my eating habits. Trust me, if I can do it ANYONE cane.
COULD THIS WORK FOR YOU?
Well, there you have it! This is the general plan I follow to lose/maintain weight while intermittent fasting and breastfeeding. It leaves me satisfied and energized allowing me to work out daily, chase my kids, and make it through the day.
You've got this, mama!
***UPDATE: After two years of intermittent fasting, I decided to stop. While I had a mostly positive experience, I no longer feel it's the best eating philosphy for true mental and physical health and wellness. For more on why, check out Why I Stopped Intermittent Fasting after 2 Years
MORE RESOURCES