While 2 year-olds get a bad rap (i.e. "Terrible Two's") I gotta say, I love them. Irrational? Sure. But after driving you nuts, they have a way of throwing their little arms around you and turning you into putty.
They love whole-heartedly, say hilarious things, and are fascinated by basically everything (except vegetables).
The hard part: keeping them busy and engaged, without acting as their sole source of entertainment.
We've got a million things our to-do list. And if planning and organizing elaborate and messy toddler activities is not on that list, you're in the right place. Because here I've stockpiled a list of super easy activities for 2 year-olds that are:
no-prep
simple
mess-free
fun & help develop fine motor skills
Of of these activities are crazy easy to whip up and will keep your toddler busy so you can get stuff done.
RELATED: How to Keep Kids Busy So You Can Get Stuff Done
SUPPLIES YOU MAY NEED
There are a few simple and inexpensive toddler activity staples worth having around the house for on-the-fly fun. Here's what I recommend:
Other than these few items (which you most-likely have already), you've probably got everything else lying around your house. If you don't have them and don't want to pick them up, you can whip up a batch very quickly using this easy play dough recipe or this recipe for kinetic sand.
If you wanted to spend a couple of bucks to get a Craft Kit with pipe cleaners, pom-poms, and googly eyes, you've basically got everything you need for endless toddler fun.
RELATED: How to Get Stuff Done with a Toddler and a Baby
SUPER EASY ACTIVITIES FOR 2 YEAR-OLDS
I've listed the activities based on the supplies needed to make it easier to scan to find the right activity for your little one based on what you have.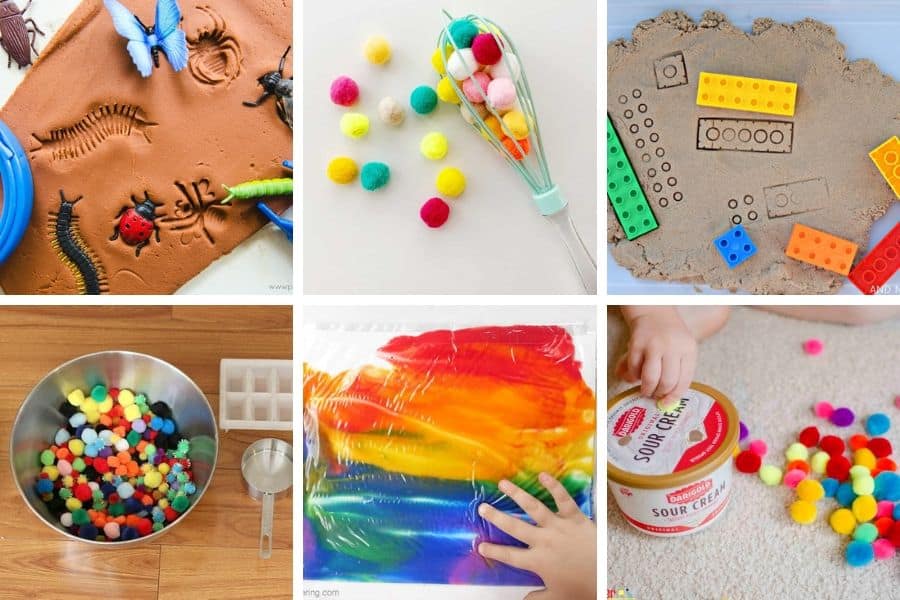 Activities with Play Dough & Kinetic Sand
Play Dough and cookie cutters – Let your toddler practice smashing dough and using cookie cutters to make shapes or letters.
Play Dough with small toys – My kids love playing with small toys in play dough. for example, they love making terrain for their little dinosaurs and animals. Or they can imprint the animals and make "fossils."
Smash with Tools – Grab a potato masher or other kitchen utensil and let your child explore with smashing the play dough.
Bug Fossils – This is a simple play dough activity from Plain Vanilla Mom.
Printable Play Dough Mats – These free play dough mats from Picklebums are beyond brilliant and will let your little one's imagination run wild (even my older kids like these!).
Kinetic Sand Lego Stamping – Super simple kinetic sand activity from And Next Comes L.
Straws, Pasta, and Playdough Activity – This is a fantastic STEAM activity from Raising Dragons.
RELATED: Free Printable Chore Chart for Toddlers & Preschoolers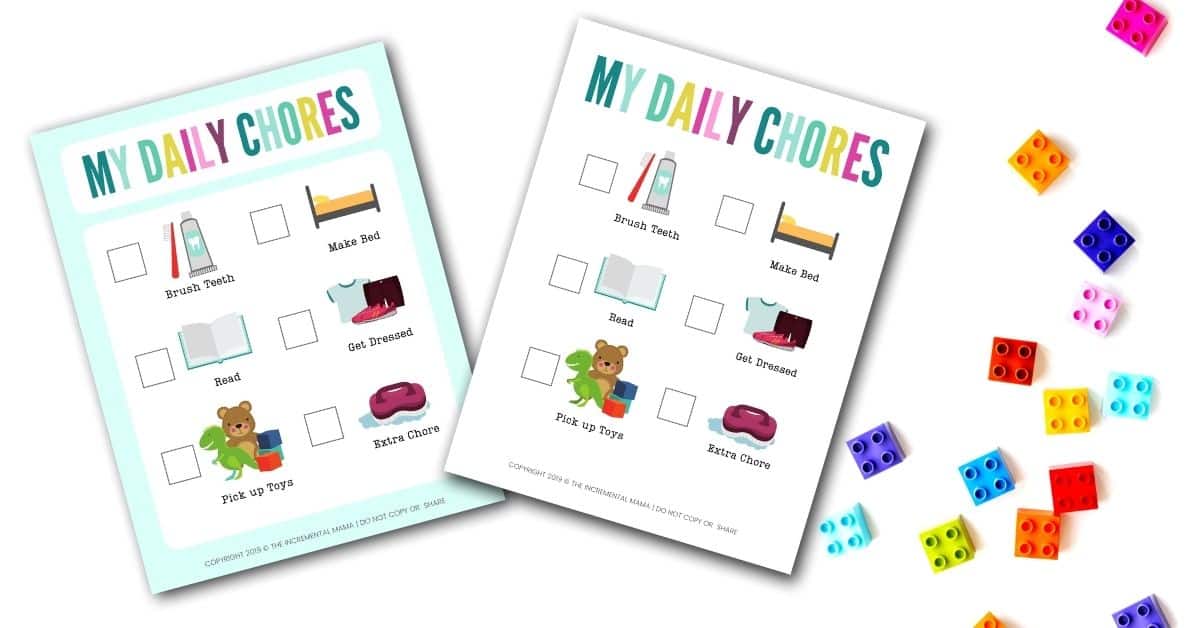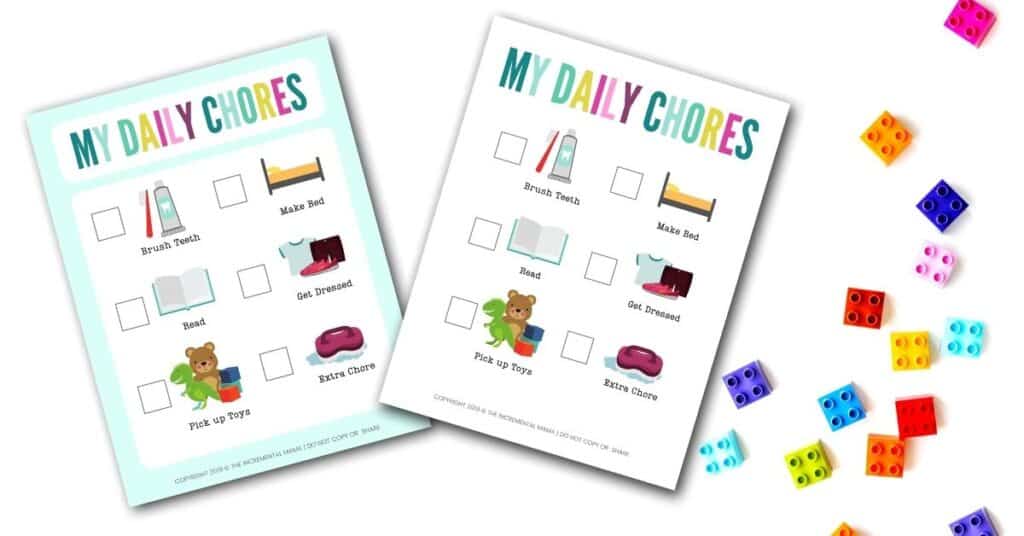 Activities Using Junk Mail or Recycling
Rip Junk Mail – Let your child's destructive instincts let loose by allowing her to rip up junk mail into strips or other shapes. Then you can get your toddler to place the ripped pieces into a trash bin or other container.
Cut up Junk Mail – If your toddler is ready to use safety scissors, you can let your little one practice cutting up junk mail or scratch paper then putting t in
Build with Recycling – All the items in your recycling bin (empty cereal boxes, toilet paper rolls, etc) make for good building materials for your toddler.
Paper Ball Toss – After crumpling up paper/junk mail into balls, your toddler can practice trying to throw the balls into the waste basket.
Activities Using Pom-Poms
Miscellaneous Easy Activities for 2 Year-Olds
PERSONALIZE A ROUTINE CHART FOR YOUR 2 YEAR OLD
Kids need engaging activities where they can play and let their imaginations run wild. And they also need routines and schedules that they can expect.
With so much out of their control, kids are happier when they have routines they can rely on. And as a parent, you're happier when things run smoothly and there are fewer tantrums.
So in addition to keeping an arsenal of activities to keep your little one busy, having set routines also go a long way to keeping your child happy.
With these fillable routine charts, you can personalize your child's morning and evening routines.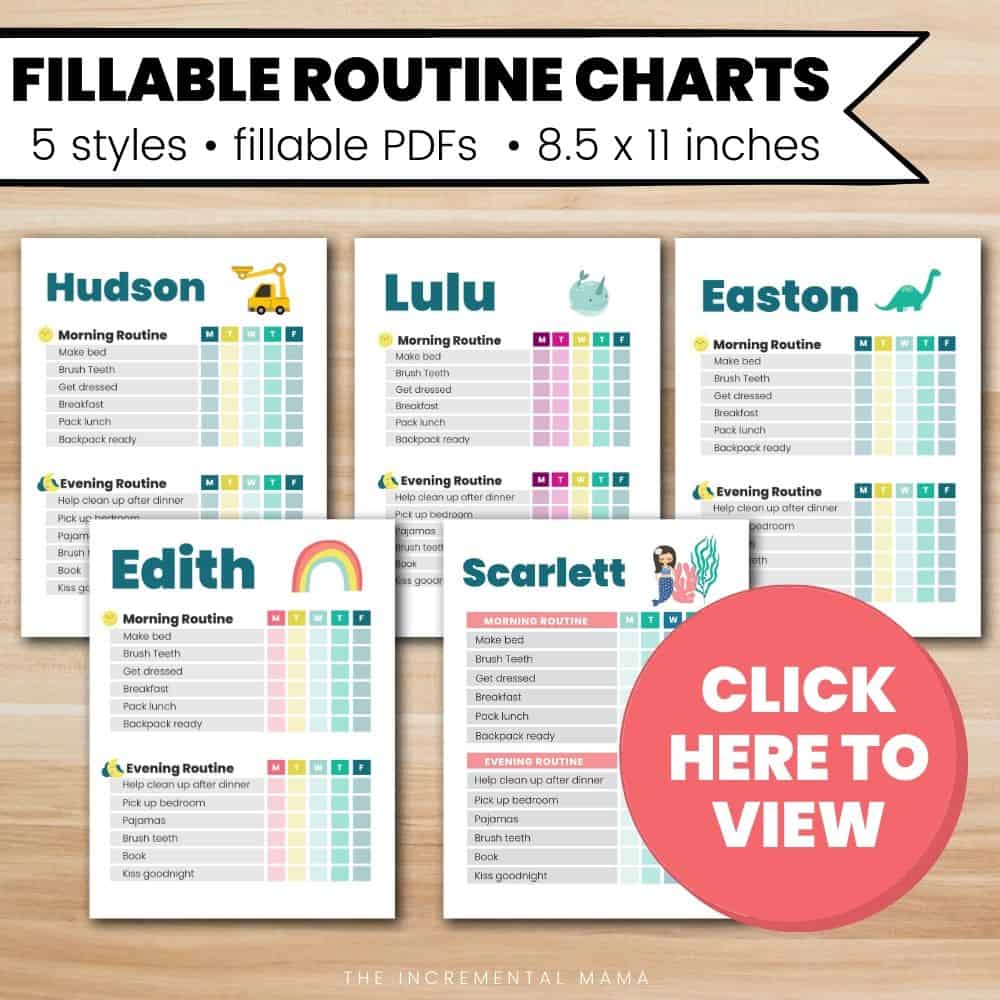 MESS-FREE ACTIVITIES TO KEEP YOUR TODDLER BUSY
There you go! Over 20 super easy activities to keep your 2 year-old engaged and busy–without making a huge mess. Occupy your busy toddler so you can get stuff done.
What easy activities does your toddler enjoy?
READY TO GET YOUR LIFE ORGANIZED?
The Organized Home Toolkit has everything you need to go from overwhelmed to crushing your day.
With hundreds of customizable printables and short instructional videos, the Toolkit is the resource library you need to quickly & easily organize your life and home.
…AND for less than a dinner out with the family!
Here's what Allison, a busy mom of 3 said about The Toolkit:
⭐⭐⭐⭐⭐
"This toolkit helped me go from drowning in housework and feeling unmotivated to feeling organized and like my life was more manageable in a week. I woke up to a plan, a schedule, routines and manageable expectations for my kids that helped combat the depression and burn-out I often feel as a mom. And I love the videos. I feel like it's 'Running a Home & Raising Kids 101' and it's the class I have needed for YEARS."
>>> Check out The Organized Home Toolkit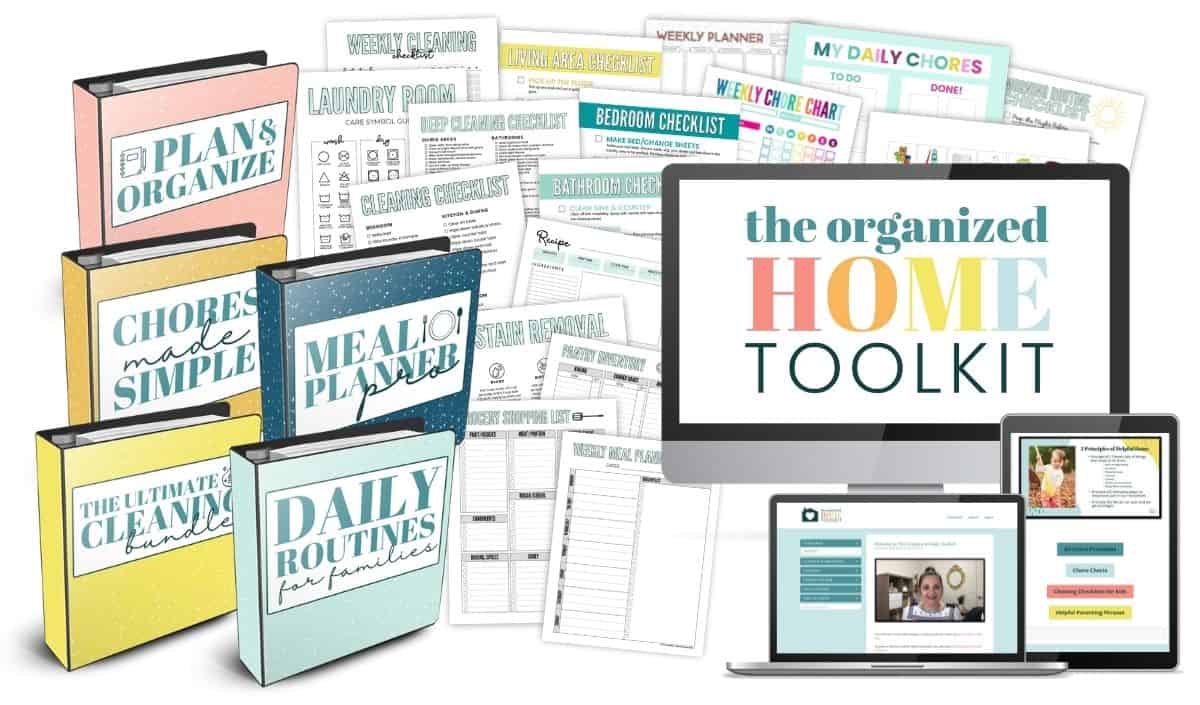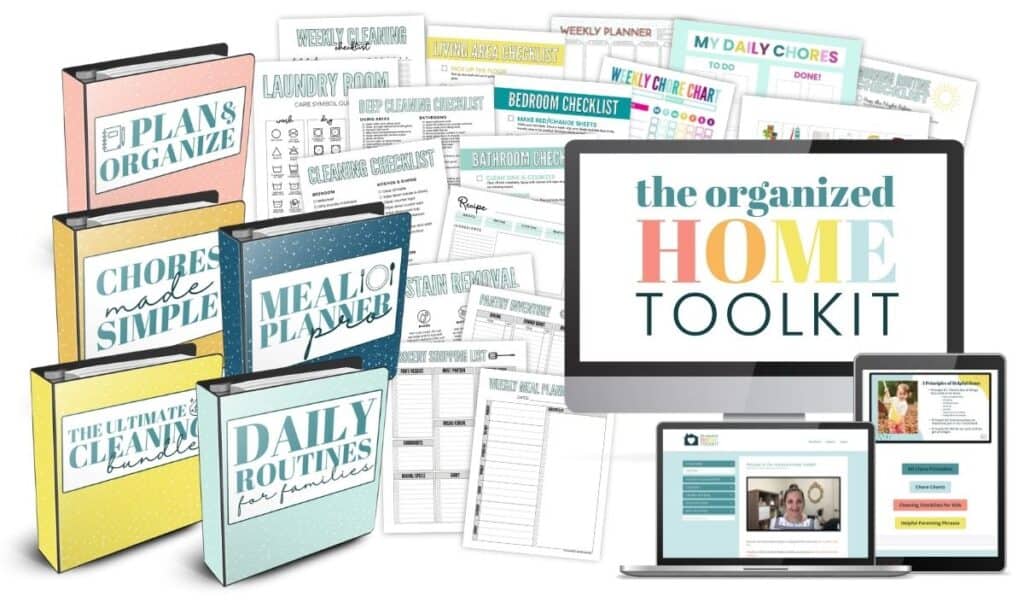 YOU MAY ALSO LIKE
Daily Stay-at-Home Mom Schedule for a Toddler and a Baby
5 Tips for a Quick and Tear-Free Bedtime Routine