The kitchen is such an important room of the home. It's the heartbeat. It's where everyone congregates to talk, laugh, and enjoy food to
And for most of us, we'd also like it to be the place where everyone pitches in to keep it clean and tidy.
(Because it's easier to relax in a clean home and no one wants to feel like the maid.)
And this kitchen cleaning checklist is here to help.
It breaks down the daily and weekly kitchen cleaning tasks so you can easily divide out jobs and make sure everything gets done.
So you can spend more time enjoying food, conversations, and people, and less time stressing about a mess.
Plus, it's the perfect checklist for kids!
RELATED: Bathroom Cleaning Checklist for Kids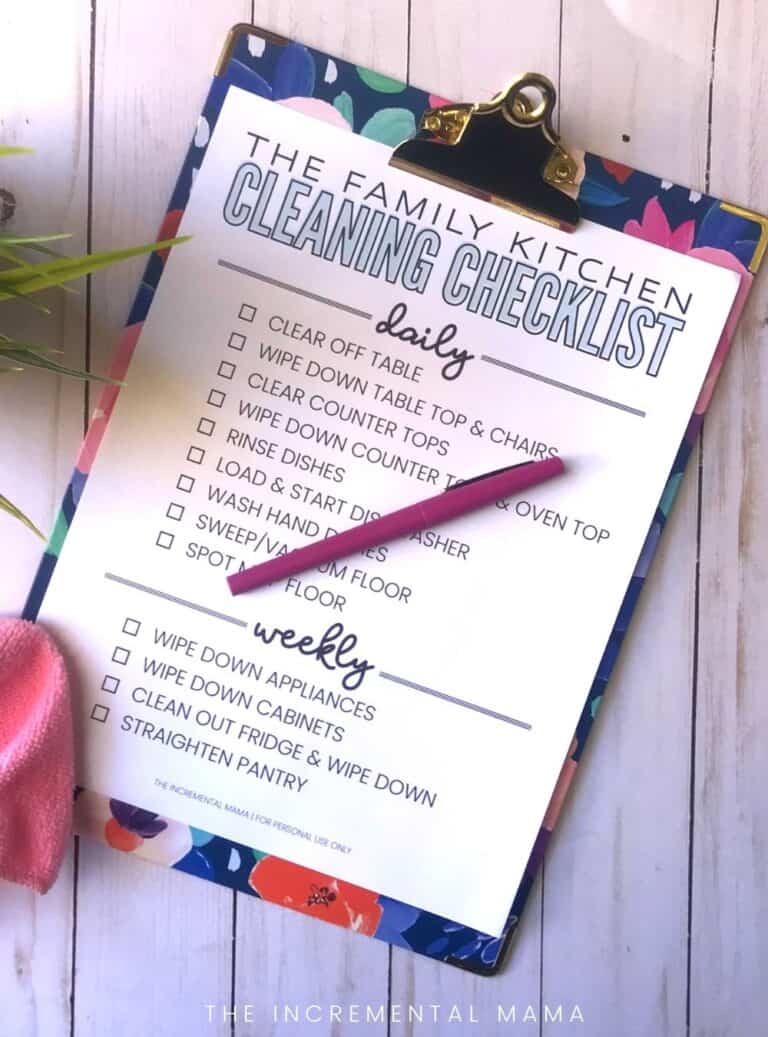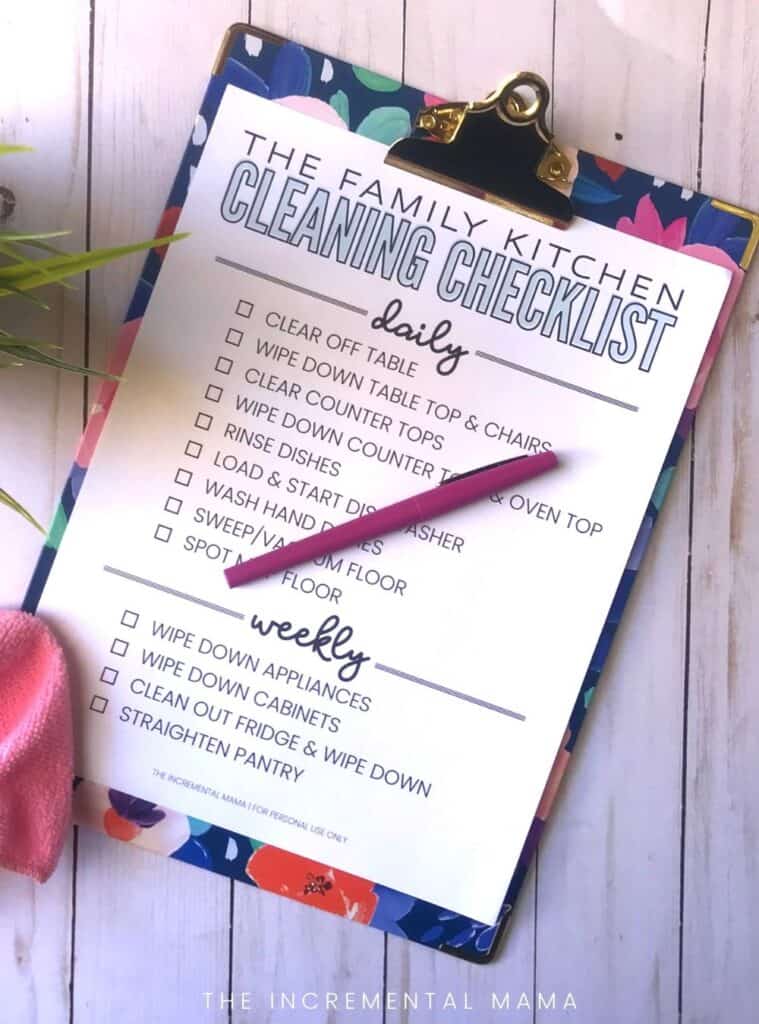 THE KITCHEN CLEANING CHECKLIST
This kitchen cleaning checklist is all about breaking down tasks so that it's easy to set clear expectations.
And get everyone on the same page for what constitutes a "clean kitchen".
It also make it easy to divide out tasks to so that everyone gets to help out.
To be honest, I made this checklist when I realized that members of my family had VERY different ideas of what a clean kitchen looked like.
Plus, my kids love checklists. They love checking off each completed item with a dry erase marker.
And I love cleaning checklists because my kids do a more thorough job cleaning. They break down tasks so they know exactly what needs to be done.
These are the tasks outlined on the checklist:
DAILY KITCHEN CLEANING TASKS
Clear off the Table
Wipe down table tops & chairs
Clear counter tops
Wipe down counter tops & oven top
Rinse dishes
Load & start the dishwasher
Wash hand dishes
Sweep/vacuum the floor
Spot mop
WEEKLY KITCHEN CLEANING TASKS
Wipe down appliances
Wipe down cabinets
Clean out fridge & wipe fridge surfaces
Straighten pantry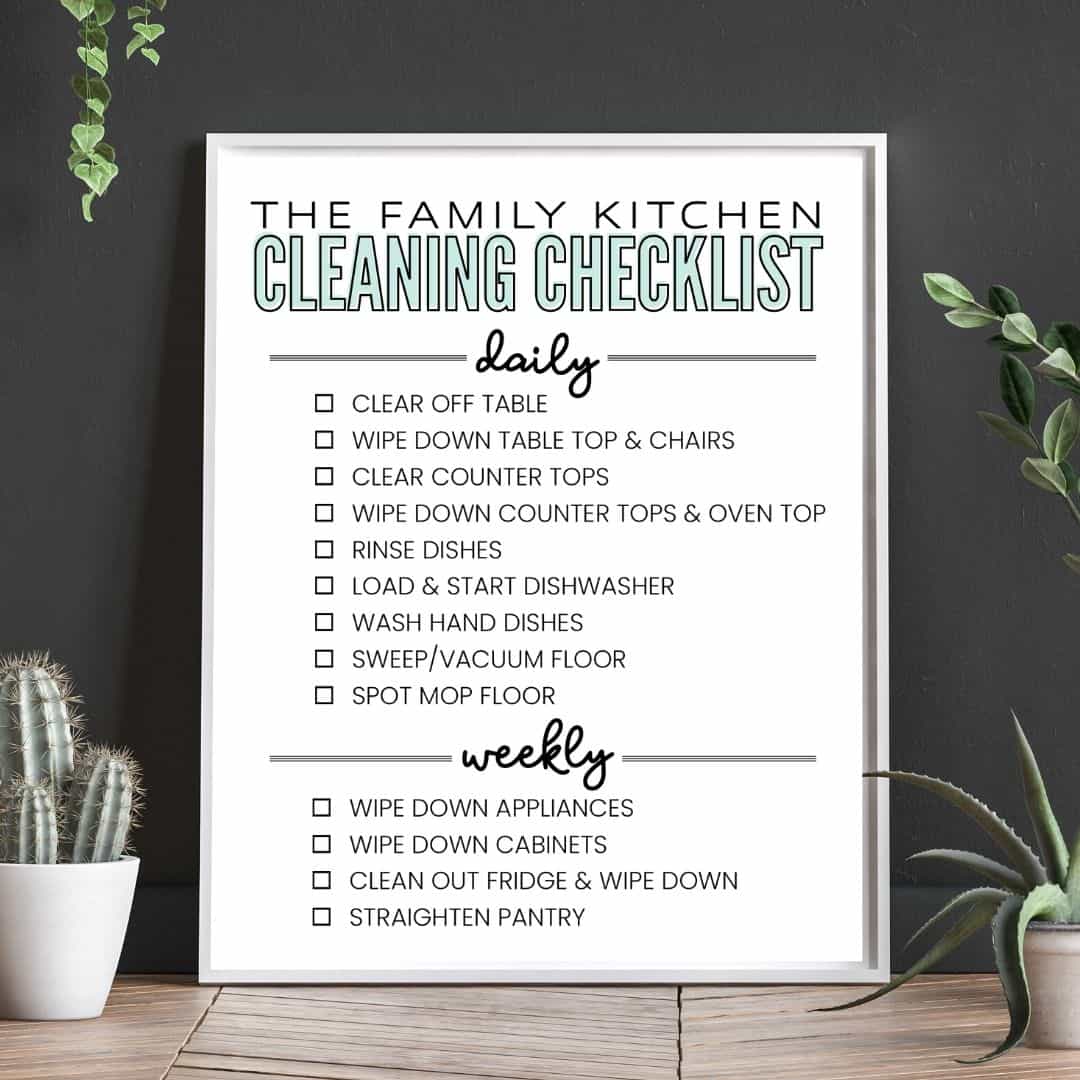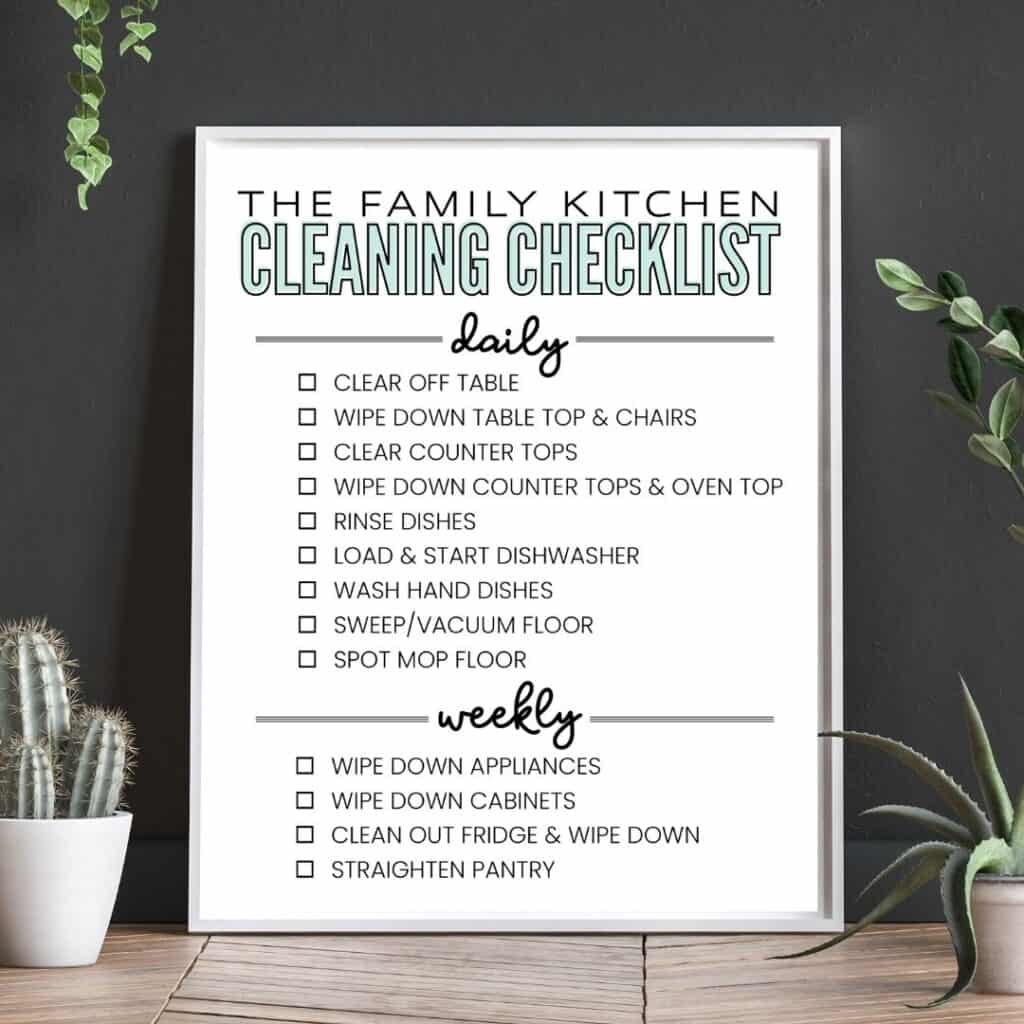 HOW TO USE THE KITCHEN CLEANING CHECKLIST PDF
Since no one want to print off a new cleaning schedule EVERY TIME you clean the kitchen, I highly recommend doing one of 2 things:
Laminate the cleaning schedule: And then place it in an easy to see location in the kitchen (like the fridge or a cork board). This is what I do with pretty much all my printables. That way all you need is a dry erase marker to check off items!
Place in frame w/ glass front: Same concept as laminating, but it looks fancier. You'll use a dry erase marker on the glass and erase to start over.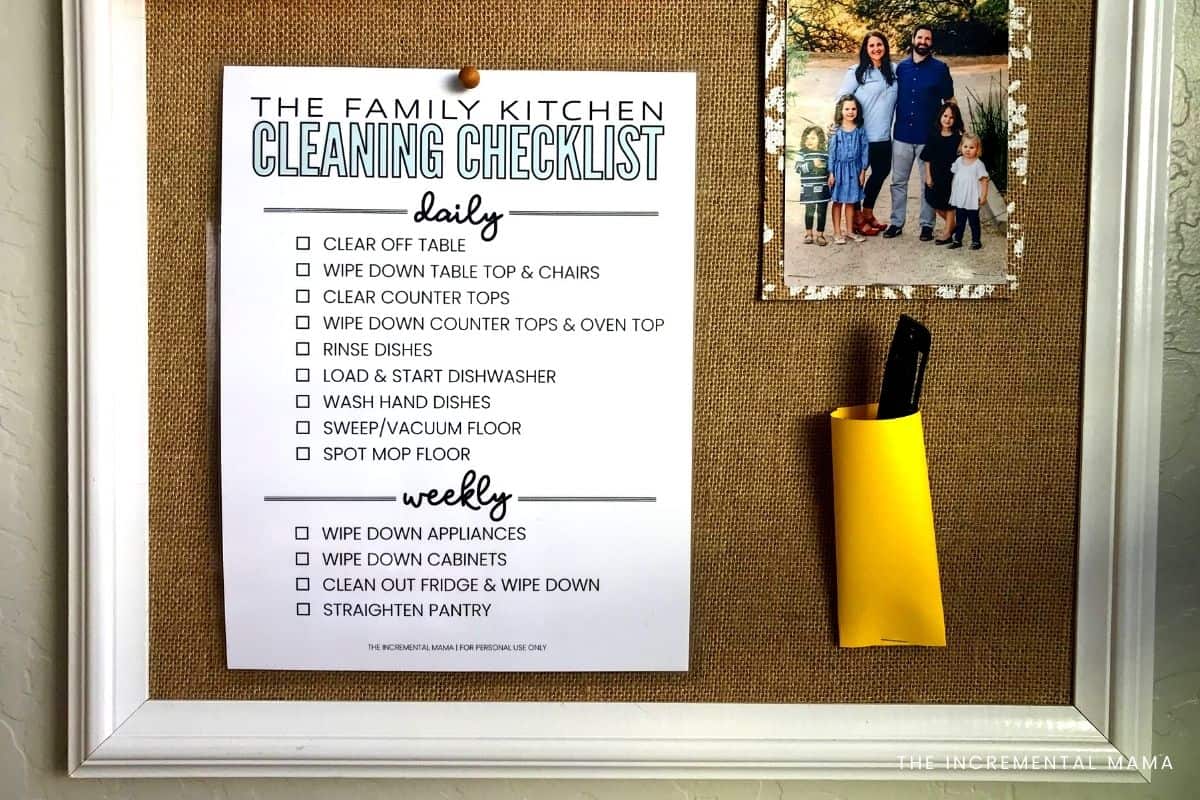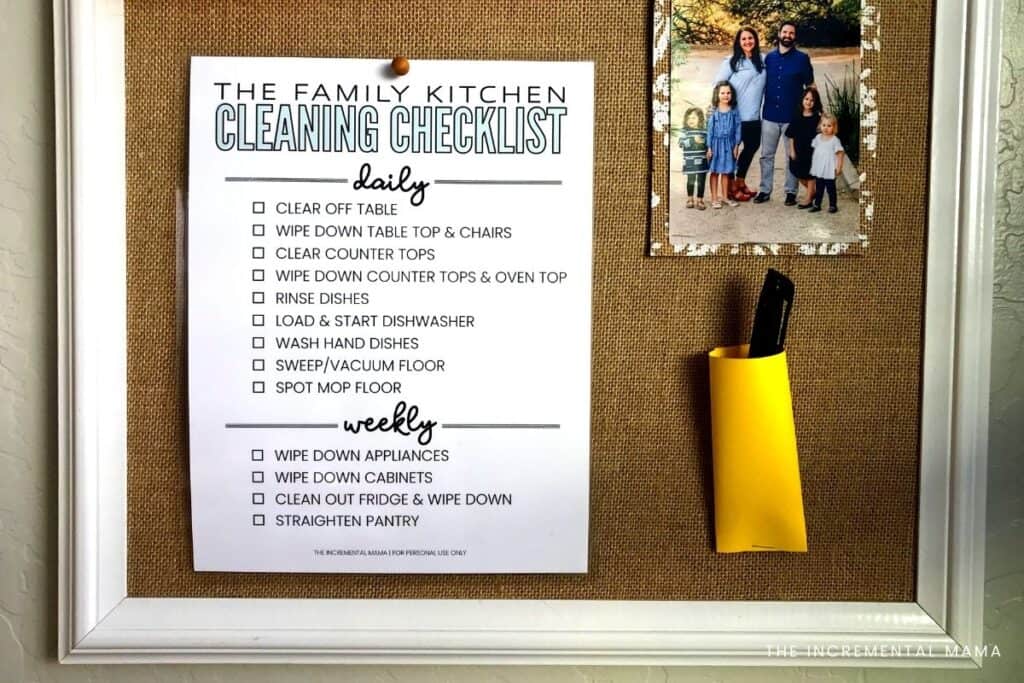 TIPS TO GET KIDS/FAMILY HELPING TO CLEAN THE KITCHEN
This kitchen cleaning checklist is perfect to get kids helping out in the kitchen. Here are a few tips to get them helping out:
1. Make it fun.
Attitudes are contagious. And the attitude you have while enlisting your kids to help out will have a big impact on their attitudes.
So make it fun!
Put on a dance music and make it a cleaning dance party. (My girls LOVE cleaning dance parties and I swear they actually clean faster.)
2. Use the language of helpfulness.
Instead of "You need to do this" kind of language, couch it in the language of helpfulness. Because kids love to feel helpful and needed.
"You (what they did ) , so (how it helped/impact) . That was so helpful!"
3. Let them check off each task.
You know that high you get when you cross something off your to-do list?
Yeah, kids get that too. They LOVE to check stuff off checklists. I've heard from countless moms that just getting to cross stuff of ists motivated their kids to clean or go through their routines.
So let them use the dry erase marker and cross off the task they complete.
4. Make it automatic.
The beauty if routines is that once you do them enough, they become automatic and really easy to maintain.
So set the expectation that after dinner (or whenever you want) the kitchen gets clean.
Whether you choose to divide out tasks or assign certain nights to certain people, just make it something they can expect.
For more help getting your kids helping out (without complaining) check out The 13 Secrets to Getting Kids Excited About Chores
OTHER CLEANING CHECKLISTS YOU MAY LIKE
If you're on the hunt for more free printable cleaning checklists, you're in luck, because I've got several you can grab.
Bathroom Cleaning Checklist for Kids: Breaks down the tasks involved in cleaning the bathroom. Perfect to get kids started cleaning the bathroom.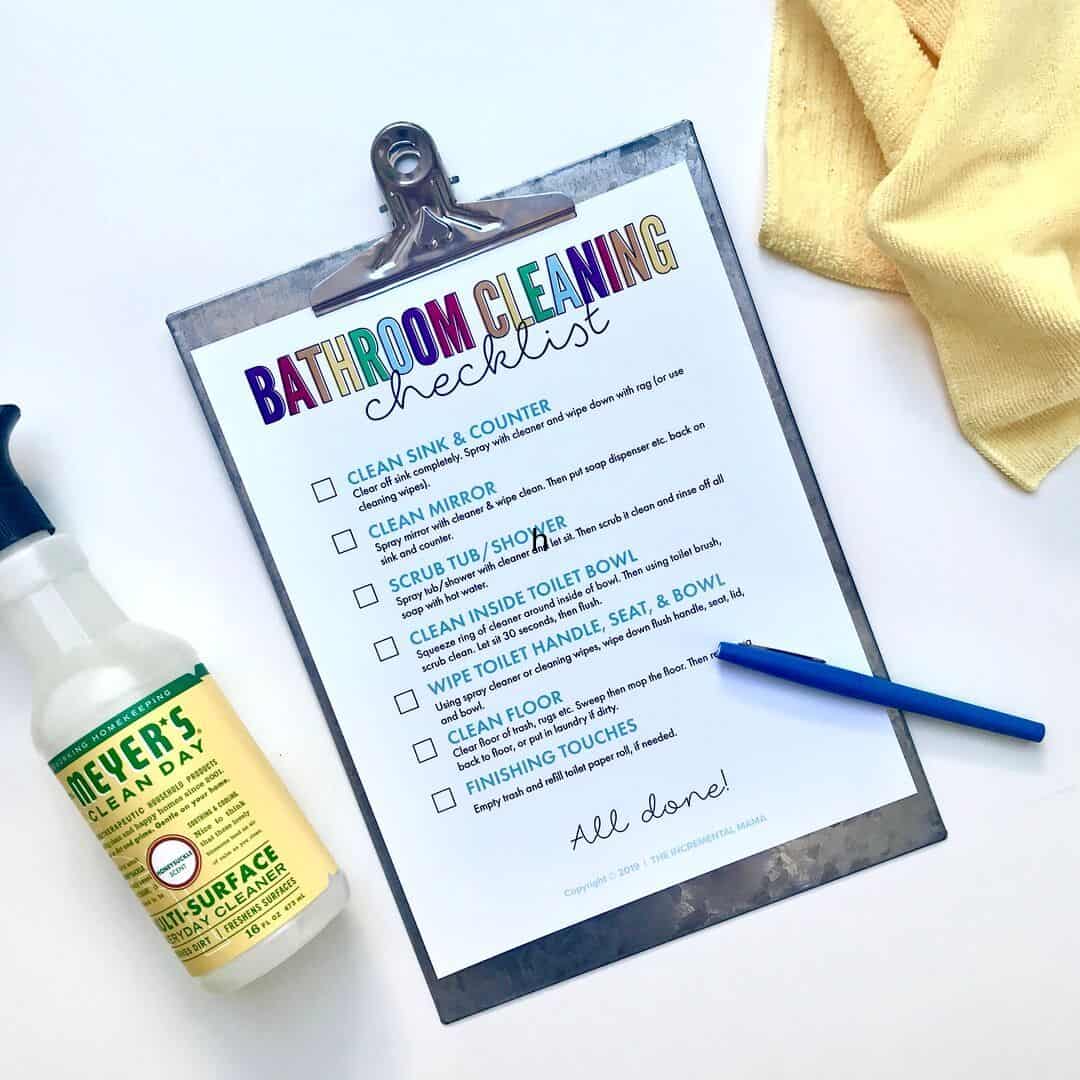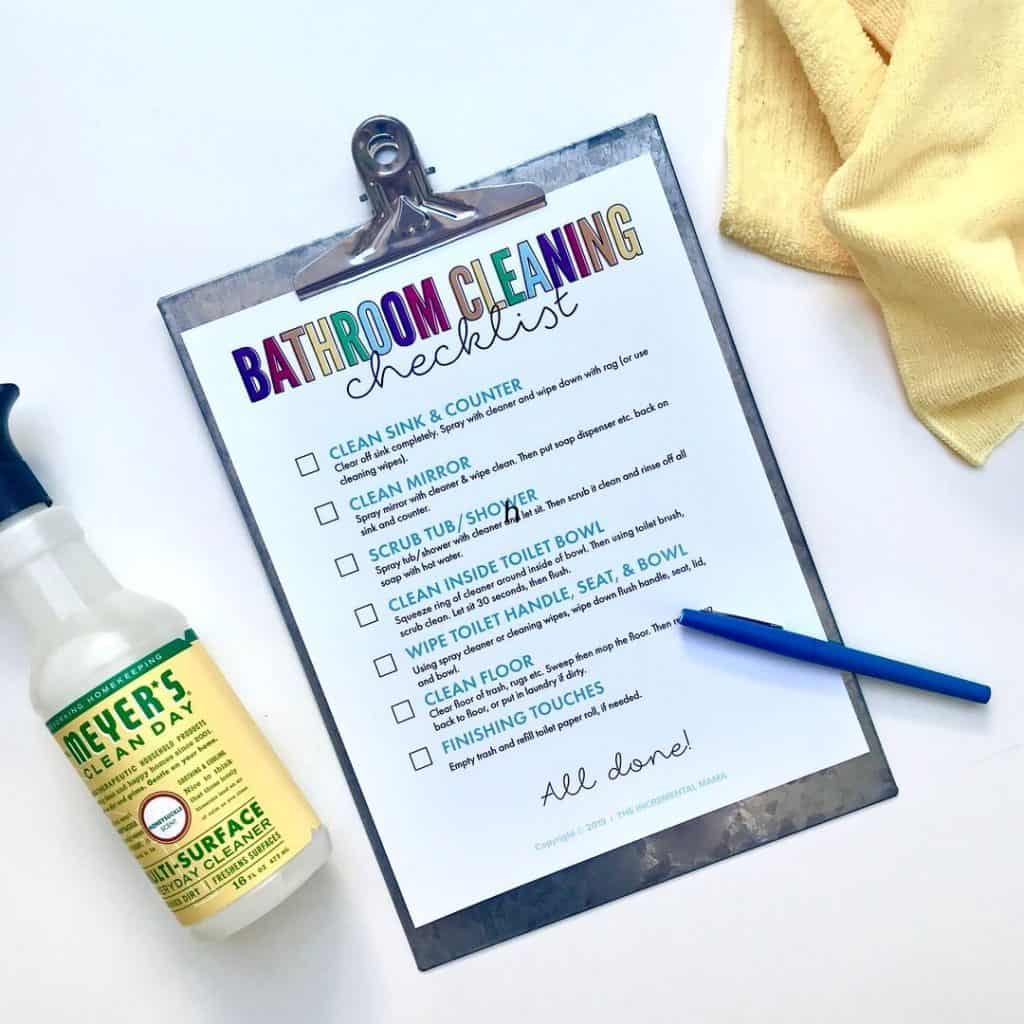 Bedroom Cleaning Checklist for Kids: Included both daily and weekly tasks. Perfect to post on your kid's bedroom door.
Simple Daily Cleaning Schedule: This simple cleaning schedule will help you keep your house clean and tidy even if you're crazy busy.
Clean a Messy House Checklist: Is your house a disaster? Clean it all in one day with this comprehensive checklist.
Cleaning Checklist Bundle for Kids. It's got both ready to print checklists and several fillable versions you can customize to perfectly suits your home and family.
EDITABLE CLEANING CHECKLIST & SCHEDULE TEMPLATES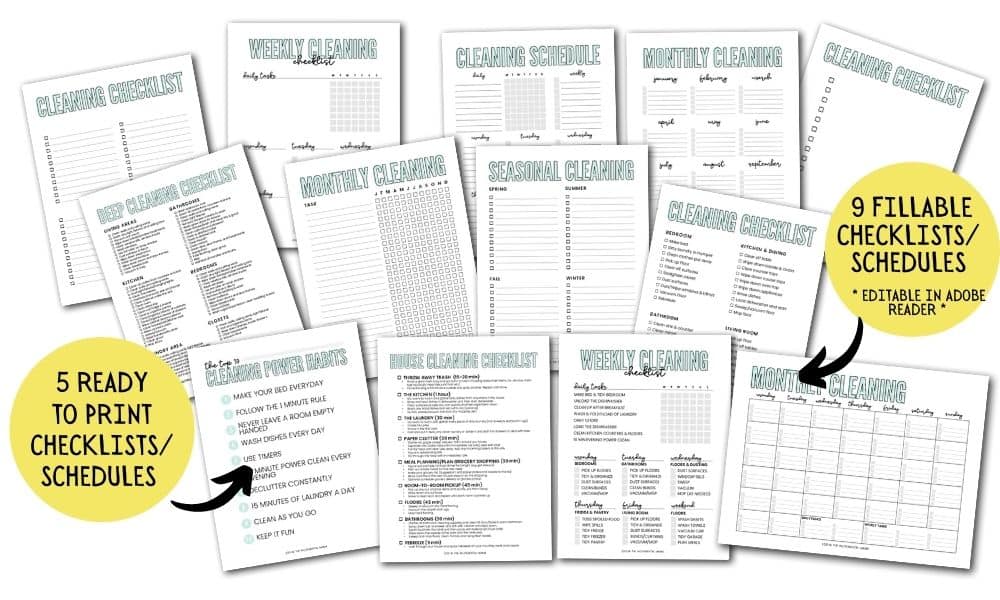 DOWNLOAD THE FREE KITCHEN CLEANING CHECKLIST PDF
And there you go! You're ready to grab the cleaning checklist and get started. You can get the free printable kitchen cleaning checklist sent straight to your inbox by signing up below.