Whether you're looking for a checkbook calendar printable or a small calendar to fit in your purse or wallet, these small free printable calendars are the perfect size to meet your needs.
Instead of asking someone of having to check your phone calendar, you can add this handy free calendar to your checkbook and be sure to always get the date correct.
This PDF download includes yearly calendars for the years 2023, 2024, and 2025. While the PDF is designed to print on 8.5 x 11 inches, it can be printed on different sized paper.
(I just can't guarantee the dimensions will be the same.)
Once printed and cut out, each calendar measures at 5.75 x 2.75 inches, which is perfect to slide into a checkbook or into a long wallet. Each calendar fits the entire year.
These are for your personal uses only and not to be shared or duplicated. You can download the free printable pdf below.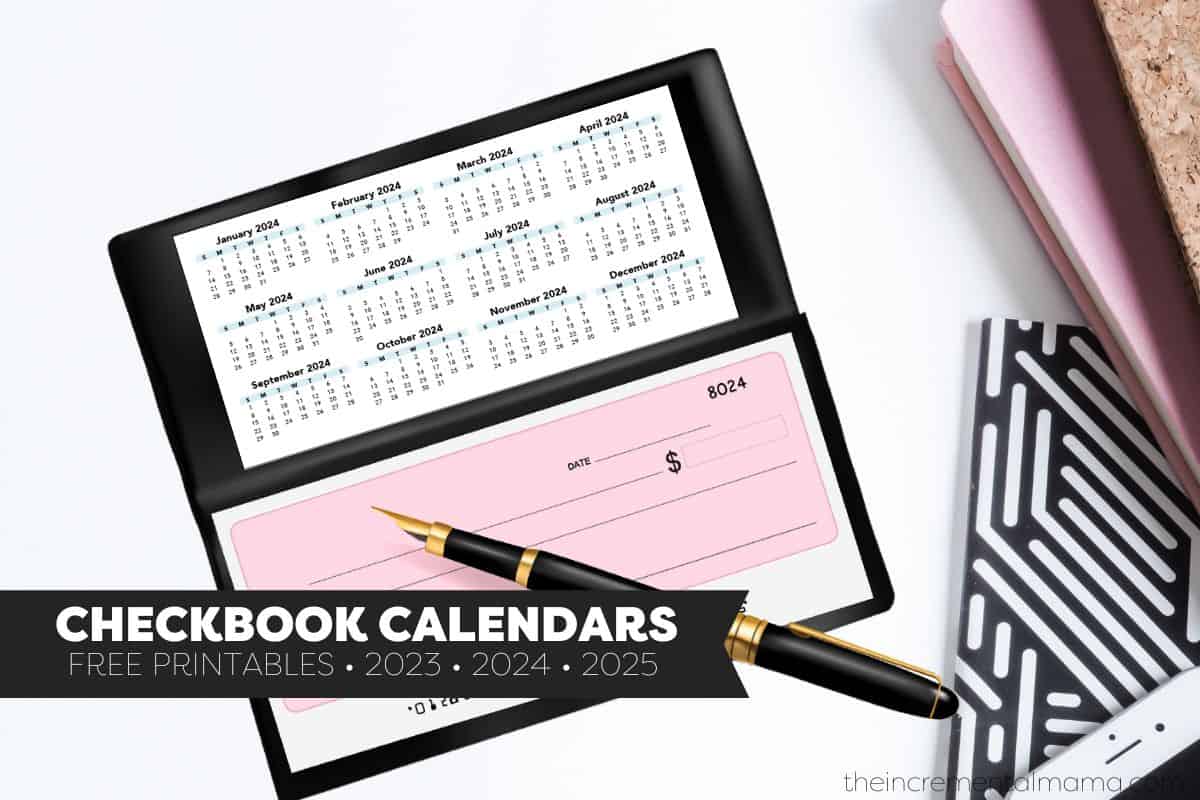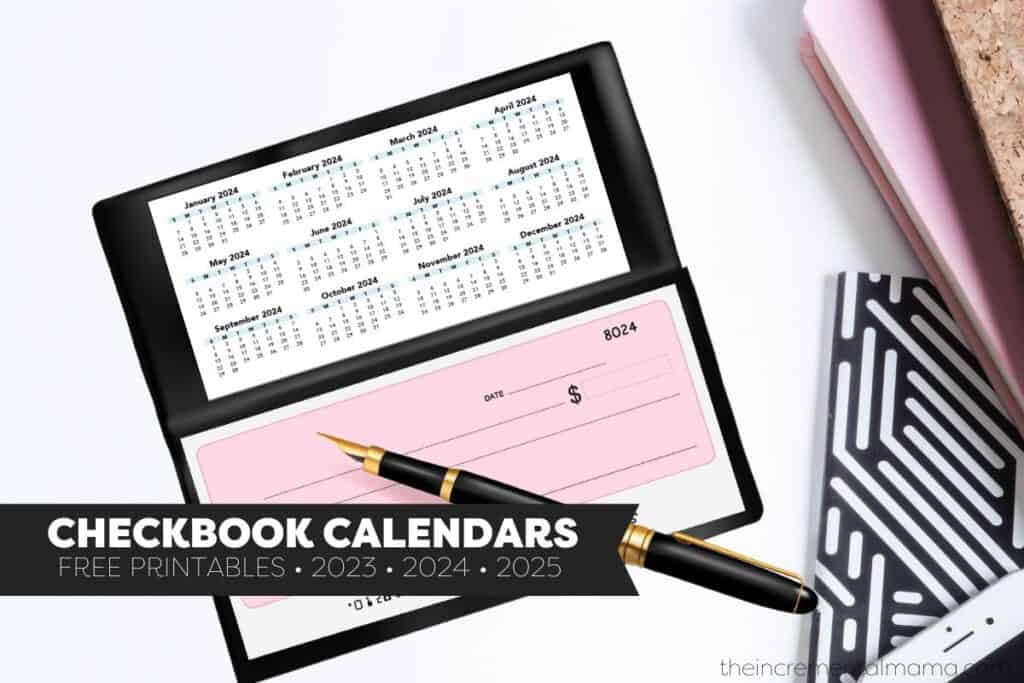 USES FOR CHECKBOOK CALENDAR PRINTABLE
Essentially, this is just a small printable pocket calendar. While it's the perfect size to slip into a checkbook (5.75 x 2.75 inches) and go along with your checkbook register, it can be used for anything that requires a small yearly calendar.
This free printable calendar is a small, portable calendar that can fit in a wallet or purse. It is a handy tool if you're always on the go and need to have quick access to important dates.
Some of the common uses for this small calendar PDF include:
Keeping track of appointments and events: A wallet-sized calendar can be used to quickly jot down important appointments and events, making it easy to keep track of what's happening in one's schedule.
Planning and organizing: With a wallet-sized calendar, one can easily plan and organize their schedule on a daily, weekly or monthly basis. This can help with time management and ensure that important tasks are not forgotten.
Tracking important dates: A wallet-sized calendar can be used to keep track of important dates such as birthdays, anniversaries, and other special occasions.
On-the-go reference: Since it is small and portable, a wallet-sized calendar can be taken anywhere, making it an ideal reference tool for busy individuals who need to check dates and appointments while away from their desk or office.
Budgeting: In addition to tracking appointments, a wallet-sized calendar can help you track bill due dates.
If you're using it for another purpose, let me know in the comments!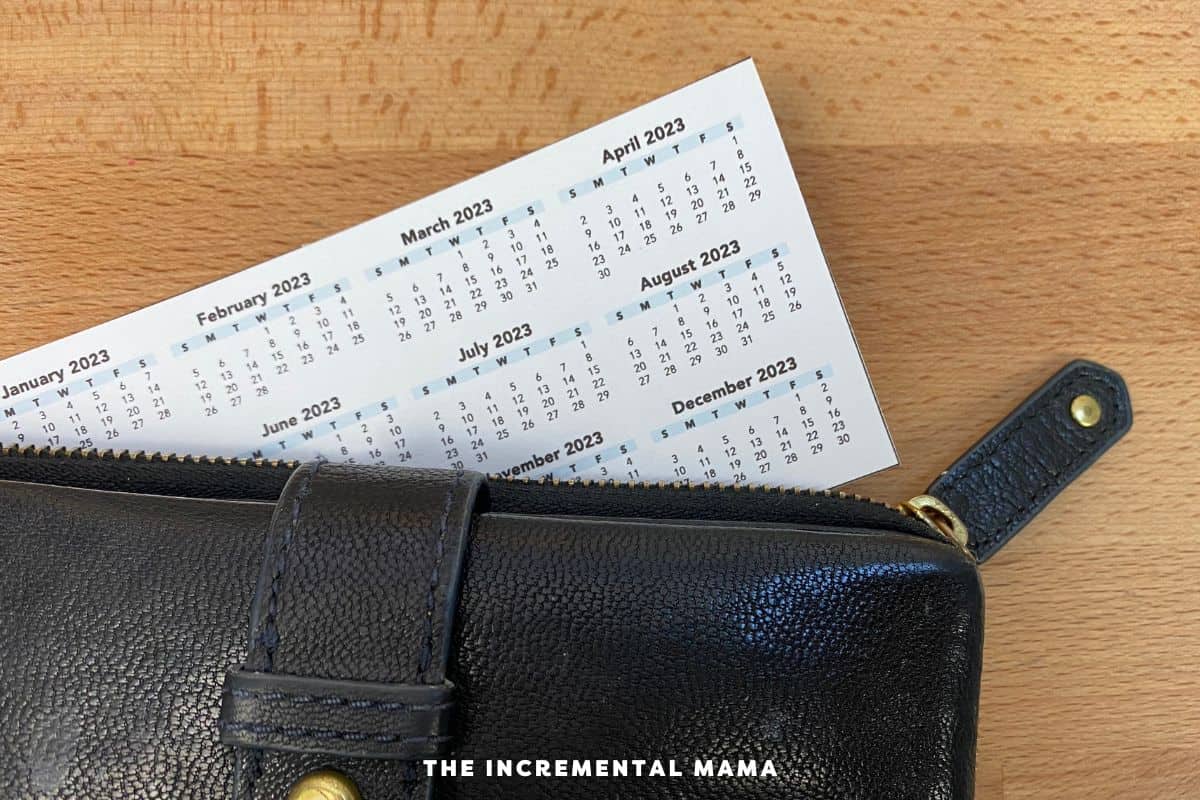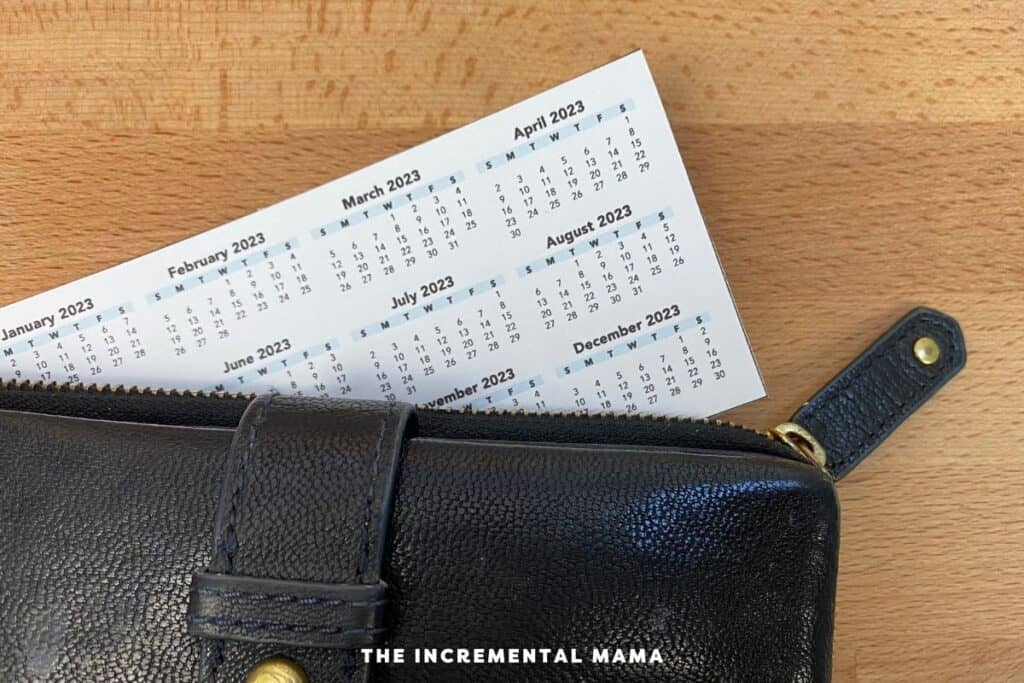 WHY USE A CHECKBOOK
While checkbooks may seem a bit old school (admittedly, I use mine for a select number of expenses), there are many benefits to using a checkbook.
Some of these benefits include:
Provides a convenient and easily accessible way to manage one's finances. No need to hassle with logging into your online bank account.
Checks are a safe and secure method of payment. They don't require carrying around large amounts of cash or worrying about having credit card information stolen. The information found on a check is usually not enough for fraudsters to steal funds.
Checks offer a paper trail for financial transactions. This makes it easier to keep track of expenses and monitor bank statements for errors or fraudulent activity.
They can be used in situations where other forms of payment may not be accepted, such as rental payments or payments to contractors.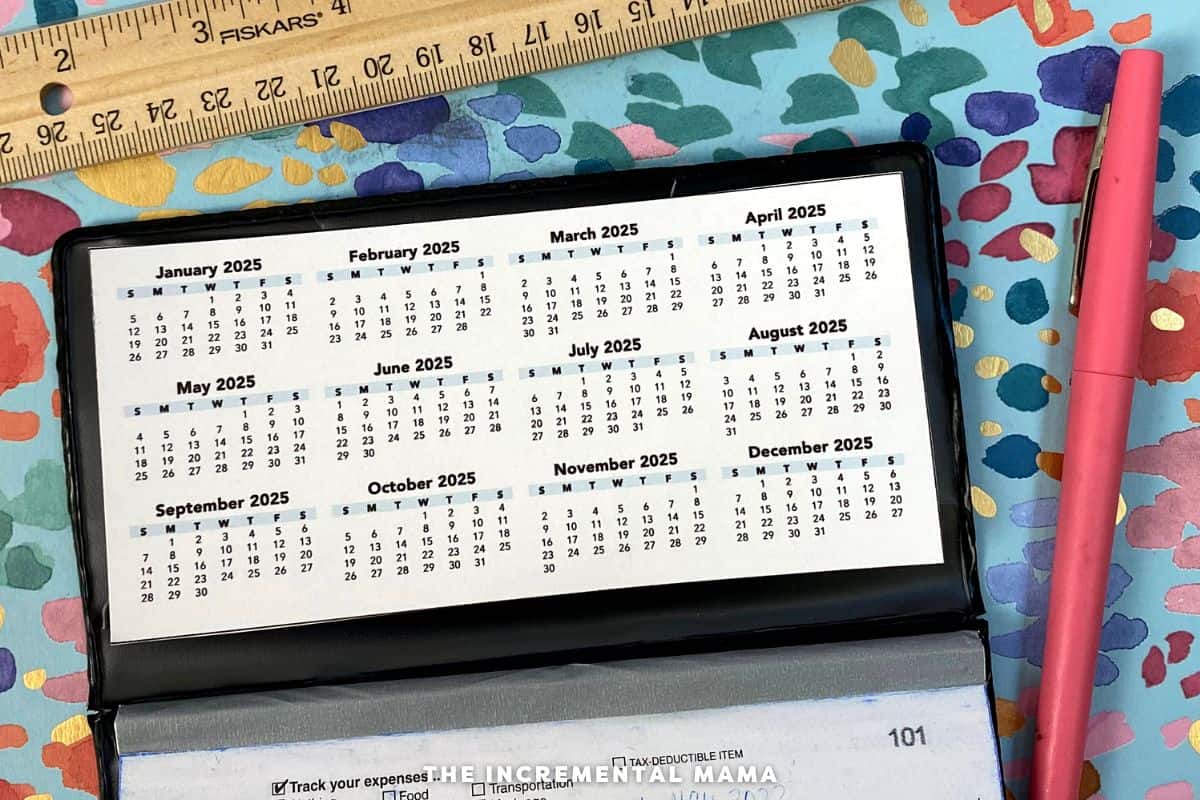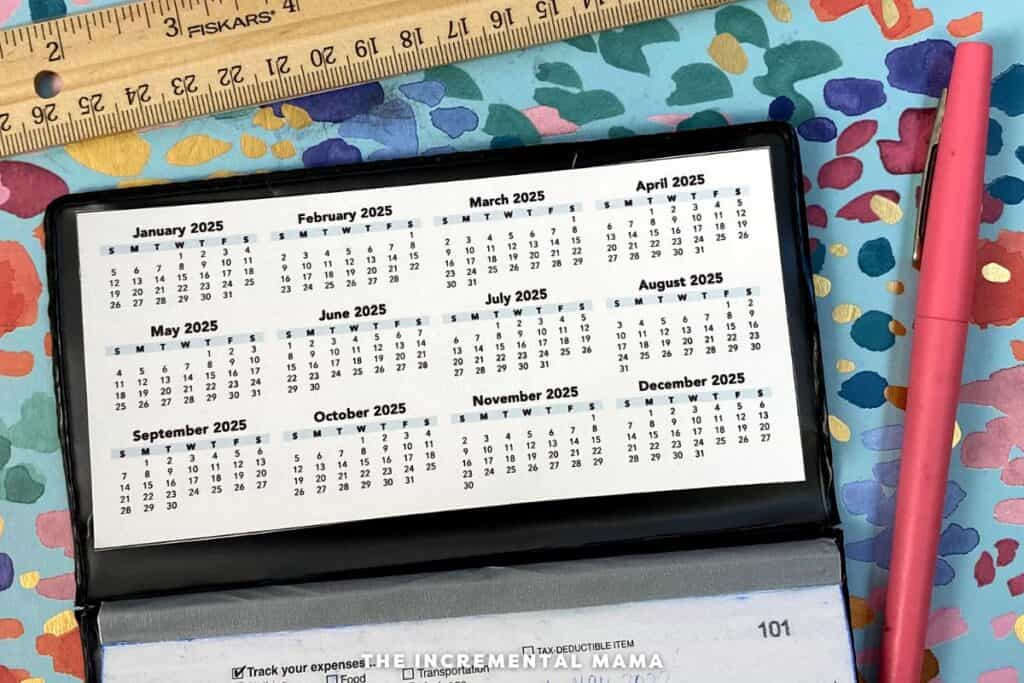 HOW TO PRINT & USE THIS FREE PRINTABLE CHECKBOOK CALENDAR
Follow the steps below to download, print, and use your new wallet sized calendars.
1. Download to your computer. To download directly to your device, click the download button below.
2. If you'd like a sturdy calendar, I recommend loading your printer with heavy cardstock. This will make your calendar much more sturdy (unless you plan to laminate).
3. Click "Print". In the dialog box, you'll see many printing options including "Paper size & handling". In this section, click "Actual Size" and NOT "Fit" in order to print the PDF at the exact size of 5.75 x 2.75 inches.
However, if you're not concerned about size, then it doesn't matter whether it's fit or actual size.
3. Cut out individual calendars and use as you see fit!
More Organizational printables
If you love printables to help you get organized, you're in luck because I have a bunch on my website. Click the links below to check out the other free printables:
>>> Free monthly calendar templates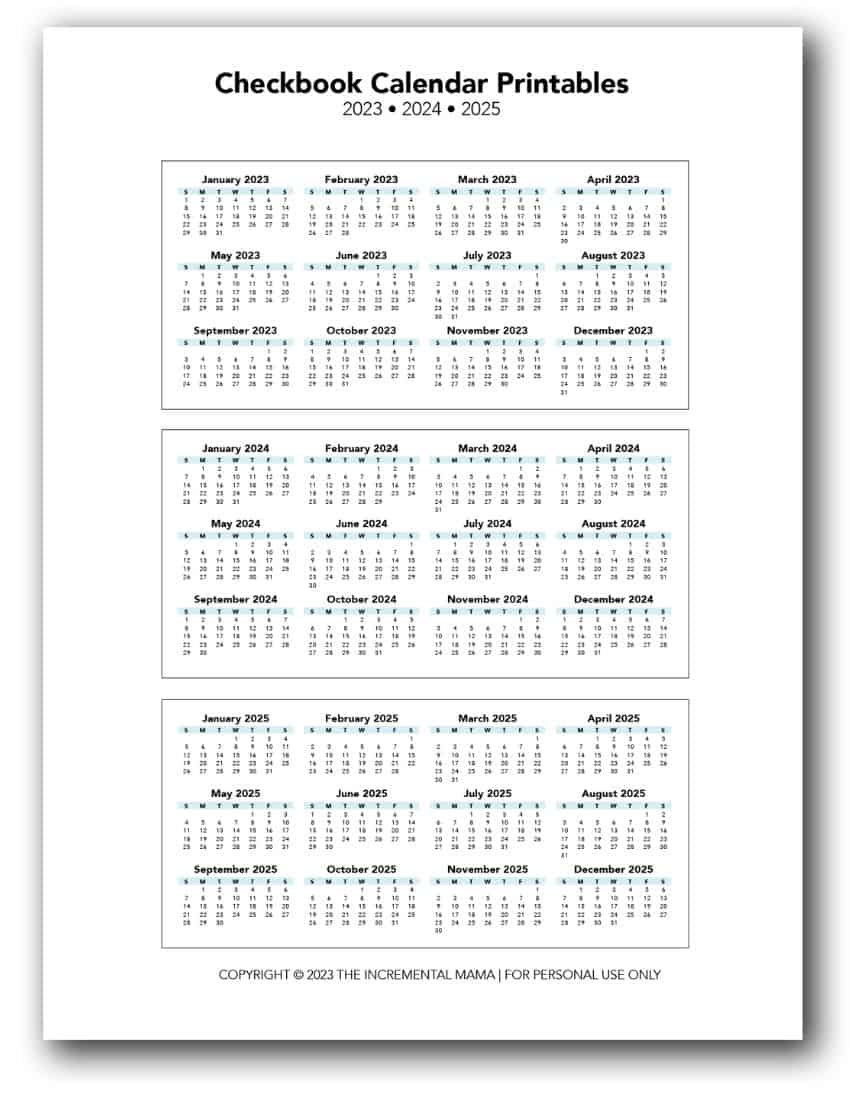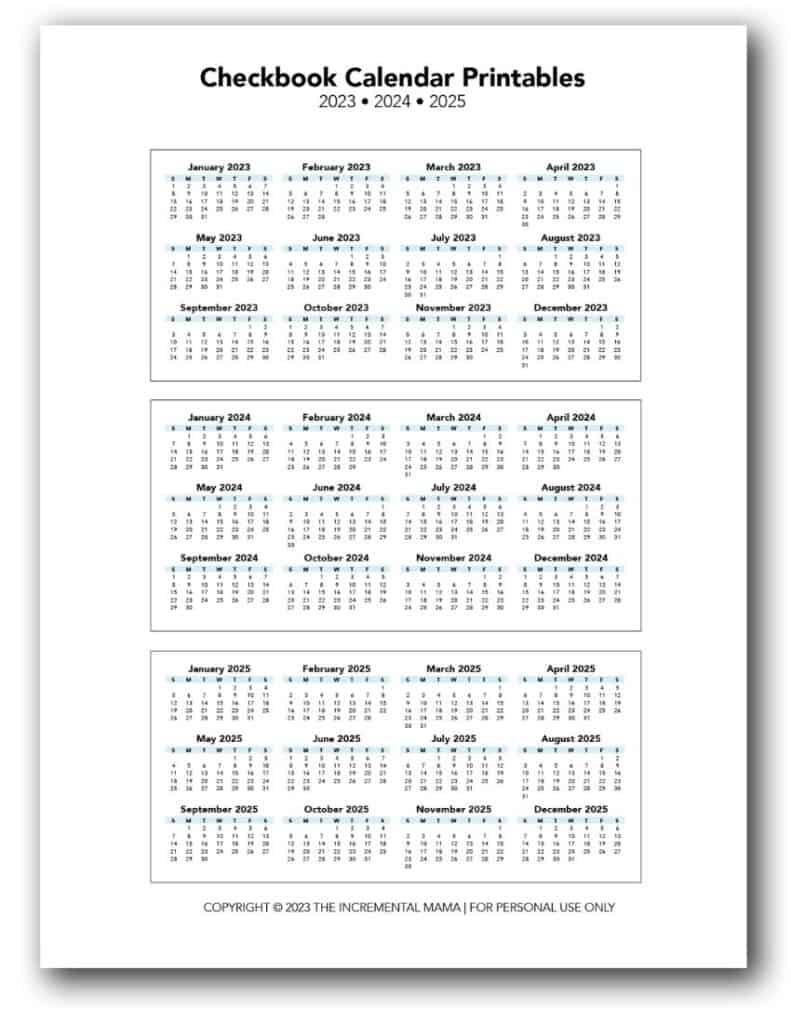 Download the Free Checkbook Calendar Printables
And there you have it! I hope you enjoy this printable. To download the free checkbook calendar printable, simply click the link below. 
Other posts you may like
If you're into organization, you're in the right place! Check out some of the posts below to continue your journey to organization.