Breastfeeding clothes make all the difference when it comes to successfully breastfeeding your baby. Instead of battling nursing covers and 6 layers of awkward clothing when trying to feed you baby, breastfeeding clothes give you the freedom to discreetly and easily nurse anywhere.
And luckily, we've got thousands of amazing options but a click away with online shopping.
But with so much to choose from, what exactly do you need?
Is it even worth investing? (Short answer: YES, long answer: Why Breastfeeding Clothes are COMPLETELY worth it).
Other than nursing bras, I didn't really invest in breastfeeding clothes until 4th and last baby. And it was a complete game-changer.
I will shout it from the rooftops to anyone who will listen that breastfeeding clothes are a god send.
They are how I've been able to breastfeed my 4th baby past the year mark while balancing 3 other kids and a job.
BREASTFEEDING CLOTHES MAKE LIFE EASY.
A couple months ago, I was visiting with a friend I hadn't seen in a while when my baby wanted to be fed. I asked if she minded if I nursed (she didn't) so I quickly put my baby on and kept talking.
After my baby finished, my friend sheepishly asked: "Can you just explain what happened here?"
She could not figure out how I latched my baby IN 2 SECONDS without exposing myself AT ALL while not using a nursing cover.
Excitedly, I walked her through the amazing miracle of nursing clothes.
Okay, let's get down to what you're going to need to make breastfeeding convenient and discreet.
And where are the best places to get everything without breaking the bank.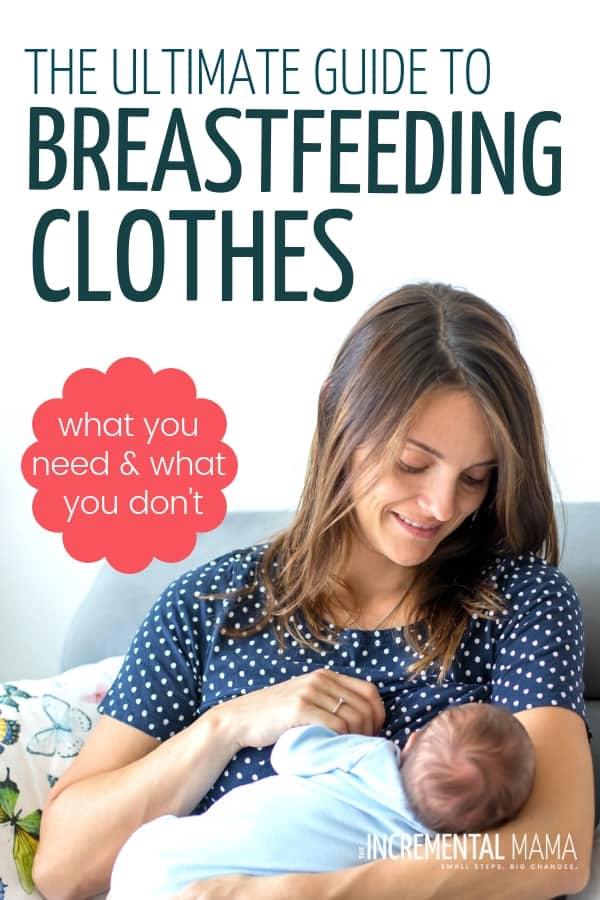 BREASTFEEDING CLOTHES: WHAT YOU NEED
Clothes in your closet may already fit the bill (hello, deep-v's!), but investing in some great nursing pieces are 100% worth it.
Depending on your laundry habits and lifestyle, here's a general guideline for what you will need.
5 + Nursing Bras (regular & sport)
5-7 Casual tops
1-2 Dressy Tops
At least 1 dress
Optional: nursing pajamas
While you don't need to go out and buy a completely new wardrobe, you do want to make sure you have enough clothes to make breastfeeding convenient.
If it's not convenient, you're probably going to stop nursing before you really want to. And that's a major bummer.
1) NURSING BRAS
These are absolutely essential. If ever there was a time to make sure the ladies are properly housed, it's when they are full of milk and literally feel like they are about to burst.
If you can't whip your ta-tas out of your bra easily, it won't matter what you are wearing. Breastfeeding is just going to be awkward. So first things first, get some nursing bras!
RECOMMENDATIONS:
Buy one at a time so you can try them out to see what works best.
Buy bigger cups than your pregnancy bra size. The girls are going to expand A LOT.
Get very supportive cups. Flimsy cups will do you no favors.
Don't forget sports bras! These nursing sports bras are my favorites (I wear them more than normal nursing bras).
2) CASUAL SHIRTS
T-shirts and mom life go together like Netflix and not moving for 5 hours. So you'll want to make sure you have plenty of casual tops that are breastfeeding friendly.
WHAT YOU MAY ALREADY HAVE:
The Deep V: These are perfect breastfeeding tops. I wear these ones all the time (note: you will want to order a size up). Pair with jeans or a cute skirt and you are golden. Downside of the deep-v is that the top of the breast is exposed if you like to nurse without a cover.
The Button up Top: Not nursing specific, but still super convenient for nursing. Same downside as the deep-v t-shirt. I find that Target always has a great selection.
WHAT YOU MAY NEED:
Nursing Tops: I recommend getting at least one honest-to-goodness nursing top. They often cover everything but the areola (which is covered by your nursing baby) making nursing in public spaces very discreet.
Nursing Tank Tops: Wearing these handy tank tops under your clothes make most tops nursing-friendly. Downside is that you have to lift your top up and fumble with more articles of clothing. But if you are on a tight budget, these are the way to go.
3) "DRESSY" TOPS
At some point, you are actually going to need to dress up somewhat and get out of the house. If you work outside the home, you may want to get a few.
Even if baby is not coming with you, chances are you will need to breastfeed at sometime while wearing whatever outfit you are wearing.
Even though my baby never joins me while I teach evening classes, since I nurse her before and after the nursing tops makes it ever so convenient.
4) DRESSES
You may not wear dresses all that much, but when you need to wear one, chances are it's going to be hard to nurse unless it's an actual, honest-to-goodness nursing dress.
Personally, I love to wear dresses. Plus many styles of dresses are quite forgiving and comfortable to frumpy postpartum bodies.
This is probably my very favorite dress and it comes in 5 colors! It's also Undercover Mama so it clips right into your bra for super convenient and discreet nursing.
I also REALLY love the dresses at Milk and Baby. I have bought several and while some were kinda pricey IMO, the convenience of nursing clothes seriously makes it worth the price. I've squeezed every penny from those dresses!
6) PAJAMAS
Nursing pajamas are nice for hanging around the house during the postpartum healing period. During that time I don't really "get dressed" yet, but it's nice to have something comfortable to wear when answering the door and for when people stop by to see the new bundle of joy.
Target has a fantastic selection of very affordable nursing pajamas.
This nursing sleep shirt is my absolute favorite. Confessional: I've worn it while running quick errands!
RECAP: MY FAVORITE ITEMS

BREASTFEEDING CLOTHES: WHERE TO GET THEM
Now that you know what you need, it's time for the fun part: shopping!
There is an amazing selection on breastfeeding clothes that you can get online. No matter your style, body type, or budget there are plenty of clothes that are perfect for you.
Let's get started:
ONLINE STORES THAT SPECIALIZE IN BREASTFEEDING CLOTHES
Milk & Baby: Great selection and super cute clothes. I have a few dresses from here and I always get compliments when I wear them. People are so shocked when I tell them they are nursing dresses!
Milk Nursingwear: This retailer also has a massive selection of great clothes.
Latched Mama: While the clothes are pretty simple, they are affordable and well made. My 3/4 sleeve dress has held up really well.
CLOTHING RETAILERS WITH NURSING CLOTHES SELECTION
These are all retailers whose nursing clothes I love.
WELCOME TO THE WORLD OF CONVENIENT & DISCRETE NURSING!
Clothes make all the difference in making nursing both convenient, easy, and discreet. Make sure that you have a breastfeeding-friendly wardrobe to set you up for breastfeeding success.
Nursing is hard enough without clothing choices making it inconvenient. By investing in a few items, you can change your whole experience.
Good luck, mama!
ADDITIONAL RESOURCES