My girls' bathroom had been driving me crazy.
I'd been meaning to tackle it as a big project for nearly a year, but (surprise surprise) I just couldn't get around to it.
You see, I took down the towel bar a year ago and put up a cute little rack with towel hooks. Sick of picking up wet towels and always a proponent of kids learning to pick up after themselves, I figured hooks were the best option for my little shorties.
And it was great.
For about 2.5 days.
They thought they'd try swinging like Tarzan from the towels and see what happened.
You know where this is going. It was ripped from the wall and broken.
But instead of just taking 10 minutes and installing a set of towel hooks like a sane person, I decided that was far too simple a solution for someone with 4 small kids and a job.
Nope, the solution to my problems was a bathroom renovation. I was going to paint the bathroom and put up some bead board like this: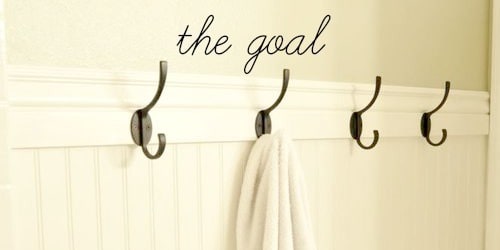 It all made sense to me. Of course I didn't know when I would do it.
Or how exactly. But hey, there's Pinterest, right? I just knew I was going to get to it.
Eventually.
So I ordered some hooks and stuck them on a shelf somewhere until I figured out what I was doing.
Which was never.
Because when is there ever time for the big projects and plans that get stuck in our heads?
And so for the last year I've had no towel bar, no hooks, and several ugly holes in the bathroom wall. Oh, and a floor always littered with my children's discarded towels.
RELATED: How to Get Your Kids Excited About Chores
THEN I LOWERED MY STANDARDS
Then one day, I'd had it.
Finally fed up with constantly picking up towels (that had no real place to go), I decided that I was going just have to settle for function over beauty.
I rummaged through my closet and found the towel hooks, grabbed a screwdriver, and just put them up on the wall.
I didn't even measure.
And guess what? It looks awful. Holes still in the wall. Pencil lines. Patched up spots. Awful paint color I've been meaning to change since we bought the house 6 years ago.
Case in point: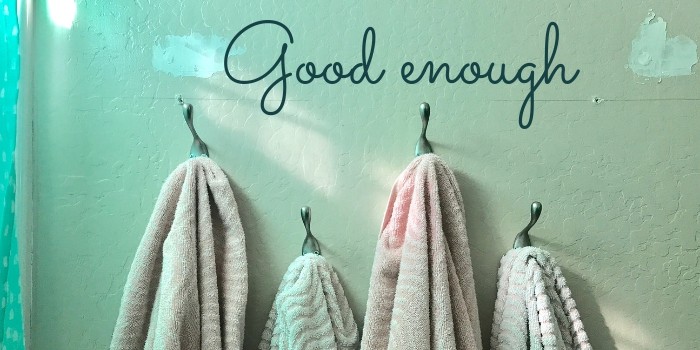 But I don't even care.
Because my kids hang up their towels!!! And the bathroom stays clean. And it took me less than 10 minutes to do.
*cue the Hallelujah chorus*
Sure I still want to get to my big project, but you know what?
Done is better than perfect.
I had convinced myself that I needed to re-do the bathroom in order to put up towel hooks. But that was complete baloney.
PERFECT CAN LIMIT OUR HAPPINESS
My idea of perfect was limiting my happiness.
As busy moms, we legitimately have so much on our plates. Our "to do" list is never ending.
But don't we sometimes get caught up in perfection? Just wanting everything to be "just right" before we start something?
Whether it's a project or instituting a new routine, we want everything to be perfect before we pull the trigger.
We have visions of exercising 5 times a week, but can't quite the find the time. So we don't even get started.
We dream of getting our kids to start cleaning and creating awesome personalized job charts. But we can't quite figure out what jobs they should do or where to find the job chart or even quite where to start.
So we don't.
But it doesn't have to be that way.
LOWER YOUR STANDARDS AND KEEP GOING
When faced with writers' block, writer Sandra Tsing Loh said, "When faced with writer's block, lower your standards and keep going."
While excellent advice for writers' block, it's pretty much great advice for life. Especially as moms who can't help but compare our lives to what we see coming through our social media feed.
We tend to think of lowering our standards as a bad thing. And sure, we shouldn't lower our standards for everything.
For example, we shouldn't give up trying to feed our children healthy food and just feed them candy because we are sick of whining. (Tempting as that might be)
But breakfast cereal for dinner every once in a while when we've hit our limits? Not gonna hurt anyone.
Instead of being paralyzed by our inability to turn our lives into what we see on Pinterest, we can lower our expectations and keep forging ahead on our journey to creating a life we want.
Lowering our standards just may be the key to getting more done and having more peace in our lives.
WHAT IS HOLDING YOU BACK?
What about you?
What have you been putting off because of your visions of perfection?
Instead of waiting for the perfect time or the perfect situation, what can you do today to move forward with your goals and plans?
I'm telling you, your dreams for your life are within your grasp. So lower your standards and make a plan right now to keep moving.
You've got this, mama!
You may also like:
5 Keys to a Stress-Free Morning Routine With Kids
14 Brilliant Time-Saving Tips for Moms
7 Awesome Podcasts For Moms Who Miss Learning