With my kids home on summer break, I've taken advantage of the time by teaching them to do some new chores. Chores that take a bit of time to learn. And recently, my two older kids (ages 6 and 7) have been working on learning how to clean a bathroom.
But cleaning a bathroom is kind of complicated. I mean, there's several different things to clean and different supplies to clean them with. It's a lot to learn!
So in order to make it easier on my little ones, I've put together a little bathroom cleaning kit for kids.
With their bathroom cleaning supplies and a the bathroom cleaning checklist I created, they're actually excited when it's their turn to clean the bathroom. With both tools, they know exactly what they're supposed to do and what cleaning supplies to use.
CLEANING SUPPLY KITS ARE AWESOME
Whether for me or my kids, I'm a fan of anything that simplifies the cleaning process. And having all the cleaning supplies in one place, makes it that much easier for your kids to follow through with their chores.
Also, it helps kids take ownership over their chores. Kids love having their own stuff! When kids have control over so little in this adult0driven world, having their own cleaning supplies can help them feel important and get them motivated to clean.
Plus, it's helpful for me as a parent because I can control what cleaning supplies they're using. While I'm still addicted to my crazy chemicals (the things Kaboom does to my shower is simply magical), I don't want my kids near them.
So it's a win-win for everyone. It makes cleaning easy, kids are excited to clean, and I can control what products they use.
RELATED POST: Printable Bathroom Cleaning Checklist for Kids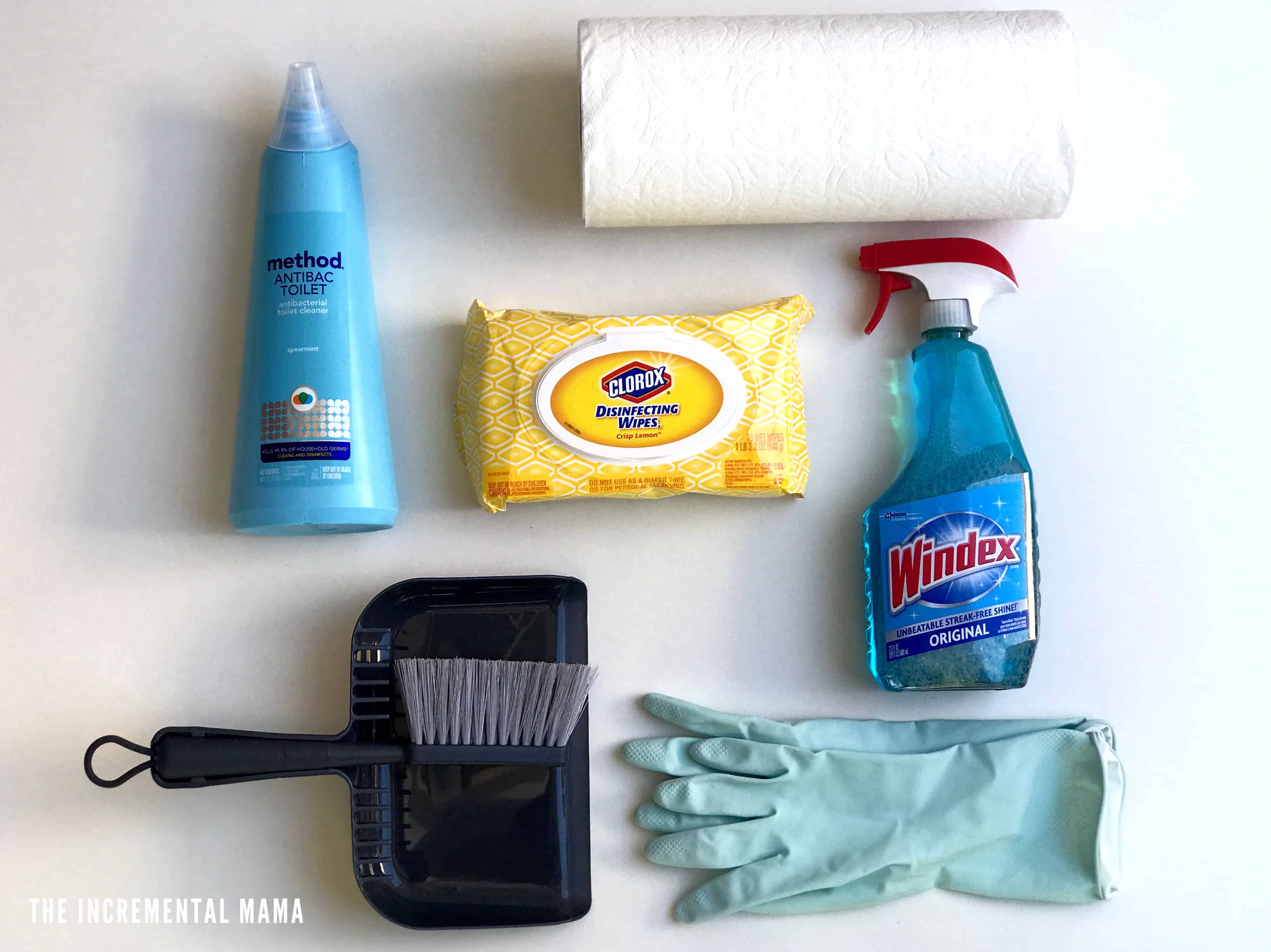 CREATING A BATHROOM CLEANING KIT FOR KIDS
Here's some ideas for what you'll want in your kit:
Bucket: To carry all the supplies. I find that for my kids, carrying a bucket is much easier than a caddy.
Surface cleaner (for sink, counter, and outside of toilet) – To avoid harsh cleaner and make it easy for my kids, I'm just having them use Clorox Wipes. I find that my kids are more comfortable with the ones that come in the package like baby wipes.
Toilet bowl cleaner: Since I don't want them using any nasty chemicals, I have my kids using Method Toilet Bowel Cleaner.
Tub/Shower cleaner: Presently, my kids are just using the Clorox Wipes to keep it simple. Once they're ready, we'll move to using a scrub brush and Mrs. Meyers Tub & Tile Cleaner

.

Window Cleaner: Included with a nice conversation about the appropriate ways to use cleaning sprays.
Paper Towels: to clean the mirrors.
Toilet Brush: Technically, this just lives under the sink and isn't in their cleaning bucket.
Broom: Depending on the mess, they can use a hand broom or this short broom.
Swifter Mop: So easy to use and the kids love to press the button. Anything to make cleaning fun!
Small Gloves: My kids love feeling like mad scientists. Plus, you know, it protects their hands from all kinds of nasty.
Bathroom Cleaning Checklist: Having clear instructions and expectations makes it easier for your kids to get the job done! You can download the one pictured at the bottom of the post.
If you have small children at home, be sure to keep the bathroom cleaning supplies out of reach from little hands. We keep ours under our kids' sink that has these cabinet locks on them.
BUY THE CLEANING SUPPLIES & GRAB A CLEANING CHECKLIST
And there you have it. So easy. Just buy/gather the supplies and stick them in an appropriate container. Don't forget to grab your free download of the bathroom cleaning checklist. And when you subscribe, you actually get free access to tons of other helpful printables in the resource library!
Let's go get some kids excited to clean.
You've got this!
YOU MAY ALSO LIKE:
Printable Bathroom Cleaning Checklist for Kids
Bedroom Cleaning Checklist For Kids
A Simple Cleaning Schedule You Can Stick to