If you're looking for a fun Thanksgiving activity the whole family can enjoy, you're gonna love this free printable Thanksgiving Bingo game.
Whether you're looking for a Turkey Day activity  to play after a delicious Thanksgiving dinner, or searching for a fun game or your class, scout troop, or youth group, this fun Thanksgiving game is sure to be a hit.
As this free printable Thanksgiving bingo game includes 24 different cards, it's perfect for a small group (like for a family activity) or large group (like for a Fall party in an elementary or preschool class).
Plus, it's a great game for young kids as it's super easy to play. 
You can grab the free download below!
RELATED: Free Printable Thanksgiving Planner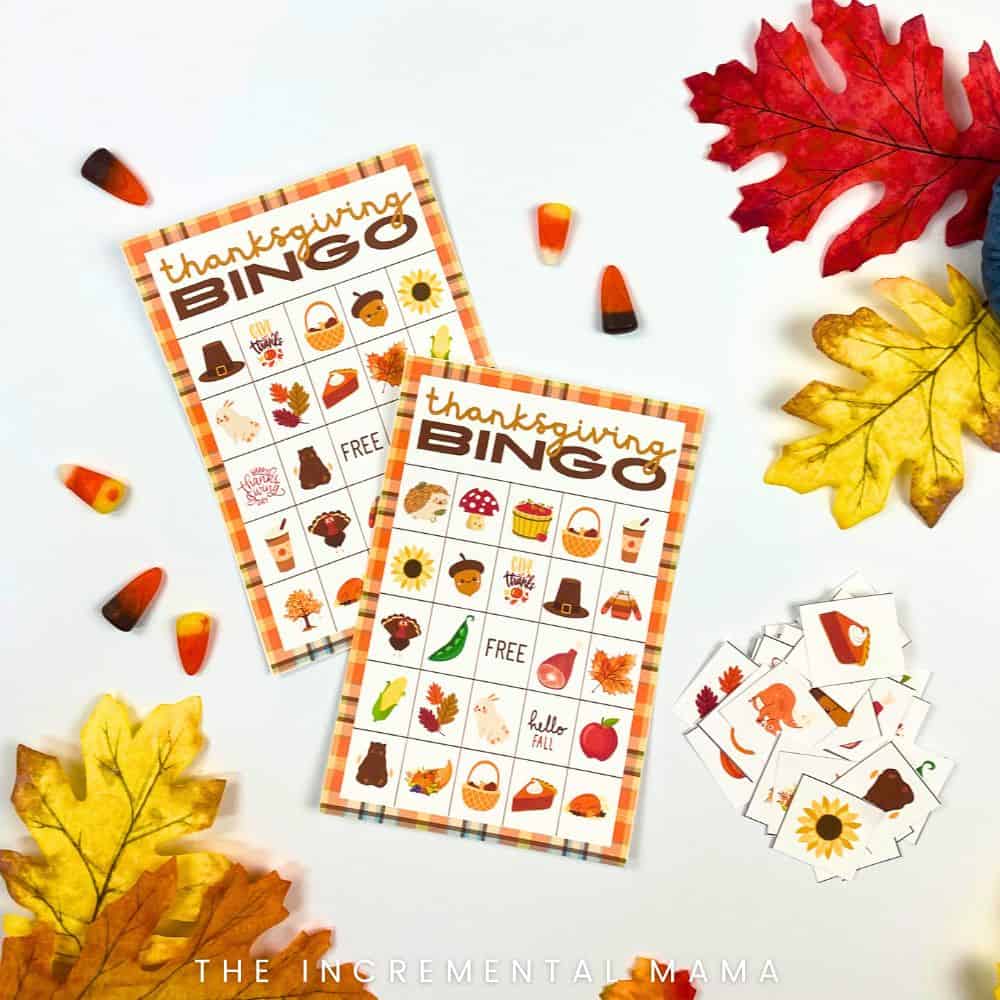 FREE PRINTABLE THANKSGIVING BINGO GAME WITH 24 CARDS
This fun thanksgiving bingo game download includes:
24 unique Thanksgiving Bingo boards (2 to a page)
28 Calling Cards
And you get the whole thing for free, baby!
By the way…in order to reduce stress for whatever event you're planning to play this littl ol' game of bingo, I highly recommend printing and preparing the game well in advance. If you're using all 24 unique cards and are cutting using scissors, the cutting can take a little bit. 
(I say this as one who has felt the stress of sitting in the back of a 1st grade classroom frantically cutting out paper as a hoard of squirrely 6-year-olds look on ready to play their game).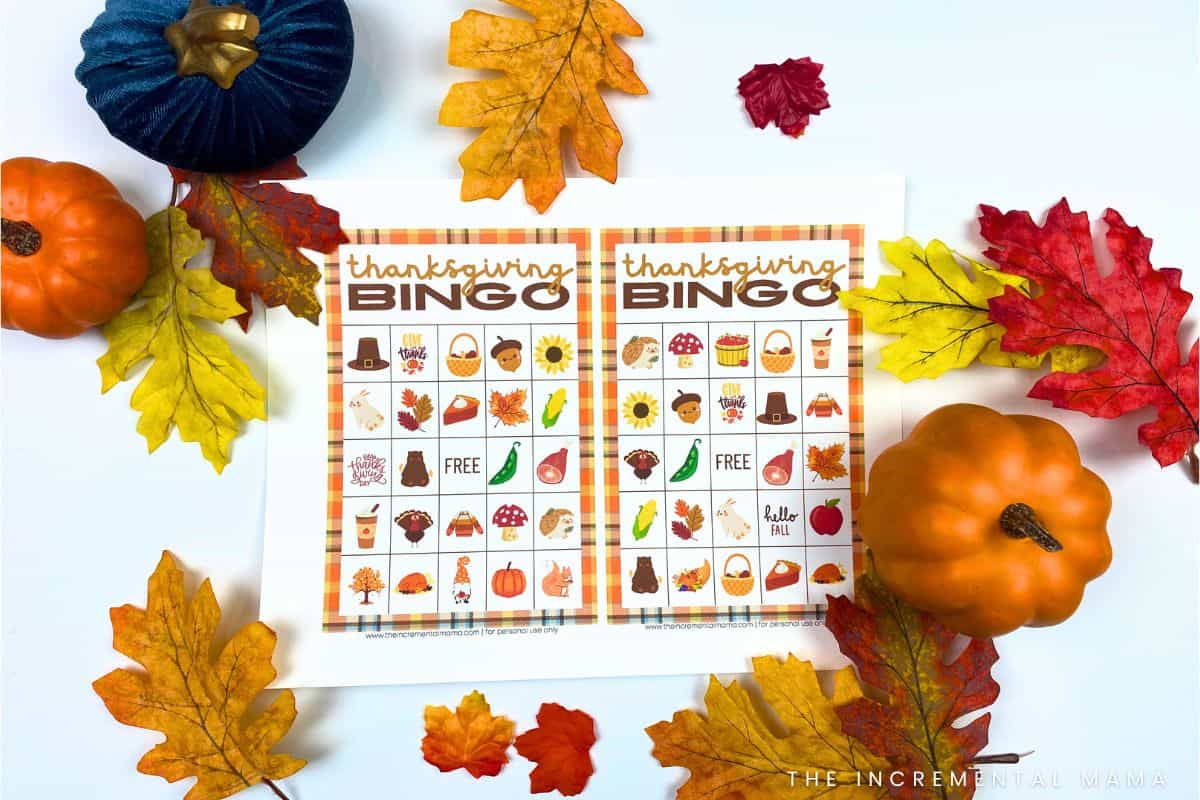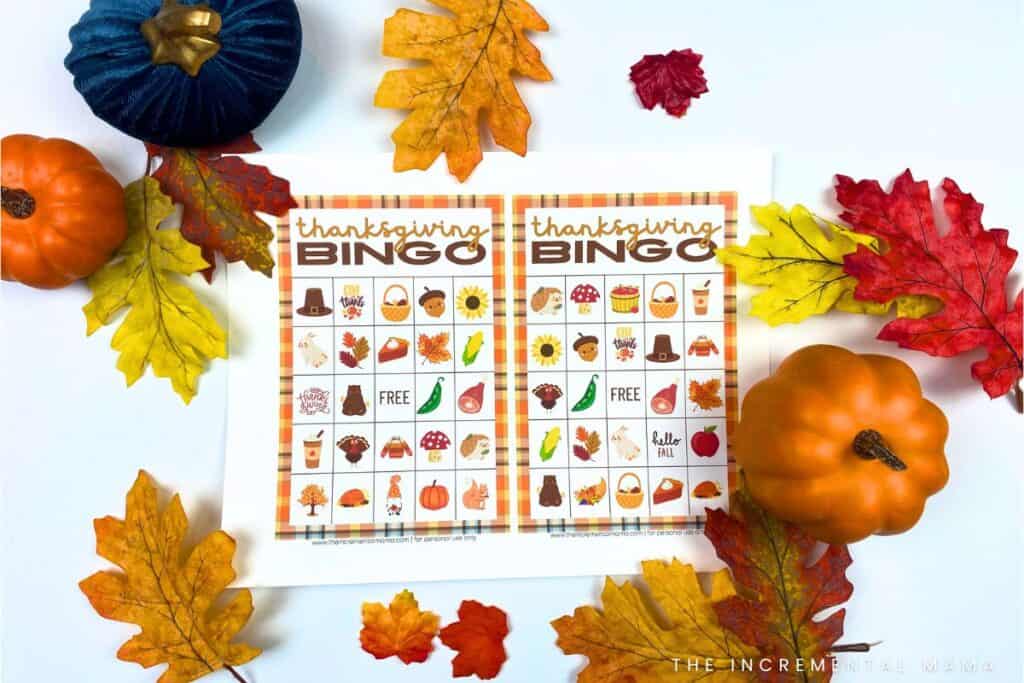 But before you download, here's exactly how I recommend you get ready to play Thanksgiving bingo:
1. GATHER SUPPLIES TO PRINT.
You will need:
White paper or heavy cardstock
A pair of scissors (or a paper trimmer if you want to go really fast and get really straight lines)
Winner prizes (ex. stickers, candy, cute erasers)
Bingo Chips of your choice
You can use whatever small items you'd like for the Thanksgiving Bingo markers. However, here's a few easy ideas:
Candy Corn
M&Ms
Hershey's kisses
Cut up construction paper into small squares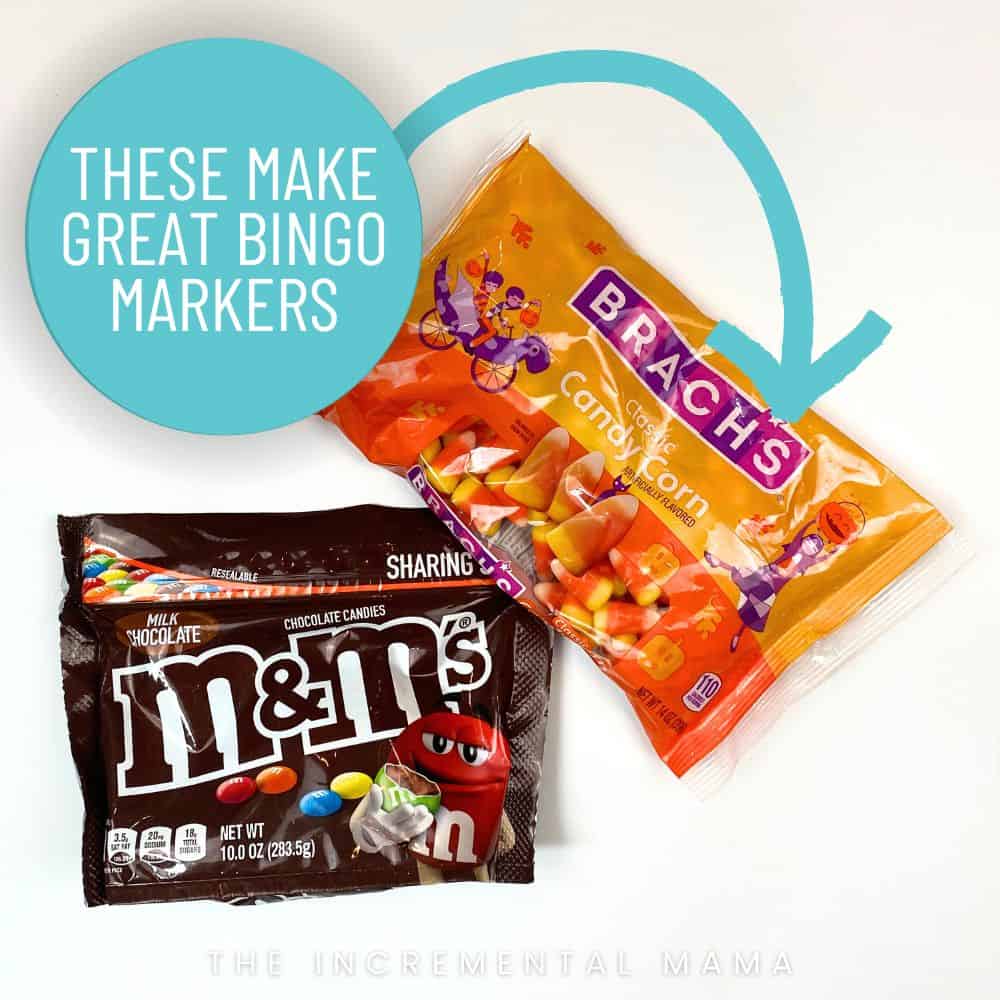 2. PRINT OUT BINGO BOARDS & BINGO CALLING CARDS
A few notes on printing:
I highly recommend printing these free printable bingo cards on cardstock. Especially if you plan to reuse year after year. Cardstock makes for a much more durable bingo cards
Additionally, select "Fit" as opposed to "actual" in your printing options panel. This ensures that your printer won't cut off part of the edges of the bingo cards and they can look like the pictured examples.
***Please note that this free printable Thanksgiving Bingo game template is for personal use only. ***
While you may print out as many copies as you need, do not share or distribute in any way. 
If you want to share with friends or family, please share the link to this blog post so they can get their own download.
3. CUT OUT THE FREE PRINTABLE HALLOWEEN BINGO CARDS AND CALLING CARDS
Once printed, cut out the bingo cards and the calling cards. Gather all the calling cards together in a bag or small bowl.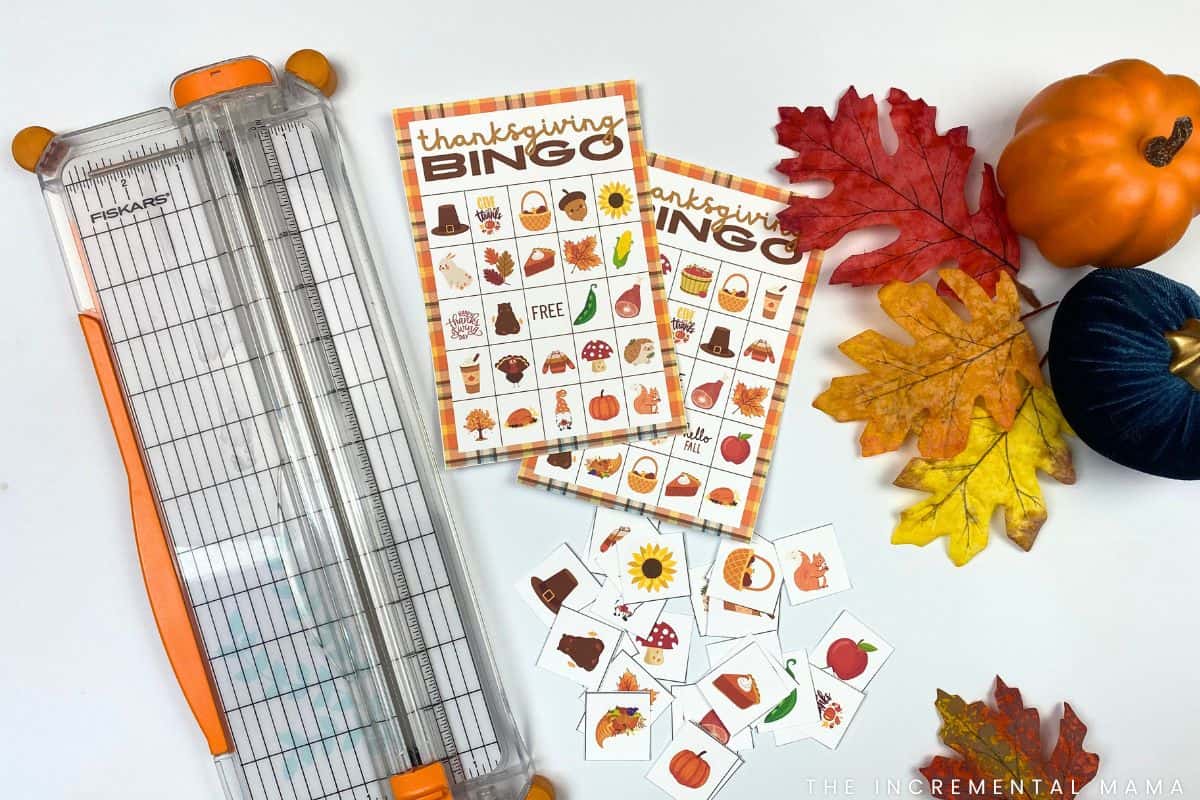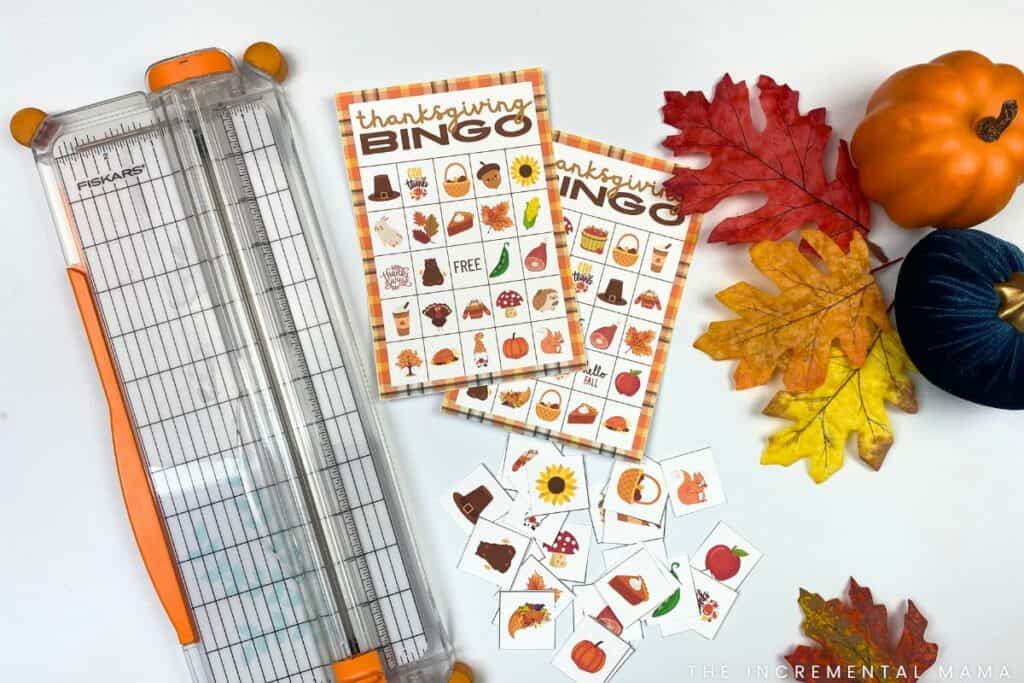 HOW TO PLAY THANKSGIVING BINGO
One of the great things about bingo is that not only is it fun, it's also super easy–even for little kids. And this Thanksgiving Bingo cards game is no different.
First, give every player their own bingo card
Then give every player a handful of bingo markers/candy. While each person needs a maximum of 25, if you've got kids who will snack on chips as they play, they'll need more.
Everyone can place a marker on the FREE space.
Gather all calling cards in a bowl.
Designate a bingo caller to select and call the different bingo cards
Randomly select a card and announce it to the group. Players with that image can place a marker on that picture on their board.
Repeat until someone gets 5 across.
Give winner a small prize
Keep on playing!
RELATED: Free Printable Halloween Bingo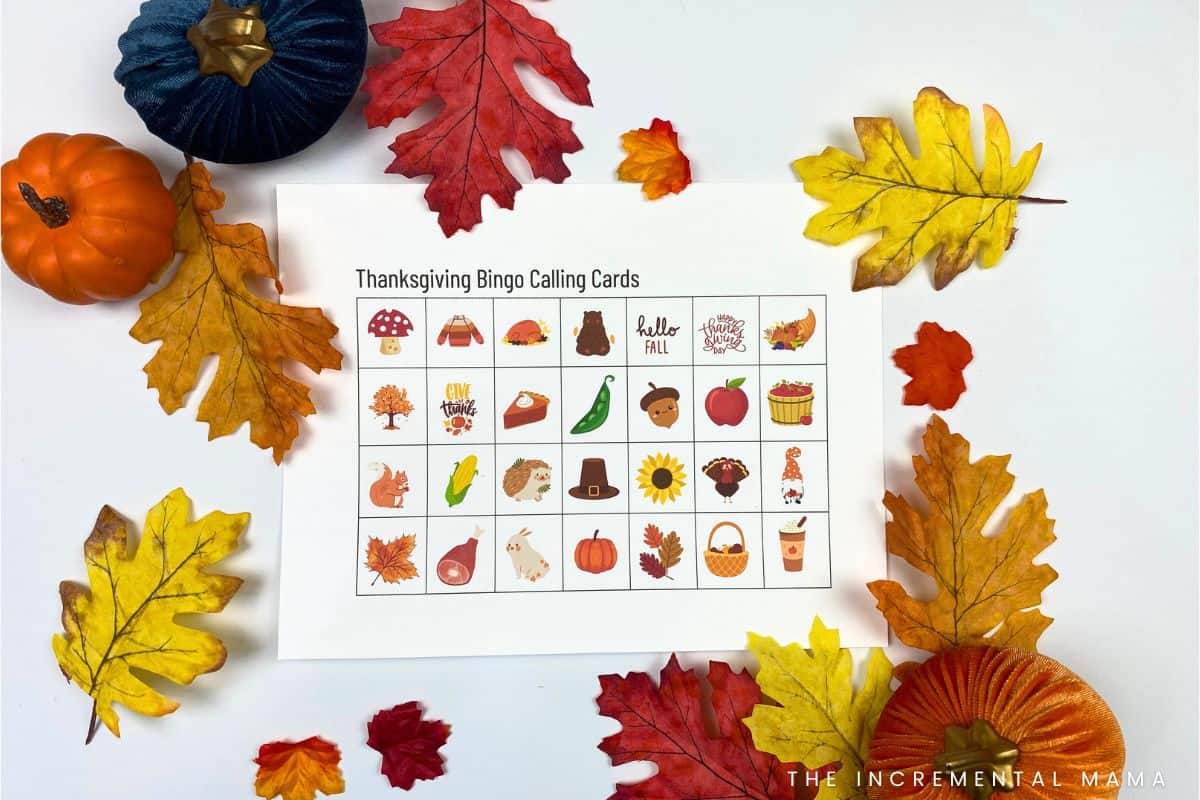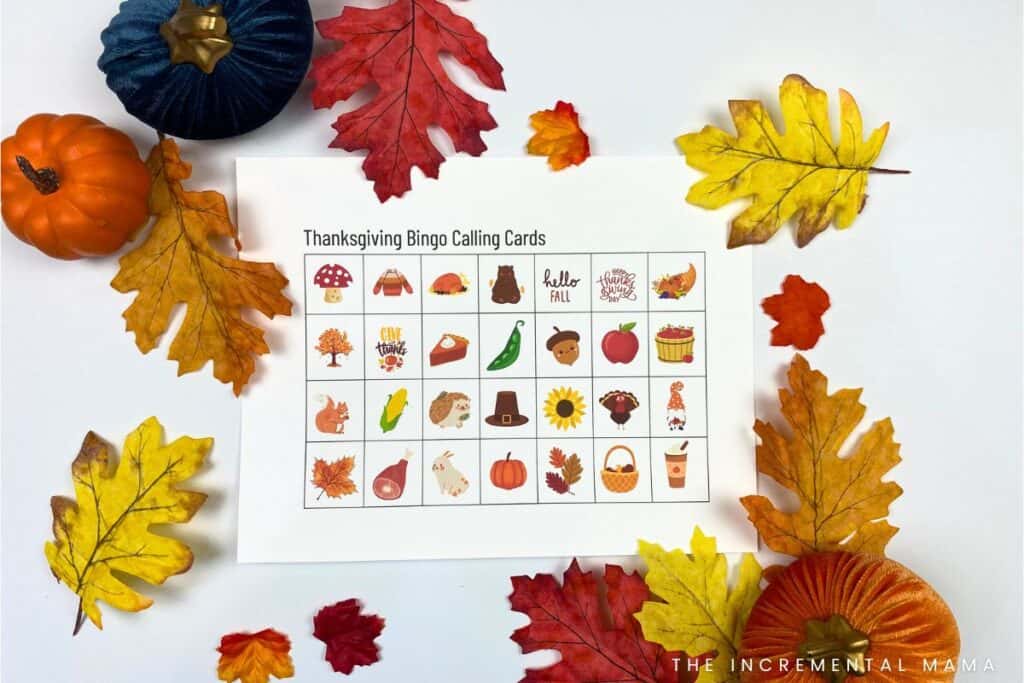 OTHER FREE THANKSGIVING PRINTABLES
You can grab the free printable bingo game below. But if you love free printables, you're in the right place! While my site is absolutely full of printables, below you'll find some great Thanksgiving printables you can check out:
Thanksgiving planner – This free printable includes everything you need to be ready to host Thanksgiving Day so you can enjoy loved ones without stress!
Thanksgiving coloring pages – Keep the kiddos busy on Thanksgiving with these fun Thanksgiving coloring pages. 
DOWNLOAD THE FREE PRINTABLE THANKSGIVING BINGO CARDS
Now you're totally ready to to download the 24 free thanksgiving bingo cards and calling cards. Click the link below to get the game sent straight to your inbox.
If you enjoy, share a link to this post on your social media so others can enjoy this as well!
Looking for more free printable games for the holiday season? Grab these fun bingo games!