*Note: This post was originally written at the start of lockdown 2020.
The world feels pretty crazy right now. And for many of us, our daily schedules are completely upended. Schools are closed, businesses are closed, and many of us find ourselves stuck at home amidst a wave of uncertainty.
But one of the best ways you can feel more in control and at more peace during this time is to create the right daily schedule for your family. Because when done right, routines and schedules can feel like a lifeline when you're drowning.
But the key here is THE RIGHT schedule.
Trying to keep the wrong schedule—especially one that's too rigid—will just make you feel like a failure. And the reality is that a lot of the schedules floating around right now aren't going to work for many of us.
I've seen brightly colored schedules making the rounds which at first glance, seem awesome. But for those of us who have to work from home or who don't feel up to playing the part of camp counselor, they can feel impossible.
In this post, you're going to to learn how to create a realistic schedule for your family. One that keeps you sane and helps you on the road to your goals.
(BTW, you'll find the link to the Microsoft Word daily schedule template at the bottom of this post)
Don't feel like reading? Just watch the video. Plus, I show you how to use the template.
DAILY SCHEDULES SHOULD GIVE US FREEDOM
Here's the way I see it: making a schedule is like creating the architecture of our day. Every day, we have this empty land (our time) that we can fill. We can wander aimlessly, or we can build something that helps us accomplish our goals and provides flexibility and comfort.
A great schedule is like building a comfortable house on that land. A house that gives protection and room to move.
On the other hand, scheduling every second is like building a tunnel through your day. You might be able to cover a lot of ground in that tunnel, but you might feel claustrophobic, limited, and a little insane.
Schedules can be so rigid and restrictive that they drive us crazy and set us up for failure. Or they can simply be too unrealistic. Creating a schedule is not a time to be super idealistic.
Remember…
Parenthood + rigid/unrealistic schedules = Locking yourself in the bathroom
So with all that in mind, I want to go through the steps to create a workable and realistic family schedule for you during this time.
HOW TO CREATE A DAILY FAMILY SCHEDULE WHEN YOU'RE COOPED UP AT HOME
Step 1: List all the things you want to fit in your day. This includes sleep!
This is just brainstorming, so write down everything you can think of. For example, this might include:
Meal prep
Meals
Sleep
Kid's activities
Exercise
Academic time
Self Care & relaxation (Super important right now. How can you show up for your kids, if you're not well?)
Cleaning & chores
Working from home
Relax with partner
Family time
Watching your favorite TV show
Don't judge yourself here. Just list the kinds of things that show up in your day.
RELATED: A Simple Cleaning Schedule You Can Stick to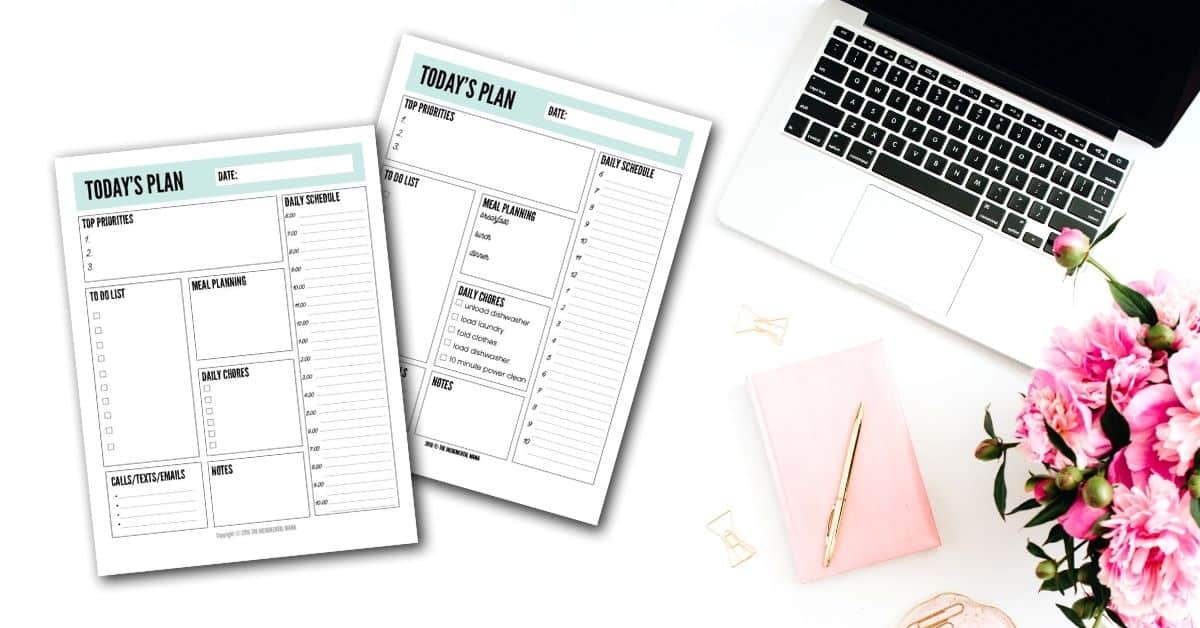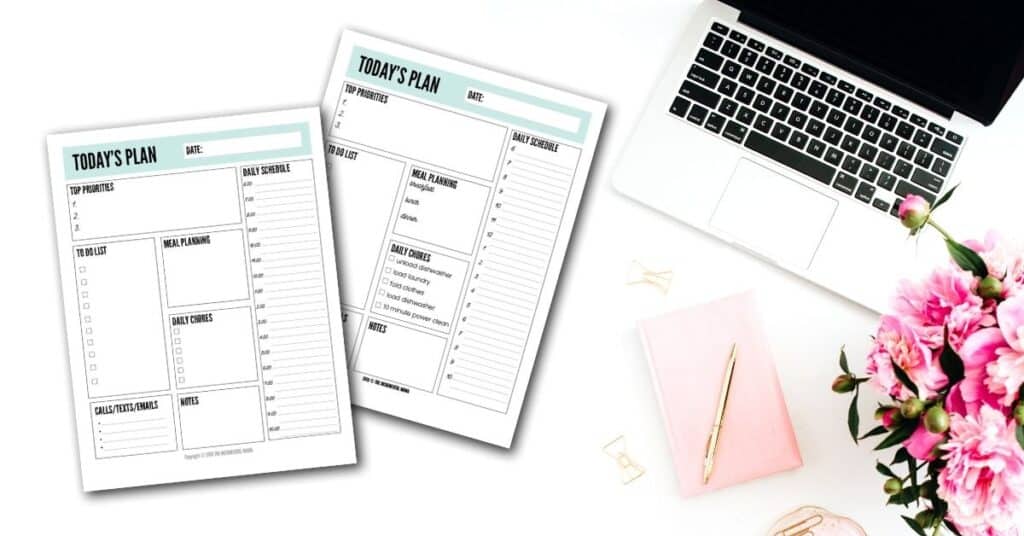 Step 2: Prioritize that list.
You can do anything…but you can't do everything.
Which is why you need to figure out what are the most important things on your list. Take a step back and think about what is most important to you. What tasks are going to ultimately impact your health and happiness?
And now, I know you're all thinking: of course, my kids are the most important. Time to jump into the role of camp counselor/home school extraordinaire.
Hold on. Putting your kids first DOES NOT mean a day full of reading, math, science, structured crafts, and learning about Michelangelo. I mean, if that gives you life, go for it.
But if you just started hyperventilating thinking about that, know that's definitely not necessary to actually put your kids first.
For me, putting my kids first means that I prioritize my self care and sleep. It's going on a morning run and taking care of myself physically and mentally so that I can show up for my kids in the right way. So I have the patience and energy to give them what they need.
It means giving them chores so they help out, learn responsibility, and know they're essential to our home. (At this moment, chores are more important than math.)
It's also making sure I fulfill my responsibilities in my work so that I can provide the income necessary to maintain our modest lifestyle. This also means lowering my expectations for what I can accomplish work wise. Because I want my office door to be open to my kids while I work (for the most part).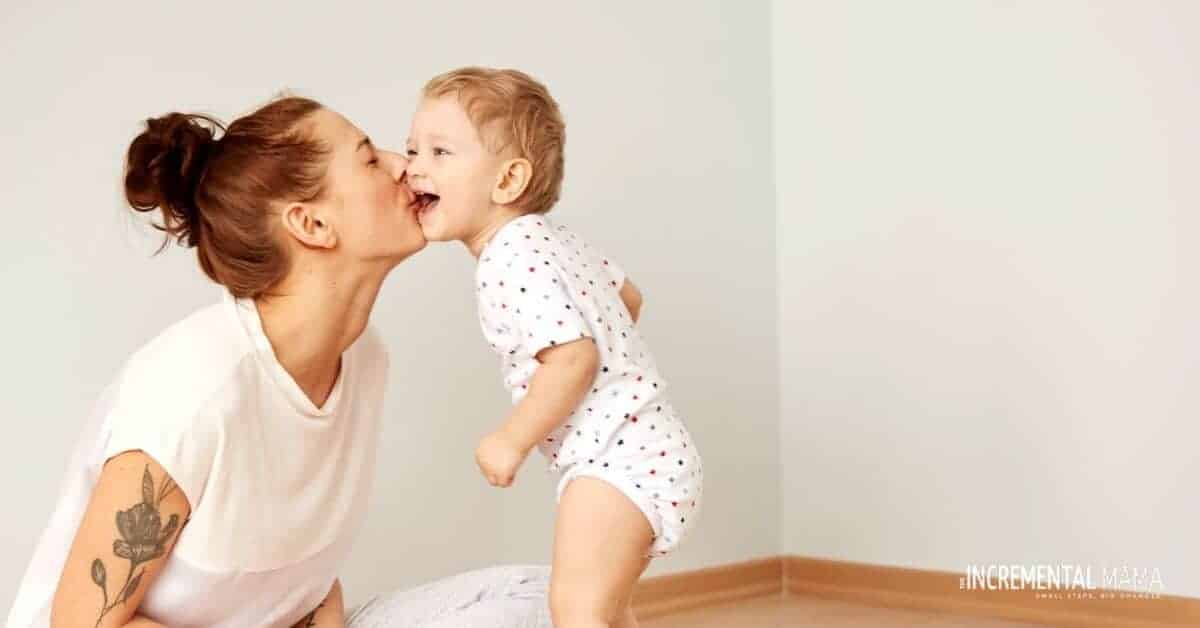 So as you prioritize, think about what's really important and the outcomes you want.
And something to remember: kids don't need everything scheduled. Yes, they need routines. But research shows that they NEED free play. Unstructured time with out any academic pressures.
Personally, we just bought a TON of legos and lego mats that are currently keep our kids occupied for hours. Here are some more awesome suggestions for toys and activities that provide kids unstructured free play.
RELATED: How to Keep Kids Busy so You Can Get Stuff Done
Step 3: Start scheduling the top priorities and INCLUDE buffer & downtime
Start working your most important tasks (ahem, sleep and self care) into your schedule and work your way through your list. And plan space between your tasks.
As a parent, you need buffers. Which is the number 1 reason restrictive schedules are recipes for disaster. Life happens.
I mean, as a parent, you have those moments where you announce that it's time to put on shoes and get in the car. And then it proceeds to take 45 minutes to actually get shoes on everyone and get bodies in the car.
Someone's gonna pee their pants, lose their shoes, or have a have an epic meltdown. This is just real life that doesn't always make its way onto Instagram. Your schedule should plan for that.
Step 4: Eliminate the unimportant
Now in this process, you may find that you realistically don't have room in your day to get everything done AND keep a buffer.
Resist the urge to cram and cut down the essentials in order to accommodate the unimportant. That's why you prioritized in step 2. So you make sure you do the most important and know what stuff can go by the wayside.
(At least for right now…)
Step 5: Create a schedule using the temple provided (Optional).
Personally, I love to create our schedules in Word, print them out, laminate, and post them where everyone can see. That way the schedule becomes routine.
To help you create your own schedule, I've created a little daily schedule template in Word that you are welcome to use and edit. The video at the top of this post explains how to edit the schedule to fit your needs.
Feel free to add or delete columns, merge cells, and use color fills to create a schedule that makes you happy.
You can download that file right here: Family Daily Schedule Template Docx
Here's how our schedule looks right bow: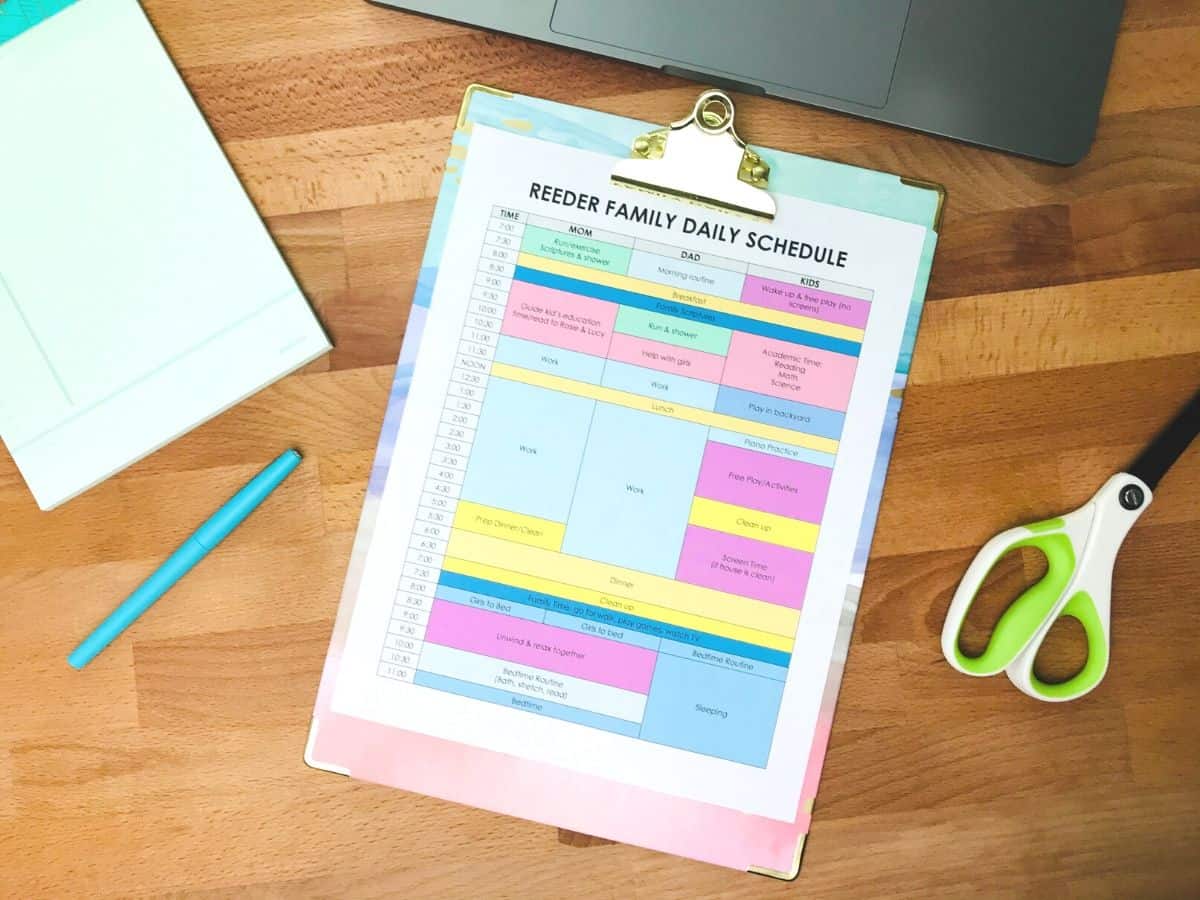 USE THE TEMPLATE TO CREATE YOUR OWN DAILY FAMILY SCHEDULE
As you create your family schedule, remember that the most important thing right now is your health and well being and that of your family. If the thought of trying to create structures homeschool environment stresses you out, don't do it.
The key is to find what worlds for you. If perfection is your standard, you'll just end up disappointed.
One of my favorite quotes is about writers block. But I swear it applies to life in general: " When faced with writer's block, lower your standards and keep going." (Sandra Tsing).
So lower your standards and prioritize what matters.
You're going to get through this.
YOU MAY ALSO LIKE…
A Realistic Cleaning Schedule You Can Stick to
10 Simple Habits to Keep Your House Clean
13 Ways to Get Kids Excited About Chores