Finding the right diaper bag can feel a bit like dating in order to find "the one". Which one will support you and your needs and stand by you through thick and thin?
Which one will be there for you when your toddler is having a complete meltdown and the baby just had a blow out while you're just trying to get groceries for the week?
Finding the right diaper bag can make life a whole lot easier.
And luckily for us, it's a whole lot easier to find the right diaper bag as a mom of a newborn and toddler than finding the right partner.
This guide reviews the 10 best diaper bags for a toddler and newborn making it much easier for your to find the right one for you.
RELATED: How to Get things Done with a Newborn and Toddler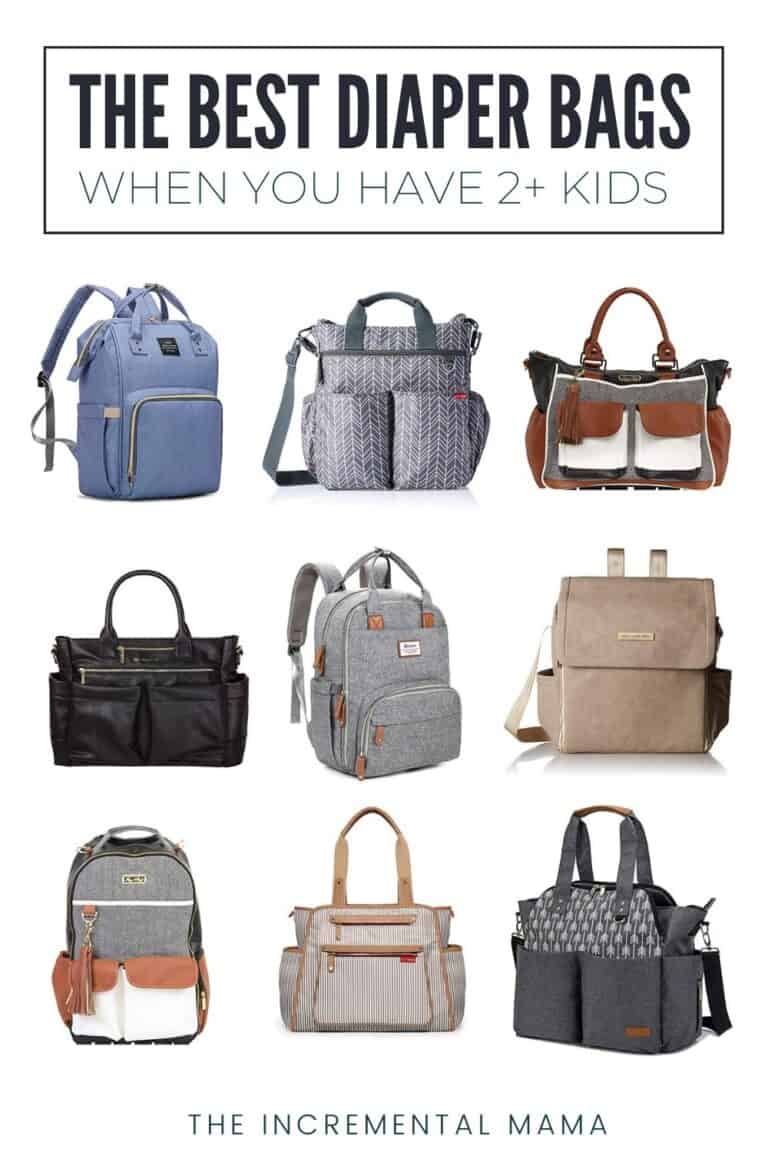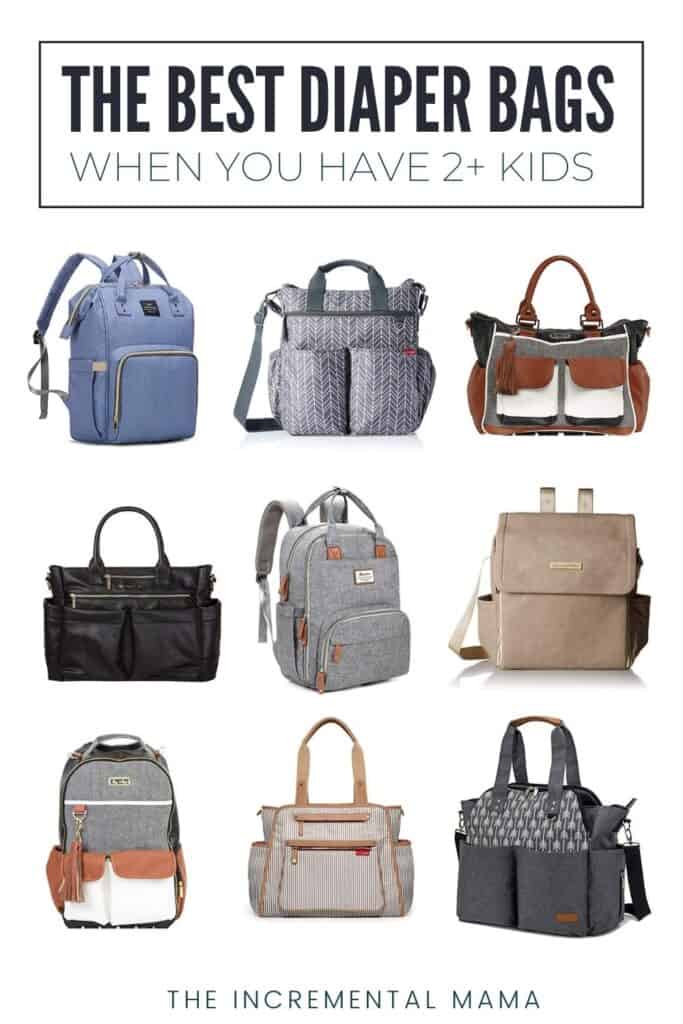 PICKING THE BEST DIAPER BAG FOR A TODDLER AND NEWBORN
First off, there's no one right diaper bag for everyone. While all 10 of the diaper bags listed here are solid choices, the best choice for you depends on your specific needs and lifestyle.
Questions to consider include:
Are you an overpacker or a minimalist?
What is more important to you: function or style?
What is your budget?
ARE YOU AN OVERPACKER OR A MINIMALIST?
When I had just one kid, I thought I had to keep everything in the diaper bag. If I wasn't ready to survive with my baby for 2 days on the contents of my diaper bag, I was failing.
But then I had 2 kids 14 months and under (followed by 3 kids 3 and under) and my tune changed pretty quickly. While some people want to be ready for famine and disaster, you really only need to have the following in your bag if you are out and about with a baby and a toddler:
2-3 diapers for the baby
One diaper for toddler (or change of underwear)
One pack of wipes
Hand sanitizer
Wet bag for blow-outs (can just be a gallon ziplock bag)
Spare outfit for bab
Bottle/water bottle
Your wallet, keys, and phone
Some optional stuff you might need:
1-2 small toys (or crayons)
Baby wrap/ baby carrier
spare pacifier
If you tend to just pack the essentials, most diaper bags will be roomy enough for you, even with multiple kids (I currently have 4 small kids and I just have a small backpack diaper bag).
However, if you need your diaper bag to carry a lot more than the essentials (e.g. you go for long outings), the roomier options might be right for you.
RELATED: How to Prepare Your Toddler For a New Baby
WHAT IS MORE IMPORTANT TO YOU: FUNCTION OR STYLE?
We live in a day and age when diaper bags are easily camouflaged as purses and stylish bags.
(What a glorious time to live!)
But deciding on which specific style will depend on how important both function and style are for you. Would you rather have a really fashionable bag that is slightly inconvenient or a super functional bag that isn't quite so chic?
Consider the following when picking the style of diaper bag that will work best for you:
Backpacks
With 2 arms free, these are super convenient for wrangling kids.
Plus, they can even be worn with a baby carrier in front.
Many diaper bag styles come with backpack straps as an option.
Often gender neutral styles so dads and grandpas don't mind wearing.
Tend to have amore casual look.
Hard to access items while worn.
Tote bags
The most "purse"-like of the diaper bag bunch.
Come in many stylish options
Usually quite feminine.
May be cumbersome when managing 2 kids and carrying for long periods.
Easy to access items.
Messenger Bags
Tend to be more gender neutral option.
Can be hands free.
Often come with a tote option.
Easy to access items
Might hurt back is worn for long periods.
WHAT IS YOUR BUDGET?
While every bag on this list is very highly-rated and seem to hold up well over time, generally speaking lower priced bags tend to be more susceptible to zipper malfunctions, seams coming undone, and other side effects of wear and tear on cheaper materials. And the companies may not be as responsive when there is an issue.
When you might want an inexpensive bag:
You're on a tight budget.
You're unsure of what style suits you best.
You like to change things up often/get tired of things quickly (this is me)
When you might want to invest more into your diaper bag
You want something guaranteed to last for years/has a good warranty.
You know the style will suit you for a long time.
You have the money available already.
THE 10 BEST DIAPER BAGS FOR TODDLER AND NEWBORN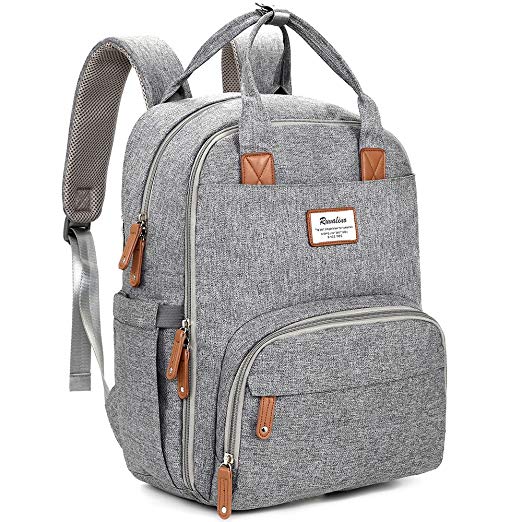 Why Parents Love it: This backpack is an incredible value for the price. With 2 large compartments, a changing pad, and 16 pockets (including 2 insulated pockets), this backpack will help you stay organized (and hands-free) with 2 little one.
Gender neutral color and styling makes is easy for both mom and dad to use. Plus 5 different color options.
To Consider: May not hold up as well as higher priced items.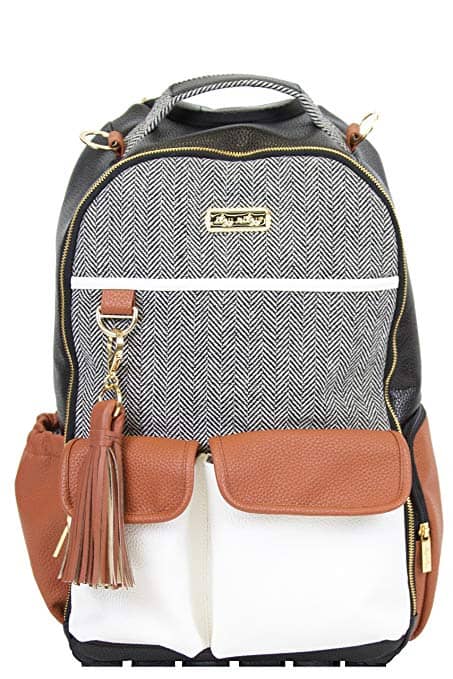 Itzy Ritzy Diaper Bag Backpack
Why Parents Love it: This bag is not only stylish, but super functional. This backpack has tons of space (17 pockets) to fit stuff of your toddler, baby, and have room for your things.
Also includes stroller straps, a changing pad, and insulated pockets. With a rubber bottom and a surface that wipes clean, it also is super easy to keep clean! Comes in 6 different color options.
To Consider: Pricey.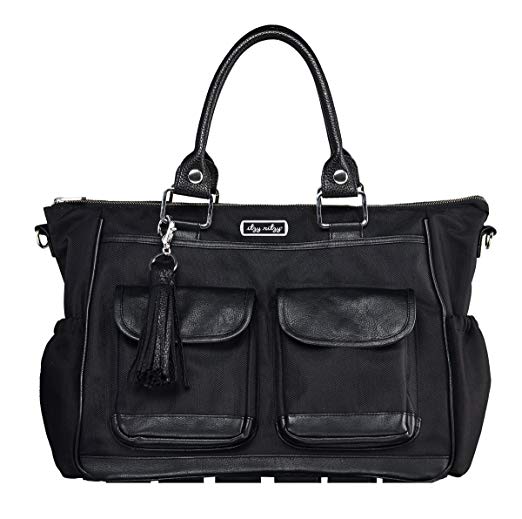 Itzy Ritzy Triple Threat Convertible Diaper Bag
Why Parents Love it: This bag converts between backpack, tote, and messenger bag (hence the name "triple threat"). With 13 pockets, stroller straps, a changing pad, insulated pockets, and a rubber bottom, this diaper bag proves to be incredibly functional as well as fashionable. It also comes in 4 different colors.
To Consider: On the pricier side, and some report the backpack straps feel awkward.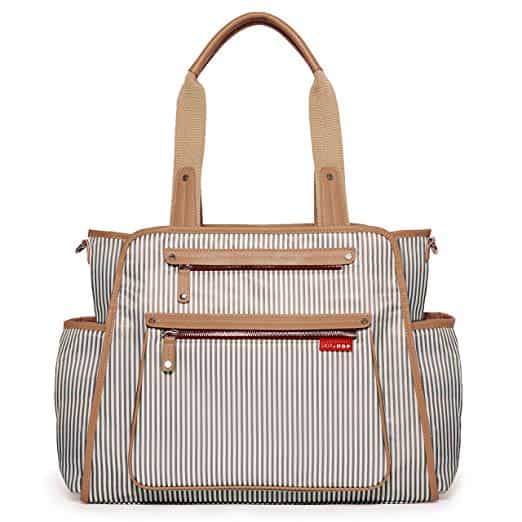 Why Parents Love it: This roomy bag is a favorite of moms with 2 or more kids. With 3 large divided sections, 11 pockets (including 2 insulated side pockets, a phone pocket, and sunglasses pocket), and a changing pad, this chic tote is great for holding stuff for mom and 2 kids.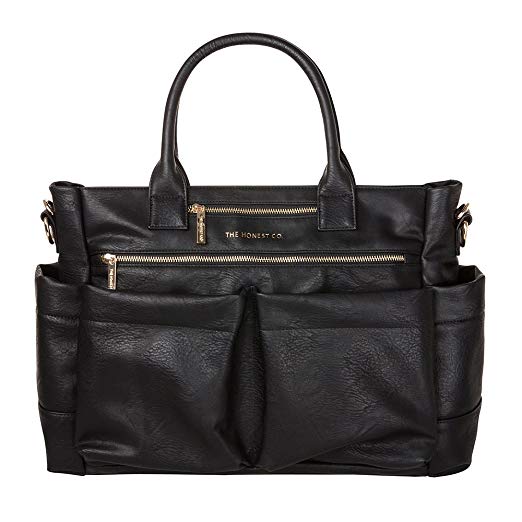 To Consider: As only a tote, carrying for long periods of time may be cumbersome for parents.

The Honest Company Everything Tote
Why Parents Love it: This sleek and spacious bag keeps things easily accessible with 7 exterior pockets. It also has 3 interior compartments, insulated pockets for bottles, a wet pocket (to throw in wet or soiled clothes), stroller straps and a changing pad.
To Consider: Because of the material, this bag runs a bit heavy.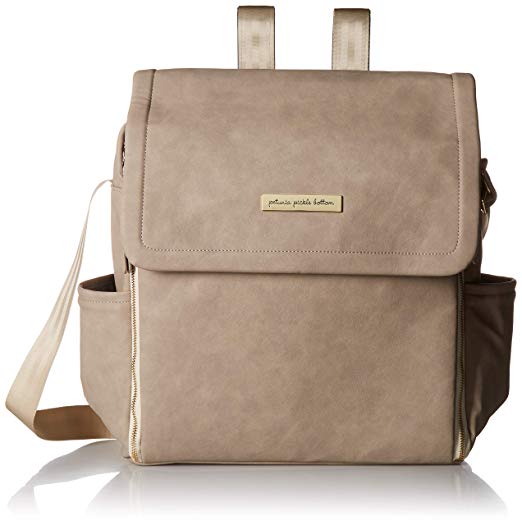 Petunia Pickle Bottom Boxy Backpack
Why Parents Love it: The Boxy Backpack is a solid choice for moms wanting a fashionable diaper bag that will last for years. While pricey, Petunia Pickle Bottom bags are top quality, functional, and easy to clean bags that will last for years.
Built-in changing pad station (with washable changing pad), hooks for stroller straps, and plenty of pockets!
To Consider: Pricey.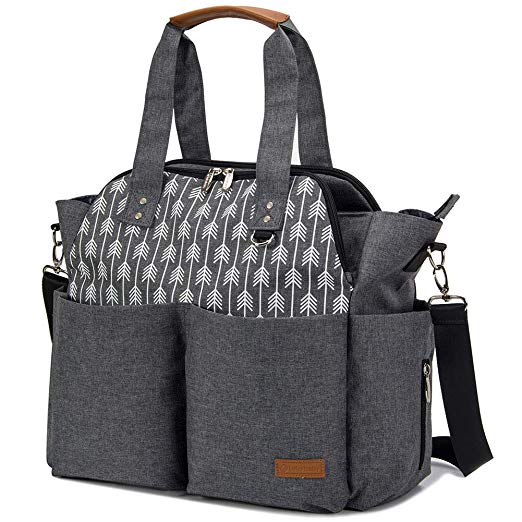 Lekebaby Diaper Bag Tote/Messenger Bag
Why Parents Love it: At under $40, this highly-rated diaper bag is a steal. This roomy bag has tons of pockets to stay organized and give you quick access to your stuff. Can carry as a tote or messenger bag.
To Consider: No backpack option.
Bag Nation Diaper Bag Backpack
Why Parents Love it: As one of the highest-rated diaper bags on Amazon, this diaper bag backpack is a great option for parents of 2 kids. It's not only well under $100, but it comes with a LIFETIME WARRANTY.
With 14 pockets, stroller straps, an insulated pocket, a changing pad, plus and extra sundry bag, this sturdy bag provides a lot of function. Plus, parents really love the outer wipes pocket making cleaning messes super convenient.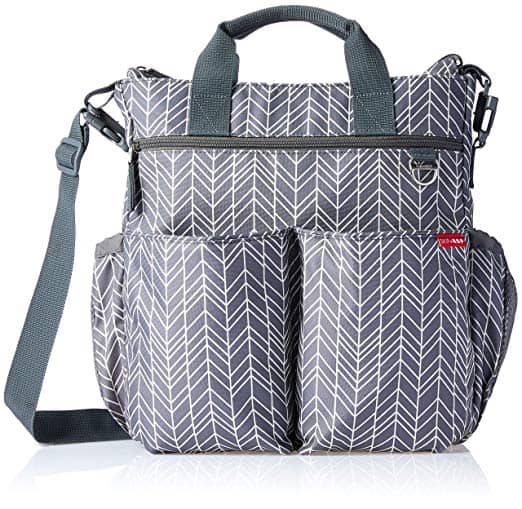 To Consider: While sturdy and functional, if you can about style it may not be your choice.

Skip Hop Messenger Diaper Bag with Matching Changing Pad
Why Parents Love it: Not only does this beloved bag come in 11 colors/patterns, but it's budget-friendly and functional. With tons of easily accessible pockets and stroller straps, this is a solid choice for parents.
To Consider: If you're a heavy packer, this one might feel small.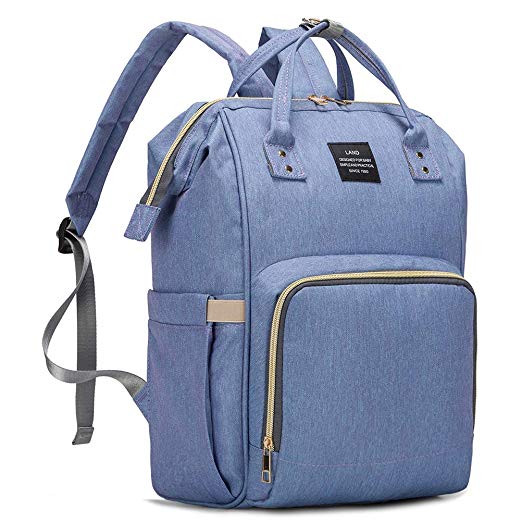 Why Parents Love it: This inexpensive back pack (priced under $40) not only gets sky-high reviews, but comes in 16 different colors and can fit a whole lot of stuff inside. With several pockets (including 3 interior insulated pockets) this is a great back for those wanting a big, functional bag, at a good price.
To Consider: At a lower price point, materials are on the cheap side. No stroller straps.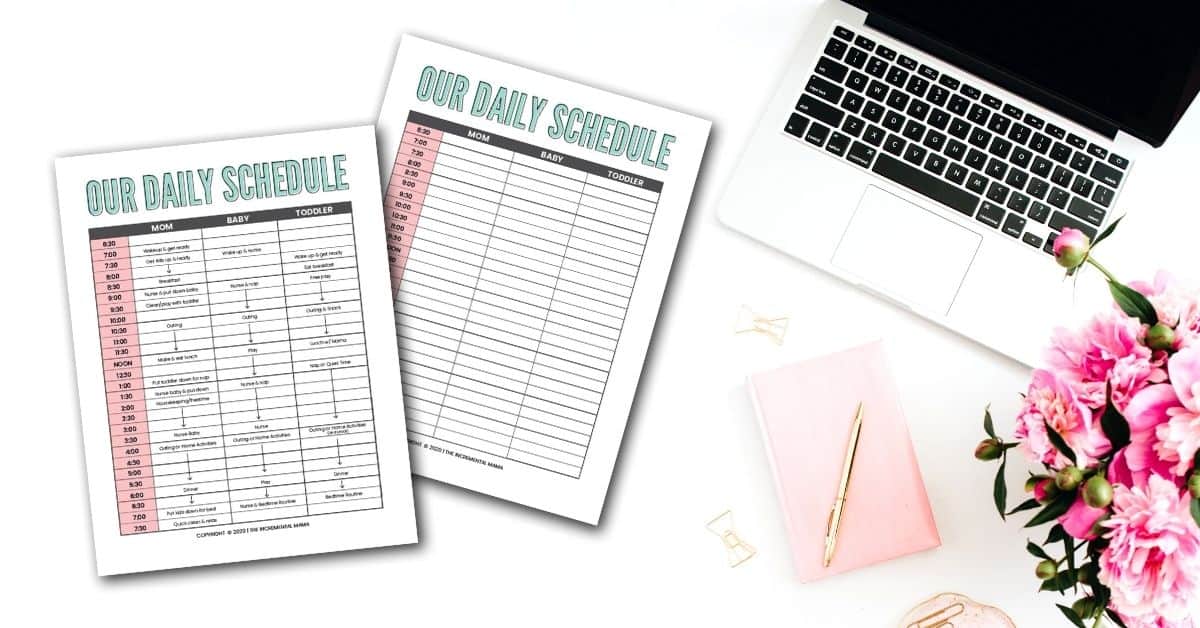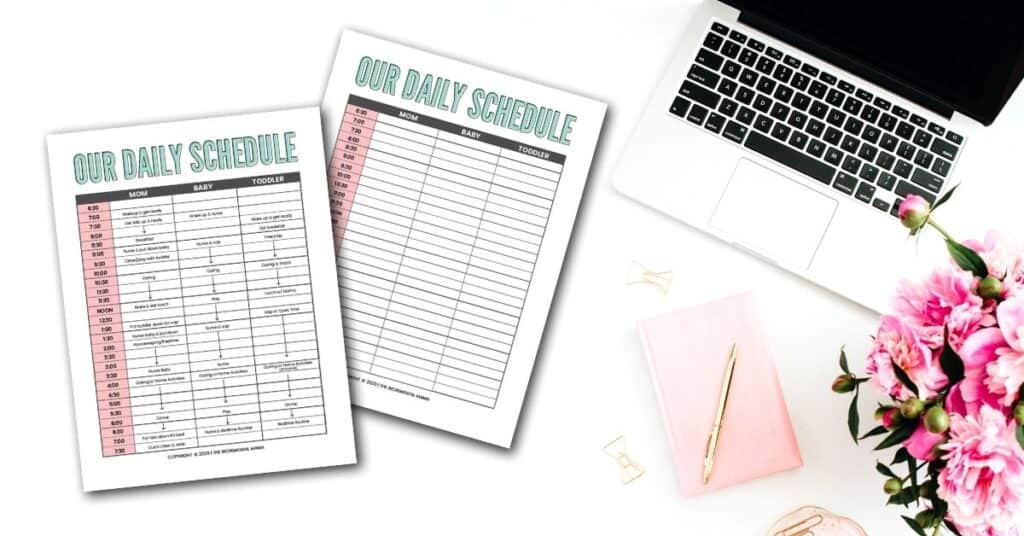 BUYING A DIAPER BAG FOR 2 KIDS
Well, there you have it! The 10 best diaper bag options for when you have a toddler and a baby. All with enough space for 2, stellar reviews, and all will a lot functionality for your busy life.
What is most important to you when looking at a diaper bag?
READY TO GET YOUR LIFE ORGANIZED?
The Organized Home Toolkit has everything you need to go from overwhelmed to crushing your day.
With hundreds of customizable printables and short instructional videos, the Toolkit is the resource library you need to quickly & easily organize your life and home.
…AND for less than a dinner out with the family!
Here's what Allison, a busy mom of 3 said about The Toolkit:
⭐⭐⭐⭐⭐
"This toolkit helped me go from drowning in housework and feeling unmotivated to feeling organized and like my life was more manageable in a week. I woke up to a plan, a schedule, routines and manageable expectations for my kids that helped combat the depression and burn-out I often feel as a mom. And I love the videos. I feel like it's 'Running a Home & Raising Kids 101' and it's the class I have needed for YEARS."
>>> Check out The Organized Home Toolkit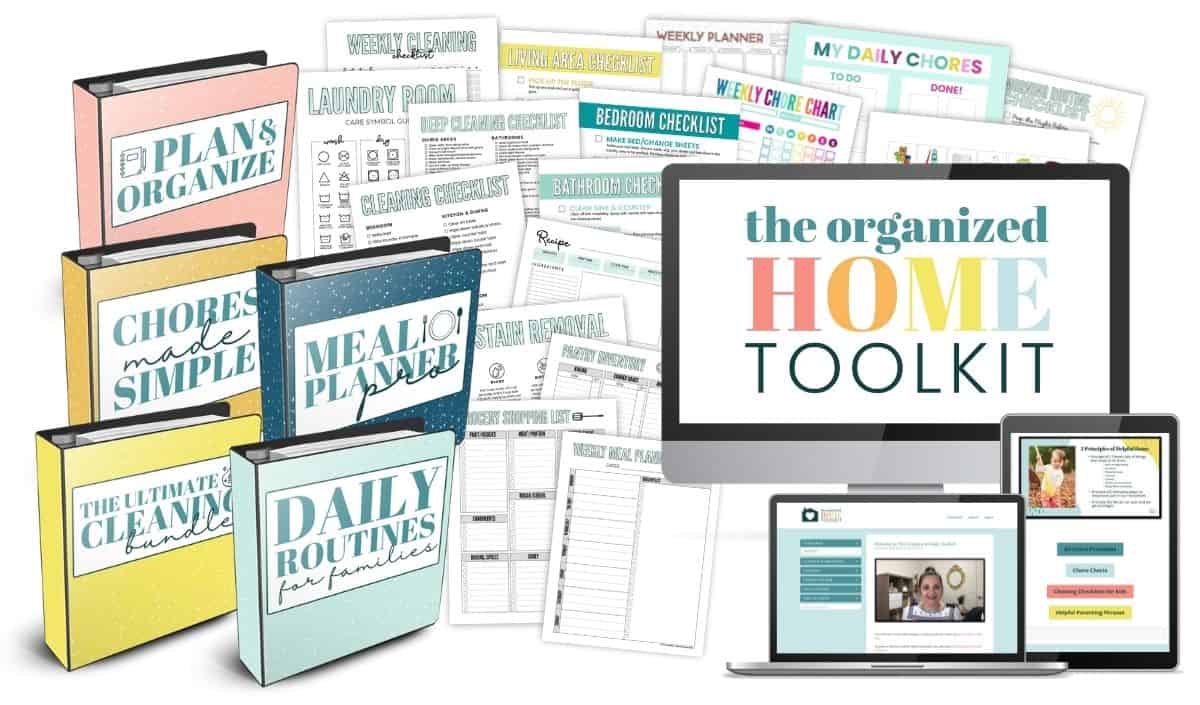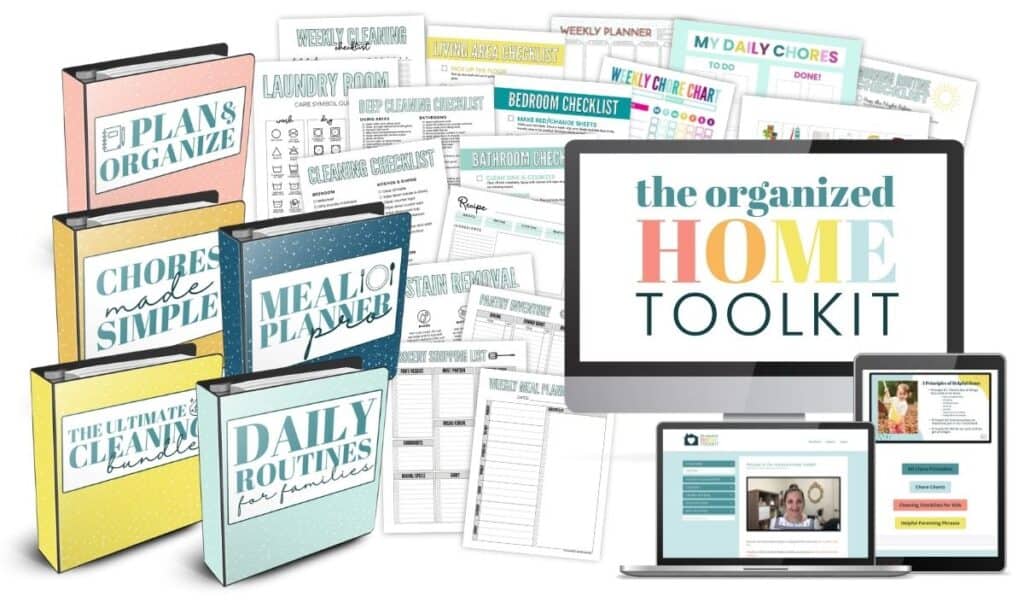 ADDITIONAL RESOURCES: