When it comes to planning, few calendar templates are quite as useful as a one-page calendar. Because you can see the whole year with one quick glance, making planning and scheduling a breeze.
And as someone who loves variety, I've created 9 different one-page calendar designs for 2023. So you can pick the one that works best with your style or decor. Or that just makes you happy!
And better still, you can grab these awesome printable calendar designs for free.
Each single page calendar template gives you the whole year on one page. The downloads are US letter size, in PDF format, and have a Sunday start.
These free printable pdf calendars are available for personal use below.
Want more free printable calendars? Check out all the calendar templates on this site.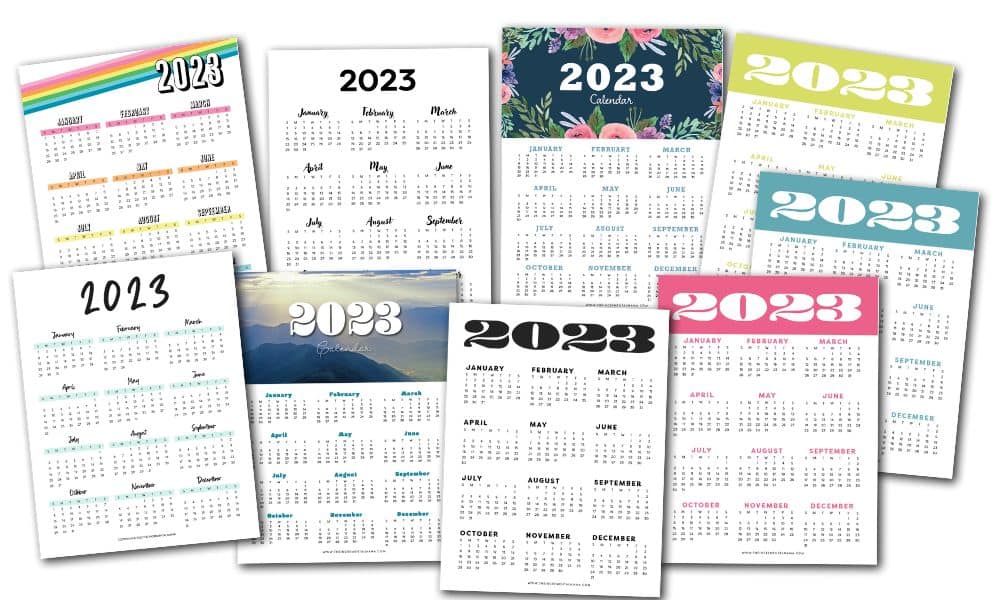 Benefits of One-Page Calendar Printable Templates
As the name suggests, a one-page yearly calendar is a condensed, easy-to-use tool that displays all the months of the year on a single page.
There are so many benefits to a one-page calendar which include:
1. Quick reference: A one-page yearly calendar allows you to quickly reference dates and plan ahead. You can easily see what day of the week a particular date falls on and plan your schedule accordingly.
2. Space-saving: Unlike traditional calendars that take up a lot of wall or desk space, a one-page yearly calendar can be easily pinned up on a bulletin board or tucked away in a planner or notebook, saving valuable space.
3. Portable: It's small and lightweight, making it easy to take with you on-the-go. You can keep one in your bag or backpack and refer to it whenever you need to schedule appointments or events.
4. Planning: A one-page annual calendar is useful for long-term planning, such as scheduling vacations, important deadlines, or special events.
5. Goal-setting: A one-page yearly calendar is great for setting goals and tracking progress. You can mark important milestones, deadlines, or accomplishments and track your progress over time.
Overall, a one-page yearly calendar is a versatile and practical tool that can help you stay organized, plan ahead, and achieve your goals.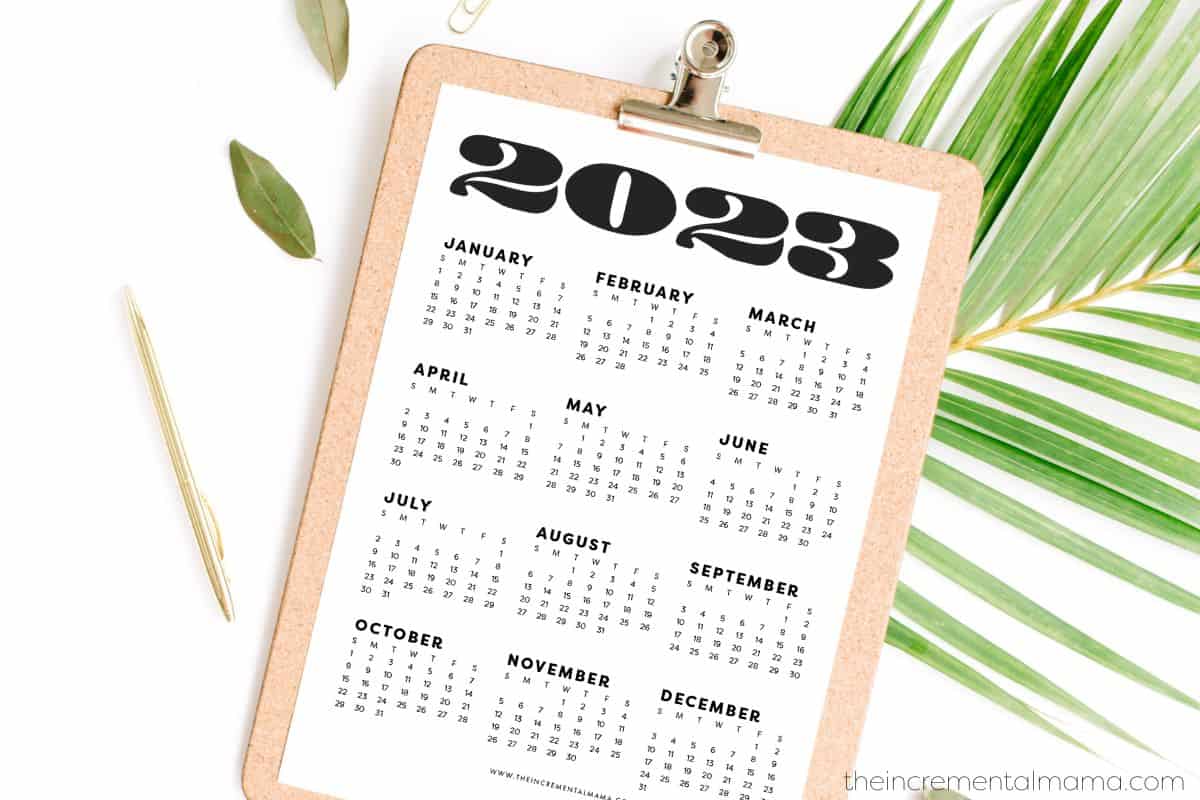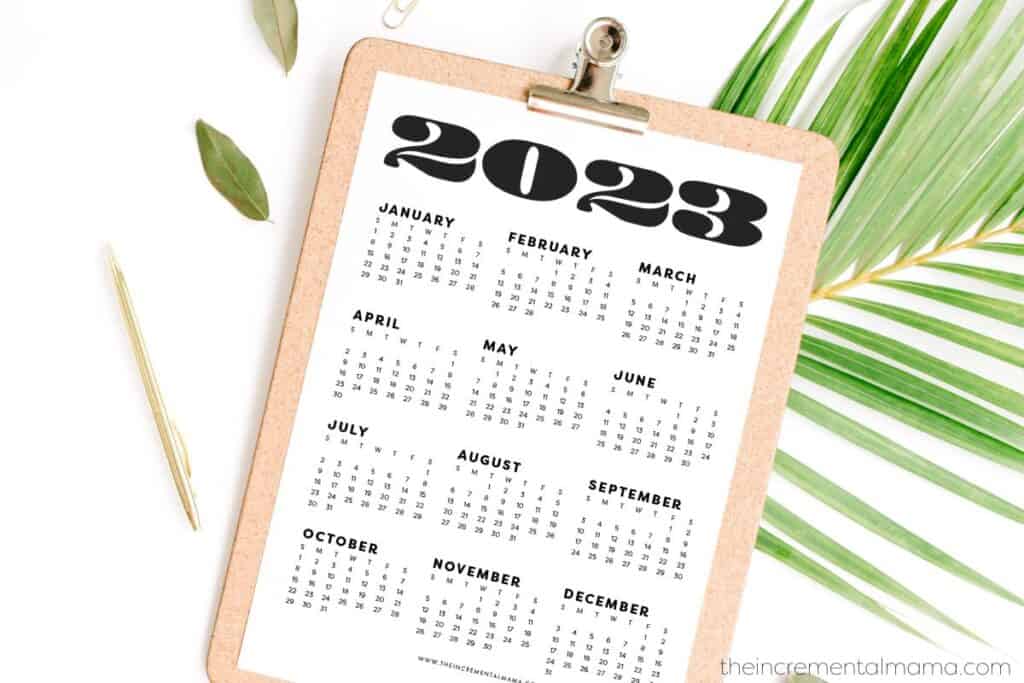 How to Use the 2023 One-Page Calendar
One-page yearly calendars are really useful tools to stay organized because you can see the whole year with one glance. Here are a few ideas for how you can use this 2023 calendar printable.
Post on bulletin board
Place in school binder
Use in planning binder
Post on the fridge
Use it as habit tracker (don't break the chain)
Track holidays or birthdays
Circle bill due dates
I personally have one up in my home office and use it as a quick date check for the year while I'm working.
One of my kids has the rainbow design below in her bedroom and she likes to cross off each day in the year. She likes to count down to the end of the school year, summer vacation, Christmas etc.
Free Printable 2023 One-Page Calendar
There are 9 different designs of 2023 yearly calendar to choose from below. To download, simply click the image of the calendar you'd like to download and the PDF will automatically download to your device.
Note that these calendars are for personal use only. To share, please share the link to this page.
1. Bold one-page calendar template
This classic one-page template is simple and perfect for a professional setting.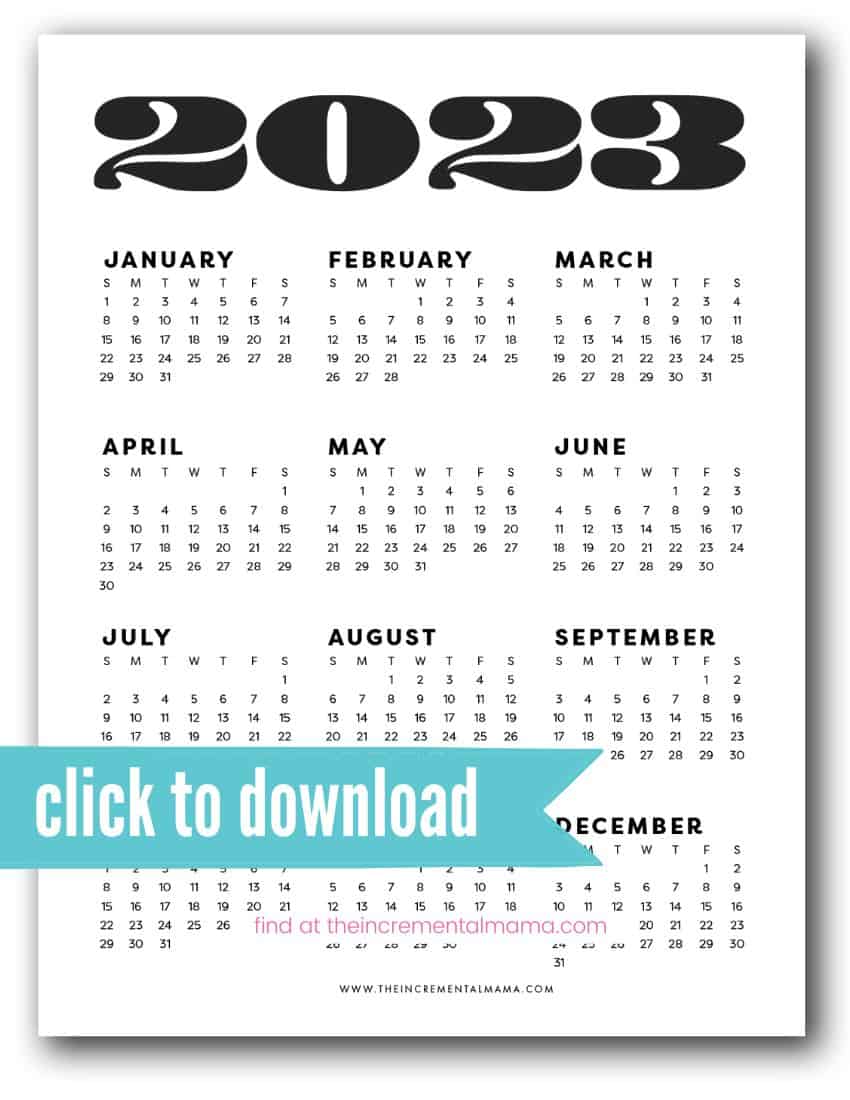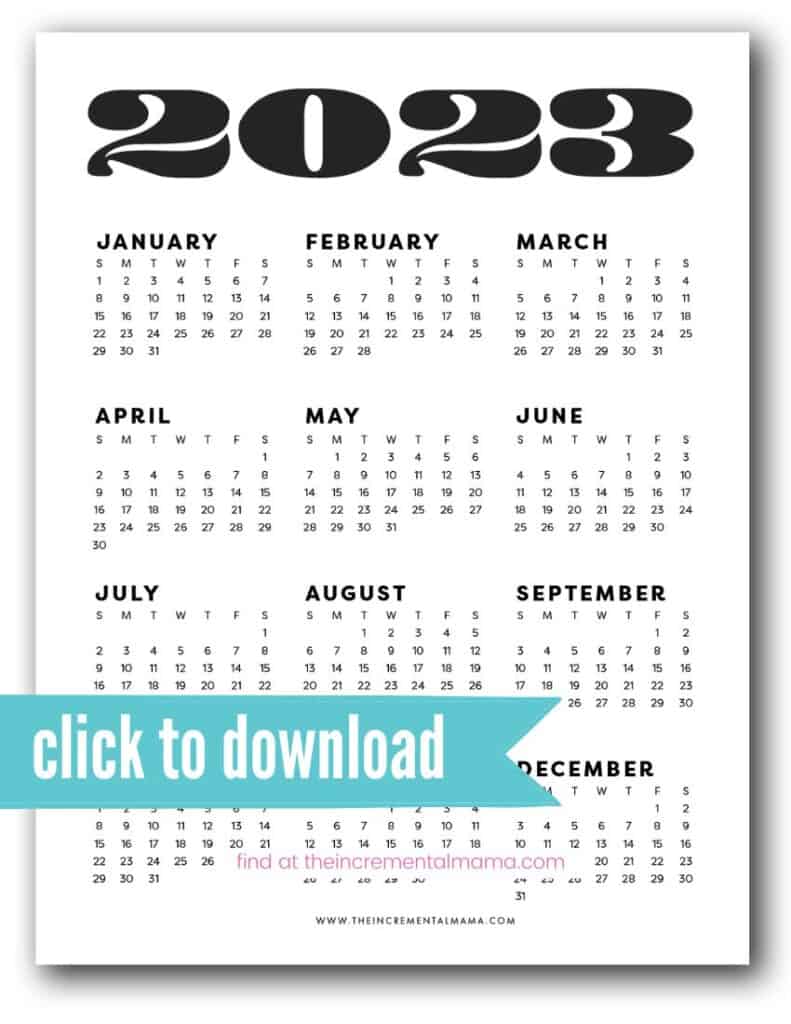 2. Floral yearly calendar PDF
If you're looking for something pretty and feminine (and don't mind using up some printer ink) then this pretty floral calendar template design is a great option.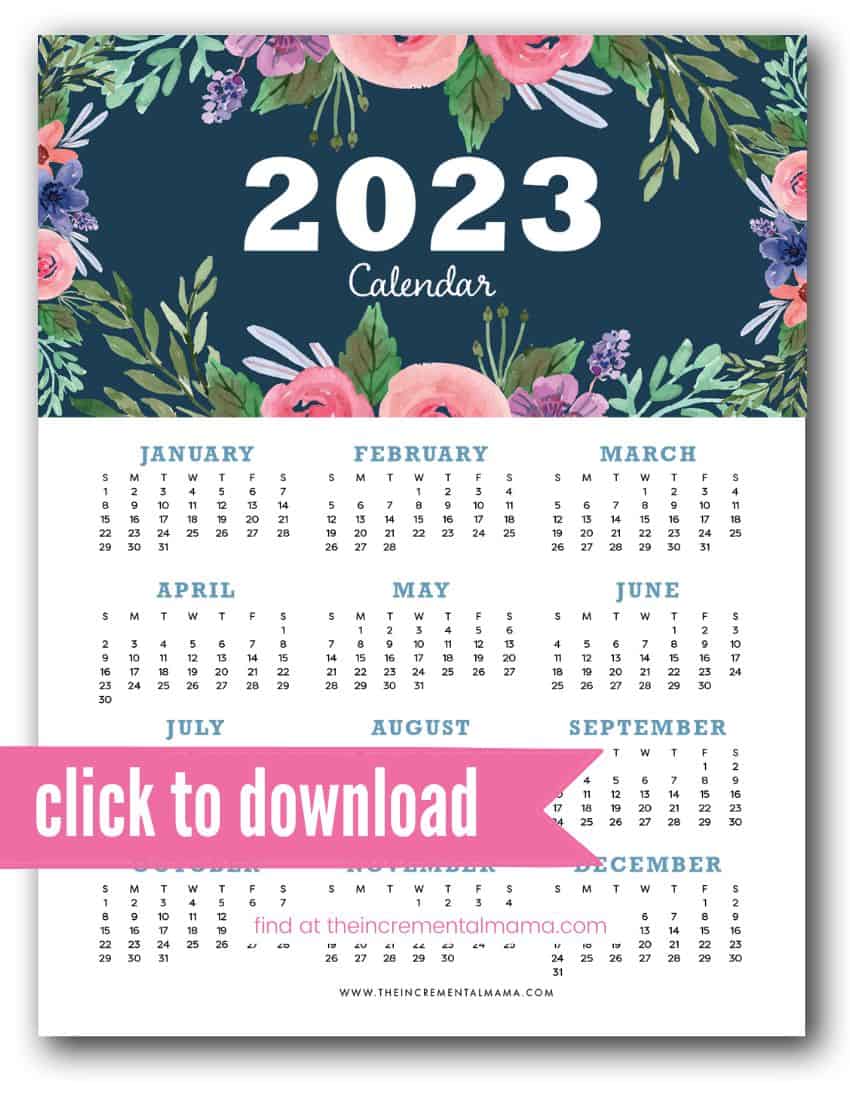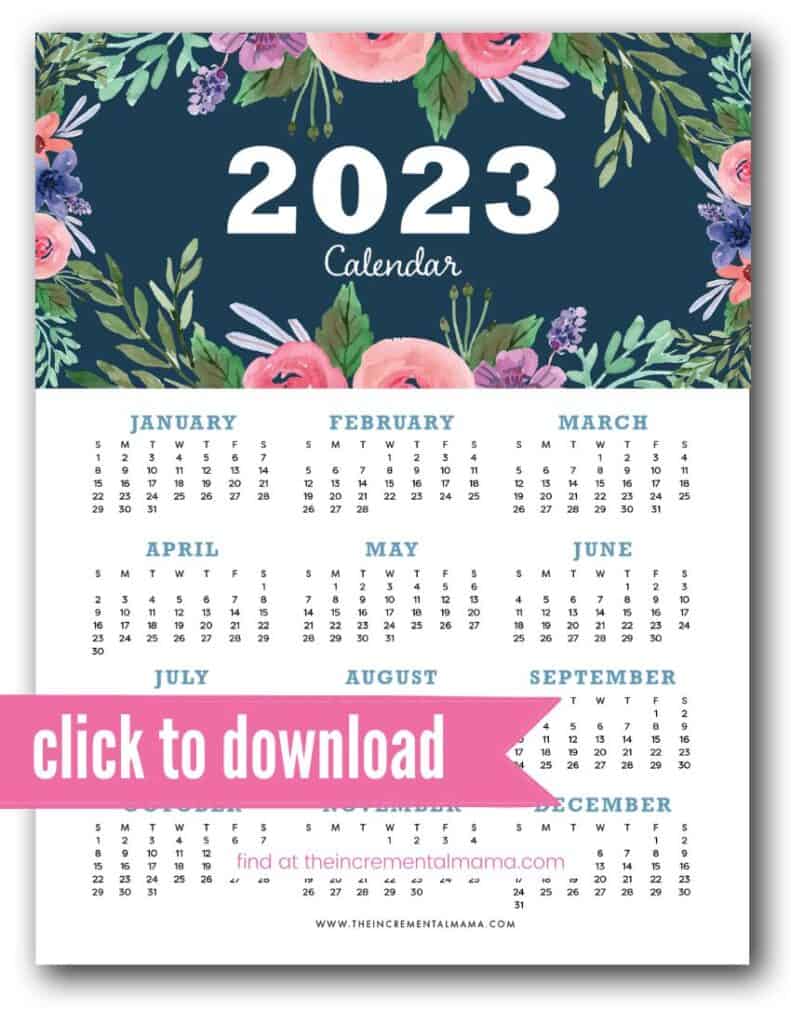 3. Rainbow one-page calendar
This colorful rainbow calendar is, hands down, my favorite one-page calendar. And it's sure to brighten your office or cork board while also helping you plan.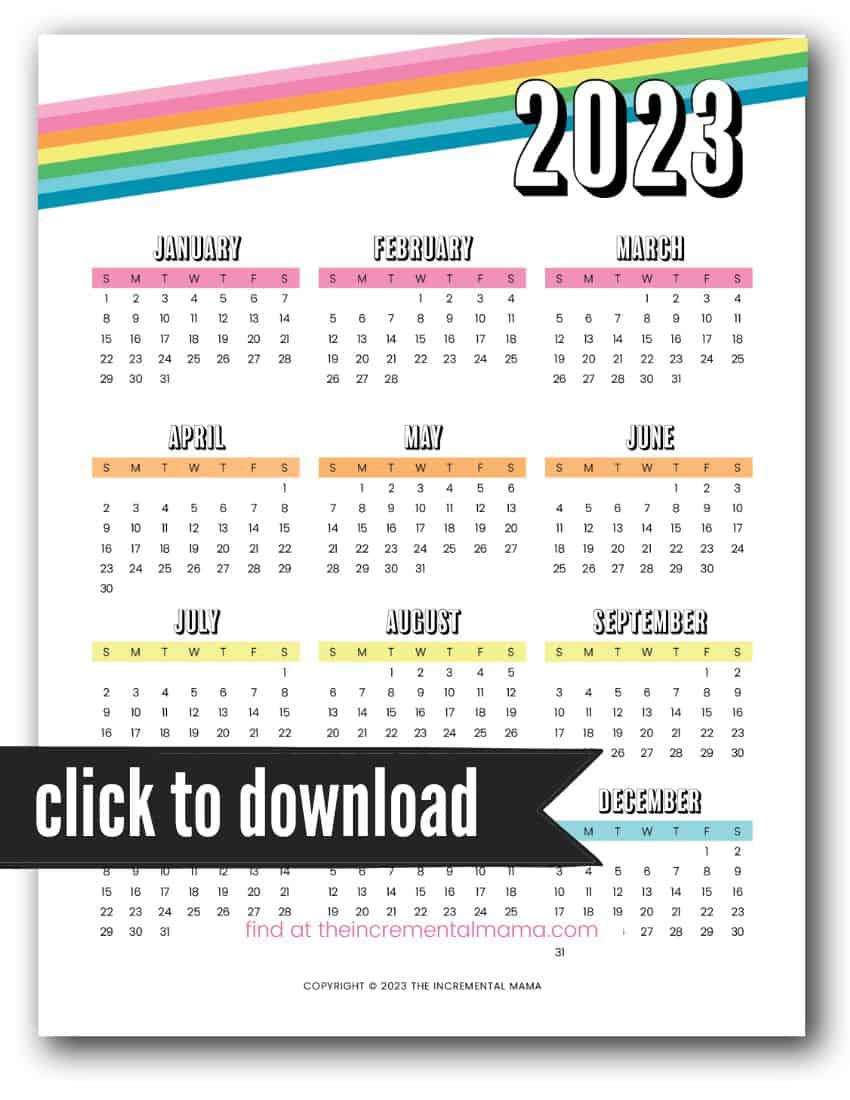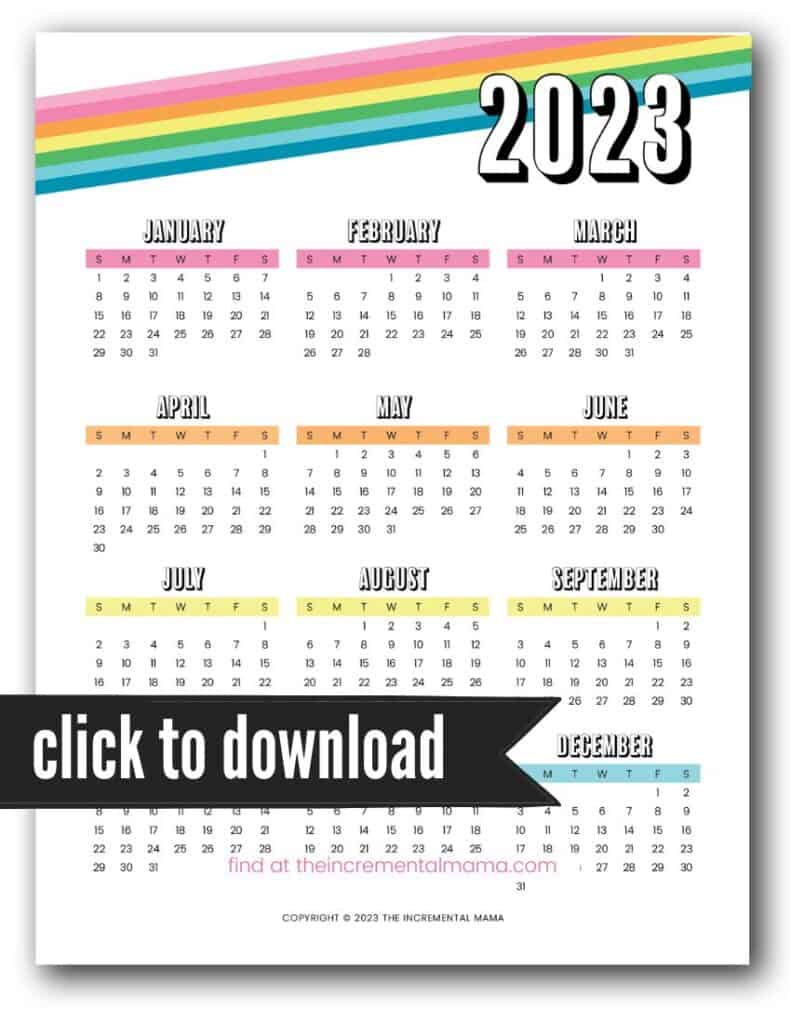 4. Blue 2023 Single Page Calendar
This simple one-page calendar is similar to calendar #1, but has the pop of blue color. The next 2 calendars have the same design in both pink and yellow.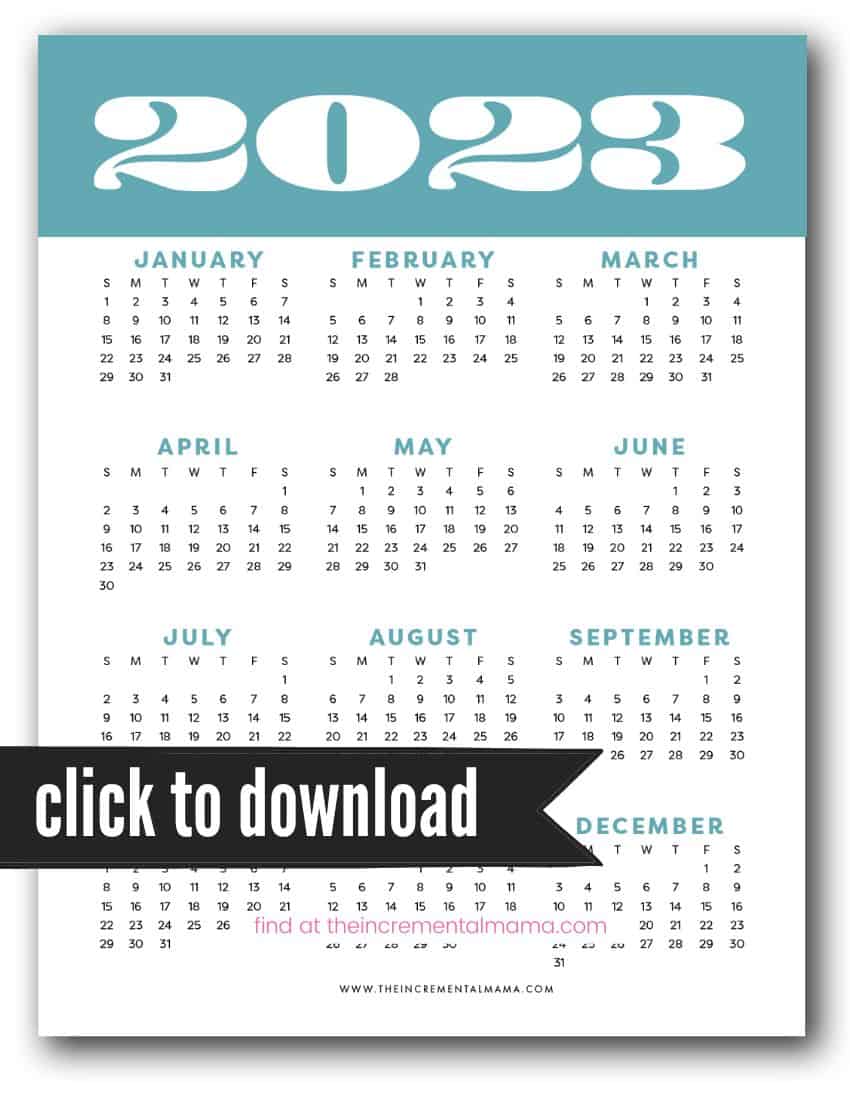 5. Pink 2023 Yearly Calendar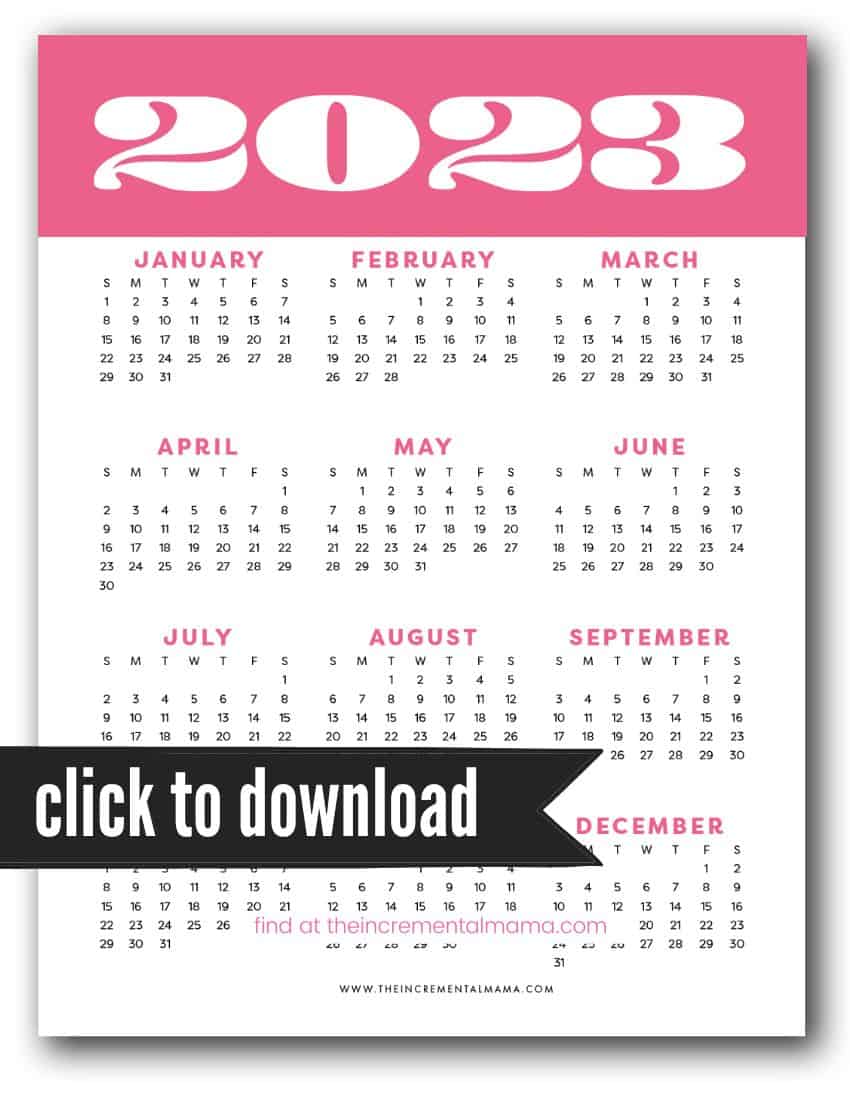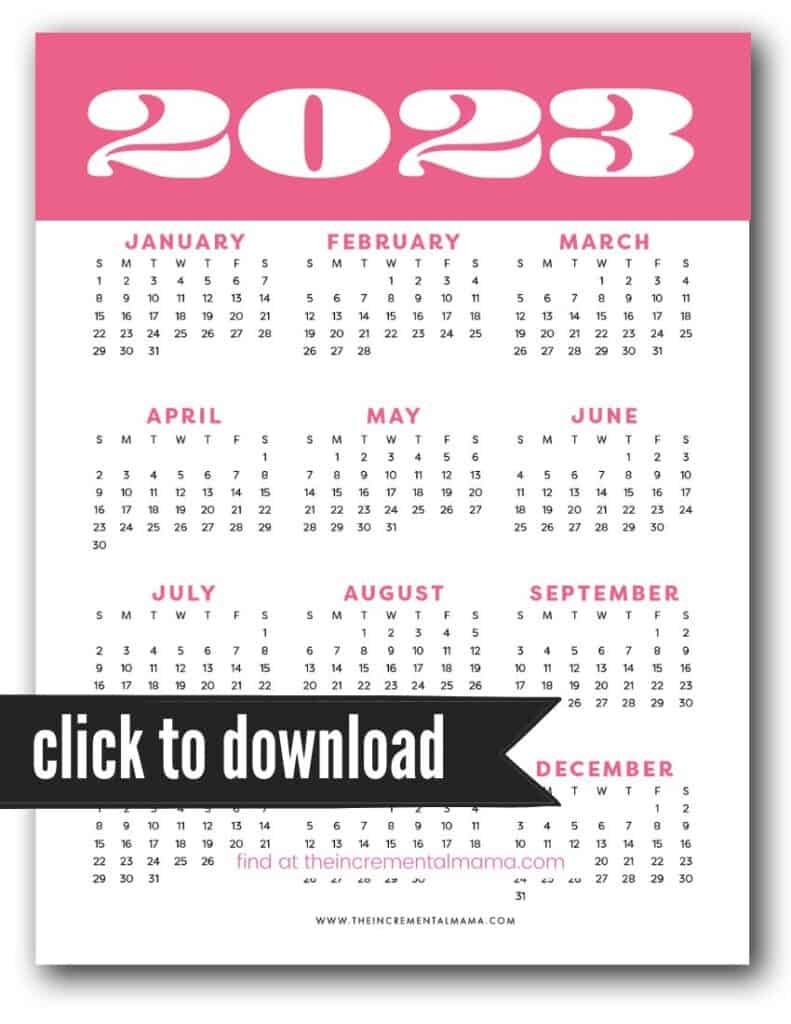 6. Yellow 2023 Calendar template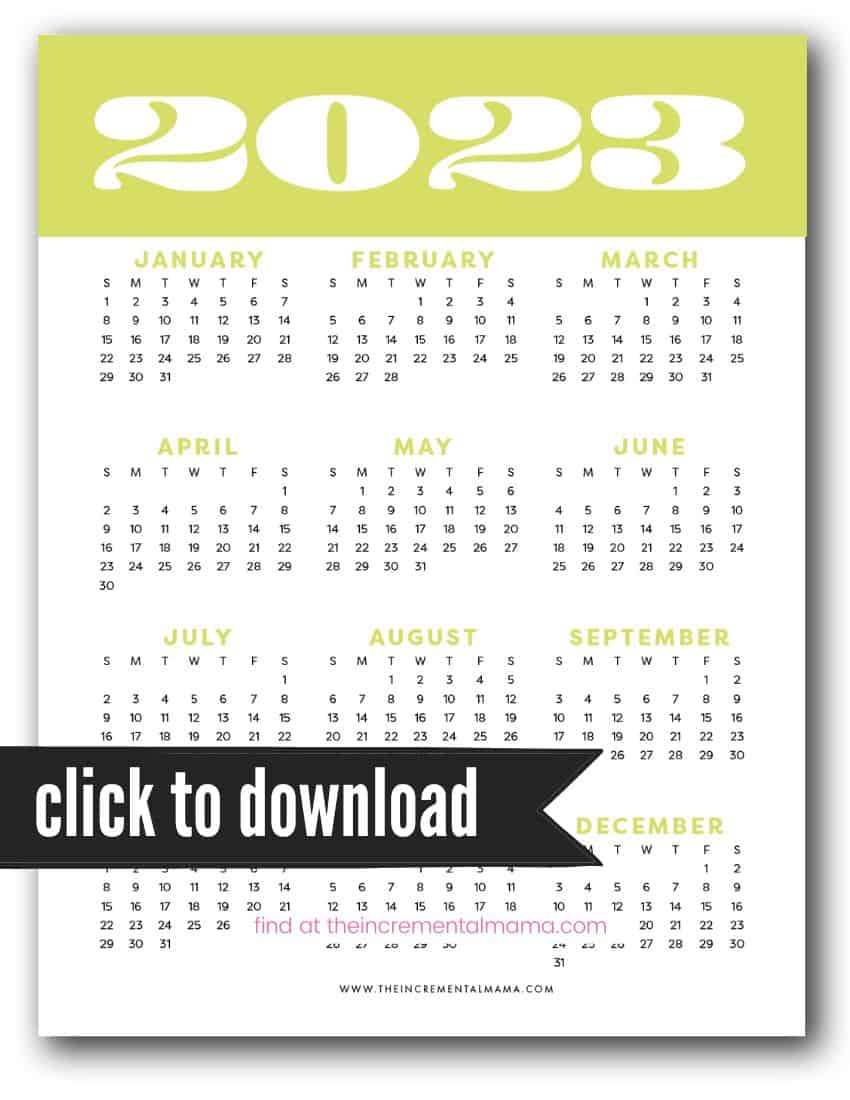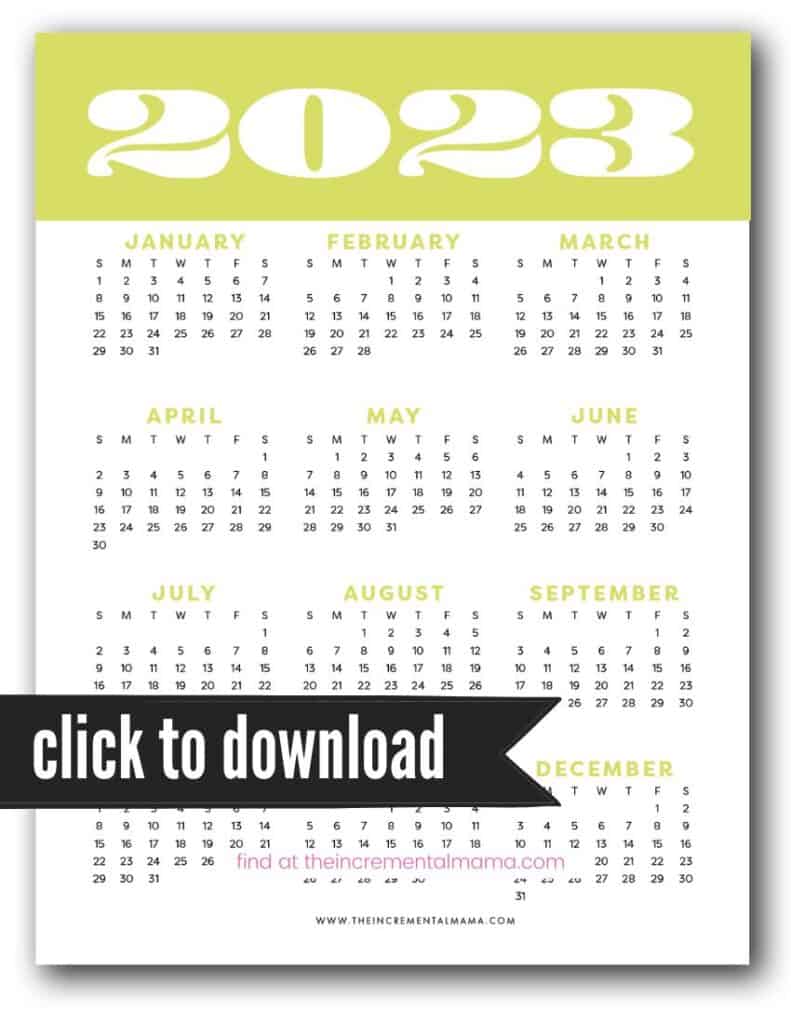 7. Simple 2023 One-Page Calendar PDF
If you're looking for a simple design (that doesn't use a ton of printer ink), this design or number 9 are your best bets. This is simple with a small pop of color.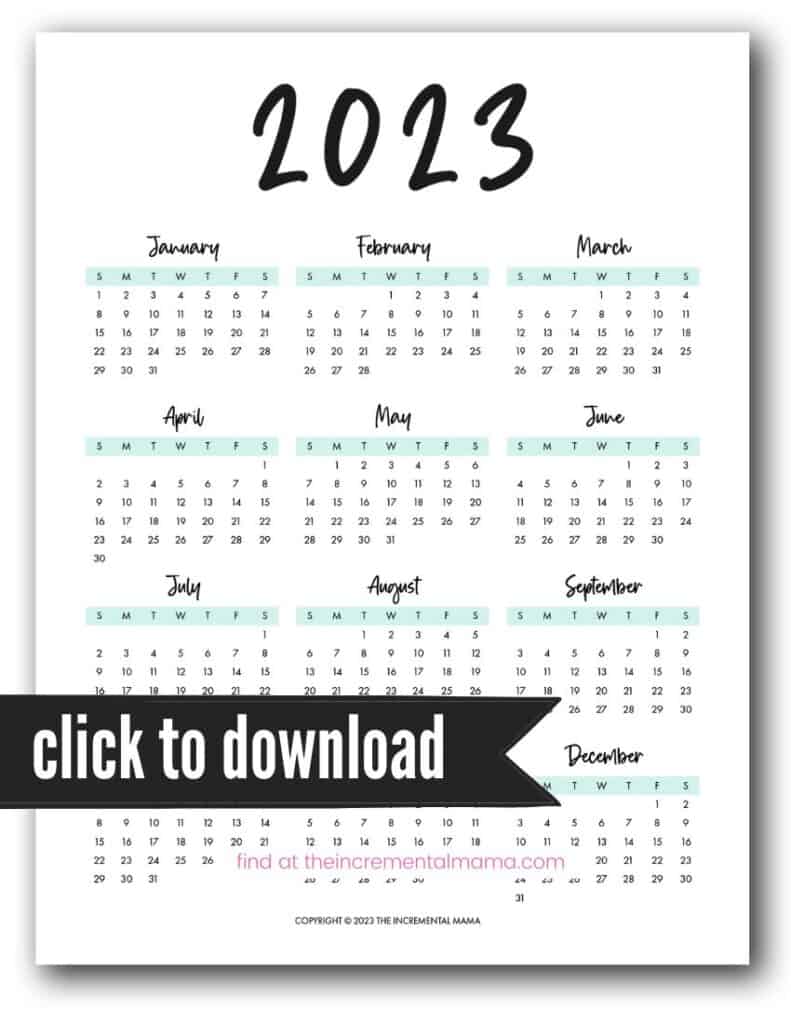 8. Mountains 2023 Year Calendar
This gorgeous calendar is perfect for you if you want to be transported to the mountains when you glance at the calendar. Not only is it a pretty calendar, but this nature scene will give you a little shot of serotonin every time you look at it.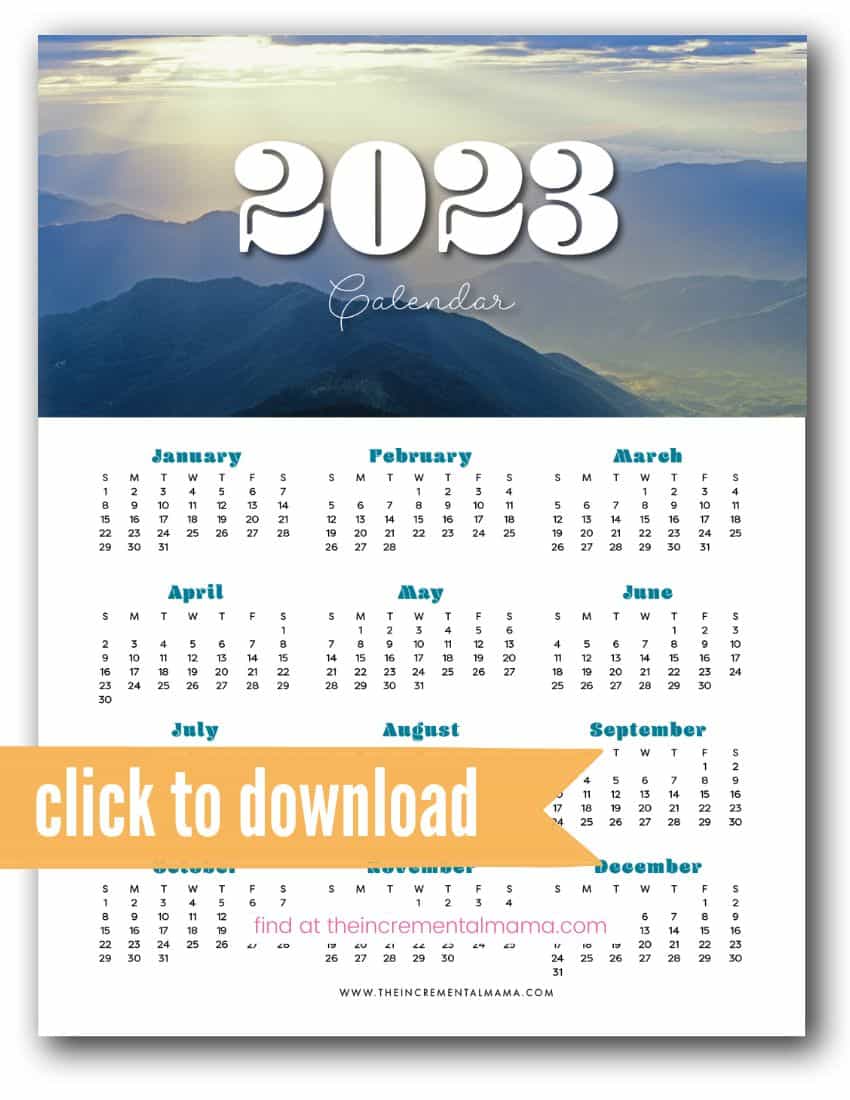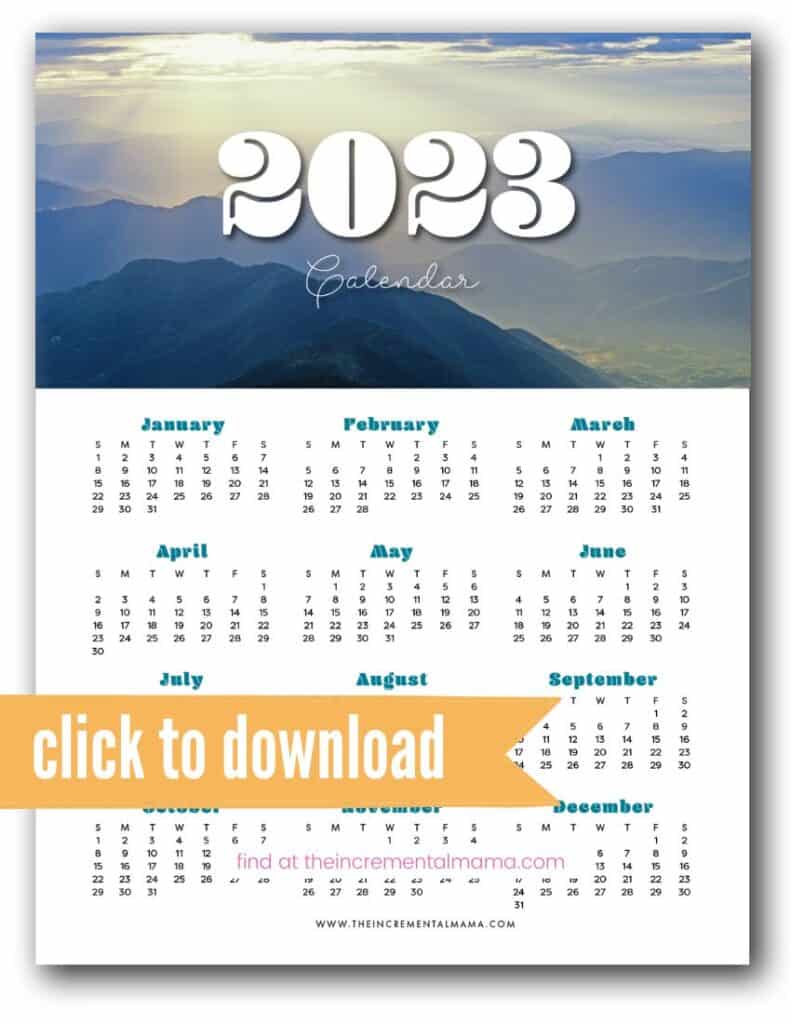 9. Pretty 2023 PDF Calendar
This simple 2023 calendar is great if you're looking for a minimal, yet feminine design.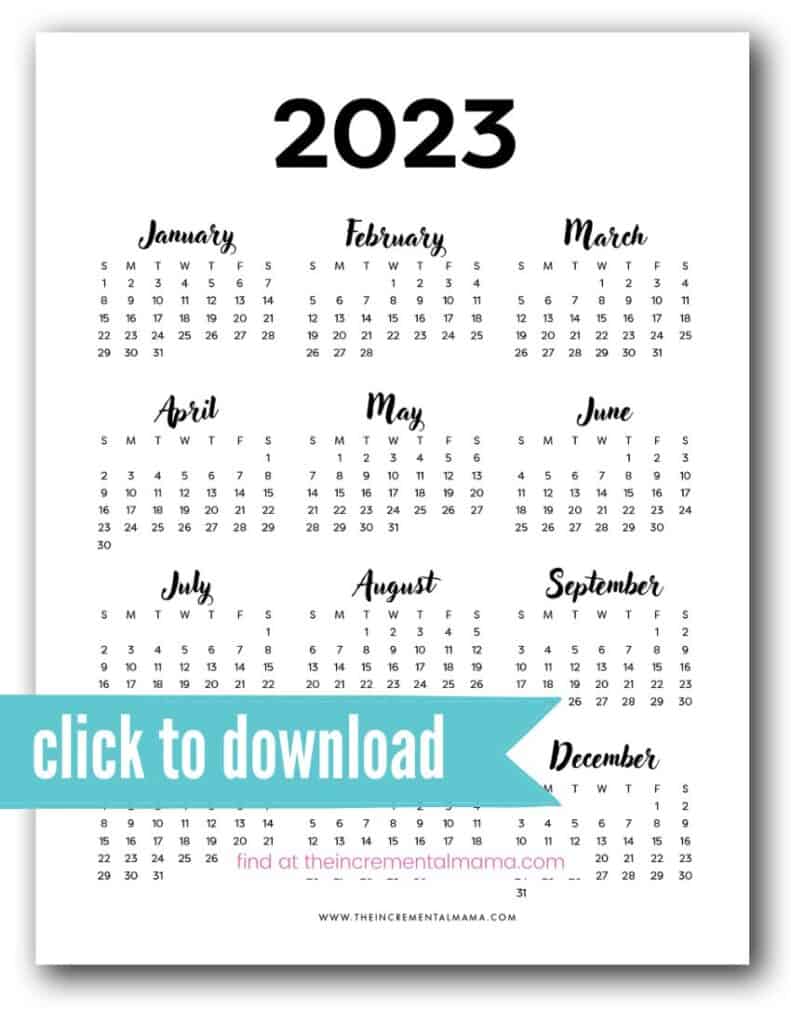 Want These Yearly Calendar templates for 2024 & 2025?
If you'd like to check out these same gorgeous single page yearly calendar designs for 2024 and 2025, you can find them by clicking the links below:
Free printable 2024 One-Page Calendars
Single Page 2025 Calendar Templates
Other 2023 Calendar Printable Template PDFs you can download
If you love free printable calendars and organization, you're in the right place because I have a ton of other handy calendar printables. If you're looking for blank calendars to hold appointments and events, I have a selection of free monthly calendars for 2023 (and future years) as well as blank monthly calendar templates.
Monthly Blank calendars