According to a recent poll, the average person tries to declutter their home 4 times a year. So if you've ever wondered "Why is it so hard to get rid of stuff?"….
You're normal. It IS hard.
But if you're wanting to declutter your space so that you can enjoy a cleaner, more peaceful space, then you're in the right place.
In this post, we're going to talk about why it's so hard to declutter and talk about how to overcome these obstacles to get into the right decluttering mindset.
RELATED: How to Quickly Clean Your Home When it's a Disgusting Mess
GETTING INTO A DECLUTTERING MINDSET
Decluttering isn't just about the things in your home.
Because things aren't just things. They are attached to emotions, memories, goals & expectations.
Those pants that haven't fit you in since you had kids aren't just pants. They represent the person you were. They may represent complicated emotions about your changing body.
You may be keeping them around as inspiration, but they give you a pang of shame each time you catch a glimpse of them in the closet.
That ugly chair that you inherited from your grandma isn't just a chair. It's a memory.
And even though it drives you crazy because it doesn't go anywhere in your home and takes up too much space…you'd feel guilty getting rid of it.
Because things aren't just things. They contain a multitude of emotions, expectations (both your expectations for yourself and expectations others have of you), and memories.
So in order to truly declutter and get rid of the things that aren't serving your life right now, it isn't just about going through a checklist and getting rid of stuff.
It's being in the right headspace so that you tune into how something makes you feel and whether it is needed or useful in your life right now.
And in order to get into a decluttering mindset, you have to recognize the emotions and complications around getting rid of your stuff.
And these 7 reasons will help you understand why it's so hard to get rid of your stuff and get you in right headspace so that you can be successful in your decluttering efforts.
RELATED: The Simple Laundry System That Will Change Your Life and Save you Hours Each Week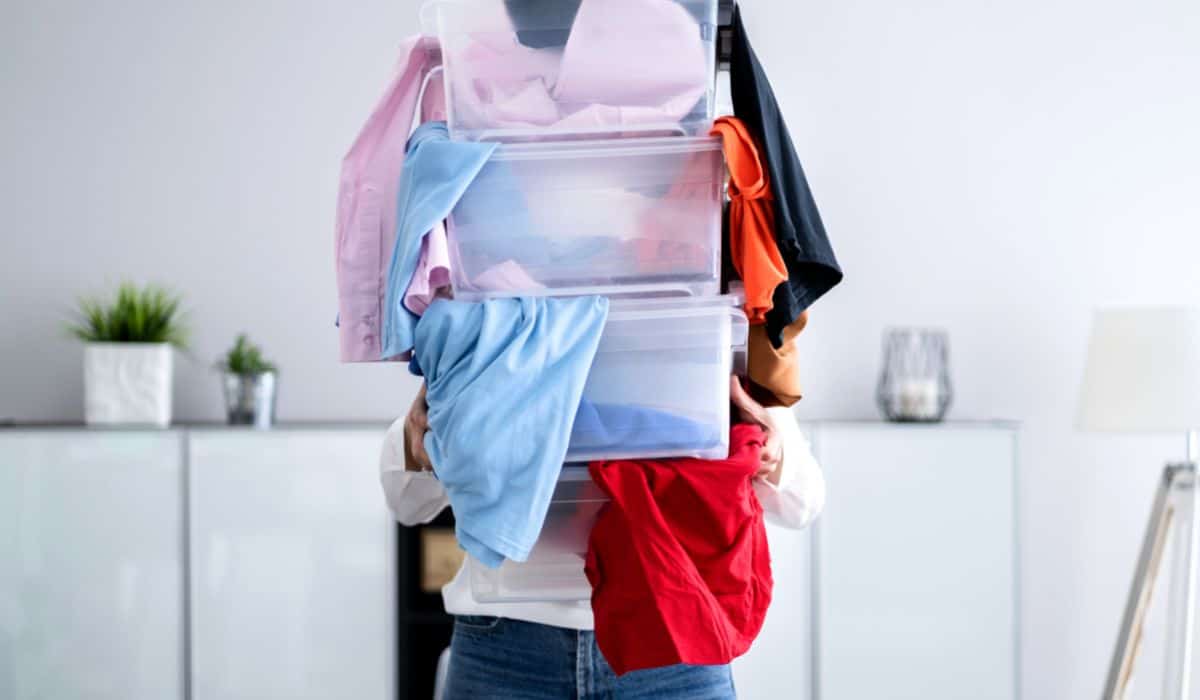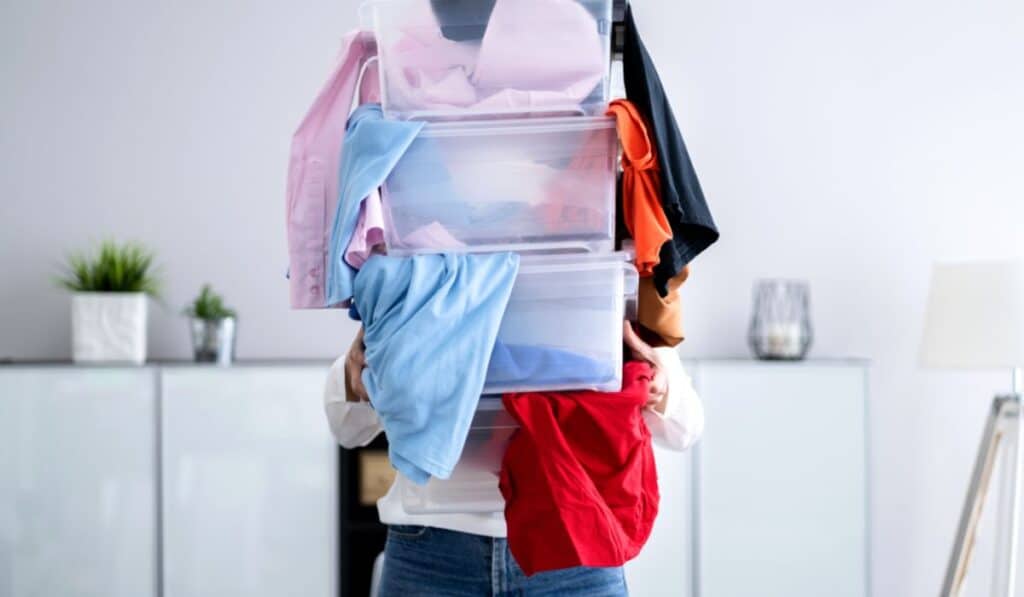 7 Reasons WHY IT'S So HARD TO DECLUTTER
Turns out that clutter is pretty bad for your general well being. Clutter:
Increases your anxiety
Makes it harder to keep your home clean
Reduces your ability to focus or relax
Increases tension in relationships and within the home
Makes it easy to lose things and waste time and energy searching for them
But if it was easy to declutter your home and eliminate all the horrible side effects of clutter, then we'd be more successful at doing it.
Here are 7 reasons it's so tough and how to overcome each obstacle so that you can declutter your home and create a relaxing space that's easier to keep clean and organized.
1. You Feel Wasteful
A very common reason it's hard to get rid of things is feeling that it's wasteful to do so. And you can feel wasteful in different ways.
One common way is that we think "But this cost a lot".
We have a hard time parting with something we don't love, use, or need because it cost us money and maybe we never got any value out of it. So we hang onto it, hoping to somehow get that value out of it.
But this is called a Sunk-Cost Fallacy. We've invested into this thing, so we mistakenly give it a larger value than it has or we do something counterproductive because of this investment. For example:
Overeating at a restaurant, because you want to "get your money's worth" even though it reduces the quality of your experience.
Businesses do it when they keep throwing money trying to improve a bad product that doesn't sell instead of just abandoning it.
And when we keep something around that we don't use, love, or need because we never got a return on our investment.
Which leads that item to take up physical space in our homes and waste mental energy trying to figure out what to do with it.
This could be clothes in your closet with the tags still on that you don't wear, and will never wear, but are taking up space.
Maybe it's that kitchen appliance you bought aspirationally thinking you were going to start juicing or pressure cooking, or spiraling your vegetables.
Or the sporting equipment you spent a pretty penny on, but never actually got into the sport.
How to Overcome #1: Find the True Value of the Item
The problem with this stuff is that we've inflated what these things are worth. To overcome this issue, we have determine the TRUE value of these items to you.
And here's how you do that. Ask yourself: "How much would I spend TODAY on this item?"
Since you don't actually use it, it's probably not something you'd spend much on.
In fact, you probably wouldn't even buy the item, which means that the item has a true value of ZERO.
How to Overcome #2: Recognize the Current Cost of Keeping the Item
In addition to thinking of its value to you, you also have to consider the cost you're constantly paying keeping the item around.
If you truly decluttered your home and only kept the things you love, use, or need, chances are you could get rid of 25% of what you own if not more.
Imagine the cost of storing all those items in a long term storage unit. That's money down the drain on items you don't even want.
And the truth is that you are paying that cost in the form of your rent or mortgage…and the toll those items take on your mental and physical well being (ex. increased anxiety, inability to focus etc).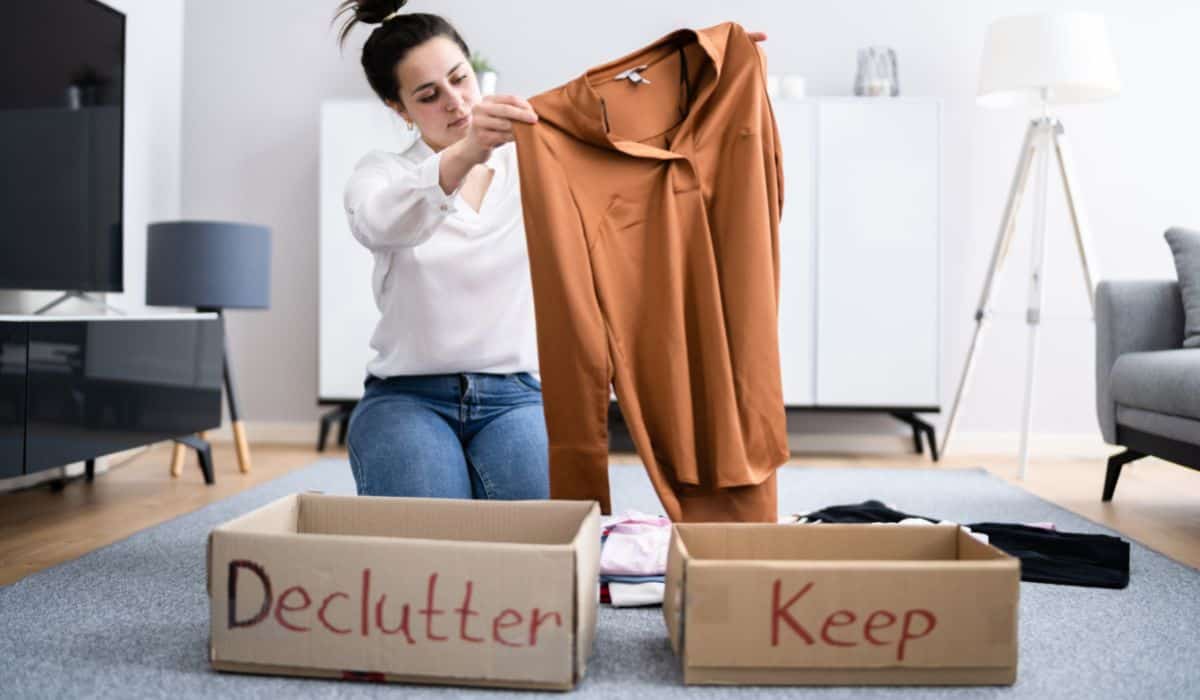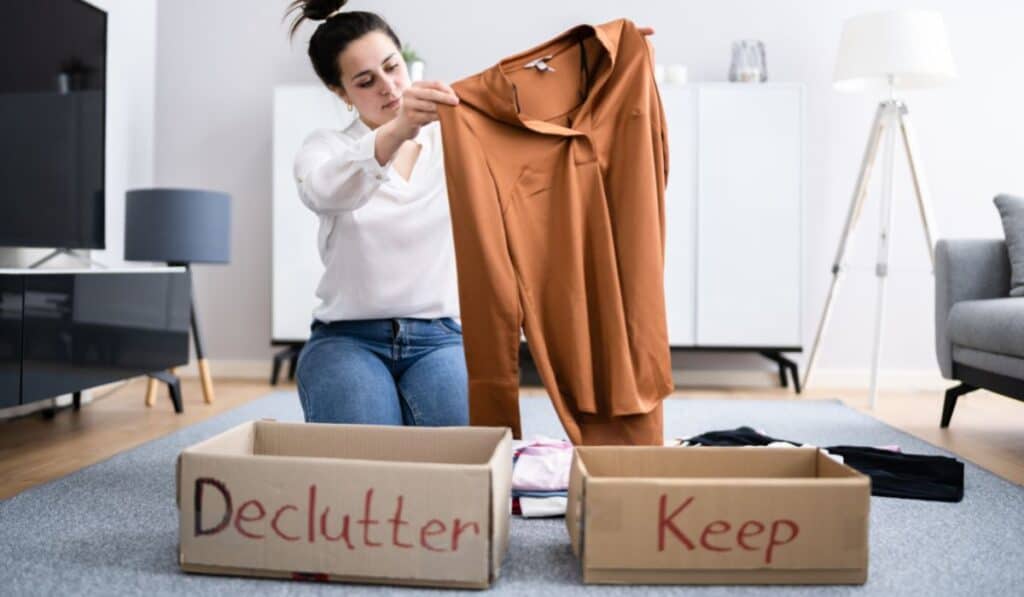 2. You think "But we might need it"
The next way we feel wasteful is that nagging feeling that "we might need it" despite the fact you…
…haven't used it in years
….have no plans to use it
….and probably have to use your imagination to figure out a scenario in which you could end up needing it in the future.
The problem is that all these things you might need are destroying your peace of mind, health, and making it harder to keep your home organized.
How to Overcome: Make a Plan
And the reality is that for over 90% of the stuff that you think "I might need this", you will never ever even think about again after getting rid of it.
So having to potentially rebuy the very small percentage of things that you may end up needing due to circumstances changing or something weird popping up is worth all those lovely benefits of decluttering.
Like lower stress, better health, a cleaner and more organized house.
And should you need that thing down the road, here's what you can do instead or spending a lot to replace it:
Borrow one from a friend or neighbor
Buy it used from craigslist or FB marketplace–get it cheap and save the environment buying used
Making a plan of what you can do if you need these things again, reduces that anxiety so you can actually get rid of it.
3. You're concerned about the environment.
Another way we feel wasteful is when we have environmental concerns. Because it's true, our consumption of all this stuff is most certainly wreaking havoc on our environment.
(To see how, check out the excellent short video The Story of Stuff).
How to Overcome: Give Item to Someone Who Needs it
The problem with this thinking is that hanging onto stuff we don't need, use, or love isn't doing anything good for the environment.
The thing already exists. It's bound for the landfill at some time or another. So keeping it around your house isn't saving the environment.
But you know what might? Getting it into the hands of someone who needs one so they don't buy a brand new one. The real way to help the environment is to:
reduce our consumption
buy things used
In the meantime, you can get rid of your stuff now without causing more damage to the environment than has already been inflicted.
Bottom line: getting rid of your unneeded stuff is not wasteful. It's the best thing you can do for yourself. It's self preservation.
RELATED: A Cleaning Schedule You Can Actually Stick to (And Free Printable)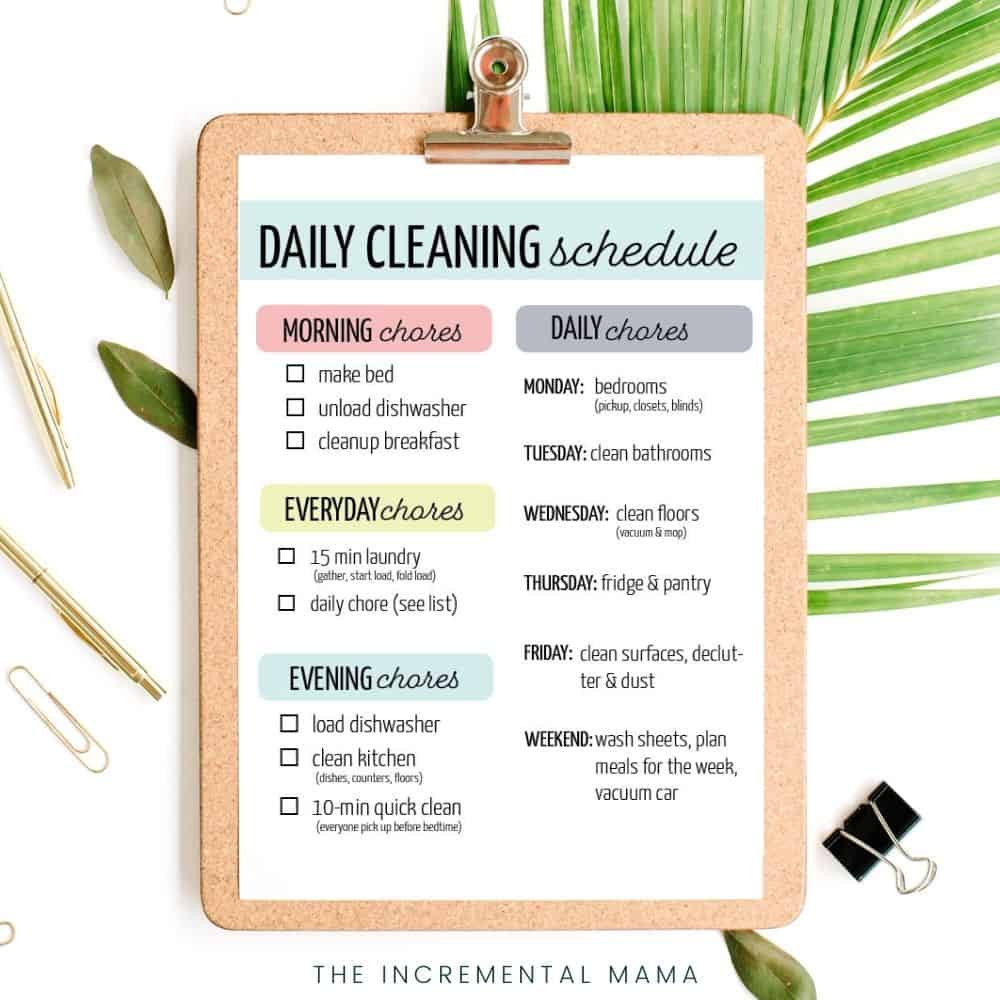 4. The project feels too big & overwhelming.
It's natural to feel like going through every single item we own is a big task. Because decluttering your whole home IS a massive undertaking.
But it doesn't have to feel overwhelming.
How to Overcome: Make a Decluttering Plan
In order to successful declutter, you need:
correct decluttering mindset (which you're getting in this post)
decluttering strategies that work for you
time
a plan
You don't have to declutter everything all at once. And you don't have to feel that there's only one true right way to declutter.
The correct strategy to declutter is which every strategy you'll actually do. Make a plan to go through you stuff (e.g. category by category, room by room, or simply just taking a trash bag around your house and try to fill up with items to donate or throw away) at a pace that feels manageable.
Set small goals and try to work on decluttering a little each day or week.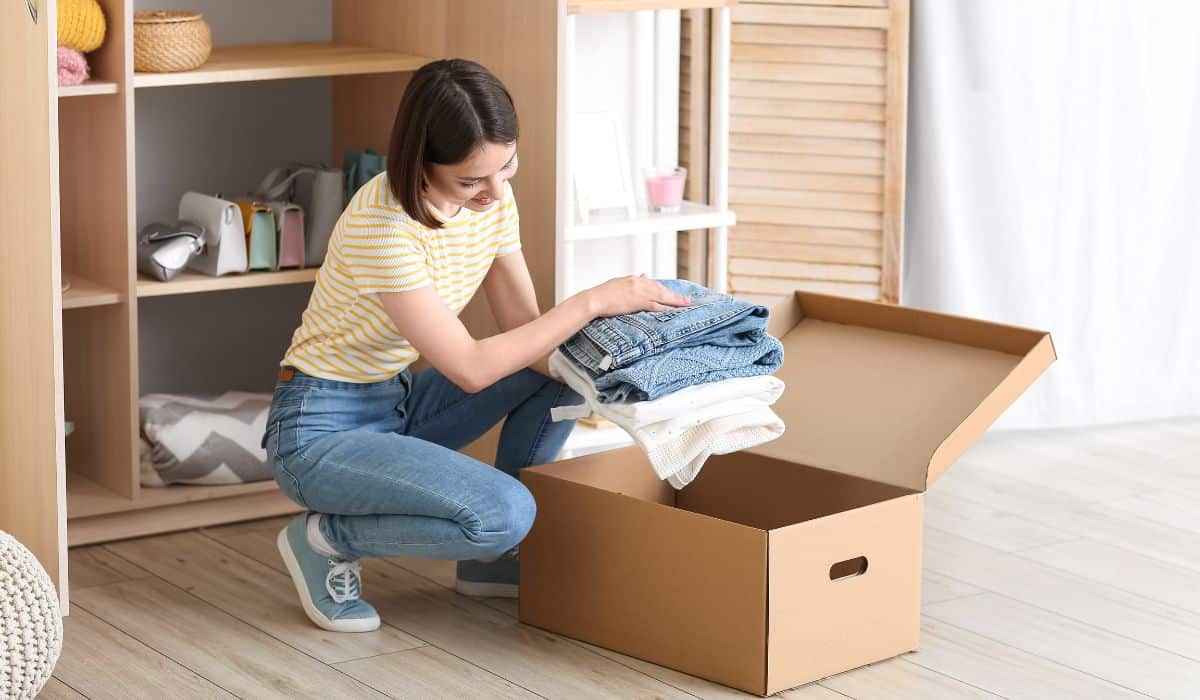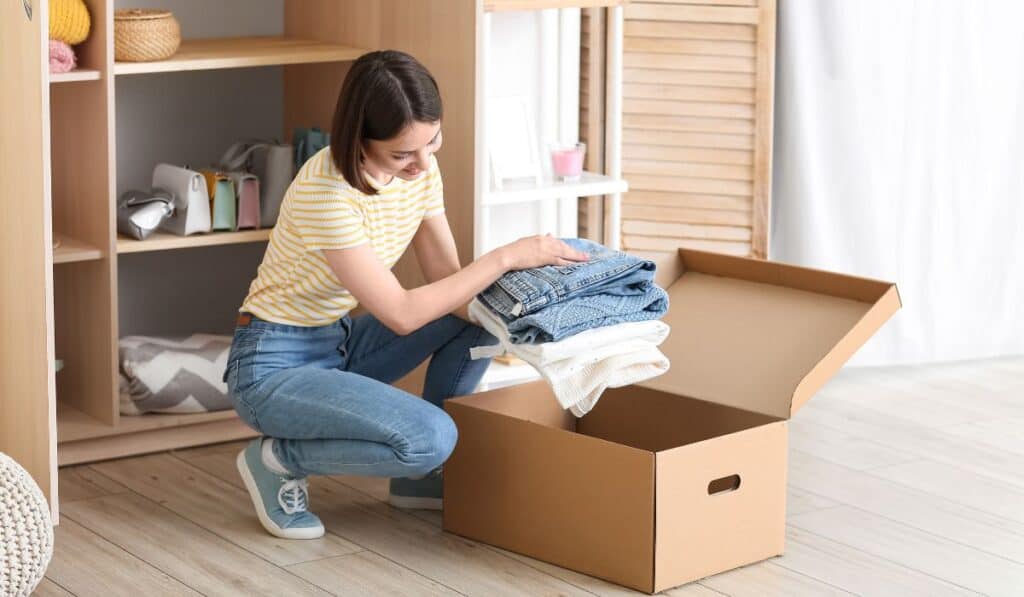 5. You're don't know what to do with your stuff.
Another hold-up to decluttering and purging our homes of our junk is that we don't know what to do with it. It's nice enough that is doesn't belong in the trash, but we're not sure where to take it so that "it can get some good use".
We want it to be used! And appreciated! So maybe we want to find a friend or family member to give it to.
Trouble is, we're not sure WHO exactly that is. So we keep it waiting for the right person to pop up to pawn off our junk. Or perhaps we just give it to someone we think might want it.
The problem with this is that we run the risk of making our junk someone else's clutter problem. Unless the person really wants the item, don't pass it on.
How to Overcome: Donate Items
To find someone who really wants your stuff there are a few things you can do:
Post it to local FB group or FB marketplace and with picture and list it as free to a good home.
Post it to FREE STUFF on Craigslist
Drop it at a Goodwill or donation center
This is a pretty easy and painless way to give your stuff to someone who'll use it and maybe even get someone who will even come and pick it up.
Or maybe you just want to donate it somewhere, but you're not sure where to take it in your area.
This is where Google is your best friend. You can find places in your area that accept donated items. And the bonus with this is that you can feel good knowing your stuff is going to a good cause. Like donating your beloved but unneeded baby stuff to a local shelter.
Below is a list of places around the US that might be in your area:
And bonus–your donations can be tax deductable! When you drop off, ask for a receipt.
But charities don't accept ALL items. And those items can be tricky to get rid of. But again, google can help you find the place in your area to take those things.
Old electronics can be recycled for parts or materials.
Old batteries are collected at major electronics stores.
Old paper can be recycled.
Paints, solvents, poisons, and things like motor oil can often be turned in to community collection points.
But before you try and find a drop off place, you might try and put those things up for free on Craigslist. We've done this with many things we've gotten rid of.
We had rickety wooden storage unit in the garage of our house when we bought it. It was huge and we didn't want to take it to the dump so I put onn craigslist for free and a wood worker came within an hour, took it apart and hauled it away to use tthe wood for other projects.
I had a ton of partially used paint that I wasn't going to use. Put it on craigslist and with a couple hours I had a very happy crafter come by and take it all away to use for her projects.
You don't have to haul the stuff anywhere and it goes to someone who will use it!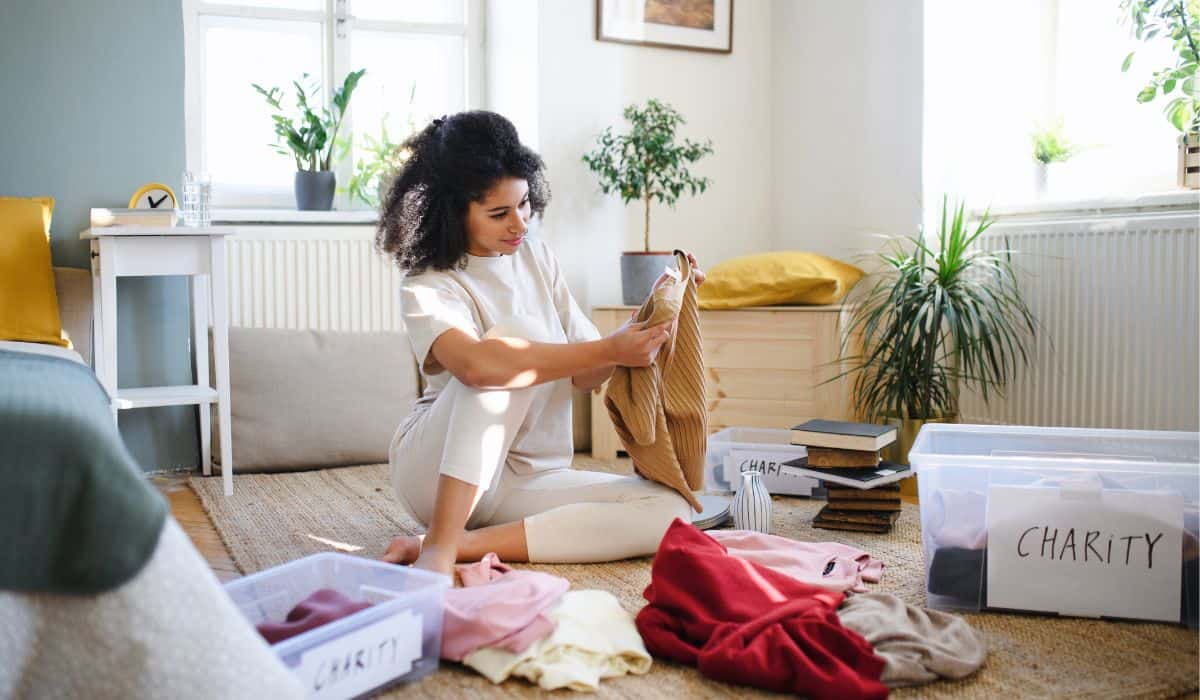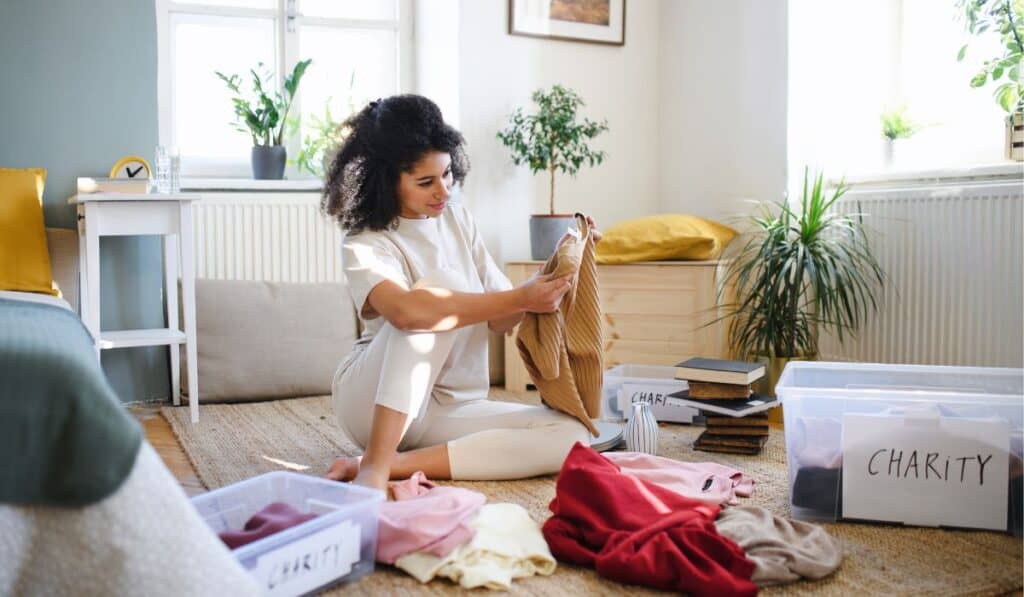 6. The object has sentimental value
The purpose of family keepsakes are to preserve memories. But family keepsakes and heilooms can feel more like obligations than something you actually want in your home.
However, if something feels like an obligation then it's not exactly leaving you with fond memories and feelings.
When decluttering, you want to keep only things you love or that are useful. Even when it comes to things you're given or have inherited.
How to Overcome: Take a picture or Keep a Smaller Item
When dealing with sentimental items, Ask yourself:
Do I need to keep it?
Can I take a picture of the item to preserve the memory and feeling?
Is there something else much smaller that can represent the same thing?
7. You'Re Doing It alone
Maybe you look around the clutter in your home and see everyone else's stuff. You see all your husband's junk and he is just not down with this whole decluttering business.
That can be really disheartening not having your partner onboard while you try to make positive changes. And the truth is that you can't force anyone to change or to get rid of stuff.
But you can help them see the light, if you will. And you can set boundaries so that YOU can still embark on decluttering.
Here's a few strategies to move forward:
Help them see "the big why": Helping your partner see the "why" behind decluttering, can help get them more on board. As opposed to thinking of it as just one more thing you want them to do, you can explain that it's about creating a healthier environment (physically and mentally) in your home. Explain that it reduces stress and how much a clean and decluttered space means to you.
Lead by example. There's a lot of psychological and physical reasons to declutter. When they start to feel those effects, they just might be inspired to take look at their stuff and do a little purging.
Help them organize their stuff. Offer to help them in the process without being pushy. Say that you understand it's a hard process, but that you're happy to help if that'd make it easier. With children, this is much easier than partners.
Create clear boundaries for space. While you won't control what items your partner keeps, you do need to work together to create areas where those possessions belong. Work together to determine what spaces are dedicated to where personal items belong.
You Can Declutter Your Home
While it can feel overwhelming and hard to get rid of your stuff and declutter your home, with a few mindset shifts if can be much easier.
Using the strategies outlines here to overcome the obstacles to decluttering, you can start to declutter your home and create a space that's relaxing, easier to keep clean and organized, and that brings your family joy.
READY TO GET YOUR LIFE ORGANIZED?
The Organized Home Toolkit has everything you need to go from overwhelmed to crushing your day.
With hundreds of customizable printables and short instructional videos, the Toolkit is the resource library you need to quickly & easily organize your life and home.
…AND for less than a dinner out with the family!
Here's what Allison, a busy mom of 3 said about The Toolkit:
⭐⭐⭐⭐⭐
"This toolkit helped me go from drowning in housework and feeling unmotivated to feeling organized and like my life was more manageable in a week. I woke up to a plan, a schedule, routines and manageable expectations for my kids that helped combat the depression and burn-out I often feel as a mom. And I love the videos. I feel like it's 'Running a Home & Raising Kids 101' and it's the class I have needed for YEARS."
>>> Check out The Organized Home Toolkit