If you want a stress-free start your day, you need a solid morning routine. And using this morning routine chart for toddlers is perfect way to help both you and your child start the day on the right foot.
The checklist will also help your little one learn responsibility and develop healthy self care habits.
(For more tips to help you create a calm morning routine for your family, check out 6 Secrets to a Calm Morning Routine with Kids.)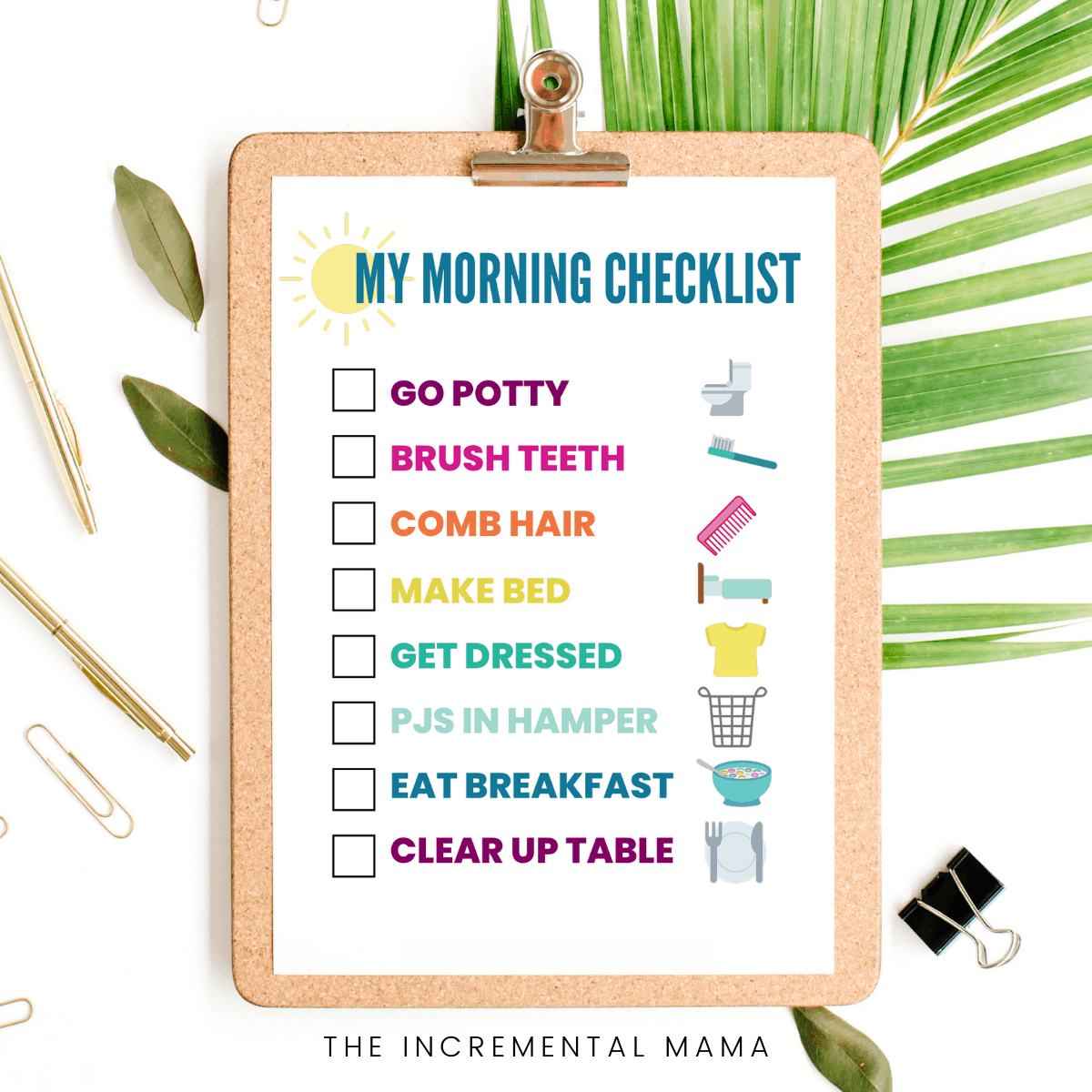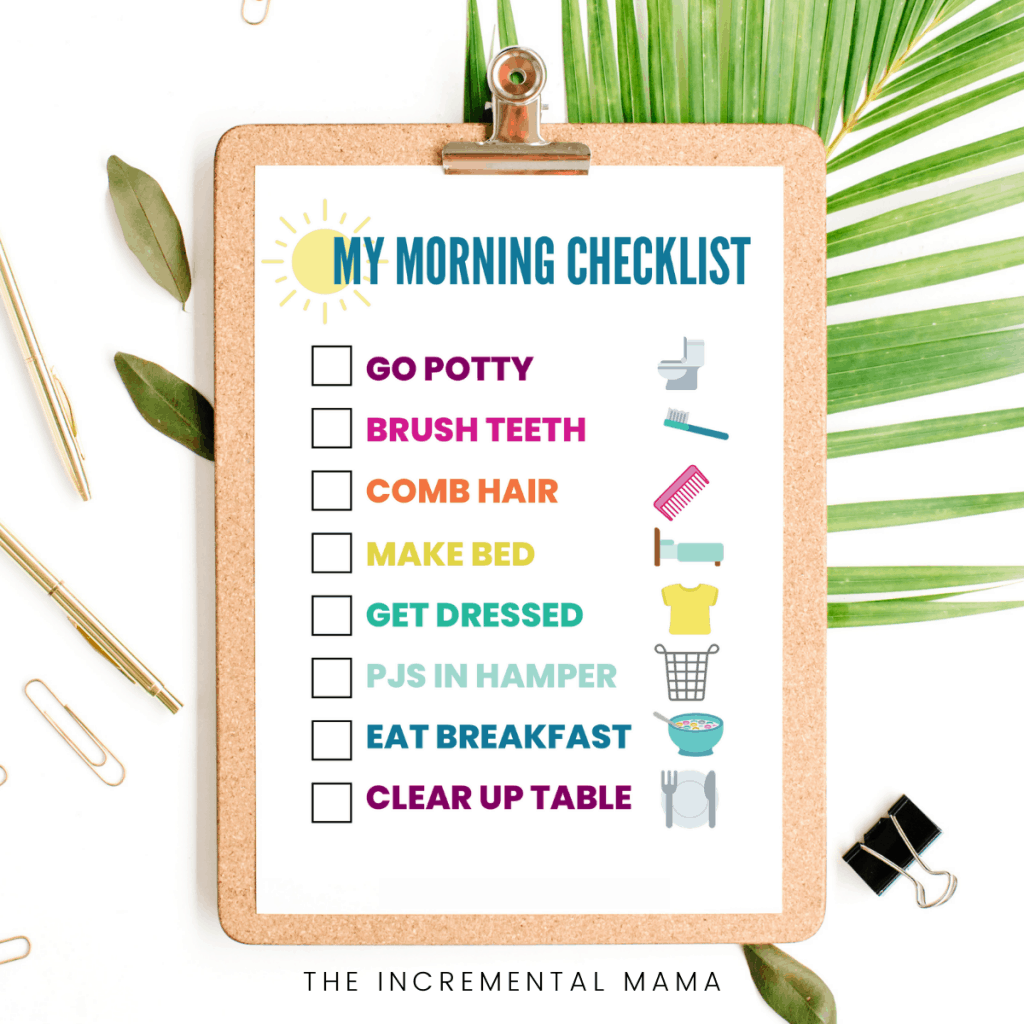 HOW TO USE YOUR MORNING ROUTINE CHART FOR TODDLERS
Routine charts are awesome because they provide visual reminders for kids who often struggle to focus and stay on task.
I can tell my kids a million times to do something, and they'll forget. But I give them a routine chart, and suddenly they're doing things without having to be reminded!
To make the most of this toddler routine chart, follow the steps below.
(Just want the free printable? Scroll to the bottom to sign up and download the printable).
RELATED: 20+ No-Prep Activities for Toddlers
1. Download the Printable Morning Routine Chart for kids
You can get the download sent straight to your inbox by signing up at the bottom of this post.
2. Laminate the Chart
Instead of printing out multiple copies, laminate the morning routine chart so that your toddler (with your help) can simply check off each daily task with a dry erase marker.
The laminator and laminator sheets below are what I use for pretty much all my printables!
2. Place the Morning Routine Chart in Public Area
You want your routine chart to be placed in an area that is both public and easy-to-access
Since you want your child to be able to check off each task themselves, you want to be sure that the printable in an area that your toddler sees frequently and can access.
RELATED: Bedtime Routine Chart for Kids
3. Help Your Child Learn the Daily Skills…But Don't Help Too Much
At first, your child will need help and reminders to complete each task on the morning routine checklist. But as they start to master different tasks, try to back up and let your toddler complete the task as independently as possible.
For example, at out dentist's suggestion we started letting our little ones brush their own teeth on the morning s they can learn. And we brush it for them at night to make sure they gets a thorough cleaning once a day.
Self-esteem and confidence comes as your child learns to do these skills independently.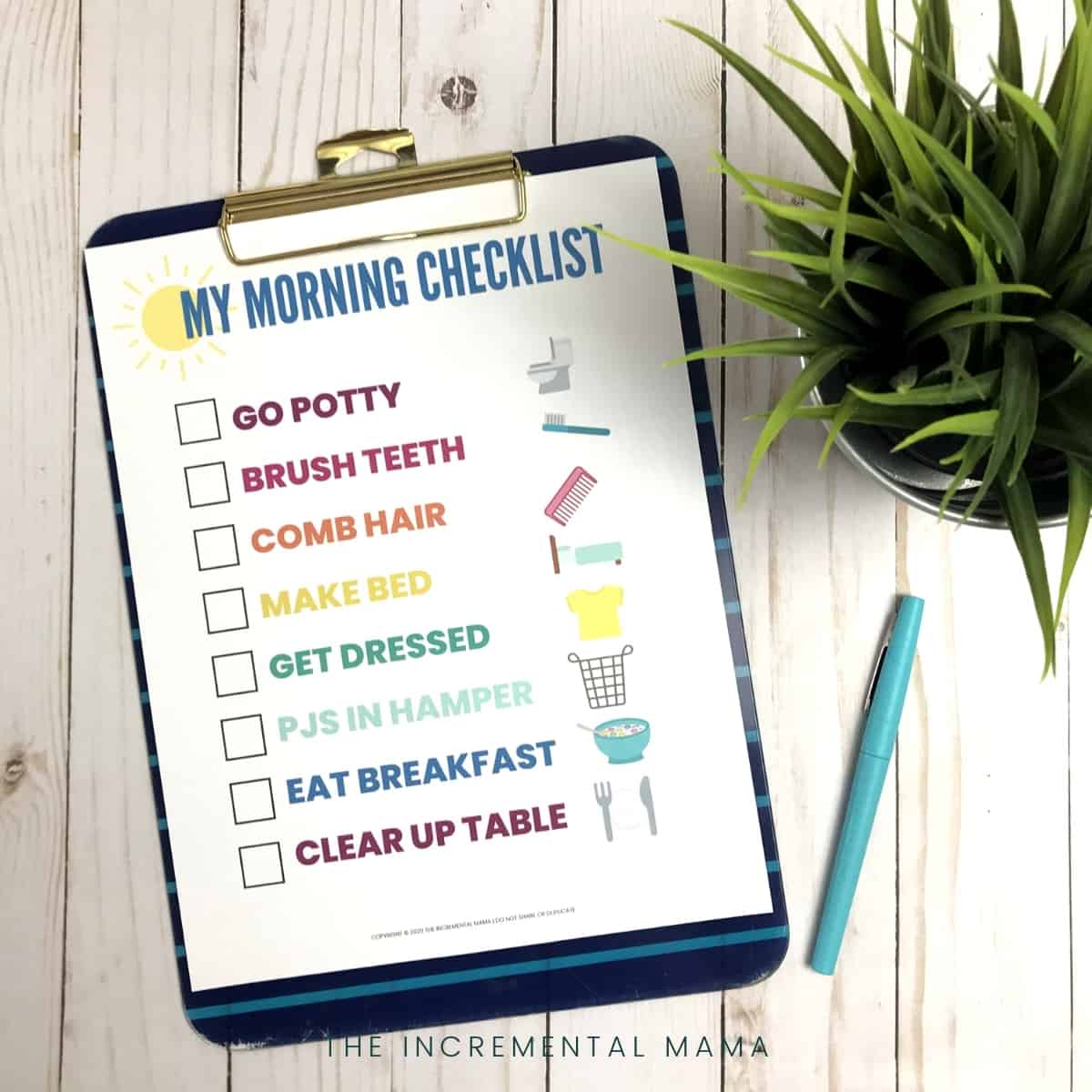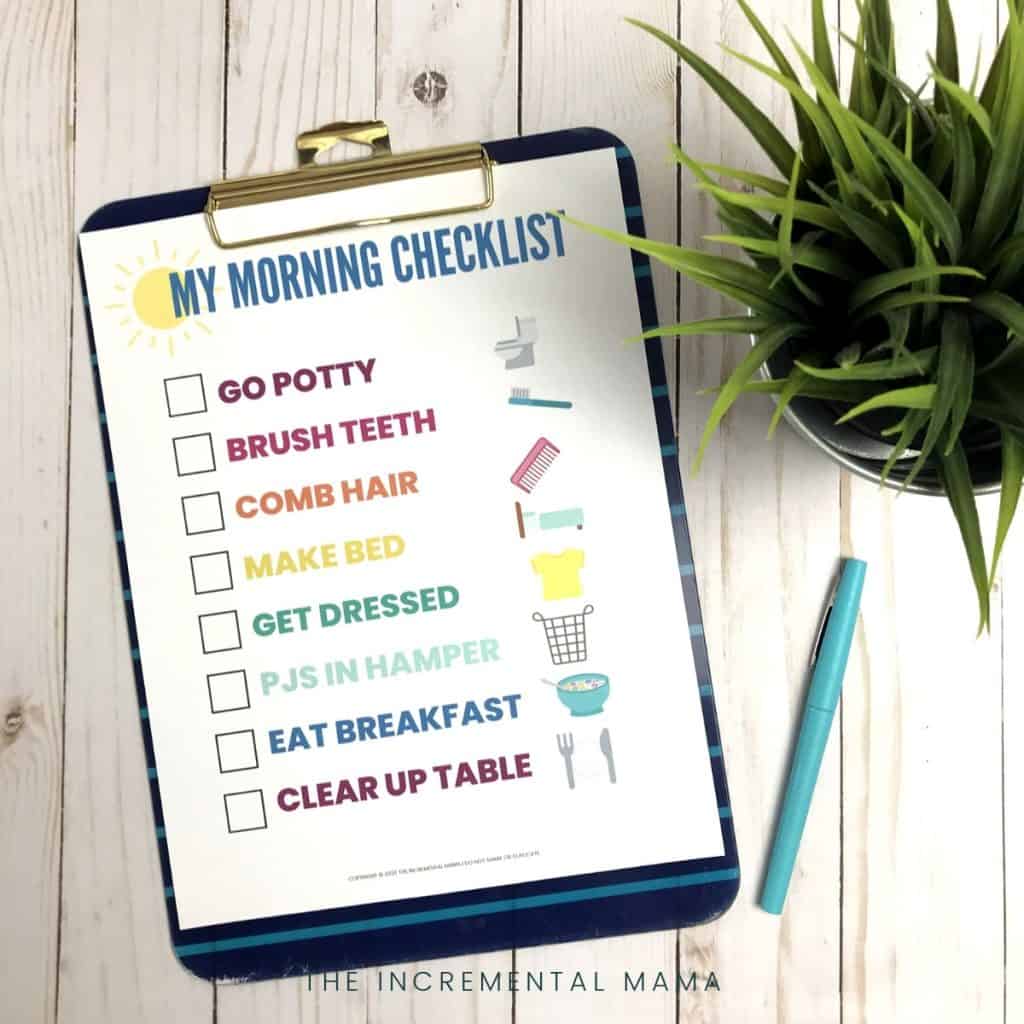 4. Be Consistent
As with any routine, it takes repetition and consistency to make it a habit. Commit to enforcing the new routine each morning and it will become automatic for your child.
Build it into your morning routine to remind your child of each task and work with them until it's habit.
DOWNLOAD THE MORNING ROUTINE CHART FOR KIDS
And there you go! If you're ready to create an awesome morning routine for your kid and help them to develop good habits, then grab your free printable toddler routine chart by signing up below.
You've got this!
And if you're interested in a bedtime chart, checkout this Bedtime Routine Chart.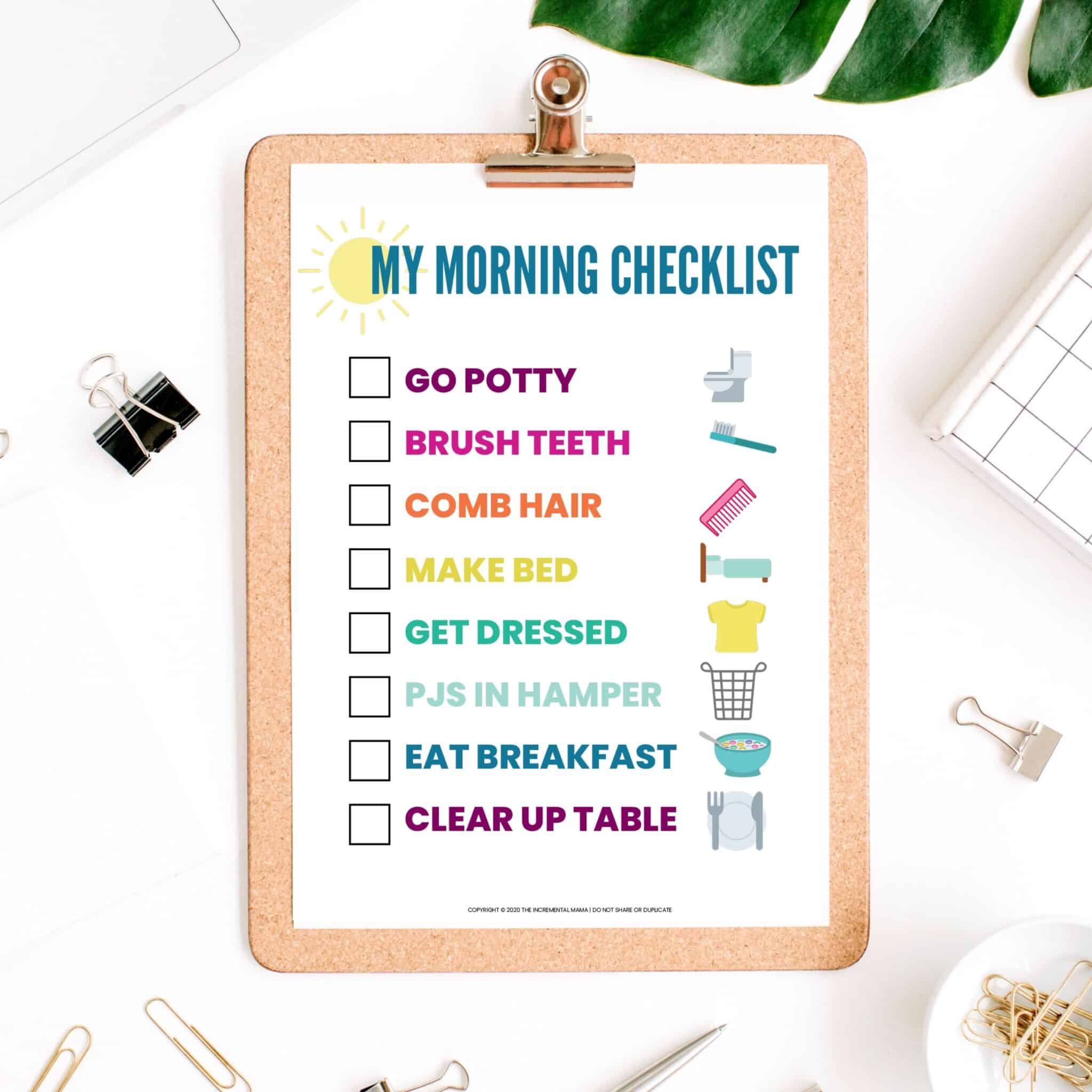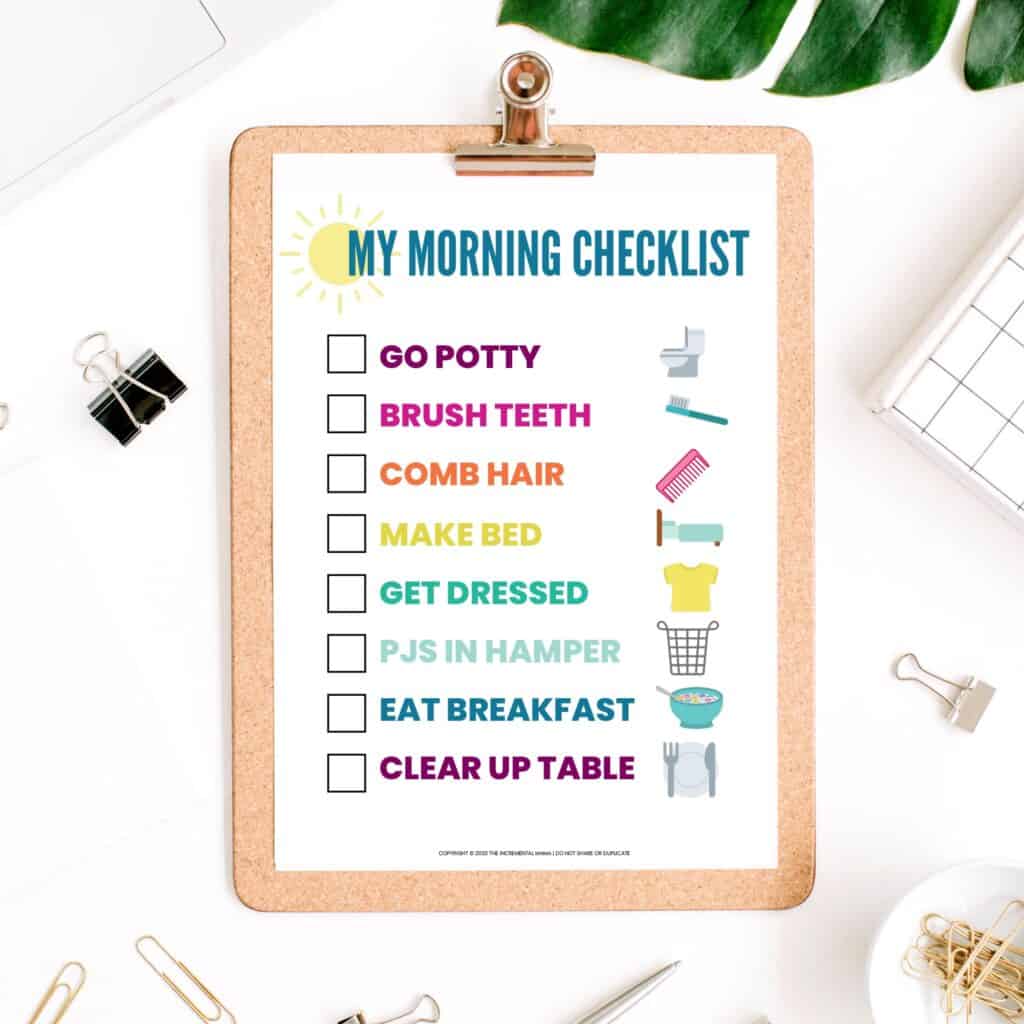 YOU MAY ALSO LIKE:
Age-Appropriate Chores for Kids
20+ No-Prep Activities for Toddlers