Bedtime is a tricky time of day. As a parent, you're exhausted and at the end of your patience while your child is a mix of bounce-off-the-walls energy and crabby. Which why I love this free printable bedtime routine chart.
Because instead of relying on your limited mental energy to move through a structured bedtime routine with your little one, you can lean on this picture chart that helps kids know what to do.
Not only does it limit arguments and make things easier for you as a parent, it helps your child be more independent as they can use the visual cues to run through their nighttime routine.
For more through tips on creating a sold evening routine, check out the 5 Simple Tips for a Calm & Tear-Free Bedtime Routine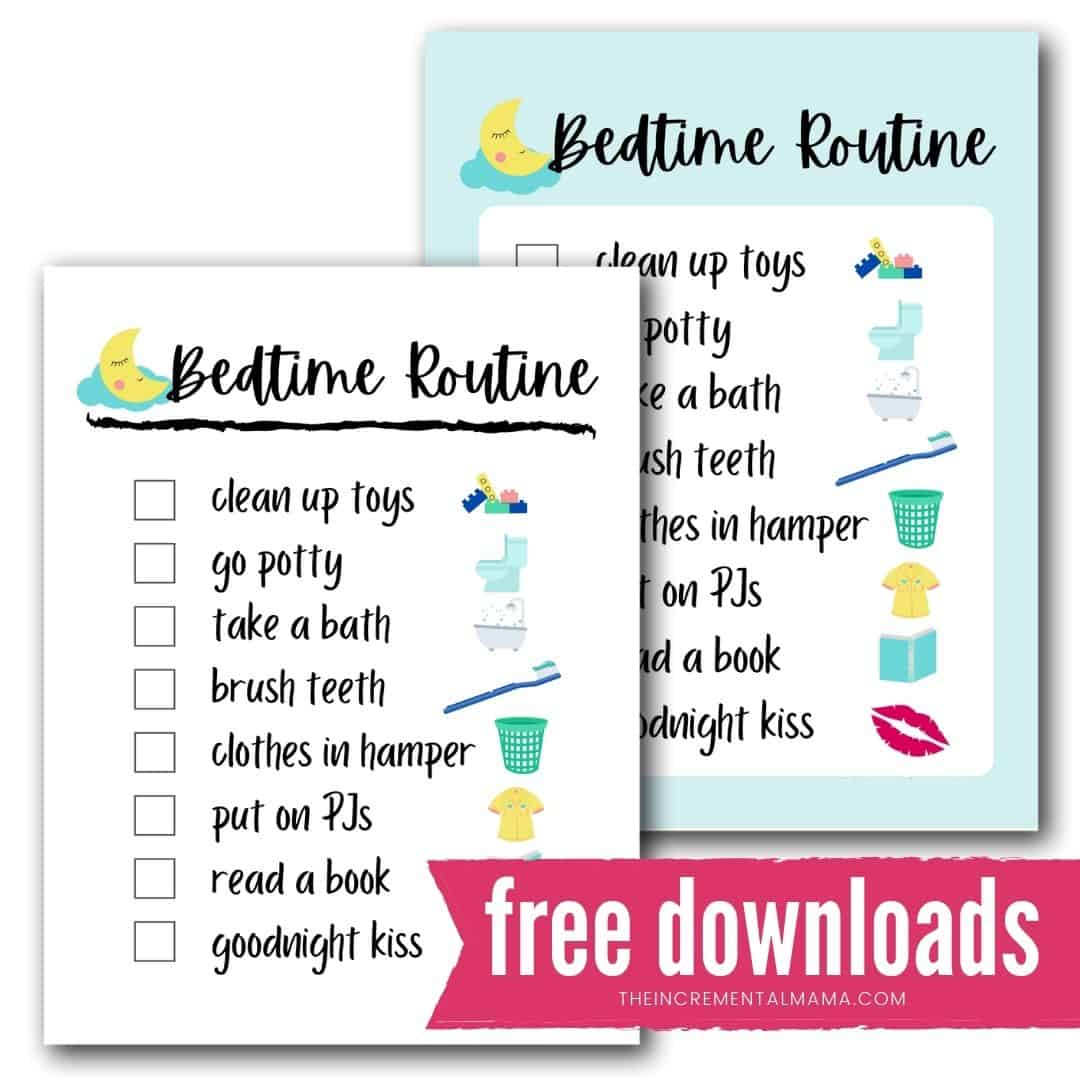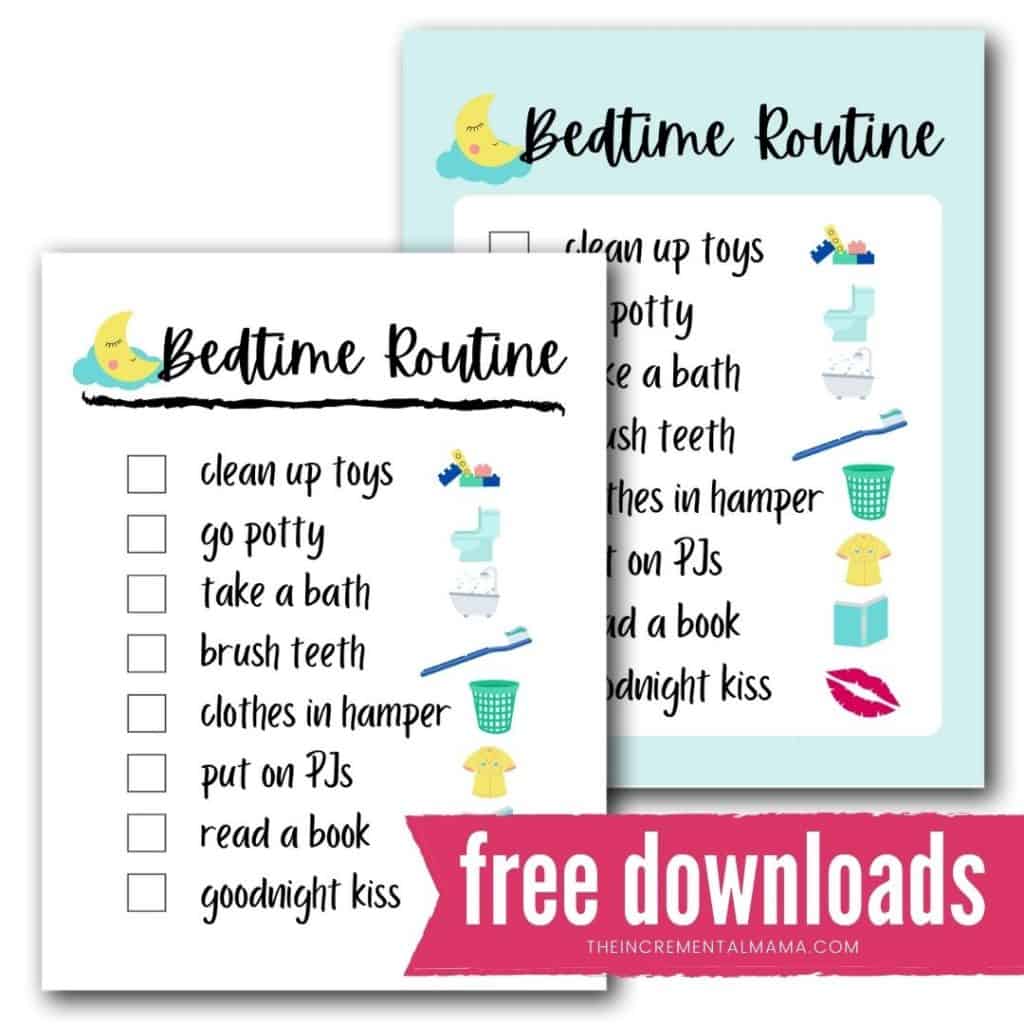 HOW TO USE THE FREE PRINTABLE BEDTIME ROUTINE CHART
This bedtime routine chart is perfect for toddlers and young kids. It provide visual reminders for kids who often struggle to focus and stay on task.
As a mother of 4 little ones, I love routines charts. Because I can tell my kids a million times to do something, and they'll forget to to do it.
But I give them a routine chart, and they're excited to check off each task.
To make the most of this bedtime routine chart, follow the steps below.
(Just want the free printable? Scroll to the bottom to sign up and download the printable).
1. Download the Printable Bedtime Routine Chart for kids
You can get the download sent straight to your inbox by signing up at the bottom of this post.
2. Laminate the Chart
Just like us, kids love to check things off their to-do lists. And if you laminate the chart, you can reuse the same chart night after night. You child (with your supervision) can use a dry erase marker to check off each task.
The laminator and laminator sheets below are what I use for pretty much all my printables. (I basically laminate all the things, around here).
2. Post the Bedtime Routine Chart
You want your routine chart to be placed in an area that is easy for your child to see and access.
You can pin it to a cork board in your child room or wherever it suits your needs.
Since you want your child to be able to check off each task themselves, you want to be sure that the printable in an area that your child can access.
3. Stay Consistent
The key to building routines that become second nature is consistency. Get in the habit of going through the steps of the bedtime routine each night no matter how tired you are.
Of course, you can skip certain steps when necessary. But remember that kids thrive with dependable schedules and routines. Instead of reading a couple of books, perhaps you just read the first few pages or select a super short read.
That way you still get a little bit of bonding in, even when you're short on time.
4. Build Independence
At first, your child will need help and reminders to complete each task on the nighttime routine checklist. But as they start to master different tasks, try to back up and let your child complete the task as independently as possible.
Self-esteem and confidence comes as your child learns to practice self care skills independently.
DOWNLOAD THE FREE PRINTABLE BEDTIME ROUTINE CHECKLIST
To download the bedtime routine chart, sign up below and the free printables will come straight to your inbox.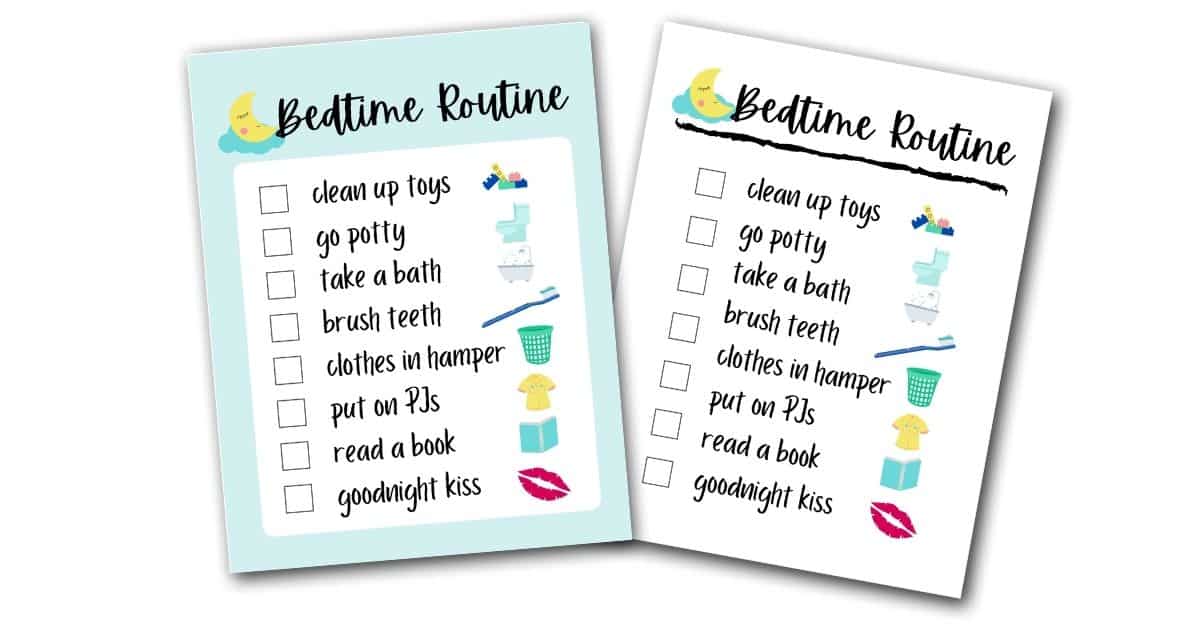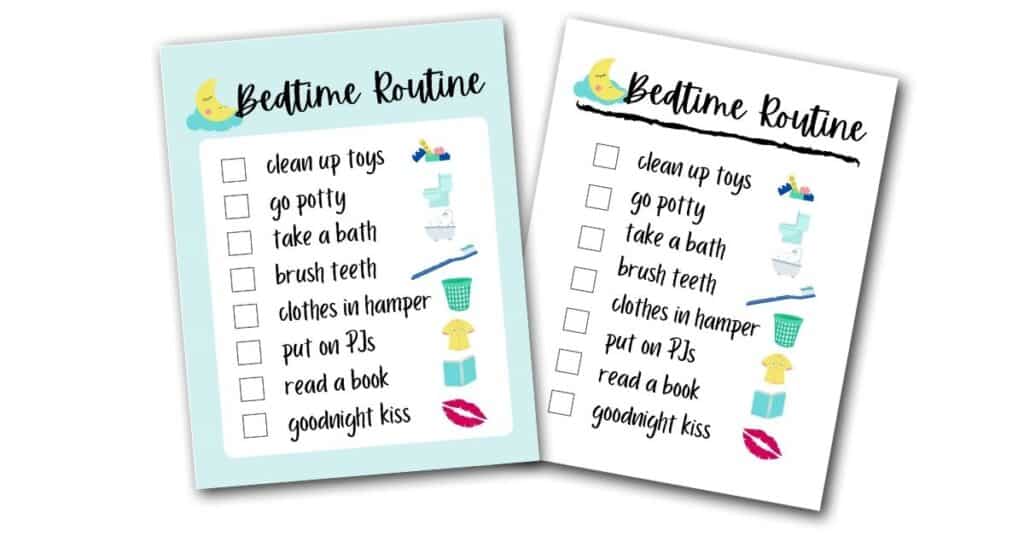 MORE RESOURCES FOR BUILDING ROUTINES FOR KIDS
For more help creating healthy routines for your kids, here are a few additional resources.
5 Simple Tips for a Calm & Tear-Free Bedtime Routine
Free Printable Morning Routine Chart for Toddlers
The 6 Secrets of a Calm Morning Routine with Kids