On any given day, I'm racing around at about a million miles an hour. (I'm sure you know the feeling.) Couple that with what 4 pregnancies did to my brain and I forget things.
Lots of things, in fact.
Which is especially annoying when I'm five minutes into a movie at the theater and I suddenly remember 3 things I forgot to tell the babysitter. So I have to be that person. The one texting in the middle of a movie and then constantly looking at her phone to see if the babysitter has responded.
As moms running from one thing to the next, it's really hard to always remember to tell the babysitter everything.
And even when we feel like we remember to give all special instructions, we may return to find that the babysitter didn't live up to unspoken common sense expectations.
Which is why a babysitting information sheet comes in so very handy!
RELATED: Free Printable Daily Planner Template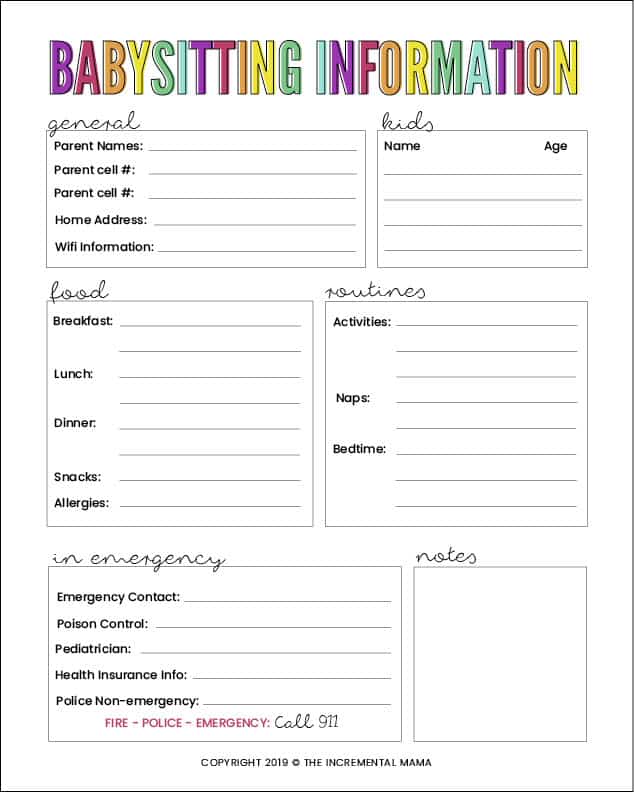 BABYSITTING INFORMATION SHEET PRINTABLE
Whether you're at work or out for the evening, knowing your babysitter has all the information they need will give you peace of mind. This detailed babysitting information sheet is perfect for giving the babysitter (or nanny) the information they need to handle the expected–and the unexpected.
The information on this printable includes:
Kid's names & ages
Parent's contact information
Instructions on kid's routines
Instructions for food & eating
Wifi information
Emergency contact info
Pediatrician & health insurance information
Any extra notes you want to add
RELATED: Free Printable Chore Chart for Kids
HOW TO USE THE BABYSITTING INFORMATION SHEET
There are a few ways you can use this printable:
Fill out and laminate: That way you have a re-usable hard copy you can put on your fridge or stick in your diaper bag.
Laminate and then fill out with a dry-erase marker
Place in picture frame and then fill out with a dry-erase marker
As a working mom who has frequently dropped my kids off at various babysitters' homes over the years, I designed this specifically to be exactly what I'd want to have in my diaper bag.
If you'd prefer and editable pdf, you can grab an editable babysitting info printable. It comes in 2 styles: rainbow & teal.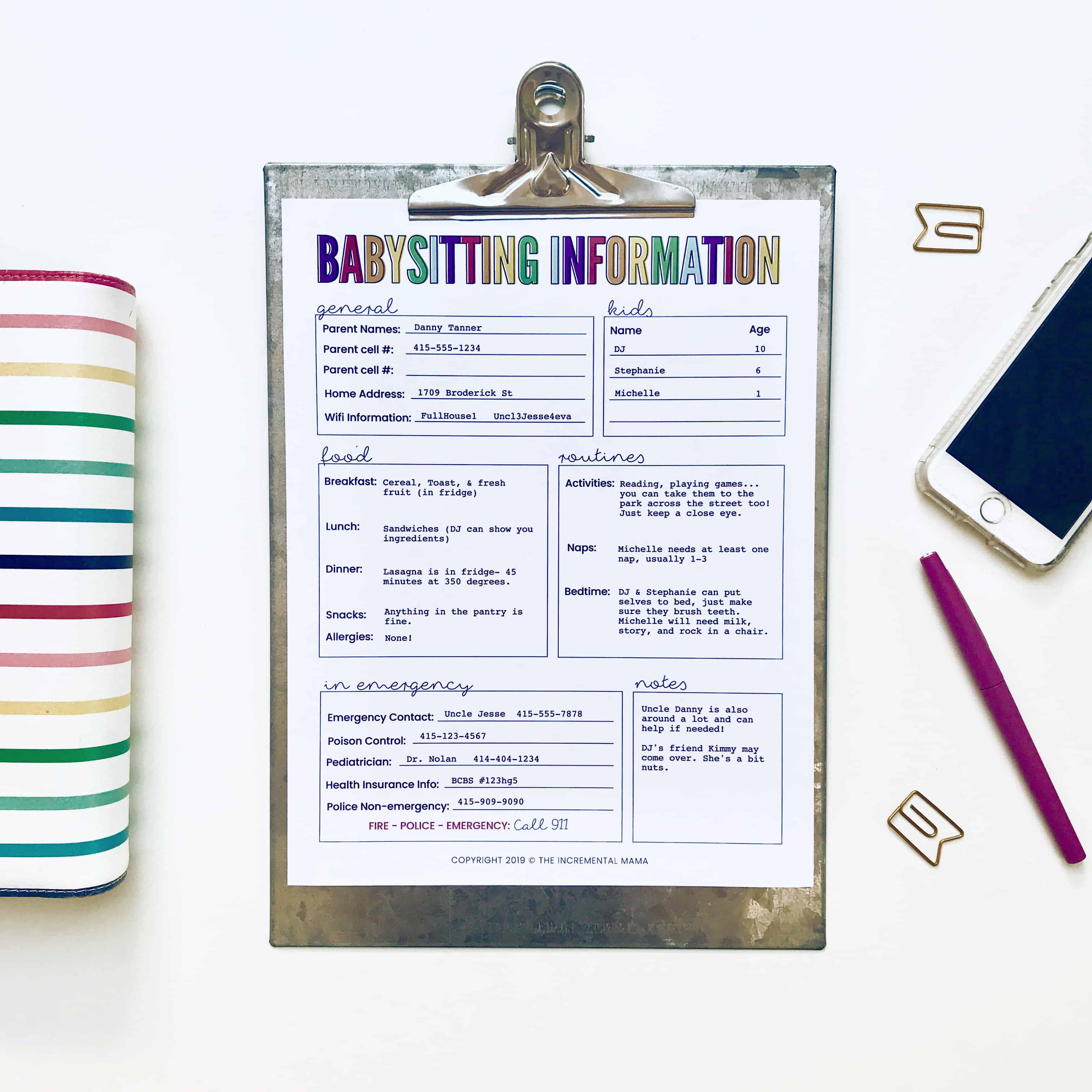 DOWNLOAD THE BABYSITTING INFORMATION SHEET
Subscribe and grab your free download! And have peace of mind when you leave your little ones with a sitter.
You've got this!