While I don't have solid statistics on the matter. I'd venture to guess that the venn diagram of girls under 12 and girls who love unicorns is probably just about a circle. And if you're shopping for presents, these 25 unicorns gifts for girls are sure to delight.
As a mom of 4 girls aged 4 to 8 we're really REALLY into unicorns at our house. Unicorn leggings, dresses, purses, and unicorn toys fill drawers, closets, and toy bins.
So, not to brag, but I'm a bit of an expert.
[brushes off sleeve]
And I've created this unicorn gift guide to help you find highly-rated and magical gifts for girls of all ages. For convenience, this gift guide is organized by age group. Below you will find:
You can click any of the above to skip straight to that age group if you don't feel like perusing the entire list.
BEST UNICORN GIFTS FOR TODDLERS
While they work for kids of all ages, these gifts are perfect for younger unicorn-loving girls under 5.
Unicorn Stuffed Plushie Set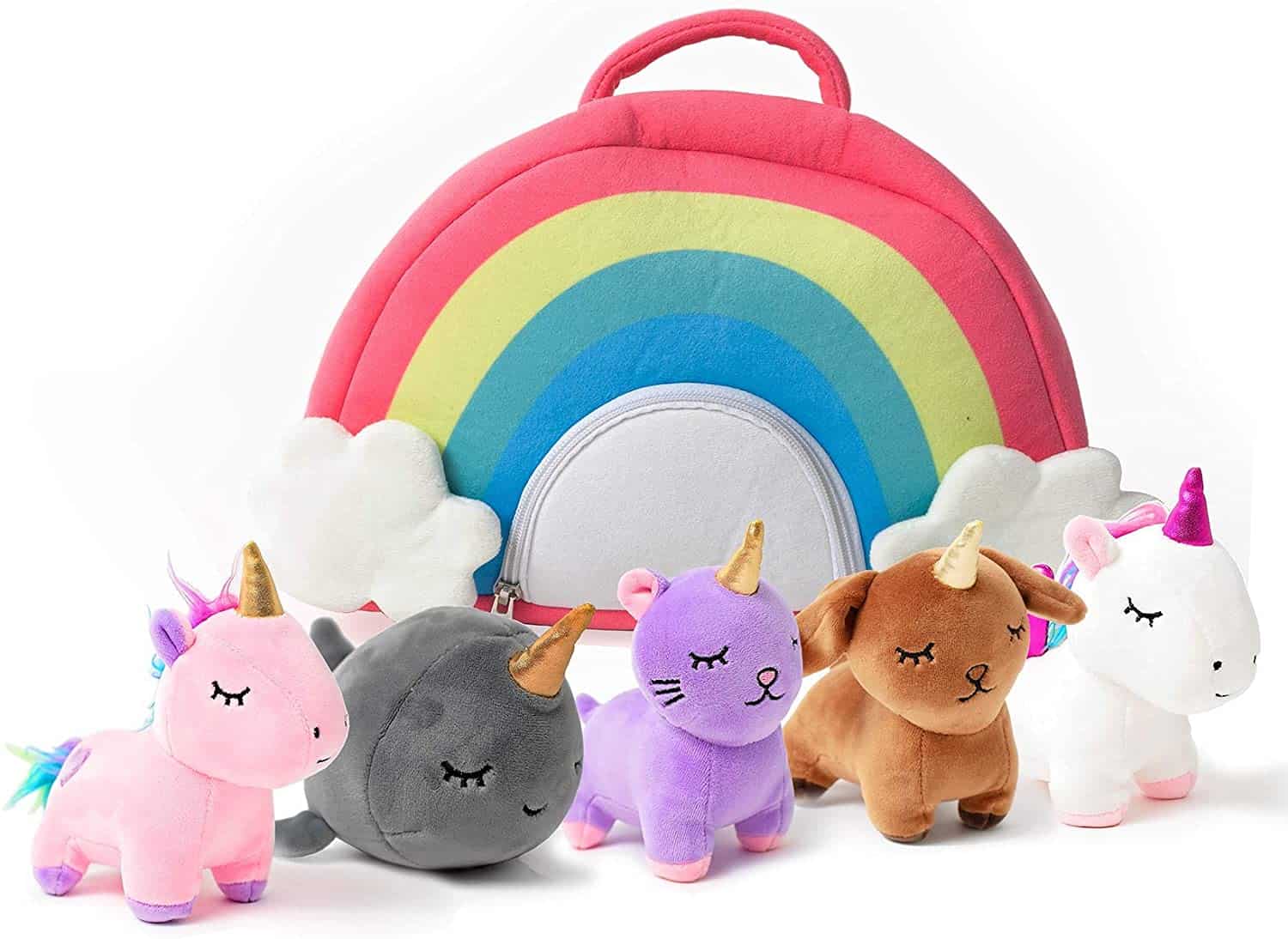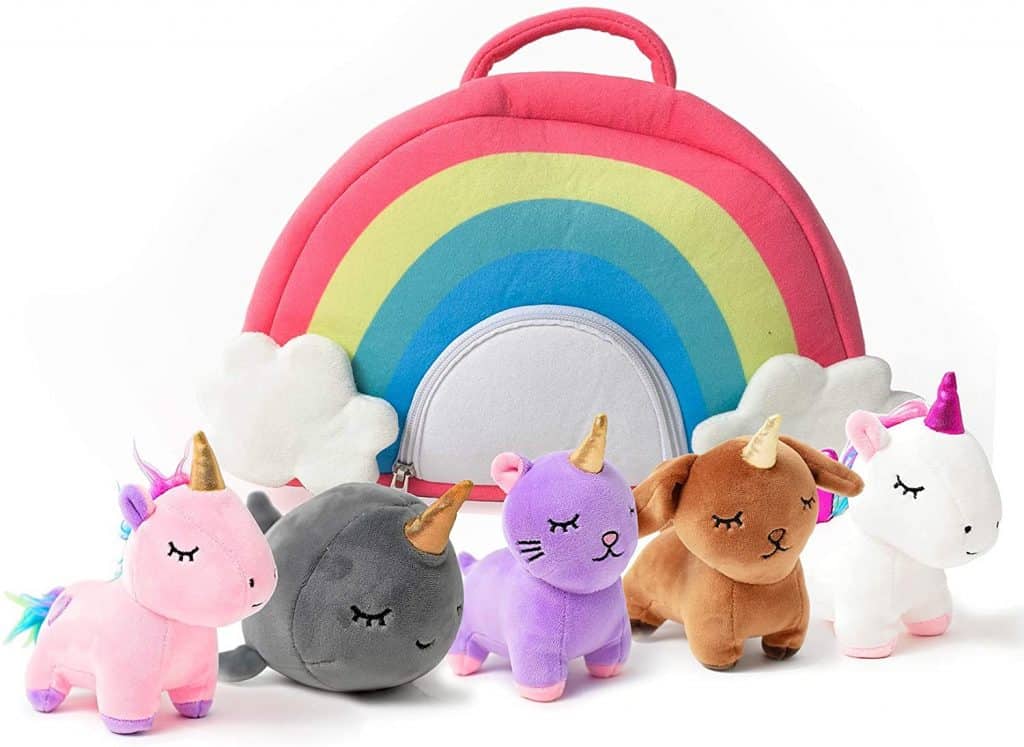 This stuffed plushie set has it all: soft cuddly plushies, unicorns (and a uni-dog and uni-kitty), a narwhal, and a rainbow carrying case. I love that it comes with a case to organize the plushies.
This gift is perfect for a toddler or small child who is into snuggly toys and creative play.
Unicorn Dress Up for Girls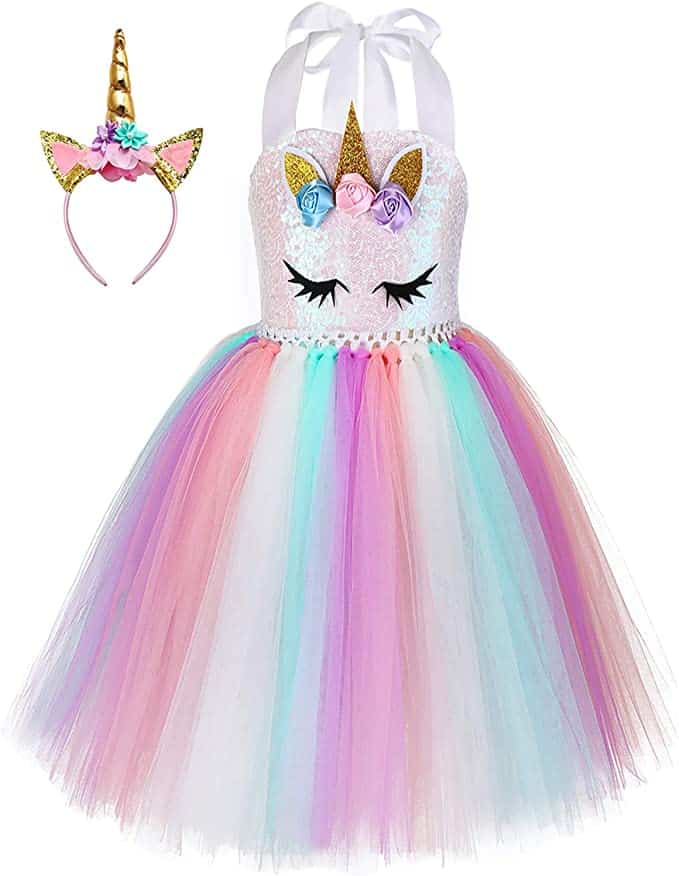 As far as my girls are concerned, it's impossible to have too many dress up clothes. And I love dress up clothes because they provide hours of fun imaginative play for my girls and are quick to clean up.
So if you've got a little girl who loves dress up, this adorable unicorn dress up costume from Amazon is perfect. Complete with unicorn horn headband, this dress comes in sized 3-8.
Crochet Unicorn Beanie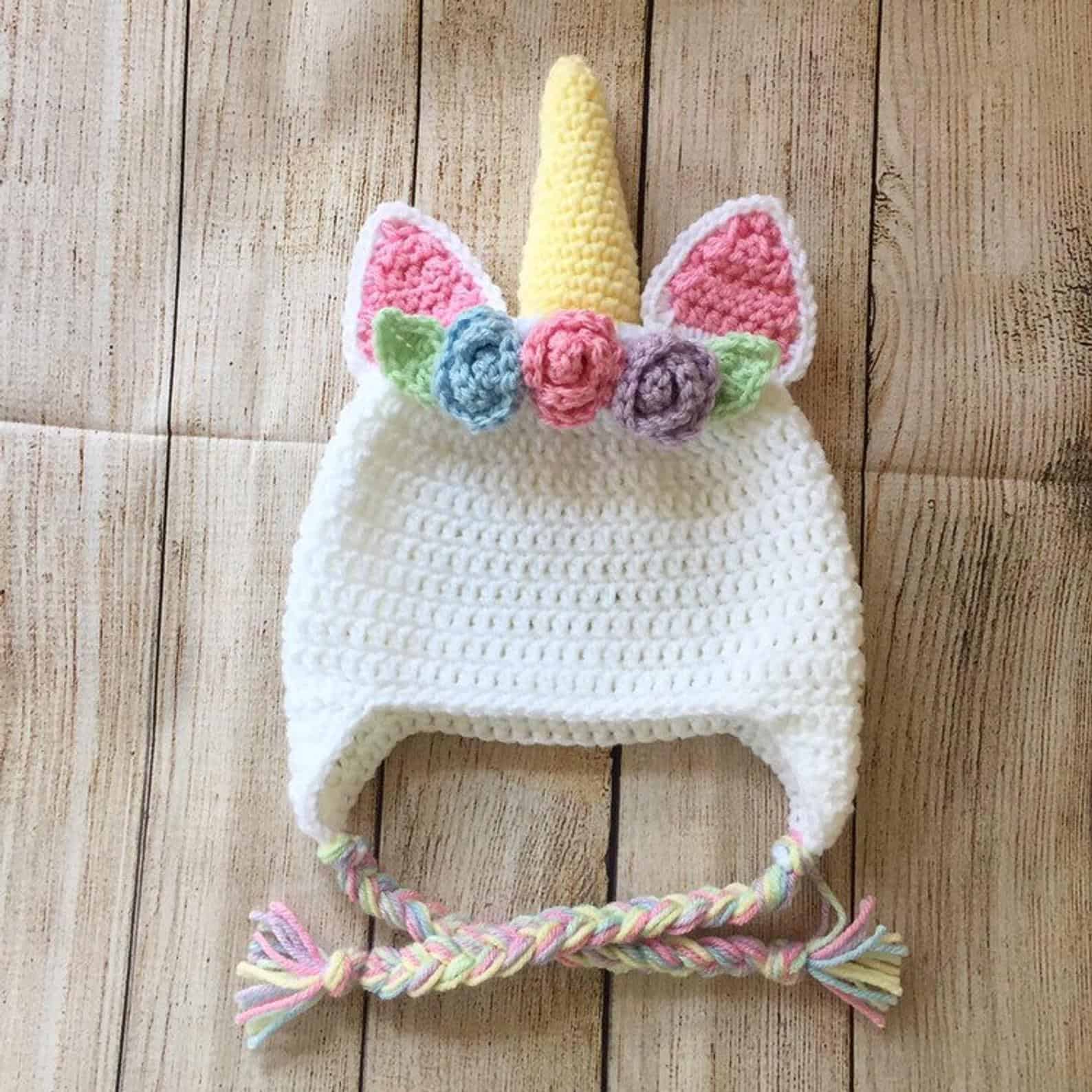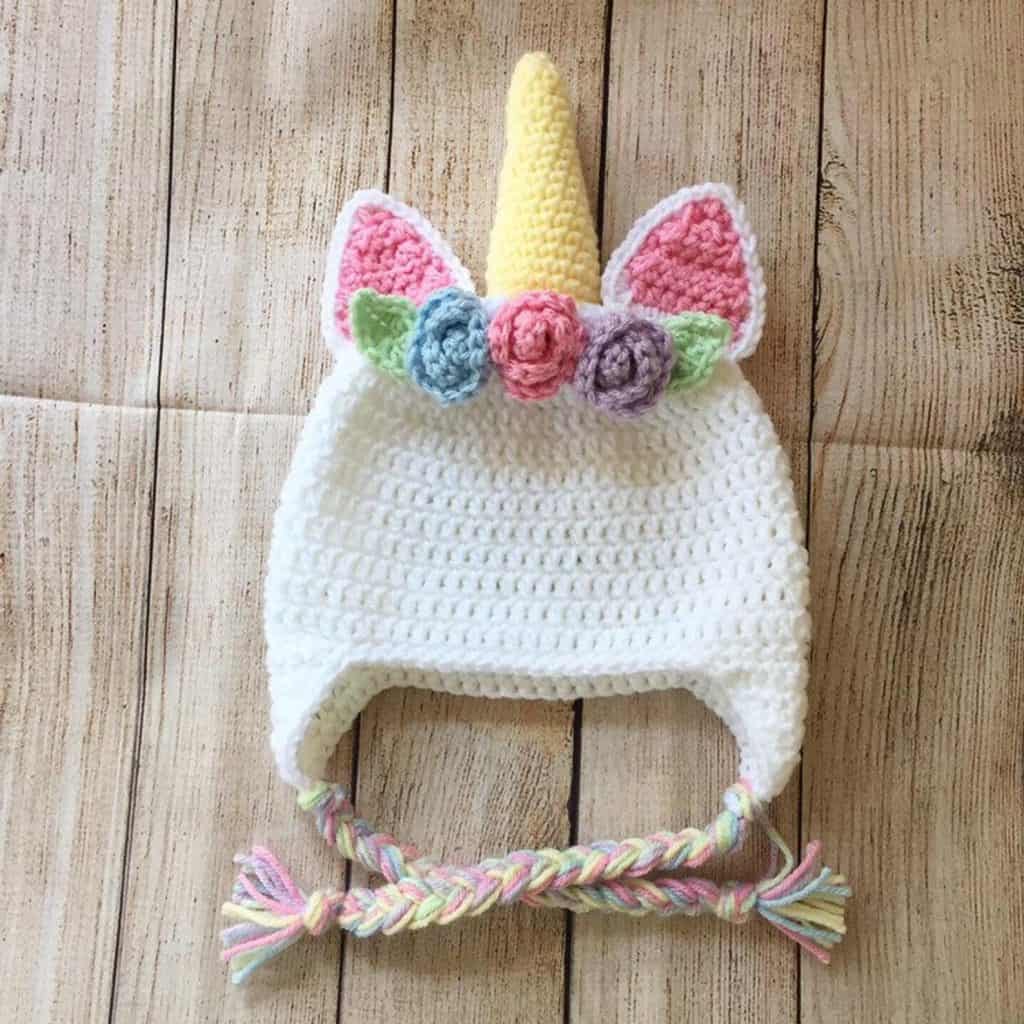 You'll support small business and get a super cute (and functional) gift when you get your little one this adorable unicorn beanie from Etsy.
This actually comes in sizes for newborns all the way up to adults. Meaning, you could do matching unicorn beanies!
My First Big Book Of Unicorns Coloring Book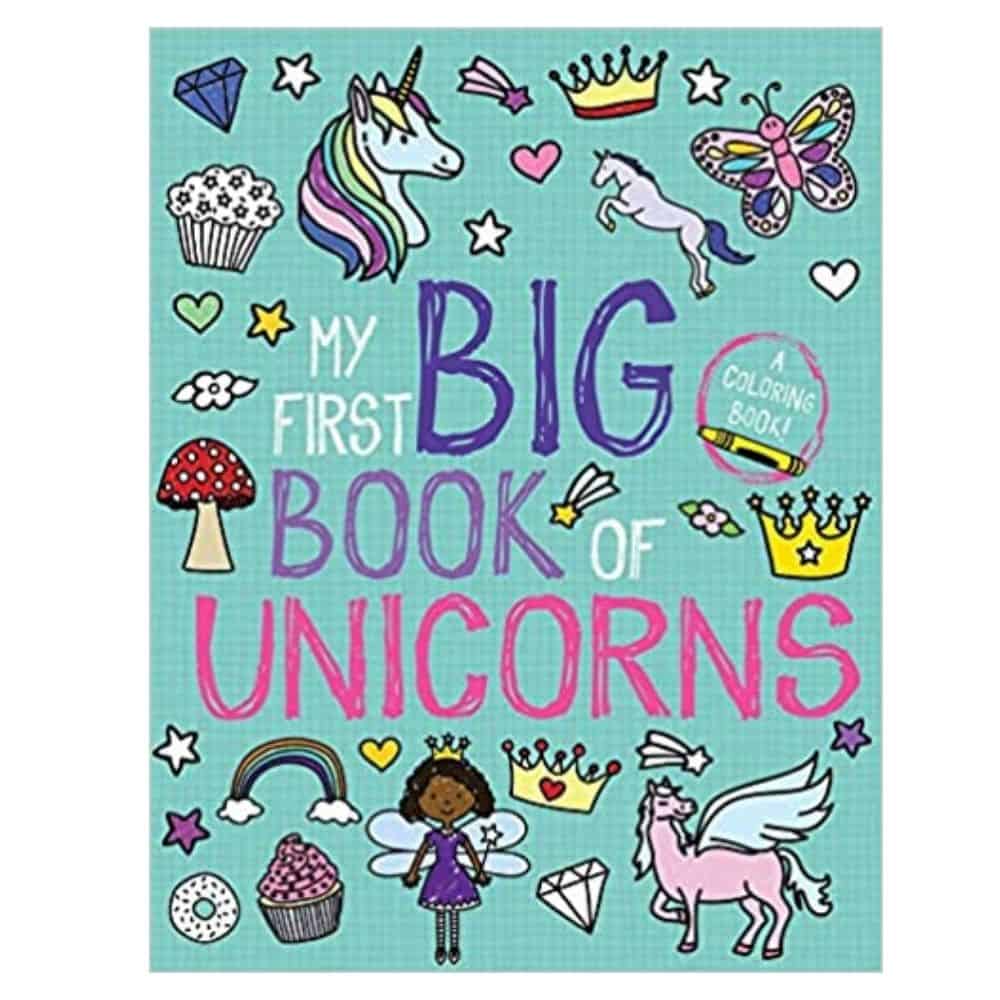 This unicorn coloring book gets stellar reviews on Amazon and is full of thick coloring book pages that don't bleed (many reviewers say they're thick enough to paint on). Perfect for kids under 5 and under $10.
Kids Unicorn Plush Backpack
This plushie unicorn backpack is the perfect gift for girls ages 1 to 5. Includes unicorn plushie (which straps into the backpack) and super soft backpack, perfectly comfortable for small shoulders.
Best yet: it's machine washable! Comes in 2 sizes and 2 colors.
Unicorn Doctor Bag & Accessories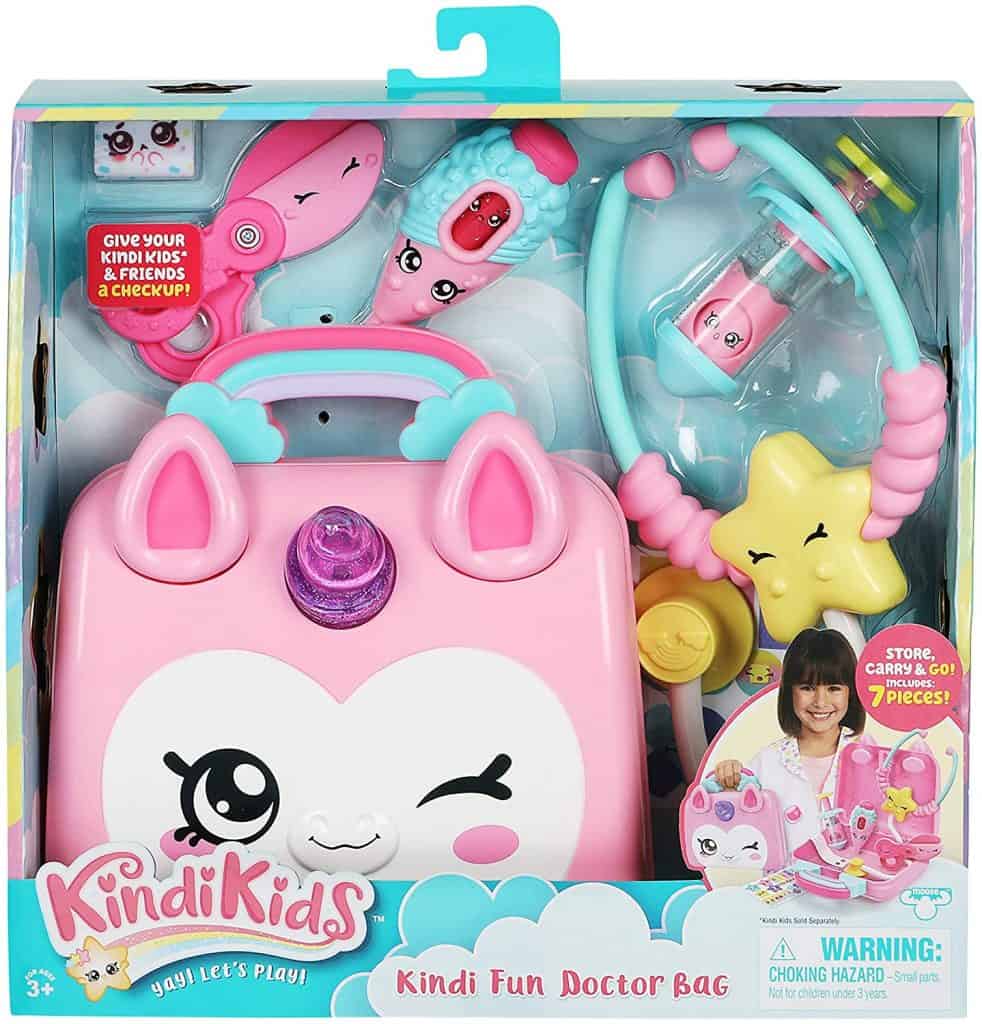 It's the marriage of 2 very fun things with this unicorn doctor's bag and accessories from Amazon. Fun doctor's bag to promote imaginative play and the perfect theme for your unicorn loving girl.
Unicorn Napping Mat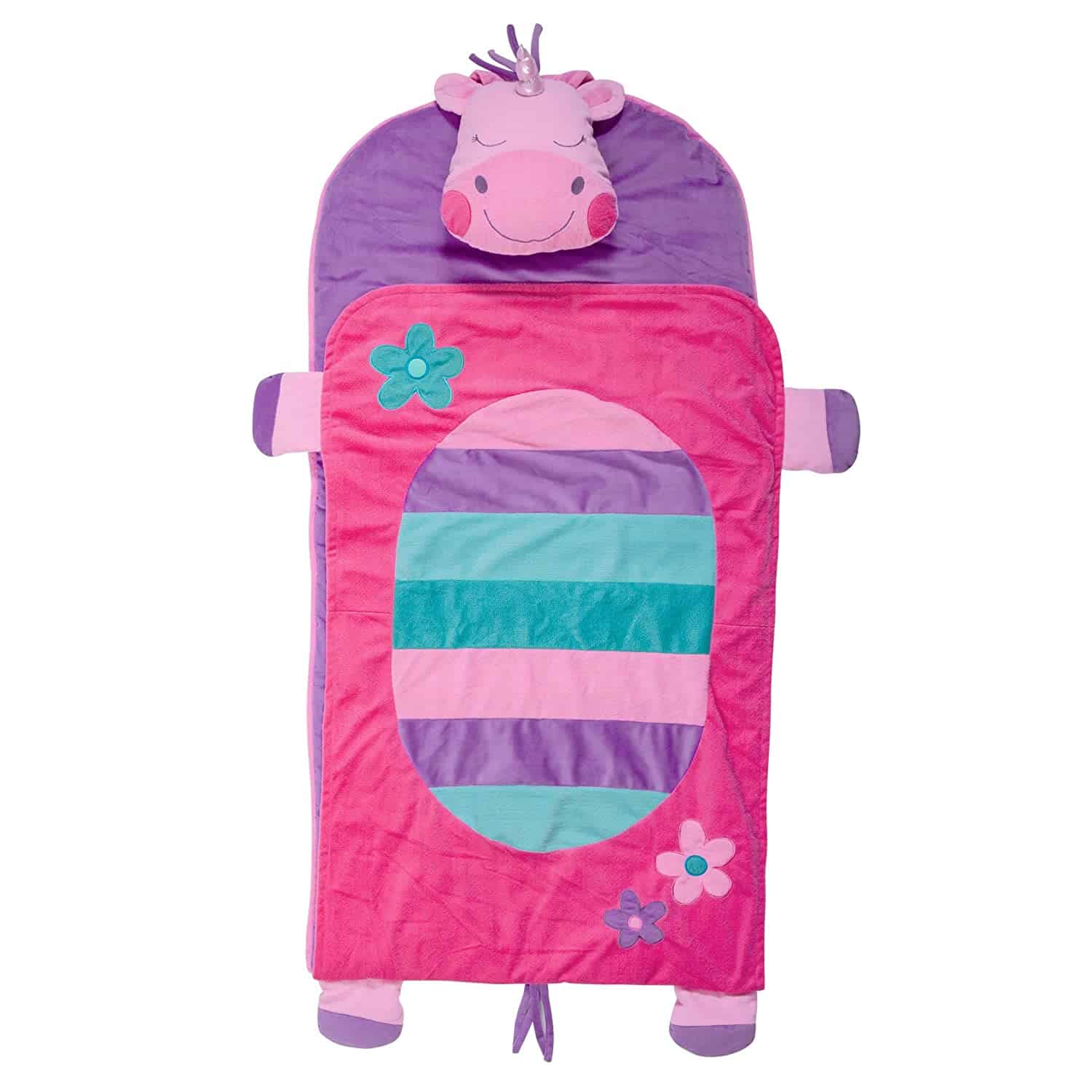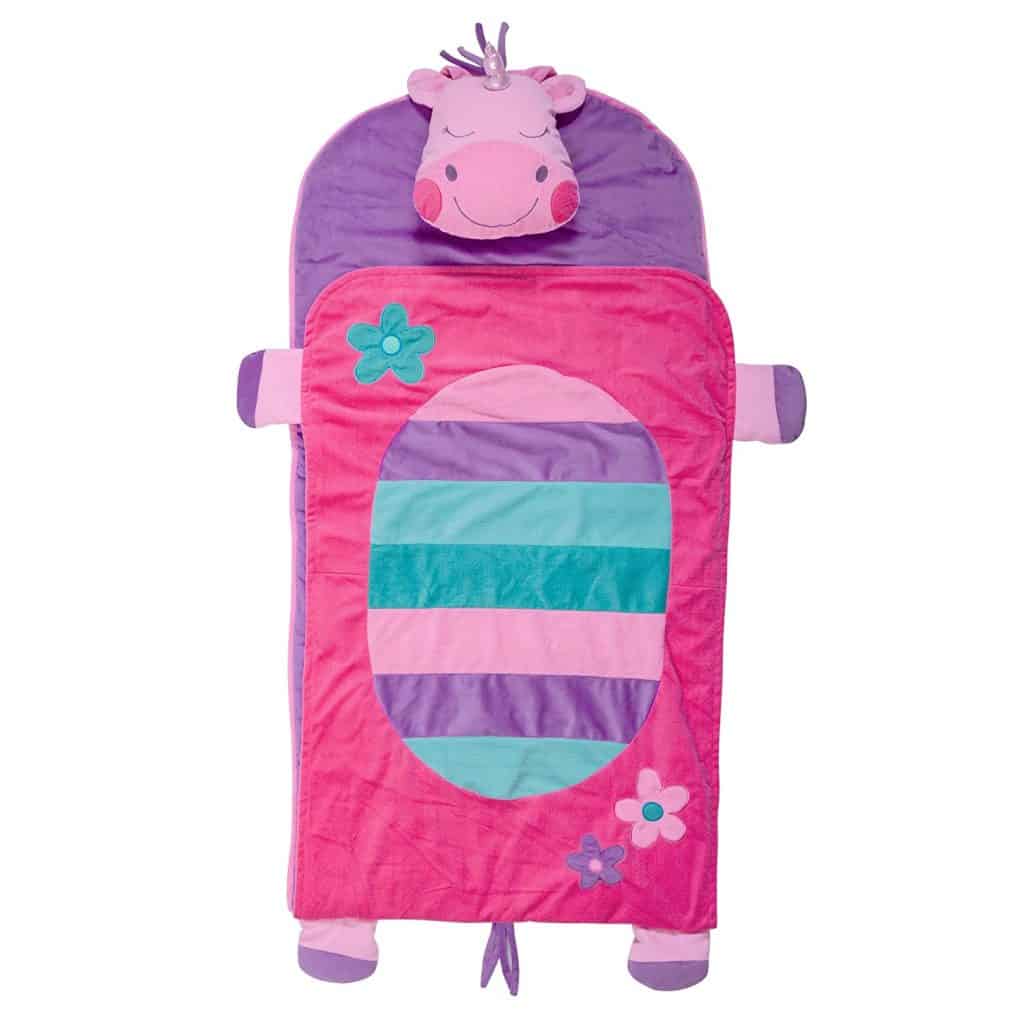 This napping mat is perfect for a toddler or preschool aged unicorn loving girl.
Never Let a Unicorn Scribble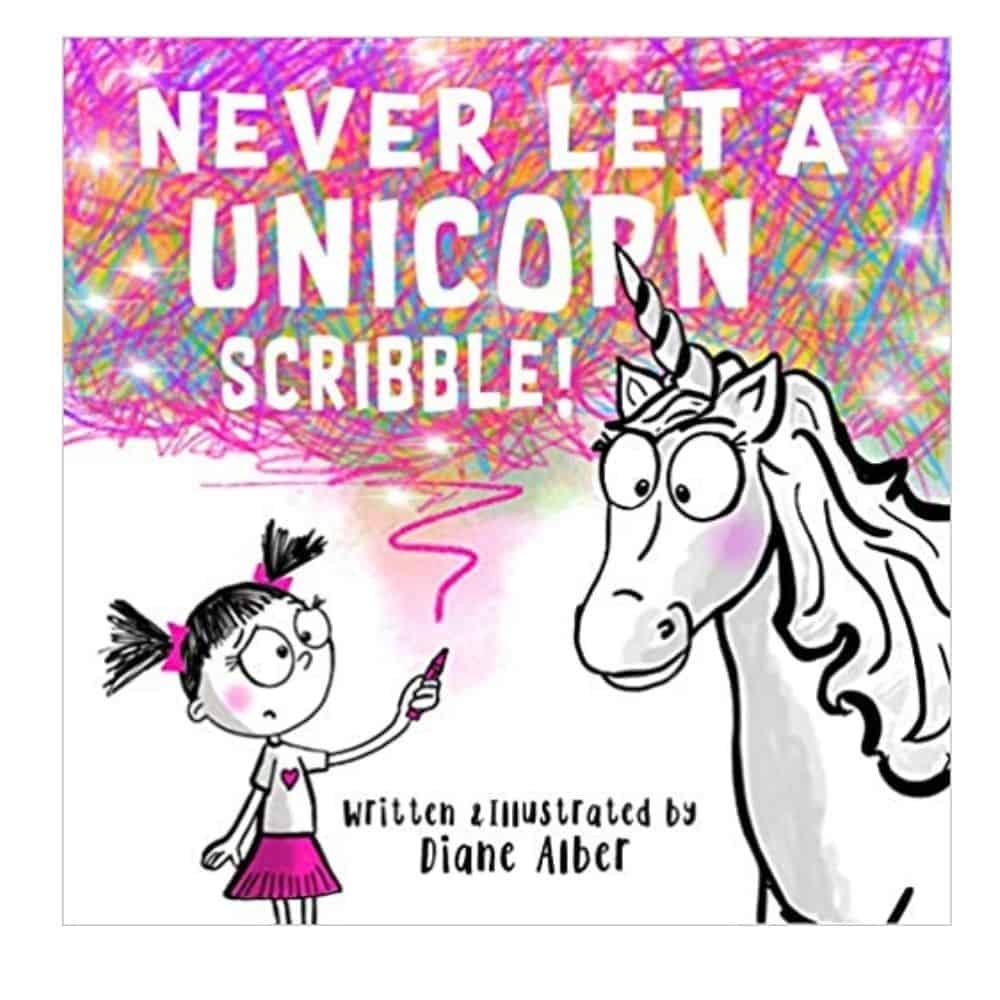 This is a cute and funny story that not only entertains, but teaches important principles like believing in yourself, character traits, empathy, and even art principles.
BEST UNICORN GIFTS FOR GIRLS AGES 5-12
The following gifts are great for kids ages 5-10 or so who love unicorns.
Barbie Dreamtopia Brush n' Sparkle Unicorn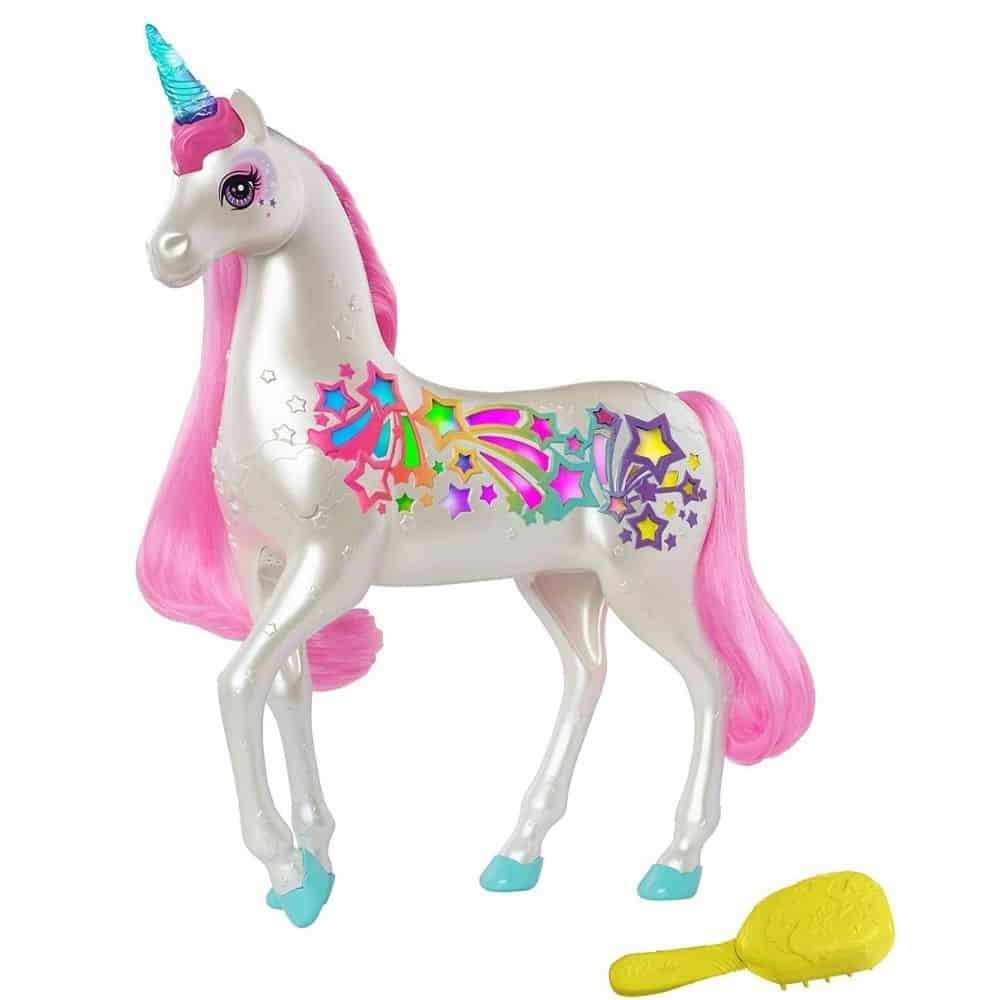 If your little one loves Barbies, this Dreamtopia Brush n' Sparkle Unicorn is a no-brainer. (Personally, my girls have LOVED everything from the Dreamtopia collection.)
With 4 different lights and sounds (plus a brush), this unicorn toy will bring magic to play time.
Craft-tastic Unicorn Craft Kit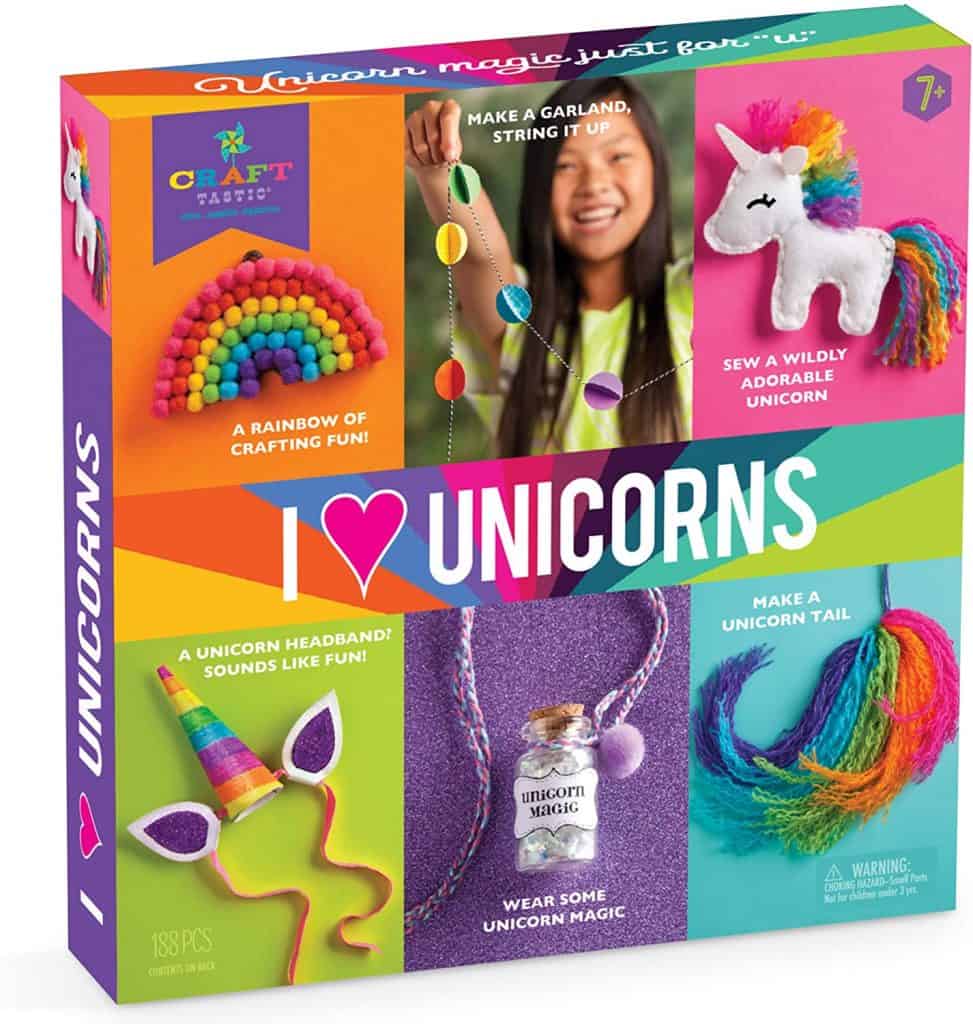 This unicorn craft kit comes with materials and instructions for 6 unicorn crafts that will your creative kid busy & happy for hours.
My Little Pony Friendship Castle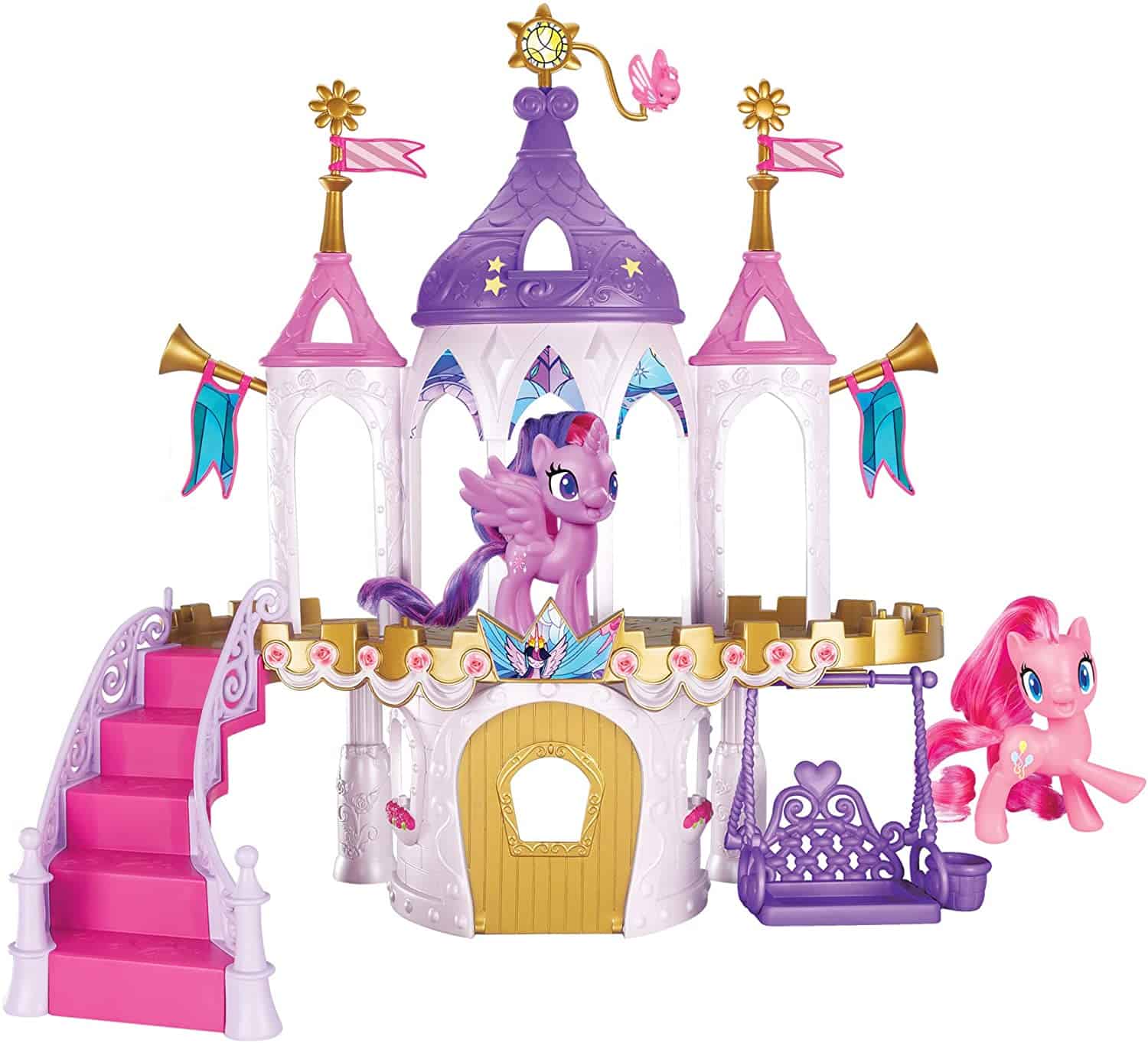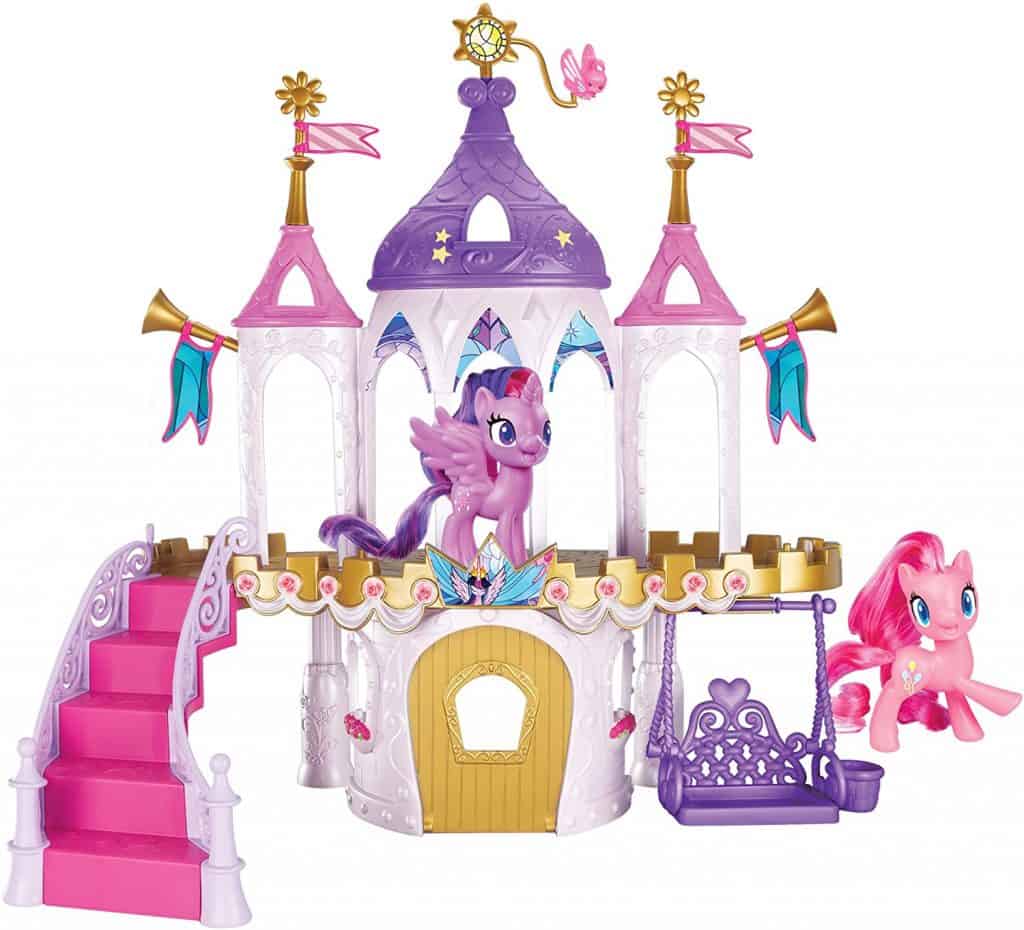 Showcasing the uber-famous unicorn Twilight Sparkle (at least she's a celebrity in our house), this My Little Pony Friendship Castle is a magical gift for little girls. Castle comes with Twilight Sparkle and Pinky Pie.
Squishy Unicorn Diary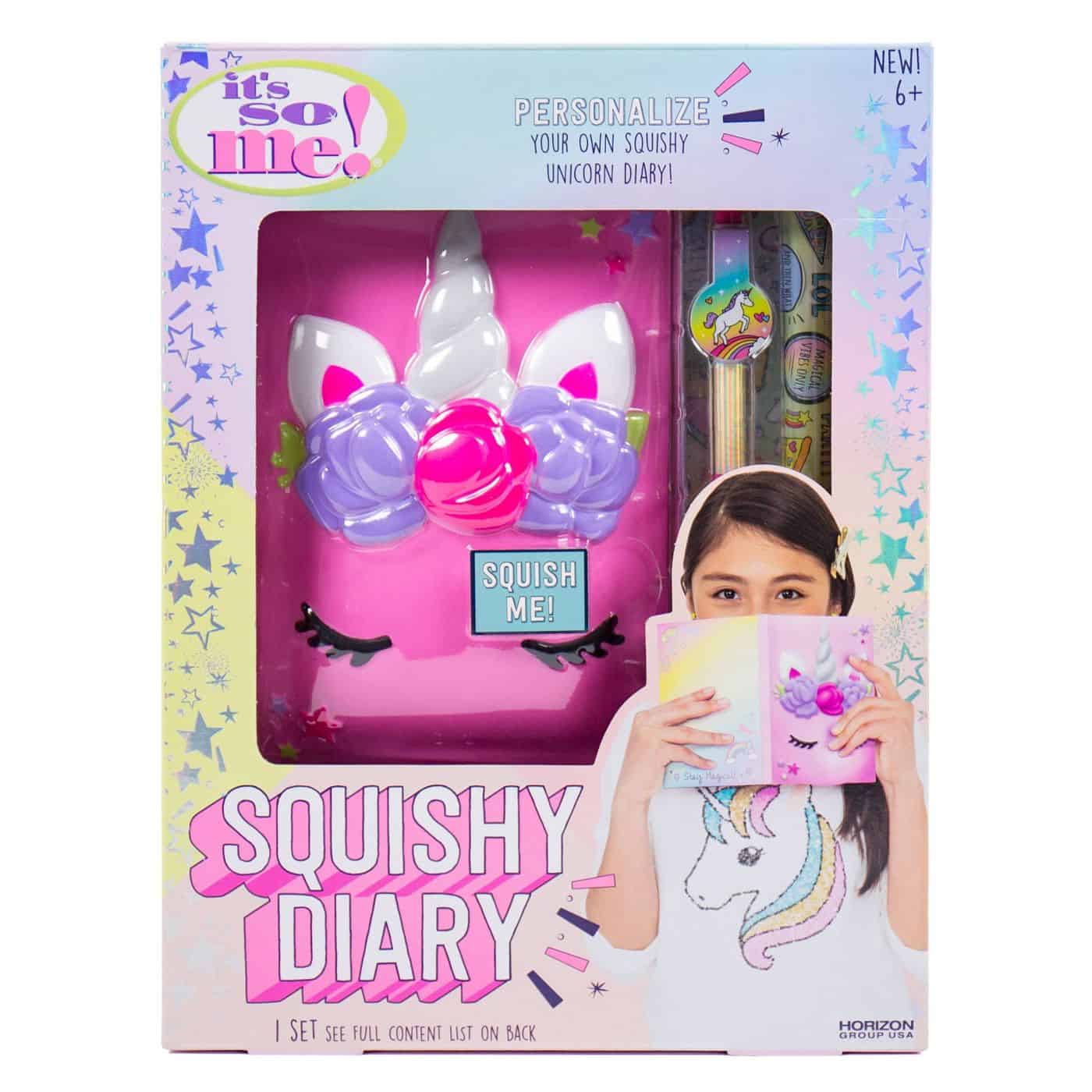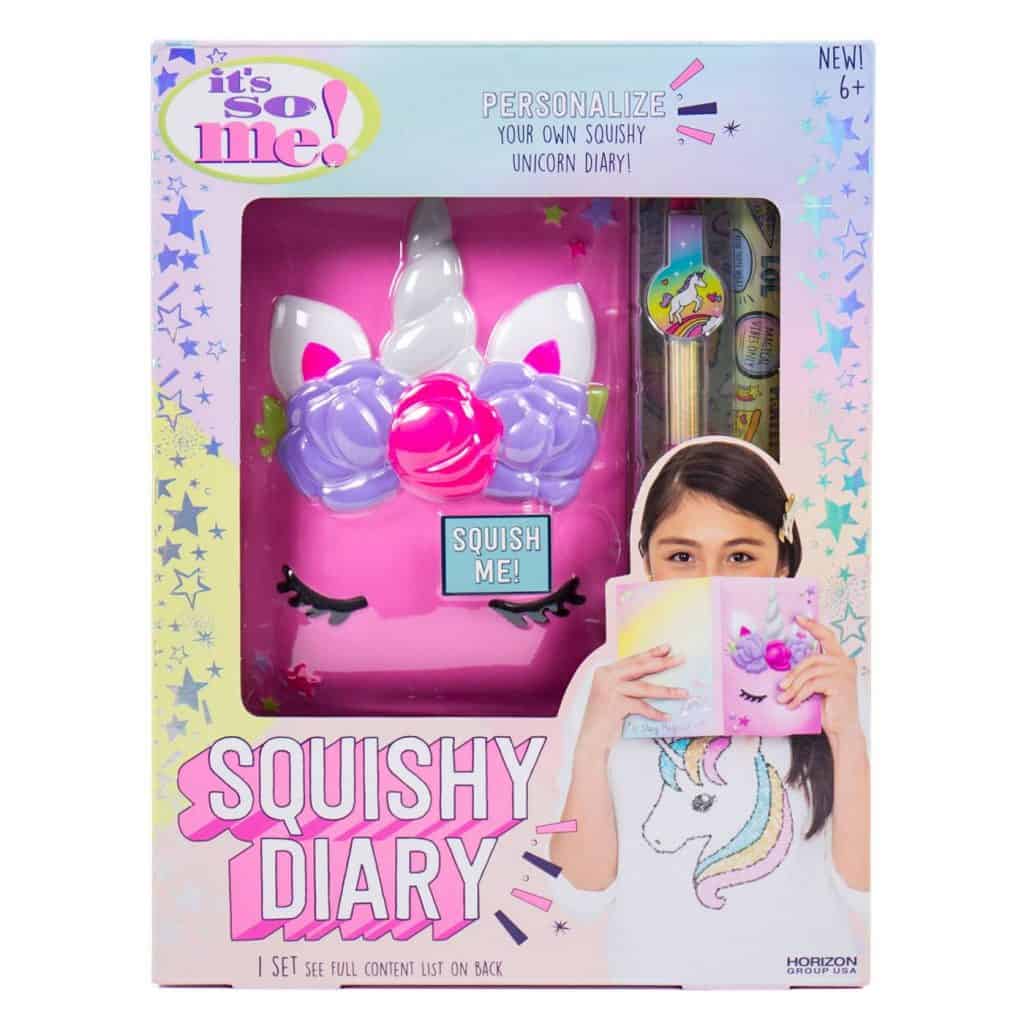 This squishy unicorn diary from Target is so much fun–and it's under $15. It comes with a cute pen and stickers and perfect for girls 6 and up.
By the way, my 7 year old got one from her grandma it provided a lot of encouragement for her to develop her writing skills. It has the added benefit of promoting academic skills!
Unicorn Rain Boots for Girls from Western Chiefs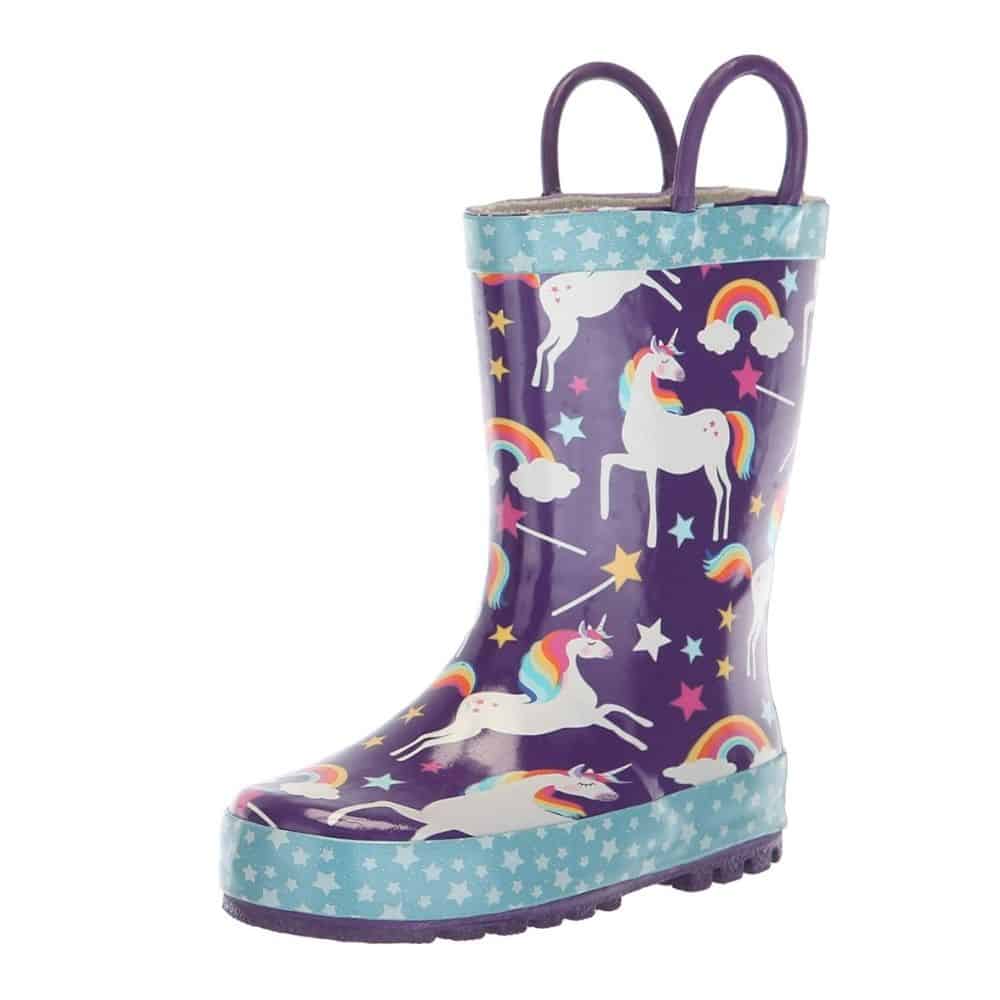 These adorable unicorn rain boots come in kids sizes 5-13 and feature handles to make putting on easy peasy.
Unicorn Music Box & Jewelry Set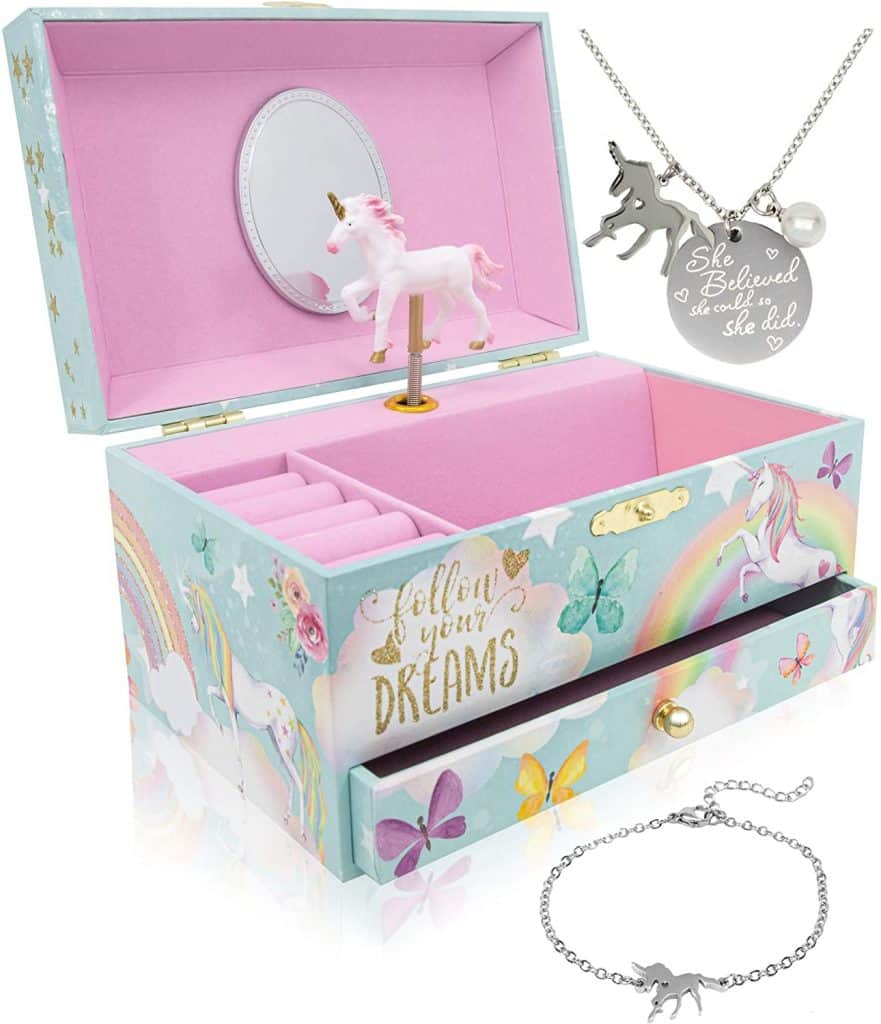 I'm all about the fun and functional. And this unicorn music box and jewelry set from Amazon fits the bill for both.
Your little sweetie gets a great place to store her jewelry plus a cute unicorn necklace and bracelet.
Personalized Unicorn Lamp
Personally, I'm all about functional gifts. And this personalized unicorn lamp is awesome. It has 7 different color settings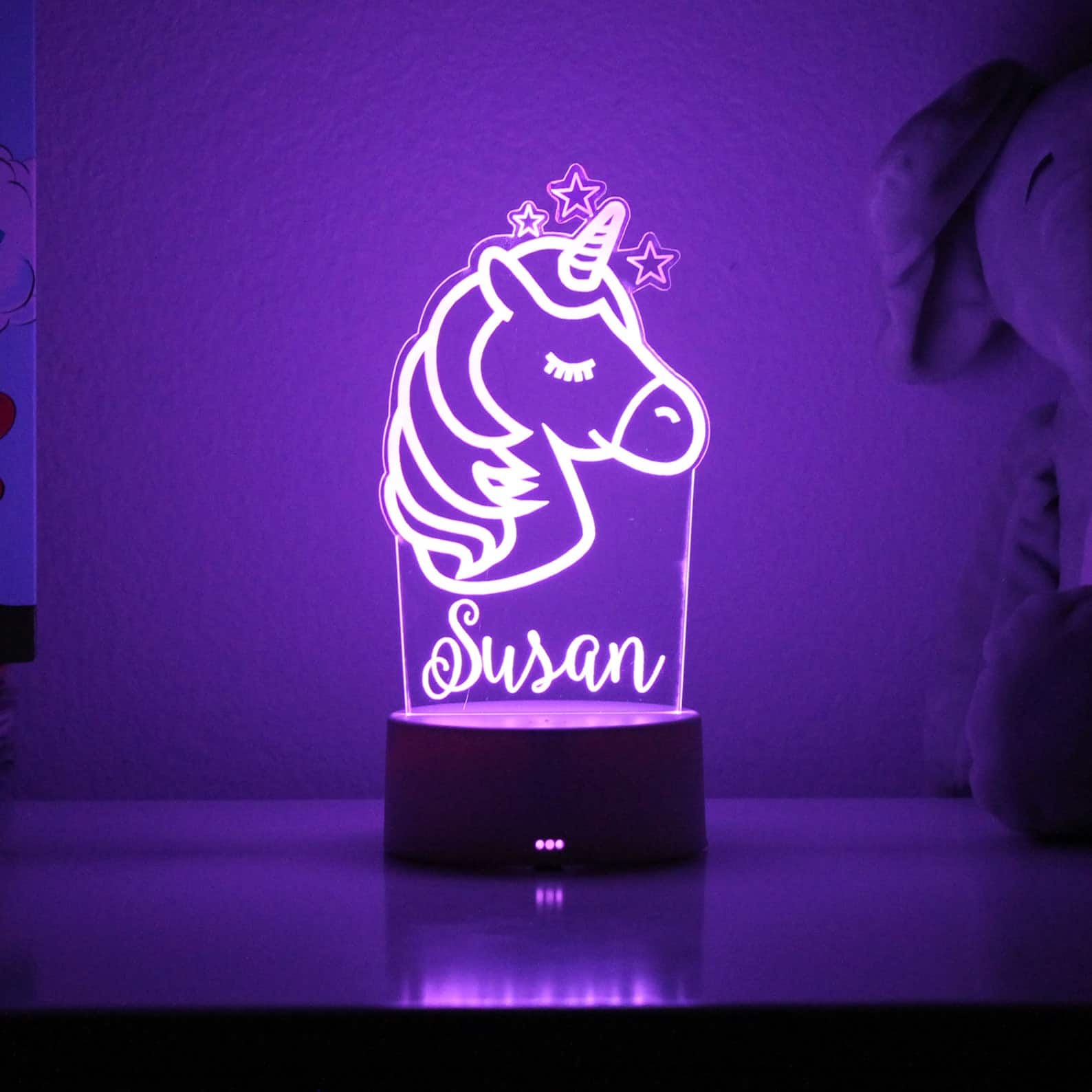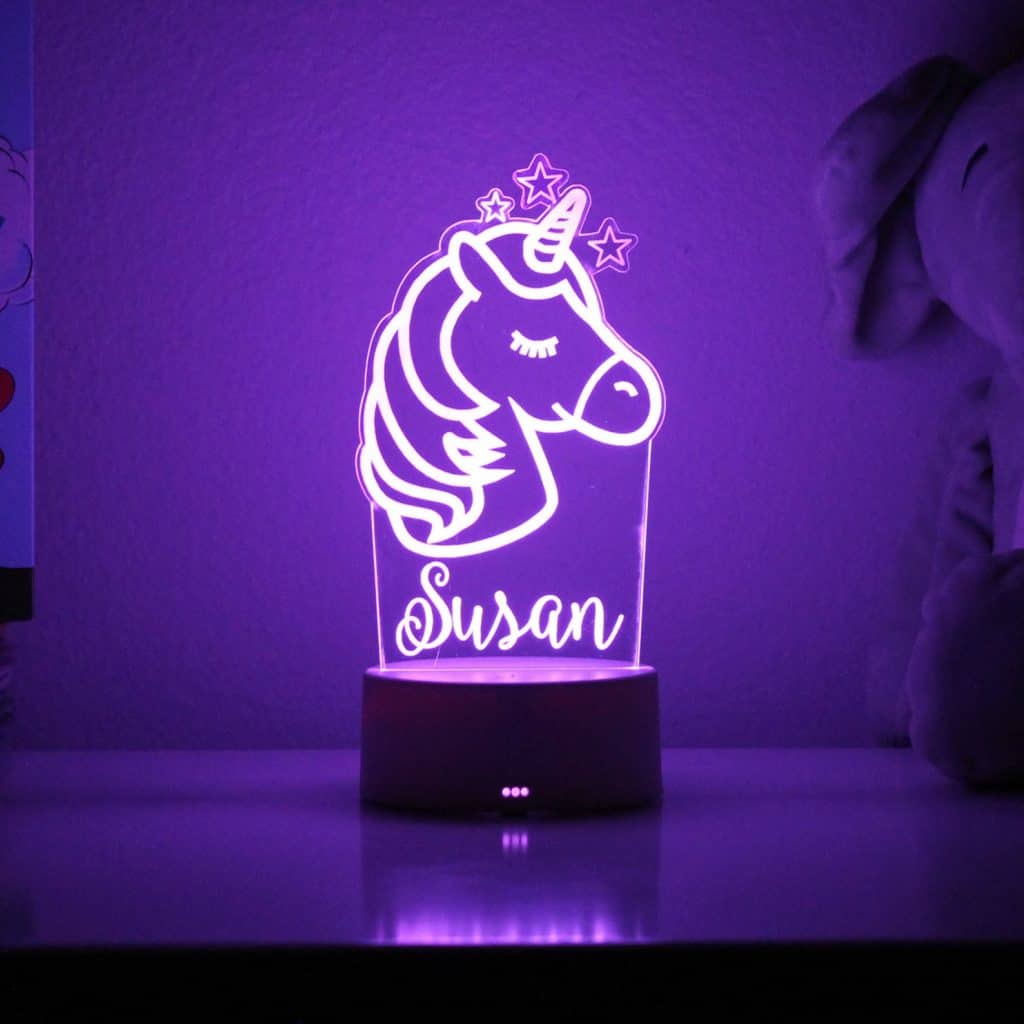 Unicorn Robe & Slipper Set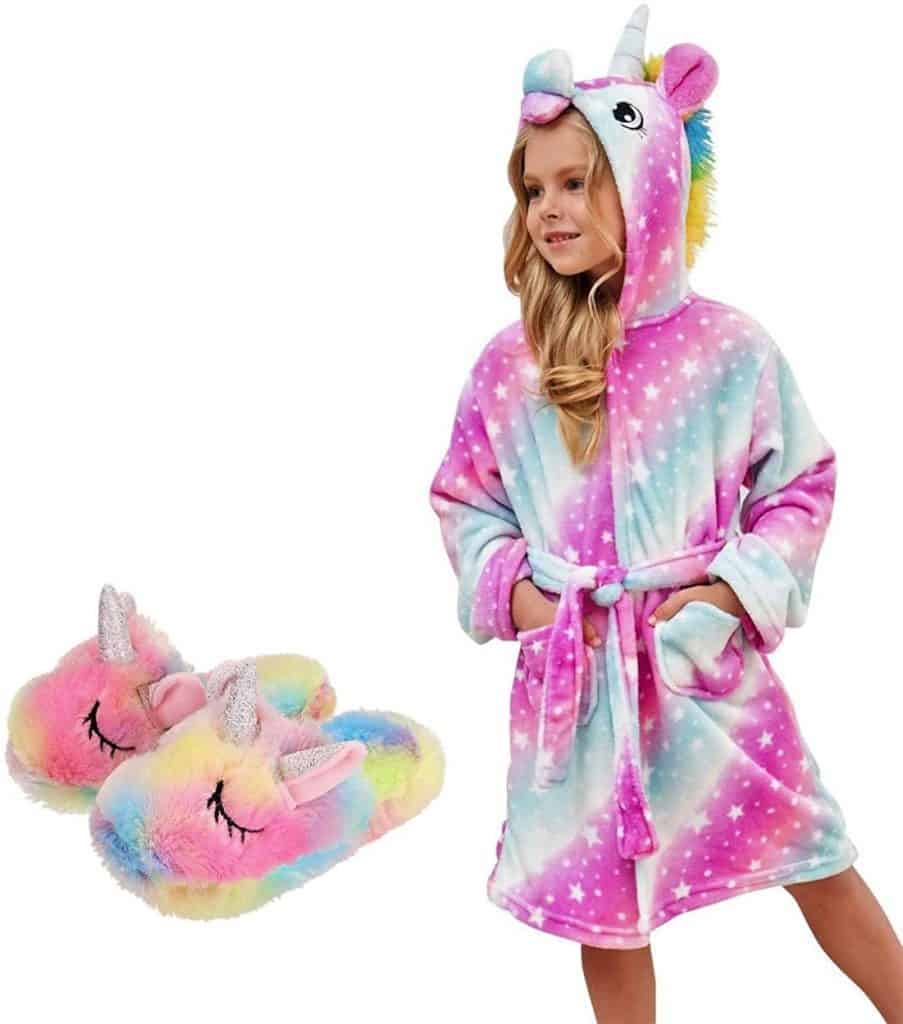 This unicorn robe and slipper and slipper set is not only high quality and cute, but it comes in 14 different colors and patterns and in sizes 3T-12/13. WIth so many options, you can find the perfect one for your girl!
My Little Pony Necklace Activity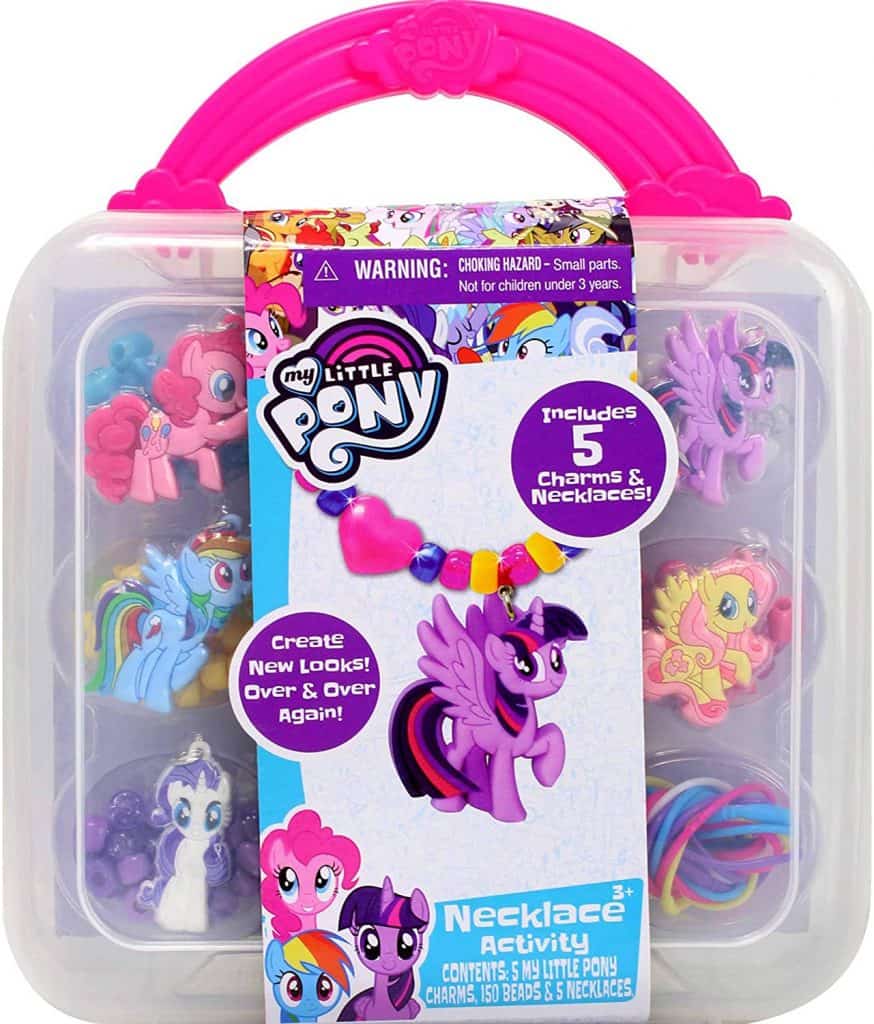 With this My Little Pony necklace kit, your little unicorn lover will get supplies to easily make 5 different necklaces. Perfect for crafty and creative kids and under $15.
Soft Fleece Unicorn Hoodie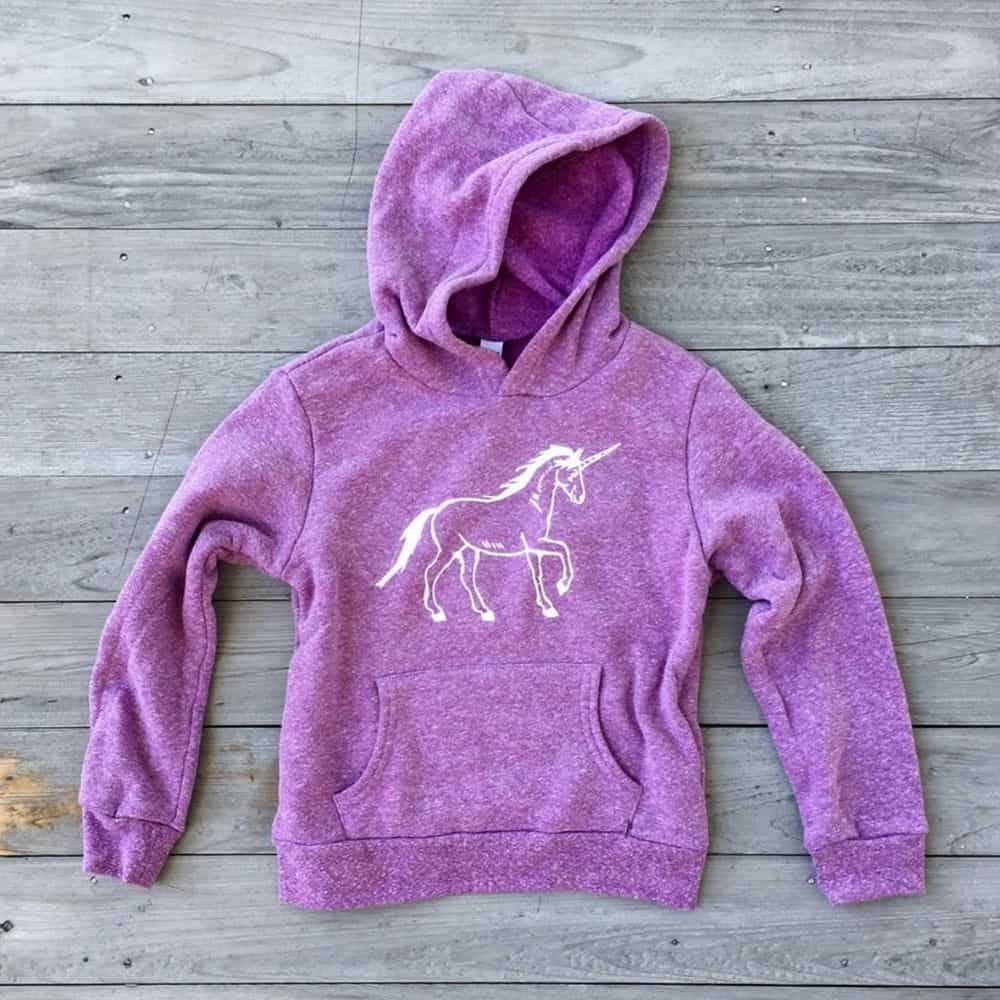 Coming in sizes 4 to 12, this super-soft fleece unicorn hoodie is the perfect gift for girls. Simple and understated, it's a great (and useful) surprise!
Just My Style Unicorn Messenger Bag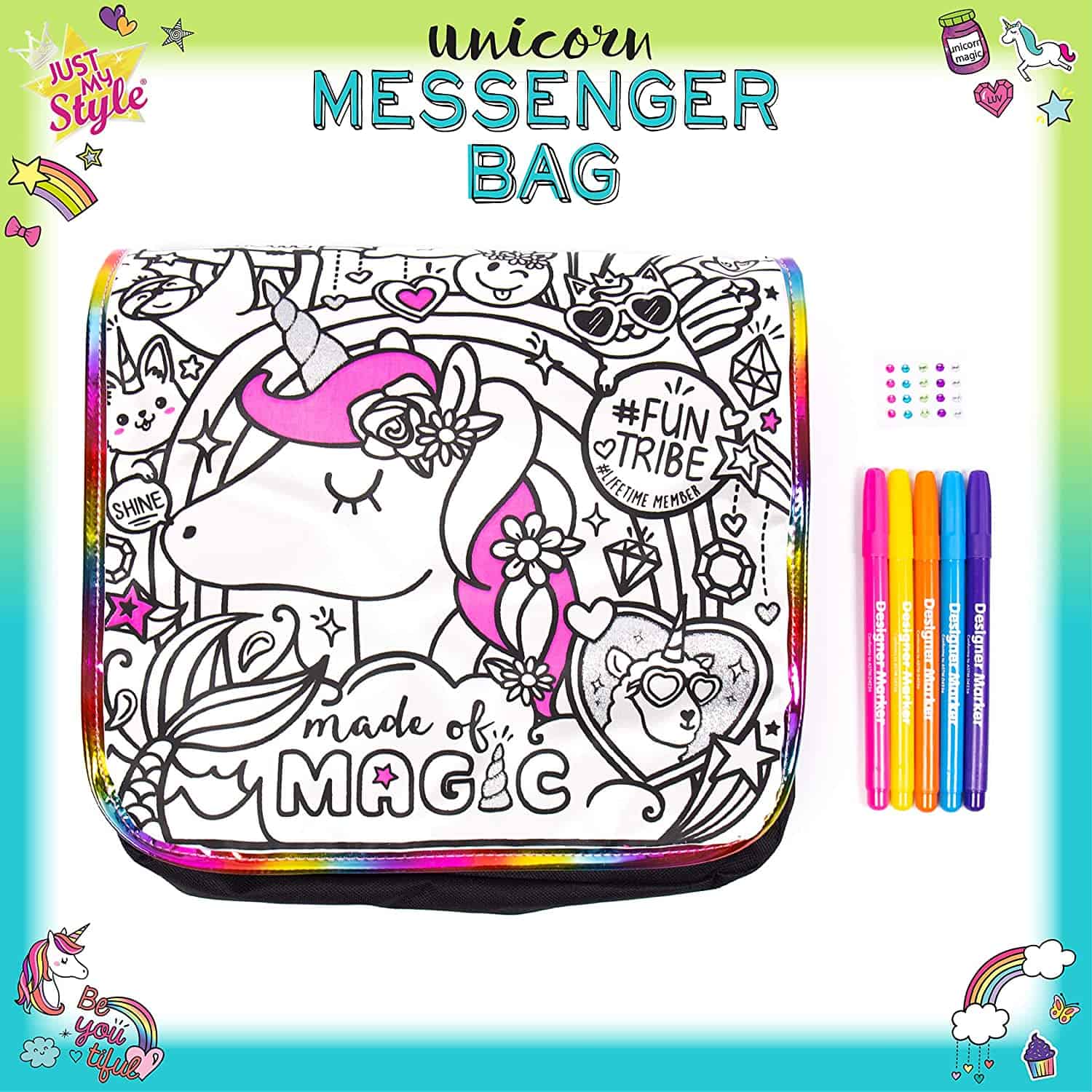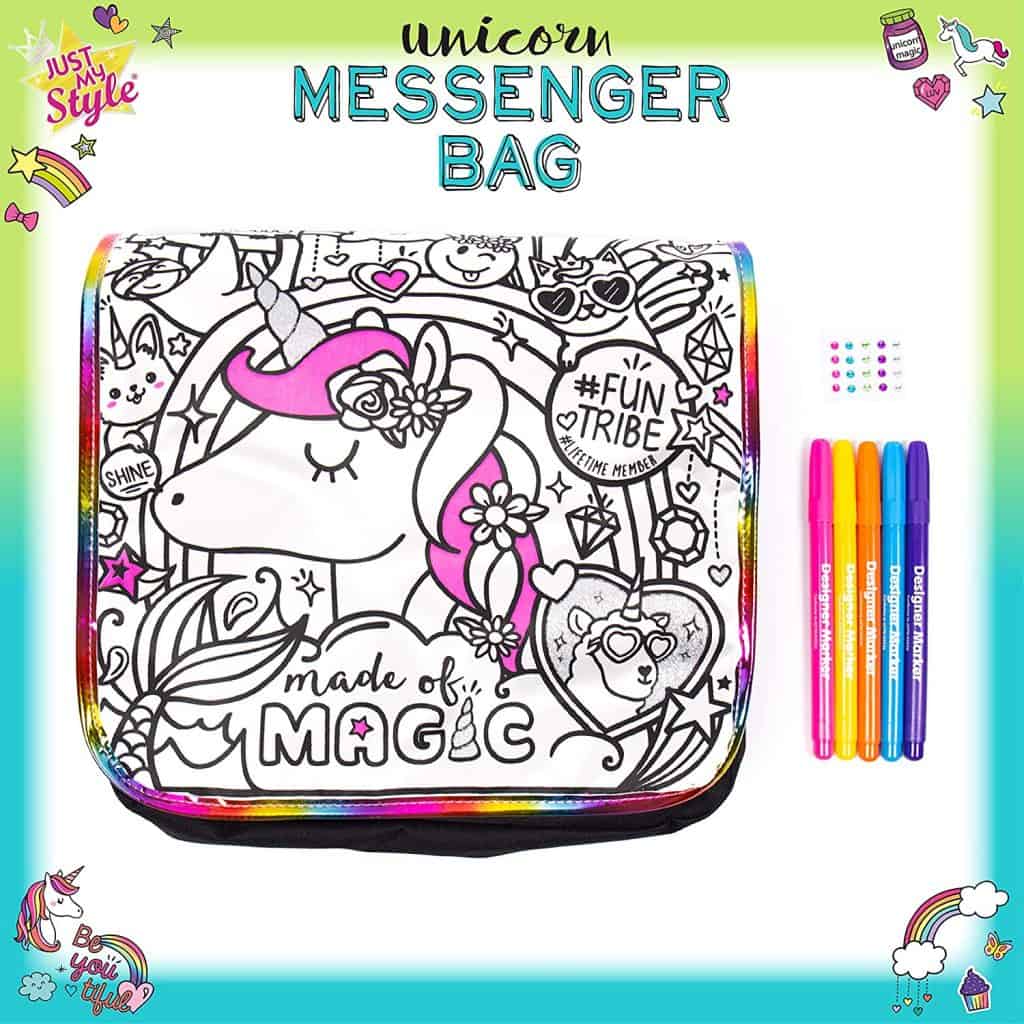 Perfect for kids 6 and up, this inexpensive gift (under $10) is both a unicorn messenger bag and fun craft project!
Phoebe & Her Unicorn Book Set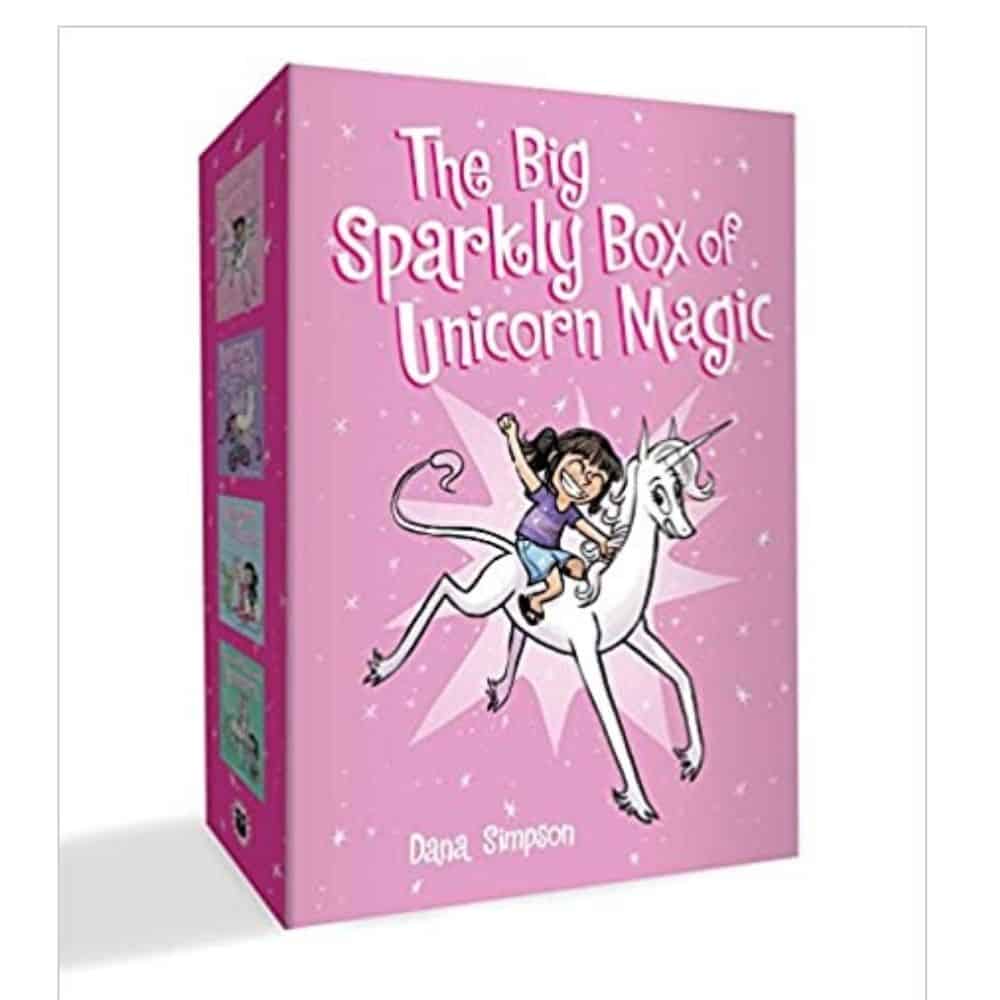 The Big Sparkly Book of Unicorn Magic has the first 4 Phoebe and Her Unicorn books. These comics are absolutely hilarious (I laugh out loud reading them) and are like the girl's version of Calvin and Hobbes.
Perfect for kids 8 years and up (and adults too).
BEST UNICORN GIFTS FOR TEENAGE GIRLS
Moving away from toys, the following unicorn gifts are geared towards teenage girls.
(Though they can work for lots of ages.)
Luv Betsy Unicorn Cross Body Bag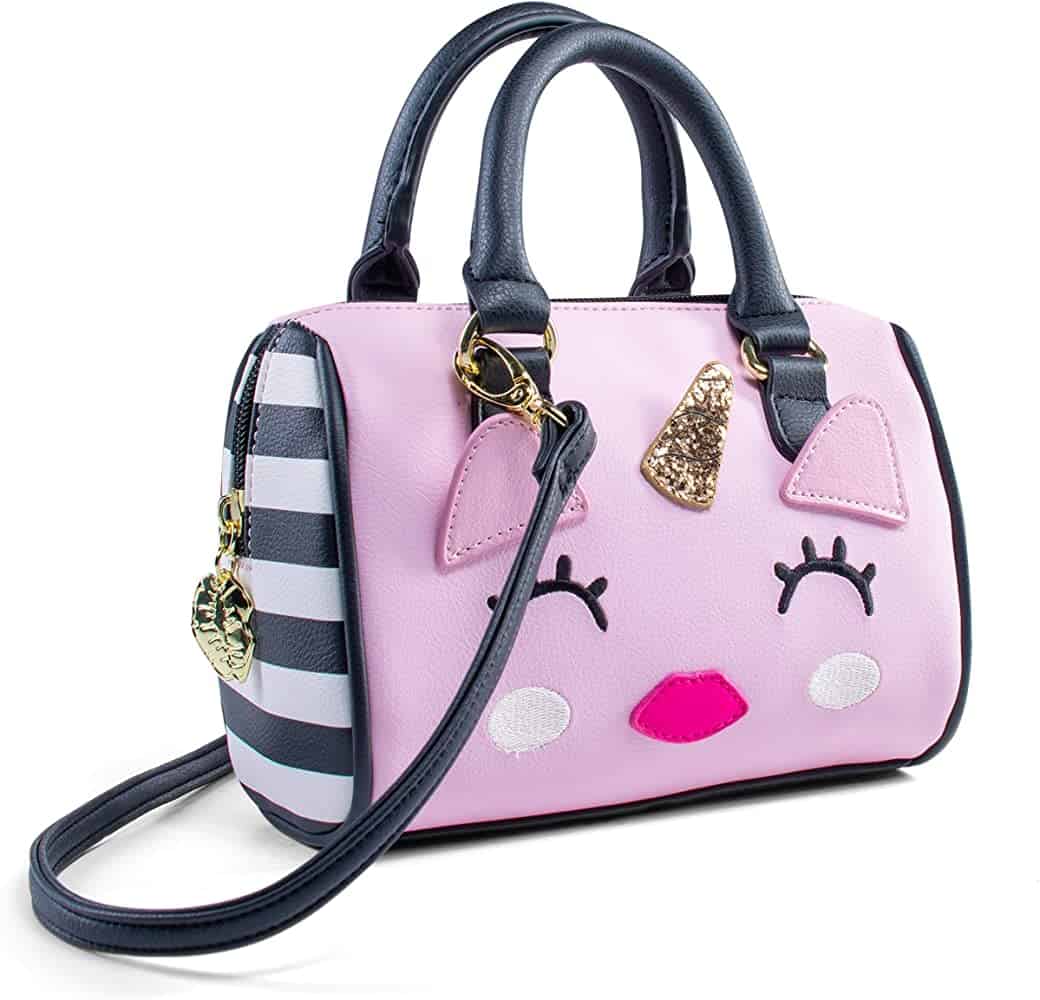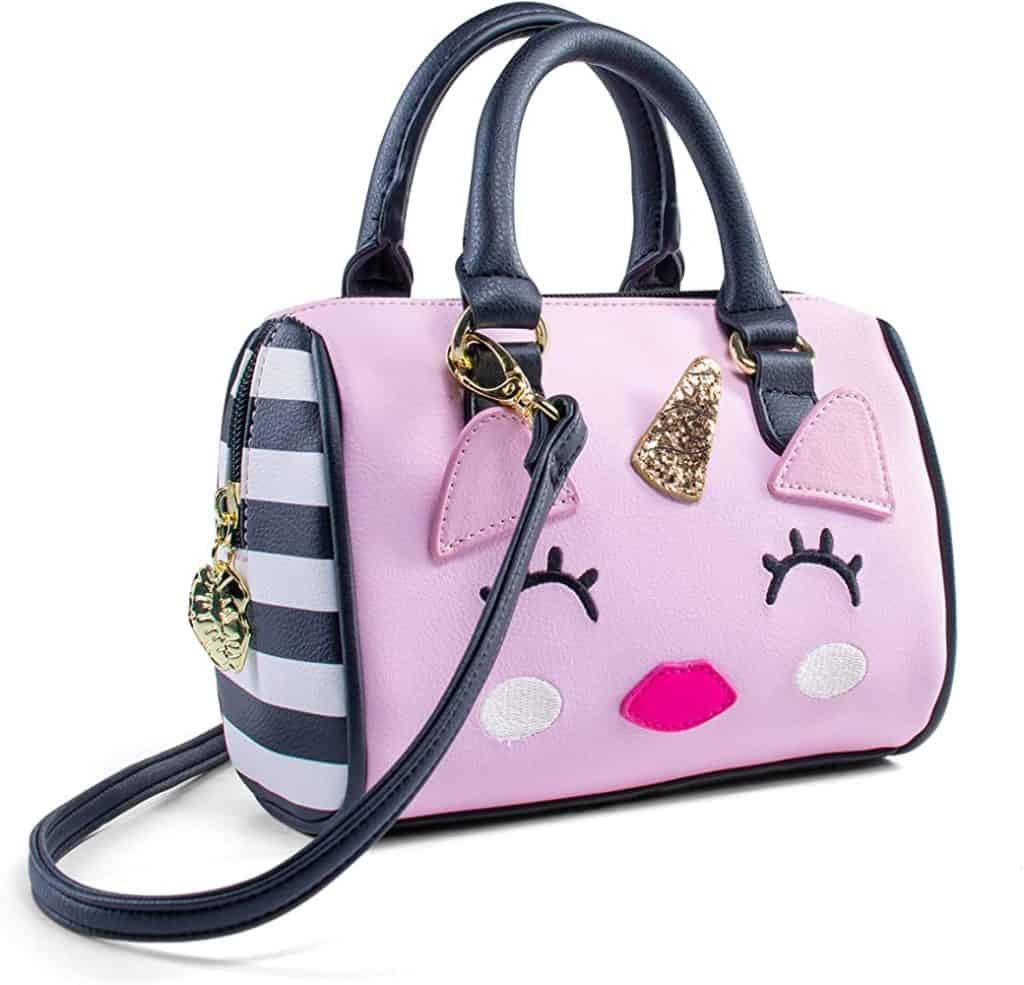 Frankly, this Luv Betsey Unicorn bag is great for unicorn lovers of all ages. But it's especially cute for teenage girls. With enough room for a wallet, phone, and keys this small bag measures 7″ x 6″ x 3.5.
(BTW, Luv Betsey is Betsey Johnson)
Personalized Glitter Unicorn Tumbler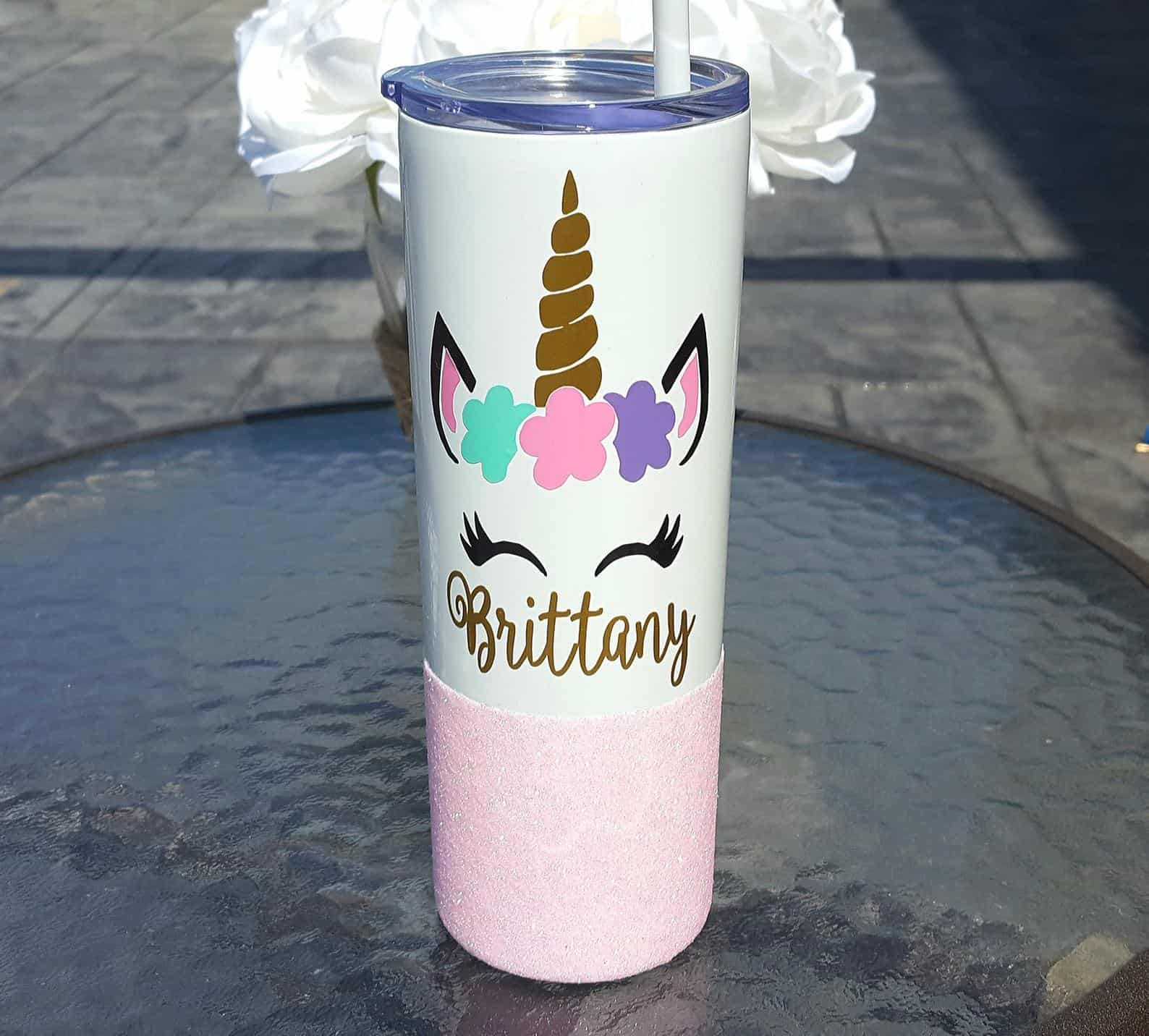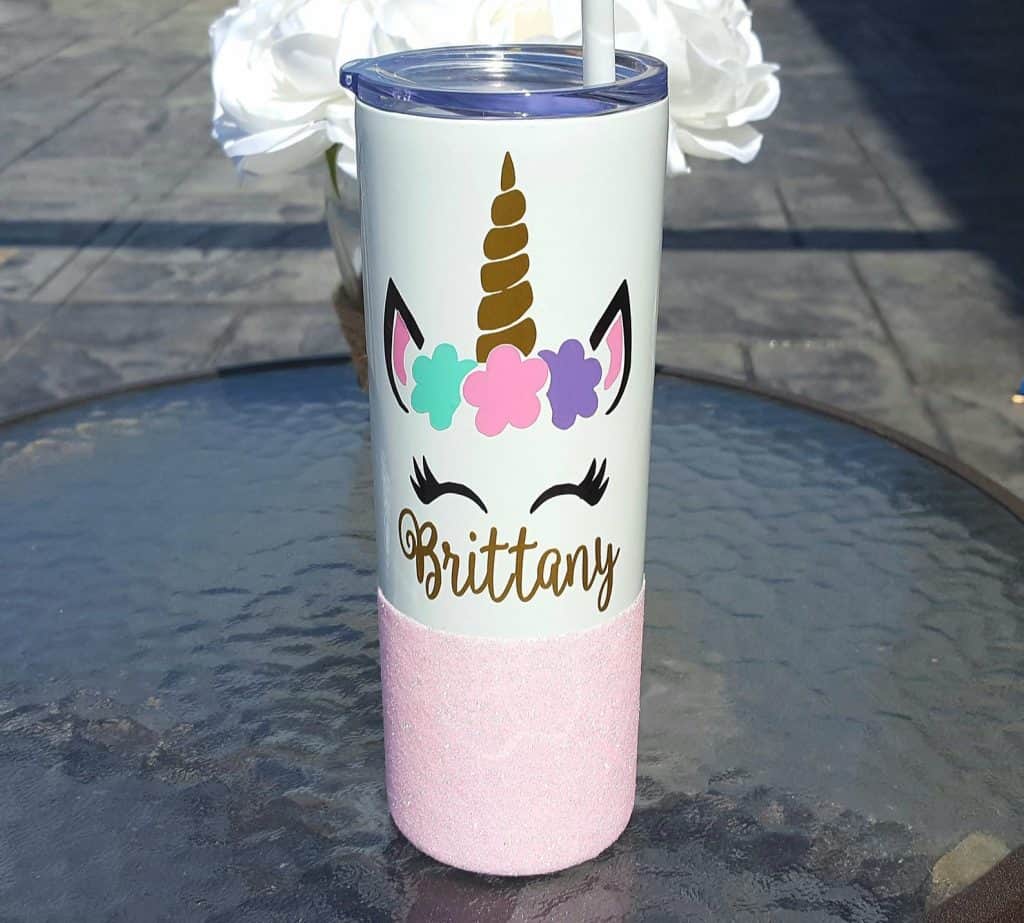 Another Esty find, this personalized glitter unicorn tumbler is vacuum-sealed, stainless steel, and comes in 18 different glitter color selections. This is a wonderful personalized gift for the unicorn loving teenage girls in your life.
Super Soft Unicorn Pajama Set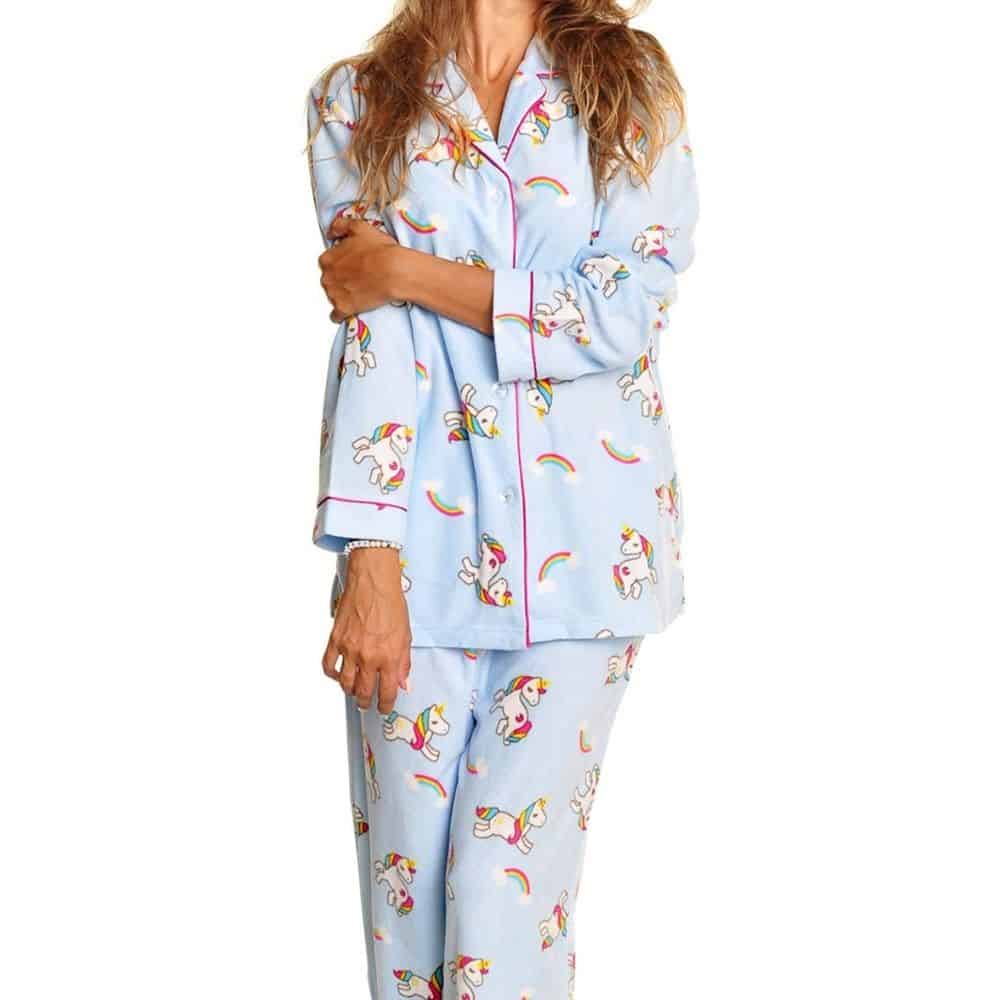 This super soft unicorn pajama set from Amazon gets stellar reviews. Noted for being comfy and warm. Many reviewers note that it runs small.
Unicorn Soap-Making Kit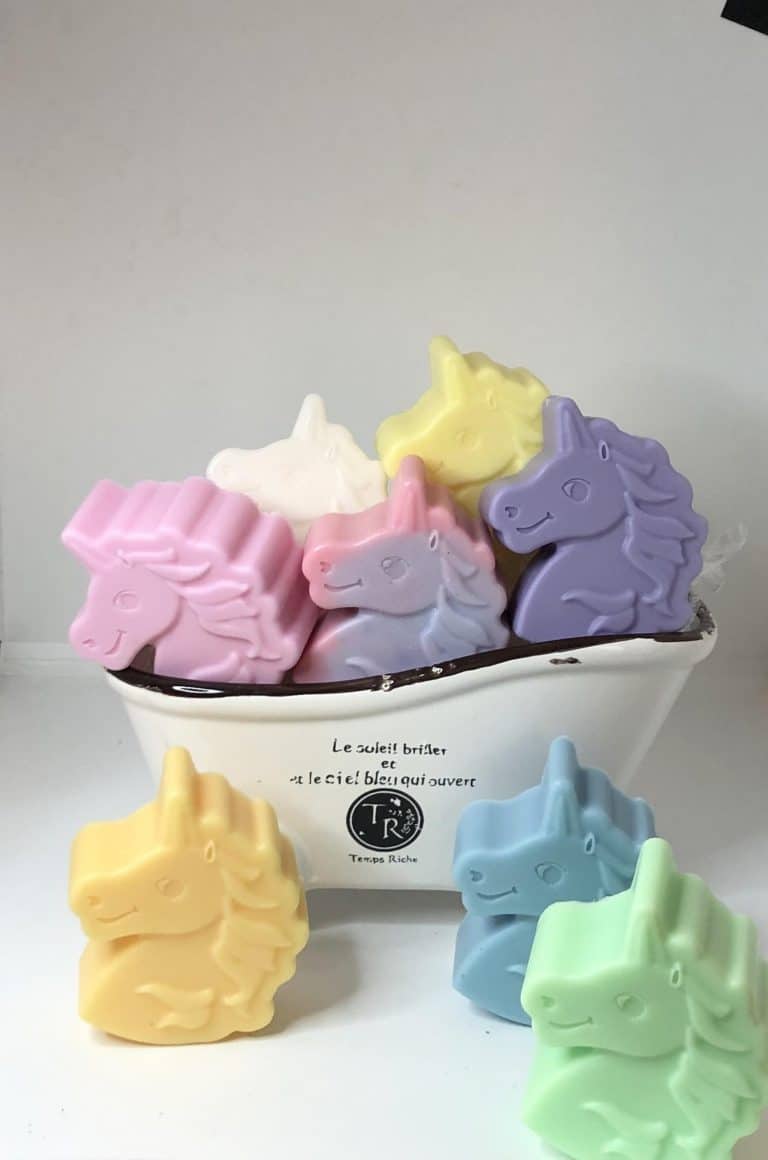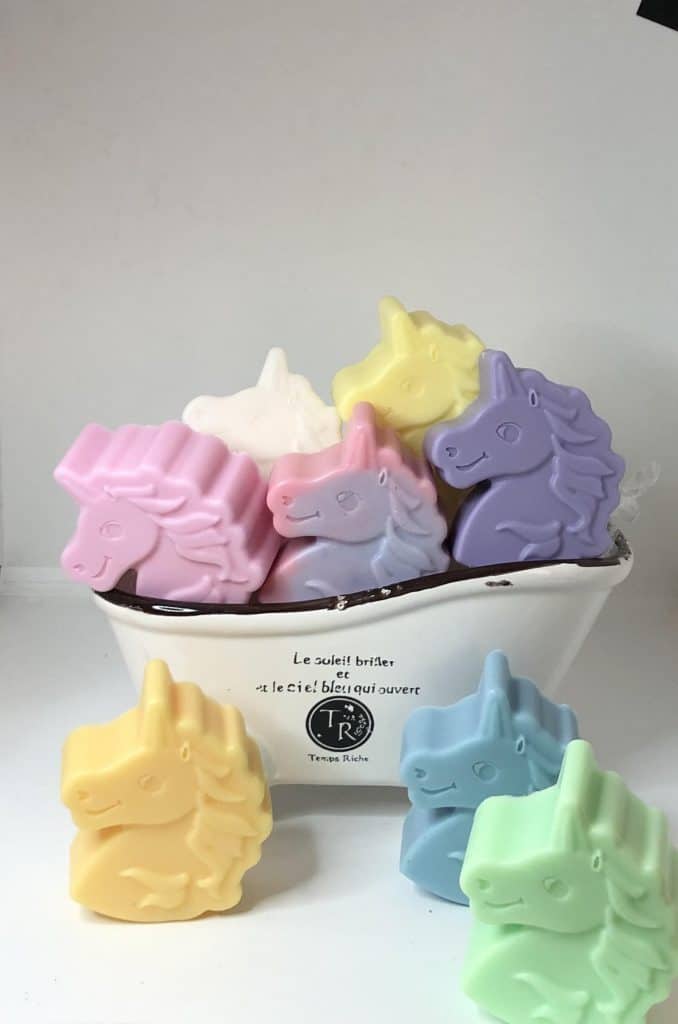 I love the uniqueness and functionality of this unicorn soap making kit that makes a great gift for kids and teens. Comes with 15 different colors and 17 scents to choose from.
Unstable Unicorns Card Game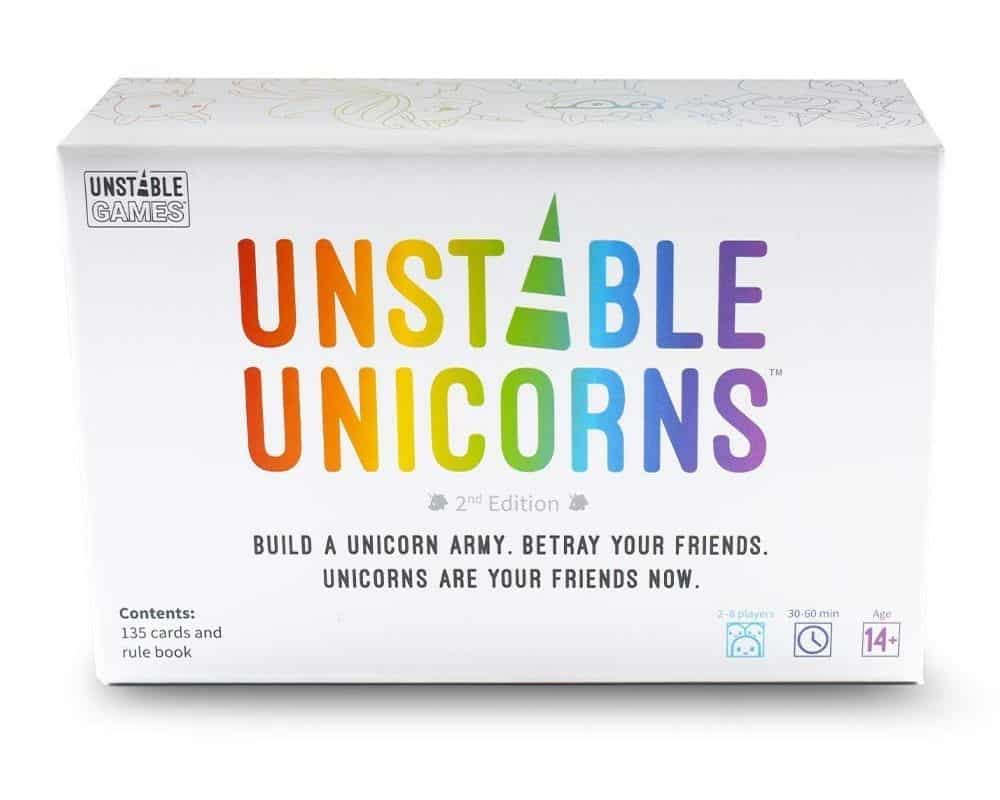 If you're shopping for a game-loving teen, the Unstable Unicorns Card Game is the perfect gift under $20. Of this highly-rated game, one reviewer said:
"This game is so much fun! I actually bought it for my daughters 12th birthday (unicorn theme) and it went over great! Boys and girls had a blast trying to sabotage each other to win. This game has become a favorite with my kids."
FIND THE RIGHT GIFT FOR YOUR UNICORN LOVING GIRL
And there you go! Twenty-five magical unicorn gifts that will make the girl in your life super excited.