This shop has been compensated by Collective Bias, Inc. and its advertiser. All opinions are mine alone. #WindstoneFarmsPB #CollectiveBias
School mornings tend to be fast-paced around our house. Getting 4 kids dressed and fed everyday is no joke.
And add getting backpacks ready and lunches packed, and that makes getting everyone out the door on time—with shoes on—nothing short of a miracle.
But it's a miracle we manage pretty much every single day.
Because if there's anything I've learned through having 4 kids in 4 years it's how to make life as simple as possible. And I've found that packing healthy lunches for my kids can be super quick and easy.
BENEFITS OF PACKING HEALTHY SCHOOL LUNCHES
Girl, I know it can be tempting to just lay down some cash for your kids to eat a school lunch and save the time and hassle of packing lunches. I too have been tempted by the siren's call of letting someone else deal with feeding my kid.
But there truly are a bunch of benefits to packing your kid's lunches:
It saves money
You can offer a variety of healthy foods to ensure your child is getting the right nutrients.
You can pack meals you know your kid will like.
On the rare occasions I'd have my kids buy lunch at school, half the time they'd come home starving because they didn't like any of the school lunch options. Packing healthy lunches is completely worth it.
Preparation is key.
In order to throw together healthy lunch options in about 30 seconds, preparation is key. So in this post, I'm going to show you how you need to prepare in order to save yourself some cash and quickly pack healthy lunches for your kid.
*Prepare by stocking up on products like the super delicious and convenient Windstone Farms Creamy Peanut Butter Portable Packets NEW at Walmart. Hover over the image below to order now!*
HOW TO QUICKLY PACK HEALTHY SCHOOL LUNCHES
1. Stock Your Pantry with Healthy Easy-to-Pack Foods
Keeping your pantry stocked with healthy foods makes packing lunches and throwing together snacks so much easier.
While I try to limit the processed foods my kids eat, there are a lot of pantry items that can be a nutritious part of kid's diet. Most definitely, keeping fresh fruits and veggies around is important.
But let's be honest: when life gets crazy busy, sometimes trips to the grocery store get put on the back burner.
Keeping the pantry stocked with healthy foods means having the right kinds of foods on hand—even when life gets crazy busy and you can't run to the store for fresh foods.
It's especially great to stock up on non-perishables (like peanut butter packets, apple sauce squeezes, and dried fruit) because they stay good for several months.
Some Healthy Pantry Items to stock:
apple chips
dried fruits (e.g. small boxes of raisins, dried apricots etc.)
fruit squeezes—like apple sauce (with no added sugar)
fruit cups (packed in fruit juice, not syrup)
peanut butter packets
whole-wheat pretzels
whole-grain:

crackers
chips
tortillas
sandwich bread
One of our favorite items for snacks and lunches are Windstone Farms Creamy Peanut Butter Portable Packets.
They're so incredibly tasty. And insanely convenient when it comes to quickly packing healthy lunches and snacks together.
My kids love the amazing taste and I love that it's got 7G of protein per packet. (My kids will eat all the carbs on the planet, but it's a bit harder to get protein in their little bodies, I tell ya).
They're also brand spankin' new at Walmart where you can pick them up in the peanut butter aisle (aisle with breads and jams).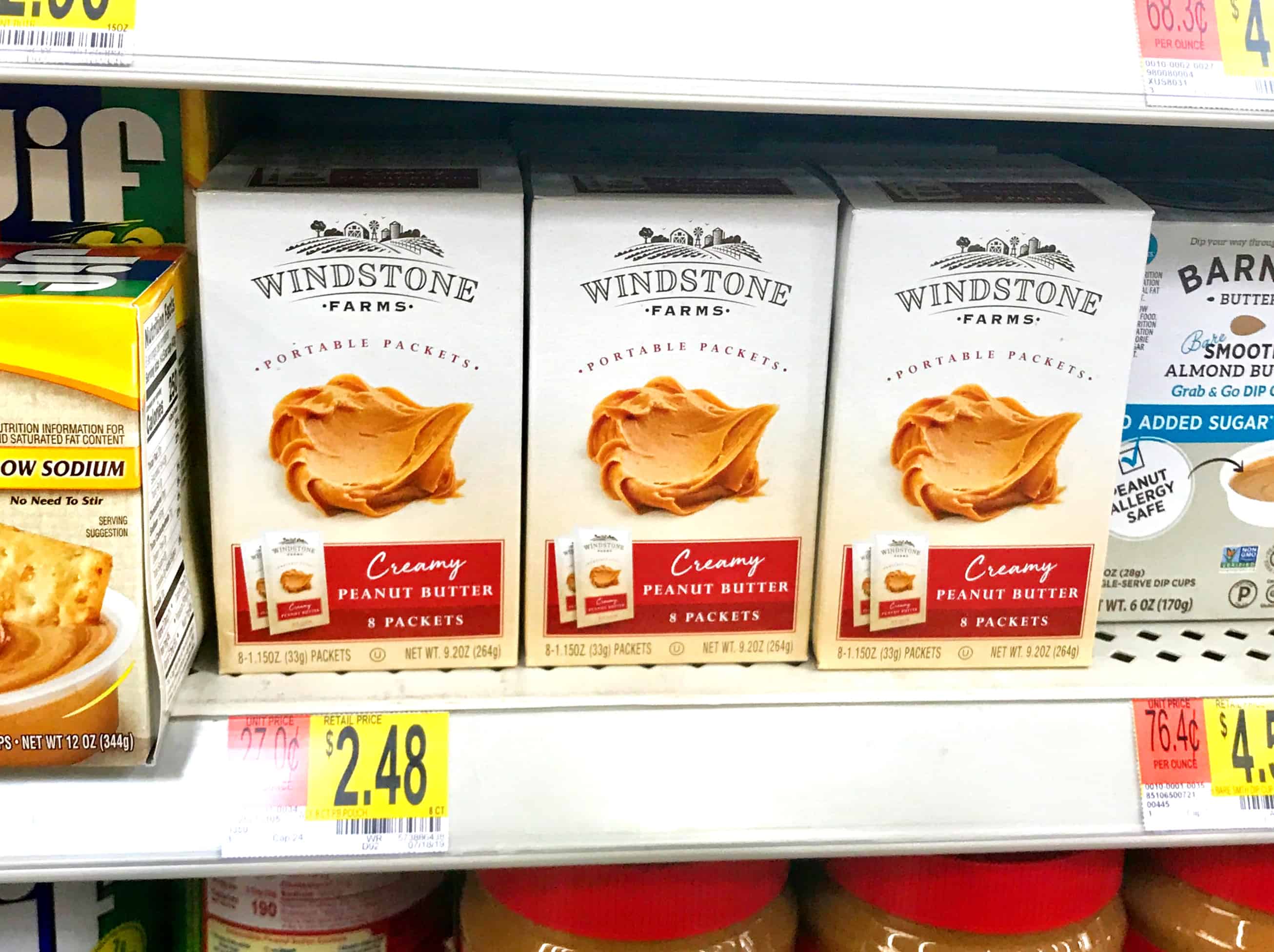 And since I do a Walmart Grocery pickup order pretty much every week (because it saves me oodles of time and energy), I've simply added them to my list.
These really are perfect for kid's snacks and lunches. Even my husband has started taking them to work for lunches and snacks.
They come in convenient 1.15oz squeezable packets that even my 2 year-old can use (she likes to suck the PB straight from the packet).
They're super portable and easy to throw in a lunch bag, backpack, or purse. Pair it with apples, celery, bananas or whole-grain crackers and you've got a wholesome alternative to all the unhealthy snacks out there.
Windstone Farms has been family owned & operated for 35 years. And they sure know how to make our family happy!
Be sure and pick up Windstone Farms Peanut Butter Packets at Walmart. Or—if you're like me—add them to your Walmart Grocery pickup order or online Walmart grocery order.
And bonus! You can earn .50 cents back with Ibotta while supplies last!
2. Stock Fridge with Healthy Foods
And, of course, you'll also want to stock your fridge with fruits, veggies, and other healthy food items.
While my kids love berries, they don't last very long. So I stock up on fruits and veggies that last for a while in the refrigerator like apples, oranges, carrots, and celery.
Fruits:
apples (can be cut into slices when packing)
grapes
oranges (can be cut into slices/quarters when packing)
bananas
berries
plums
peaches
apricots
pears
kiwis
Veggies:
celery
carrots
bell peppers
cucumber
jicama
broccoli
*I find that putting a little container of ranch veggie dip or humus in with the veggies encourages veggie consumption!
Dairy/Healthy Fats/Meat:
cheese sticks
guacamole packs
hummus packs
lunch meat (as little processed as possible)
3. Get Food Storage Containers
Before you can pack lunches, you need the right containers. Plastic baggies and small reusable containers are perfect for packing lunches.
While I'm trying to move entirely to reusable containers and cut down on waste, I find that snack-sized plastic baggies are especially handy when packing lunches and snacks.
RELATED: The 5 Keys to a Stress-Free Morning with Kids
4. Prepare, Pre-Portion, & Organize Food into Bins
In this step, you want to take all the healthy foods you've stocked and make sure they're ready for easy lunch prep. This is the step that really makes throwing together healthy lunches and snacks super quick and easy.
Here's what you'll do:
First, wash the fruits and veggies you've purchased. That way, even if you grab an apple or something on-the-go, it's ready to be eaten.
Then, you'll prepare and chop up hearty veggies (like carrots and celery) that will last in the fridge.
Next, you'll pre-portion everything you can into snack-sized bags or container (like crackers, grapes, pretzels, chips, veggies, etc)
Then, you'll organize everything into bins (both in the fridge and pantry) for easy access.
Personally, I like to do this step immediately after coming home from the store. That way, everything gets put away ready to eat or pack into school lunches.
I'll put the prepared item immediately into bins in the fridge or pantry (like cheese stick, humus, guacamole).
Then I'll wash all the produce at once, and grab a chopping board and some snack-sized baggies. I'll chop veggies, and place them into baggies and then into bins.
After that, I'll grab any crackers, chips or pretzels and portion them into little baggies. I then place everything into bins.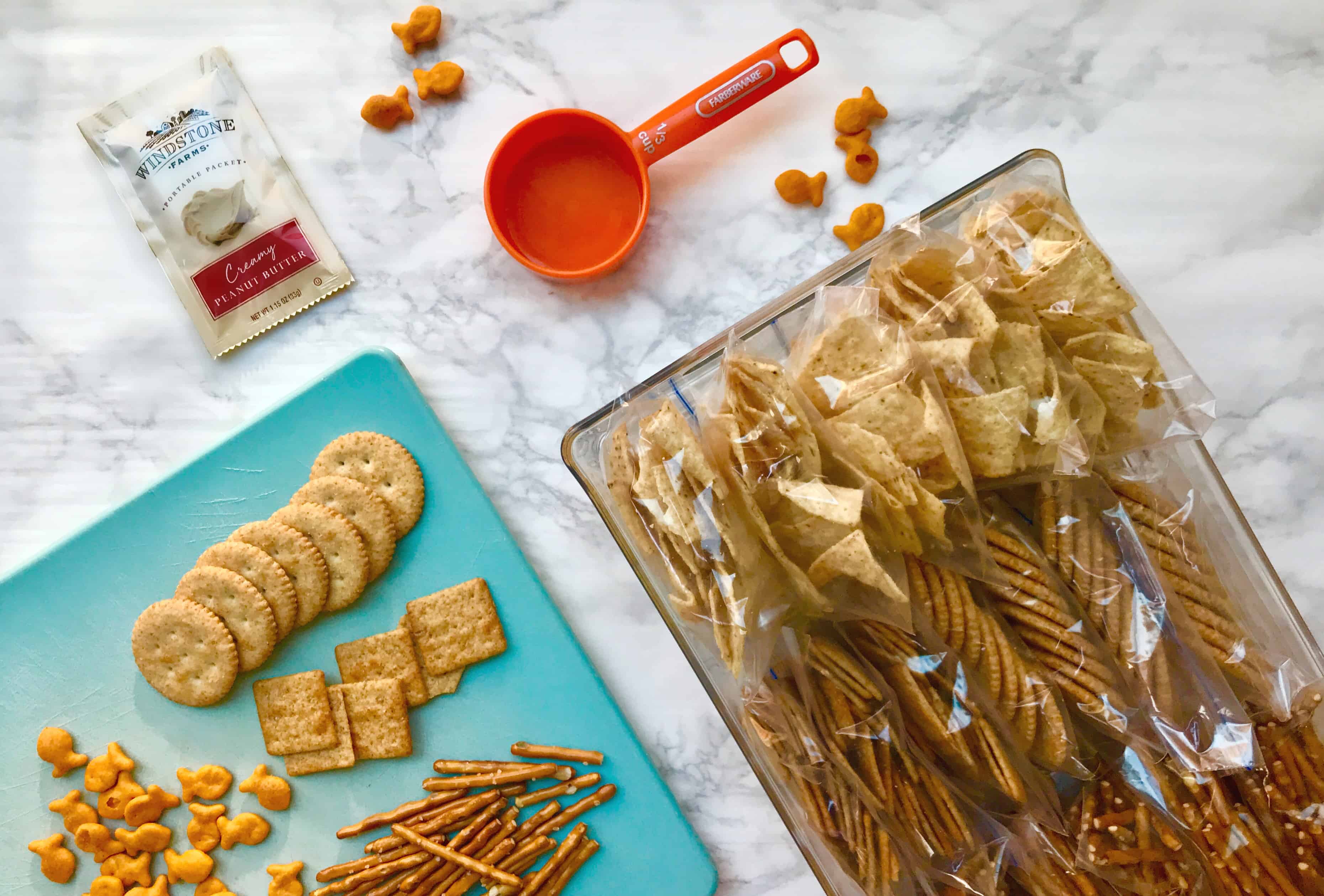 Personally, I have two bins in the fridge:
a fruit and veggie bin
A bin of prepared food items (e.g. cheese sticks, humus etc)
Then I have a couple bins in the pantry:
A bin with whole grain chips, crackers, pretzels divided into baggies.
A bin with "treats" like fruit snacks, and fruit leather
Once you've washed, prepared, pre-portioned, and organized all the food into bins, all you have to do to pack a lunch, is grab from your bins! But before we get there, there's one step you don't want to forget.
And that's to…
5. Involve Your Kids
While it can be tempting to just do everything yourself, it's truly in your best interest (and your kid's) to involve them in this whole process.
When you involve your kids in preparing and packing their school lunches, you're helping them take on more responsibility and therefore easing up on your to-do list.
But more than making your life easier, involving your kids in this process teaches them self-sufficiency and healthy habits. Habits that will take them through a lifetime of having a healthy relationship with food.
According to research, involving your children in the process of picking and preparing food actually increases the chances that your kids will eat the food you pack.
It also help teach them the importance of eating nutritious foods! Remember, when kids have plenty of choices and free rein to choose, they're less likely to be picky eaters.
Here are some ways you can involve your kids in this process:
Have them help pick out healthy fruits, veggies, and prepared food items when you're out shopping.
Have them help you prepare and portion out the foods. If old enough, they can assist in cutting fruits and veggies. (in research, kids who helped cut vegetables for a meal where more likely to eat them once the meal was served!
Allow them to pick the items (from the healthy options you provide) for their lunches each day
Involving your kids in this process is great for everybody.
RELATED: How to End Picky-Eating and Establish Healthy Meal-Time Habits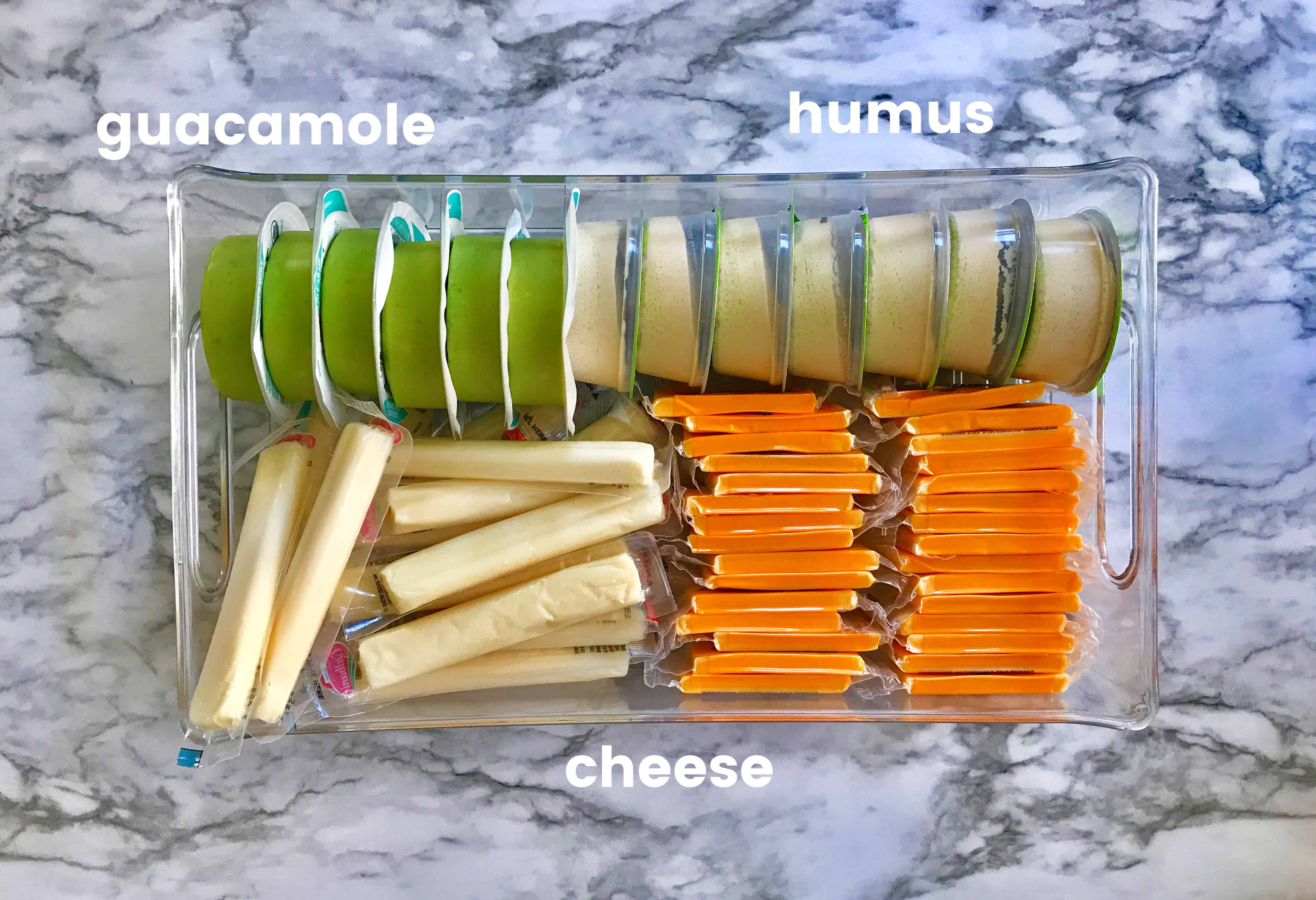 6. Schedule when you'll pack lunch each day
If you find yourself running out of time in the mornings to pack lunches, this step is essential. Instead of hoping extra time will magically pop up (hot tip: it never will), you need to actually schedule when you will pack lunches every day.
This is seriously how I get so much done everyday—I just make sure I build anything I want to get done into my schedule!
For example, if mornings tend to be chaotic, pack lunches the night before and store them in the fridge. Part of your kids' bedtime/wind-down routine can be helping you pack lunches for the next day.
In our house, do it after breakfast and before packing up backpacks each morning. My scheduling rule is that we start making lunches at least 20-25 minutes before we need to leave for school. Also, as part of their after-dinner routine, I ask them what they want for lunch the next day. That way I have an idea as I go into the next morning.
And remember, if you follow this method, throwing together healthy school lunches will only take a few minutes so you don't need to block out a ton of time. Just make sure you give yourself some time each day.
Need help creating a daily schedule? Then check out this Free Daily Planner.
7. Pack Your Lunches!
With food prepped, portioned, and bins organized, packing lunches—whenever you choose to do it—will be a breeze.
It's super easy for kids to just go through the bins and pick the food items that they want to eat.
As a general rule, my kids get to pick:
1 from the grains bin
2-3 from fruits and veggies
1-2 from the dairy, meats, and healthy fats (PB packets, guacamole, hummus etc.)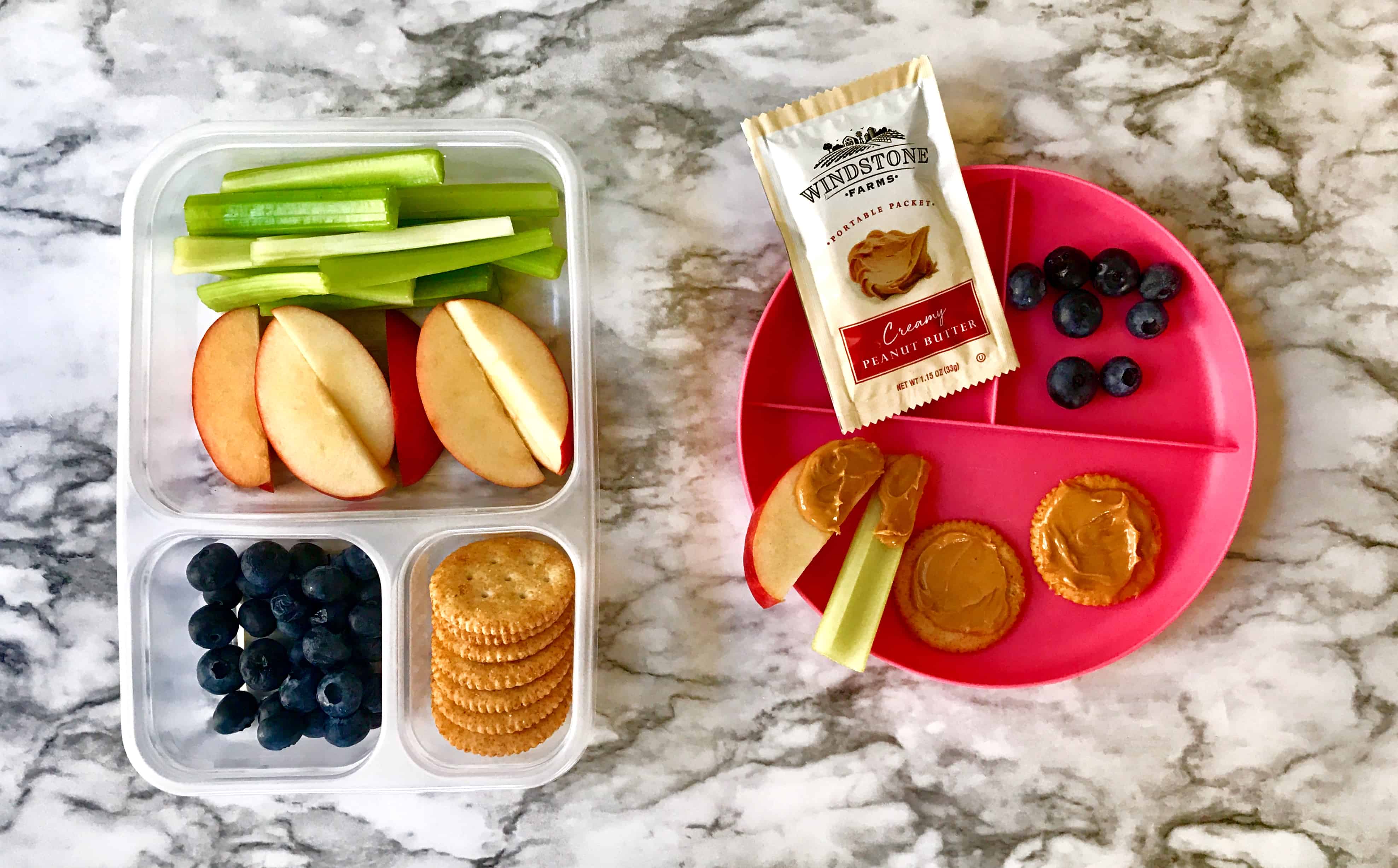 SOME HEALTHY LUNCH IDEAS
Here are just a few healthy lunch combinations to get you started using some of the super convenient products like Windstone Farms Peanut Butter Packets. Don't forget to grab a box at Walmart!
Apple slices, celery, box of raisins, whole grain crackers, PB packets
Grapes, lunch meat, whole wheat crackers, cheese slices (like a homemade lunchable!)
Carrot sticks, celery sticks, whole-wheat pretzel sticks, humus, dried apricots
orange slices, cucumber,
Pears, jicama sticks, corn chips, guacamole, cheddar cheese stick
Strawberries, celery, whole grain bread, PB packets
Broccoli, carrot sticks, ranch dip, and wrap (lunch meat, whole grain tortilla, cheese)
Create your own combinations based on what your kids like! One strategy I use to get my kids to try new things in their lunches is to have "lunch-for-dinner" parties.
Here's what I do to have a "lunch-for-dinner" party:
I'll make a huge spread of foods I'd like to add to my kids' lunch repertoire.
For example: easy sandwich combinations, various chopped fruits and veggies, dips, and grains. My kids love whenever there is a ton of food to choose from at meal time. They're more apt to explore and try new things.
Then I allow my kids to explore and try new foods with the rules that they can eat what they want and they can spit out anything they don't like.
This creates a fun and safe environment for my kids to explore and discover new foods they like that I can add to the lunch bins.
PACKING HEALTHY SCHOOL LUNCHES CAN BE EASY
And there you have it. Packing healthy and delicious school lunches for your kids each day can be a super quick and easy process. When you plan, prepare, pre-portion, and organize your food into bin, throwing together nutritious snacks and lunches takes no time at all. And including you kids in the process will help your kids develop responsibility and healthy habits.
And don't forget to pick up a box of Windstone Farms Peanut Butter Packets at Walmart. If your family likes peanut butter, they're seriously going to love them!
And remember, you can earn .50 cents back with Ibotta while supplies last!
RELATED POSTS:
The 5 Keys to a Stress-Free Morning with Kids
How to End Picky-Eating and Establish Healthy Meal-Time Habits