Many businesses either close entirely or modify their business hours for the Thanksgiving holiday. Since I love making printables, I've created a number of free printable closed for Thanksgiving signs that you can download below.
Since I'm all about options and choice, I've created 7 different free printable "closed for thanksgiving" sign templates so you can pick the style and design you like best.
Please note that these free sign templates are for personal use only and may not be shared or distributed. These free download templates are in PDF format and can be downloaded below.
RELATED: 12 Free Printable Closed for Christmas Signs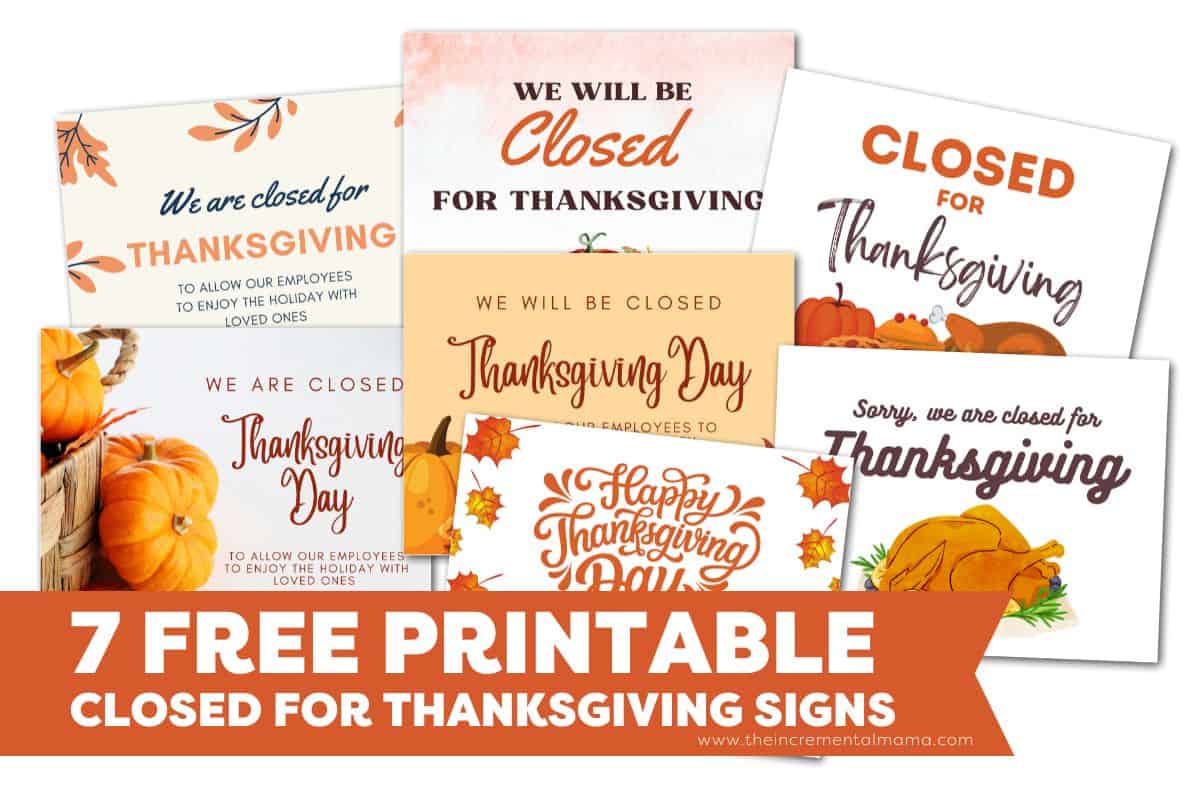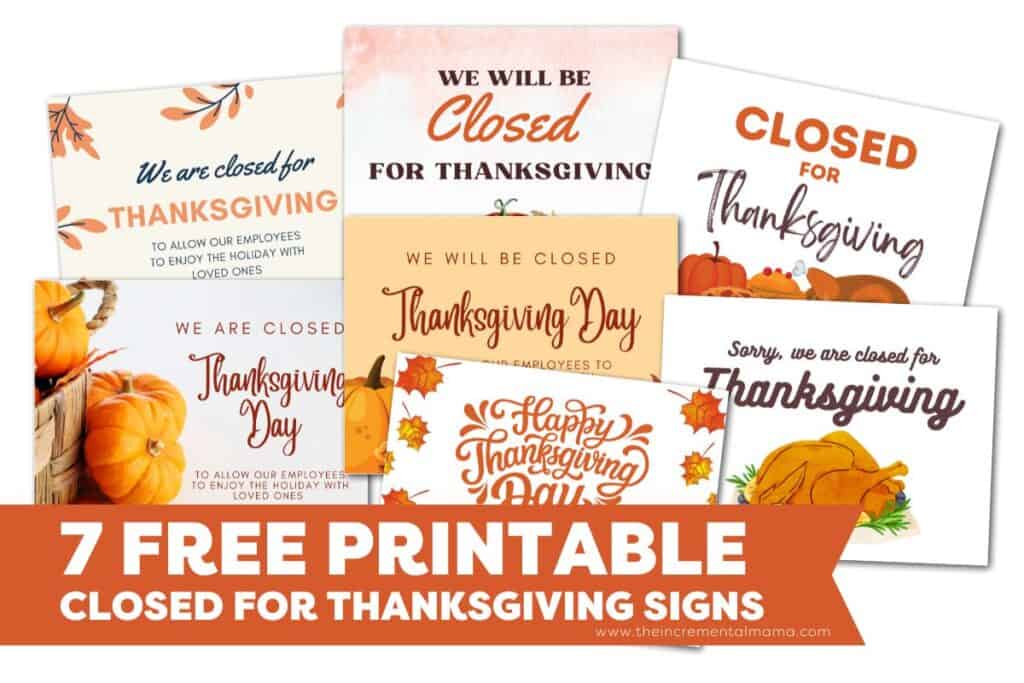 FREE PRINTABLE CLOSED FOR THANKSGIVING SIGNS
To download one of these free printable closed for thanksgiving signs, simply click the link below the image of the PDF you'd like. This will prompt a download to your device.
For best results when printing, be sure to have your printer set to US letter size and fill with 8.5 x 11 inch paper size.
When you select "Print", many printers give you the option to print "Actual Size" or "Fit to Page". Actual size will fill up your paper more, but may cut off some of the design (depends on printer).
Note that colors may vary due to printers and screen differences.
DOWNLOAD THE FREE THANKSGIVING SIGNS
Below you will find a variety of "Closed for Thanksgiving" signs that can you can get as an instant download. These include some that state something to the effect of "We are closed for Thanksgiving in order for employees to spend the holiday with their loved ones."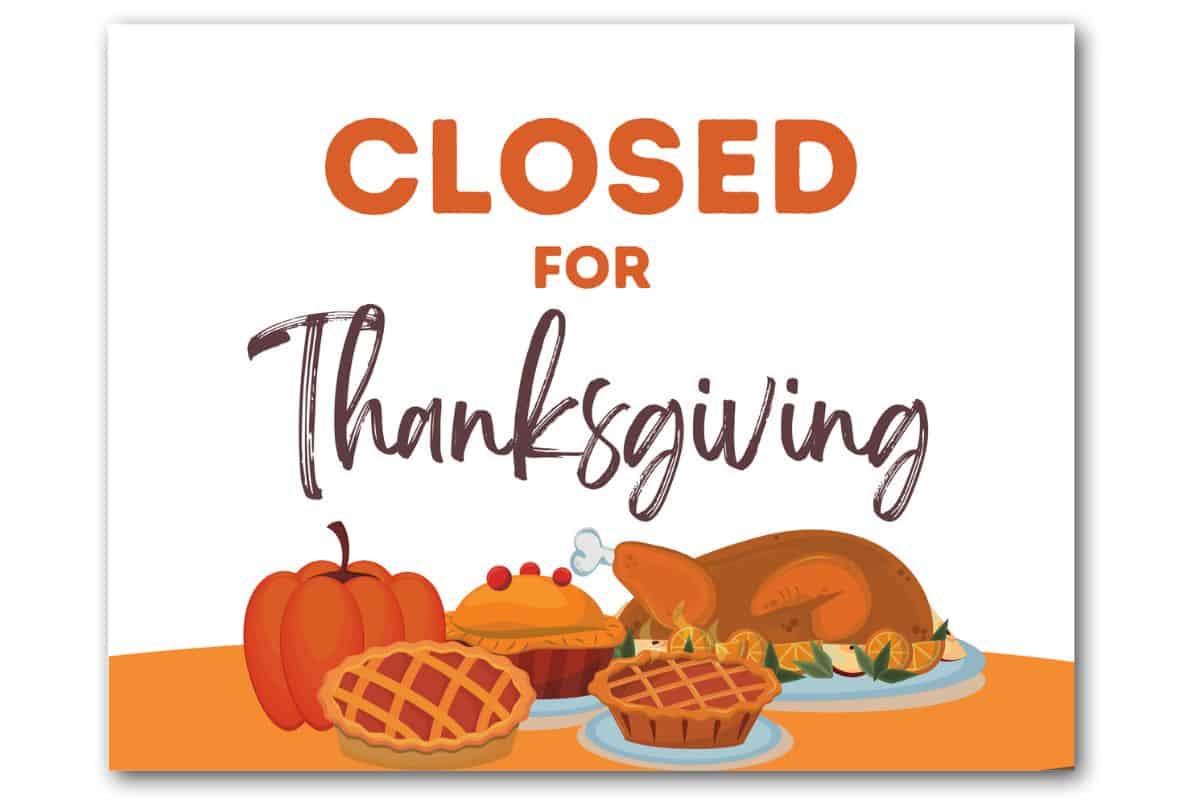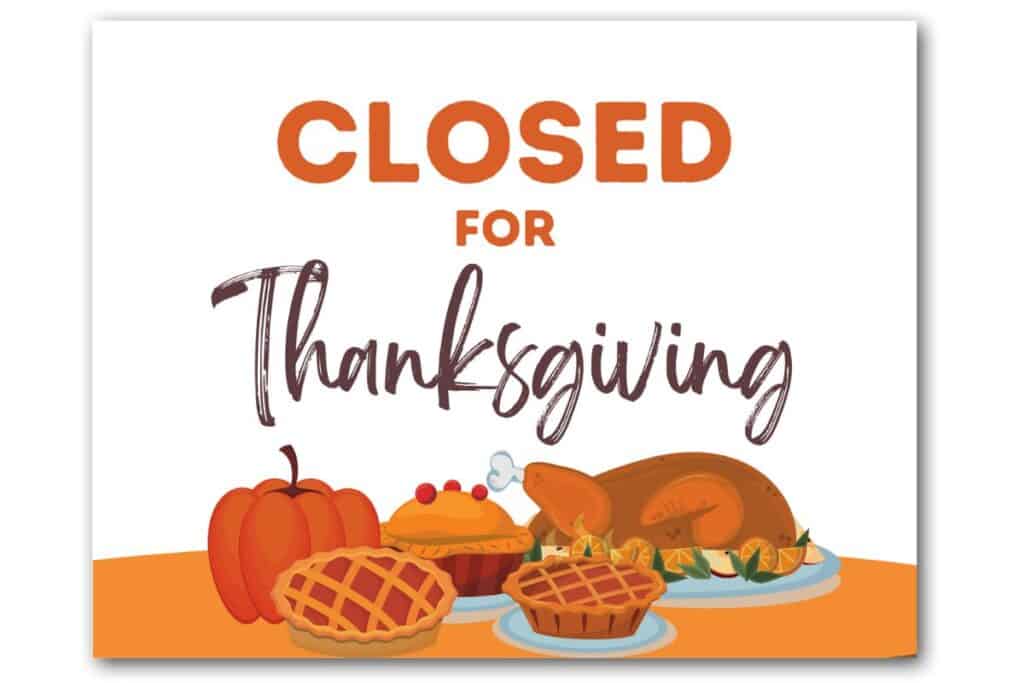 >>> Download Free Closed for Thanksgiving Sign <<<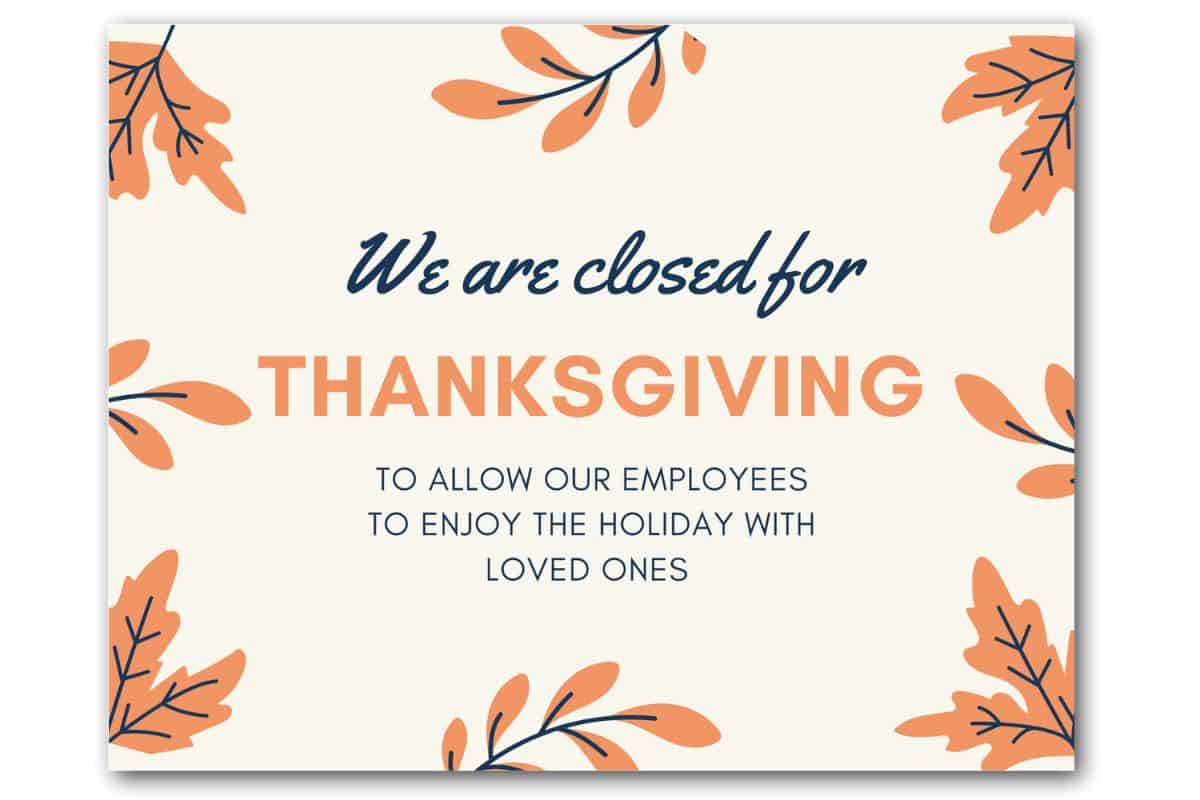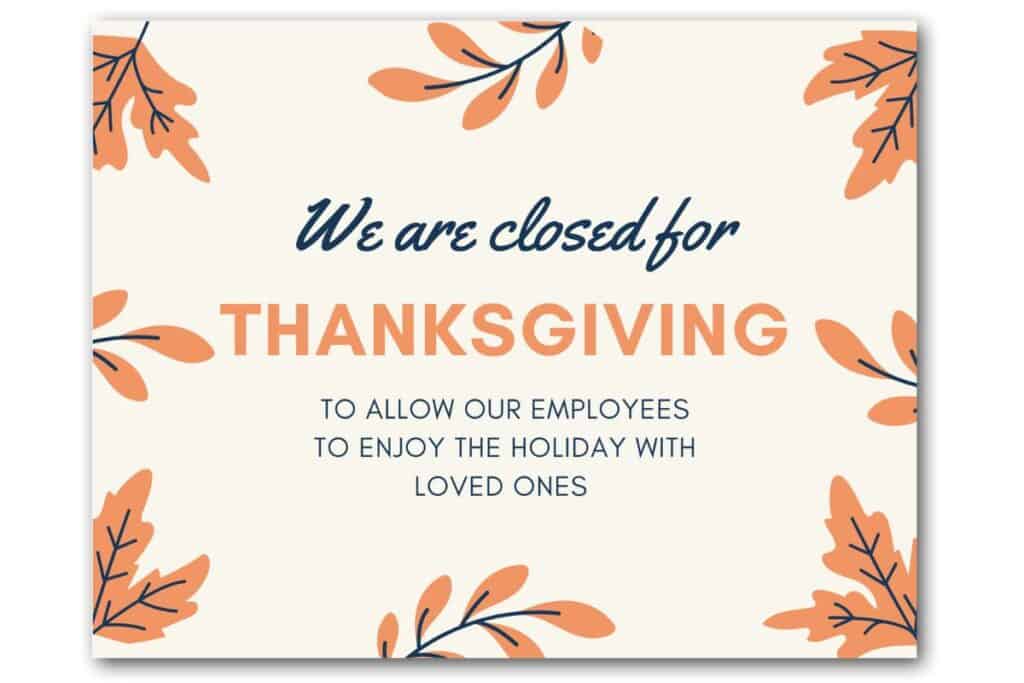 >>> Download We are Clsoed for Thanksgiving Sign <<<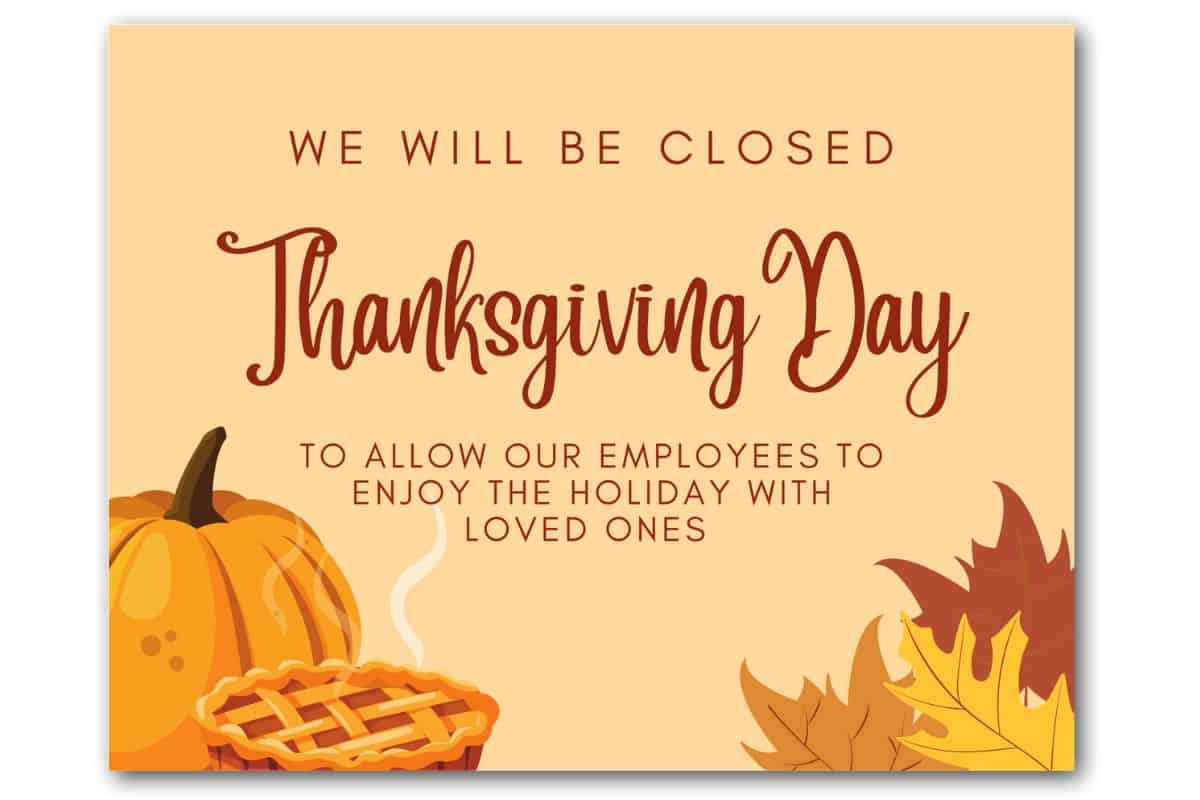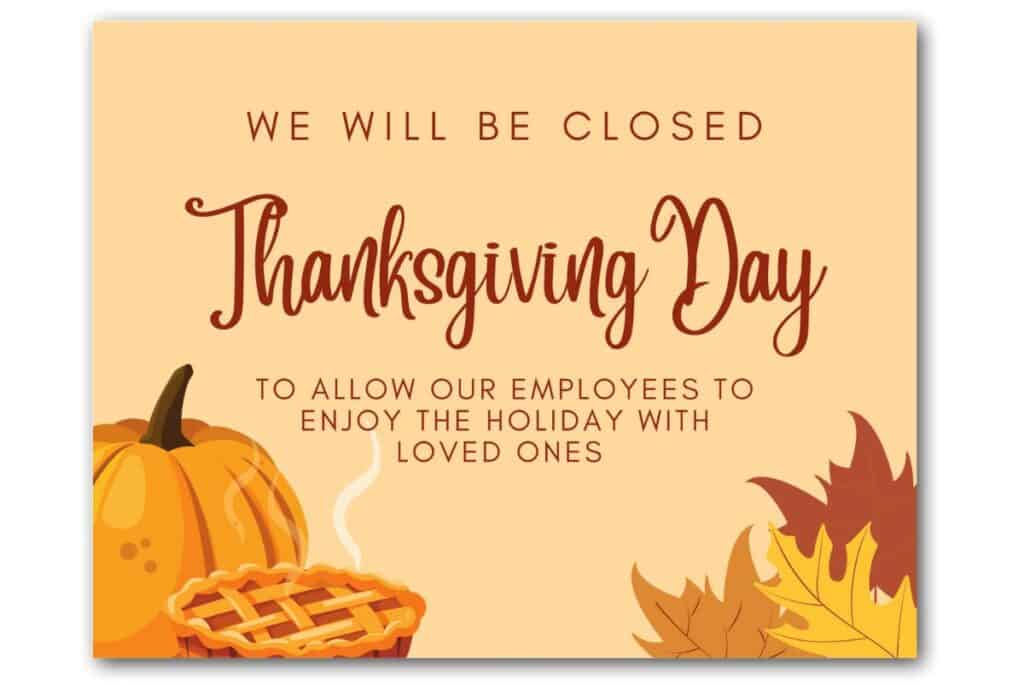 >>> Download Orange/Pumpkin Closed for Thanksgiving Sign Printable <<<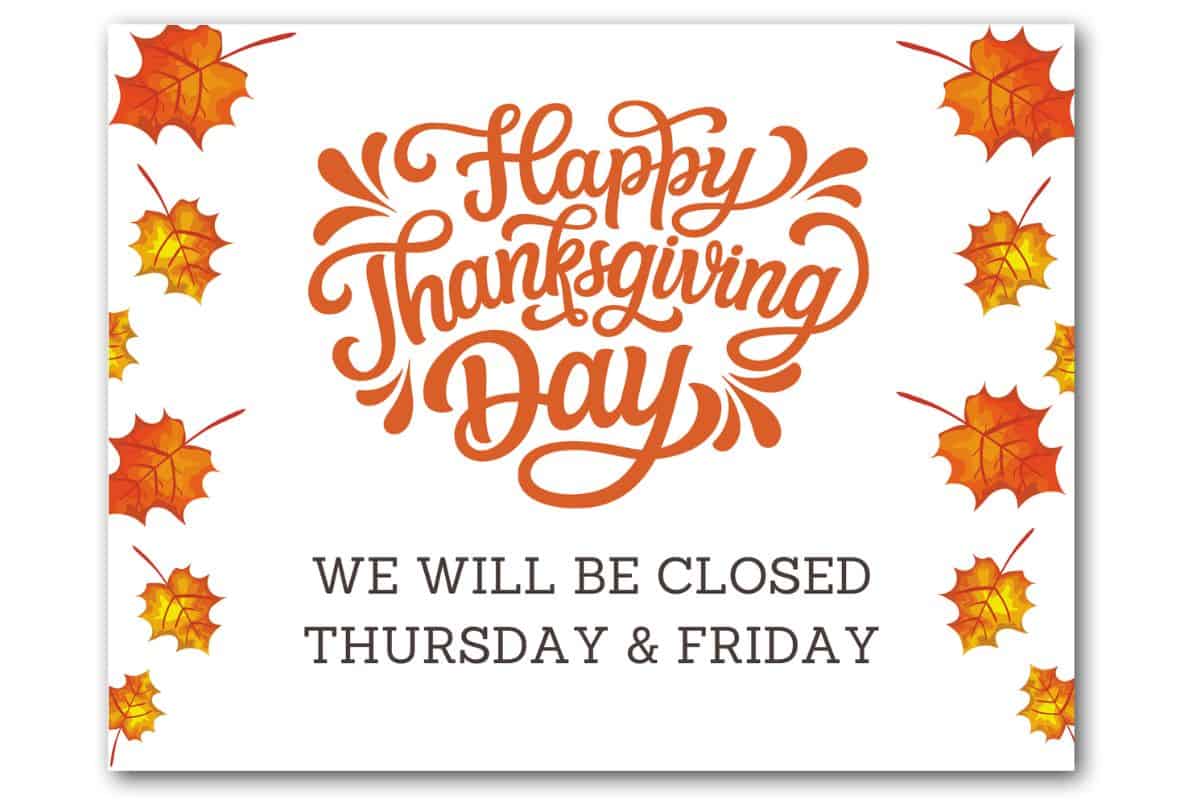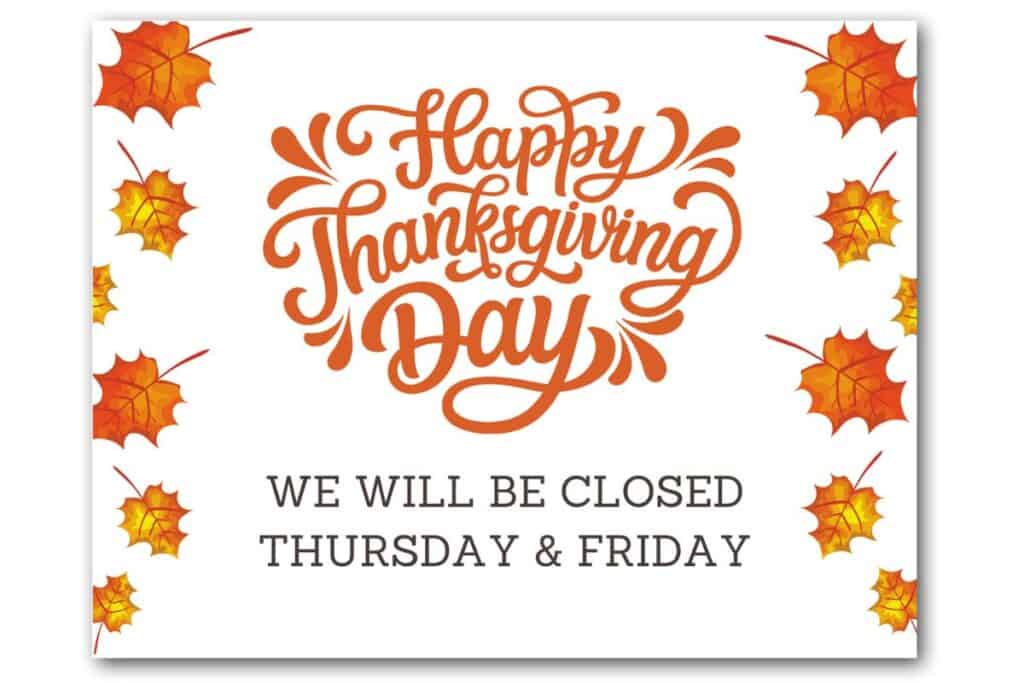 >>> Download Happy Thanksgiving Sign <<<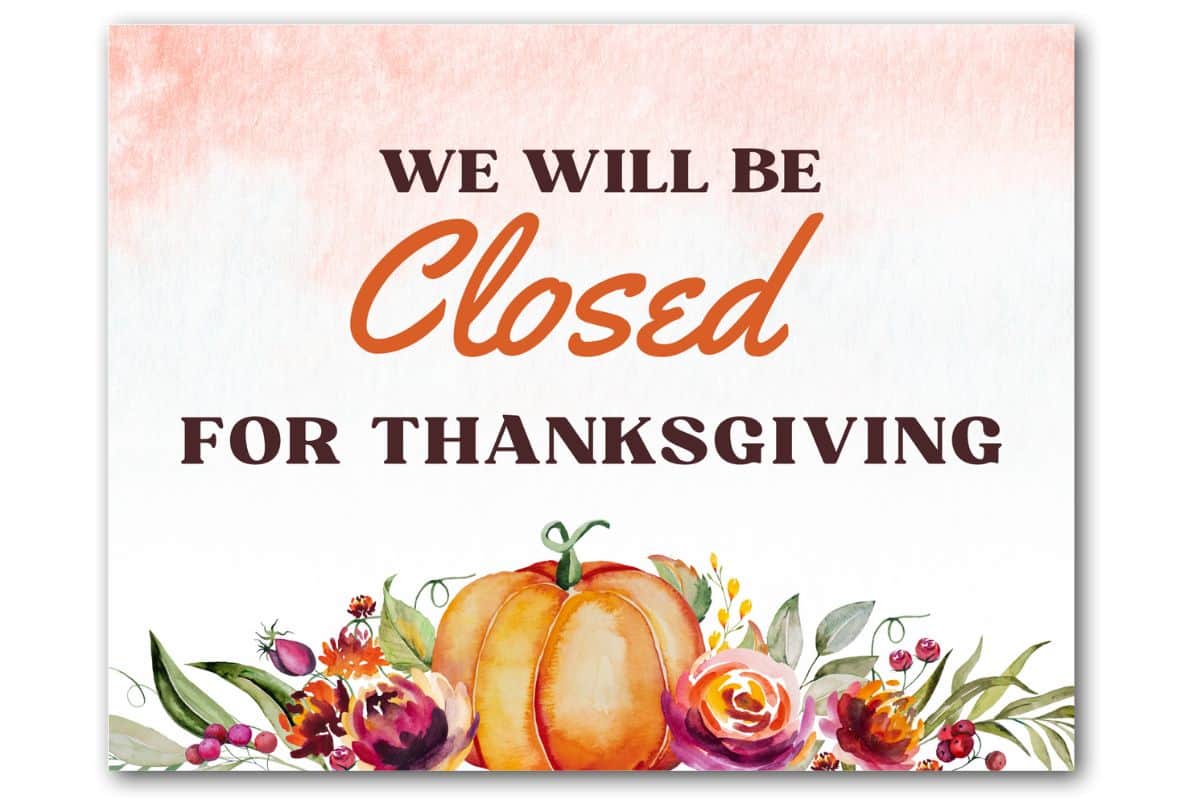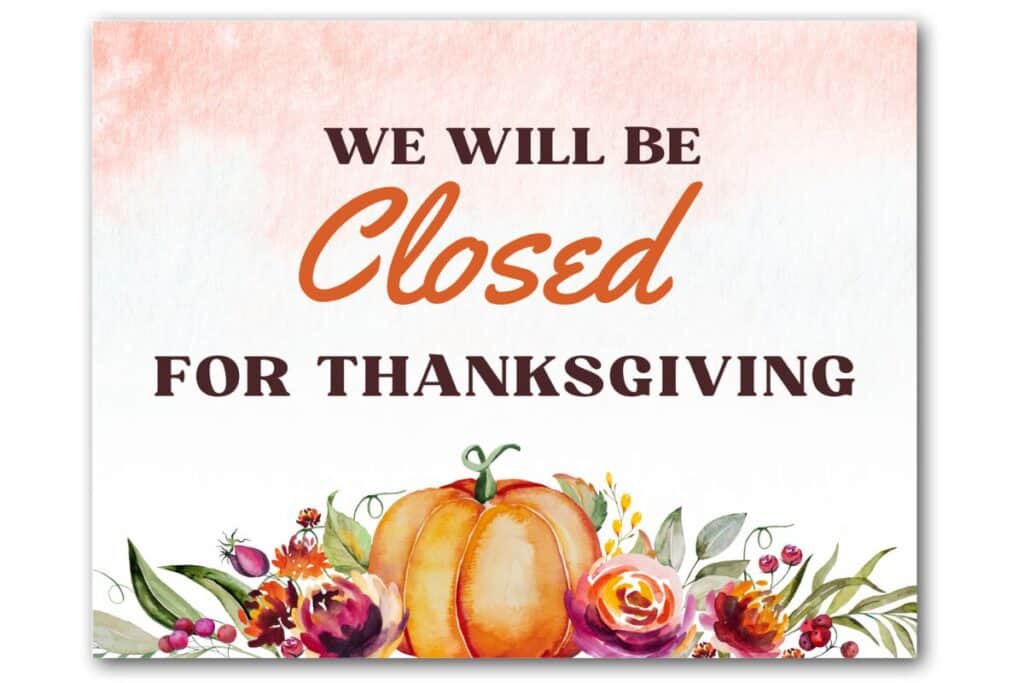 >>> Download Free printable Closed for Thanksgiving PDF <<<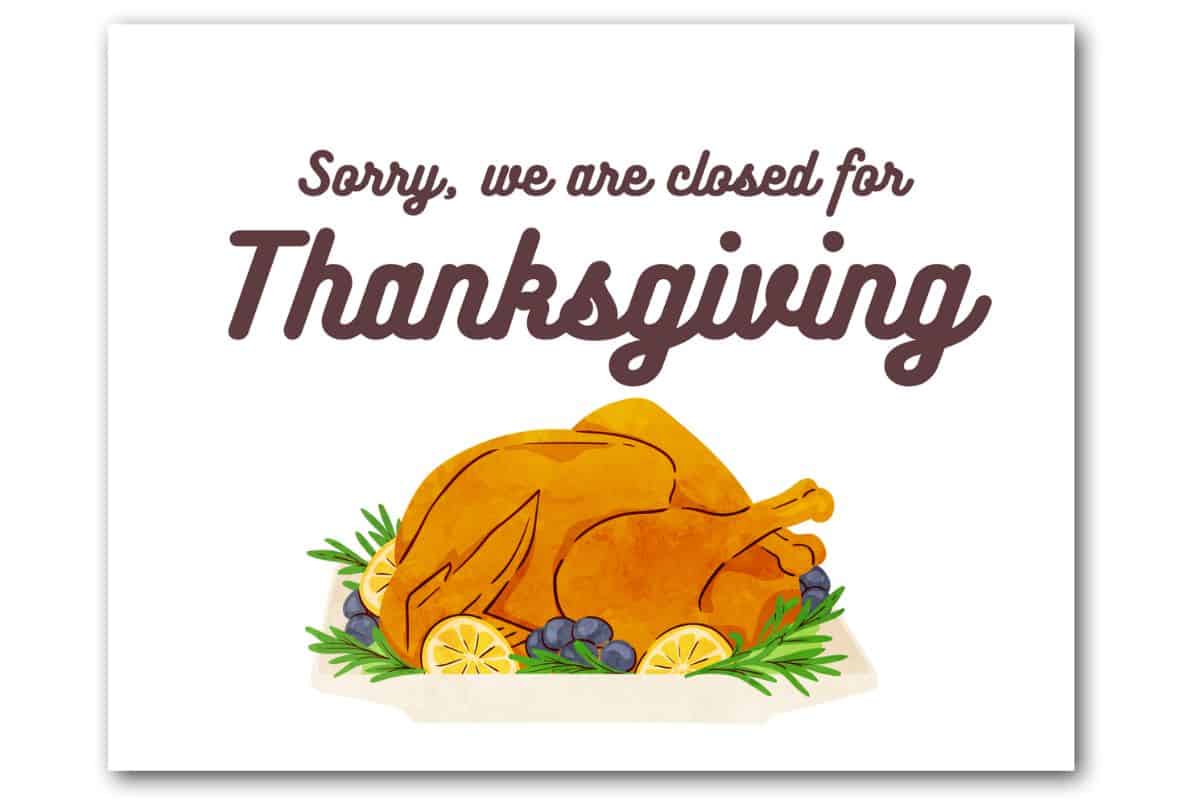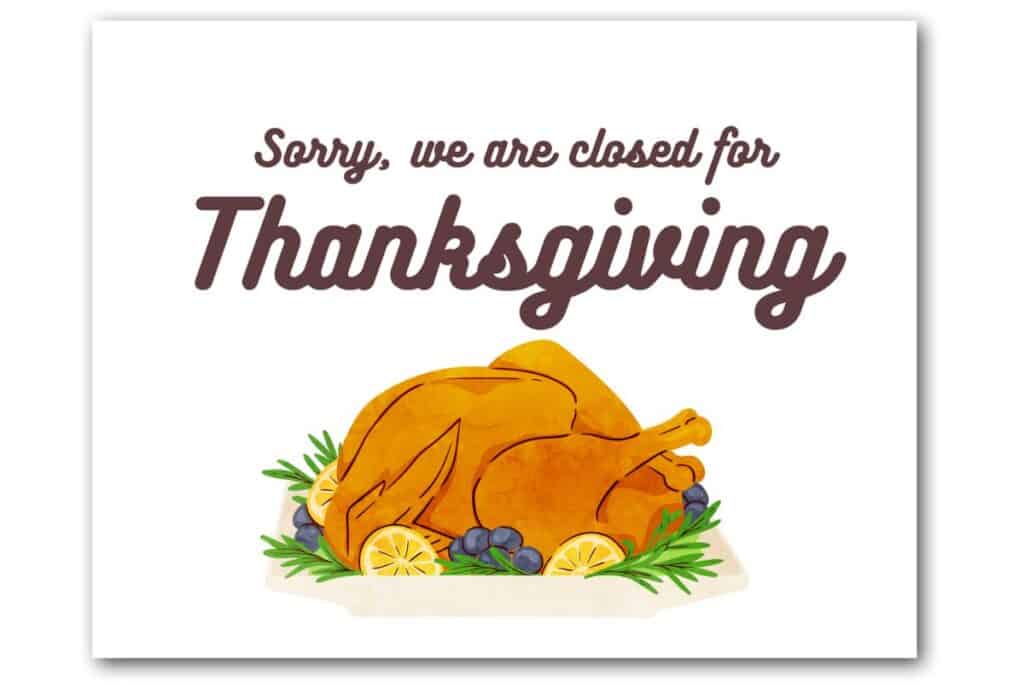 >>> Download Sorry We are Closed for Thanksgiving Turkey Sign <<<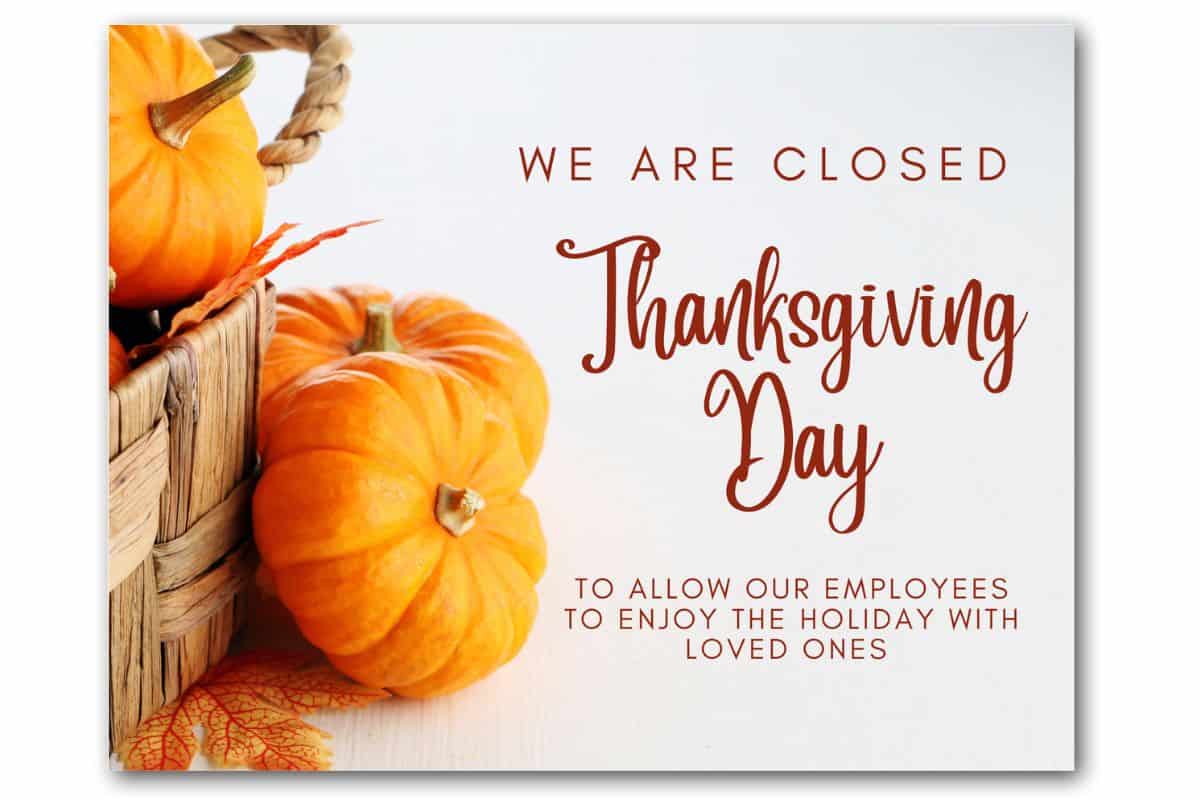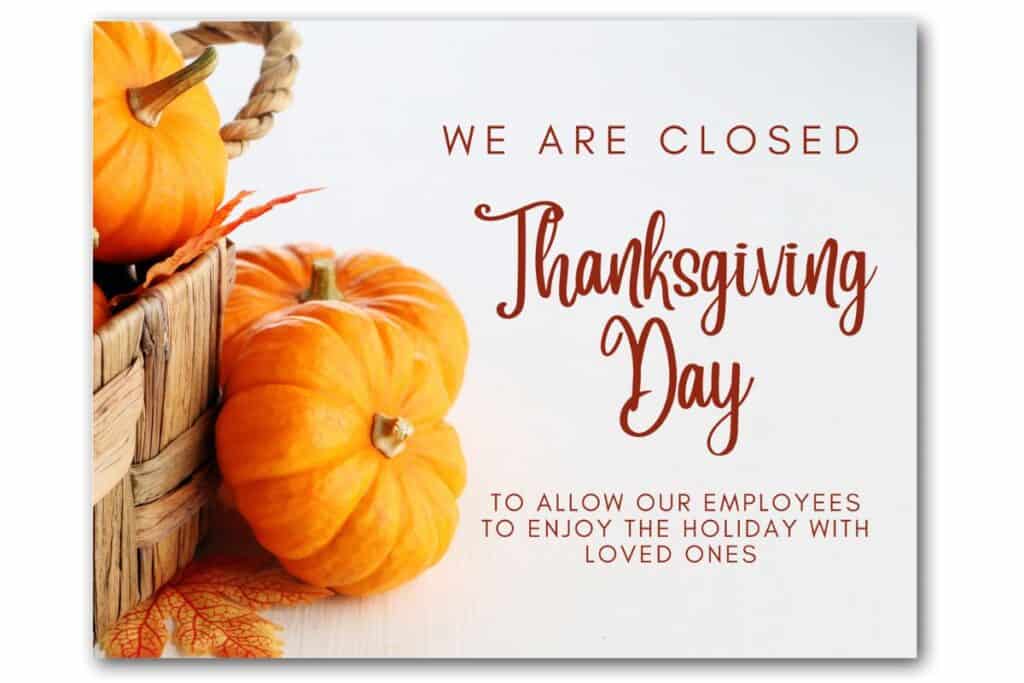 >>> Download Punpkin Basket Closed for Thanksgiving Sign PDF <<<
MORE FREE HOLIDAY PRINTABLES
Looking for more instant downloads? Check out these free Thanksgiving printables:
Free Printable Thanksgiving Bingo – This activity is both free and loads of fun. With 24 different bingo cards, this is perfect for large groups.
Free Printable Thanksgiving Planner – This planner has everything you need to plan and prepare for the perfect Thanksgiving dinner for your loved ones. So when the big day comes, you can spend more time enjoying your family, and less time working over the cranberry sauce.
Happy Thanksgiving!