There is absolutely nothing natural about waking up early for me. I am about as far from a natural morning person as one can possibly be without being an actual vampire.
Waking up was never easy for me. Every morning growing up, I'd be crying on the inside waking up for school.
As I got older, if I had to be a work at 7:00am, I would literally wake up minutes before I had to leave. I'd then rush around frantically trying to get ready, and scurry out the door still zipping and buttoning with my toothbrush hanging out of my mouth. I'd then slap on some mascara at stop lights while I tried to beat the clock.
But yet I always held out hope that magical one day I could become a morning person. And I thought it was possible. Until I became a sleep-deprived working mom of 4 kids 4 and under.
Some dreams have gotta die, I thought.
But after my 4th baby, I decided that it was time to try to wake up before my kids. In fact, due to my kids and my schedule, I realized that the only way I could workout was if I did it at 4:00am.
Yikes.
I knew I needed help, so I polled friends and read everything I could find to help me overcome this massive hurdle. I read books (like this one that changed my life).
And miraculously, I started waking up at 4:00am.
From the first day, it has been a complete game-changer. I am not just happier, but healthier and more patient. And amazingly, I feel like I have a few more hours to get things done everyday.
BENEFITS OF AN EARLY MORNING ROUTINE
As moms, we all know exactly what it's like to be jolted from a dead sleep by a child at the side of your bed. It's not pleasant.
(And sometimes, frankly, it can be downright terrifying.)
And the fact is that when you wake up to a child demanding something, you've already started your day two steps behind. You need to pee and are still trying to wake up while at the same time trying to attend to the needs of your kid who may be loudly expressing his feelings.
When you wake up to your kids, you're more likely to have a crazy morning. And crazy mornings often bleed into exhausting days.
However, when we start the day on our terms we set ourselves up to have a happy, healthy, and productive day. By preparing ourselves for the day (BEFORE our children are fluttering their little eyelids) we take care of our needs before we spend the rest of the day attending to others.
OUR MORNING ROUTINE CAN MAKE US BETTER MOMS
And since we've taken care of ourselves early morning routine, we're better equipped to take care of our families. Even if you are not naturally a morning person you CAN become one. I'm living proof.
(For help waking up early check out my 9 Tips to Wake Up Early Even if You're a night Owl.)
As a mom, you don't really get a lot of time to yourself during the day. Some days you just dream being alone while you pee.
So after a long day of running around, what do you want to do after the kids are finally in bed? You want to veg out completely. So you binge watch Netflix or Real Housewives and generally ejoy not having to cater to anyone's demands.
And then you pay for it the next day.
Waking up before your kids and using the time at the start of the day as opposed to the end of the day will be a complete game changer. You owe it to yourself and to your family to start your day every morning taking care of yourself so that you can seriously rock your day.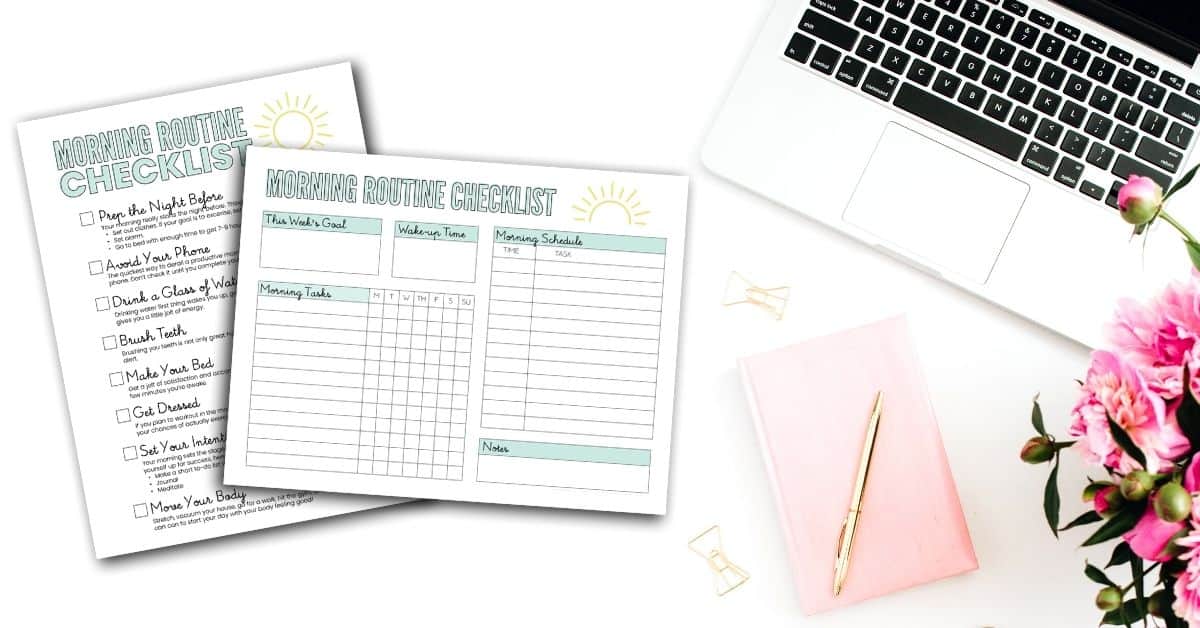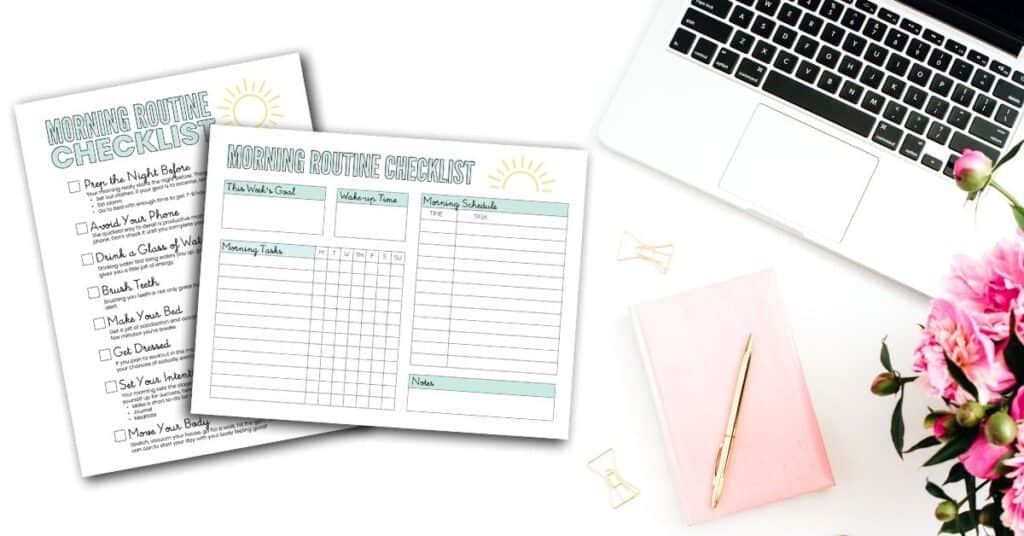 WHAT SHOULD BE IN YOUR MORNING ROUTINE?
As humans, we have a finite amount of willpower. We literally use it up throughout the day. Research shows that willpower decreases as the day goes one.
So how can you make the most of the mornings?
Basically, you should be doing things that require the most willpower.
Many things with which we fill our time will get done one way or the other (e.g. cleaning, laundry etc.). So in the mornings, we should be doing the things that can most easily get pushed aside.
For most moms, that is self care practices like exercising, meditating, and reading.
Doing things that renew you and make you feel wonderful set you up to have a fantastic day.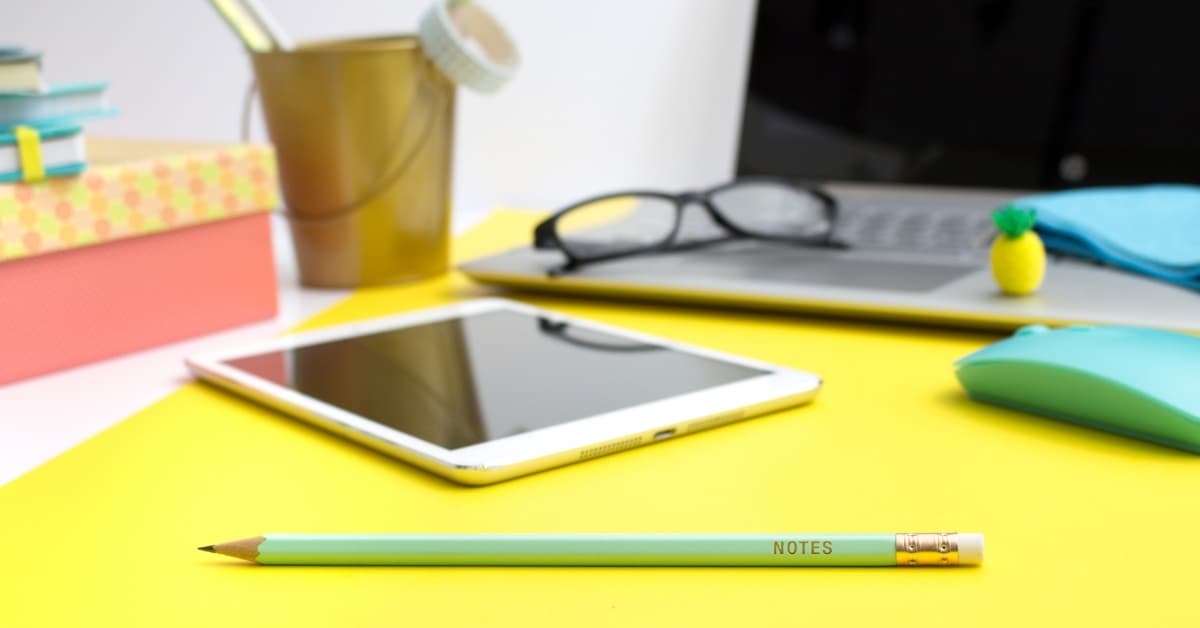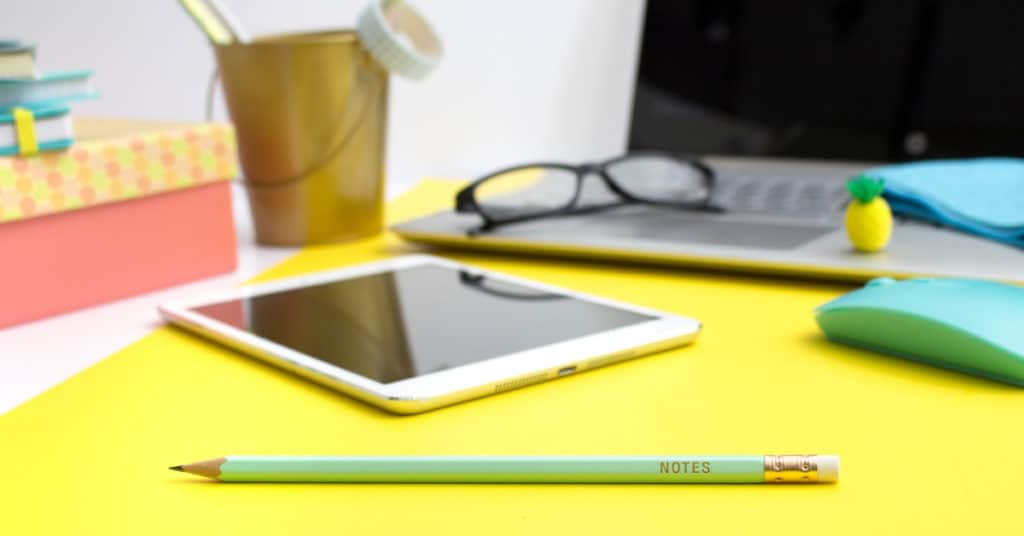 9 IDEAS FOR A HEALTHY MORNING ROUTINE FOR MOMS
1) MAKE YOUR BED
It only takes a few seconds, but it leaves you with an immediate sense of accomplishment and satisfaction. You start your day with an immediate win.
Plus, slipping into a made bed at the end of the day just feels better.
2) DRINK A GLASS OF WATER
Drinking water first thing in the morning jump starts our body systems. It also helps wake you up and give you energy.
3) EXERCISE
Research shows that people who exercise in the morning are far less likely to skip a workout than people who workout in the evenings. Why? Because if we leave it for later in the day, it's way too easy to make excuses not to exercise.
Plus, it will help you have a better day. You get to check it off your list, boost your mood, and jump start your energy level first thing.
4) READ SOMETHING UPLIFTING
As moms, it easy to feel like we don't have time to read anything other than bedtime stories, school newsletters, and recipe instructions.
But setting aside time for reading something uplifting (and adult) ensures that we can reap the tremendous benefits that comes from expanding our minds. You could read a parenting article, religious text, a self-help book or any great book that lifts you up and inspires you.
5) MEDITATE
Mediation is amazing. Once a skeptic, I'm now a believer.
And don't worry: You don't have to shave your head, wear a robe, or start believing the healing power of crystals.
Meditation is basically clearing your mind and focusing on your breath and perhaps your body sensations. This practice builds calms the mind, gives you more power over your thoughts and mindset, and generally improves life.
Through daily mediation, I've found it much easier to be patient when my kids make a horrendous mess or keep from swearing and yelling when I'm cut off on the freeway. And best of all, It's much easier to calm my brain at the end of the day and go to sleep.
I like these free guided meditations from UCLA Health, if you want a place to get started. And the Headspace app is excellent, as well.
6) SET YOUR INTENTIONS FOR THE DAY
Setting your intentions at the start of the day is an important key to a productive, successful day. You should ask yourself:
What do you want to accomplish?
How do you want to feel today?
Exploring these questions is helpful to ensure that you are on your A-game in parenting and in life. Some examples of setting your intentions include:
Creating to-do lists
Identify top 3 daily priorities
Journaling
Discussing with your spouse/friend what you want to do (like an accountability partner
Prayer
Affirmations
7) GET SHOWERED & READY FOR THE DAY
For busy moms, this can be a real struggle. But there is a power that comes from taking a quick shower and putting on "real" clothes.
You don't need to be ready for the Oscars, but just feeling clean and a little put together with some mascara, dry shampoo, and a fresh ponytail will do wonders for your productivity and happiness.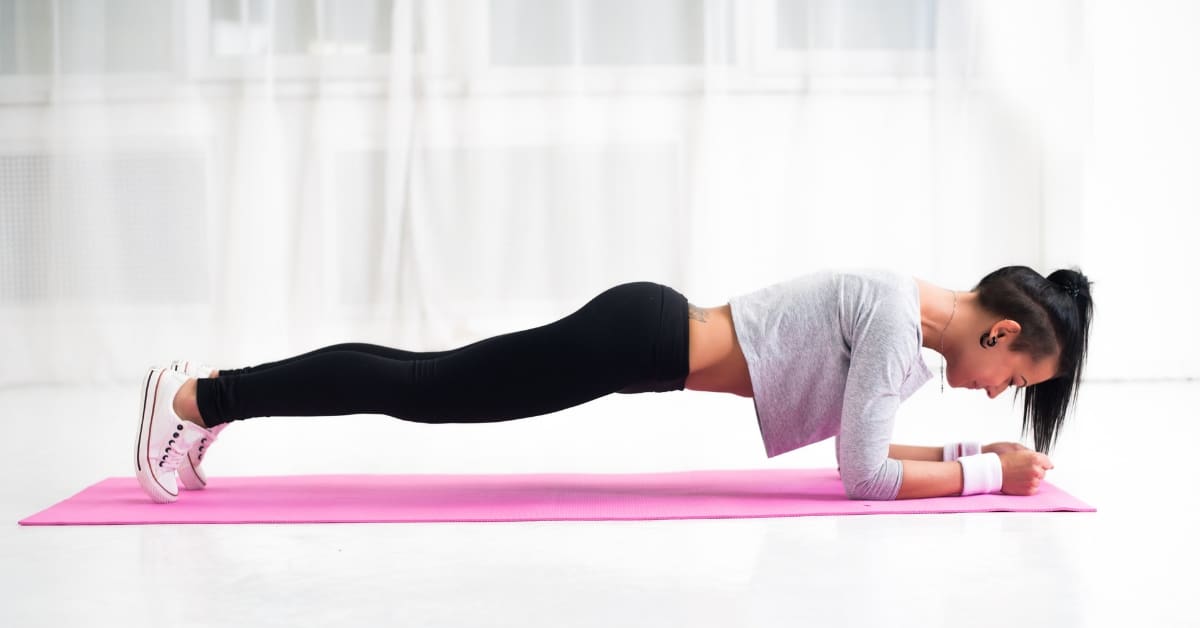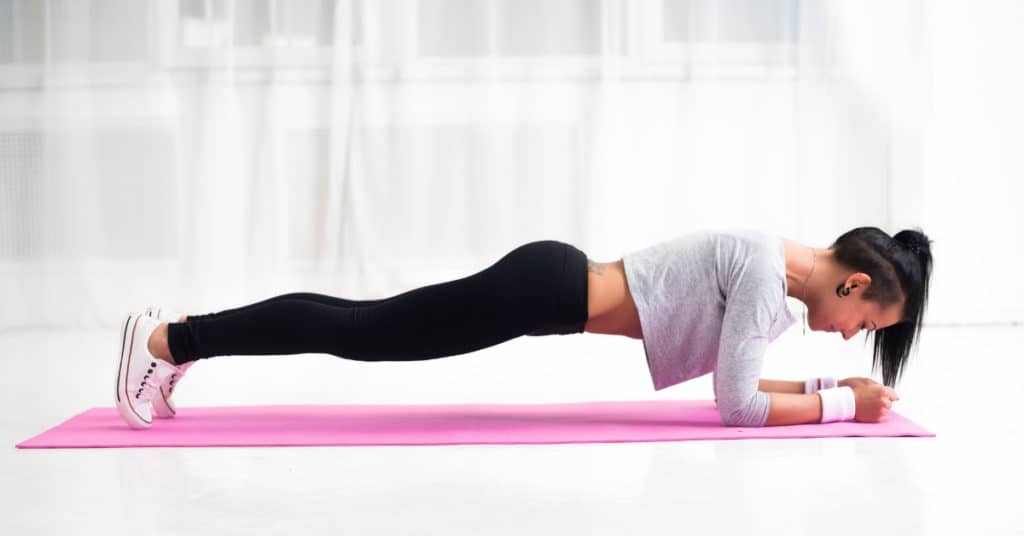 8) SPEND QUALITY TIME WITH YOUR FAMILY
Whether with your spouse or your children, mornings are a great time to spend quality, relaxed time with your family.
Since you've already accomplished so much before your kids wake up, you can actually enjoy your kids once they are awake. There's no need to rush around and focus on things yet to get done. You can truly savor your breakfast with your family and morning snuggles.
9) AVOID TECHNOLOGY
Nothing will waste your time more than "quickly" checking email or social media. It sucks you in and in the blink of an eye 30 minutes of precious time is gone with nothing to show for it. I try to not touch my phone until about the time I take my kids to school. My goal is to not look at my phone until 10:00am.
START A 5-DAY MORNING MAKEOVER CHALLENGE
If you're ready to transform your mornings and create a better morning routine, then join the Morning Makeover 5-Day email challenge. In it, you'll start building an awesome morning routine in just minutes a day.
Sign up below!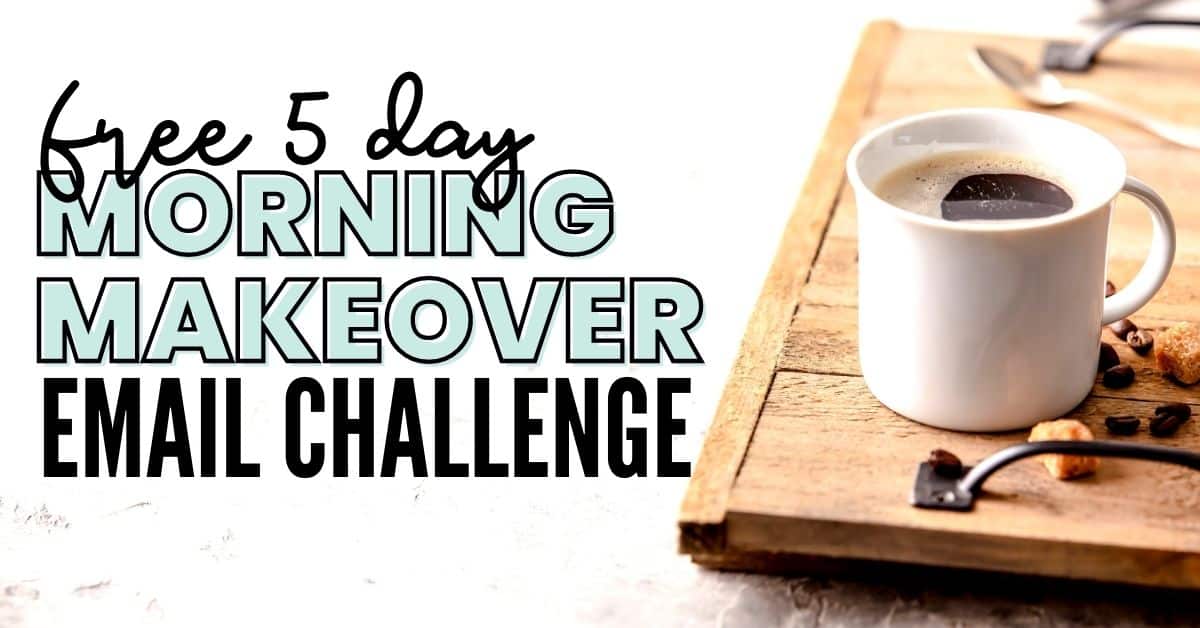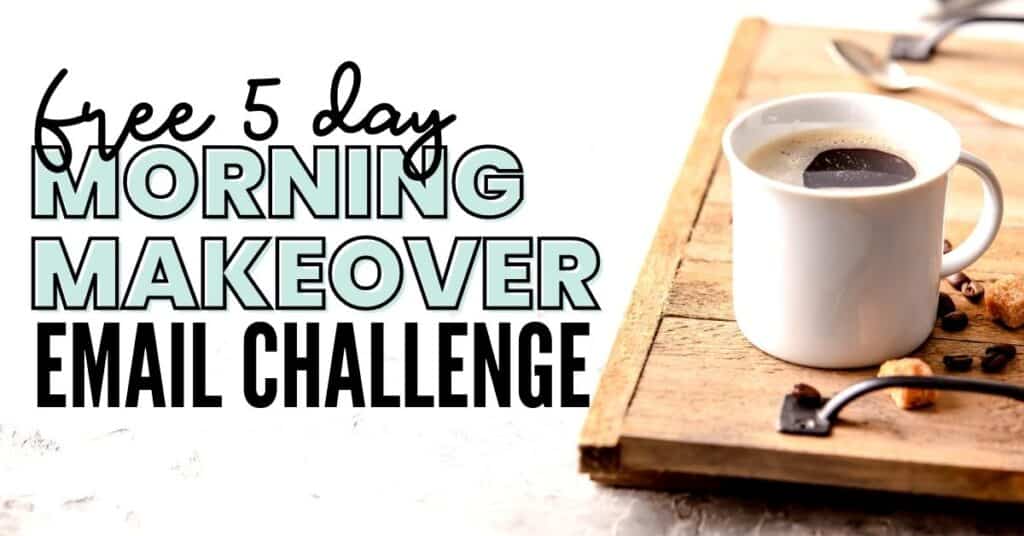 CREATE YOUR MORNING ROUTINE
How we spend our mornings has the power to completely shape our lives. Waking up before your children and taking care of yourself will transform your day and help you become the mom you dream of becoming.
Going through my morning routine before my kids are up has absolutely changed my life and helped me achieve my health and life goals.
Now it's time for you to take the 9 tips from above and build your ideal morning.
You've got this, mama!
MORE RESOURCES TO CREATE A HEALTHY MORNING ROUTINE