While Halloween is synonymous with candy, not all of us are keen to be the neighborhood sugar dealer come October 31st. Between school parties and trick-or-treating, kids get enough sugar on that spooky holiday.
So we want to skip the sugar highs and have non-candy Halloween treats to hand out.
WHY NON-CANDY HALLOWEEN TREATS ARE GREAT
Frankly, there are TONS reasons to find candy alternatives for trick-or-treaters.
Some kids have serious allergies and other food sensitivities
It keeps the sugar and candy out of YOUR house
Doesn't perpetuate type-2 diabetes and childhood obesity
Saves $ and time (Amazon sends this stuff straight to your doorstep)
Kids love getting fun and novel stuff
One year, I had to buy Halloween candy three times. Yep, you read that right. THREE times. Why? Because my husband and I kept picking at it until suddenly it was October 15th and we had burned through 2 massive bags of Halloween candy.
(To be honest, I'm willing to bet that most of the Halloween candy bought in September doesn't make it to Halloween.)
After that year, I decided that we'd better skip the candy. Or else we were gonna have to buy bigger pants.
Plus, as someone concerned about general health and well-being, I wasn't exactly thrilled with the prospect of peddling candy to the neighborhood.
So, the following year I hopped on Amazon and found some inexpensive glow bracelets. It took about 1 minute to order and two days later they were on my doorstep.
And when Halloween came, they were a huge hit!!! Kids and parents loved them since they were fun and helped make kids more visible in the dark.
And guess what? We haven't passed out candy since!
Ready to ditch the sugar and make life easier?
Then check out these 11 non-candy Halloween treats you can purchase on Amazon: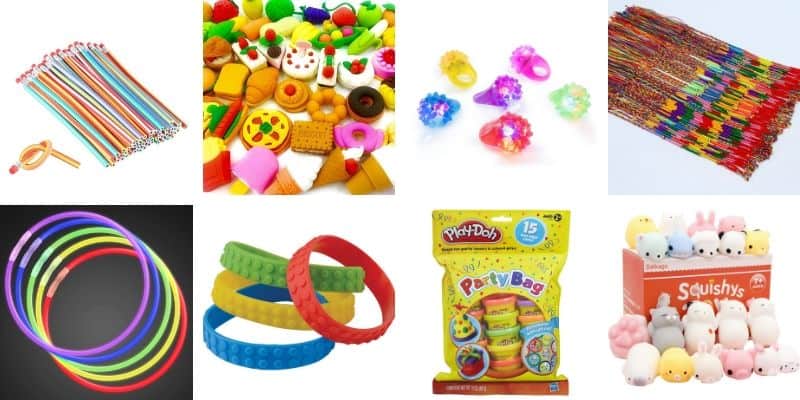 NON-CANDY HALLOWEEN TREATS TO GIVE TRICK-OR-TREATERS
1) Glow Necklaces & Bracelets
Glow necklaces or glow bracelets are not only big hits with the kids, they're also big hits with the parents since they make trick-or-treaters more visible as they go door to door in the dark. And getting bracelets is less expensive than buying a big bag of fancy candy!
2) Slap Bracelets
Remember these guys? Yep, kids are still freaking out over slap bracelets. And you can't beat the price on this set of 72 slap bracelets.
3) Fun "Food" Erasers
As a parent and teacher, I can confidently say that kids love fancy erasers (even high schoolers). And adorable food erasers? They'll be in heaven.
4) Friendship Bracelets
These little bracelets are not only fun, but very inexpensive.
5) Rubber Duck Toys
My kids love these little rubber ducks. They don't even use them in the bath. They just play with them!
6) Small Crayon Sets
Skip the sugar and give trick-or-treaters a little set of crayons to get their creative minds buzzing. You could even pair it with these inexpensive and cute notepads.
7) Squishy Toys
Who doesn't love squishy toys? Stress relievers for parents and hours of fun for kids. And these ones are so stinkin' adorable.
8) Tiny Playdough
These small cans of playdough are perfect for handing out to trick-or-treaters.
9) Building Block Bracelets
These super cool building block bracelets are sure to be a hit with both boys and girls.
10) Bendy Pencils
Remember bendy pencils? I thought they were pure magic as a kid. And since kids use pencils every single day at school, these groovy bendy pencils will be sure to get them excited.
11) Light-up Rings
These rings are big hits with kids of all ages. And as with the glow necklaces, light up rings are not only super fun, but serve the safety purpose of making kids more visible as they trick-or-treat.
HAVE A HEALTHY HALLOWEEN WITH CANDY ALTERNATIVES
If you're ready to skip the sugar this year and make life easier, any one of these 11 non-candy Halloween treats are sure to get the trick-or-treaters in your neighborhood excited.
You'll not only keep sugar out of your house, but you'll make the day of kids with food allergies and sensitivities. And as a bonus, they can all be inexpensively purchased on Amazon and show up right at your doorstep.
You've got Halloween in the bag!