THE ULTIMATE GUIDE TO SLASHING YOUR GROCERY BUDGET (WHILE STILL EATING HEALTHY)
There's no way around it: you need to spend less money. But surviving off ramen noodles and mac & cheese aren't exactly going to help you reach your health goals.
While it may seem too good to be true, you CAN eat healthy on a tight budget. I know because I did it.
Several months ago, my husband and I decided to drastically reduce our spending in order to reach our financial goals. I wasn't a big spender to begin with so I wasn't sure how we'd do. But to my pleasant surprise, the results were amazing:
We drastically reduced our grocery spending, ate healthier, both lost lost 10-15 lbs within a month or so, and saved a ton of money.
Sounds incredible, right? Well, it has been! The 13 steps that I am sharing are the result of a lot of research and work. They can help you too.
I've broken down the process and made an awesome workbook (see the end of the post to get download) for you so this process doesn't have to take you as long as it took me. But as long as it took, it was 100% worth it!
THE RESULTS
While I felt we were pretty cautious with our money before, we went from spending over $1300 a month on food and grocery expenses to spending around $600 a month for my family of 6 (that's ALL food and grocery expenses with buying a lot of organic products).
13 KEYS TO SLASHING YOUR GROCERY SPENDING
1) FIGURE OUT HOW MUCH YOU ARE ACTUALLY SPENDING ON EVERYTHING.
Do not skip this step. I repeat: Do not skip this step. While this is the most time consuming step, it will have the most impact on your spending.
You have to know where your money is going. Like every single penny. And I'm willing to bet, you're going to be surprised how much you are spending. I know that I was.
YOU'VE GOT TO CHECK ALL YOUR ACCOUNTS.
Check out your online banking and any credit cards you have used. Most have spending breakdowns so instead of going through each transaction, it's easier to figure out exactly how much you are spending each month on food and groceries.
But if you really want to see your expenses, go through every transaction. Do this with every account you use.
Find out exactly how much you have spend in the last 6-12 months on eating out and grocery expenses. If you are analyzing 6 months of data, add up every single eating out and grocery expense from every single account, then divide by 6. Now you have your monthly average.
Are you surprised?
I certainly was.
I seriously did not think we ate out much. Just the occasional drive-thru. But holy cow, that adds up: $219/mo on average for what I thought was not eating out much. Yikes. Plus we were spending $1100 a month on grocery expenses.
Ouch, again.
2) STOP EATING OUT.
I know this can be hard when you want something quick. As a busy mom, it can be hard to not fall back on being able to just pick up dinner.
First, just see how long you can go without eating out. It is absolutely insane how quickly small cheap trips add up. And small cheap trips are usually loaded with fat, calories, sugar, and salt.
I promise, you will adjust quickly. We did. And it felt amazing.

3) SET YOUR BUDGET AND STICK TO IT.
You know how much you are currently spending if you followed step 1. Now, decide what is a realistic goal for your budget. I would caution against slashing your budget too much. You want to set a goal that you can keep. If you set a budget that you never keep, what good will it do?
As your habits change and you experience success, you'll find it easier to then cut your budget further.
4) CREATE SYSTEM TO KEEP TRACK OF SPENDING.
This is how you make sure you stick to your budget. There are two easy ways I suggest that don't necessarily involve tracking each and every expense (because who has time for that?):
1) Use the cash envelope system: Old school but effective for many. Set aside cash for different budget categories and when the cash is gone, you stop spending! We did this at different points, but prefer option 2. If this strikes your fancy, check out The Budget Mom's Ultimate Guide to the Cash Envelope System.
2) Open another checking account: I have a separate checking account attached to my other accounts. I transfer my budget allotment every other week. Anything that fits the grocery/food budget comes out of that account. And that's it. It make sticking to the budget and knowing where our money is going so much easier.
5) CONSIDER REDUCING YOUR CONSUMPTION OF MEAT AND PROCESSED FOODS.
Both meat and processed foods can be pretty expensive. Cutting out both has helped us feel so much better and lose weight quickly.
Processed food is full of nasty stuff that we don't want in our bodies. Making your own food will save your health and pocketbooks.
I've always liked the idea of eating less meat, so I've mostly stopped buying meat. Ever since I watched this awesome TED talk on becoming a weekday vegetarian, it's been a goal of mine.
Not only has it been very helpful in saving money, I seriously feel so much better on the weeks we don't eat meat. Even if you cannot imagine cutting out meat, just try to reduce your consumption and see how you and your wallet feel. You may be surprised.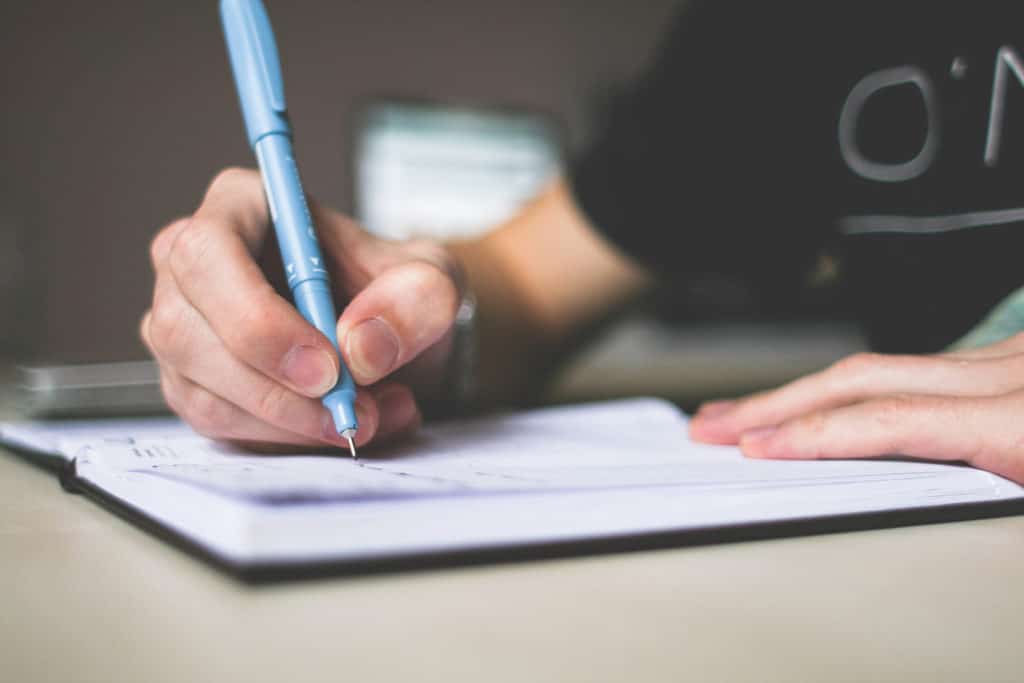 6) CREATE YOUR STANDARD GROCERY LIST.
This is your core grocery list of everything you buy and use. Intentionally creating this list will help to focus and plan your spending long-term. Your Standard Grocery List consists of three categories of food items. These food items will vary depending on your eating habits.
STANDARD GROCERY LIST
Staples you buy in bulk every couple of months: For us, these are things like  grains, quinoa, rice, beans, pasta, baking supplies, cooking oils (olive, coconut, and avocado), spices etc.
 Stuff you buy monthly: For us, these are things like cheese, canned foods, frozen fruits (for smoothies), bread (I buy in bulk at Costco and freeze extra loaves), Costco frozen pizzas (I keep this one processed convenience food on hand because sometime you just need something fast!
Stuff you need weekly: fresh produce in season, milk etc.
Write your list of everything you use. Cut out the expensive stuff you can live without and find a less expensive alternatives.
Keeping a core list (and sticking to it) will eliminate impulse buys and otherwise wasting money on food that you do not use or need. That's why it's important to be as thorough as possible with your list.
Also, this is a great opportunity to more carefully curate the kinds of foods you WANT to have in your home. You can simply cut out unhealthy food you want to eliminate and add in healthy foods you want to bring into your family's diet.
This really helped us be healthier since I just planned meals around the inexpensive and healthy food I had on my list.
Note: In making my list and tracking my spending, I realized that we spent a ton on fresh fruit. Switching to in-season fruit and focusing on buying more of the less expensive vitamin-rich vegetables was the right move for my family.
7) MAKE A LIST OF ALL THE MEALS YOU CAN MAKE WITH THOSE INGREDIENTS.
Once you have your standard grocery list, go through and think of all the breakfasts, lunches, dinners you can make with those ingredients. Keep this list on hand when you can't figure out what to make. It will be a serious money saver.
8) USING YOUR LIST, FIGURE OUT WHO HAS THE BEST PRICE
You don't have to do this all at once. As you go to stores, take note how much your items cost. You will quickly figure out where to get each item.
Also, I highly recommend finding a place with super cheap produce. Ask around and see what hidden treasures exist. In my area, there are a couple places to get super cheap produce. They're pretty busy and I have to plan ahead, but it's so worth it to get a cart completely full of produce for $30 (much of it organic). O
A NOTE ON COSTCO AND OTHER BIG-BOX STORES:
Costco isn't always the best place to save. They're prices aren't always the most competitive. But if the price is great and you use lot of the product, go for it.
However, if it's not a product you use all the time (regardless of the price), buying a smaller supply at another store will probably save you money.
9) DON'T GO SHOPPING AGAIN UNTIL YOU'VE EMPTIED YOUR REFRIGERATOR.
This is key to fine-tuning your grocery shopping and eliminating costly food waste.
If you get in the habit of emptying out your fridge of all your produce and perishables before you restock, you start to really get a sense of how much you actually use.
Plus, it forces you to be creative and use produce you may have forgotten.
It's seriously like a game for me. I ALWAYS have loads of veggies in my fridge that I've ambitiously bought and then ignored. If I'm forced to use everything before I go shopping, I usually end up making a veggie-packed dinner full of food that would have otherwise gone bad before I used it.
This reduces food waste and saves $ and time by not running to the store. Also, keeping my fridge cleared out makes it easier to know what I have and I am more likely to use everything.
10) HAVE INGREDIENTS FOR 3-4 SUPER EASY MEALS
This will keep you from getting take out out of desperation and blowing your budget. You probably already have stuff on hand for several meals. This takes some planning and creativity, but it's worth it!
For me, I always have stuff to make a whole wheat pasta in a quick homemade marinara with roasted veggies, black bean soup, sandwiches and a quick homemade tomato soup.
For quick and easy breakfast food ideas, check out these 7 Healthy & Delicious Make-Ahead Breakfasts That Will Change Your Morning.
11) USE RECIPE SUBSTITUTIONS
How many times have you run to the store to get one item for a recipe you are making? Or you spent $10 for one spice or item for a recipe you found on Pinterest that you only make once?
I am definitely guilty of this.
When following recipes, use substitutions that you have as opposed to going out to the store and buying something just to finish your recipe.
There are almost always great substitutions at the end of a quick google search. This has saved me money and it's been empowering to know that I truly can make due with what I have.
Print this awesome and comprehensive list of ingredient substitutions from allrecipes and keep it handy.
12) TAKE INVENTORY OF WHAT YOU HAVE EVERY FEW WEEKS
How often do you find that you buy a bunch of stuff when it turns out you already had a stash of it hidden in your pantry?
Taking a quick inventory doesn't take long. Note staple items that will need to be purchased in the next few weeks. Repeat this every few weeks or so. This will save you from running to the store to grab just 1 or 2 items and guard against blowing your budget with impulse buys and eating out.
13) MEAL PREP
Take meals you listed from step 7 and make them in bulk and freeze. This will save you some time and money.

TAKE CHARGE OF YOUR GROCERY SPENDING AND BE EMPOWERED!
Following these steps has really had fantastic results for both our bank account and our waistlines. With these steps, we naturally ate healthier.
Incorporating these ideas into your grocery budgeting will not only help you spend less money, but can also help you and your family eat healthier meals. With a little time and planning, you can slash your budget and improve your health.
To make it easier to follow these steps, download the free workbook that walks you through the process.
You've got this, mama!